Egy 120 esztendős indián rögös útjáról
Négy-az-egyben bukósisakról már hallottam, de "4-in-1 motorkerékpárról" még nem.
Egészen a 2018-as milánói EICMA rendezvényig, ahol egy sok viszontagságot megélt, de lassan talán ismét révbe érkező amerikai márka mutatott be négy komplett átépítő csomagot az egyik motorjához. Ez a bizonyos gyártó a Harleynál is két évvel idősebb, idén már 120 esztendős Indian Motorcycle, aki persze ezért ügyesen úgy pozícionálja magát, mint:
 "Amerika első motorkerékpár márkája"
Ha pontosak akarunk lenni, azt azért érdemes elmondani, hogy csak 1923-tól hívták így a márkát, kerékpárgyártóként indult (az alapító neve után Hendee Manufacturing Company néven) és kétszer is (1953, 2003) tönkrement, továbbá '77 és '98 között nem gyártott motorokat. (BTW: a Harley is majdnem csődbe ment a hatvanas évek végén.)
A motorok iránt nem, vagy kevésbé érdeklődők talán az itthon is bemutatott "A leggyorsabb Indián" című filmben ismerhették meg ezt a legendás márkát. Burt Munro-t, a 68 éves új-zélandi születésű háromszoros Bonneville világrekordert Sir. Anthony Hopkins játszotta, egyébként remekül! (Mondjuk nem is vártunk mást az öreg mestertől.) Itt írtunk róla.
A George M. Hendee által 1897-ben alapított bicikligyártó cég egyik modellje az American Indian volt, amely később egyszerűen csak "Indian" lett, valamint Mr. Hendee elsődleges márkanévévé vált. Az elmúlt évszázad (!) tulajdonosváltásai után végül 2011-ben az amerikai Polaris Industries vette meg a céget a Stellican Ltd.-től és támasztotta fel újra a brand-et. BTW: a fiatal Victory márka is az övék. (Itt írtunk róluk.) Remélhetőleg amcsi barátaink nagyobb sikerrel járnak majd, mint az angolok tették. Megérdemelné ez a sokat látott márka!
Ahogy az előzőekből is kiderült, igen sok (és veszélyes) kanyar után érkezett meg tehát a 2018-as kölni Intermotra az Indian FTR 1200-as modellje (valamint a felszereltebb S verzió) és egyben a brand jelenlegi kínálatának első nem-cruizer típusú járműve. Ez a vas tulajdonképpen a Scout "flat-trackerizált", de azért utcai verziója.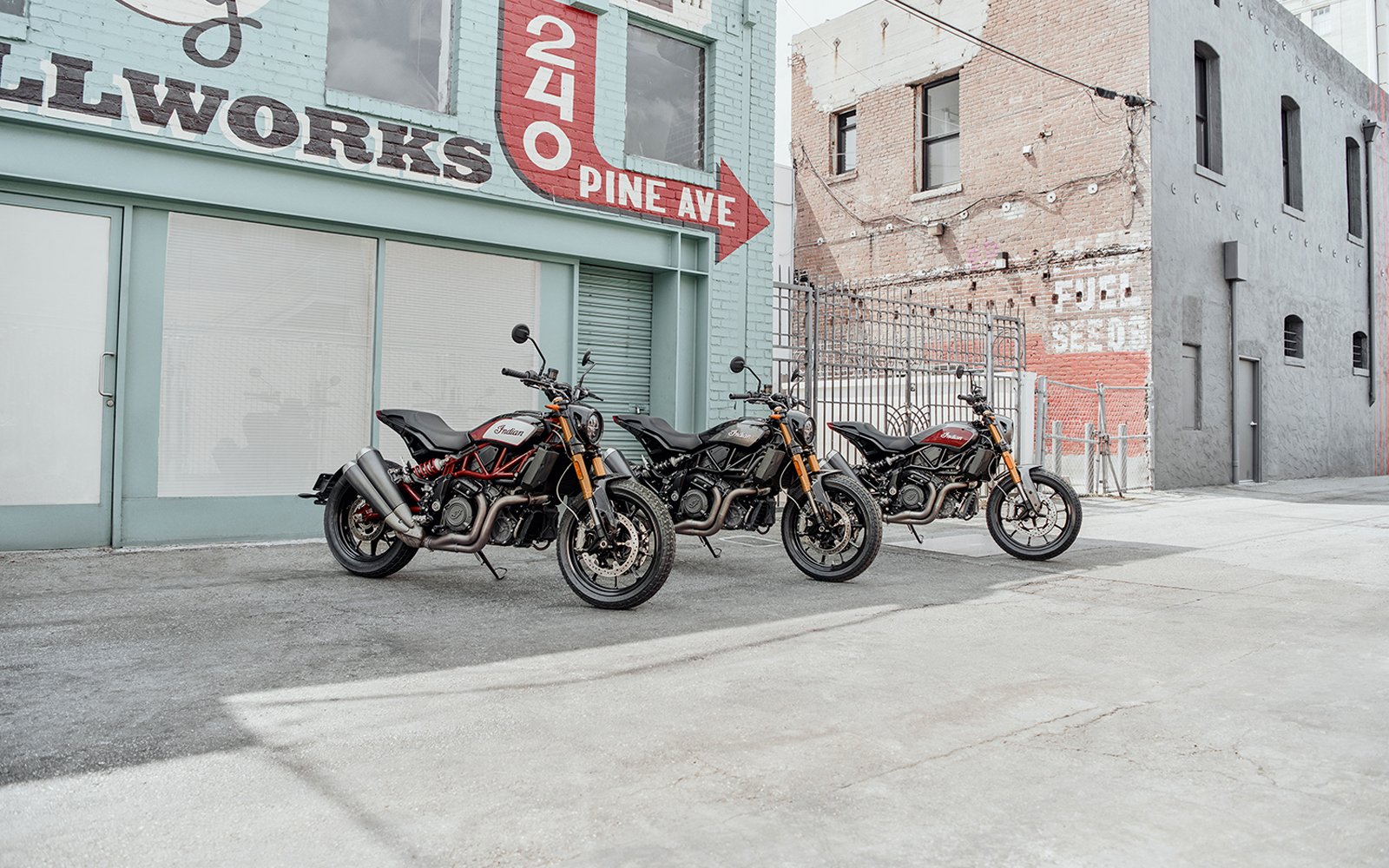 Tudom, tudom ez ellentmondásnak hangzik, de ahogy az SUV-ok kb. 98%-a soha nem megy terepre, vagy a Ducati Urban Scrambler-nek nevezte el az egyik modelljét, tudjuk ezt be annak, hogy (érthető okokból) nem motorosok nevezik el ezeket a járműveket, hanem marketingesek. Ők pedig tökre tudják, hogy a vásárlók nagy részének a jármű sugallta képhez/imázshoz fűződő érzelmek, nem pedig a rideg tények racionalitása a vásárlásra késztető fő erő.
"Don't Sell The Steak, Sell The Sizzle!"
De keverjenek ki bármilyen reklám-maszlagot is az arra felkentek a márkák branding/copywriting vegykonyháján, ennek a motornak a megjelenése akkor is igen jó ötlet, hiszen az e cikk borítóképén látható, kifejezetten versenypályákra gyártott FTR 750-es célszerszámért (szénszálas idomok, első fék nincs is, futóműn minden állítható stb.) kb. 15 milliót kell leszurkolni, erre az utcai verzióra pedig már kb. harmadannyiért is ráülhetnek a korábban felsorolt okok miatt valódi versenytechnikát nem, csak annak látszatát igénylő "utcai versenyzők". Jellemző, hogy míg a versenytechnikákkal felszerelt 750-esnek első fékje sincs (nyilván), addig az utcai verzió kanyar-ABS-t kapott. (Persze.) Az alapmodell 2018-ban 13.000 dollártól indult, az S verzió pedig (melynél azért az ABS kikapcsolható) 15.000 zöldhasútól startolt el.
Ráadásul, tovább árnyalva az ügyes stratégiát, az említett EICMA rendezvényen több mint negyven egyedi összetevőt mutatott be az Indian, melyeket a Tracker, Rally, Sport és Tour névre keresztelt csomagokban vásárolhatja meg a wannabe (de akár valódi) motorépítő. Ezek segítségével minden lelkes építő maga "legózhatja össze" a garázsában szeme (nem esze) választottját. (Remélhetőleg nagyobb esztétikai igényességgel, mint Dr. Frankenstein.)
Ahogy a BSA és a Ducati építése kapcsán többször írtunk róla, kedveljük a flat track vasakat. Az Indian pedig vitán felül, ért ehhez a műfajhoz (Racing in Its DNA), hiszen (több mint hatvan év szünet után) remekül sikerült a márka visszatérése (berobbanása?) a híres Amerikai Flat Track bajnokságra. Néhány éve pl. a lehetséges 18-ból 14 győzelmet szerzett meg a Wrecking Crew csapata, Jared Mees pedig úgy lett bajnok, hogy a 18 futamból 17x állhatott fel a dobogóra! (Pár éve már az említett 750-es FTR-rel nyerték meg a bajnokságot, a Harley Davidson legnagyobb bánatára.)
A legendás Wrecking Crew csapat még a '40-es évek végén alakult. Legemlékezetesebb győzelmeik között szerepel többek között három egymásutáni Springfield Mile győzelem: 1951-ben és 1952-ben Bobby Hill nyerte meg, 1953-ban pedig Bill Tuman ezt a legendás versenyt. Szóval reméljük, hogy a címben említett 120 éves indián rögös útjának legalább a vége simább lesz. Legalább annyira mint egy flat track pálya… A következő videóban a Ruby alapítójának (Jerôme Coste) fotográfus testvére, Dimitri méltatja a vasat.
Kis színes: 
2017 augusztusában Prof. Marco "Flat Track School" Belli kis hazánkban járt és néhány magyar betyárt (köztük Regős Danit, Guld Petit, Kristófot és Sapit) legnagyobb örömükre be is vezette a keresztbe motorozás rejtelmeibe. (A Totalbike itt számolt be a jeles eseményről, Guld Peti friss cikke pedig itt található a motorról.)