Elektromos tüskés rája
Néhány éve, a MotoGP versenyeken divatossá vált az "alien" (kb. idegen lény) kifejezés.
Azokat a versenyzőket nevezik így, akik jóval magasabb szinten motoroznak, mint mindenki más. (Manapság persze mindenkinek az őrült spanyol, Marc Marquez ugrik be ennek az elnevezésnek a kapcsán. Joggal, valószínűleg tényleg az űrből jött a pasi!)
Pont ezért talán magyarul az "ufo" lehetne az igazán jó fordítás, annak ellenére, hogy az eredeti mozaikszó (Unidentified Flying Object) a beazonosítatlan repülő eszközt jelenti, nem a benne utazó kis zöld(nek hitt) "emberkéket".
De hagyjuk az idegesítő szőrszálhasogatást, a jámboran agresszív fotelszakértő trolltömegek ezt a lila okoskodást éppoly vehemenciával sodornák el, mintha azt bizonygatnánk dacosan, hogy Frankenstein bizony nem a "szörny" maga, hanem éppen az ikonikus "patchwork rém" alkotója. (Kis színes: Mary Shelley 19 évesen írta és Göncz Árpi bácsi '77-ben fordította magyarra az ismert regényt.)
Na-de-na-de, vissza a mai témára! A motorépítő szubkultúrának (is) persze megvannak a saját "ufójai", és úgy tűnik, hogy van egy új belépőnk: Jay Donovan, egy igazi kanadai krafter. Jay ráadásul nem egy "öreg motoros" a szakmában, hanem egy, a húszas évei közepén járó fiatal brit-kolumbiai építő, a Baresteel Design mögötti arc.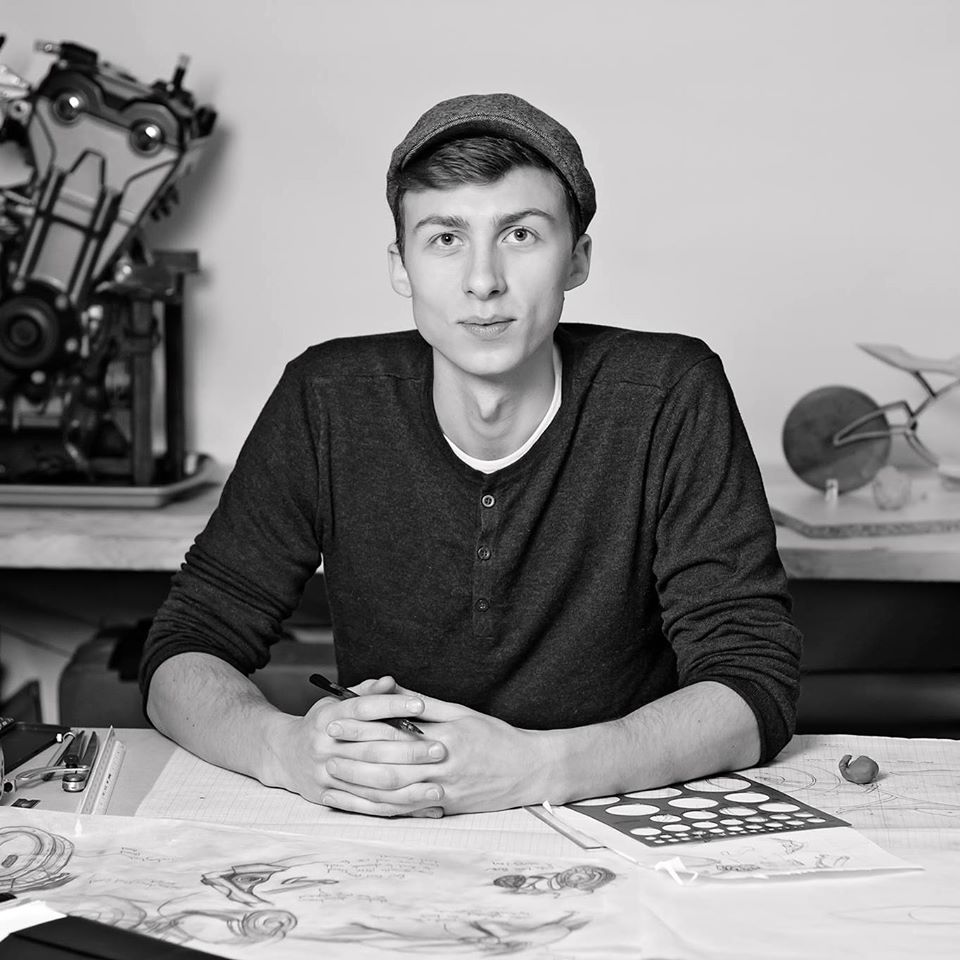 A tehetséges fiatalember Victoria kertvárosban húzza az ívet, és figyelemre méltó képessége van a fém alakítására. Erre a tulajdonságára először akkor figyelt fel a nagyérdemű, amikor néhány évvel ezelőtt bemutatta a Yamaha XS650-ből épített járművét.
Bobby Haas, a fantasztikus texasi Haas Moto Múzeum alapítója hamar felfedezte Jay tehetségét, és rögvest megbízást adott a fiatal alkotónak, hogy készítsen egy motort a múzeumnak is. Bobby a feladathoz szabad kezet adott Jaynek. (Itt két további motort találtok a Haas Múzeumból: motor1, motor2)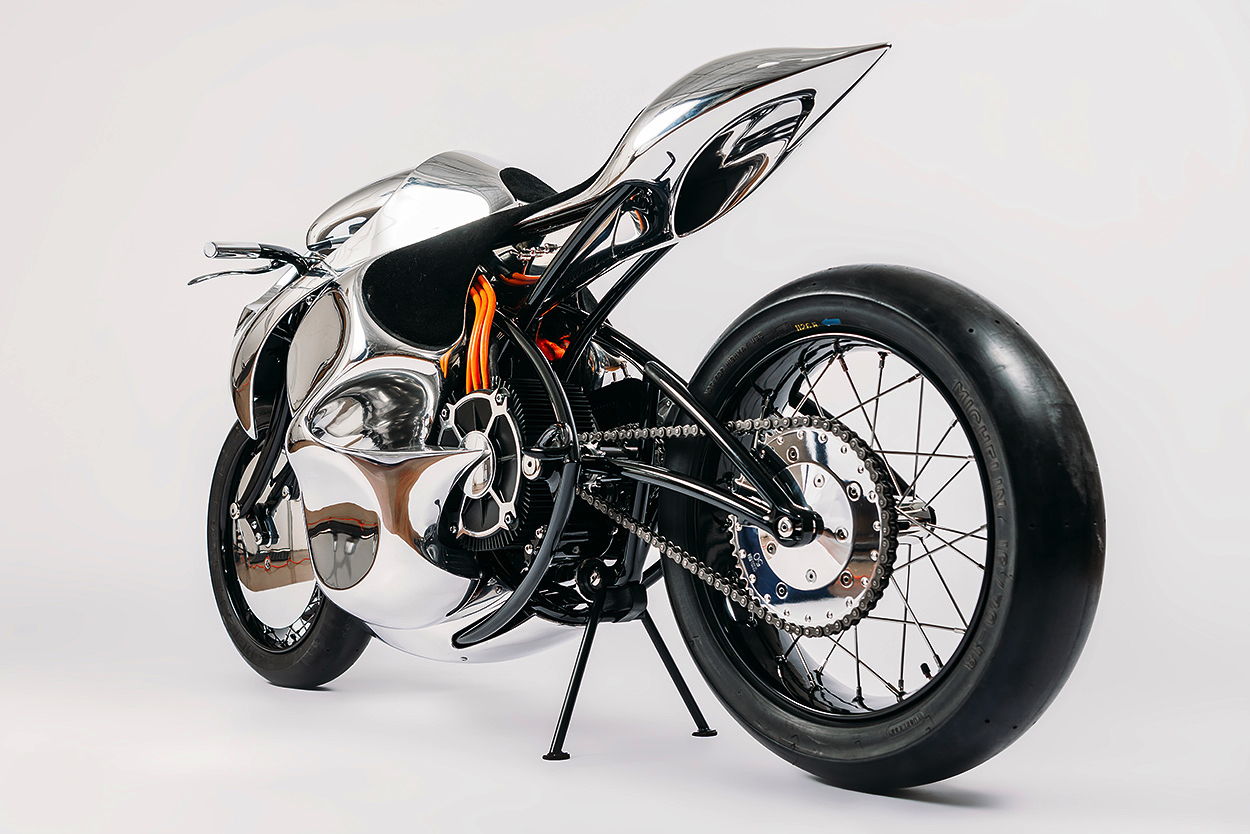 "Jay és én bevettük magunkat a műhelyébe, és lerajzoltunk egy életnagyságú vázlatot a születendő Stingray-ről, " – mondja Bobby. "Egész nap oda-vissza dobáltuk az ötleteket, aztán végül teljesen átadtam a stafétabotot Jay-nek." Remek megbízás volt, és ezt Bobby is tudta. "Rendkívül nagy kihívás az, ha egy elektromos motorkerékpárba kell integrálni egy belső égésű motor esztétikáját és romantikáját" – jegyzi meg.
"Megfosztanak a klasszikus motorkerékpár ikonikus látványelemeinek legtöbbjétől – karburátorok, csövek és így tovább -, és egy rakás csúnya akkumulátordobozt kapsz cserébe."
Jay rámutat arra, hogy az elektromos motorkerékpárok alapvetően három kategóriába sorolhatók: "Futurisztikus absztrakt formatervezés, vagy valami, ami úgy néz ki, mint egy vintage café racer, vagy egy tipikus sportmotor."
A fiatal építő először az alap-dilemmákkal foglalkozott: "Mindenki ugyanazokkal a kérdésekkel foglalkozik, de a fő kérdés az, hogy:
"Hogyan építsük be a rideg "aksi-téglát" a tervezési folyamatba !?"
A Yamaha XS650 esetében Jay először megvizsgálta, hogy melyek az "alapvető tervezési elemek", de ezúttal úgy döntött, hogy kísérletezik – figyelmen kívül hagyja a standard arányt és geometriát. "Ez azt jelentette, hogy el kellett hagyni az ismert ösvényt" – mondja. "Ez szellemileg nehézkessé tette a folyamatot, de a végeredmény szempontjából nagyon hasznos döntés volt."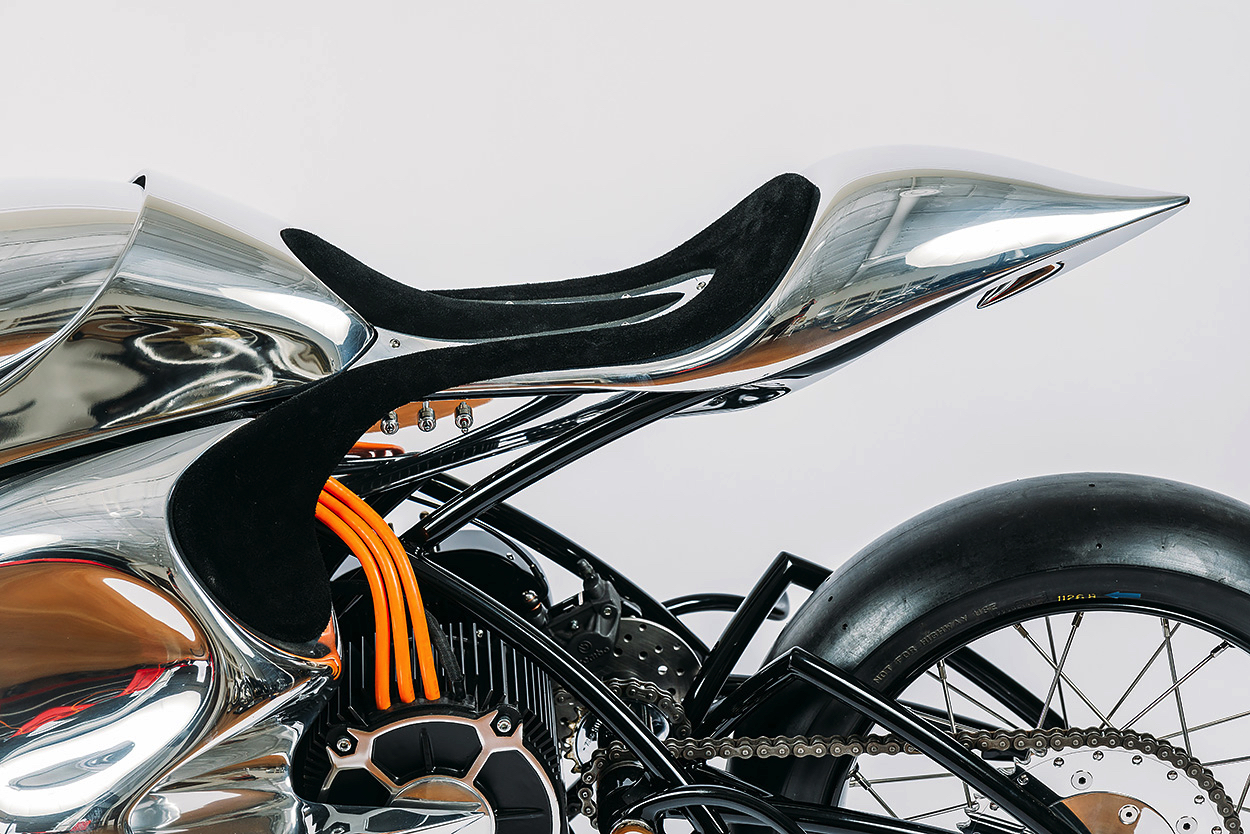 A Stingray szíve a wisconsini Motenergy cég ME1507-es hajtóműve. Ez egy permanens mágneses szinkronmotor (PMSM), melynek 14,5 kW (18 lóerő) a folyamatos teljesítménye. Ezt a kompakt, húsz kilós motort most krómozott acél veszi körül, amelyet Jay épített a váz, a villák és a lengőkar számára. Gyakorlatilag minden alkatrész három tengelyen ívelt, és a lehető legkevesebb darabból áll. A hurkolt alsó cső például egyetlen darabból készült.
A "durvább" sugarakat speckó gépeken hozták létre, de a "3D-ben kígyózó" elemeket kézzel kellett hajlítani – kifejezetten az egyes alkatrészekhez készült eszközök felhasználásával. A váz ereje az ívelt csövek háromszögelésén alapszik.
A motor oldalra van eltolva, a meghajtó lánckereket a motorkerékpár közepéhez igazították. Ez biztosított helyet az akkumulátor kezelő rendszer másik oldalán az előtéttengely számára. A másodlagos tengely lehetővé tette Jay számára, hogy átalakítsa a sebességváltót, és csökkentse a hátsó lánckerék átmérőjét.
A hátsó agyat is "nulláról" tervezte Jay, bár Max Hazan KTM boardtrackere biztosította az ihletet. "A hátsó kerék a KTM-en nekem túl "cool" volt, de imádtam az agy csillag-formáját."
Jay az első felfüggesztést "meglehetősen furcsa vonóerő-összekötő beállításként" írja le, amelyet egy FOX hegyikerékpáros csillapító támogat. "Tudtam, hogy a villákat a lehető legszűkebben kell tartanom, hogy a kormányzási rendszer elférjen az alacsonyan futó burkolat alatt."
Szintén Jay tervezte az elülső kerékagyat a belső rotorral, a kettős Brembo féknyereggel és két nagy tárcsával: "Ezek alapvetően távtartók, ám vizuális fókuszpontként is szolgálnak az előre hajoló test számára."
Az egyedi kerekeket Stephen Hood, az ausztrál Vintage Rims cég guruja készítette. "Stephenék úgy tervezték meg őket, hogy hasonlítsanak a régi clincher kerekek egyszerűsített megjelenésére" – mondja Jay, "de szélesebbre építették a modern gumiabroncsok számára tervezett peremmel".
Jay az akkumulátorokat a míves alumínium elemek mögött rejtette el, melyekhez leginkább .080-as anyagot használt. "Kicsit keményebb cucc, mint a szokásos, .063-ast már használtam korábban, de arra gondoltam, hogy ezúttal jó lenne egy kicsit több anyag a csiszoláshoz és a tömörítéshez".
A hét akkumulátor csomag eloszlik a motorkerékpár körül: három darab külön dobozban, a jármű súlypontját csökkentve, kettő pedig mindkét oldalon önálló dobozban. Minden akkumulátort kézzel raktak össze Chris Jones segítségével az ausztráliai Voltronnál, egy 100 voltos rendszerré.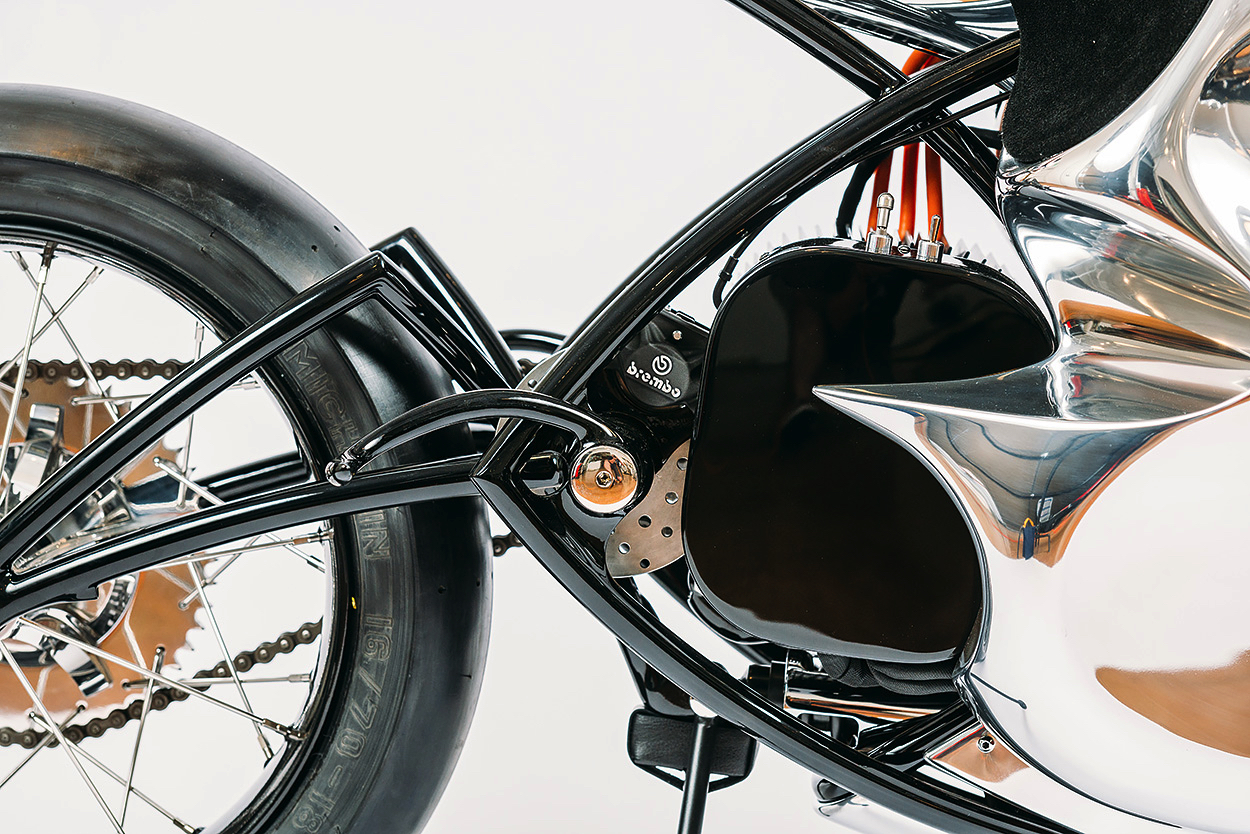 Minden csomag 56 (4×14) különálló lítiumcellát tartalmaz. "Az egyes elemeket a burkolat mögé helyeztük be, hogy a hő elosztódjon a míves alumínium formák felületén" – mondja Jay. Ez jó módszernek bizonyult a bumfordi "aksi tégla" esztétika problémájának megoldására.
Helyt kapott még a motoron egy kompakt Sevcon Gen4 motorvezérlő is, amely az "üzemanyag-tank" alá van felszerelve. Hűtéséhez a "tank" elején két beömlőnyílás található. A burkolat hátsó felén szintén találhatók szellőzőjáratok, amelyek a légáramot az üreges aljzatba irányítják és a farokszakaszon keresztül kifelé terelik. A motorkerékpár testén belül vannak még egyéb rejtett légelvezető alagutak is, amelyek megakadályozzák, hogy a felforrósodott levegő rossz helyre áramoljon.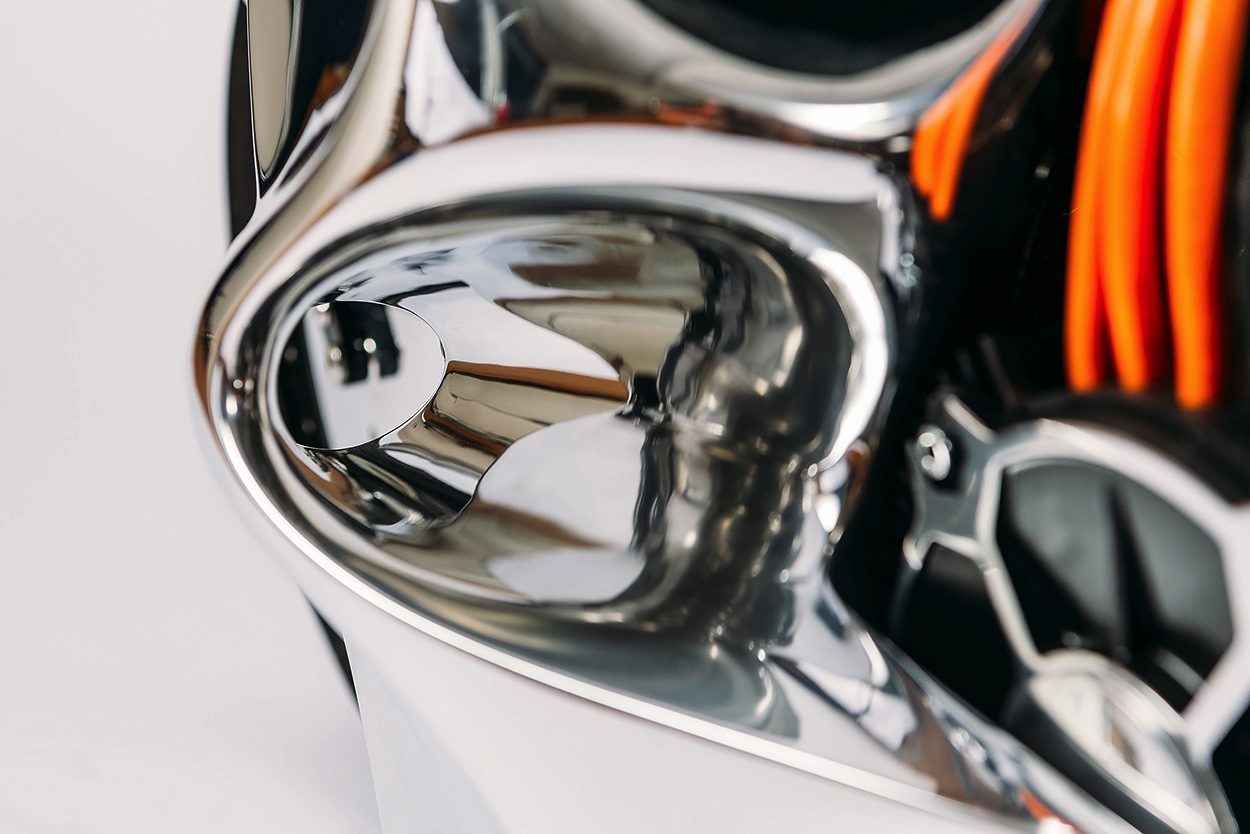 Az egész szerkezet lényegében játék a forma és a funkció között. "Nagy figyelmet fordítottam e két elem kapcsolatára."– mondja Jay.
"Ez a projekt egy tudatos kísérlet volt a tervezési képességeim finomítására – így a forma és a működés harmonikusan kiegészítik egymást."
A Stingray megdöbbentő kinézete és funkcionális "csomagolása" azt sugallja, hogy Jaynek mindez tökéletesen sikerült. Ugyancsak erősíti a magas minőségi benyomást a kifogástalan felületkezelés és az ügyes részletek.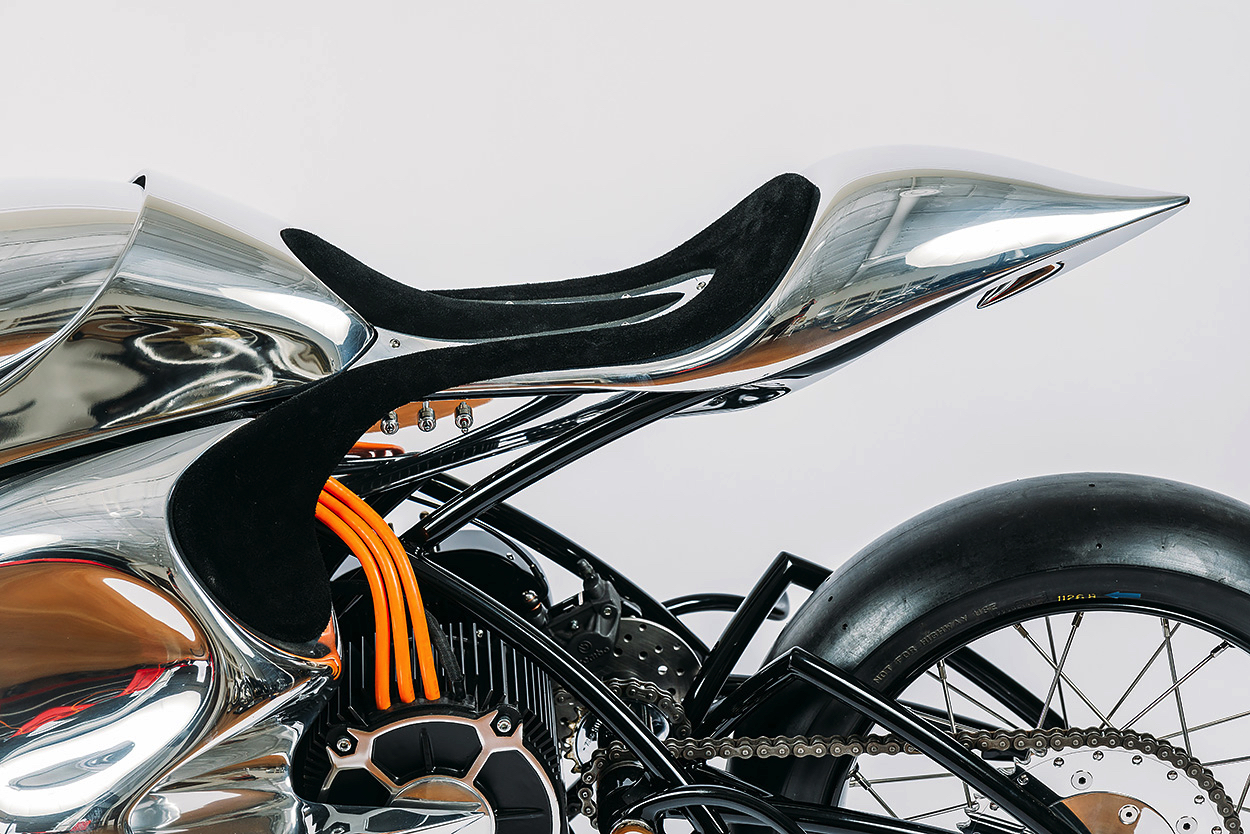 "Megpróbáltam megérteni, hogy a minőség valójában mit jelent fizikai és személyes szempontból – és hogyan kapcsolódik mindez napjaink technológiai fejlődéséhez" – mondja Jay. "Ez persze nem kizárólag az elektromos járművekre korlátozódik, de azért erős késztetést éreztem egy elektromos motorkerékpár létrehozására.
 "Van Jaynek olyan érzékeny és filozófiai oldala is, amelyet életem elmúlt hét évtizede során ritkán tapasztaltam" – mondja Bobby.
"Gyakran, amikor beszélgetünk, nem a motorkerékpárokról van szó, hanem az életről – és arról, hogy a világ milyen irányba tart, illetve mi a mi szerepünk ebben az iparágban."
Jay következő munkája során Paul Brodie-val, egy igazi vintage motorkerékpár-szakértővel működik majd együtt. Egy 1919-es Excelsior motorból készül majd a nagy mű, hogy megünnepeljék a híres versenyző márka 100. évfordulóját. Mi már nagyon várjuk az új jövevényt!
Forrás: BIKEEXIF