A posztapokalipszis lovasa
Scrambler sorozatom egyes tagjai tényleg remek off road képességekkel rendelkeznek, mások kevésbé, sőt olyan vasakat is bemutattam már ebben a szkrembler-folyamban, melyek jobb, ha elkerülik a komolyabb terep kihívásokat, nem veszélyeztetve ezzel a túlvállalással gazdijuk és önmaguk testi épségét.
Scrambler cikk-1, scrambler cikk-2, scrambler-cikk-3, scrambler cikk-4, scrambler cikk-5, scrambler cikk-6, scrambler cikk-7, scrambler cikk-8.
Ebben a cikkben azonban egy olyan járművet fogok bemutatni, amelynél szószerint élet-halál kérdése, hogy mindenféle (akár posztapokaliptikus) terepen is elboldoguljon. Merthogy a The Walking Dead sorozat szereplőjének, Daryl Dixonnak a motorjáról van szó.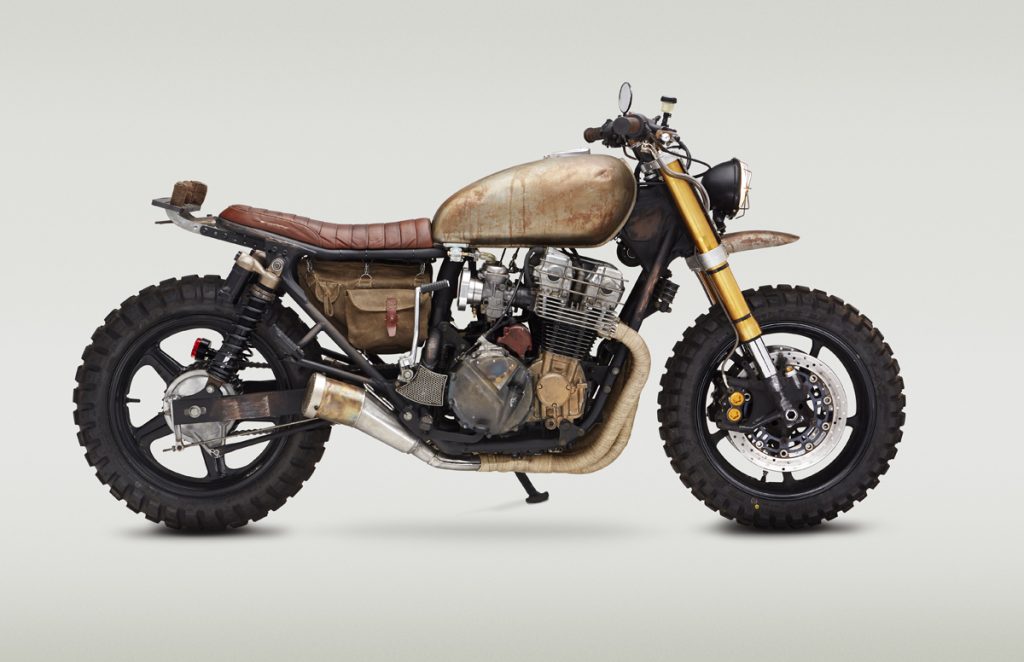 A Darylt játszó színésznek, Norman Reedusnak már korábban is állt egy Classifiedmoto kétkerekűje a garázsában, ezért ahogy kiderült, hogy az általa alakított karakternek is kell egy zombi-járó vasat választani, rögtön az említett csapathoz fordult. Ráadásul egyből két darabra adták le a megrendelést John Rylandnek, a Classifiedmoto vezetőjének! Mivel a csapat sokszor dolgozott már Honda Nighthawkkal, ezúttal is erre a modellre esett a választás.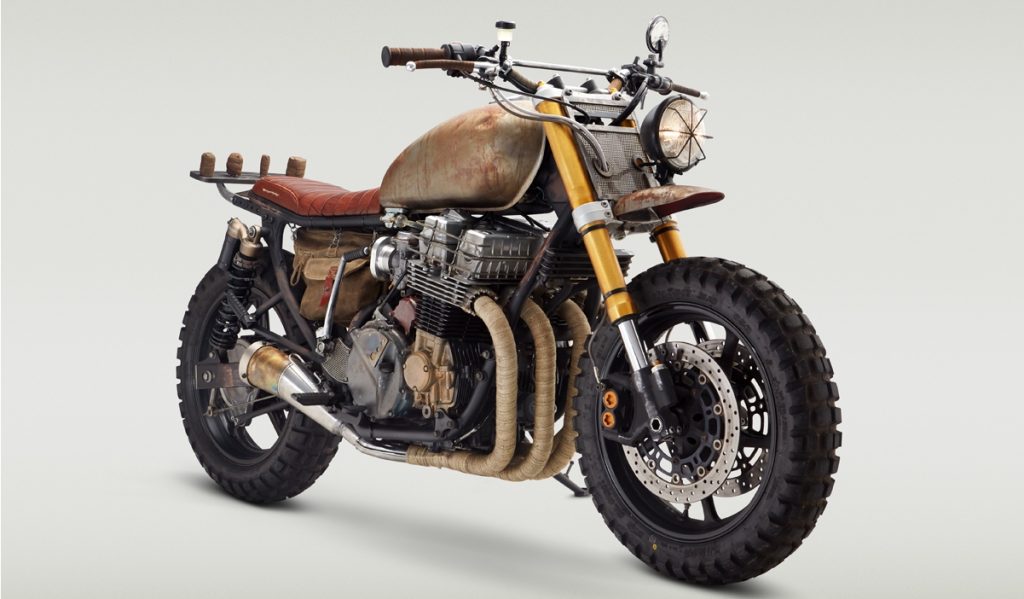 John saját bevallása szerint a projekt legbonyolultabb eleme egyébként nem a mechanikai elemek legyártása volt, hanem a post-apokaliptikus világ viszontagságaihoz illő, rozsdás, összetákolt hatású és lestrapált anyagfelületek hiteles bemutatása.
"Rusty tanks and fenders, ratty paint"
Egyébként John feleségének, Betsynek köszönhető a remek festési munka, illetve az összes karcolás, "zombi fognyom" és egyéb harci sérülés a motoron.
A tank és a sárvédők "rozsdásítása" John feladata volt, aki acélgyapjúval, ecettel, peroxiddal és rozsdaporral esett neki az emlíett felületeknek, hogy elérje a kellő hatást. Az csak tovább bonyolította az amúgy sem egyszerű feladatot, hogy két tökegyforma motort kellett megalkotnia, hogy ne tűnjön fel a nézőknek, hogy hol az egyikkel, hol a másikkal "közlekedik" Daryl az élőhalottak között.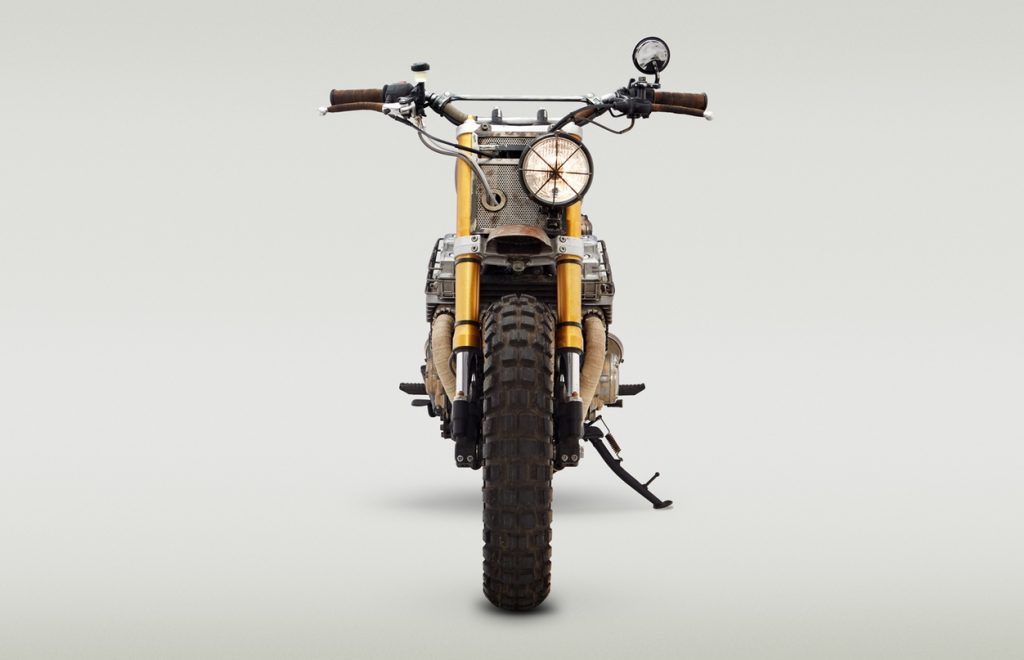 John főmérnöke, Danik végezte el a legtöbb mechanikus és elektromos munkát, beleértve az ál-berugókar megalkotását, ami valójában nem működik a motoron. Jim Carrol motorépítő is besegített a munkálatokba, illetve David Zemla a Progressive Suspension cégtől, továbbá a Dime City Cycles csapata is részt vállalt a feladatokból. Ron Baird burkolta az üléseket és ő tervezte a váz alatti viaszosvászon táskákat is.
Természetesen, az élőhallottak legnagyobb bánatára, helyt kapott a motor végén Daryl hatékony számszeríjának tartószerkezete is.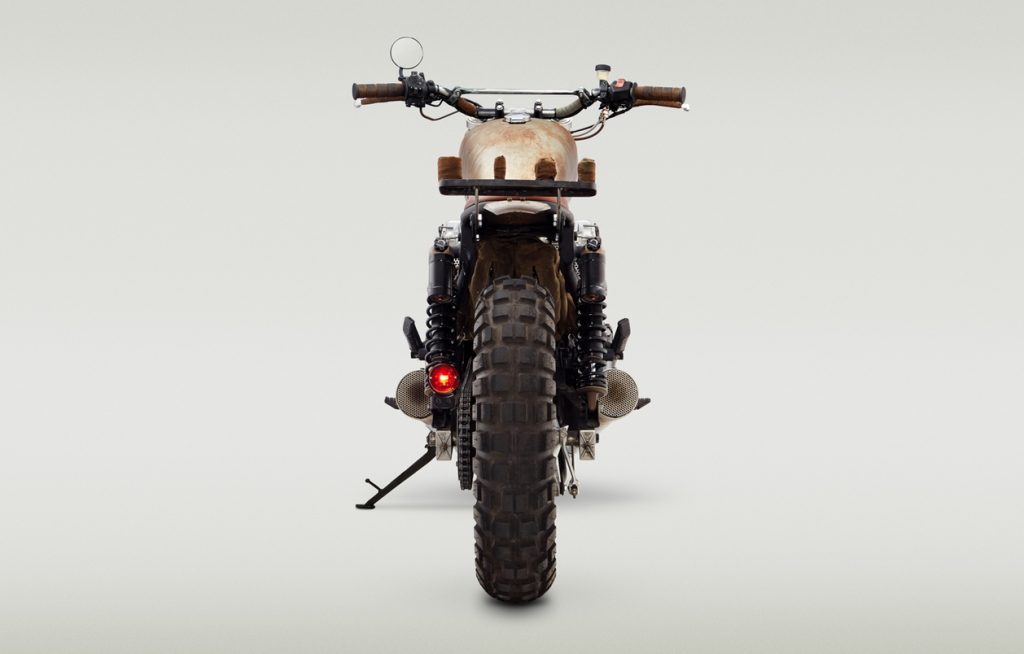 Build Sheet:
Donor: 1992 Honda CB750 Nighthawk
Első traktus: Yamaha YZF-R6
Első kerék: Yamaha YZF-R6
Első fék: Yamaha YZF-R6
Hátsó kerék: gyári Nighthawk
Gumik: Kenda Big Block
Villák: Progressive Suspension 970 piggybacks
Tank: XS650 reprodukció
Kipufogó: módosított gyári
Nyereg: Roy Baird készítette Richmondból
Akkumulátor: Shorai Lithium Ion
Lánc: DID X-ring
Forrás: Bike Exif