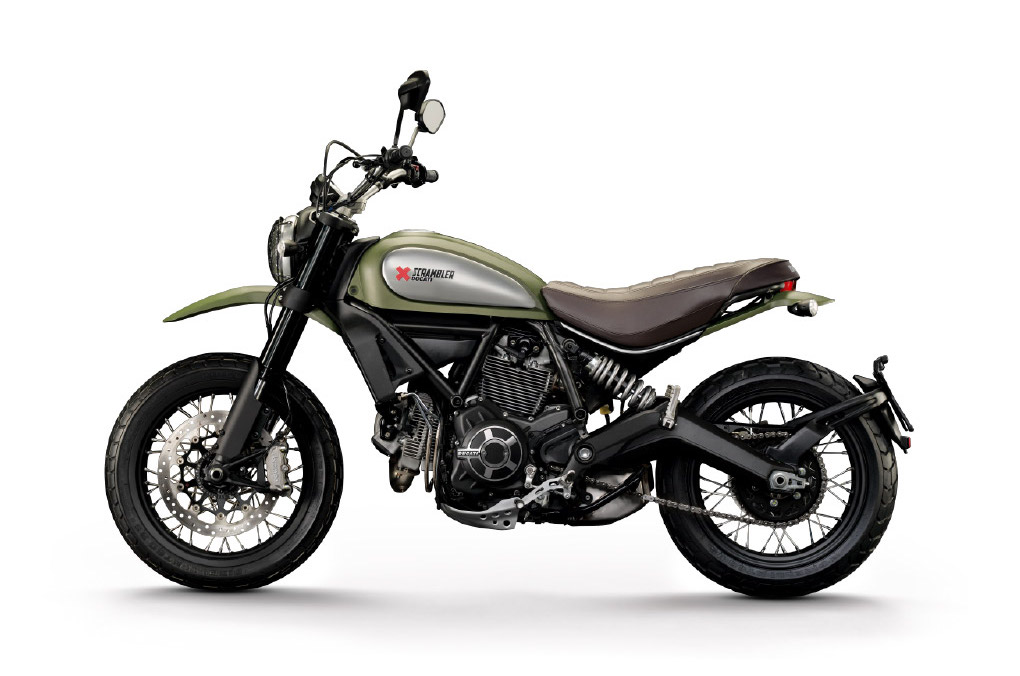 Új briganti a Route42 garázsában!
Négy nappal ezelőtt, péntek reggel Balázsi Petivel a This is Melbourne Too hangulatos teraszán ültünk, két tényleg tökéletes eszpresszó fölött merengve a világ dolgairól.
Öt röpke perc alatt persze megváltottuk a planétát. Mint mindig. Kétszer! Ha kávé van, minden van. A még jótékonyan alacsonyan álló nap, a két kis csésze oldalfalára óvatosan felkúszó finom crema és a kellemes reggelhez éppen passzoló zene finoman cirógatta a hangulatunkat. Jó volt!
Én azonban, mindezek  ellenére türelmetlen voltam. (Számtalan rossz tulajdonságaim egyike.) Tapintatlan hangszer az otromba, de én bizony nagyot fújtam bele és motorra nógattam Petit. Mentségemre, a Route42 csapat roppant izgalmasnak ígérkező őszi projektjének alanyáért indultunk a balatonboglári Ducatihoz! Péter stílszerűen saját, Ducati Scrambler Italia Independentjével (az 1077 db. egyikével), én pedig egy leadandó Apriliával. (A következő két kép iPhone-nal készült, nem volt nálunk fényképezőgép.)
Sejtettem, hogy az új motor miatt a visszaút lesz az izgalmasabb! (Nem csak azért, mert visszafelé komppal átmentünk Tihanyba, hogy az északi partot is felderítsük.)
A Ducati (Scrambler Urban Enduro) nyergében (szinte) végig az járt a fejemben, hogy ez lesz az első olyan átépítésünk, amelynek az alapja egy vadiúj motor! Pl. a BMW R65-ből gyúrt CaféRacer.42 jövőre harminc éves lesz, a kis BSA C15 alapú Tracker.42 pedig idén már 57 esztendős! Mindkét igazán ritka különlegességben imádom, hogy unikális történetük és ezért (is) komoly értékük van, de ezúttal valami újat és mást szerettünk volna létrehozni.
A motor egyébként döbbenetesen kezes! A széles és magas kormány, alacsony ülés kombó a vas mellett állva, "kívülről" furának tűnhet, de rendeltetésszerű használat közben (értsd, a budapesti dzsungelben az autók között cikázva) meglepően könnyen és pontosan motorozhatóvá teszi a Ducatit. Kezdőknek is simán ajánlanám. Ha pedig úgy érzitek, hogy a 75 paci kevés ennek a motornak, nagyot tévedtek. Pont elég. Szerintem. Bár  bejáratós még a vas, lehet érezni a tartalékokat az erőforrásában. (Film a cikk legalján.)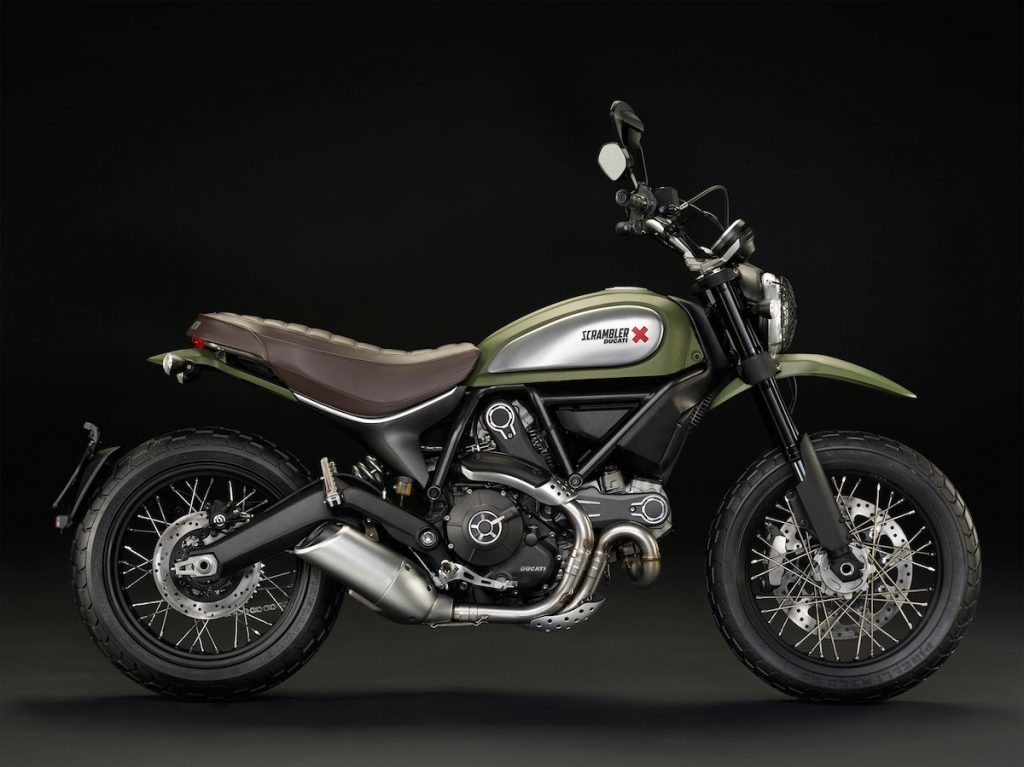 A Pirelli tetszetős mintázatú, szupermotó jellegű gumijai pedig ideális társak esőben, vagy (valószínűleg) könnyebb terepen is akár. (Utóbbit is hamarosan leteszteljük majd.) Az első fékhez bőven elég az egy tárcsa, teljesen elégedett voltam az adagolhatóságával. (Faramuci egy szó.) Ja és ABS is van, segít, ha kell. (Azt tényleg csak nagyon halkan és visszafogottan jegyzem magam, hogy  valószínűleg a Volkswagen/Audi "mostohapapa" is jót tett az olasz márkának és a megbízhatósági mutatóknak.) 2014-ben egyébként a World Ducati Weeken mutatták be a motort először a nagyközönségnek. Nagy örömünkre az idei (júl. 1-3.) WDW-ről Misanóból Balázsi Peti fog "közvetíteni" a Route42 számára. Nagyon várjuk már a képeket!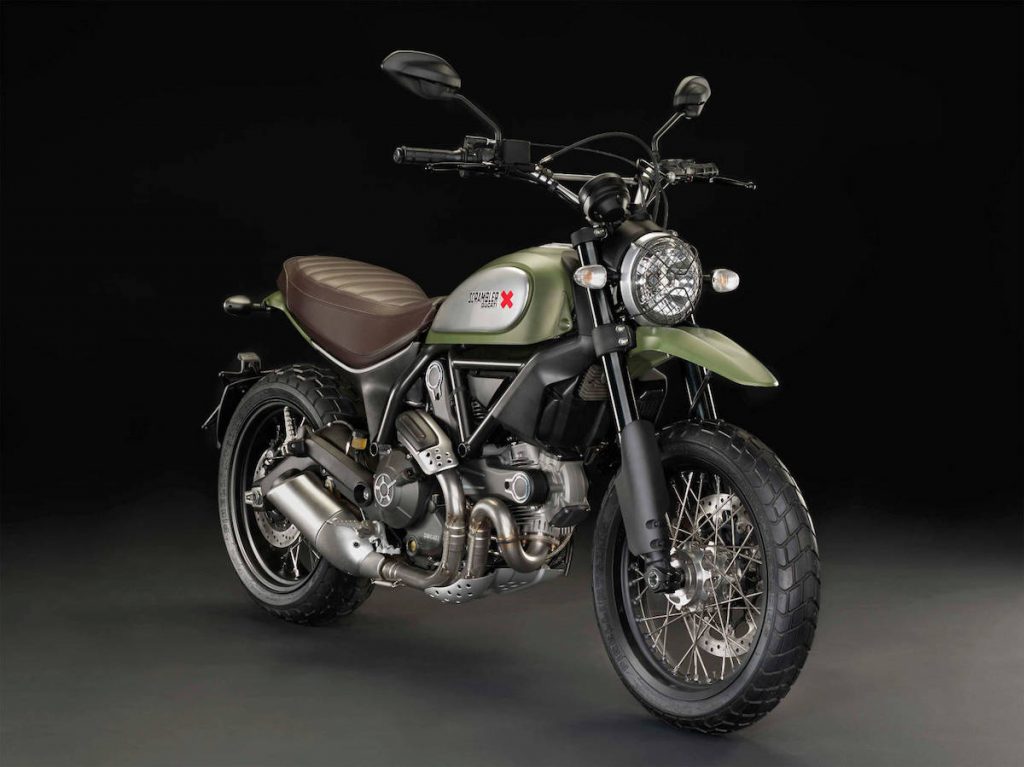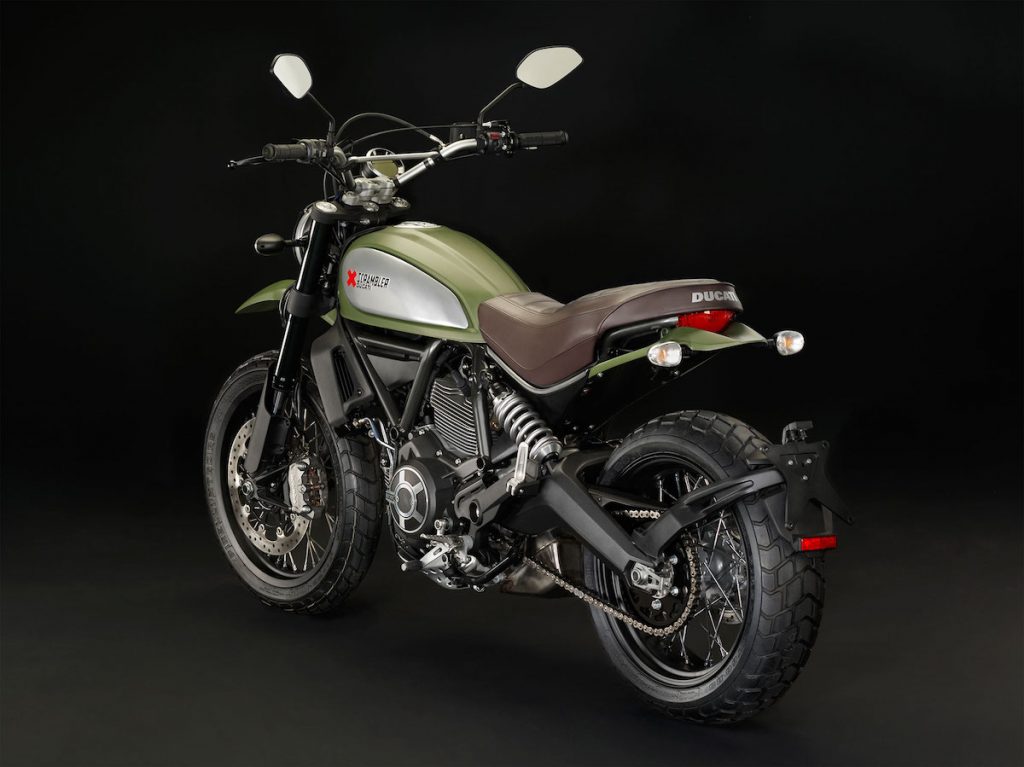 A retró (jellegű) motorok egyébként egyre népszerűbbek nemzetközileg, sőt már itthon is. Ahogyan a caféracerek, úgy a scramblerek is reneszánszukat élik. (A Ducatinak ez a két éve bemutatott típusa lett minden idők legjobban eladott modellje.) Beszédes, hogy alapból is hat verziót árulnak belőle. Az Icon alapkivitel mellett Classic, Sixty2 (ez csak 400 köbcentis), Urban Enduro, Flat Track Pro és Full Throttle verzió is megvásárolható ebből a modellből. További infók itt: http://scramblerducati.com
Steve McQueen (AKA: The King of Cool) kaliforniai sivatagi kalandjainak képei (szinte) minden motoros agyában kiemelt polcra kerülnek/kerültek. (Az On Any Sunday továbbra is kötelező mozi. Sokadszor is.) A többi gyártó persze szintén szeretné felfuttatni az emelkedő piaci trendre a saját kétkerekűjét is. A másik angol (öööö) márka, a Triumph és a BMW R NineT Scrambler mellett, pl. a Husqvarna is tervez bemutatni egy gyárilag "szkrembloid" vasat. (Persze a fűnyírók mellett.)
Sőt, a lelkes motorépítők mellett (cikk1, cikk2, cikk3) a pixelvarázslókat is nyilvánvalóan inspirálta a Ducatinak ez a sikerdarabja. A Gannet Design megálmodója, Ulfert Janssen (első magyar interjú vele itt) is többször koptatta e miatt a motor miatt az egeret és a Wacom táblát.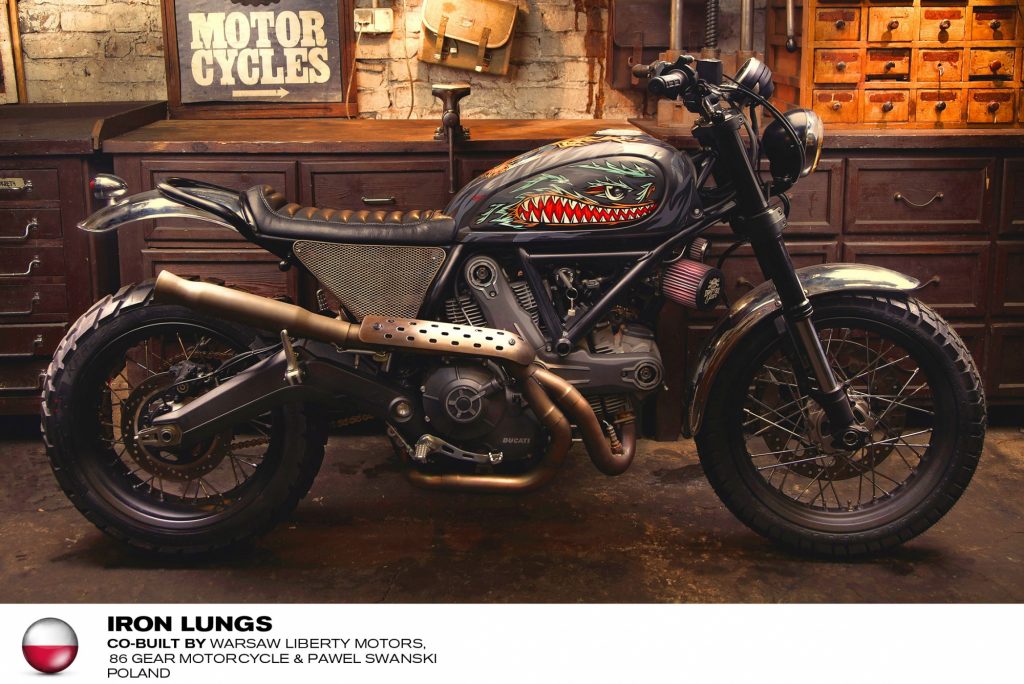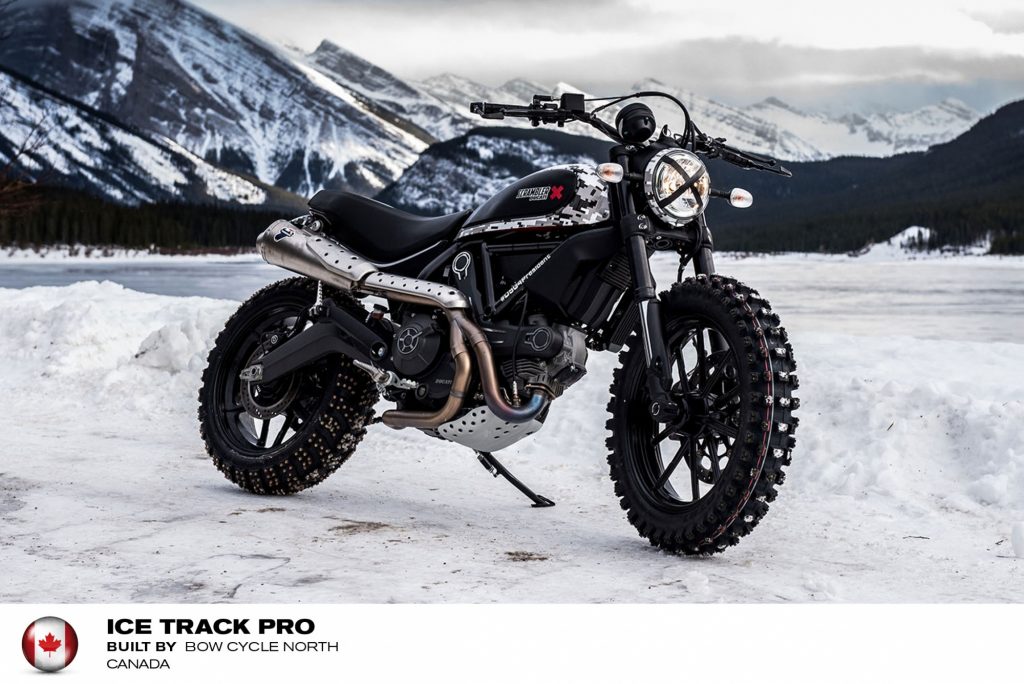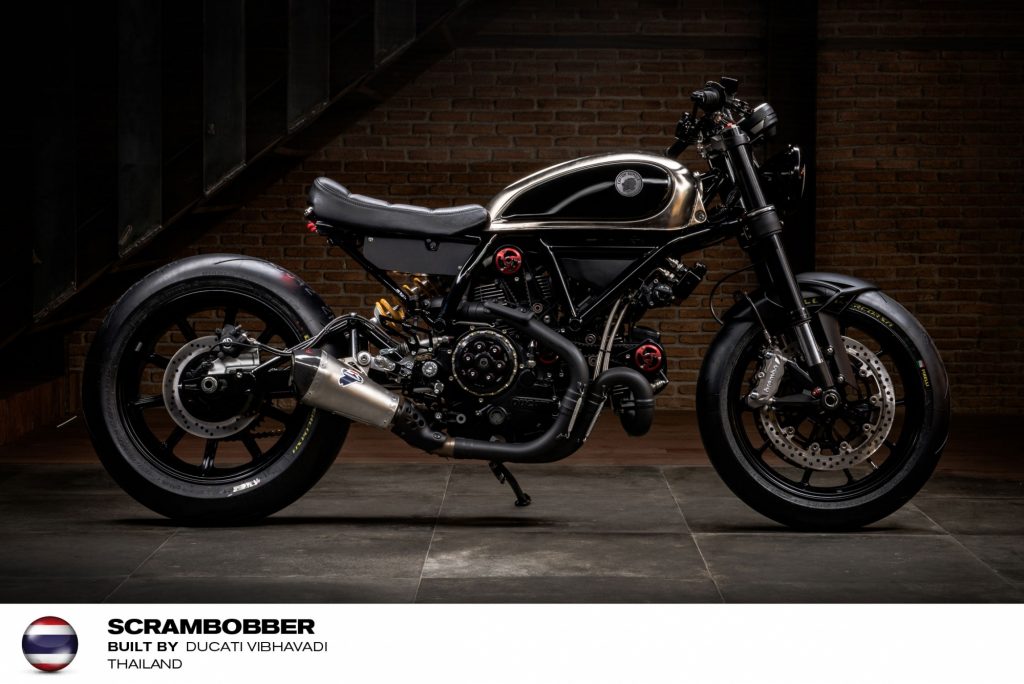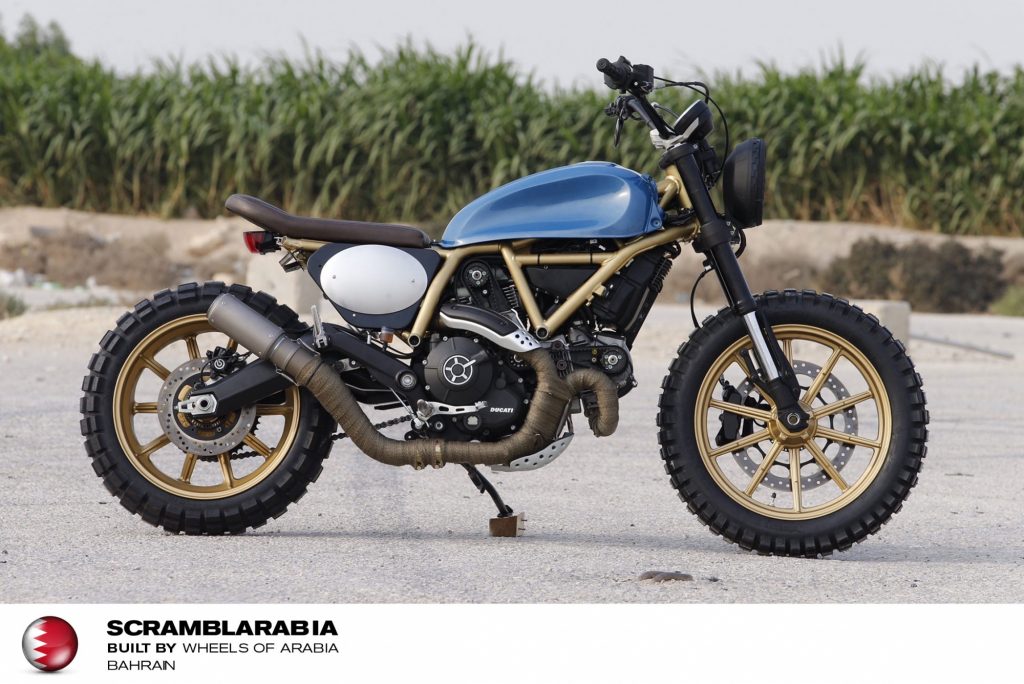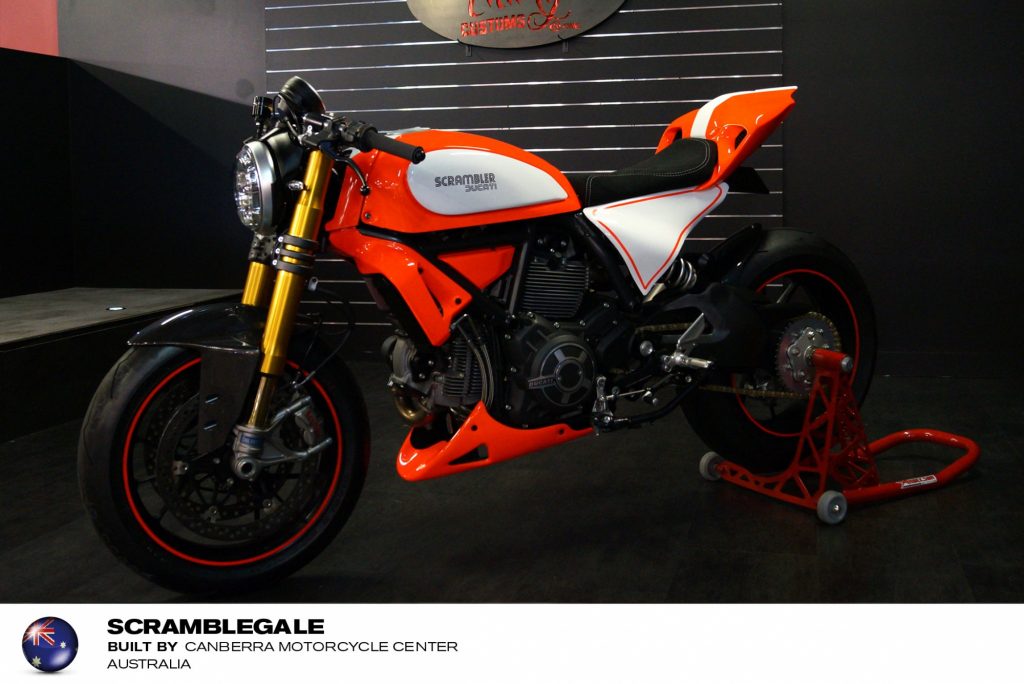 A Ducatinak ráadásul nagy múltja is van ebben a szegmensben (ami nagyban segíti a cég marketing gurujait) nem csak jelene és jövője. Az első (250-es) Scramblert még 1962-ben mutatták be, hogy aztán '69-ben a később kultikussá váló 27 lóerős 450-essel tegyék fel a koronát e sorozat sikerére. (Egyébként 1976-ig gyártottak ezt a legerősebb darabot.)
Összefoglalva tehát, az elmúlt évek nyilvánvaló trendje, hogy a nagy gyártók, eleve úgy dobnak piacra könnyen átalakítható modelleket, hogy azok megmozgassák az átépíteni (inkább átépíttetni) vágyók fantáziáját. A marketing és üzleti modell hasonló ezeknél a cégeknél. Mindegy, hogy Yamaha Yard Built, Ducati Garage, vagy BMW Heritage a neve a gyereknek. A Harley Davidson mindig is tonnányi pénzt csinál(t) abból, hogy a tulajdonosok nagy része nem gyári állapotában, hanem eleve töméntelen extra alkatrésszel (hallatszon az a Vance & Hines kipufogó, "krómosodjon be" az a motor jobban) és komplett HD ruházattal (kutya öltözet is rendelkezésre áll) veszi át szeretett motorját a kereskedéstől.
Ez a folyamat is hasonló, a márkák "átadják" neves nemzetközi motorépítőknek a vasakat és aztán brutális budget-vel megtolják az elkészült anyagokat, melyeket egy komoly tartozék- és ruhakatalógus követ. BTW: Itt írok ebben a témában egy példaértékű BMW projektről. (Vérzik a szívem, hogy a Norton erről is lemaradni látszik. Jó bornak is kell a cégér, ez már egy "másik világ".)
A következő nyári időszakban tehát kissé elmerülünk a scrambler témakörben, így terveim szerint kéthetente szolgáltatok majd némi kontentet ebben az izgalmas témakörben.