Madárkalitka motor titánból
A BMW Motorrad az elmúlt években nagyon elkapta a kor hangulatát.
Ahogy arról már sokszor írtam (itt, itt és itt), a nagy múltú bajor gyártó hatalmas vehemenciával (és tőkével) egy komplett "felnőtt-játszóteret" épített fel legendás boxerei köré. A német (mérnöki és kommunikációs) gépezet a világ leghíresebb motorépítőivel együttműködve, ügyes PR kampányok segítségével ismerte fel/aknázta ki az elmúlt évek "retró hangulatát". Ma is egy ilyen kollaborációról számolok be. Már az előző, japánokkal való együttműködés végeredménye (Custom Works Zon R18) is menő volt:
de a ma bemutatandó (a Revival Cycles által épített) jármű egészen elképesztő! Alan Stulberg, a Revival Shop vezetője így vezette fel a történetet:
"A BMW néhány hónappal ezelőtt eljött hozzánk, és egy olyan motor-sebességváltó kombót mutatott be nekünk, amihez foghatót még soha nem láttunk."
"Akkor még nagyon kevés részletet mutattak be nekünk, de nyilvánvaló volt, hogy nagy terveik vannak az ikonikus twin blokkal. Persze nehéz ezeket a képeket teljesen be-, és elfogadni, de ez a boxer tényleg fenomenális darab!"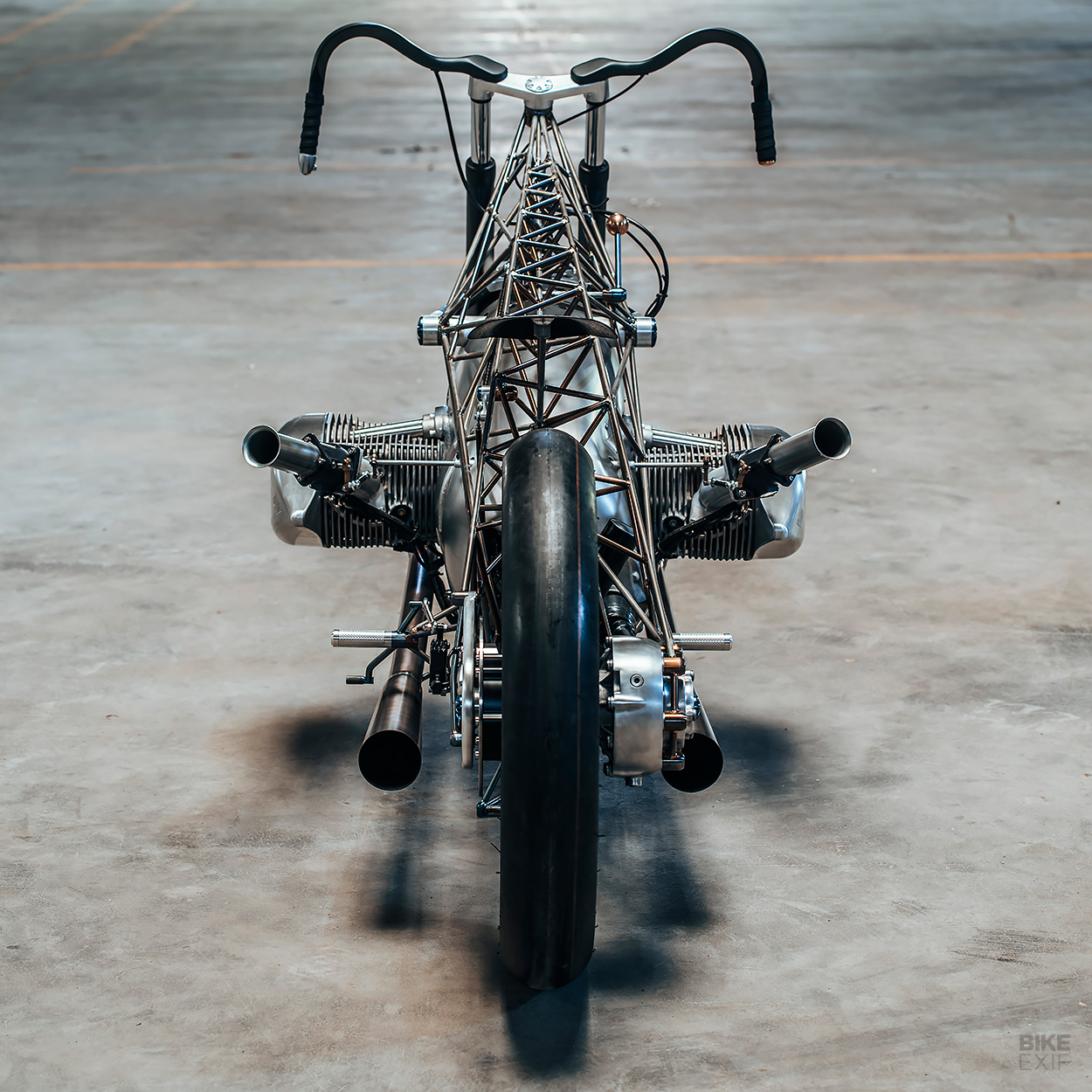 A hatalmas, két oldalt brutálisan kiálló hengerekkel (amelyeknek a teljes űrtartalma kb. 1800 köbcenti!) a Revival kihívása az volt, hogy olyan dizájnt tervezzen, amely "elbír" ezzel a tömeggel és kellőképpen kihangsúlyozza a forma szépségét.
Alan azt akarta, hogy a koncepció két dolgot valósítson meg egyszerre:
"Úgy tűnjön, mintha nem lenne képes működni, és ne korlátozza a motor, illetve a hajtómű látványát. Azt hiszem, mindkét célt elértük."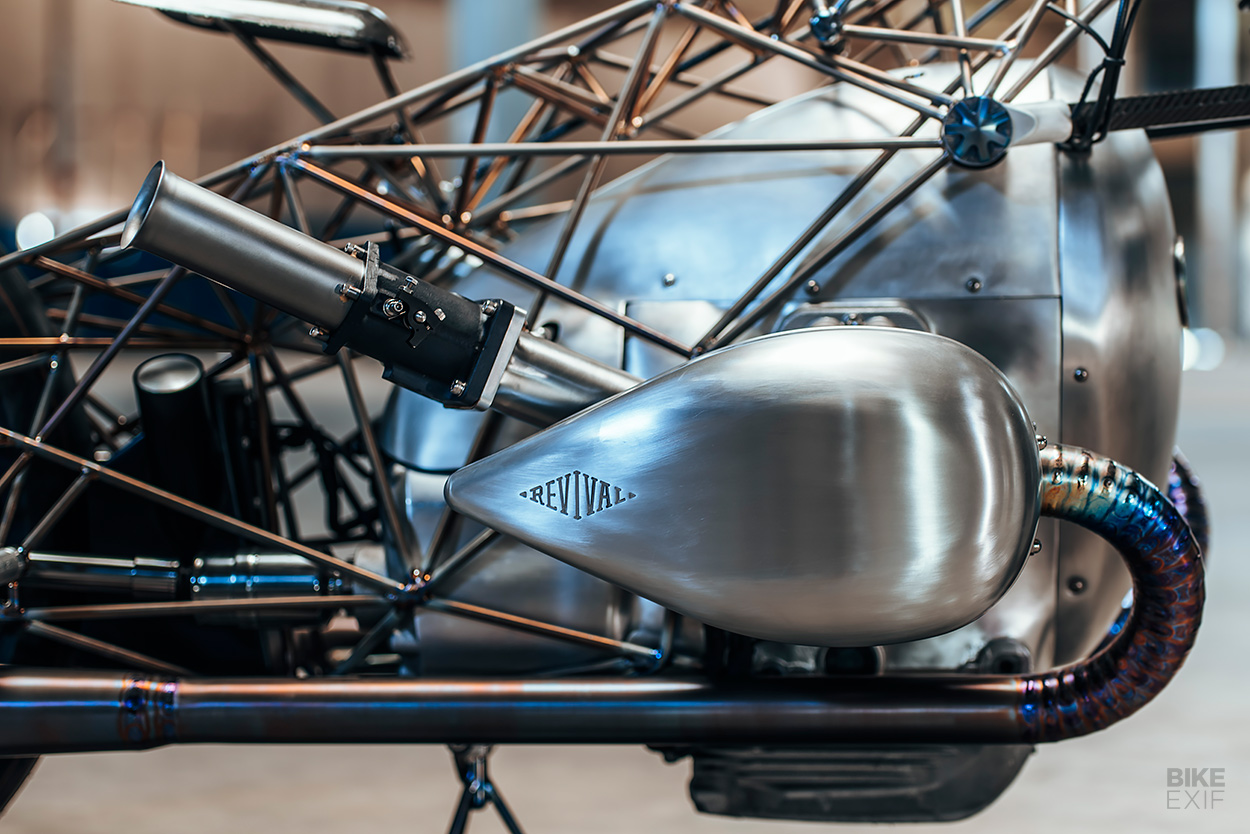 Szóval hogyan jutott el a Revival a fémhálós váz ötletétől a megvalósításáig? Az inspiráció a Maserati és a Porsche híres 50-es, 60-as évek elején épített hálóvázas (birdcage-framed) versenyautóitól jött. Az alkotók úgy döntöttek, hogy egy "teljes madárfészket" terveznek meg, majd meg is építették az első ilyen jellegű vázzal rendelkező unikális motorkerékpárt!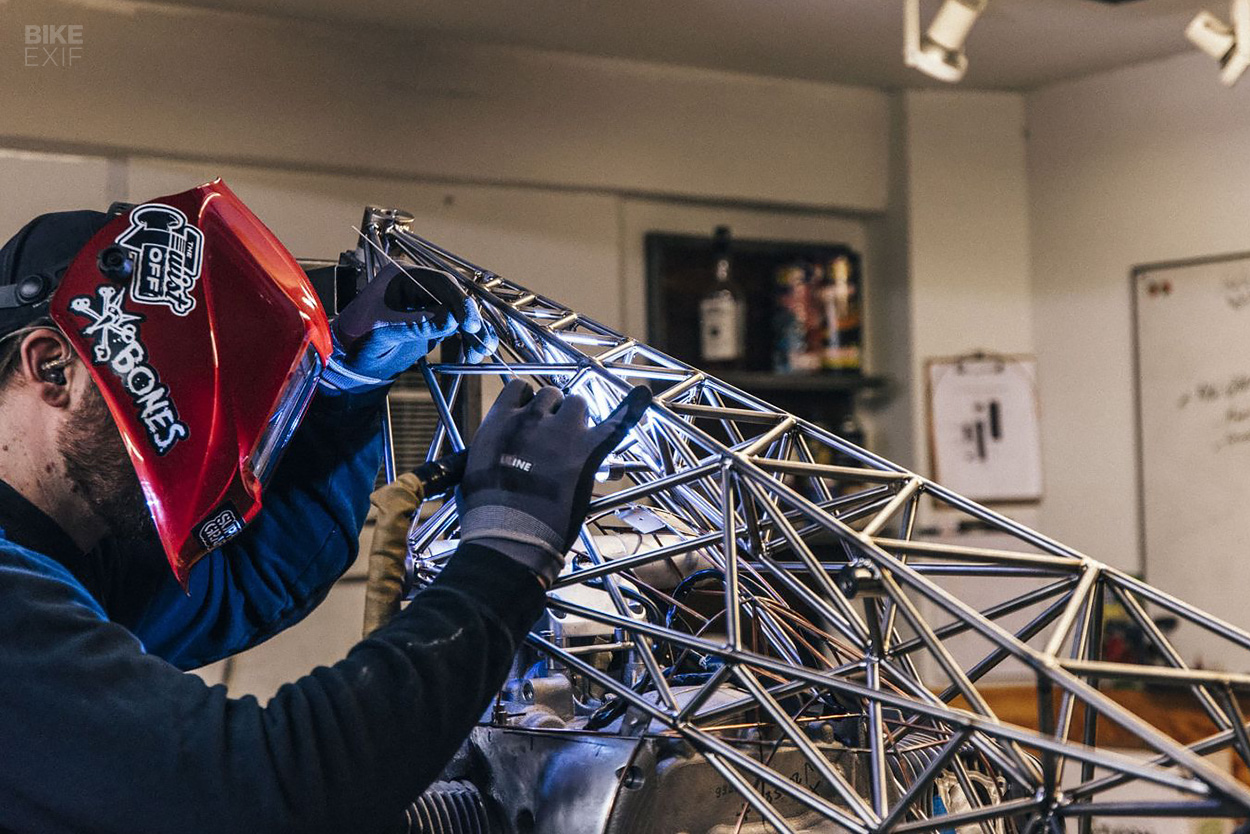 A Revival legények elhatározták, hogy titánnal fognak dolgozni, kis súlya és nagy szilárdsága miatt. A fő szerkezet 138 (!) óvatosan vágott, kezelt és hegesztett titán keret-elemből áll. A motorkerékpár minden lényeges alkotóeleme a fő hálós vázszerkezethez kapcsolódik. És bár minden pontosan ott van, ahol éppen szükség van rá, rengeteg "szabad formájú" kialakítás található a vázon, köszönhetően a BMW boxer motorok aszimmetrikus felépítésének.
"A BMW motorozási élményének legjobb része általában az, hogy mennyire jól kiegyensúlyozottnak érezteti magát" – mondja Alan. – Tehát nekem, mint építőnek, több, mint ironikus, hogyha lenézek a csupasz motorra, a sebességváltóra és a hátsó hajtásra, látom, hogy szinte minden aszimmetrikus."
"A harmonikus formákkal és vonalakkal jellemezhető tervezés (szinte) könnyű volt. Csak egy darab titánrúd van a motorkerékpár középvonalán, amely a kerekek középpontjába esik – a többi pedig oda került, ahová a legjobban illeszkedett."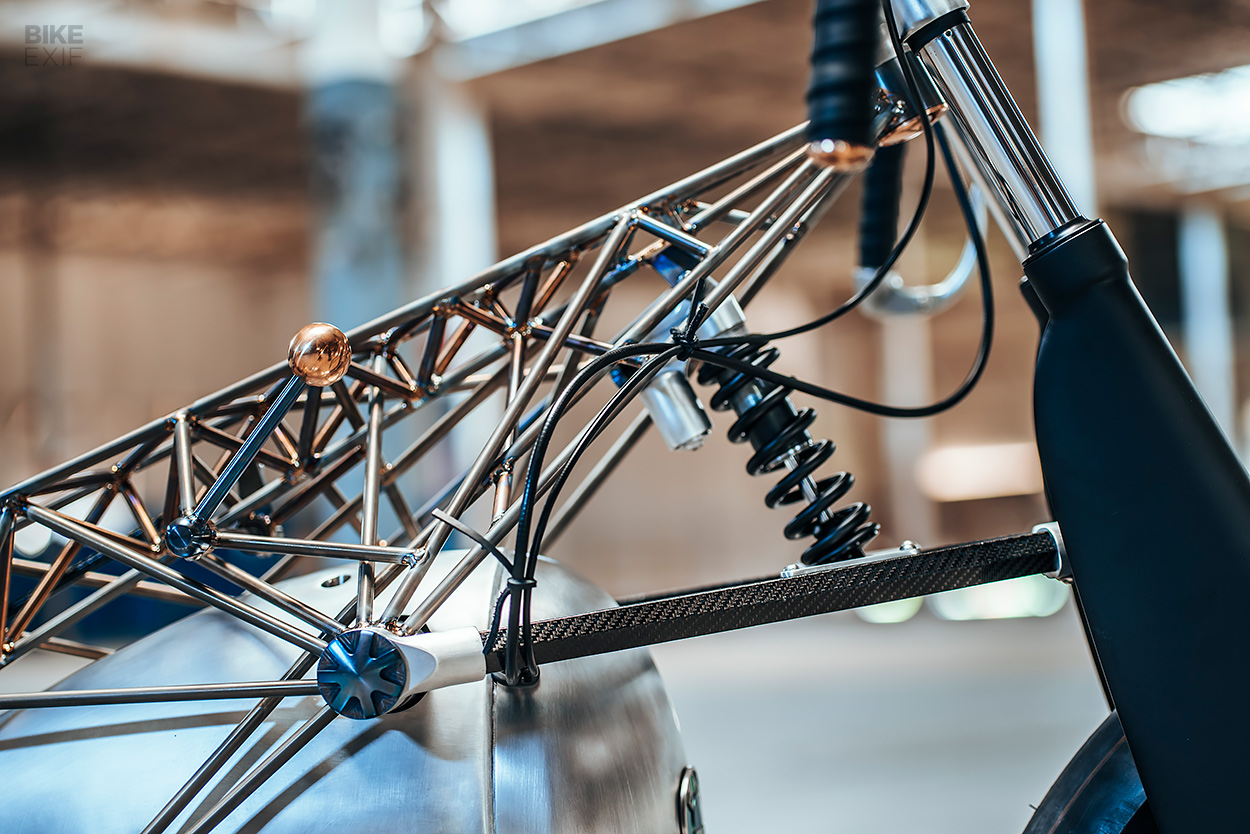 Ezután a Revival épített egy hasonló elülső felfüggesztési rendszert, mint a BMW híres Telelever megoldása. Az első frontot először CAD programok segítségével tesztelték, hogy a szimulációk futtatása után biztosan működjön majd a valóságban is. A villák egy BMW R 1150 GS-ből érkeztek, a gátló pedig egy hegyi kerékpár (!) Öhlins csillapítója. A motor többi részét egy CNC-gép alkotta meg alumíniumból, illetve hexagonális szénszálas elemek is fellelhetőek itt-ott.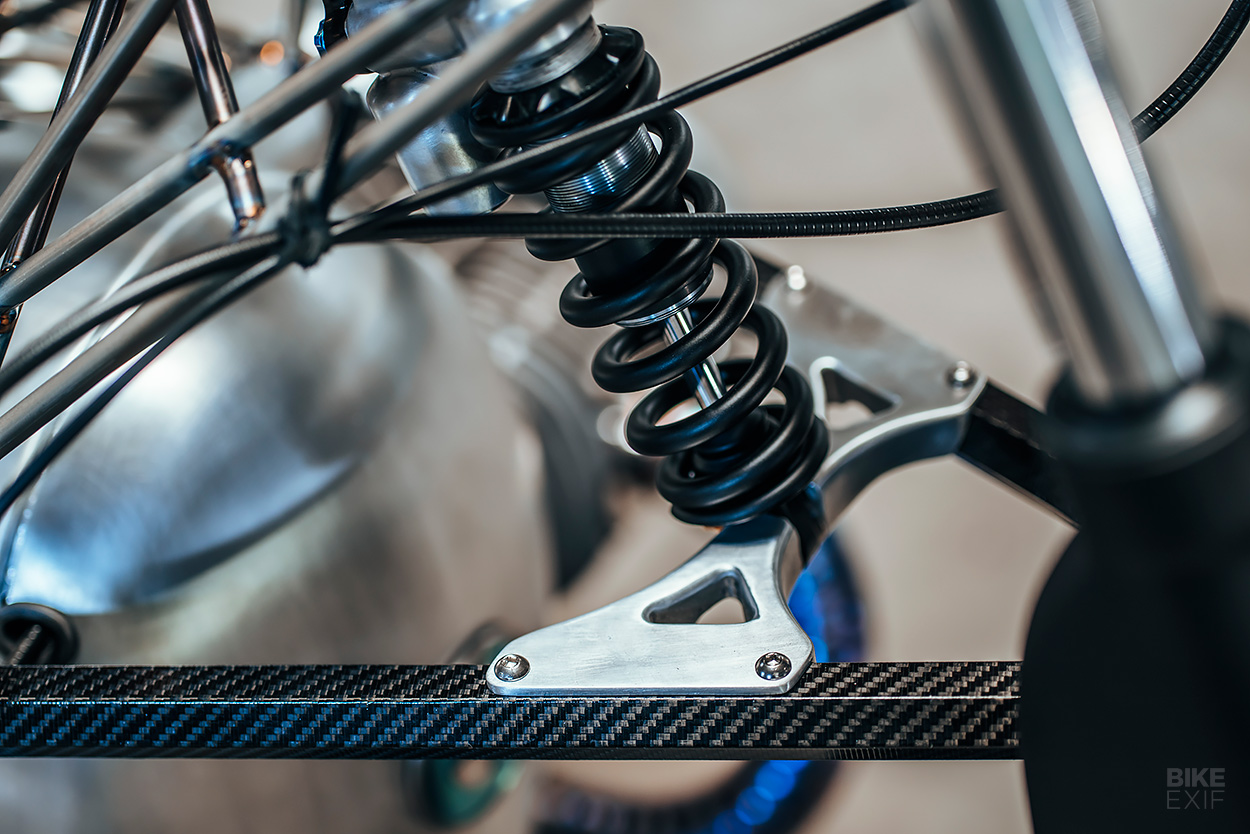 "Mágikus érzés amikor a kezedben tartod az alkatrészeket" – mondja Alan -, és nehéz felfogni a súly/szilárdság arányukat."
A villák és a kormány egy másik nagy Revival kedvenc, az ikonikus Ernst Henne BMW Landspeeder előtt tisztelegnek. Itt írtam róla:
A vezérlők különösen egyedülállók – mind a fojtószelep, mind a klasszikus fordított tengelykapcsoló belül vannak elhelyezve, a kézi váltó pedig a keret jobb oldalán található, szénszálas kötéssel.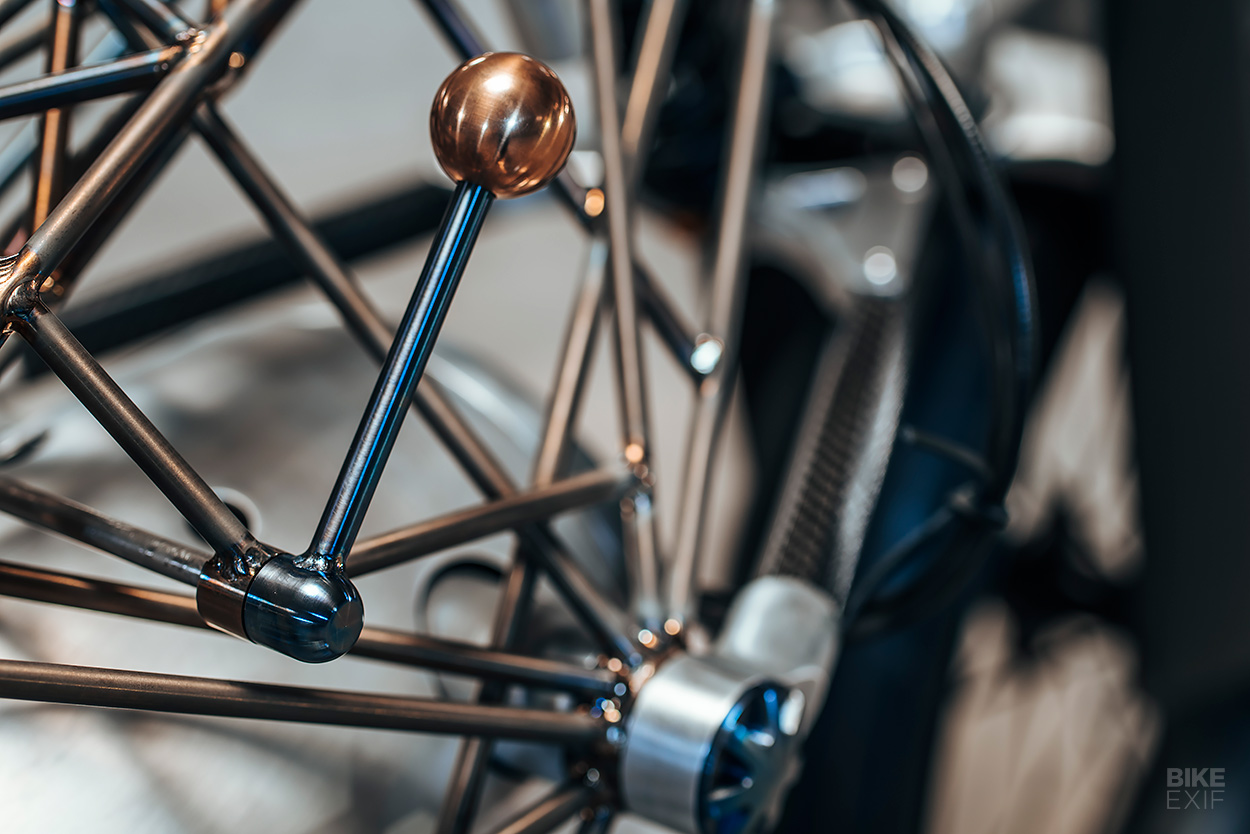 A trükkös mérnöki munka és az irigylésre méltó anyagfelhasználás az egész gépen több helyen is fellelhető. A Revival vezető mérnöke és "kraftolója", Chris Auerbach hatalmas, repülőgép ihlette szelepfedeleket, szénszálas ülést, titán-tengelyrögzítőket és lábtartókat álmodott a különleges járműre.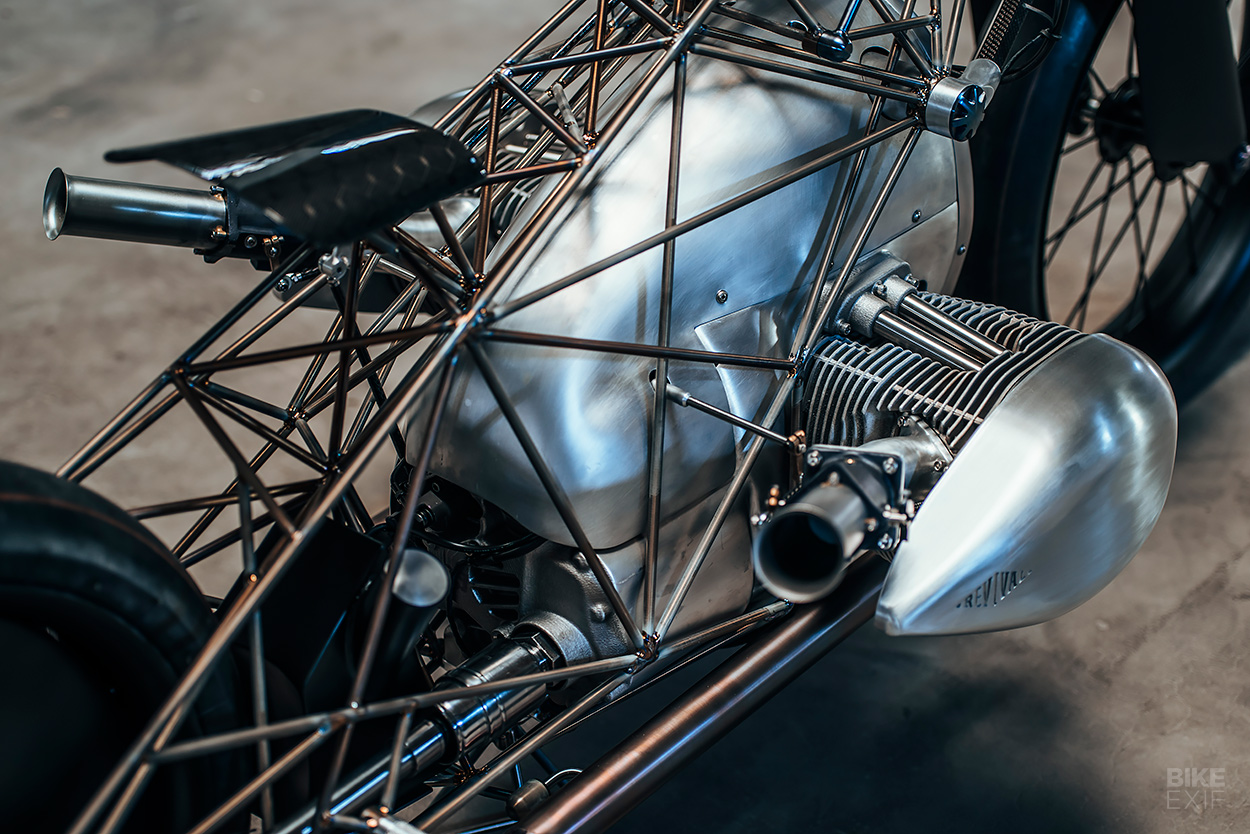 Alan alumínium burkolatot tervezett a motor és a sebességváltó számára, amely vizuálisan körbeöleli a hajtóművet. Ez a "burok" tökéletes helynek bizonyult az egyedi ECU (Engine Control Unit), töltő- és gyújtórendszerek, valamint a legtöbb kábelezés elhelyezésére is. Kissé e burok mögött, és egy kicsit lejjebb található az alumínium üzemanyagtartály. Csupán egy gallon üzemanyag fér bele, de rendelkezik saját belső elektronikus üzemanyag pumpával.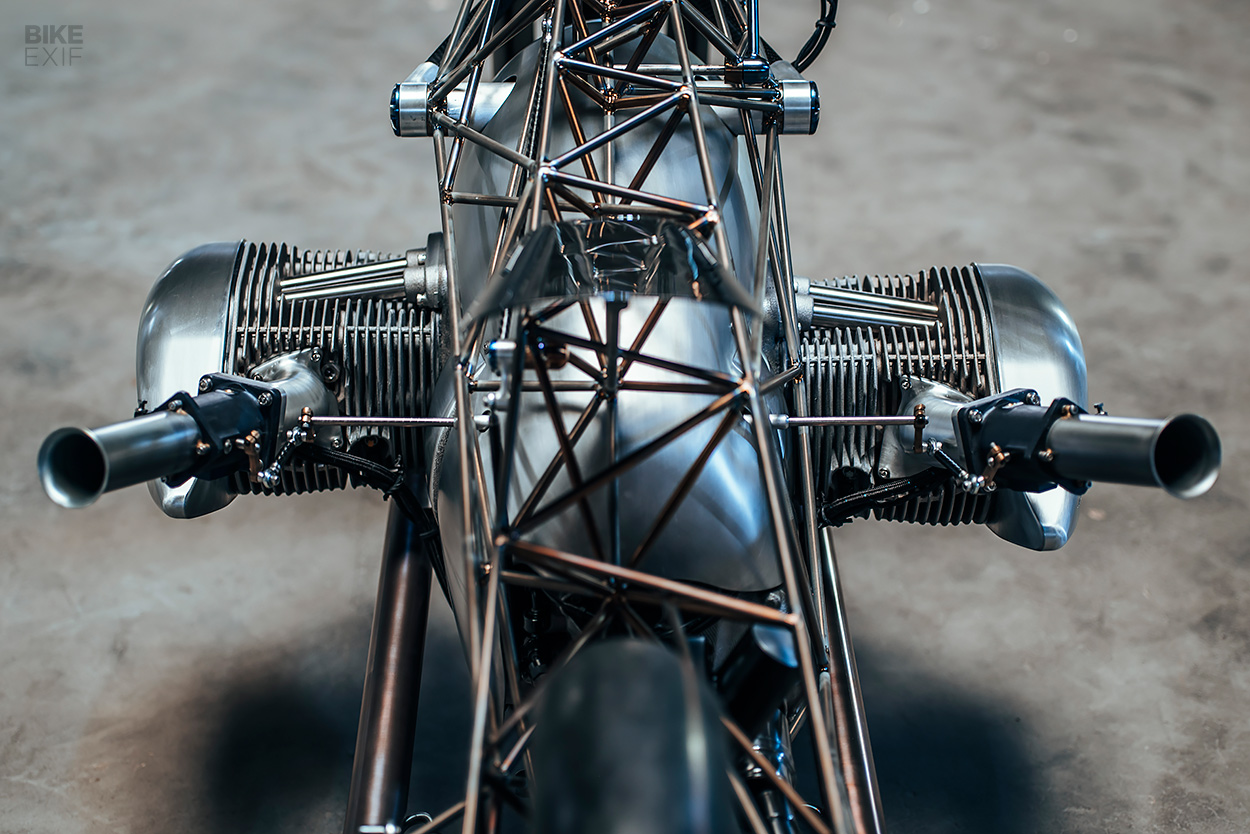 A Revival csapat végül egy "old-school" üzemanyag-feltöltési módszert választott, nagy szájú mechanikus üzemanyag-befecskendező testekkel, és harangszájú (bell mouth) kürtőkkel. Ezek a tüték úgy  néznek ki, mintha útban lennének, de valójában csak kicsit szélesebbek, mint a szelepfedők.
"Ezek az elemek bőséges teret biztosítanak a motorosnak, hogy a hengerek mögé térdelhessen" – mondja Alan -, reméljük, hogy beválnak majd Bonneville-ben és Kalifornia kiszáradt medreiben is.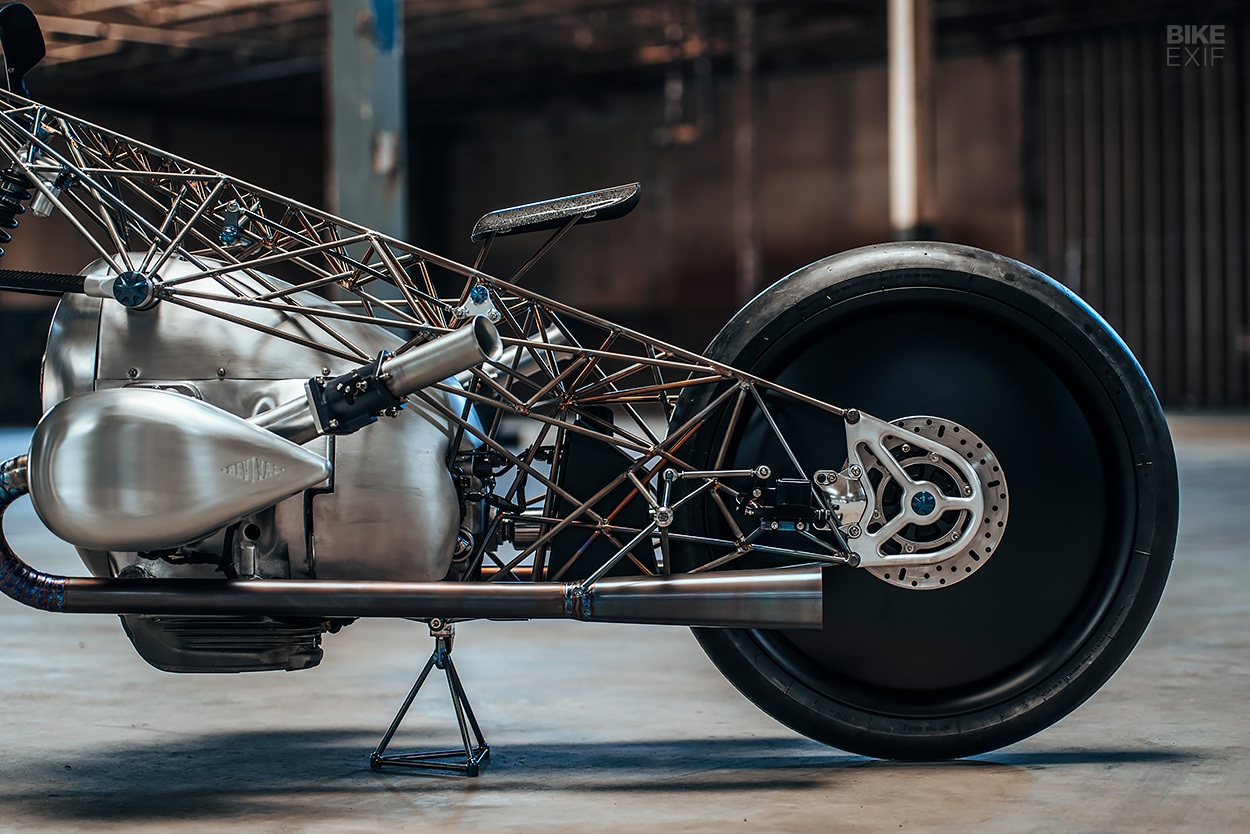 A 70 colos tengelytávval és a 23 colos Dunlop slick gumikkal rendelkező BMW rohanógép elég stabilnak tűnik. Csak egy darab egyedi (hátsó) tárcsafékkel rendelkezik a jármű, amelyet bal lábbal kell taposni, hogy megálljon a szerkezet. Újabb főhajtásként a Henne-féle motor előtt, a hátsó kerék alumínium lemezekkel van borítva. Ty Burham, a projekt hegesztő-guruja, egy teljes titán-kipufogórendszert állított össze, amelynek anodizálásával még egyedibbé tette annak felületét.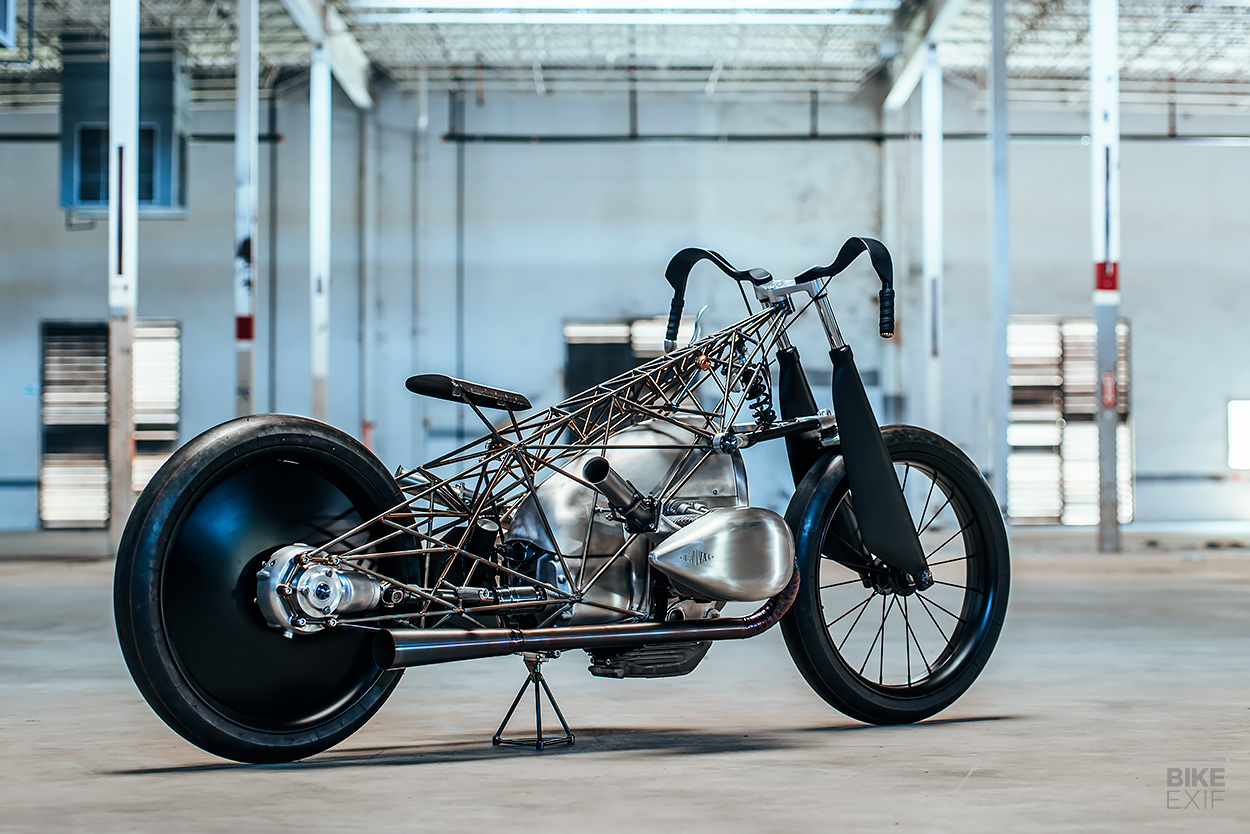 A Birdcage figyelemre méltó keveréke a művészetnek és a mérnöki tevékenységnek; egy igazán rendhagyó építés, amely újabb ékes bizonyítéka a Revival csapat hatalmas tehetségének!
Forrás: BikeExif