Az el nem dobott Boom!erang
Tanár úr kérem az úgy volt, hogy 2016 nyarán, hirtelen felindulásból beszereztünk egy Ducati Scramblert.
Hogy majd ősszel/télen építünk belőle egy csodát! Hogy majd ez lesz a Route42 csapat első, vadiúj motorból épített műalkotása! Estébé, et cetera, i tak dalse! (A CaféRacer.42 harmincegy éves, a Tracker.42 pedig ötvenhét esztendős donorból (sz)épült meg/fel.) Aztán született egy rakás cikk (pl. cikk-1, cikk-2, cikk-3, cikk-4, cikk-5, cikk-6, cikk-7, cikk-8, cikk-9, cikk-10) a káférészer stílus utáni új szerelem, a scrambler jegyében, de mivel "beesett" "néhány" új tennivaló, a Ducati projektet fájó szívvel lefagyasztottuk, mint Han Solót a gonosz Birodalom, Darth Vaderrel és Boba Fettel súlyosbítva.
Fun Fact: Ez a jelenet azért került be a filmbe, mert Harrison Ford az első epizód után épp úgy gondolta, hogy a Birodalom visszavág után nem játssza el a cinikus csempész szerepét többé, így Lucas ezzel a jelenettel hagyta meg a lehetőséget, hogy igény esetén Solót "vissza/felmikrózhassa", ha netán Mr. Ford (is) fel akarná melegíteni a szerepet a franchise egy következő epizódjában. Mint tudjuk, végül így történt. A többi, ahogy mondani szokták, történelem.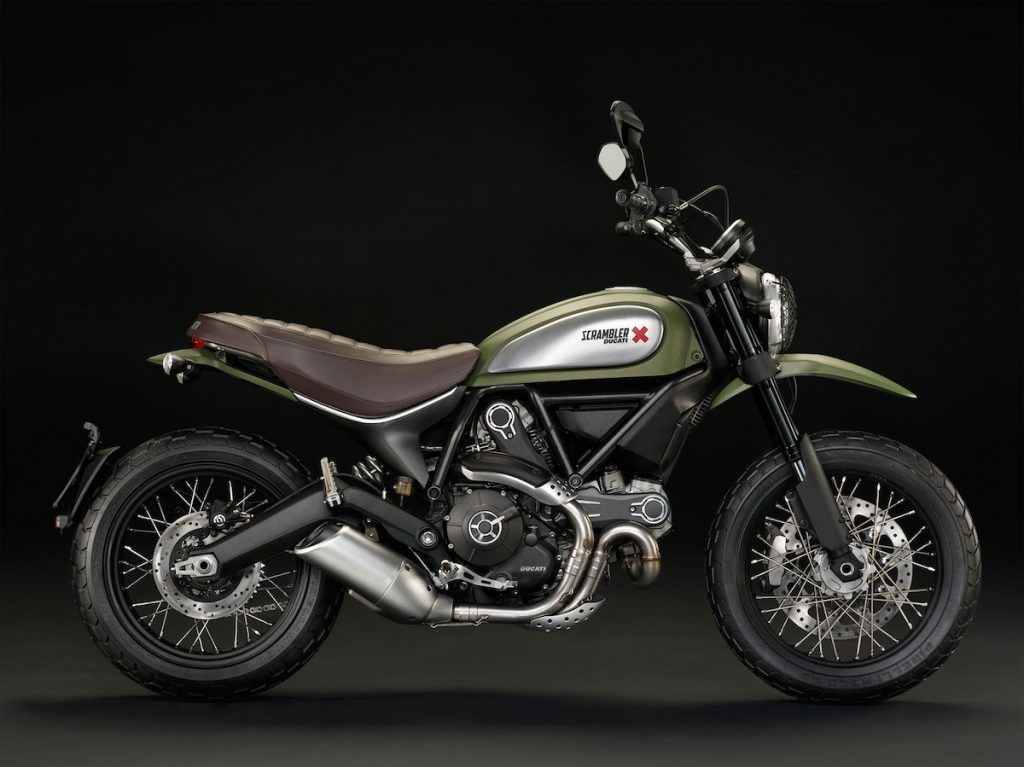 DeDeDe! Han Solo viszontagságai helyett térjünk csak vissza a mi kis Ducatink hányatott sorsára! (Figyelem/disclaimer: nem a korszellemnek megfelelen átlagválasztó kompatibilis, összetett mondat következik!) Brékingnyúz örömmel és 42 katonás sorban elhelyezett virtuális-fanfár-erdő hangja által támogatott, pátosszal teli, háli- és/vagy bolivúdi eszközökkel, tervezetten könnyzacskócsavaró módon jelenthetem be, hóóóóóóóógy:
! KIOLVASZTOTTUK A DUCATI PROJEKTET !
Mi több, a ravasz tavasz (és persze az idény) közeledtével nem csak az elhatározás született meg, hanem már gőzerővel el is indult az olasz/osztrák vas metamorfózisa! Első körben Sapka Mester két remek Wilbers telóra cserélte le a motor széria teleszkópjait, elől egy klassz LSL kormány várja, hogy kurtítsunk majd a két végén és megérkezett a 4 db. Motogadget m.blaze pin index is. (A következő képek közül a 2. és 3. fotón egy Triumphon már beszerelve, sőt működés közben is láthatjátok a pöttöm fényforrást.)
Továbbá valószínűleg egy Supertrapp kipufogót rendelünk, hogy kellően hangosan tudjon majd kommunikálni a többi versenyzővel a pályán a scrambler/tracker. A mesterterv ugyanis az, hogy akár egy láblógató flattrack pályán is megállja a helyét a végső produktum. (Egyébként már itthon is van ilyen, Szilvási Petié Monor mellett. Szóval nem kell bekéredzkedni a Rossi Ranchra.)
A Boom!erang mellett pedig épül két további Yamaha versenygép is Sapkánál, kifejezetten flattrack keresztbe-motorozás céljára. (Az első fékek miatt ne aggódjatok tehát nagyon.) A Yamik mellett örömmel konstatáltam a műhelyben, hogy a CaféRacer.42 tankjának fényezését is "buborékmentesítette" Sapka. A CR42 üzemanyagtartálya mellett a következő képen egy Monkey tankját fedezhetitek fel. (Mindig izgalmas dolog meglátogatni a Mester szentélyét, csupa-csuda relikviákkal találkozhat az ember fia/lánya.)
Jakus Tomi egyébként "sebtiben" már megcsinálta a Ducati legelső, vázlatos "gondolatébresztő" látványtervét, a 42BIT Team térdelőrajtban vár, hogy jól körbefilmezhesse az építést balról és jobbról, Talma pedig egészen biztosan hasznos tanácsokkal fog majd ellátni minket a vas tesztelési fázisában. Jó lenne, ha már ott tartanánk! Addig azonban a motor végső arculata nyilván még többször kissé változni fog, de terveink szerint "nyers alumínium jellegű" felületek dominálják majd a szerkezet tankját, faridomát és lámpáját.)
A tank "triálosan" kicsi lesz (annyira azért nem). Kb. 5-6 liter benzin azért lötyög majd benne. Éppen múlt hét pénteken jártam utoljára Sapinál, aki a legendás, hormonzavaros orosz szörny-ollóval kartonpapírból kivágva modellezte le nekem a tank két lehetséges méretét. Végül az esztétikum oltárán beáldozva kissé a praktikumot, a kisebb mellett döntöttem.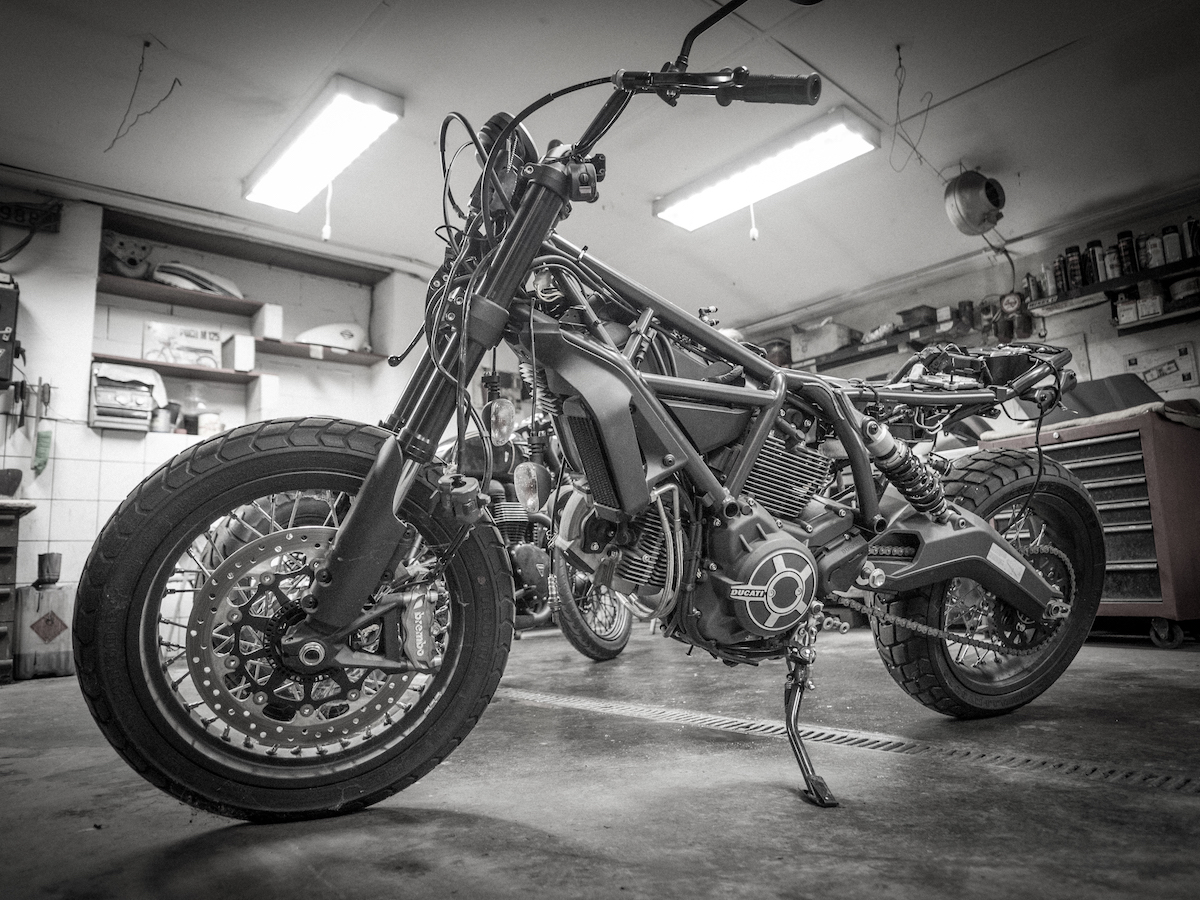 A motor egyelőre Boom!erang.42 (ideiglenes) "munkacímen" vár a további szépészeti beavatkozásokra. A lenti képből kiderül, hogy miért. Még nem tudom, hogy elvisszük-e ebbe az irányba az építést, az mindenesetre jó hír, hogy Sapinak tetszett az ötlet. Nyilván a két érintett elem optikai hangsúlyozásával lehetne ebbe az irányba fejleszteni a szerkezetet.
Mindenesetre a cél az, hogy ne azért maradjon nálam a bumeráng, mert el sem dobom, (mint az előző 1,5 évben) hanem azért, mert olyan kezes jószágot farag belőle a Mester, hogy az ideális íveket követve, mindig visszatér majd a flattrack pálya startvonalára. És akkor legközelebb, amikor Prof. Marco "Flat Track School" Belli ismét kis hazánkban jár, már a fürgeléptű Ducatiról lógathatom a bal lábamat a kanyarokban. (Jut eszembe: sajnálom, hogy nem tudtam részt venni a múlt év augusztusában először itthon megrendezett, maga a névadó legenda által tartott oktatáson. Sapi, Guld Peti és Regős Dani áradozott a "dagasztásról", a Totalbike pedig itt számolt be a jeles eseményről.)
Ez év végén pedig a Route42 Teamre egy újabb remek feladat vár! Jelesül annak a BMW R9T Scramblernek az átépítése, amelyikkel 2017-ben jártam és egyébként nagyon megkedveltem. Szóval nem tétlenkedünk 2018-ban sem, kövessetek minket, megéri!
Either Lead, Follow, Or Get Out Of The Way!