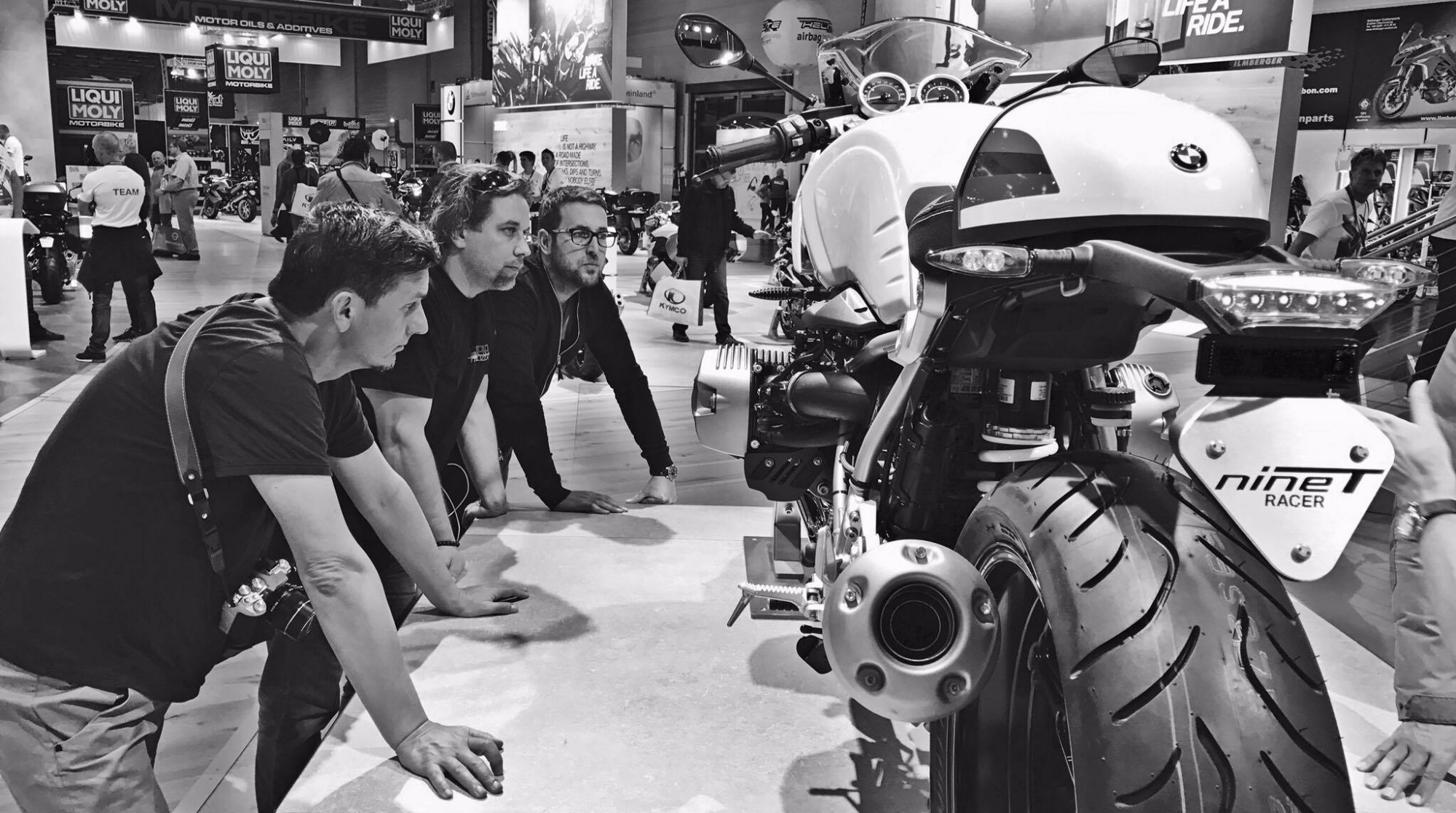 Intermot 2016
Öt évvel ezelőtti látogatásunk a kölni Motorépítő Világbajnokságon egy behemót teherautó visszapillantótükör gyors beszerzésével, gondos, repülésbiztos elcsomagolásával és ünnepélyes keretek között történő, Sapka Mesternek való gyors átadásával kezdődött.
(Egyébként a Pannonhalmi Apátság Heminájára cseréltük végül az alkatrészt Sapival. Szerintem jól jártunk!) Doktor Kristóf (ahogy Guld Peti a egy korábbi Deus cikkben nevezte az említett urat), Sas (ahogy a sors és talán Rejtő Jenő is aposztrofálta volna) valamint jómagam 2016-ban egy hétvégére Kölnbe repültünk, hogy körbeszaglásszunk a 12. Intermot motoros ünnepen, de főleg az AMD által szervezett világbajnokságon.
Sapka Mester, Újhelyi "Time Machine tulajdonos" Laci és Solymári "Ferry Custom" Feri már korábban elindultak a motorszállító teherautókkal, hogy a szeretett kegytárgyak, köztük Kristóf fantasztikus BMW R100 RS-je és a Route42 BSA-ja, időben kiérjenek az újabb nemzetközi megmérettetésre. Feri egy Harley-t nevezett, Laci pedig a Black Brasst (freestyle).
A helyszínen készített fotóimat ebben a Flickr albumban találjátok meg.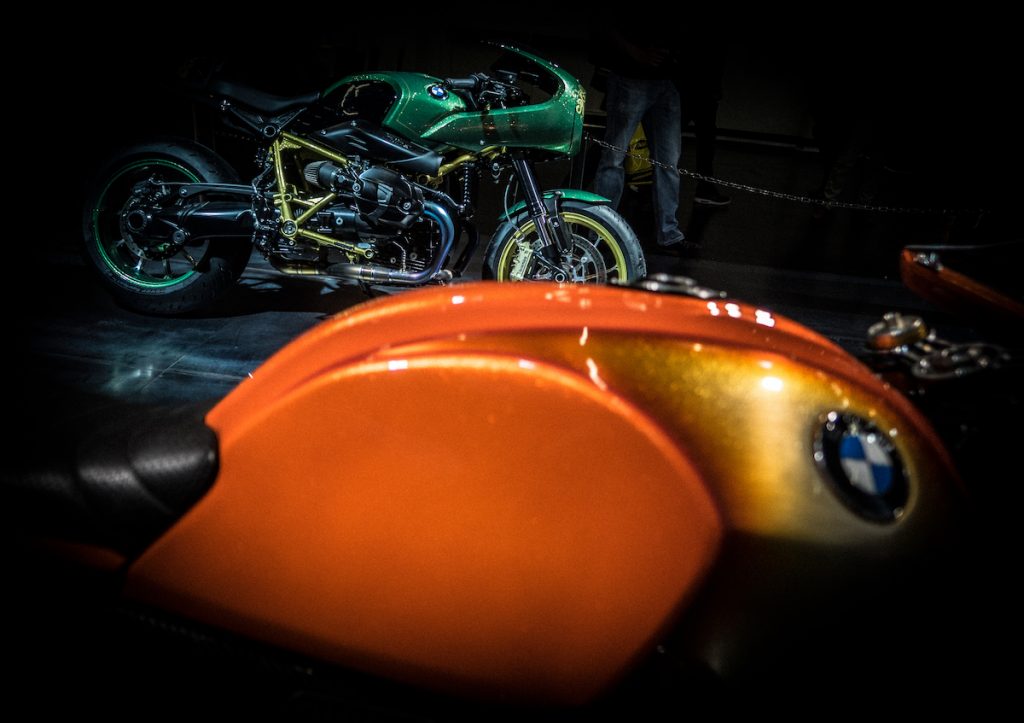 Az említett gigantikus méretű visszapillantóra egyébként azért volt szükség, mert az odaúton egy merész, de nyilvánvalóan túlbecsült szemmértékkel rendelkező kamionos úgy gondolta, hogy "szűken elfér még" Sapiék mellett. Nem fért el. Szerencse a szerencsétlenségben, hogy "csak" a tükröt borotválta le a jóember, senkinek sem esett semmi baja.
A versenyről elöljáróban röviden csak annyit, hogy nagy örömünkre, 2013-tól már Európában rendezik meg a Robin Bradley által alapított világbajnokságot. (Robin adta át 2016-ban is a freestyle világbajnoknak a kupát és a gyűrűt, ahogy azt a lenti fotókon is láthatjátok.) A Sapka által épített Time Machine 2007-ben még Sturgisben, Dél-Dakota államban nyerte el a 'freestyle' kategória ötödik helyét, de a szintén általa kreált Buell szörny 2014-ben már itt, Kölnben söpörte be a 'Street Performance' kategória világbajnoki második helyezését. Öt kategóriában indulnak a motorok ezen a rangos versenyen, melyek a következők: freestyle, módosított Harley, retro (mod.), cafe racer és street performance.
A 2016-os versenyen egyébként 23 országból 67 építő nevezett be összesen 82 motorkerékpárt.
2014-ben, amikor a frissen alakult 42bit lelkes csapata került egy nagy karikát, a párizsi autókiállítás mellett betért az Intermotra is, így éppen tanúja lehetett Sapi óriási, dupla sikerének, hiszen az említett második helyezés mellett begyűjtött még egy ötödik helyet is abban az évben!!!
Bár a dobogós helyezés elmaradt, 2016-ban komplexebb élmény volt néhány napot eltölteni a kiállításon és versenyen. A remek társaság mellett különösen azért, mert Sapka értő tolmácsolásával, az AMD részleg mellett az Intermot márkastandjai és a kiállítás unikális 'Sultans of Sprint' szekciója is sokkal teljesebb élményt adott. (Ráadásul egy további magyar legendával, TrógerMókussal is sikerült összefutnunk.) Továbbá végre élőben is (persze főhelyen kiállítva) láthattuk a Séb Lorenz vezette Lucky Cat Garage híres Sprintbeemer továbbfejlesztett, 'furtherer' változatát is! (A következő Glemseck 101-en ott a helyünk!) A 2015-ös Wheels & Waves egyik sztárját, a Path22 nevű BMW R9T-t szintén lencsevégre kaphattam végre.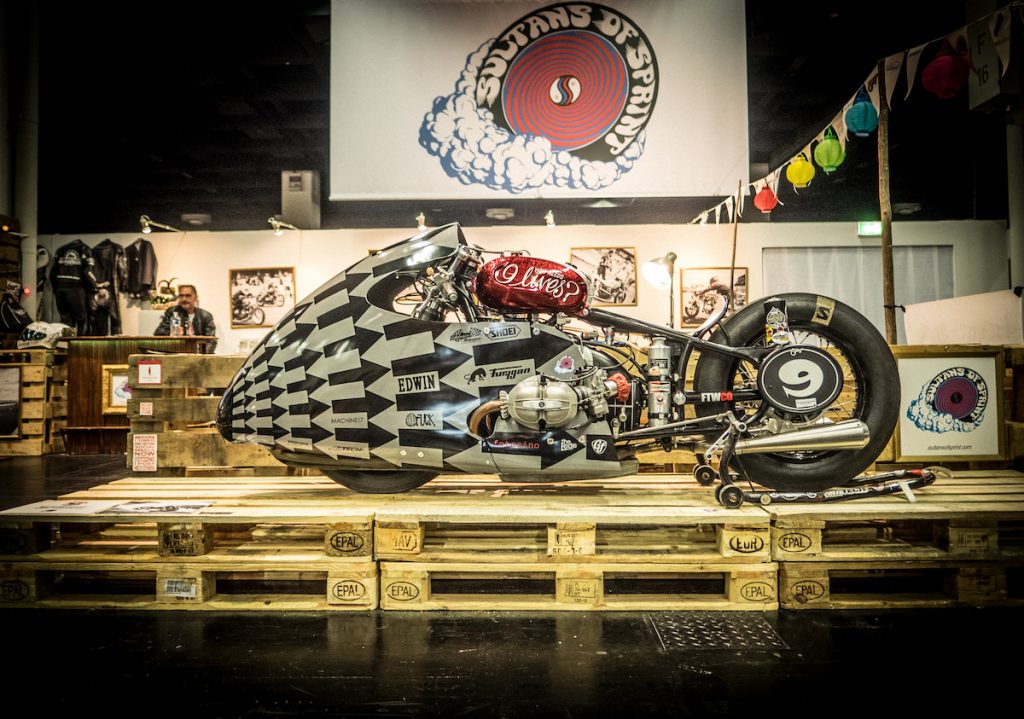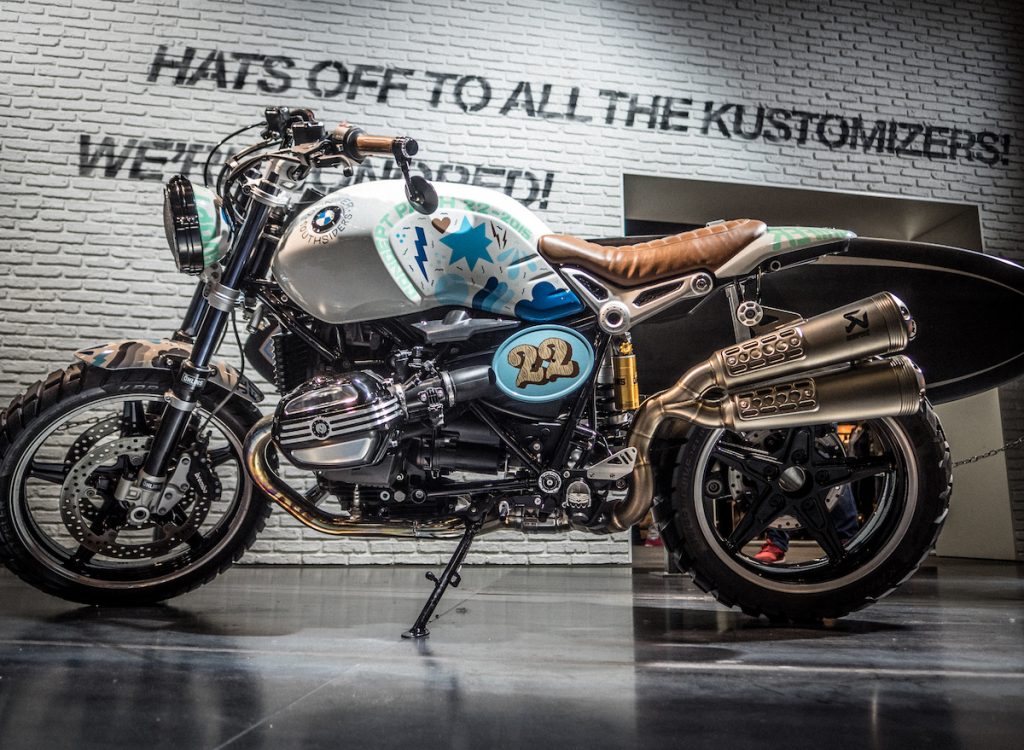 Végül a japán csapat 1000 köbcentis 'Rumble Racer' nevű motorja nyerte a freestyle kategóriát, így az AMD alapító Robin Bradley a díjátadó ceremónián a Suicide Customs vezetőjének, Koh Niwának az ujjára húzhatta fel a nyertesnek járó, korábban említett gyűrűt. A csapatnak egyébként őrült tempóban kellett összeraknia a motort, mivel darabokban szállították (dry shipping) Japánból Kölnbe a járművet és még egy videót (run test) is kellett produkálniuk, hogy valóban működőképes a motor.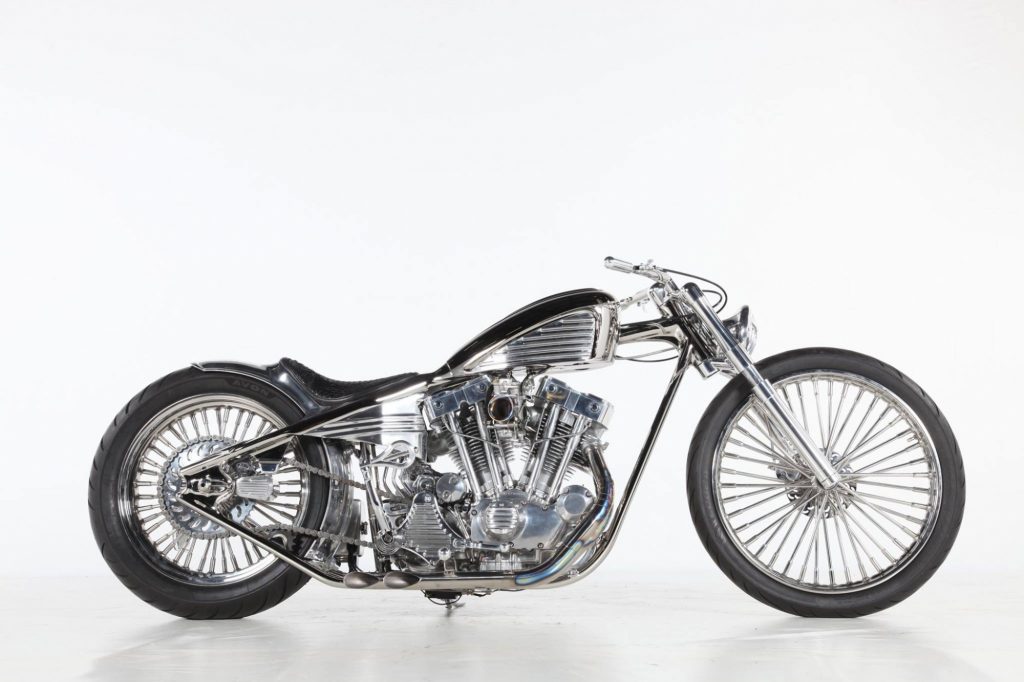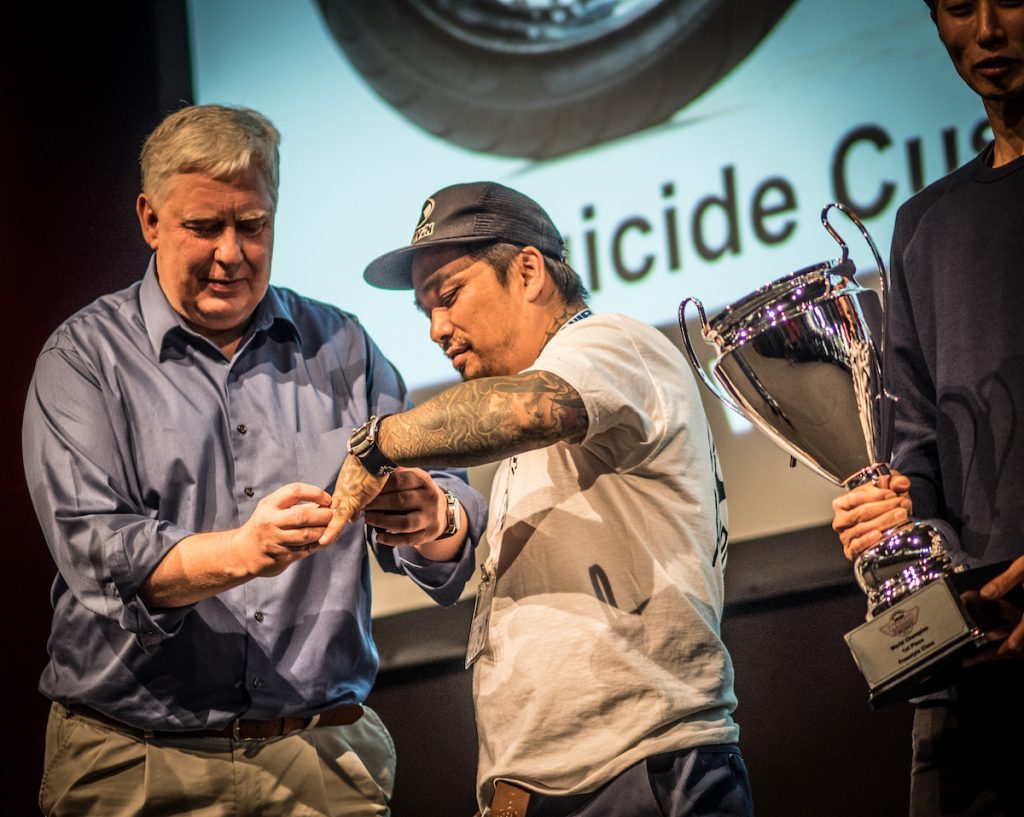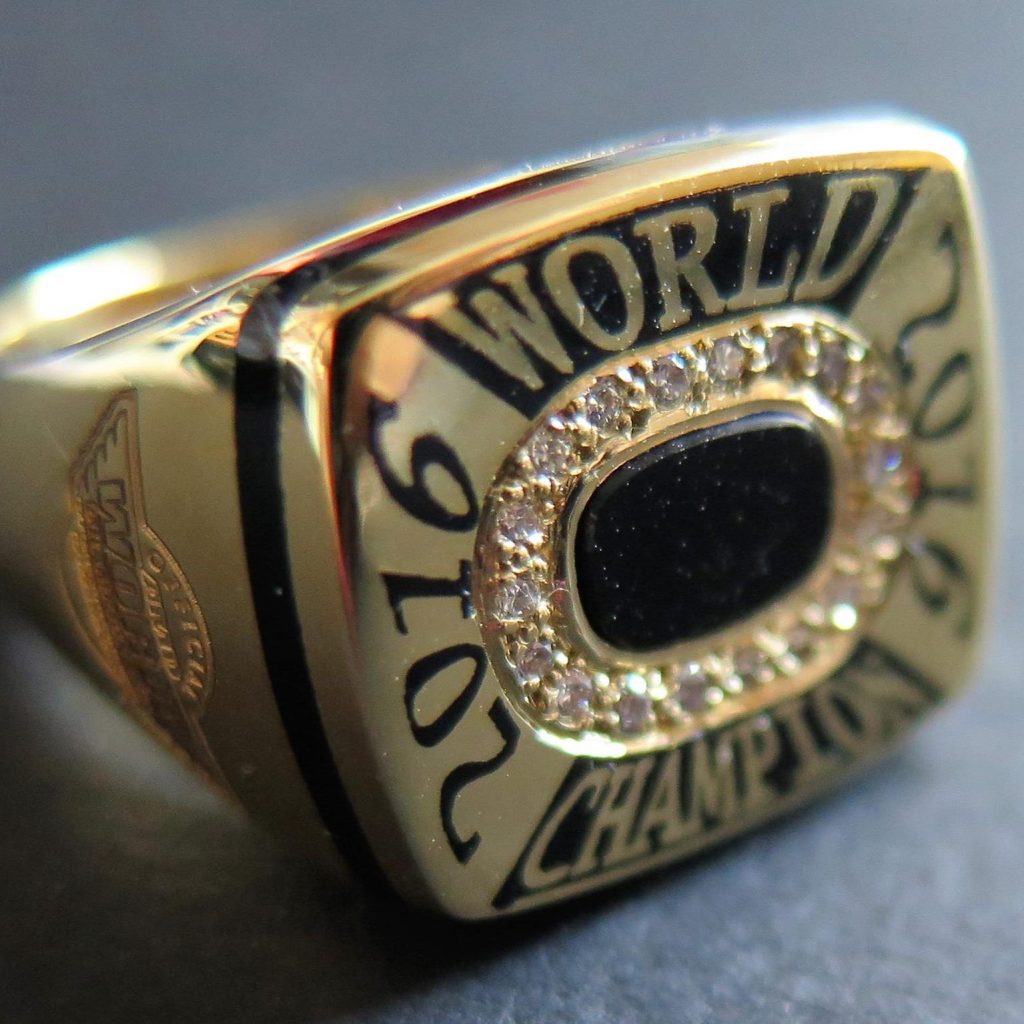 Ebben a kategóriában a hazai Michael Naumann 'Simply Iron' nevű, Spory szívű motorja lett a második, a múltkori belga világbajnok, Fred "Krugger" Bertrand (Krugger Mortorcycles) pedig a harmadik helyet szerezte meg 'S&S Cycle 103' nevű motorjával.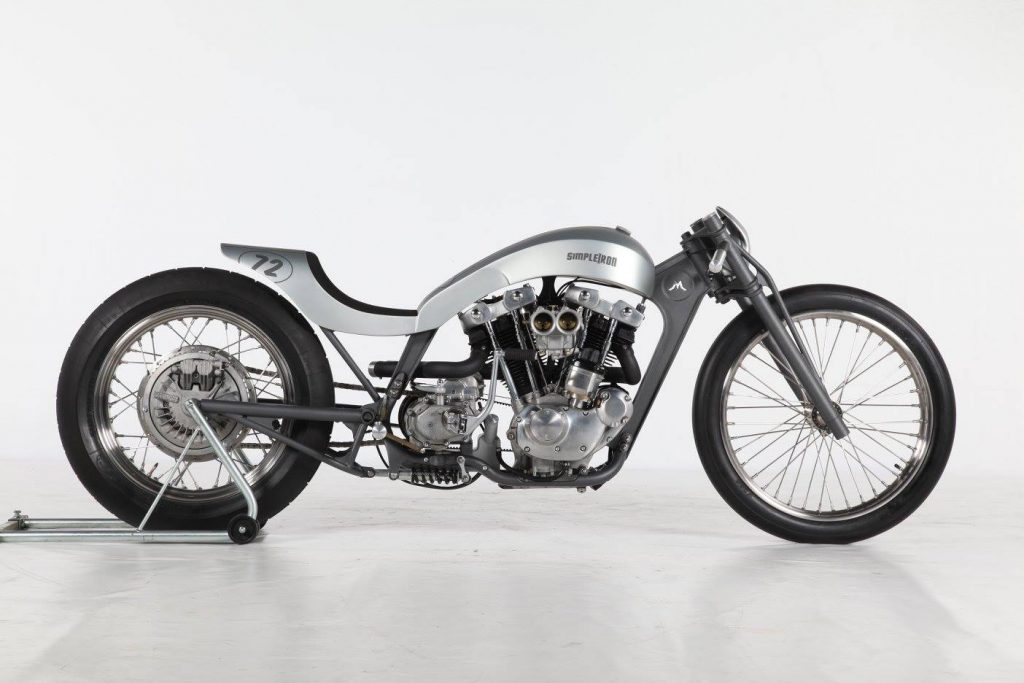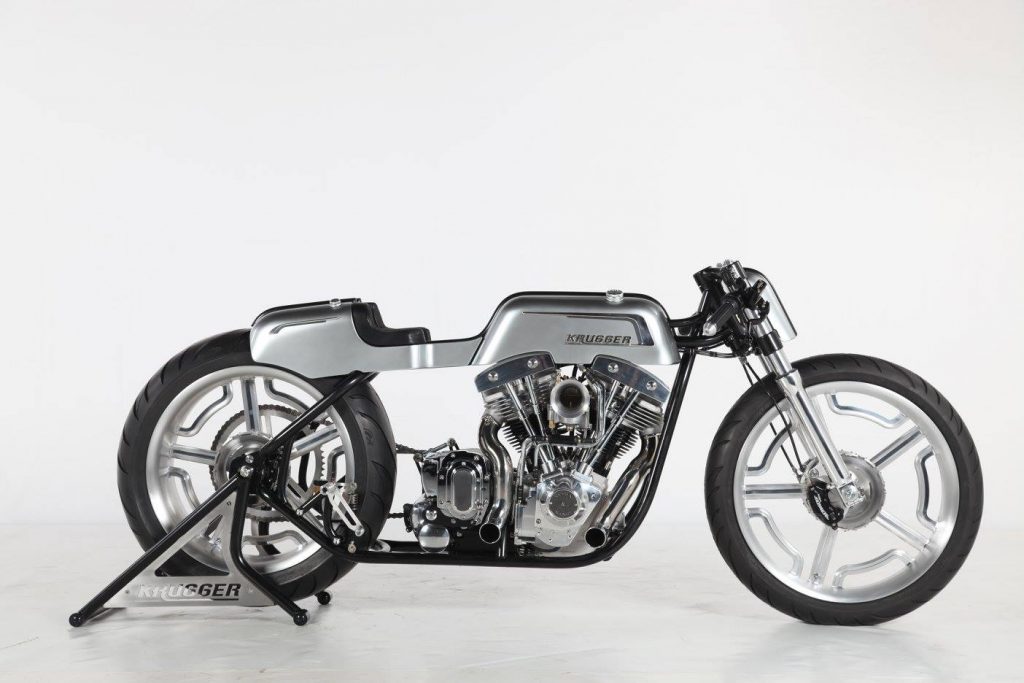 A módosított Harley kategóriát a német Christoph Madaus 'Milwaukee Mile' nevű motorja nyerte.
A (mod.) Retro kategóriát az olasz PDF Motociclette csapat 'Big Kahuna' nevű 1927-es 1000 köbcentis modellje nyerte.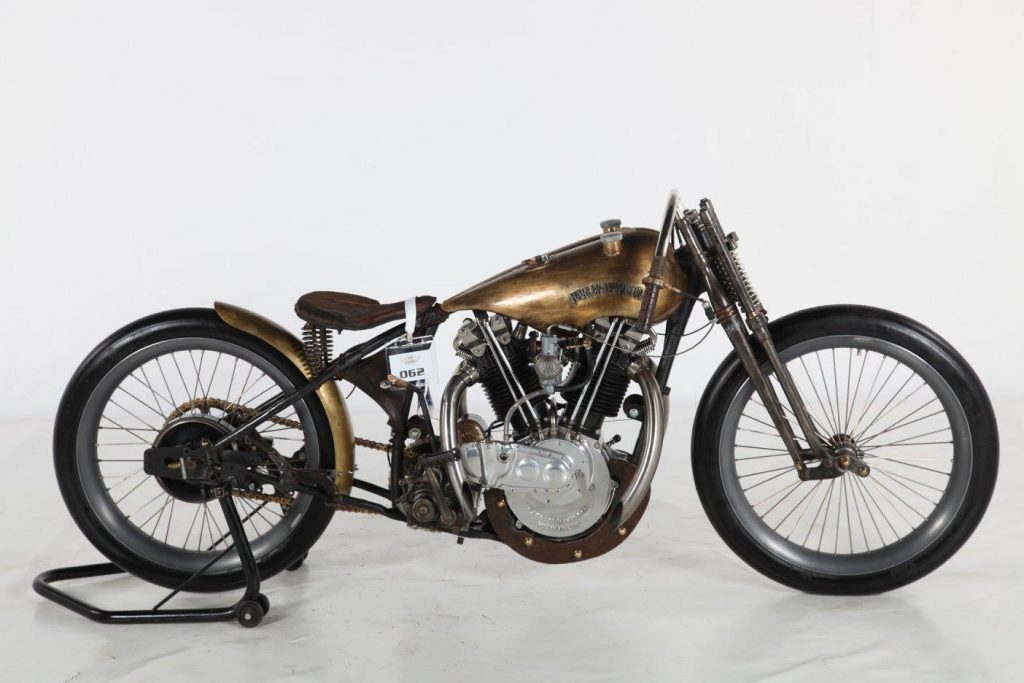 A Cafe Racer kategóriát az ukrán Iron Customs Motorcycles 'Beckman' nevű járműve nyerte.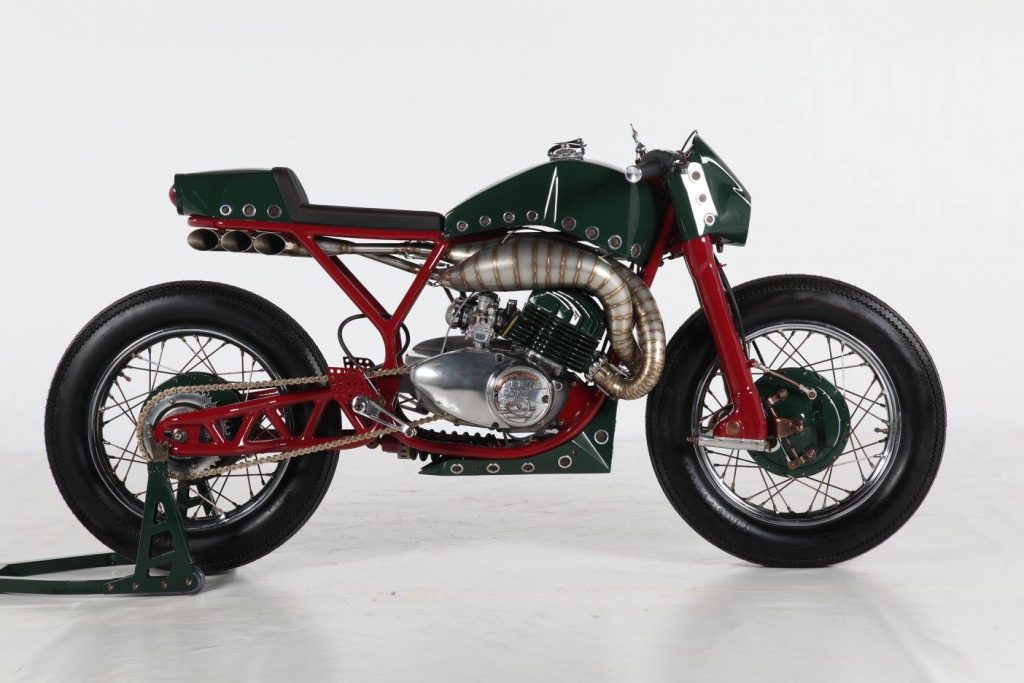 A Street Performance kategóriát pedig az ír Mick O'Shea (2013-ban világbajnok) és Don Cronin (Medaza Cycles) nyerte egy 1978-as Ducati 750 alapú motorral.
Hát így történt valahogy! Köszönöm mindenkinek az élményt, de különösen Sapkának, Kristófnak és SasÚrnak a remek társaságot! (Sasnak e cikk első fotóját is külön köszönöm!)
A következőn találkozunk ugyanitt! 
Ebben a Flickr albumban találjátok meg a helyszínen készített fotóimat, de azért ebben a cikkben is publikálunk néhány képet "ízelítőnek".