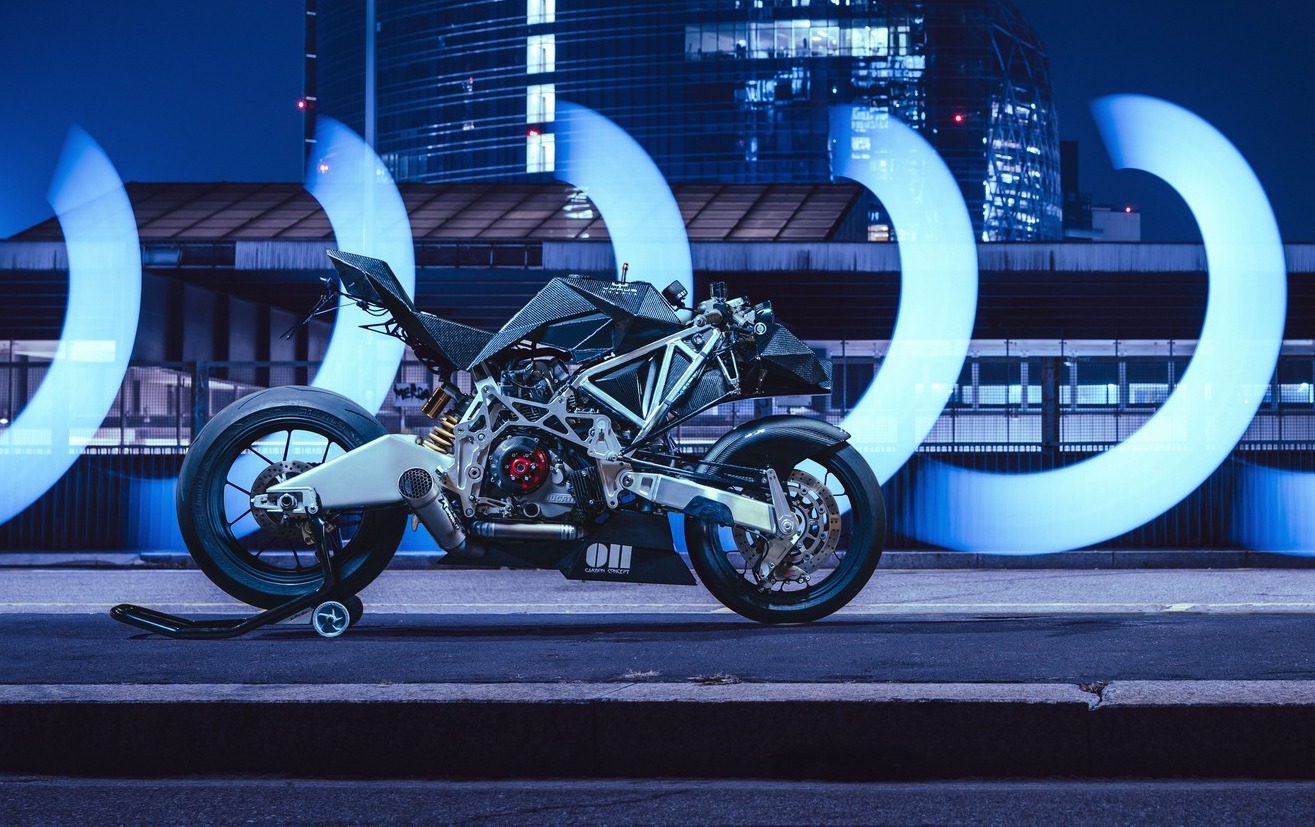 2022 TOP 10 épített motorja!
Az előző két évben a Bike Exif Top 10 lista elé a lentieket írtam. Akkor még nem tudtam, hogy 2022-re is maradéktalanul igazak lesznek a következő sorok.
A 2020. és 2021. esztendő gonosz olajfolt egy koraesti Balaton-felvidéki motorozás beláthatatlan kanyarjában, vagy kivilágítatlan traktor alvó/részeg sofőrrel keresztben az úton, vagy elszabadult kviddics játékos seprűnyele a küllőid között, a vadiúj káférészered próbaútján, vagy egy gonosz high-side katapult bukás a Circuit of the Americas egyik meredek kanyarjában.
Esetleg mindez egyszerre.
Szóval 2020, 2021 és 2022 "sem adta ki". Sokaknak, így a motorosoknak és a motorépítőknek sem. Azonban a nehézségek ellenére, ebben az évben is születtek igazi csodák. Ezekről számolok be ma. 2014 óta minden évben bemutatjuk a Bike Exif Top 10-es épített motor listáját, illetve 2015-től a rangos magazin "Editors Choice" rangsorát is.
Ez az objektív lista tisztán "adat-alapú", vagyis az oldallátogatások és a közösségi médiában elért sikerek alapján képezi évente az újság. Talán ezért is indították el 2015-ben az említett, vállaltan szubjektív "Editors Choice" (szerkesztői válogatás) listát is. (Bónuszként pedig a King of Fuel 2014-es és a Pipeburn top listájának 2015-ös linkjeit is szerepeltetjük ebben a cikkben.)
TOP10 – 2014
 TOP10 – 2015
TOP10 – 2016
TOP10 – 2017
TOP10 – 2018
TOP10 – 2019
TOP10 – 2020
TOP10 – 2021
Editors Choice 2015
Editors Ch. '16/1
Editors Ch. '16/2
Editors Choice 2017  
Editors Choice 2018 
Editors Choice 2019
Editors Choice 2020
Editors Choice 2021

TOP5 – 2014 King of Fuel
TOP10 – 2015 Pipeburn
Természeténél fogva a Bike Exif top 10-es listája egyfajta lakmuszpapírként is funkcionál a custom szcéna számára. Az összesítés ebben az évben is azt mutatja, hogy a café racer trend még mindig él és virul, és hogy a túlzásba vitt építéseknek is van helyük, ha jól vannak kivitelezve. (Érdekes módon az idei listán nem szerepel egyetlen elektromos motor sem.)
10. BMW R100 – Renard Motorcycles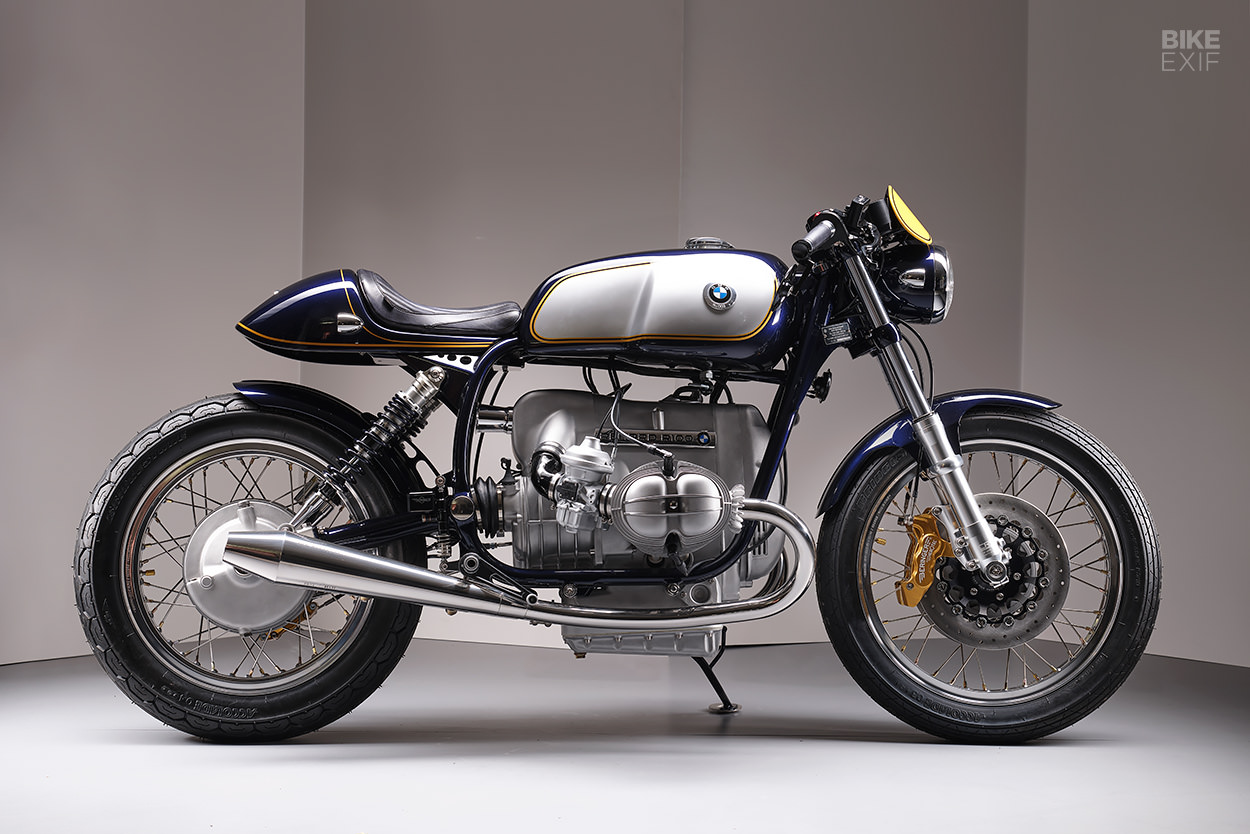 Az a tény, hogy az idei lista egy BMW R-sorozatú café racerrel kezdődik, a donormotor és az építési stílus hosszan tartó sikeréről árulkodik. A BMW továbbra is az egyik legnépszerűbb márka a Bike Exif oldalán, és az idei top 10-ben szereplő motorok fele café racer.
Az itt látható bömös a Renard Motorcycles-től származik. Az észt cég nem ismeretlen ezeken az oldalakon, hiszen ezt (és még három másik hasonlót) azért épített a csapat, hogy elindítsa a BMW R100-asra épülő sorozatát. A Renard team ezeket a prototípusokat a saját specifikációjuk szerint tervezte, de minden egyes példányt, amelyet a továbbiakban építenek, a tulajdonosára szabnak majd.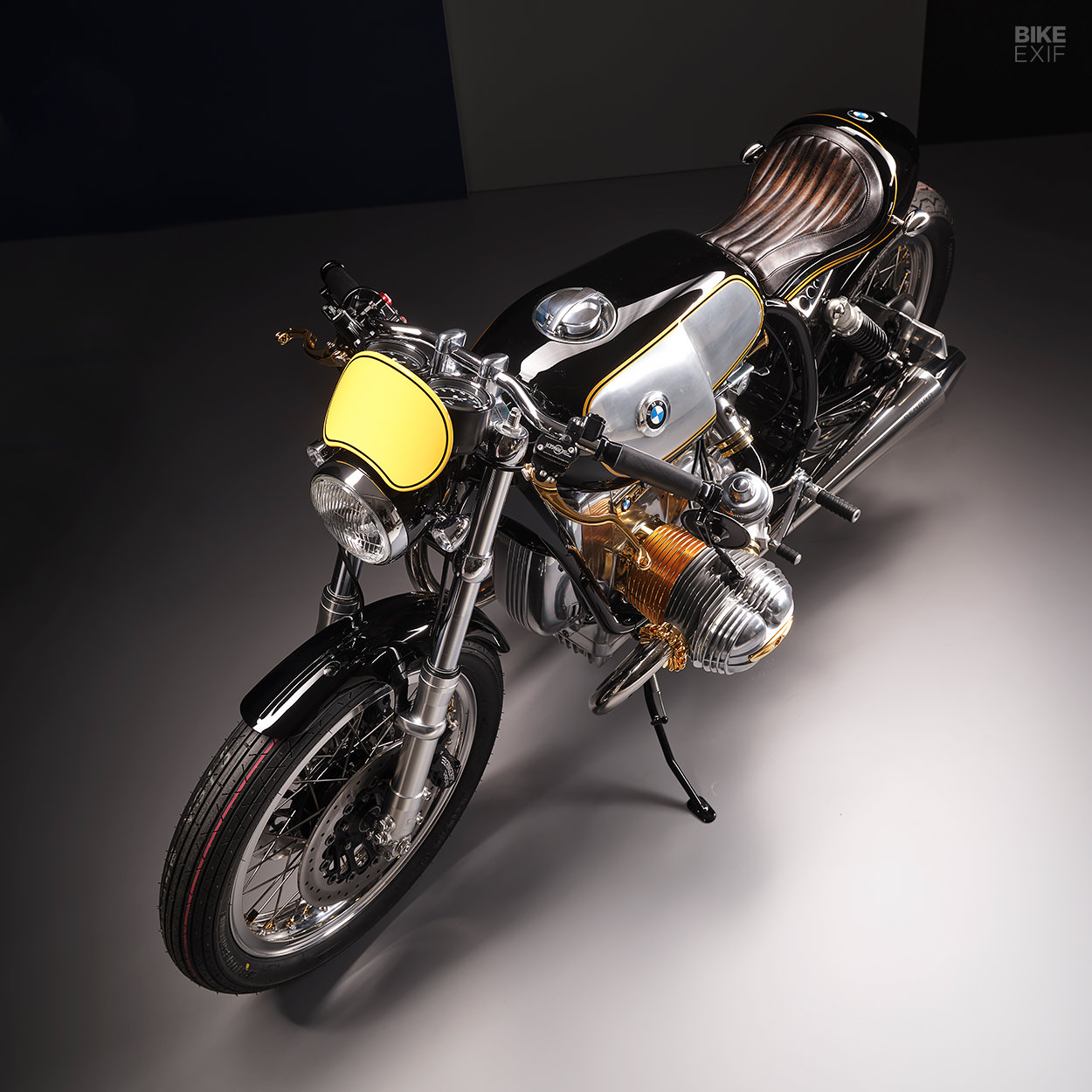 A járművek felújított motorokkal rendelkeznek, olyan intelligens fejlesztésekkel, mint a twin-spark fejek, valamint a könnyített lendkerekek. Mindegyik egyedi készítésű kipufogót is kap Hattech hangtompítókkal, teljes újrakábelezést lítium-ion akkumulátorral és LED világítással. A futóműről Ceriani replika villák, állítható lengéscsillapítók, Borrani felnik és Beringer fékek gondoskodnak.
A karosszéria teljes egészében egyedi – a klasszikus BMW R100-as üzemanyagtartály újragondolt változatától kezdve a rendezett, café racer stílusú hátsó részig, a beépített hátsó lámpával. A fényűző festéssel, kárpitozással és sárvédőkkel megalkotott jármű az egyik legszebb megrendelésre készült custom.
9. Harley-Davidson Sportster hardtail – MB Cycles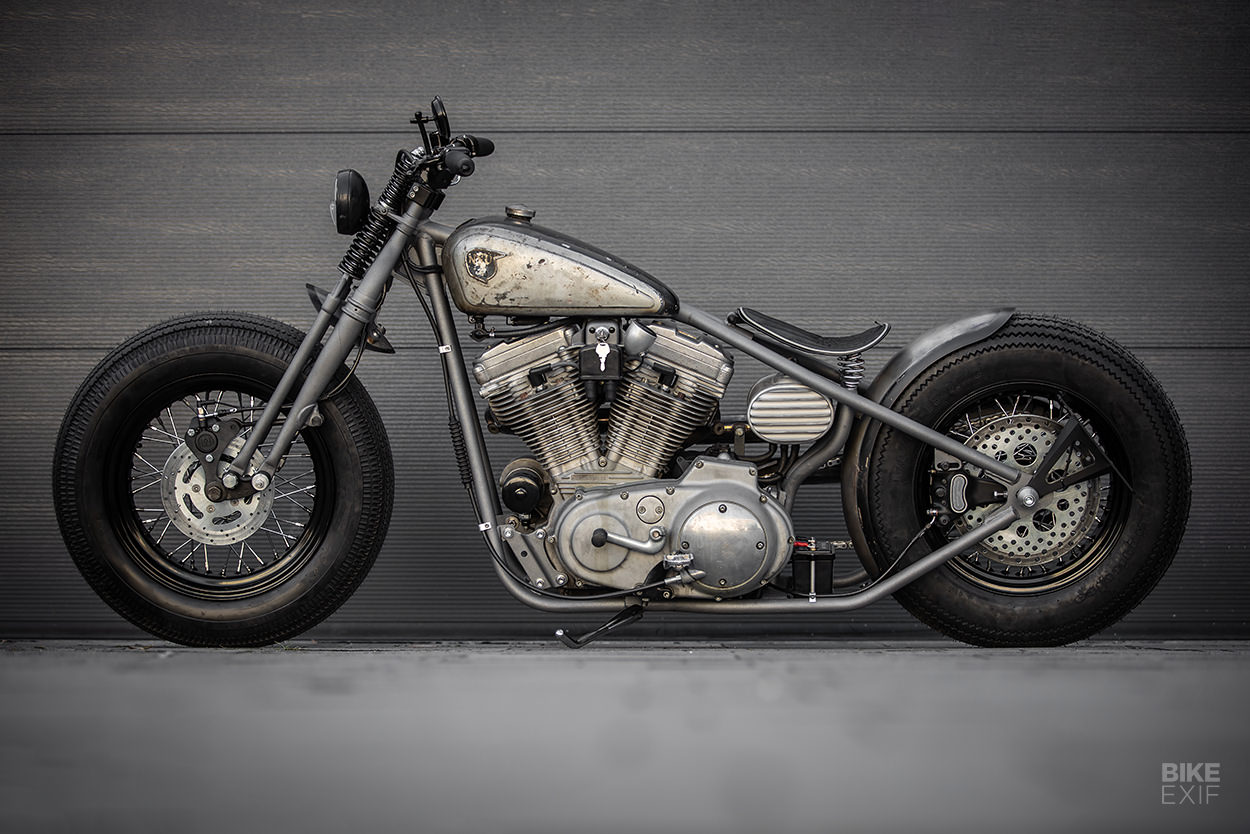 A Harley-Davidson idén gyártotta le az utolsó Evo Sportstert. Mégis felkerült az idei listára egy merevvázas Sportster is, hogy emlékeztessen minket arra, hogy az örökzöld Sporty-ban "még sok benzin van a tankban".
Ennek a hardtailnek a története húsz évre nyúlik vissza, amikor az MB Cycles alapítója, Martin Becker megépítette a bátyjának a járművet. Egy ideig motorozták, majd évekre leparkolták, mielőtt Martin visszavásárolta, kitakarította, és egy 1996-os Harley-Davidson XL883 Sportster szívet integrált a motorkerékpárba. Hamarosan egy új vásárló kaparintotta meg a vasat, és megrendelte a jármű átépítését.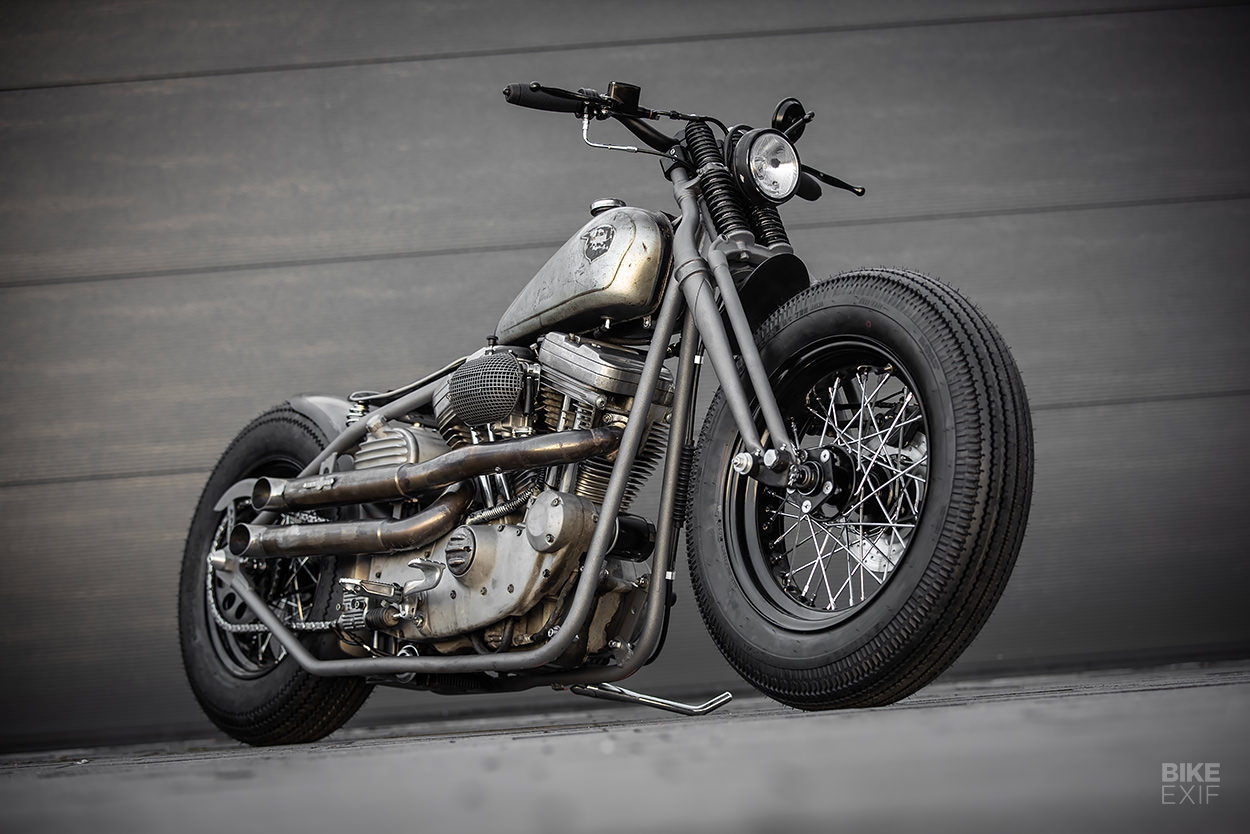 A merev váz eredetileg a holland VG Motorcycles cégtől származik. Egy rugós elülső részhez illeszkedik, és 16F/15R kerekeken gurul, 80-as évek végi Sportster keréktárcsákkal. A motor sem eredeti már – az S&S Cycle 1200 köbcentiméteres készletével lett felturbózva.
Az 1930-as évekbeli üzemanyagtartályhoz egy utángyártott olajtartály, egy módosított Penz sárvédő és egy egyedi rugózott nyereg párosul. A modern megoldások közé tartozik a Motogadget sebességmérő, a Kustom Tech kezelőszervek és a modern nyomógombos kapcsolók. A motoron található patina egy része valódi, más része pedig festett – de nehéz megkülönböztetni a fényezettet az eredetitől.
8. Vyrus – Vtopia Custom Shop
A Vyrus agresszív sziluettjétől kezdve a hub-központú kormányzásig elég vadul néz ki! Azonban a milánói székhelyű Vtopia Custom Shop megtalálta a módját, hogy még vadabbá tegye, és olyan készletet tervezett, amely a Vyrus 984, 985 és 987-es modellekhez illeszkedik.
A legfigyelemfelkeltőbb elem az új karosszéria. A Vtopia a "low poly design" néven ismert minimalista stílust használta, amely jellemzően a videójátékok tervezésénél és animációknál fordul elő. A karosszéria egyetlen darabból áll, szénszálas anyagból készült, és elöl-hátul CNC megmunkált segédvázak támasztják alá. Alatta egy egyedi készítésű üzemanyagcella rejtőzik, az ülőlap pedig egy 3D nyomtatott nylon-szénszálas alkatrész.
A készlet egy új kipufogót is tartalmaz, kétféle elvezetési lehetőséggel. Ezt a Spark gyártja titánból, a Vtopia tervei alapján. Az építő csapat nem spórolt a költségekkel, szénszálas kormányt, LED-es világítást és Motogadget sebességmérőt kaptak a járművek. A csapat két prototípust épített a készlet kifejlesztéséhez. (Nekünk a nyers hatású, karbonfelületű változat tetszik jobban.)
7. Yamaha GTS 1000 – Aki Suokas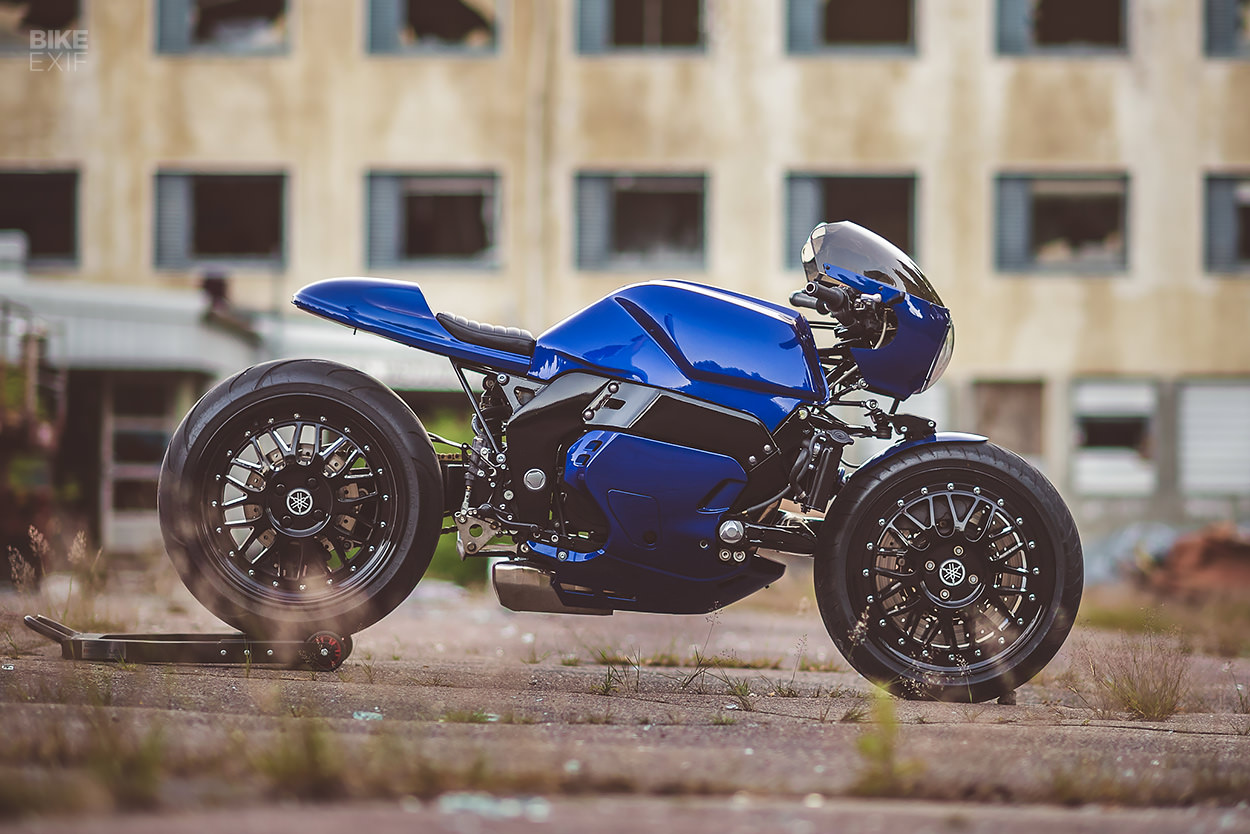 Az egyedi Vyrus nem az egyetlen furcsaság az idei listán. A finn hobbiépítő, Aki Suokas idén az elképzelhetetlent építette meg: egy Yamaha GTS 1000-et café racerré alakított át. A szokatlan első lengőkar beépítése is különlegessé teszi ezt a járművet.
A donor alvázának összetettsége ellenére Aki belevágott, hogy finomítson az összképen és a hasmagasságon. Az első futóművet egyedi készítésű összekötőkkel és csuklókkal építették át, és egy módosított Suzuki lengéscsillapítóval egészítették ki. A hátsó rész egy Honda VFR800-as egyoldalas lengőkarját és hátsó lengéscsillapítóját kapta meg.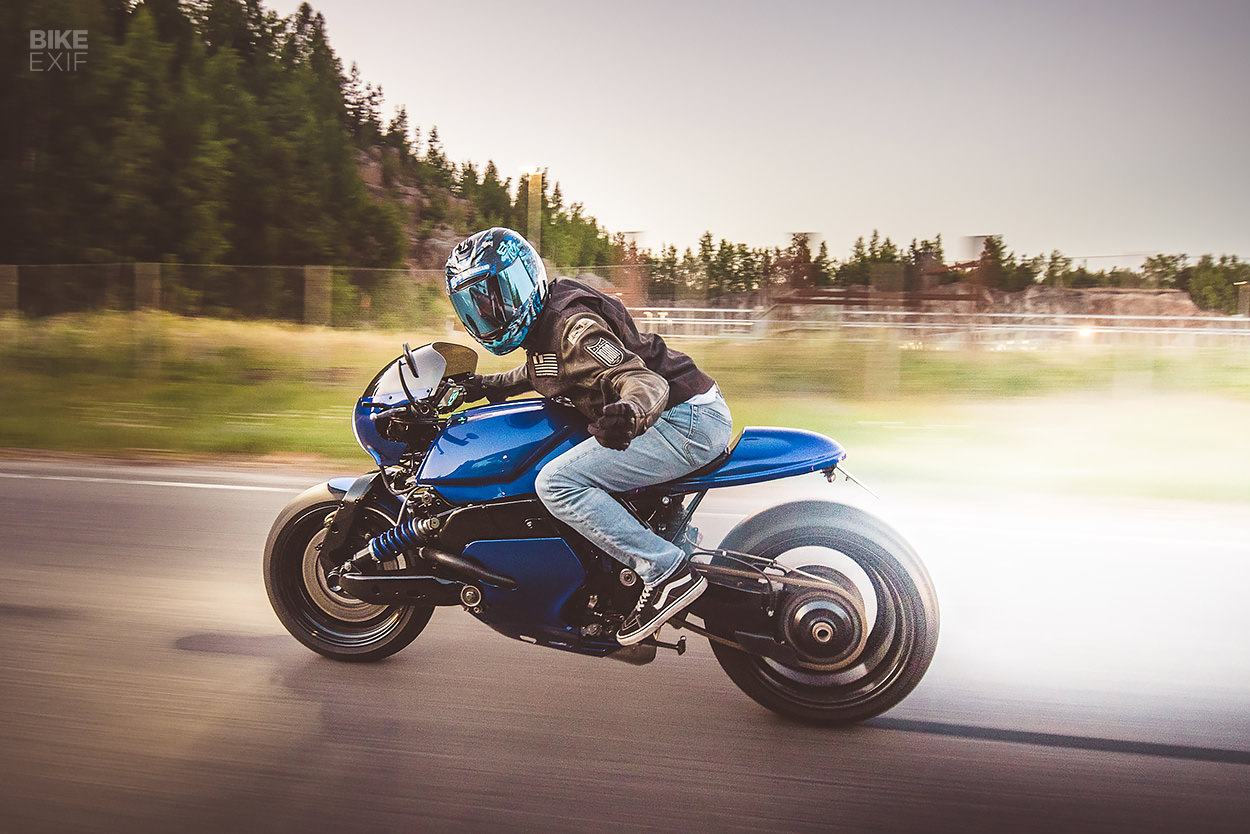 A kerekeket mesterien tervezték meg az utángyártott autófelnik és néhány átműtött motorkerékpár-alkatrész felhasználásával. A motorkerékpár továbbra is a Yamaha széria fékeit használja, rozsdamentes acéltömlőkkel továbbfejlesztve. A kipufogó hangtompító egy szintén kölcsönzött alkatrész – egy Kawasaki Z1000-ből származik.
A karosszériához Aki vásárolt egy utángyártott burkolatot és farrészt, majd áttervezte őket, hogy illeszkedjenek a járműhöz. Az üzemanyagtartályt szétvágta, hogy lecsökkenjen a mérete, majd egy '84-es Suzuki GSX 1100 tankjából készült héjjal fedte be. Aki motorja kék színben pompázik, és egyszerre futurisztikus, illetve klasszikus.
6. Motorcycles Harley-Davidson Flathead – BobC Custom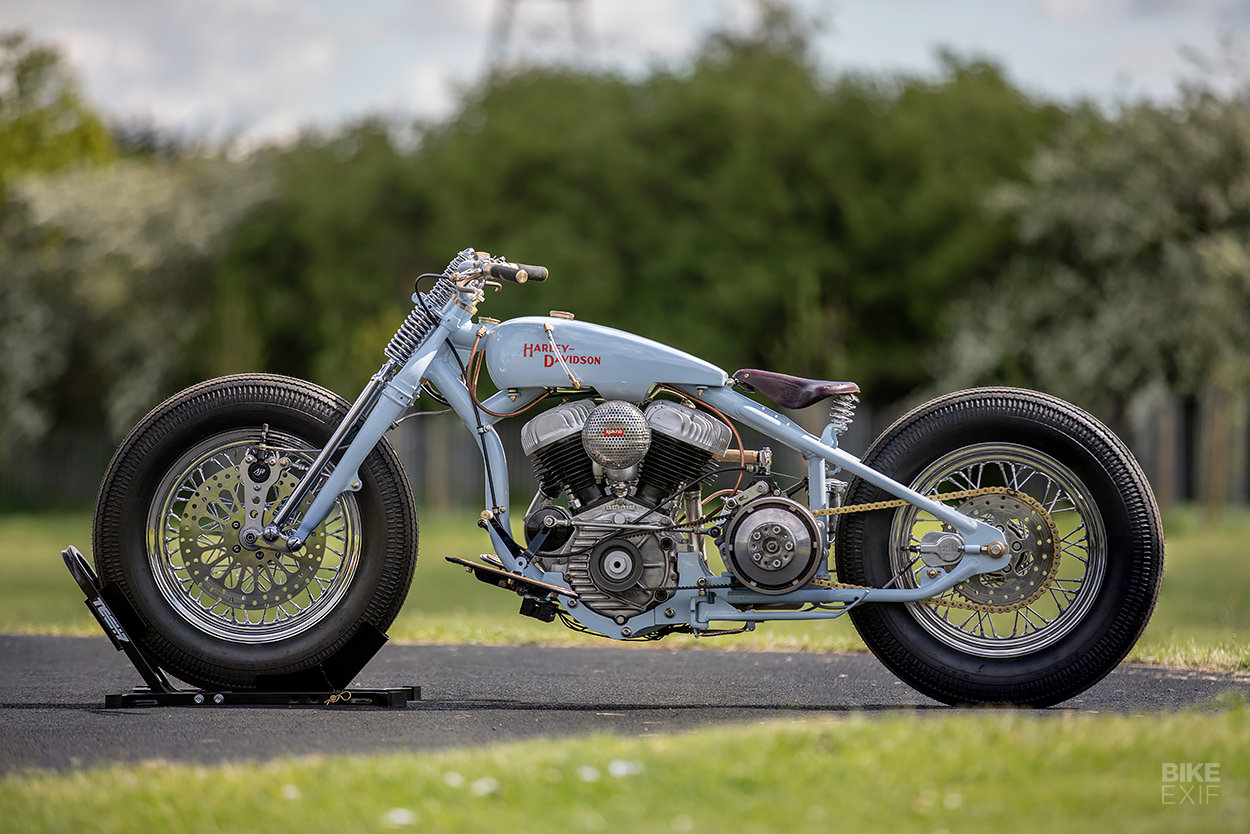 Nem gyakran mutatunk be olyan motorkerékpárt, amelyet szinte mindenki annyira szeret, mint ezt az elragadó Harley Flathead bobbert. A horvát származású Slobodan Cirkovic által épített motorkerékpár nem csak olvasóink csodálatát váltotta ki, hanem mindazokét is, akik az idei Malle Mile versenyen látták. A Mile kiállításon a Gépek Művészete kiállítás része volt, és ugyanolyan jól nézett ki egy sátorban leparkolva, mint ahogy a Grimsthorpe kastély előtti drag strip-on.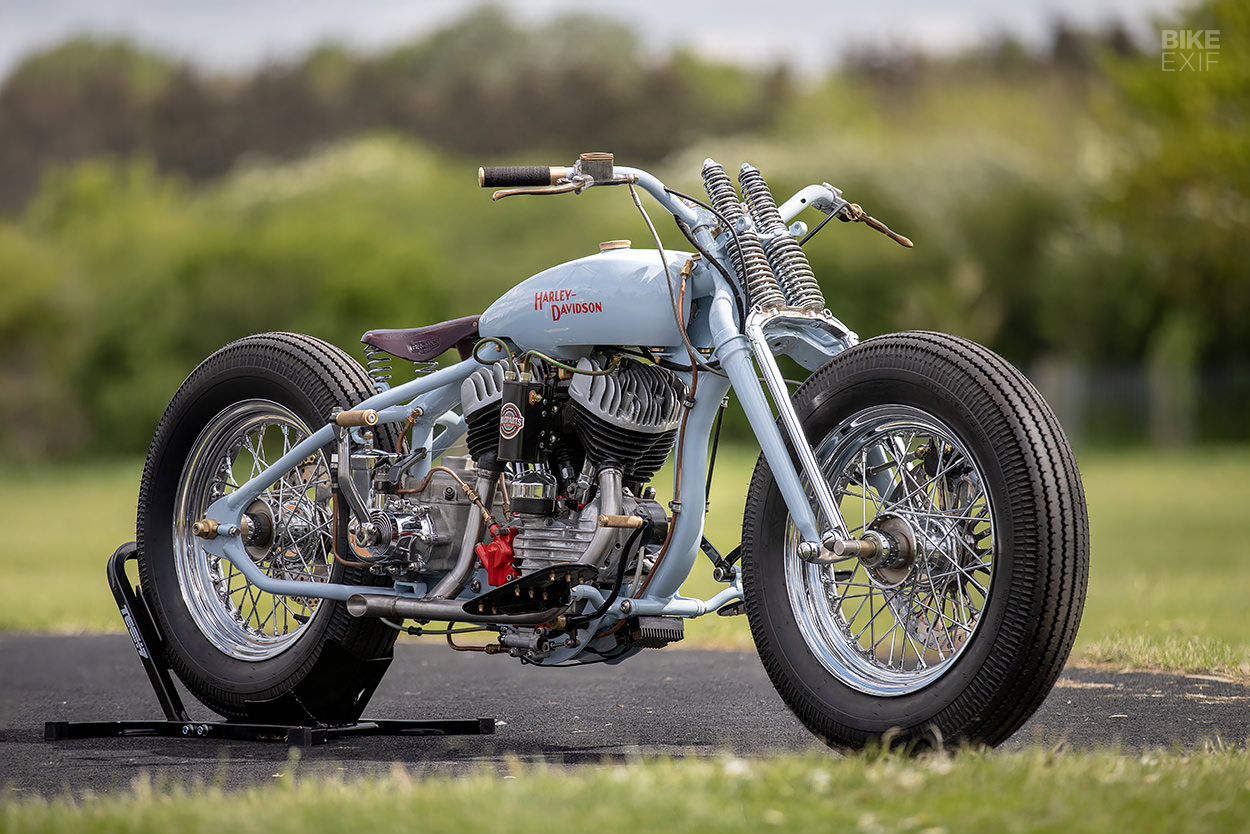 Részben azért néz ki ilyen jól ez a jármű, mert tizennégy évig (!) készült, és két teljes átépítésen esett át, mielőtt idáig jutott. A futómű egyedi gyártású, Slobodan volt munkahelyén (ahol Range Rover segédvázak gyártásában segédkezik), megmaradt csövek felhasználásával állították össze. A jármű szíve egy 45,12 köbinches (kb. 740 köbcentis) flathead motor, Linkert M88-as karburátorral és egy négyfokozatú shovelhead váltóval.
Egy alaposan felújított rugós első futómű az egyetlen felfüggesztés, a 16 colos kerekeket tárcsafékek (igen, jól olvastátok) fékezik. A motorkerékpár hihetetlenül karcsú – de valójában az apró részletek azok, amelyek ezt a járművet a csúcsra emelik. A lenyűgöző kék fényezéstől kezdve a Brooks nyeregig és a padlólemezek fa betétjéig bezárólag, egyértelmű, hogy építői minden egyes döntést alaposan átgondoltak.
Ez egy remekmű, amely Slobodan metamorfózisát jelzi a barkácsolóból egy profi motorkerékpárépítőbe. Kraftolónk barátai bátorításának köszönhetően idén hivatalosan is elindította műhelyét, a BobC Custom Motorcycles-t. Micsoda debütálás!
5. Honda CB 750 Nighthawk – Colin Darling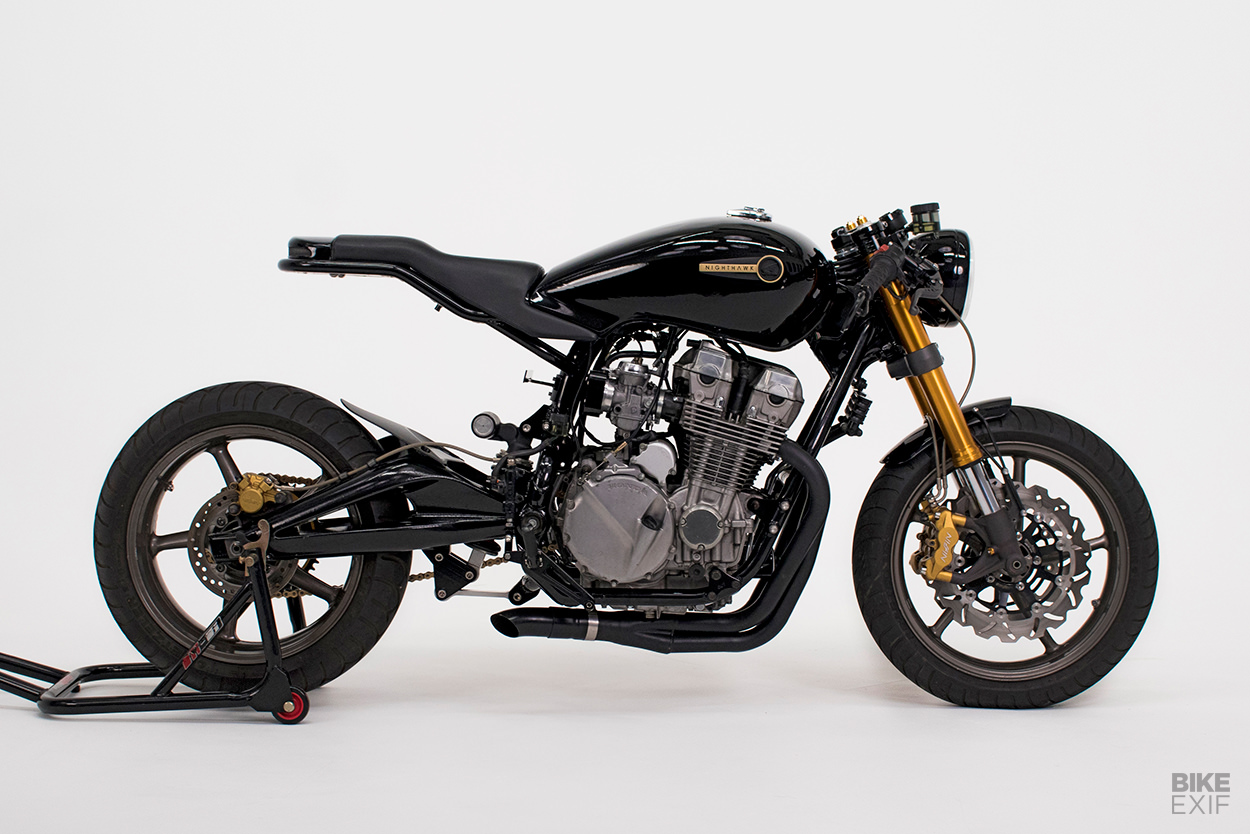 A 90-es évekbeli CB 750 Nighthawk aligha a Custom Builderek kedvenc Honda CB-je – de ez nem akadályozta meg Colin Darlingot abban, hogy átalakítsa egy modern café racerré. Az oregoni gépészmérnök a négyhengeres Hondát kezelésbe vette, és radikálisan átdolgozta, mind esztétikáját, mind a futóművét illetően.
A Nighthawk új alvázának legtöbb alkatrésze egy Triumph Daytona 675-ösből származik. Colin a Daytona-nyergeket a Honda kormánynyakhoz igazította, majd beszerelte annak villáit, kerekeit és fékjeit. Hátul elkészítette a mono lengéscsillapító átalakításához szükséges összes alkatrészt, majd a Daytona lengőkarra egy Suzuki GSX-R750 lengéscsillapítót szerelt.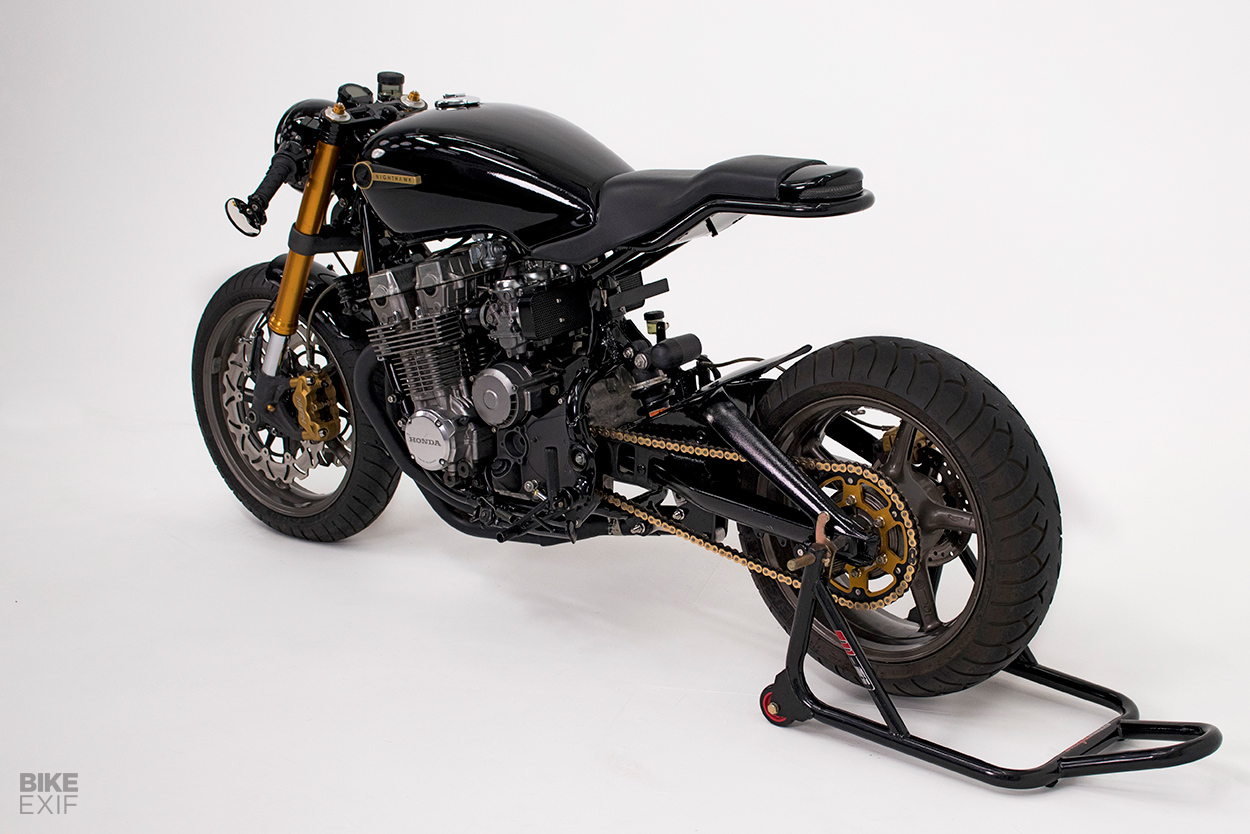 A segédkeret új, akárcsak a prémium európai marhabőr nyereg. A világítás egy klasszikus Bates-stílusú fényszóró (LED-ekkel utólagosan felszerelve), a hátsó részbe integrált LED-es hátsó lámpával. Minden kezelőszerv új, modern alkatrész, akárcsak a digitális Koso sebességmérő.
Colin itt is elérte a "gyorsnak tűnik álló helyzetben" hangulatot – ami lenyűgöző, figyelembe véve a donor jármű jellegét. Extra stíluspontokat ad a mélyfekete festés, amelyet egy matt fekete alaplakkra felhordott fényes átlátszó bevonattal értek el. A 3D nyomtatott tankjelvények is remek darabok.
4. BMW R18 trike – ShifCustom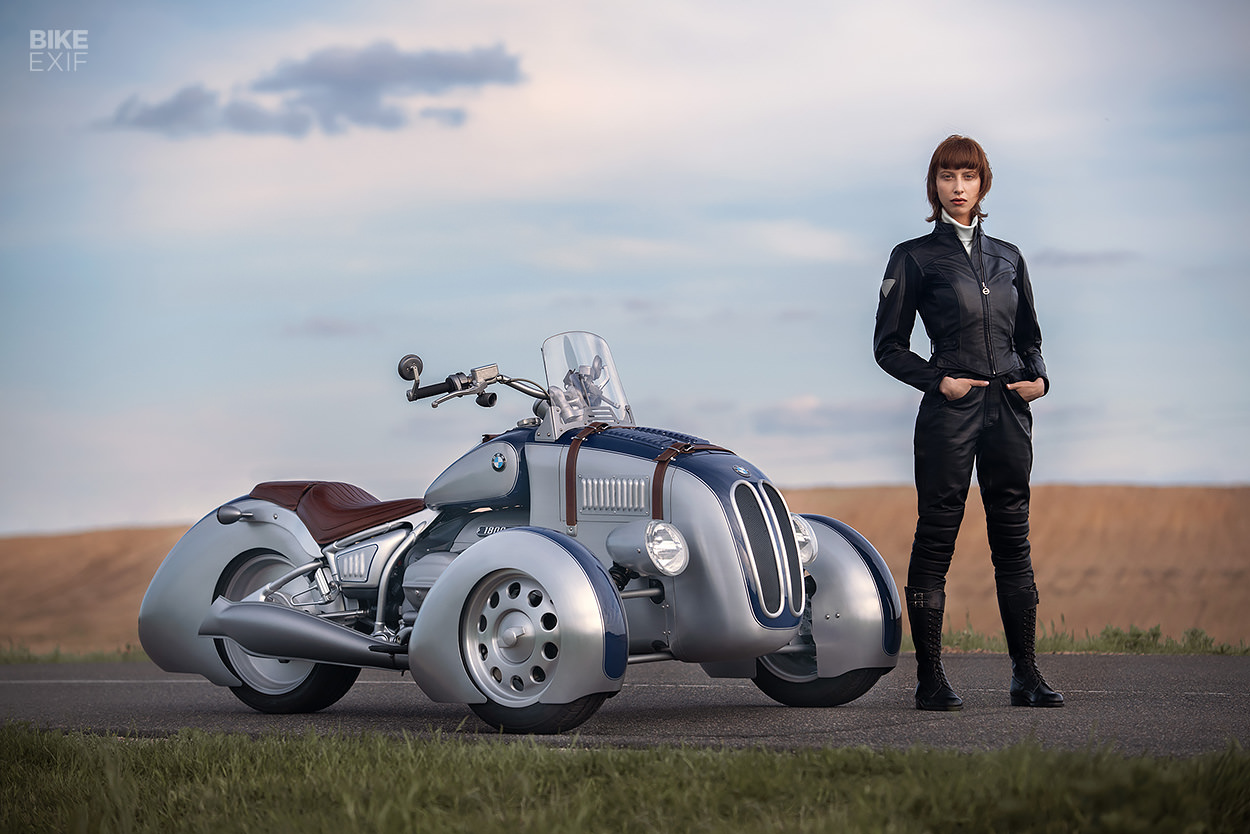 Úgy tűnik nem véletlen, hogy az egyetlen BMW R18, amely idén bekerült a válogatásba, egy háromkerekű jármű. Az új BMW 1.802 köbcentis boxermotorjának óriási mérete miatt "trükkös donor motor" ez, amivel nehéz dolgozni – és a karcsúbb cruiserek rajongói számára is nehéz befogadni. Mi volt a ShifCustom megoldása erre az esztétikai kihívásra? Az, hogy az R18-ast még nagyobbra építették, mint az eredeti! Ez furcsa koncepciónak hangzik, de a gyakorlatban figyelemre méltóan jól működik – főként a klasszikus autós hangulat miatt, amit sugároz.
A ShifCustom ügyfele a BMW motorok és autók nagy rajongója, ezért a BMW 328-as ikonikus modelljének megidézése volt a cél. A kézzel készített alumínium orrkúp elöl egy pár veserácsot, lamellás szellőzőnyílásokat és bőrszíjakat visel a tetején. Kinyitva egy teljesen egyedi első segédváz és kettős keresztlengőkaros felfüggesztési rendszer látható.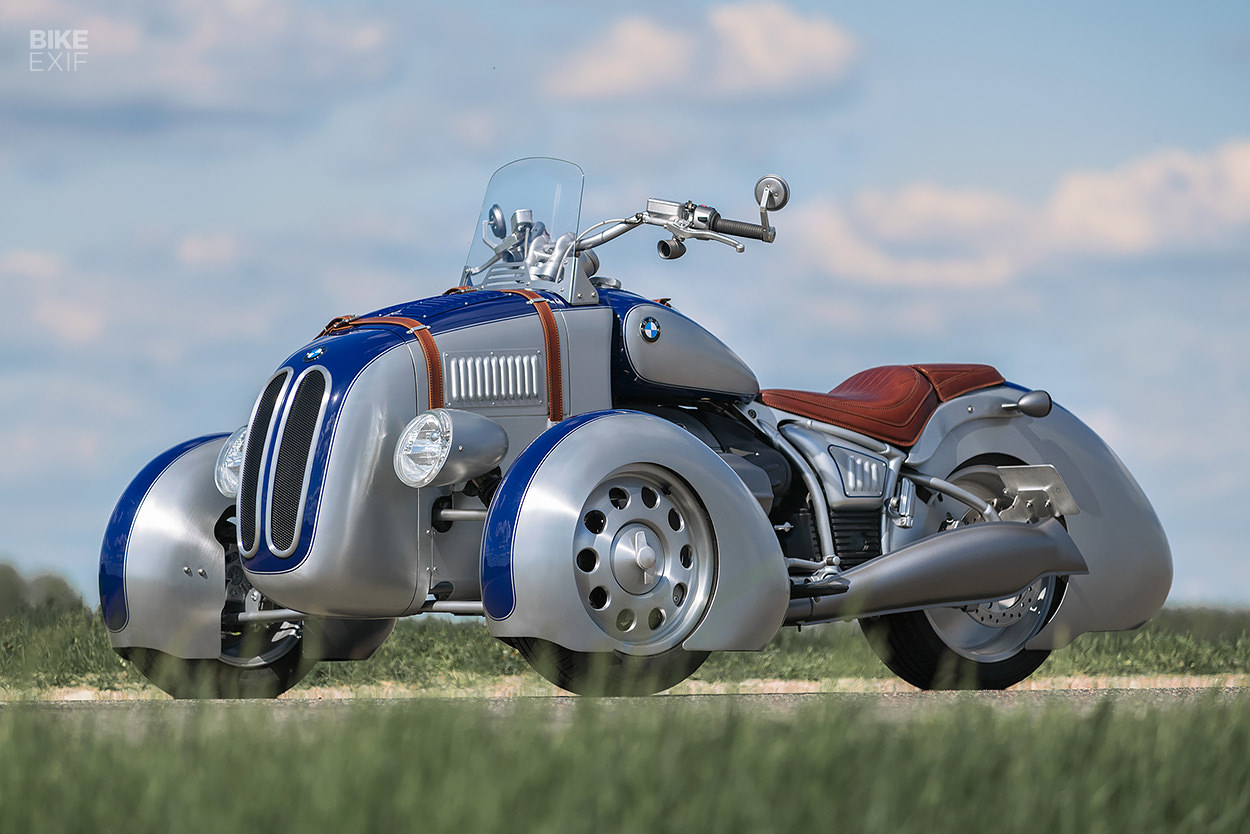 A hátsó kerék egyedi darab, de az első kerekek is átalakított Audi A3-as elemek, Rudge Whitworth középső záróanyákkal (akárcsak a 328-ason). További új elemek közé tartozik egy pár Harley V-Rod fényszóró és egy egyedi szélvédő. A kék és ezüst festékbe burkolt trike kétségtelenül az év legfelkapottabb R18-asa!
3. Sym Wolf 125 – Charlie Huang
A lista legnagyobb custom motorkerékpárjától hamar a legkisebbig értünk. Ez egy szerény ingázóból lett igazi café racer. Charlie Huang munkája – egy taichungi diáké, aki a kaliforniai ArtCenter College of Design intézményben tanul. A donor motorkerékpár a nagybátyjától került hozzá, és Charlie úgy döntött, hogy inkább átalakítja, mintsem egyszerűen felújítja.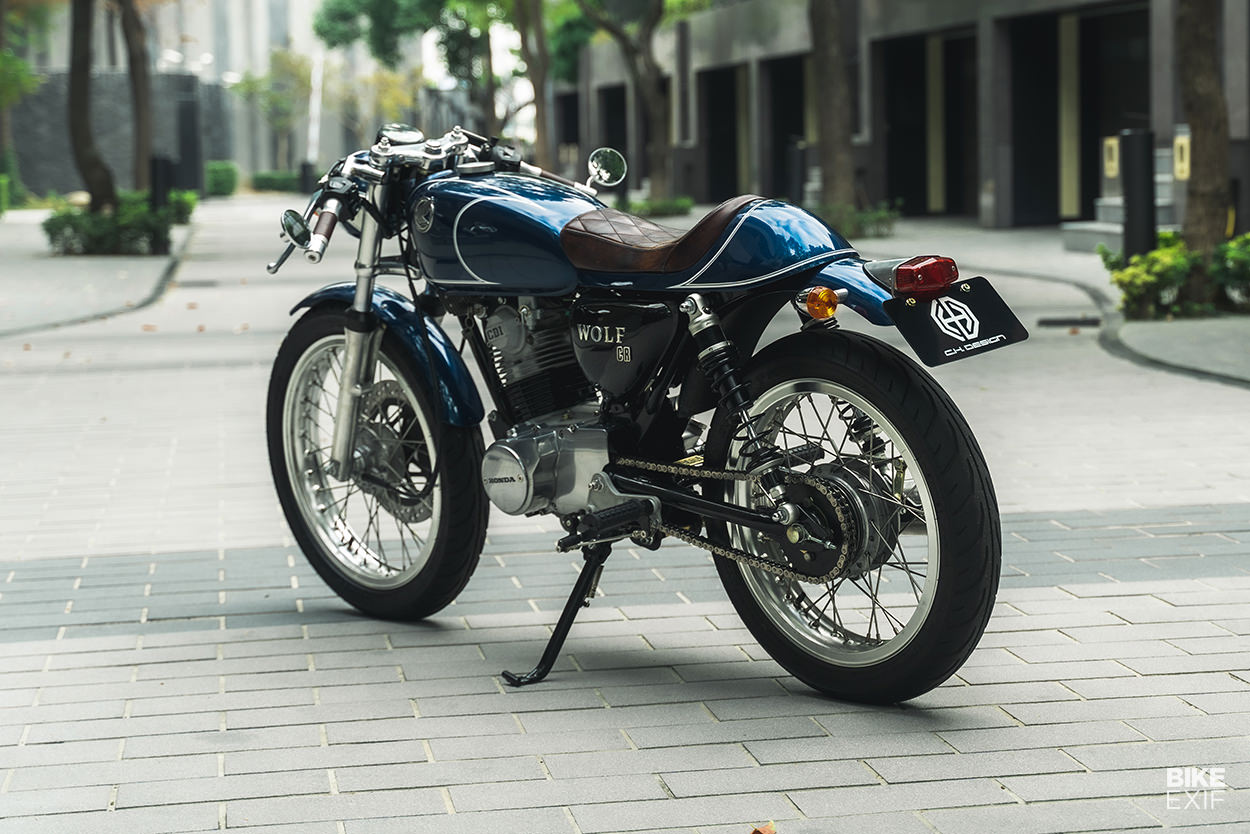 A legtöbb munkát a motor és a sebességváltó átépítése jelentette. Charlie 164 köbcentiméterre növelte a hengerűrtartalmat, és hatfokozatú sebességváltót épített be. A Wolf 125 hajtásláncát a Honda CB/CG sorozatból fejlesztette ki, így a motor belsejében néhány Honda CB125S alkatrészt használt fel.
Charlie megrövidítette és felújította az első villát is. A lengőkar Kymco KTR alkatrészekből lett összerakva, és egy pár állítható RPM RR lengéscsillapítóhoz csatlakozik. A 18F/17R segít a megfelelő úttartás elérésében, míg az elülső Brembo tárcsa extra fékerőt biztosít.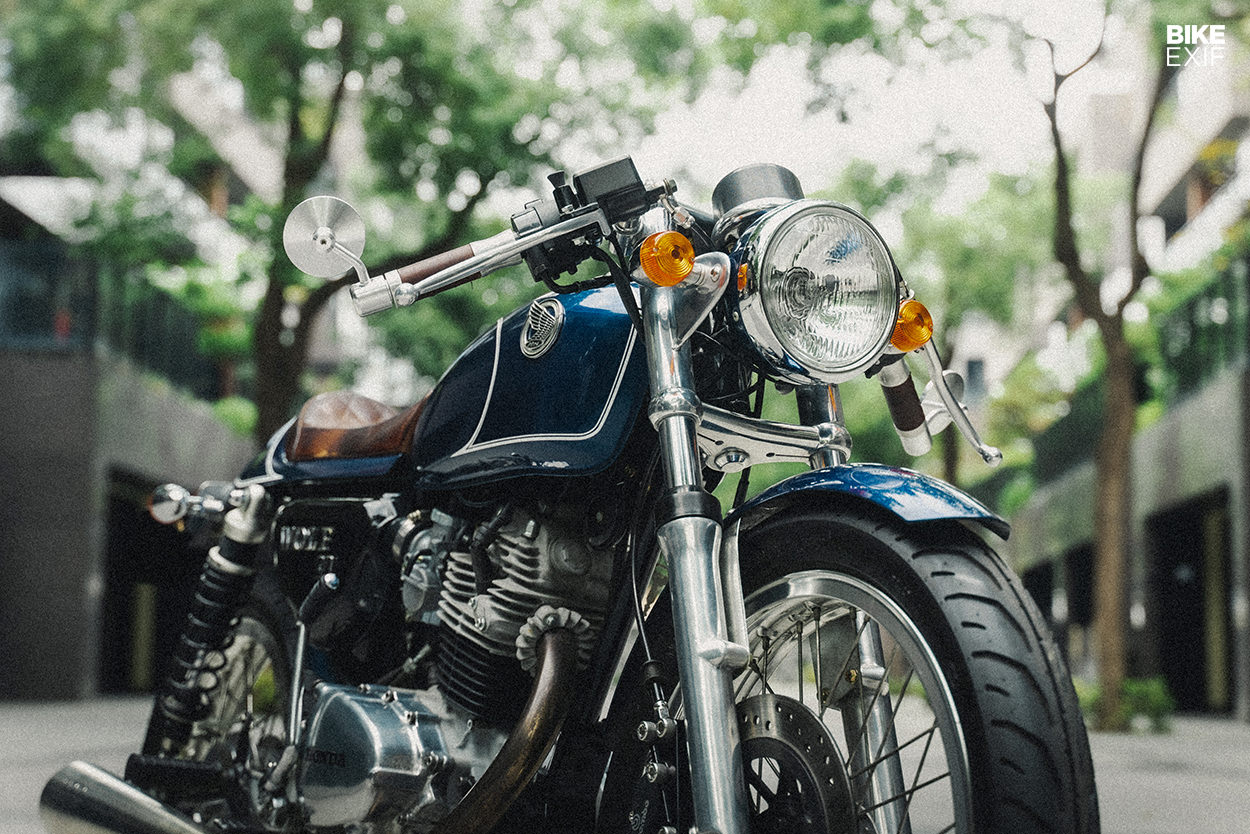 A karosszériához Charlie egy régi Honda CB100 K3 üzemanyagtartályát igazította a Sym vázához. A segédváz és a farokrész gyártását kiszervezte, ahogy a festést és a kárpitozást is, de az ülés bőrét maga festette.
2. Honda CBX 1000 – Lys Motorcycles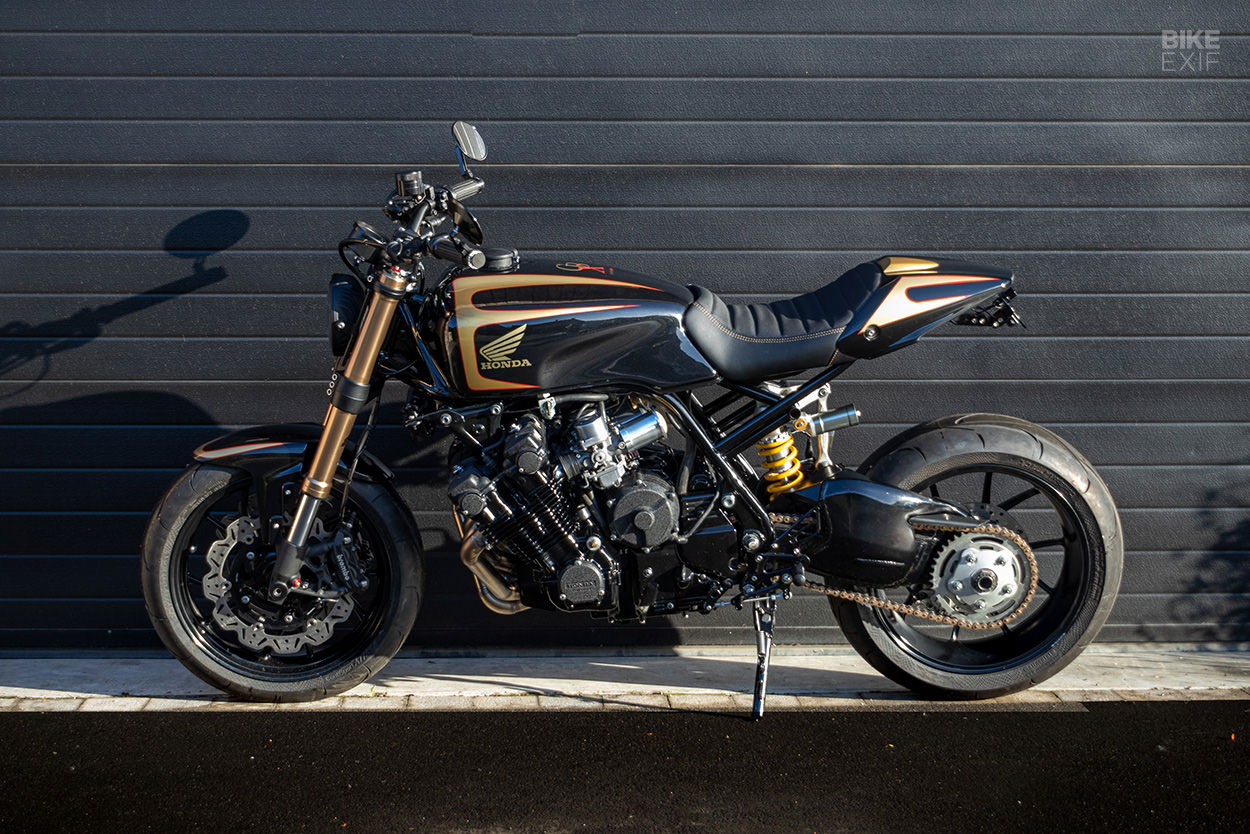 Ez a harmadik egymást követő év, hogy egy Honda CBX 1000 is felkerült a listára. A Honda erős, hathengeres izommotorja már szériában is elég bitang, de a világ legjobb custom építői megmutatták, hogy még vadabbá lehet tenni. Amikor a Lys alapítója, Dimitri először alakított át egy CBX 1000-et, nagy sikert aratott – és hamarosan több megrendelést is kapott. Ez a bizonyos CBX egyike volt ezeknek a megrendeléseknek.
Elölről hátrafelé haladva Lys CBX-je egy Triumph Speed Triple R villáját, fékeit és első kerekét, valamint egy Ducati 848-as egyoldalas lengőkarját, lengéscsillapítóját és hátsó kerekét viseli. Ahogy azt könnyű  elképzelni, nem kevés bütyköléssel járt, hogy minden illeszkedjen, de a jármű végül olyan jól működik mechanikusan és vizuálisan, hogy olyan érzés, mintha gyári lenne.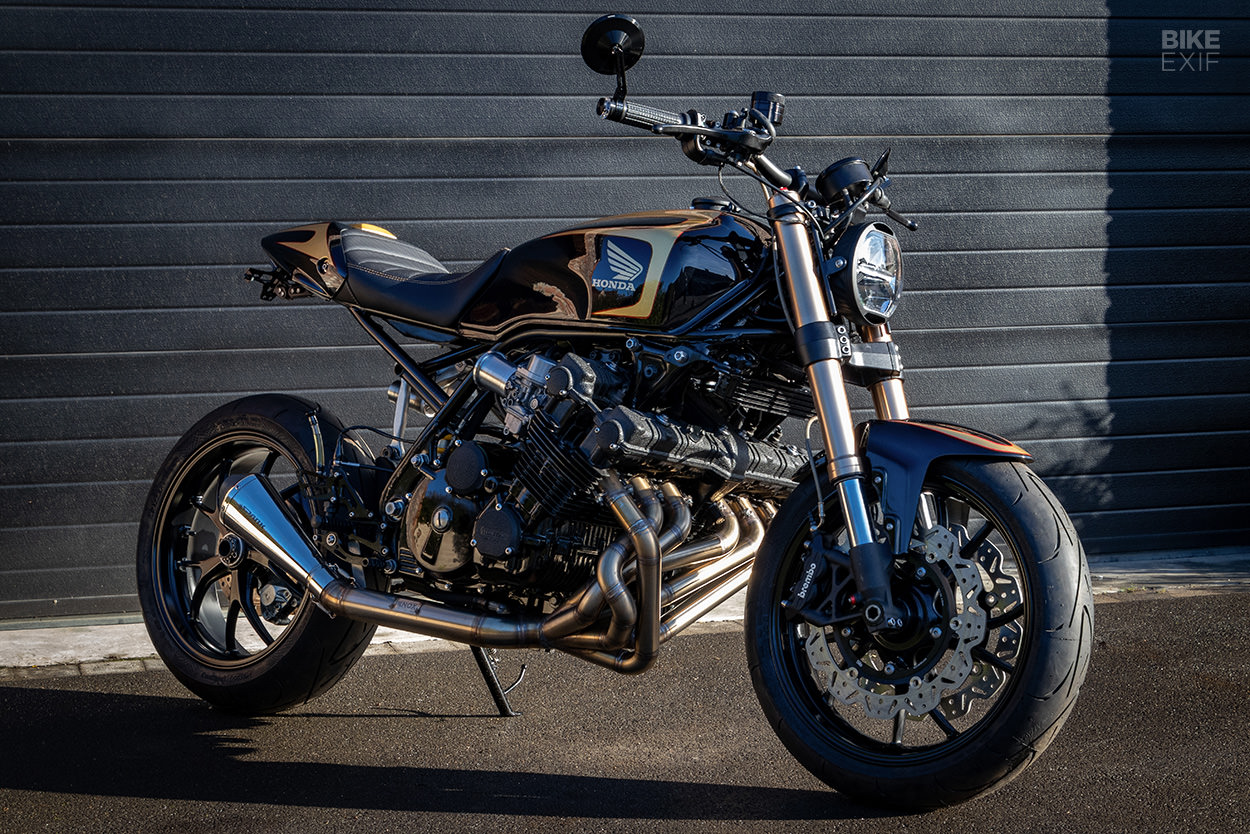 Egy új segédváz támogatja a kétüléses nyerget, a szólótúrákhoz egy mozgatható fedéllel. A Koso, a Motone és a Motogadget modern alkatrészei fokozzák a funkcionalitást, míg a hangzást egy teljesen őrült hat-az-egyben kipufogórendszer egészíti ki. Végül a CBX olyan radikális fényezést kapott, mint amilyen bitang a jármű maga.
1. BMW K100 – Retrorides
Ha egy évtizeddel ezelőtt azt mondták volna nekünk, hogy 2022-ben egy K-sorozatú BMW kerül az éves top 10-es lista élére, nem hittük volna el. De itt vagyunk, a brazil Retrorides Lourenço által készített "repülő tégla" a custom szcéna egyik kedvence lett.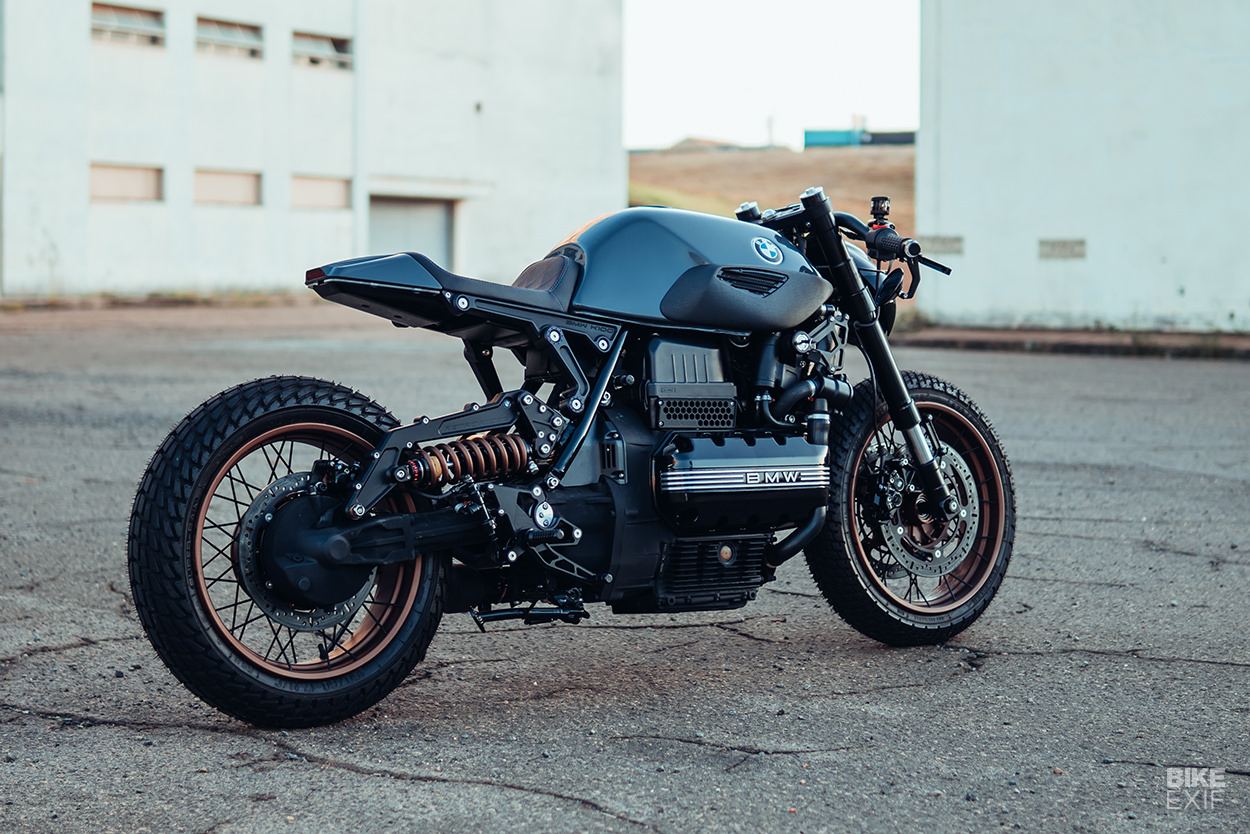 A Gustavo és Rodrigo Lourenço testvérek, valamint az egy éve sajnálatos módon elhunyt édesapjuk, José által alapított Retrorides BMW K modellek építésére specializálódott. Még csavarozható alkatrészeket is gyártanak a K-hoz, mint például a vízszintes hátsó felfüggesztés ezen a modellen. Közvetlenül fölötte egy CNC megmunkált segédváz található, amely egy élesen kúposodó hátsó részt támaszt meg. Elöl egy Honda Hornetről származó, upside-down villa ül, valamint egy 3D nyomtatott fényszóróház. A pilótafülkét Motogadget alkatrészek sokasága díszíti.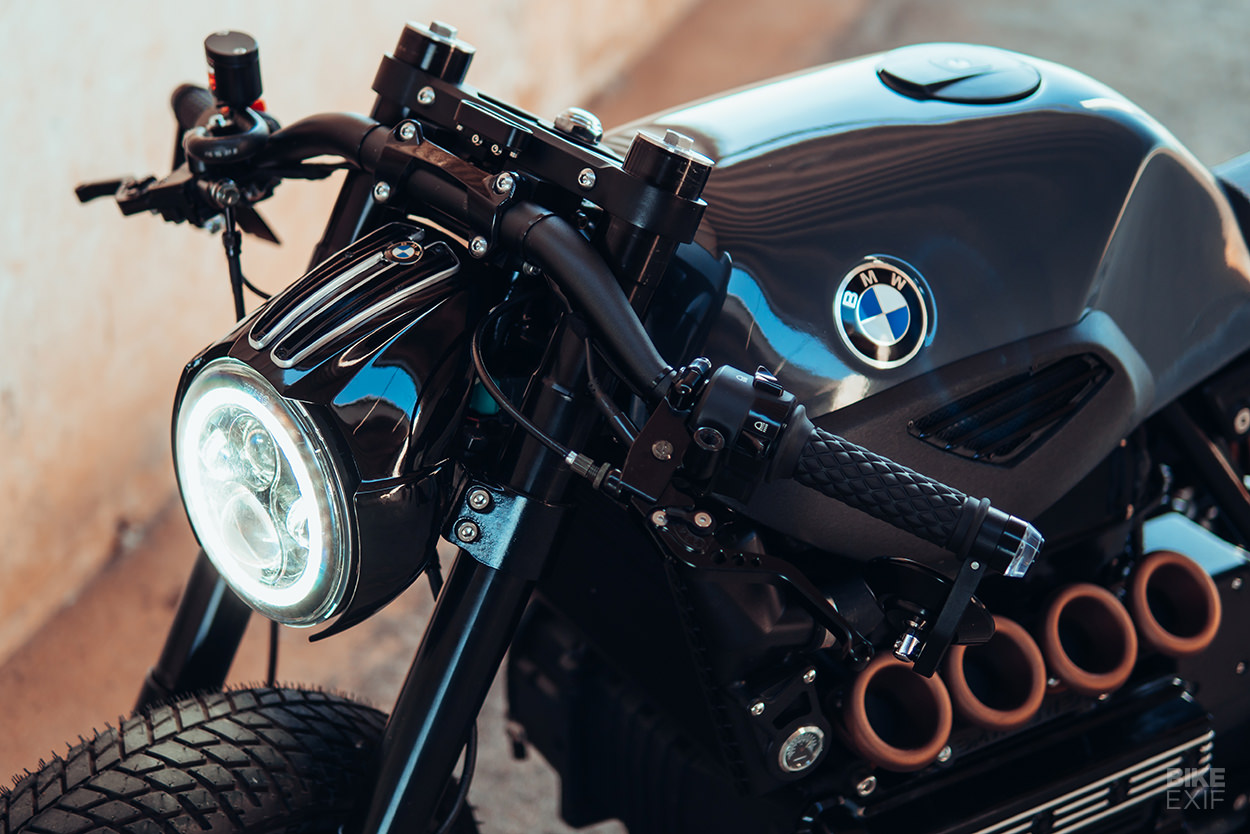 De az igazi trükk az, hogy mennyire tiszta a K sziluettje – ami nem kis teljesítmény, ha figyelembe vesszük a széria motorkerékpár furcsa vonalait. Ezt olyan alkatrészek teszik még elegánsabbá, mint a 3D nyomtatott, karbonból készült oldalsó panelek és a BMW komor festése. Az egyetlen kontrasztos színt a finom bronzszínű kiemelések jelentik. Ironikus, tekintve, hogy ez a K épp most lett aranyérmes!
Forrás: BIKEEXIF