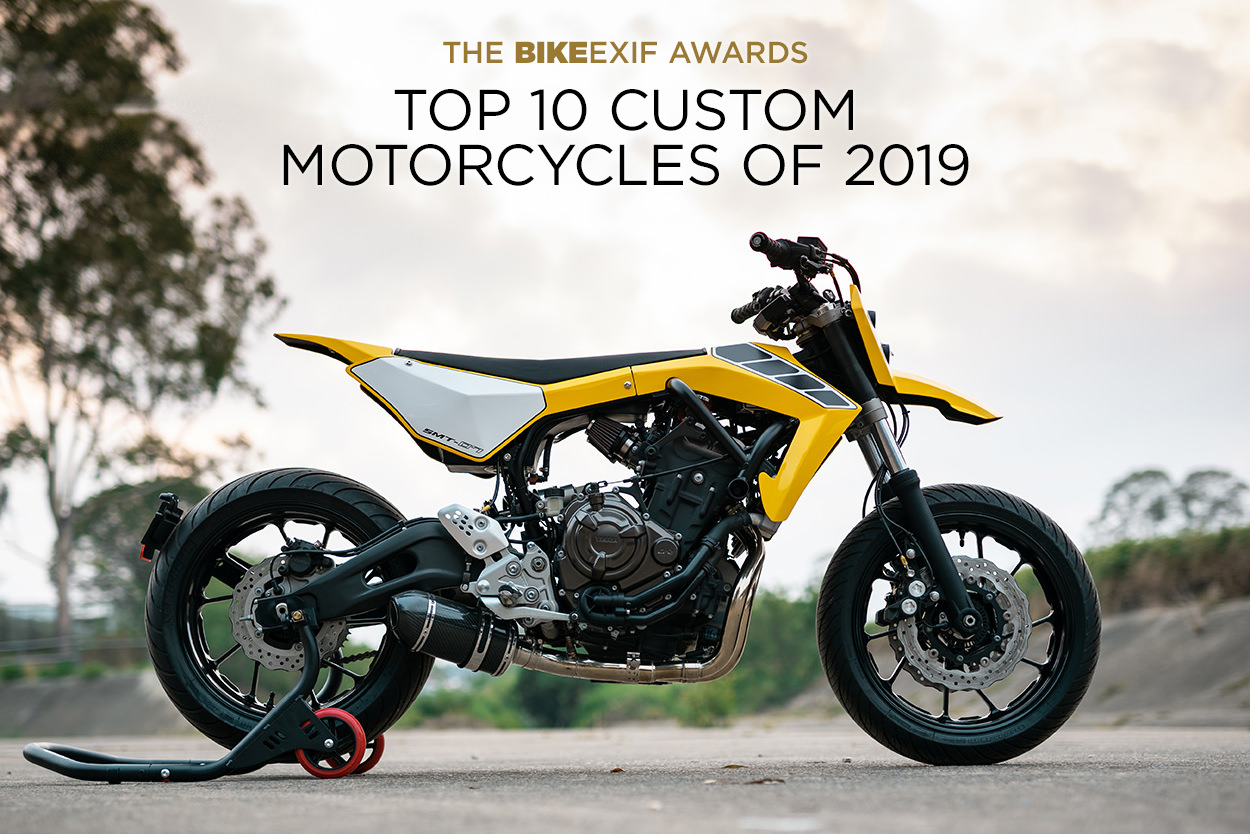 BikeExif Top10 – 2019
2014 óta minden évben bemutatjuk a Bike Exif Top 10-es épített motor listáját, illetve 2015-től a rangos magazin "Editors Choice" rangsorát is.
Ez az objektív lista tisztán "adat-alapú", vagyis az oldallátogatások és a közösségi médiában elért sikerek alapján képezi évente az újság. Talán ezért is indították el 2015-ben az említett, vállaltan szubjektív "Editors Choice" (szerkesztői válogatás) listát is. (Bónuszként pedig a King of Fuel 2014-es és a Pipeburn top listájának 2015-ös linkjeit is szerepeltetjük.)
TOP10 – 2014
 TOP10 – 2015
TOP10 – 2016
TOP10 – 2017
TOP10 – 2018
Editors Choice 2015
Editors Ch. '16/1
Editors Ch. '16/2
Editors Choice 2017  
Editors Choice 2018 
TOP5 – 2014 King of Fuel
TOP10 – 2015 Pipeburn
Ebben az évben a két első építésen kívül a verseny szorosabb volt, mint valaha. Egyes motorok, amelyek dominálták a BIKEEXIF honlap forgalmát, alig pörögtek a közösségi médiában; más motorkerékpárok, amelyek a közösségi csatornákban voltak népszerűek, pedig nem mozgatták meg a honlap olvasóit.
Nyilván mindenki levonja majd a saját következtetéseit az idei Top 10-ből, de néhány dolog azért nyilvánvaló. Először is, a klasszikus "café racer" kategória tulajdonképpen halott. A legtöbb motorkerékpár már egyesíti a különféle építési stílusok elemeit.
Az off-road vasak népszerűsége egyre növekszik, függetlenül attól, hogy a klasszikus Dakar-stílusról, vagy az enduro/dual sportgépek újjáépítéséről beszélünk. Továbbá általában a klasszikus versenygép stílus, a flat tracktől az endurance futamokig és az motokrosszig bezárólag egyre nagyobb befolyást gyakorol az építőkre.
10.  Yamaha XSR155 / K-Speed
Hány műhely készít évente több mint 50 motort? Csak néhány.
Azoknak a száma pedig, akik a nagy számok ellenére is képesek fenntartani a magas minőséget, még kisebb – valószínűleg csak 4-5 csapat a világon. A K-Speed ​​a legszembetűnőbb a nagy volumenű építők között, és annak ellenére, hogy ebben a Bangkokban működő műhelyben könyörtelen ütemben születnek a motorok, a végtermékek minősége tényleg lenyűgöző.
Számos K-Speed ​​motorkerékpár esélyesként indult az idei Top10 versenyen, de a győztes ez a zömök XSR155 lett, amely egy Honda Monkeys-zal versenyzett, hogy helyet szerezzen a listán. A thaiföldi Yamaha csapatának fontos feladata volt a legkisebb XSR bevezetésének támogatása, erősítendő az elmúlt év egyik legnagyobb tendenciáját: a vásárlók kisebb űrtartalmú motorkerékpárok iránti érdeklődését.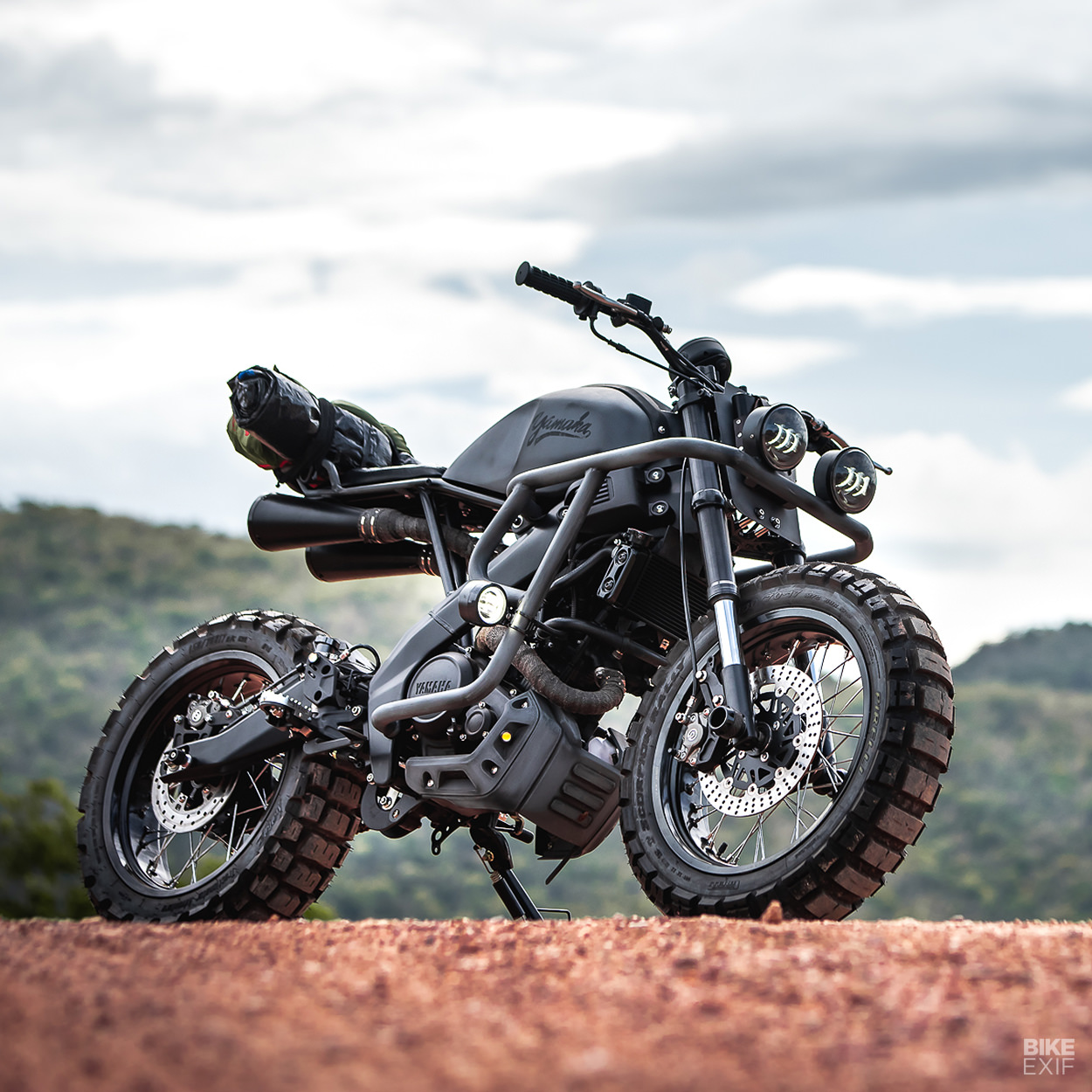 Ez a jármű viszonylag szabványos formulát követ – új váz, ülés, kipufogó, kormány, kerekek és kiegészítők -, de a K-Speed ​​titkos vegykonyhája mindezt egy új szintre emeli. A K-Speed műhely tulajdonosa "Eak"  tudja, hogyan kell az alapanyagokból ízletes receptet keverni, melyre a BIKEEXIF olvasói kellőképpen éhesek is voltak, csak az Instagramon több mint 16.000-en igazolták vissza érdeklődésüket a motor iránt.
9.  Scrambler Ducati / Slayer House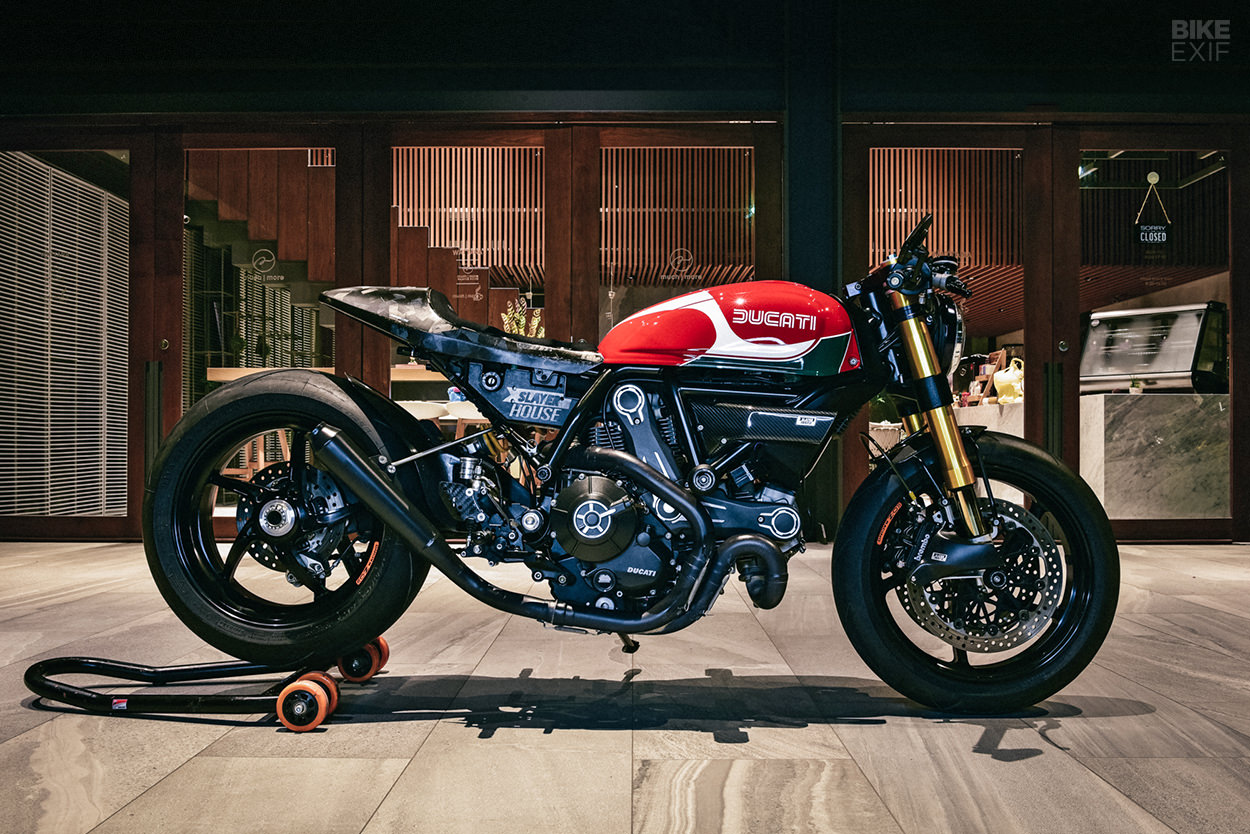 Nattapat Janyapanich több márkának is tervez motorkerékpárokat Délkelet-Ázsiában, szabadidejében pedig a Slayer House márka alapítójaként épít motorokat. Az általa épített Ducati hosszú és alacsony felépítésű jármű, (persze) Öhlins csillapítással. A villák egy Ducati 999R-ből származnak, az egyoldalas lengőkart pedig egy Monster 796-os szolgáltatta önként és dalolva.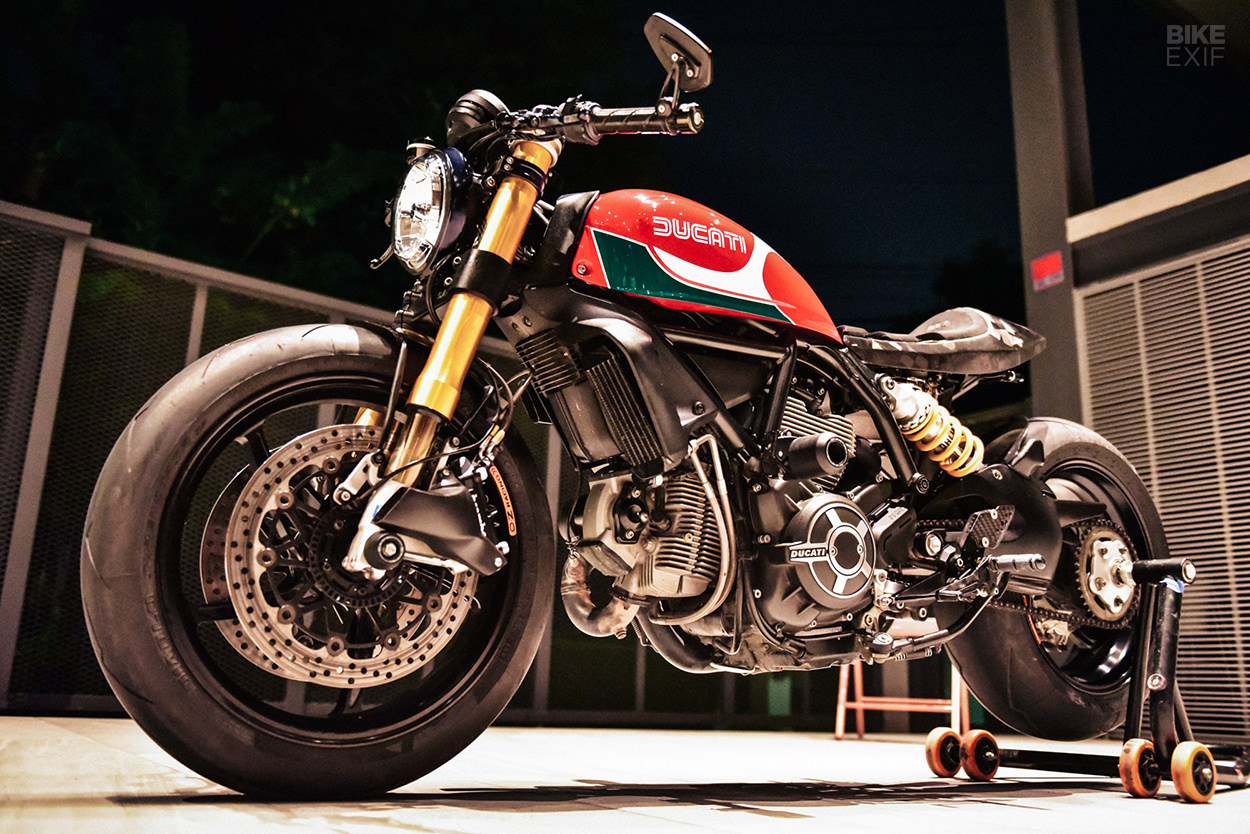 Az üzemanyagtank szintén Ducati elem, amely egy Scrambler Sixty2-ből származik, a hátsó traktus és a váz azonban egyedi darabok. Ezeken az elemeken túl pedig OZ Racing kerekek, és BMW S1000RR fék van a motorkerékpár alatt.
8.  Yamaha TZ750 flat track / Brad Peterson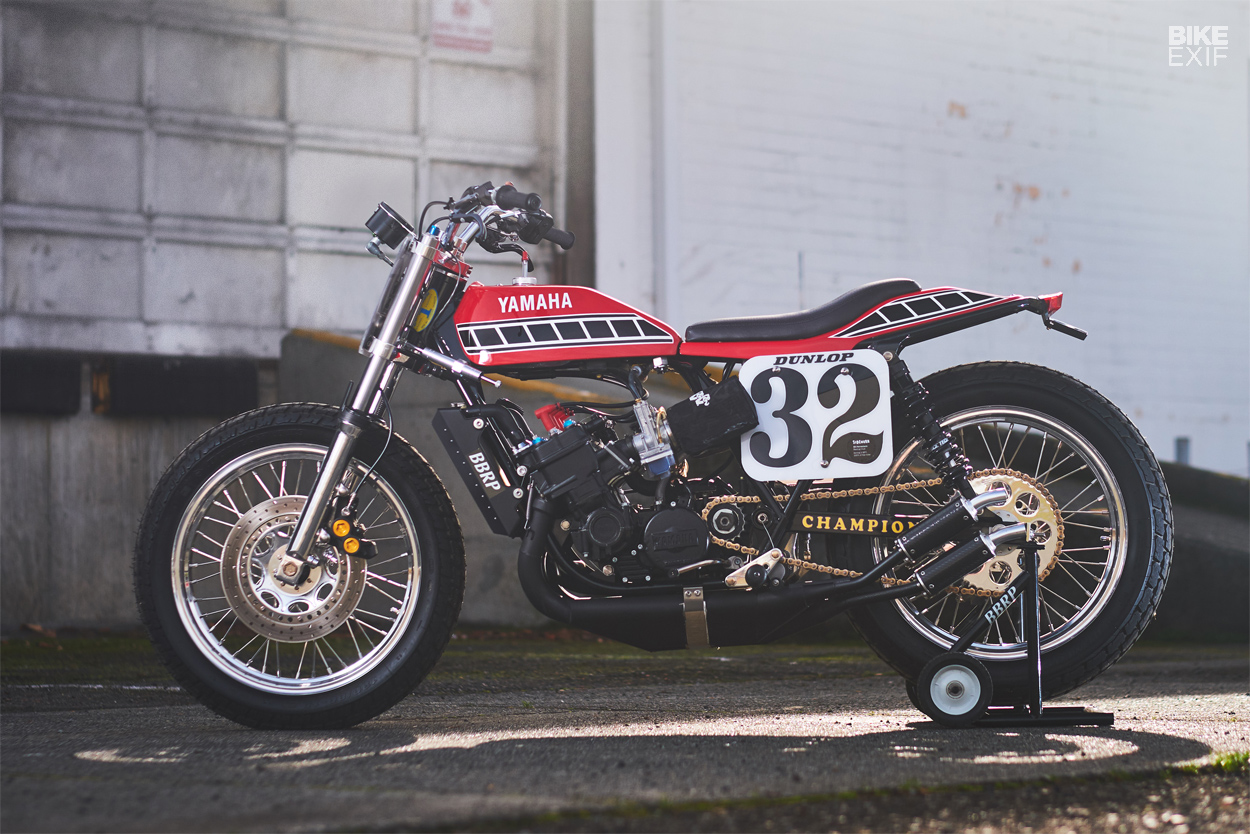 A TZ750 minden idők egyik legfélelmetesebb versenymotorja: Kenny Roberts egy mérföldön 145 mp/h-ot (233 km/h!) ért el vele.
Ez olyan gyors menet volt, hogy egyetlen nagyobb verseny után kitiltották a "rakétát" a pályákról.
Ez a tiltás bőven elegendő volt a "legenda" státusz megerősítéséhez, és ahhoz is, hogy Brad Petersont ennek a nagyon ízléses replika létrehozására ösztönözze. A váz az eredeti Champion váz pontos másolata, mely egy 1977-es TZ 750D Scott Guthrie Racing motort vesz körbe. Jeff Palhegyi munkái megtalálhatóak a motoron – a váztól a tágulási kamráig. A motort szintén felújították, hogy utcai használtra is alkalmas legyen a Lectron karburátorok segítségével.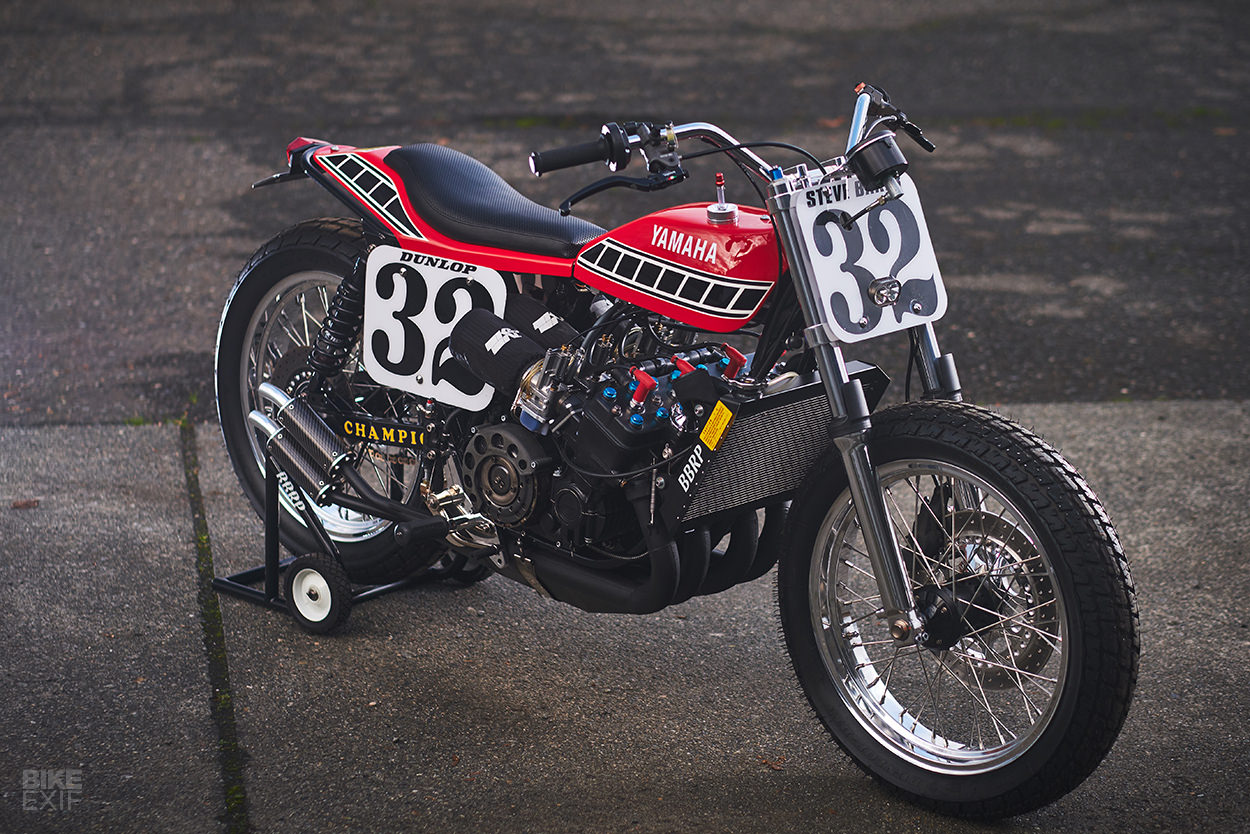 "Amikor a fordulat eléri a 7000-et, a hátsó gumiabroncs óriási terhelést kap – és ezzel egyidejűleg megemeli az első kereket, erősen húzva egész 11.000-ig" – mondja Brad.
7.  Indiai Scout Bobber / Workhorse Speedshop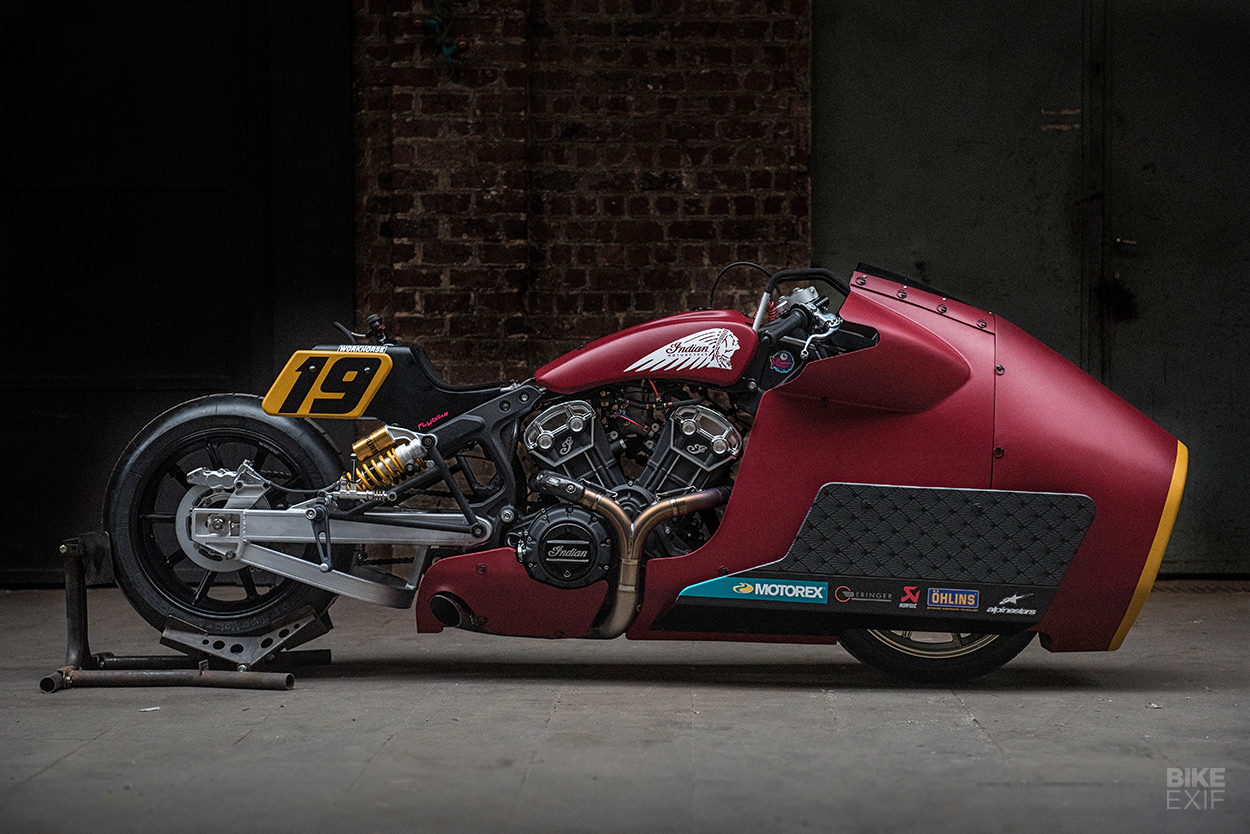 A Sultans Of Sprint drag sorozat Európában mindig elképesztő építményeket vonultat fel. A költségek és a lóerő ellenőrzésének fenntartására szolgáló szigorú előírások ellenére a kontinens építői továbbra is döbbenetes gépekkel állnak elő, amelyek egyszerre gyönyörködtetik a szemet és a benzinvérűek egyéb érzékelő szerveit.
Ebben az évben az egyik nagy kedvenc egy "cserkész" volt, egy belga építőktől, Brice Henneberttől. Brice a saját feje után megy. A vas úgy néz ki, mint egy V-twin, amely belerohant egy repülőgépmotorba. Az 'Appaloosa' fedőnevű jármű extra naftát kap a nitro-rendszerből – és a hatalmas idomok ellenére 42 kilóval könnyebb, mint egy gyári Scout Bobber. (Itt írtam róla részletesen.)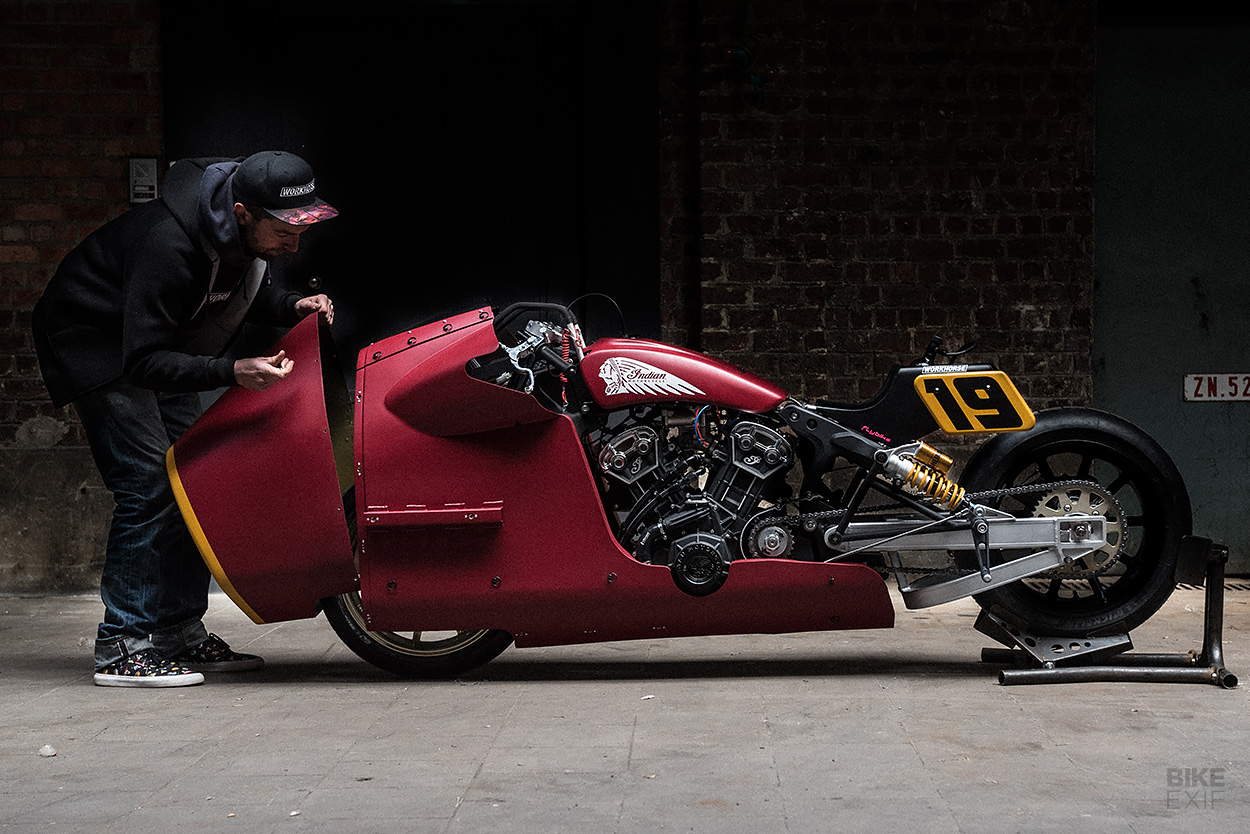 Az alumínium karosszéria önmagában hét hétig épült, és az 1920-as évek vonatjaitól, az 1940-es évek Forma-1-es autóitól és az F-86 Sabre vadászgépétől származik az inspiráció.
A tank gyárinak néz ki, de 10 centiméterrel keskenyebb az eredetinél, és van egy egyedi lengőkar, amely növeli a tengelytávot és segít a súlypont alacsonyan tartásában is.
A motoron mindenhol találhatóak egyedi CNC-megmunkált alkatrészek, a felfüggesztéseket az Öhlins szállította, az Akrapovičtól pedig egy egyedi kipufogórendszer érkezett. Ugyan a Scout még Randy Mamolaval a nyergében sem tudta megszerezni a drag verseny bajnoki címét – de hazavitte a "Best Style" díjat.
6.  Suzuki DR-Z400 / Federal Moto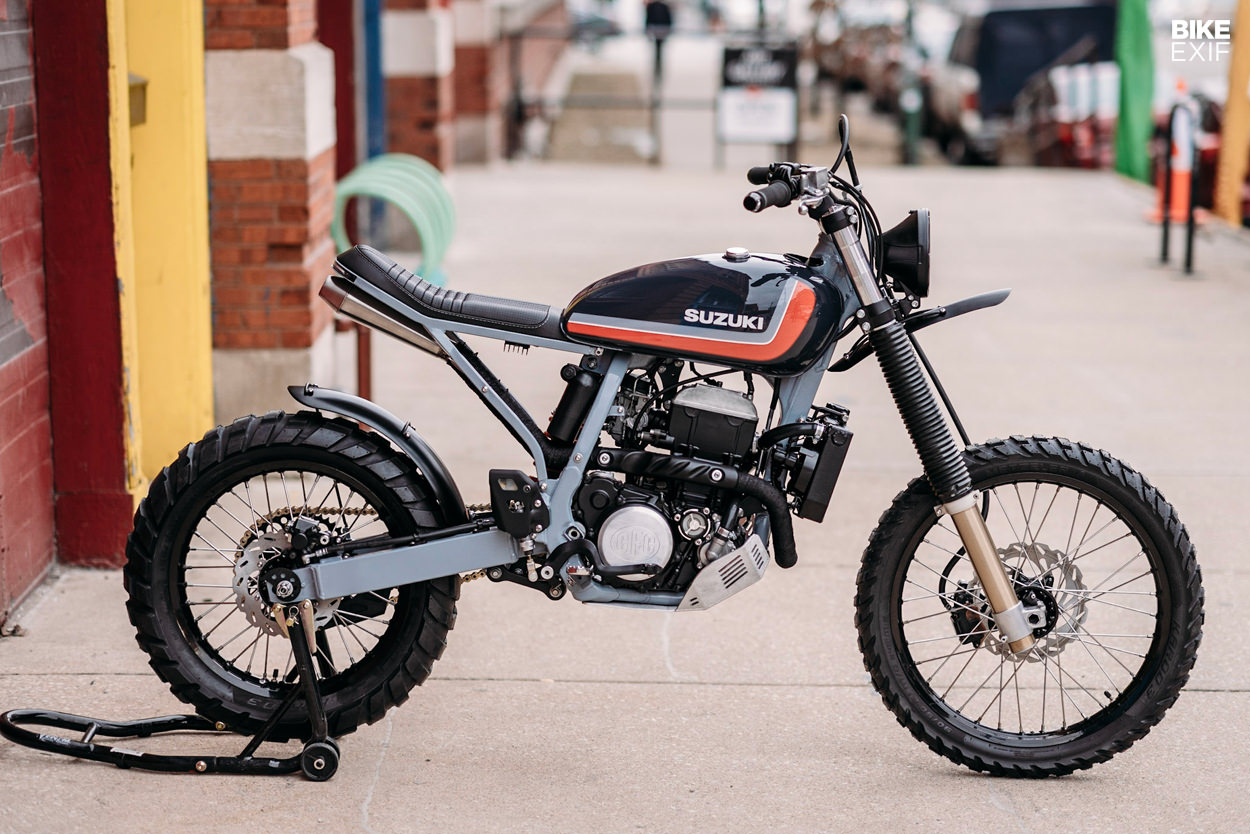 Sokan imádják "Big Suzie" -t. A chicagói üzlet egy helyi ügyfél számára készítette a gépet, aki egy olyan stílusos városi járművet akart, amely képes kezelni az alkalmi "durvulásokat" is. Tehát Mike Müller és legénysége "feldobott" egy új, felcsavarható segédkeretet, beszerelt egy SR500 benzintartályt és egy Honda VFR400 hűtőt a motorkerékpárba.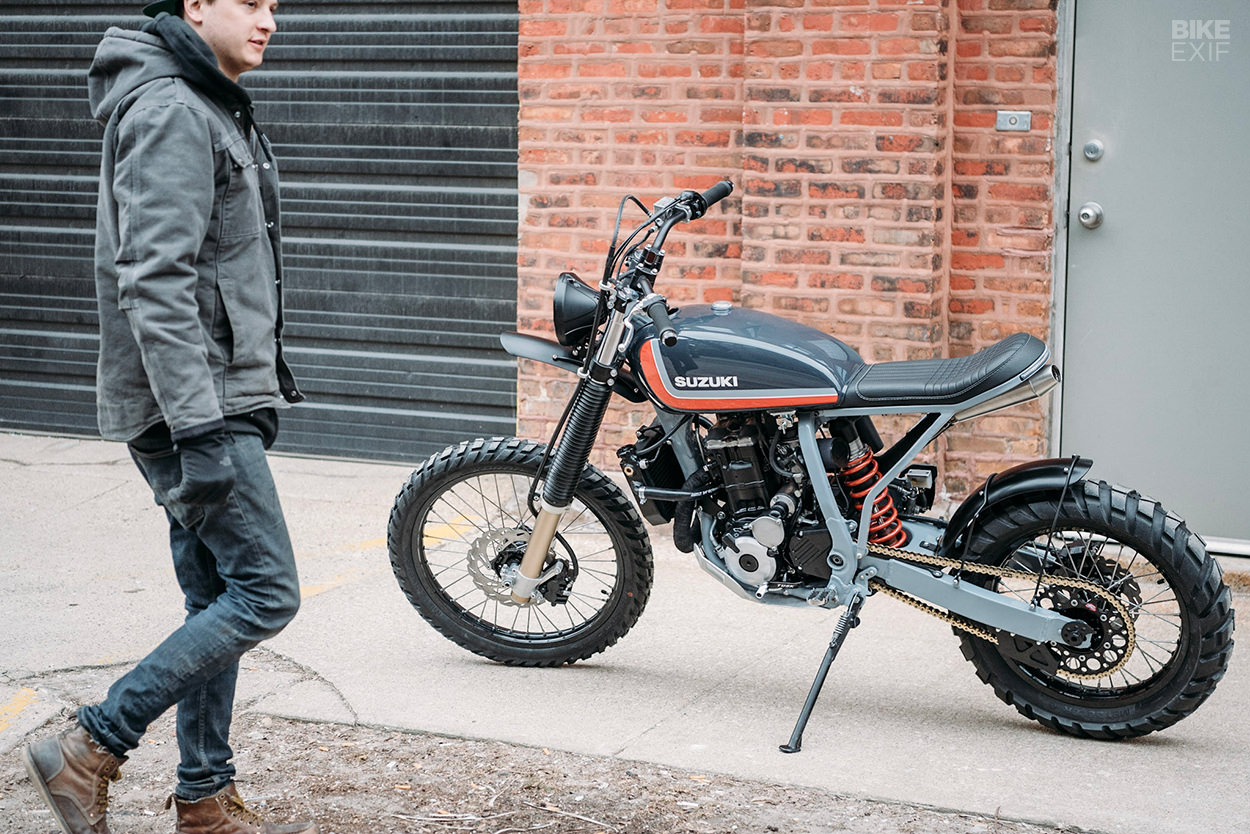 Az új sárvédők menők, és a cockpitet is korszerűsítették Renthal rudakkal, Biltwell markolatokkal, Motogadget elektromos eszközökkel és MSR vezérlőkkel. Végül feltéve a koronát a járműre, a tank menő fényezése és a váz szürke porfestése az alázatos DR-Z-nek extra kinézetet biztosít.
5.  BMX motor-kerékpár / Down & Out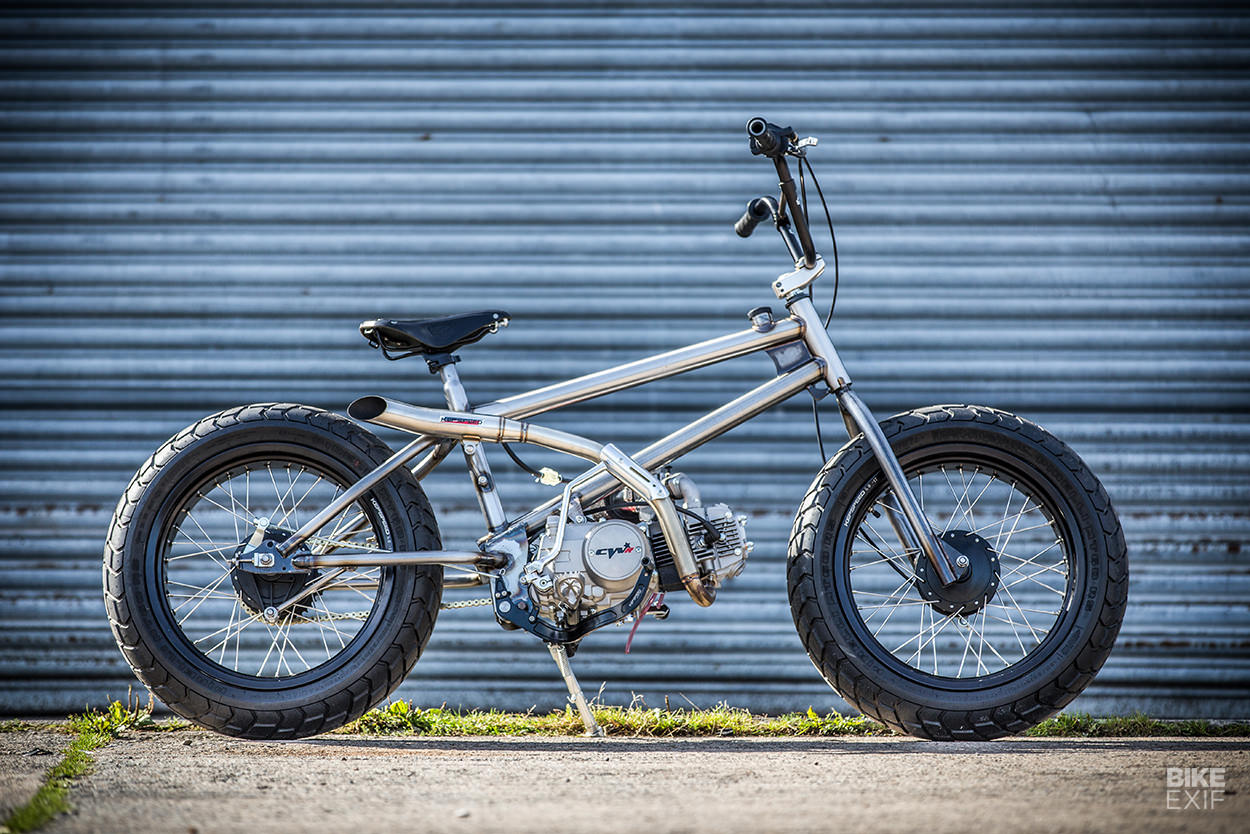 Az angol építő, Shaun Walker már több mint 20 éve tolja az ipart, és legtöbben a lufi-kerekű retro roadsterekről ismerik. De Shaun számtalan motorkerékpárt is épített karrierje során, és nem fél attól, hogy kipróbáljon valami újat is.
Shaun régóta BMX rajongó, de gyerekként soha nem engedhette meg magának, hogy birtokoljon is egyet. Ez az építés végre megvalósította az álmát. Extraként a Mester beszerelt egy Honda motort, csiszolt nyers acélkeretet készített, a vas megkapta egy Honda Cub fékeit ééééés … két óriási kereket. A járműnek 17 x 5 felnik feszítenek az egyedi kerékagy távtartóin, 180/55/17 Pirelli MT60 gumiabroncsokkal fokozva a szokatlan hatást.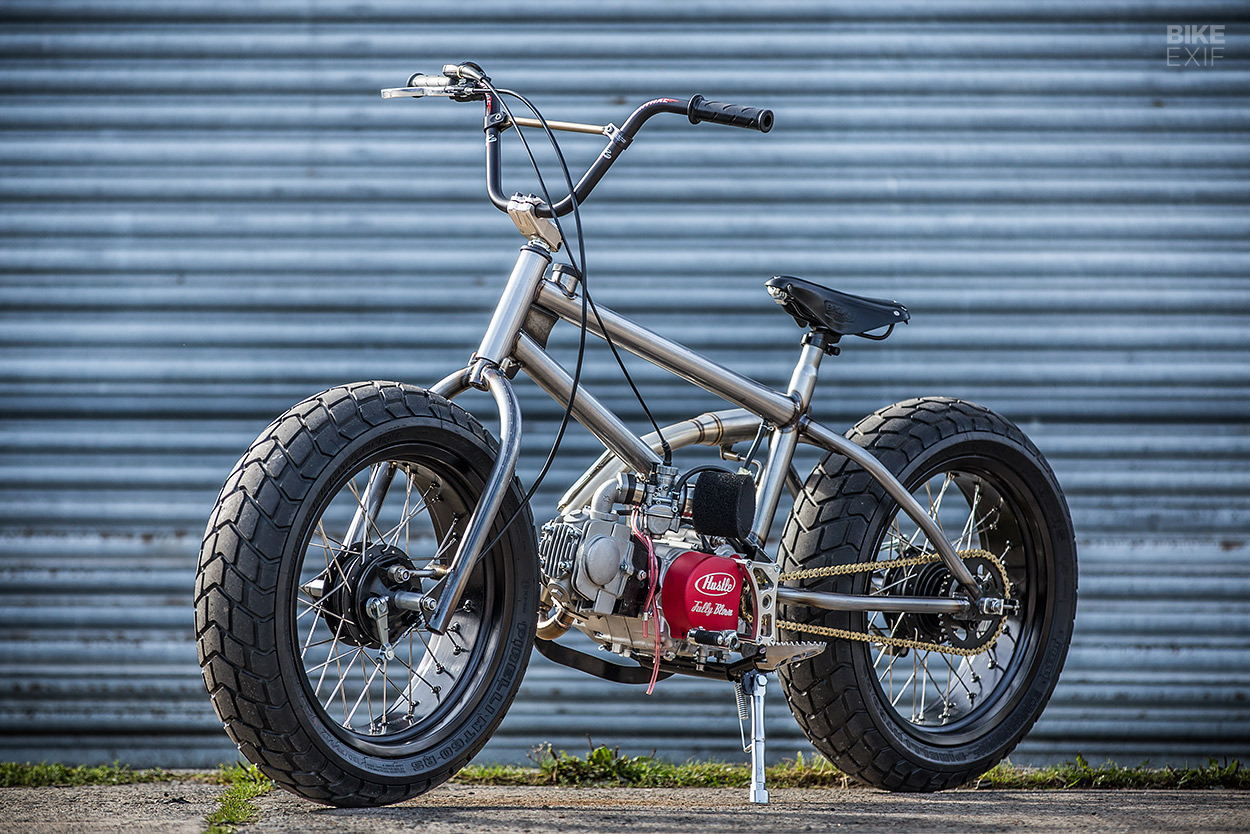 "Jobb később, mint soha", mondják.
A BikeExif Instagram követői ugyanúgy érezték: több mint 15.000 ember nyomta meg a Like gombot e motor kapcsán!
4.  Royal Enfield Himalayan / Fuel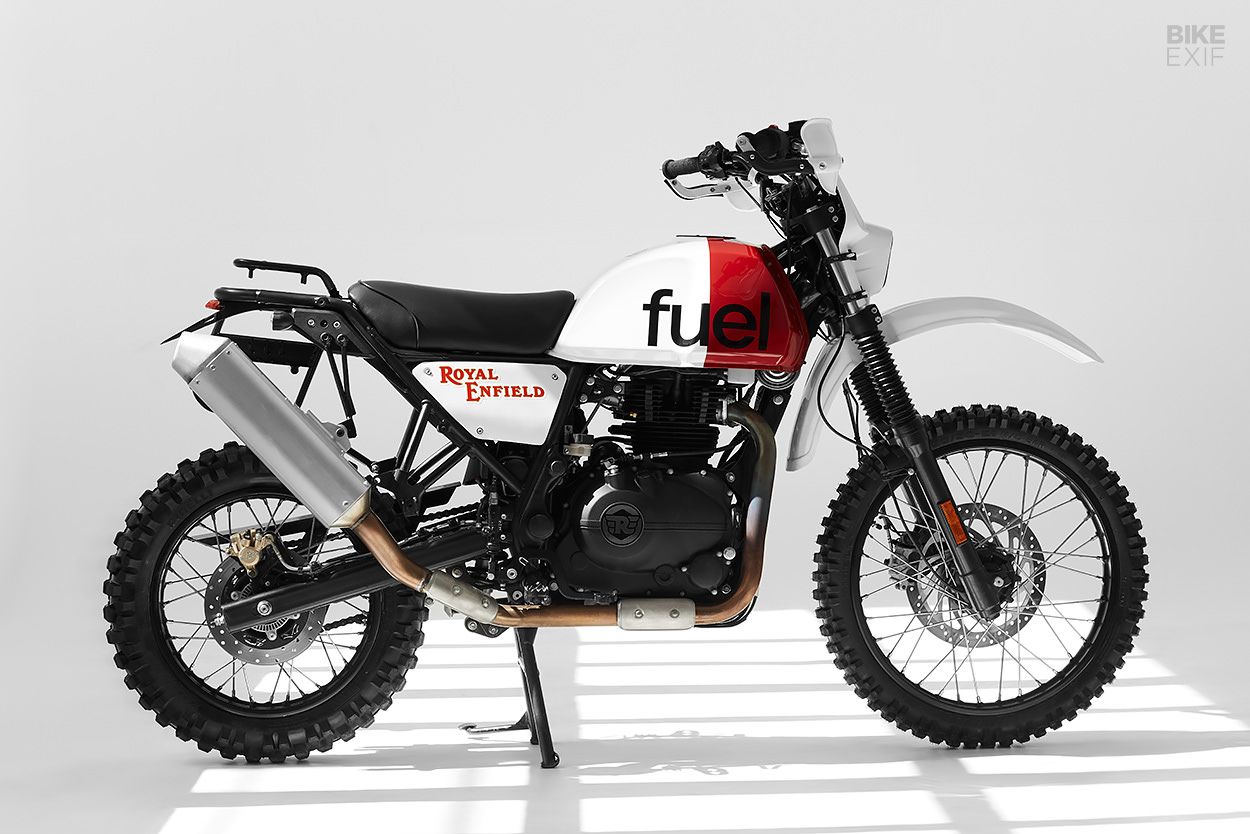 Az "új" 650-es twin manapság a legnépszerűbb az átépítők körében, a Royal Enfield fantasztikus támogatási programjának köszönhetően. De mégis egy szerény Himalayan volt, amelyik a legtöbb reakciót hozta a magazin csatornáin.
A motor a spanyol Fuel csapattól származik, akik nem idegenek a BikeExif olvasói számára. Az ízléses átépítéseken kívül a spanyolok azért is híresek, mert ők szervezik évről évre a Scram Africa expedíciót is. Ez egy 4000 km-es dirt túra, amely Észak-Afrikán halad keresztül.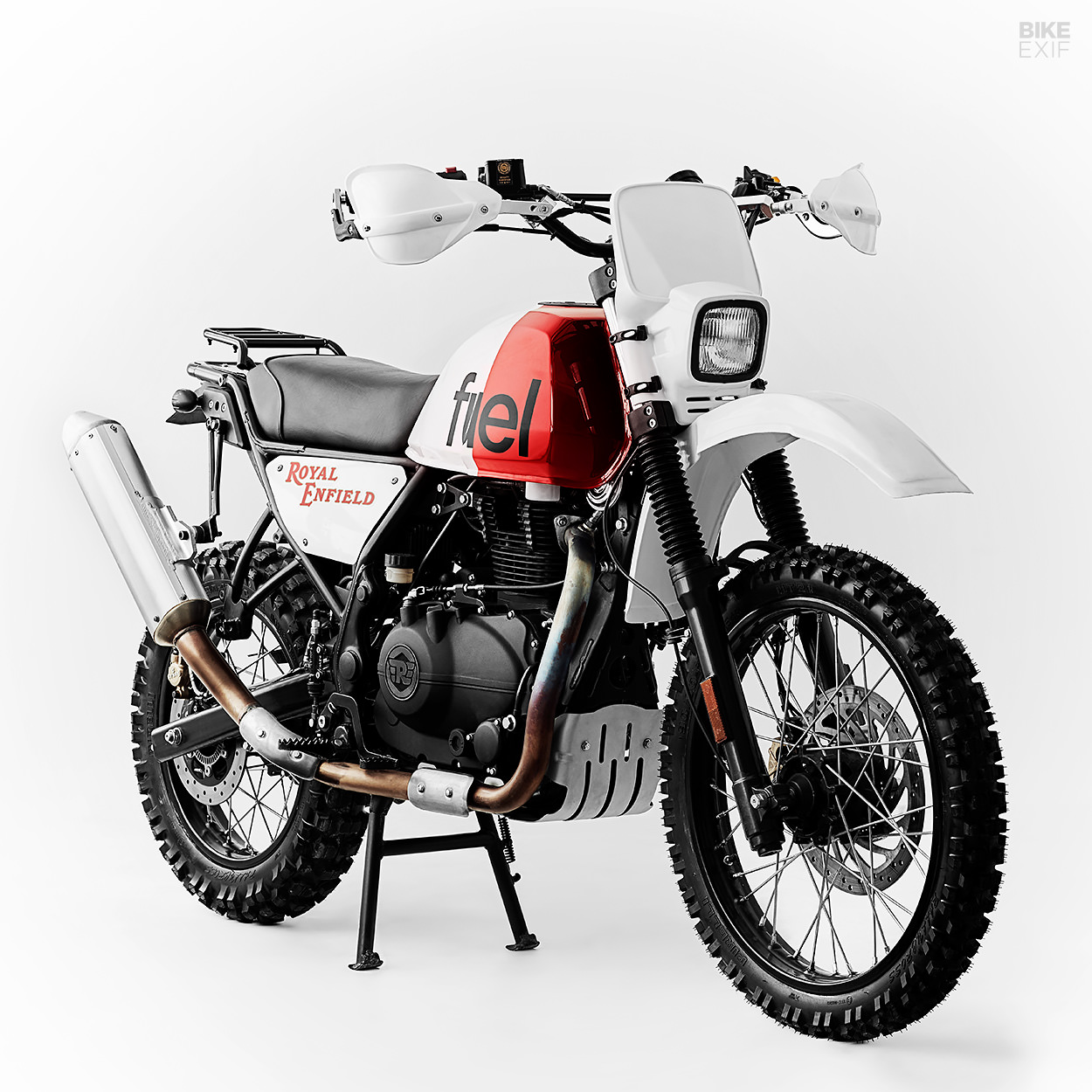 Az Fuel a Himalayan alapot választotta a scramblerhez, mert egyszerű, könnyen javítható és viszonylag kompakt. Végül is nincs sok értelme a legszebb motorkerékpárt a sivatagba vinni. A jármű stílusa emlékeztet a 80-as évek enduróira és a Párizsi Dakar versenygépeire, de az Fuel csapat még némi funkcionalitást is hozzáadott – például egy kapcsolót az ABS kiiktatásához, ha szükséges. Ügyes!
3.  Harley Fat Bob / Rough Crafts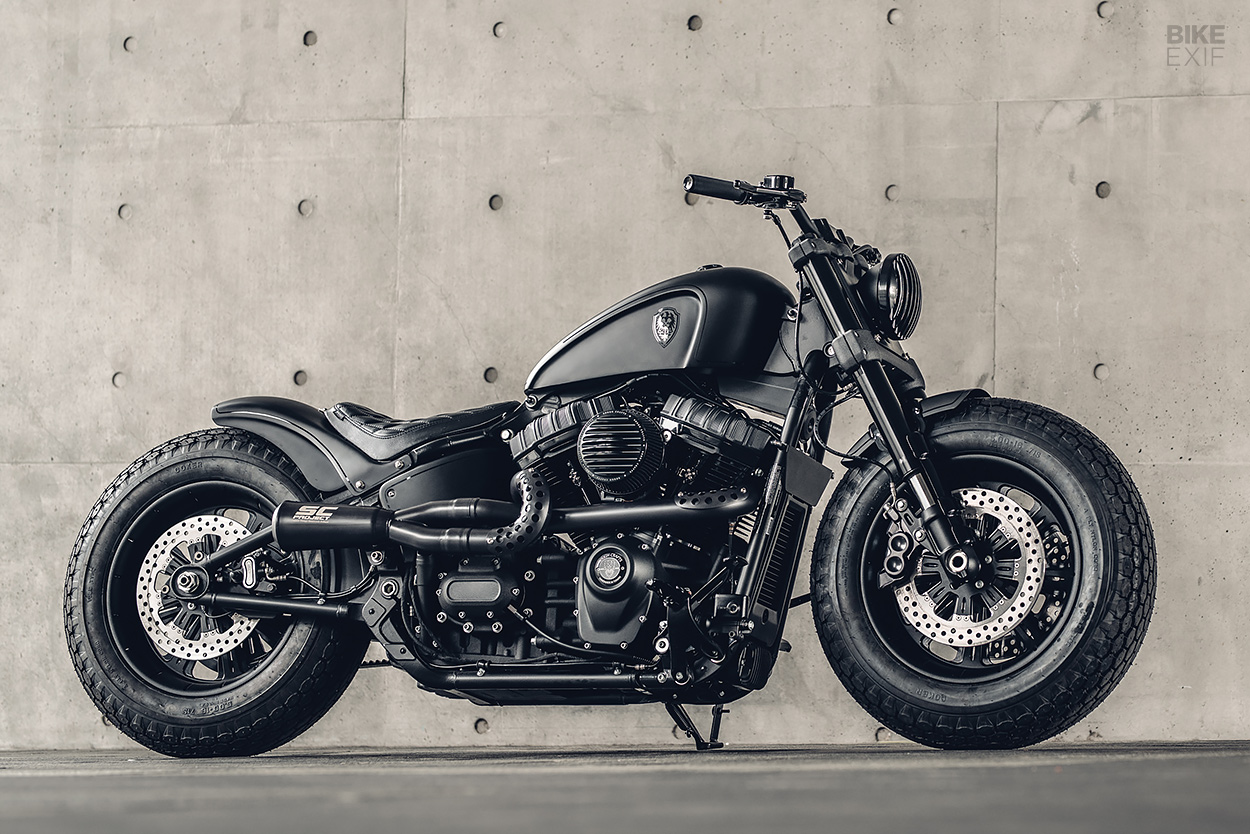 Ha lenne maratoni rendezvény az egyedi motorok számára, azt Winston Yeh nyerné meg.
Minden évben kevés, de jól megválasztott motort épít, és látható, hogy exkluzív stílusa az új platformokat alkalmazva is teljesen konzisztens marad. Ez a Fat Bob volt a BikeExif honlap második legszélesebb körben megtekintett cikke 2019-ben! Az átépített Harleyk általában egy saját szegmenset foglalnak el maguknak a motorok között – különösen a nagyobb vasak között -, de ez az átépítés olyan embereknek is tetszett, akik valószínűleg soha nem lépnének be egy Harley bemutatóterembe.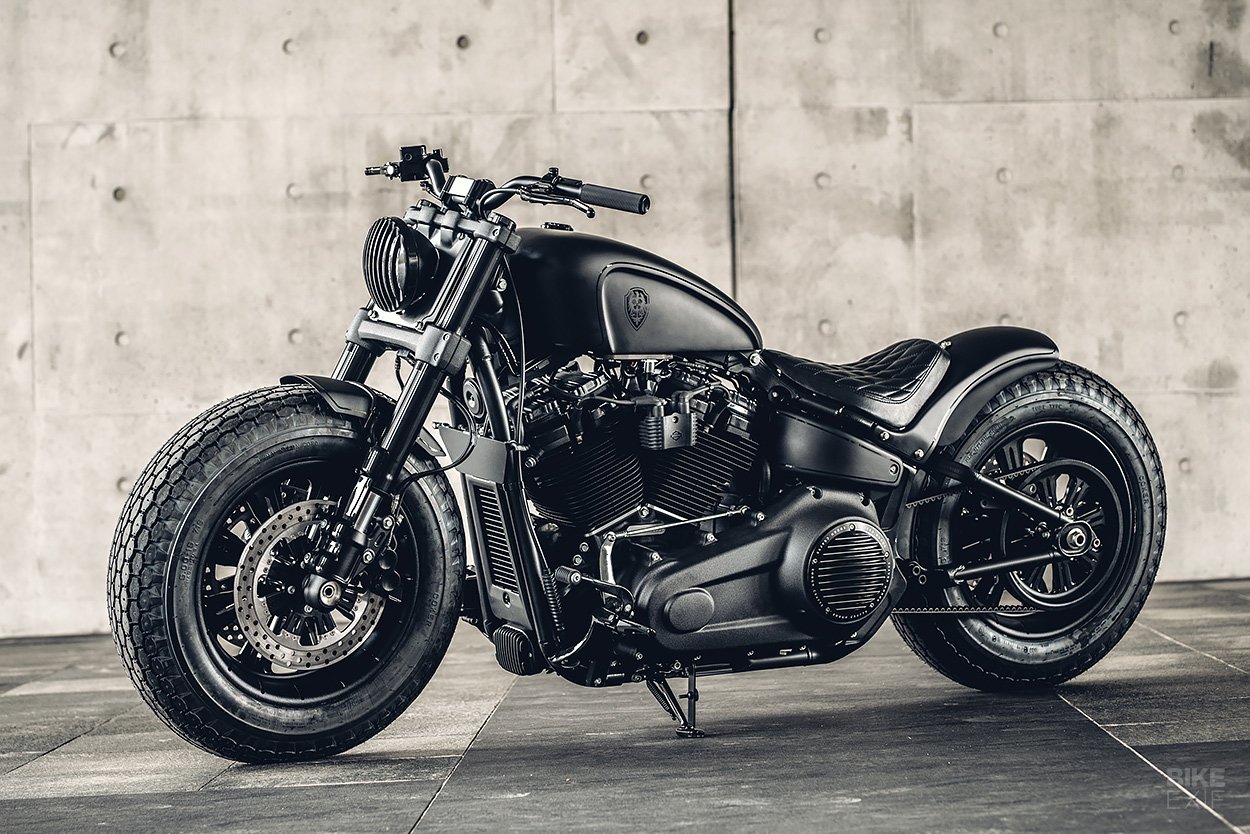 A "Mighty Guerilla" rokonságban áll azzal a Sporival (Iron Guerilla), amely majdnem egy évtizeddel ezelőtt Yeh mester csillagát pályára állította. Ez egy brutál 2018-as Fat Bob 107 volt, amely 5 coll széles, 16 colos felniken gurult!
A fékeket továbbfejlesztették, a karosszéria és a kipufogórendszer teljesen új. A jármű fekete és agresszív. (Az erősen átalakított tank érdekes módon Sportster szerelvényként jött ki a gyárból annak idején.) Gratulálunk Winstonnak egy évtizede a top építők között!
2.  Ducati MH900e / Onehandmade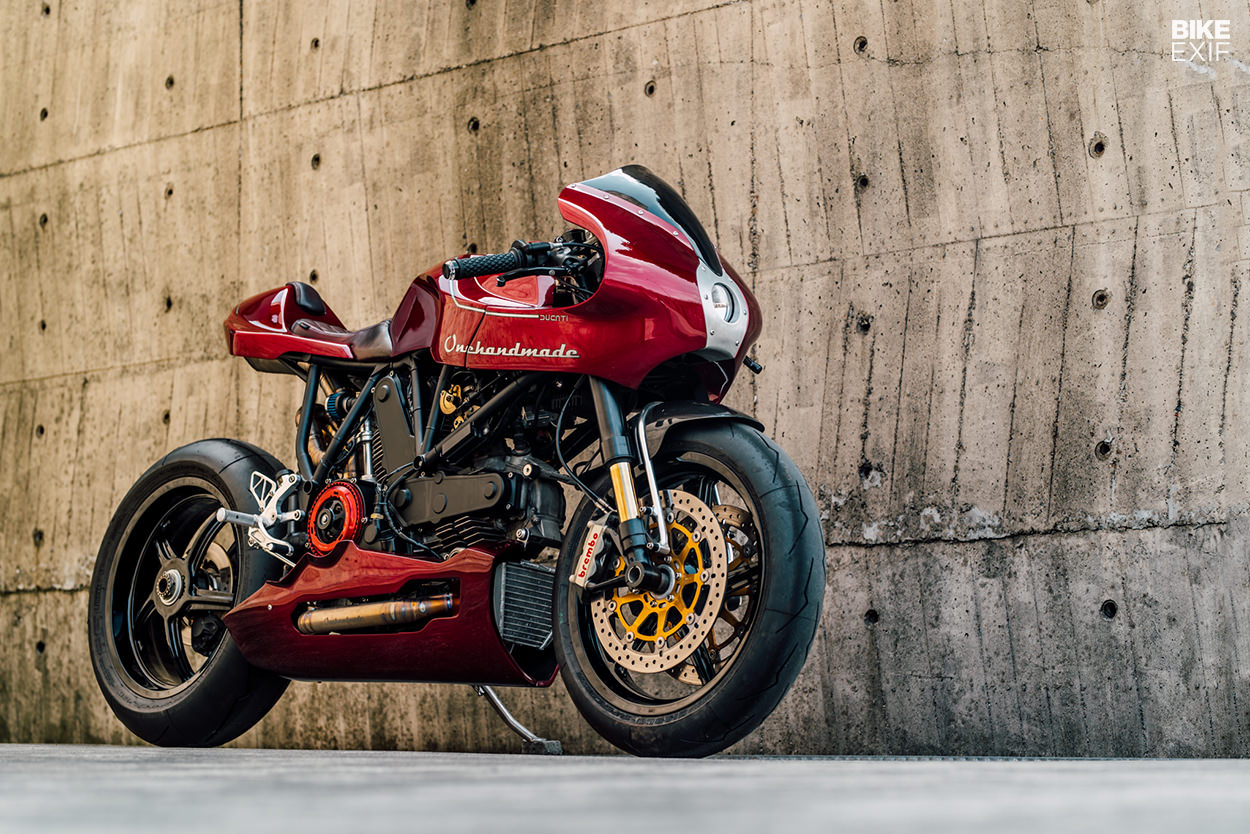 Bátor építő az, aki olyan gépet merészel átépíteni, mint az ikonikus MH900e.
Csak kétezer darab épült belőle, és a termelés fele kevesebb mint egy óra alatt elfogyott! "Chun" Onehandmade Hung a világ egyik legszebb fémformálója, mégis megpróbálta elriasztani ügyfelét attól, hogy átépíttessen egy MH900e-t. Mivel azonban az ügyfél ragaszkodott az elképzeléséhez, végül megvalósult a különleges projekt. Az új alumínium karosszéria szinte "folyékonyan áramvonalas", elegánsnak, mégis agresszívnek tűnik.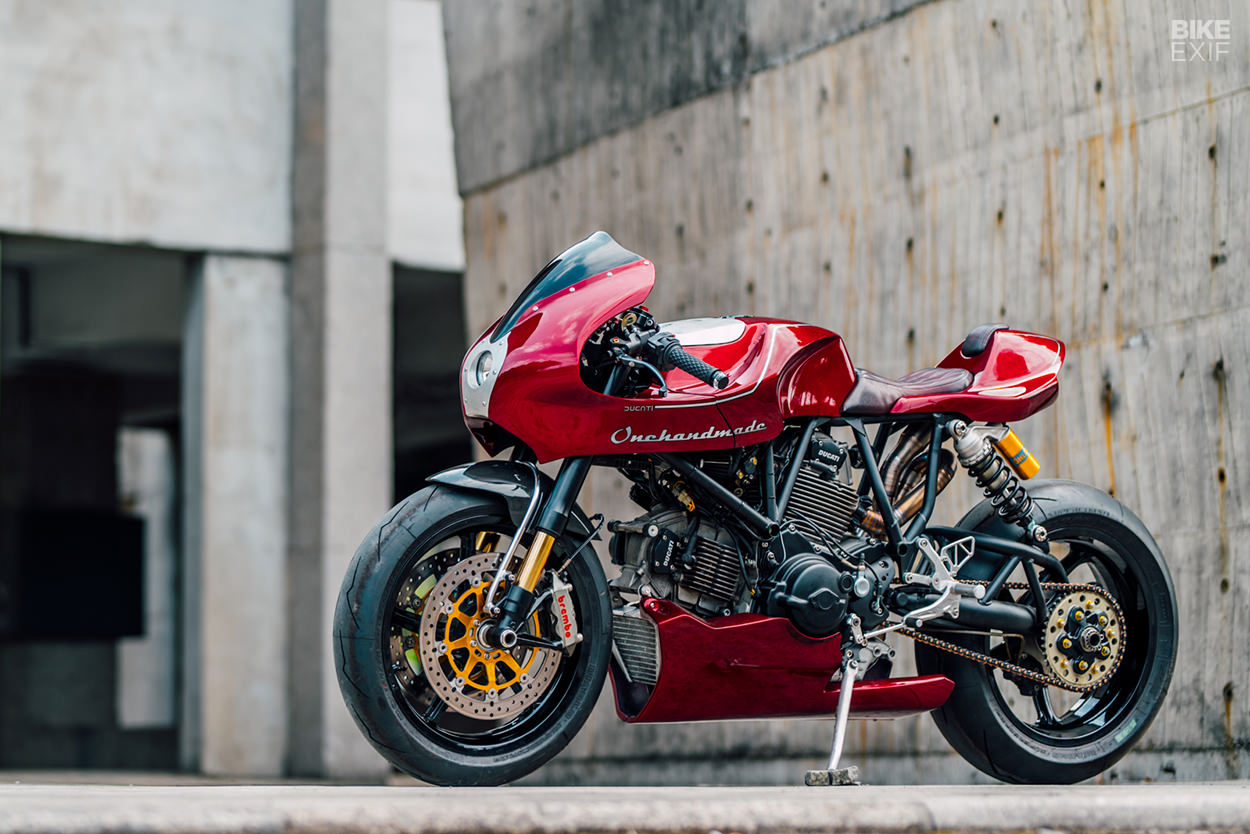 A mechanikus fejlesztések magukban foglalják a magasabb specifikációjú Öhlins felfüggesztést és a Brembo fékeket, az egyedi hármas bilincseket, valamint a lenyűgöző titán kipufogórendszert. Az Onehandmade végül betolta a menő Ducatit az AMD motorépítő világbajnokság Café Racer kategóriájába, de a jármű furcsamód csak negyedik lett…
1. Yamaha MT-07 / Andrew Stagg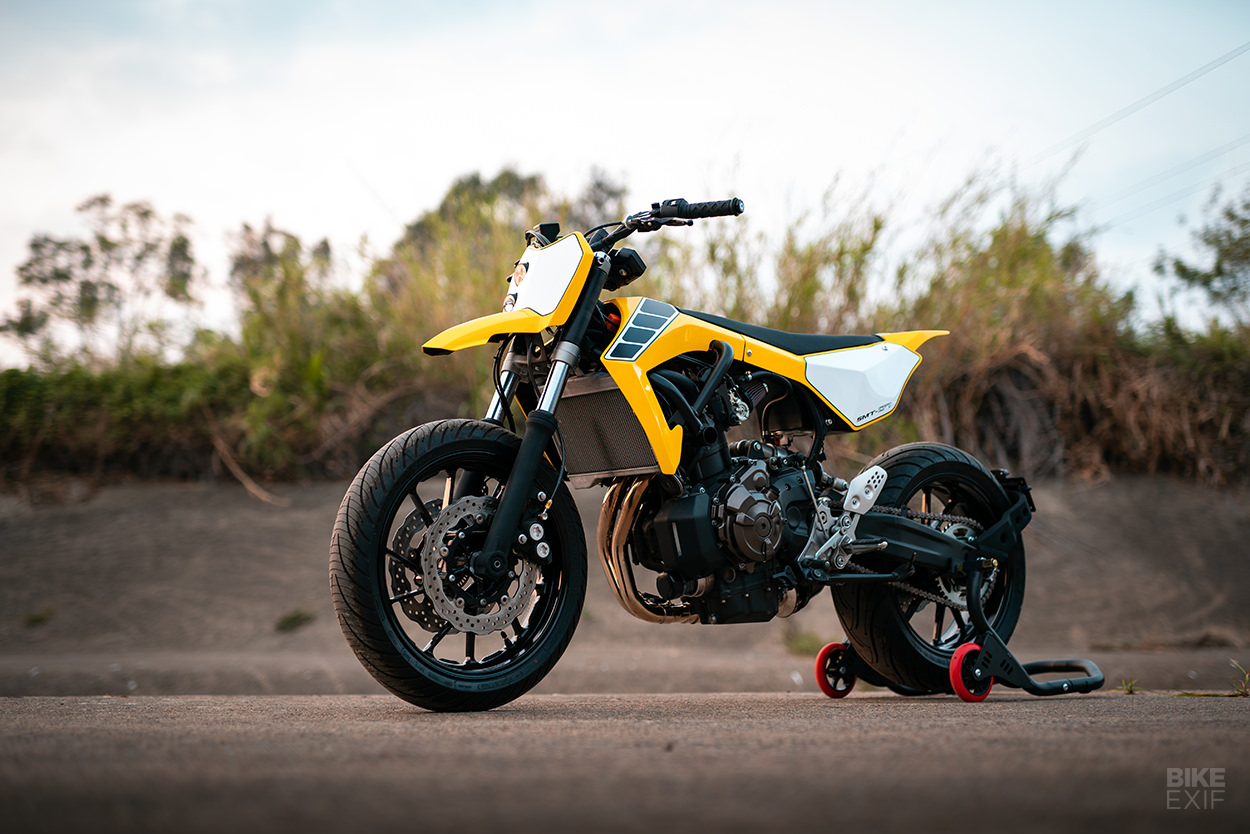 Az év végén érkezett az egyik legnagyobb meglepetés: egy ausztrál építő, Andrew Stagg Yammie-ja hatalmas sikert aratott a BikeExif magazin olvasóinak körében – különösen a Facebook rajongók csoportjában, akik 24.000 lájkkal jutalmazták a motort.
Továbbá ez lett a honlap legolvasottabb cikke is 2019-ben!
A supermoto jellegű gépen minden rendkívüli, és úgy néz ki, mint az a fajta motorkerékpár, amelyik általában a gyártók standjánál látható az EICMA rendezvényen, hogy tesztelje a közvéleményt. Stagg egyszemélyes együttes, bár van története a motoriparban: a '90-es években versenyzett, és pár évig a Brisbane-ben, a Smoked Garage-ban dolgozott – többnyire bobbereket és hardtail motorokat épített. A Holden Special Vehicles csapatnál is dolgozott, továbbfejlesztve műszaki és gyártási készségeit.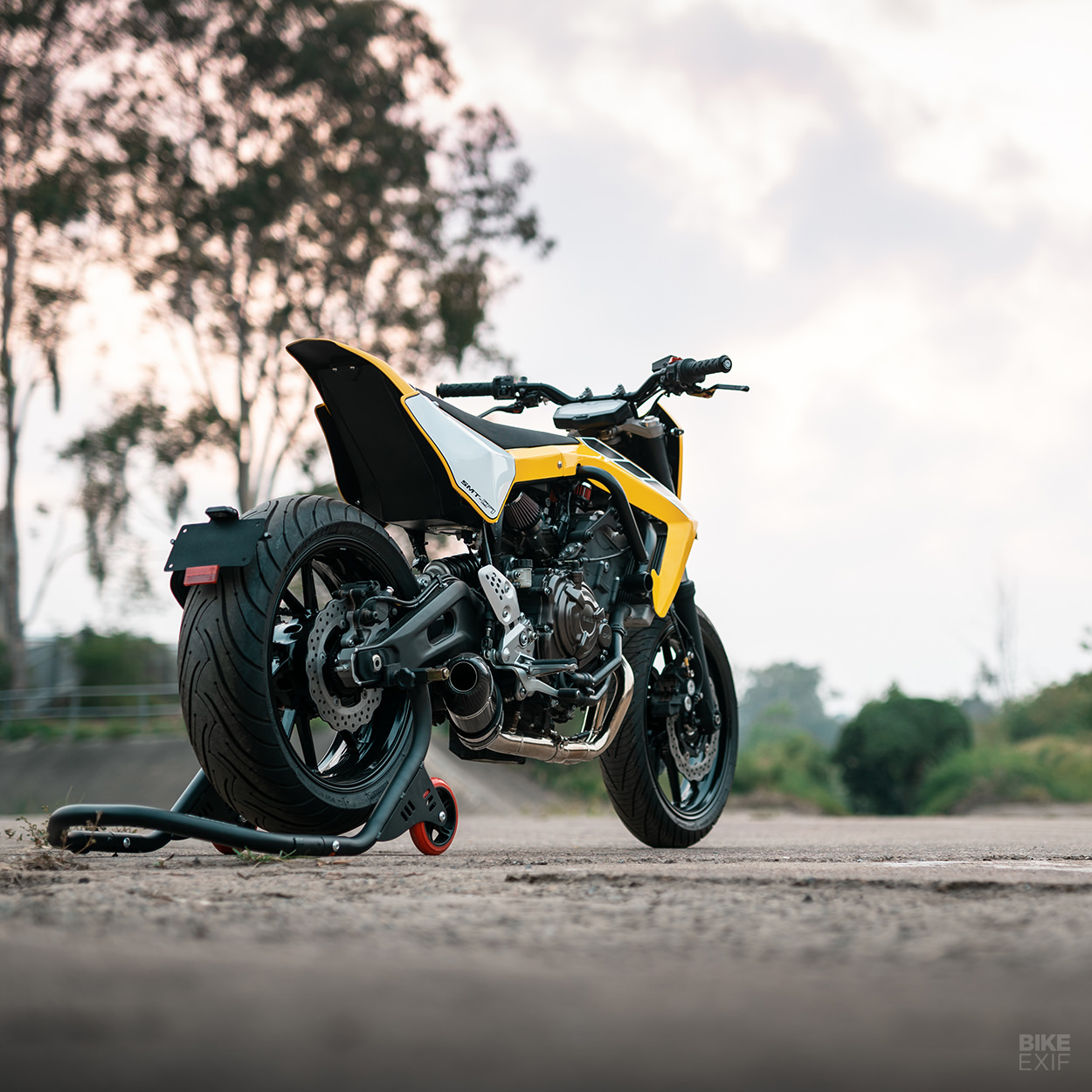 A stílus pontos, az illesztések és a kivitel kiváló, a motorkerékpár tényleg úgy néz ki, mint amit a Yamaha akár holnap megépíthetne. És talán éppen ez a vonzerejének forrása: ez az MT-07-es nem csak egy praktikátlan fantázia, hanem egy olyan gép, amely boldogan állhatna egy Yamaha bemutatóteremben is…