130 lóerős nitró-üzemű Indian Scout Bobber
Évről évre rajongók és motorkerékpárok ezrei gyűltek össze Monzában a "The Reunion" nevű motoros ünnepre.
Néhány éve a Sultans of Sprint versenysorozat első fordulóját is itt rendezték meg. Ez a tény persze azt is jelentette, hogy egy rakás új versenygépről is itt lebbentették fel a fátylat büszke építőik. Már az első különleges rohanógép is, ami abban a szezonban "szembejött", őrült magasra tette a lécet! Az "Appaloosa" nevű modellt Brice Hennebert, a Belgiumban munkálkodó Workhorse Speedshop vezetője egy 2018-as Indian Scout Bobberből építette.
BTW: A motor elnevezése, tekintettel az indiánok gondos lóválasztására (szín, minta), ügyes!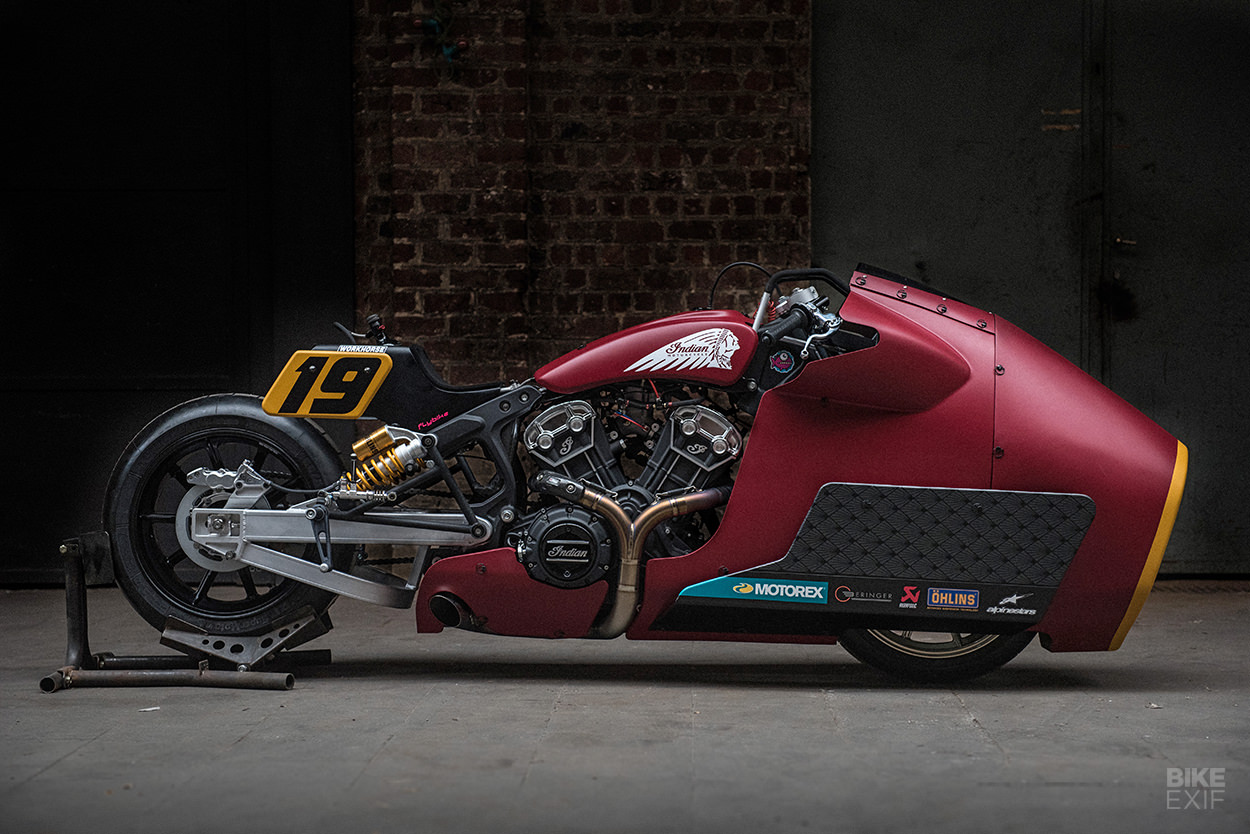 A motor az Indian gyár európai irodájának megbízásából született meg, hogy a Sultans of Sprint "gyári" osztályában versenyezzen. Ebben osztályban csak négyütemű vasak indulhatnak, de nincs korlátozva a motor teljesítmény – feltéve, ha a motor egy kilóját maximum 0,65 lóerő tolja a gyorsulás során.
A 30 lóerős nitro-rásegítésnak (így a Scout teljes teljesítménye 130 lóerő!) és a 42 kilós súlymegtakarításnak köszönhetően Brice végül elérte a célját. Az átalakítás persze nem volt könnyű (mikor az?), ebben a különleges célszerszámban több mint 700 munkaóra van. Azért is ennyi, mert e híres gyorsulási verseny "torpedóinak" nem csak villámgyorsnak kell lenniük, hanem az ultramenő kinézet is elvárt velük szemben.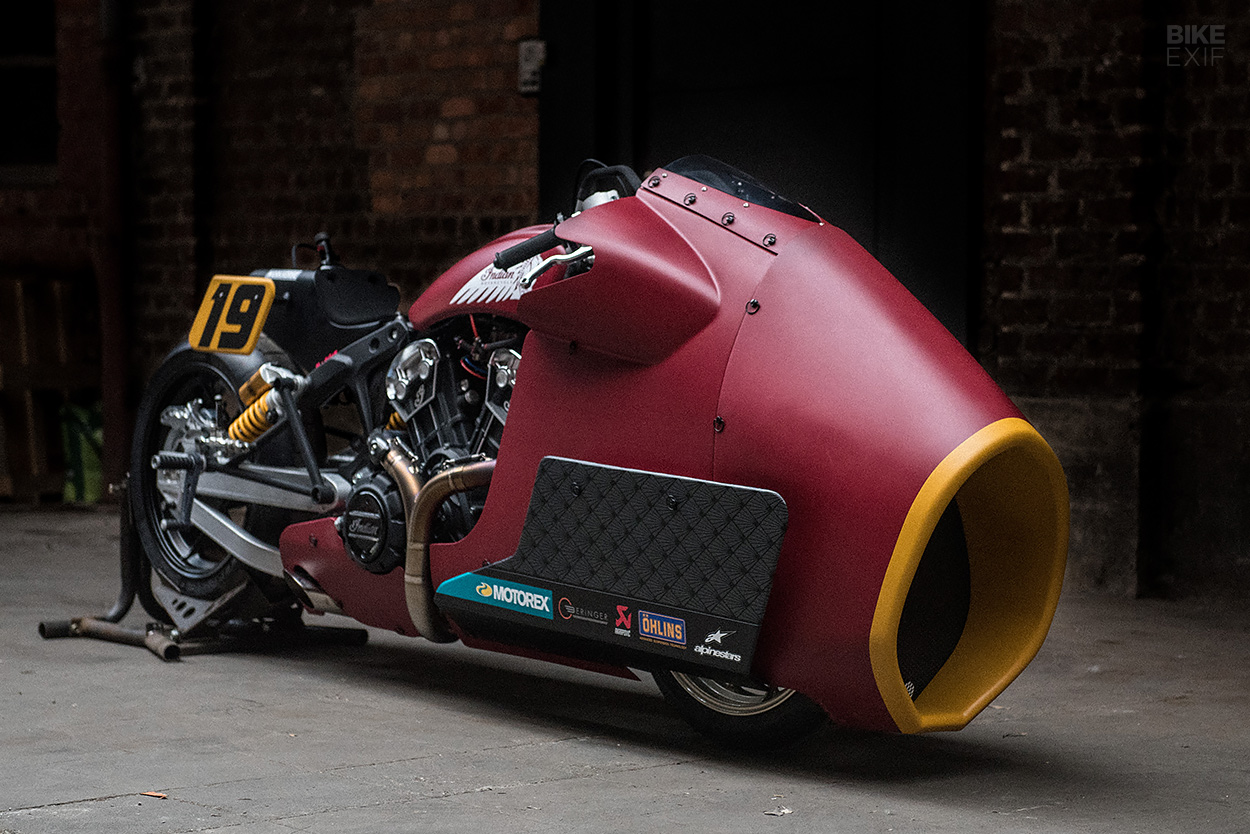 Sokat elmond, hogy egyedül csak az alumínium karosszériát hét hétig tartott megformázni!
A brutális kinézetű első idomot a '20-as évek vonatjai, a '40-es Formula 1-es versenyautói és a legendás F-86-os vadászgép inspirálták. A hátsó traktust pedig a nyolcvanas évek GP-jeinek kétütemű versenygépei ihlették. Brice gyorsrögzítőket (quarter-turn) alkalmazott, így a burkolat darabjai gyorsan eltávolíthatók a "karbantartáshoz". Az idomok váza is egyedi, és két részből áll. (Az alsó rész eltávolítható, amikor a járművet emelőre helyezik.)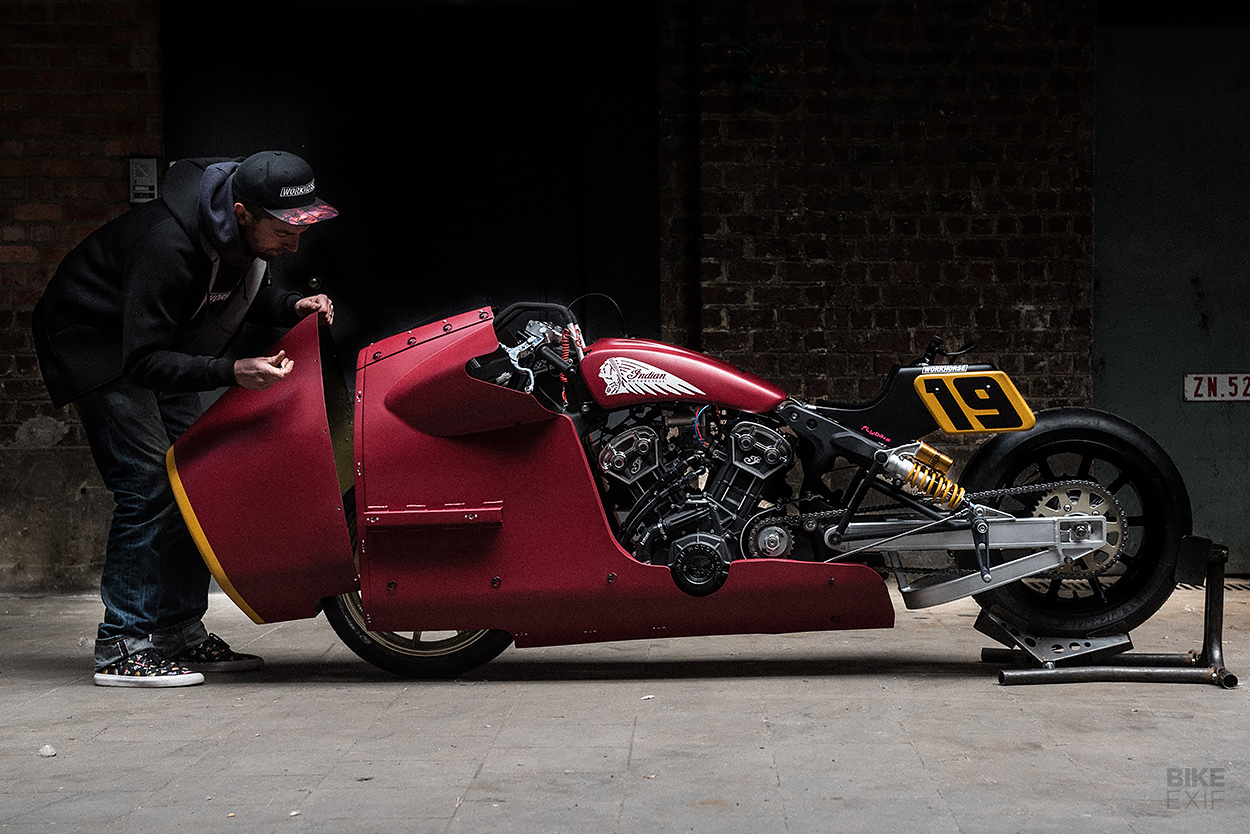 Az Indian külön megkérte az alkotót, hogy hagyjon érintetlenül néhány jellemző Scout elemet, mely kérésnek Brice (többé kevésbé) eleget is tett. Például az eredeti tank maradt a rohanógépen, bár tíz centivel keskenyebb verzióban, és pusztán "borítóként". Alatta rejtőzik ugyanis a valódi, 2,5 literes üzemanyag tartály, amely persze csak a sprintekre biztosít elég naftát.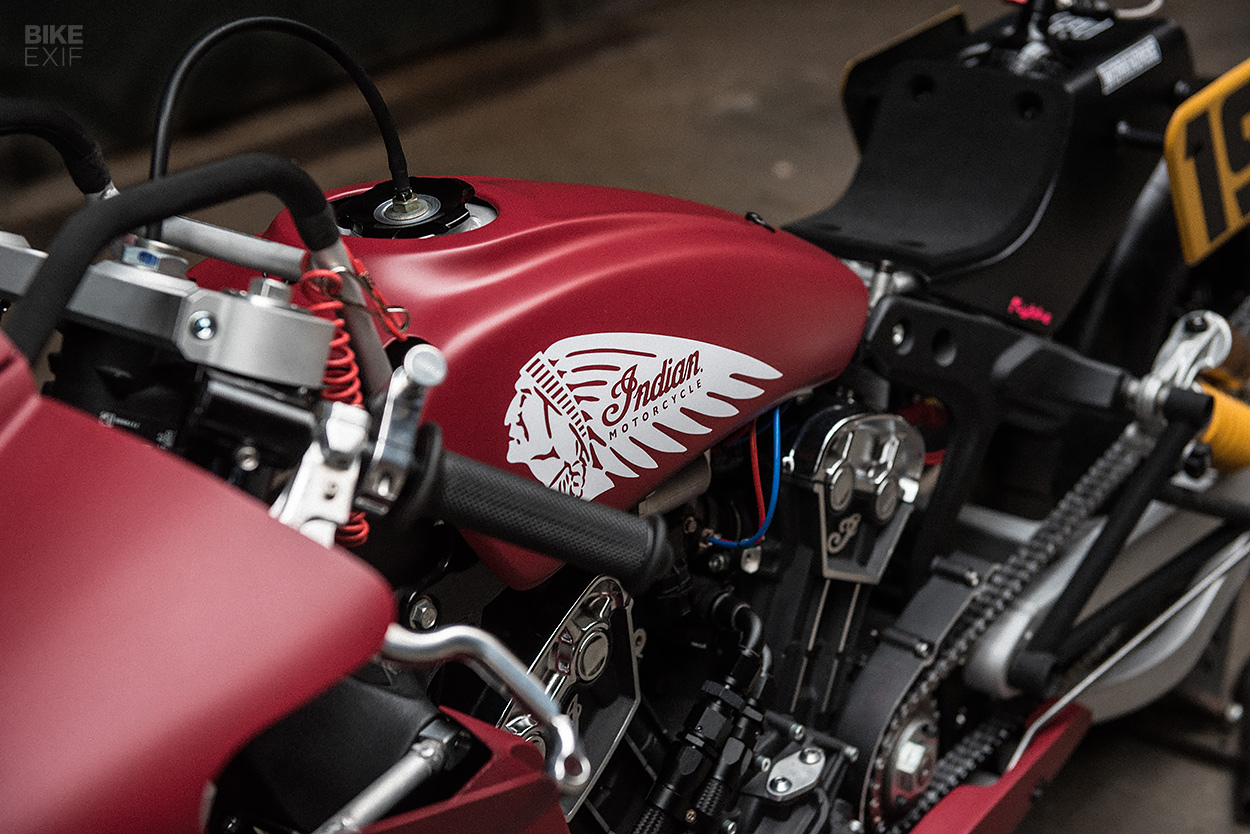 Brice kézműves munkáját lenyűgöző alkatrészek jellemzik, mint a mindkét végén teljesen állítható Öhlins felfüggesztés és egy Öhlins kormánycsillapító. A brutális gyorsulások végén, a vadállat leállításáról, egy teljes Beringer 4D Aerotec fékrendszer gondoskodik. Ez a setup, amely két tárcsát használ féknyergenként, a maximális tapadást szolgálja. A Beringer szállította a kormányon található vezérlőket is, a Brice által tervezett kisebb alkatrészeket pedig egy CNC gép "köpte ki" magából.
Ez a Bobber mostantól közvetlen befecskendezéssel, egy verseny-motorvezérlő egységgel (ECU), valamint egy nitró-befecskendező rendszerrel is rendelkezik, melyhez a palackot a farok idomban helyezték el.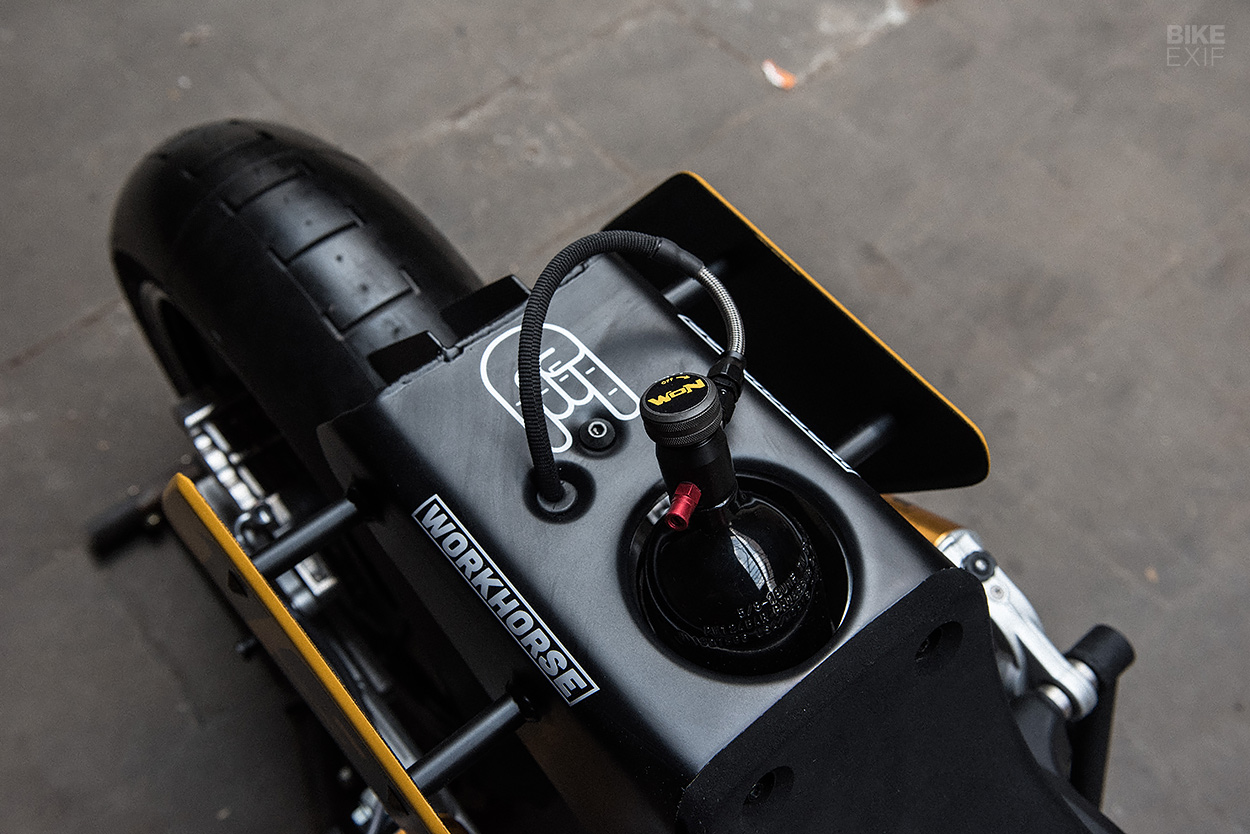 Ezenkívül a "rakéta" teljes Akrapovič kipufogórendszerrel rendelkezik, de persze nem olyan mezei darabbal, amit bárki simán online megrendelhet. Brice beküldte a motort az Akrapovič központba, hogy ott a szakik kifejezetten erre a járműre optimalizált kipufogót építsenek rá.
A hajtást a hátsó kerékre egy láncon keresztül továbbítják, nem pedig fogasszíjjal, és beszerelésre került egy gyorsváltó is, amely a váltás gördülékenységét biztosítja. A hűtőrendszert is kikönnyítették és korszerűsítették, egy rakás Vibrant Performance-től beszerzett elemmel.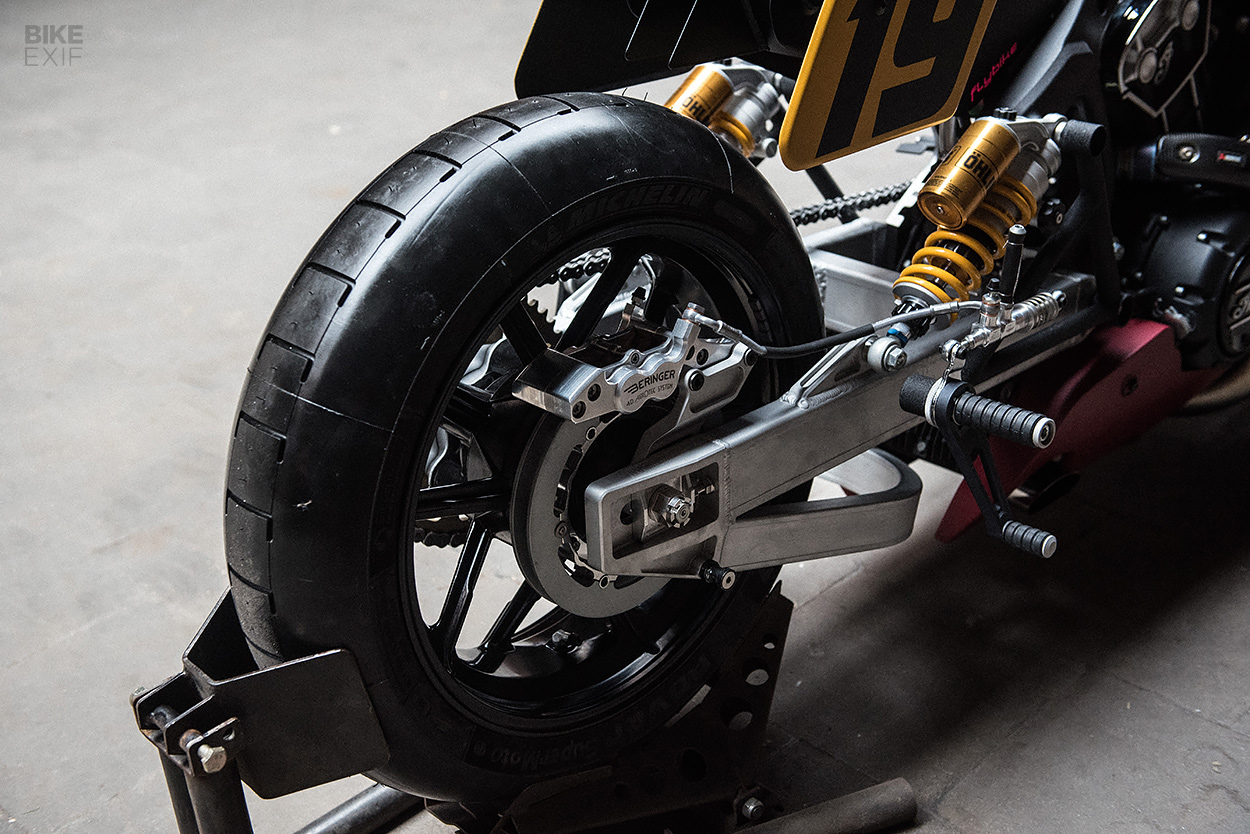 Megkérdeztük Brice-t, hogy vannak-e olyan részletek, amelyekről nem számolt be nekünk, és azt válaszolta: "Rengeteg". És mi is hiszünk neki. Mindent megadnánk, hogy egyedül töltsünk egy délutánt egy garázsban ezzel a szörnyeteggel, csak hogy megfelelően megvizsgálhassuk! Attól azért félünk, hogy vezessük is a szörnyet, így ezt az élményt profikra bízzuk inkább. Szerencsére az Appaloosa-t nem más, mint a MotoGP egyik élő legendája, Randy Mamola hajtja!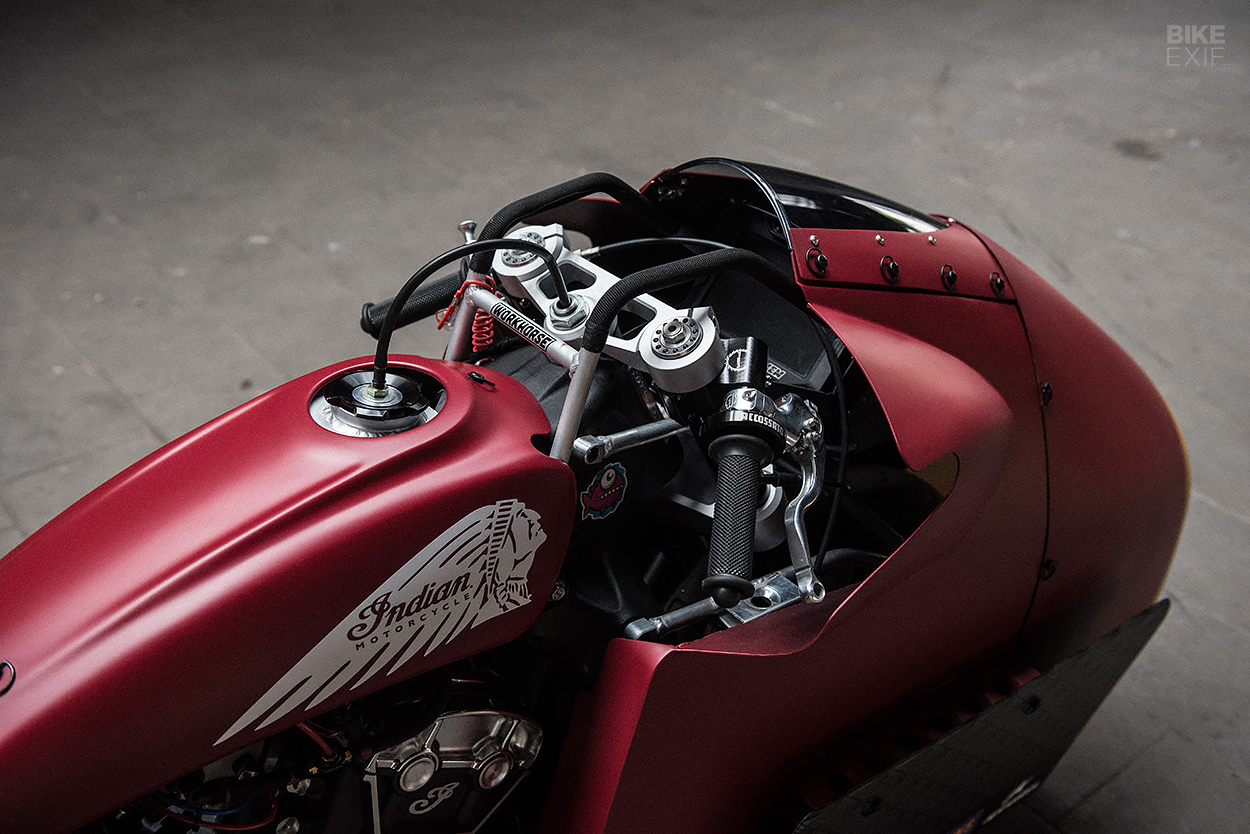 Egyébként ez egy különleges alkalom volt az Indian Motorcycles számára is, ugyanis abban az évben ünnepelte a Scout (cserkész) modell a 100. (!) évfordulóját, így Randy egy különleges (e cikk borítóképén látható), Alpinestars bőrruhát viselt a versenyeken, amely visszautalt az eredeti Indian Wrecking Crew motoros "egyenruhájára".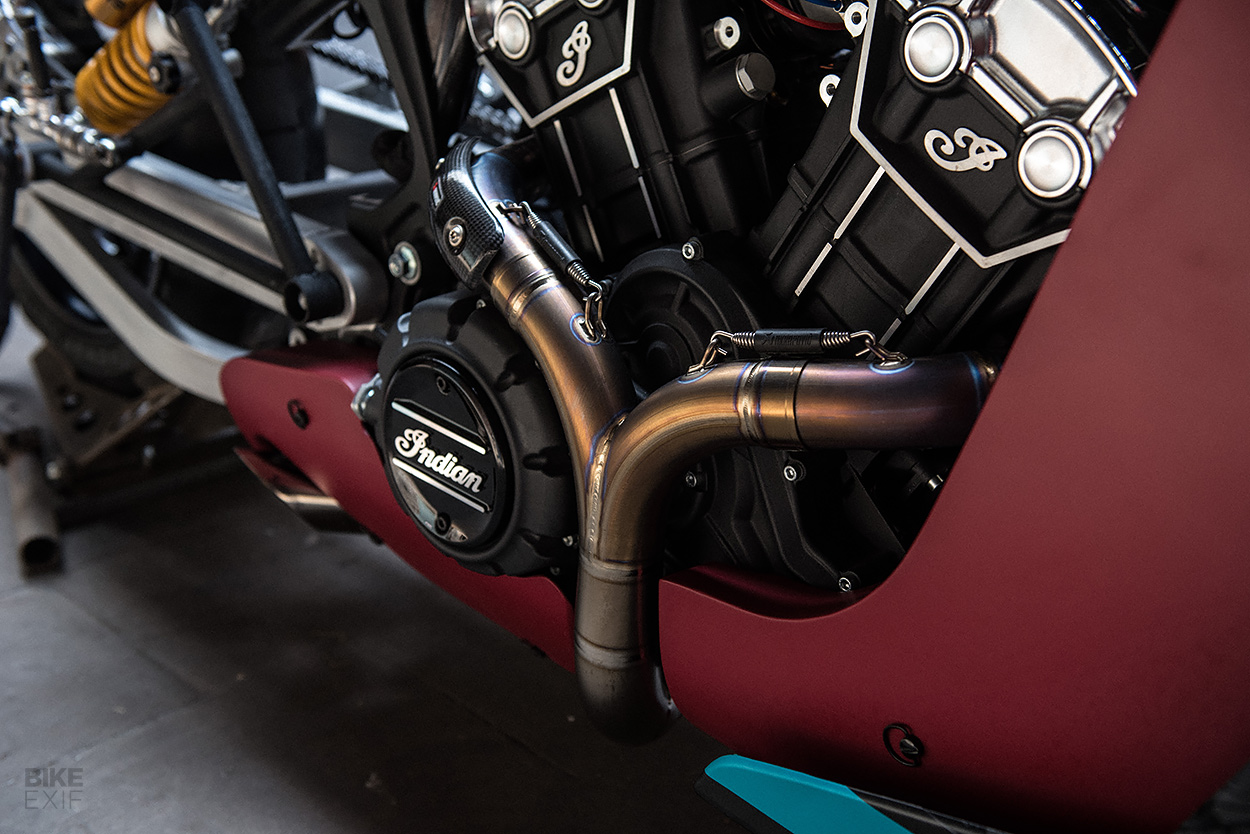 "Miután ennyi időt és energiát fektettünk be az építésbe – mondja Brice -, kíváncsi vagyok a közönség reakciójára, és alig várom, hogy Randy végre felszántsa vele a versenypályát."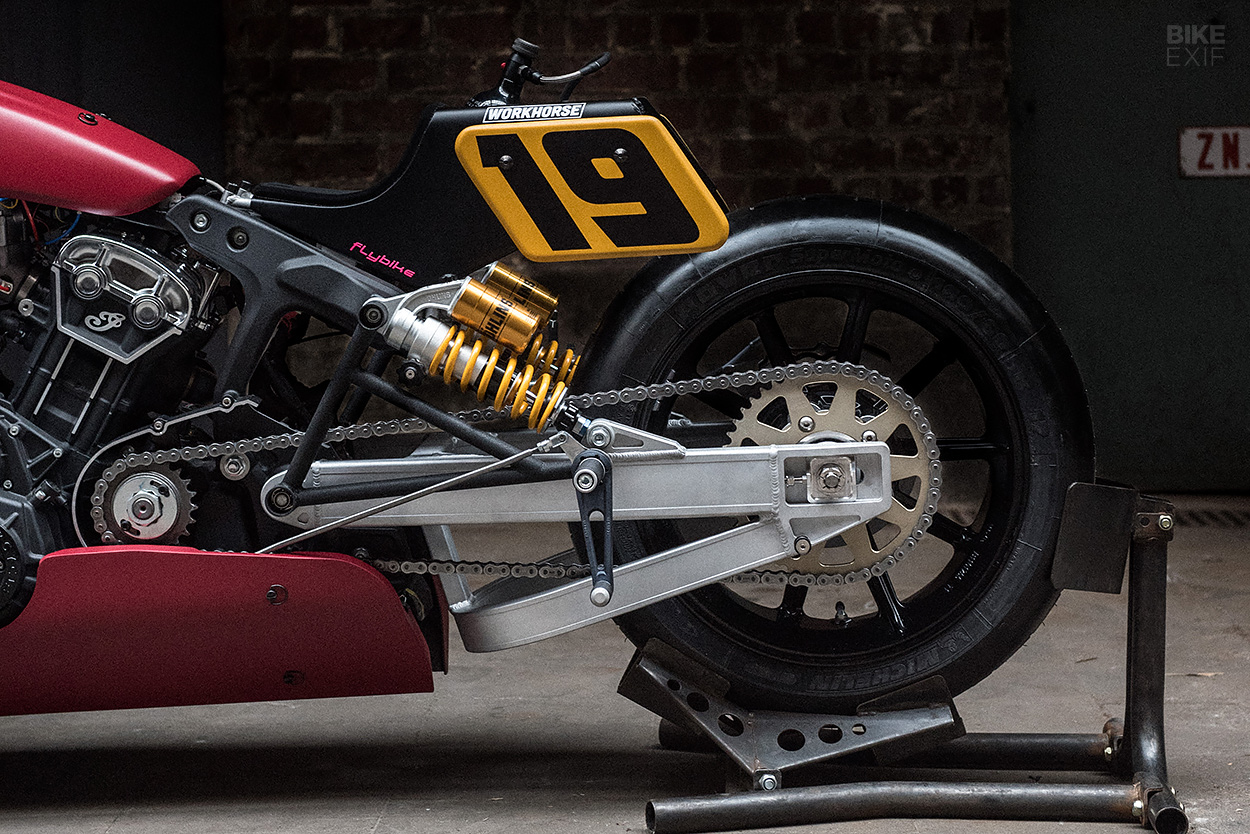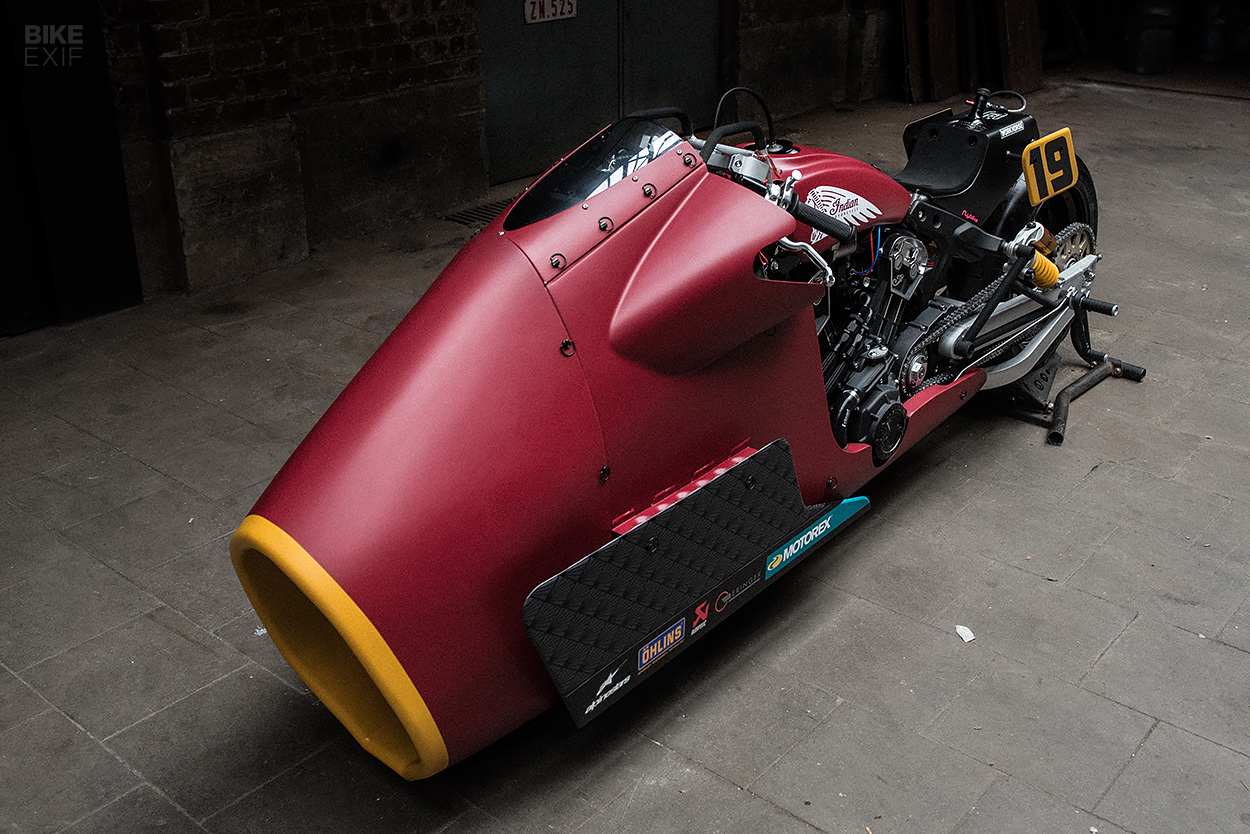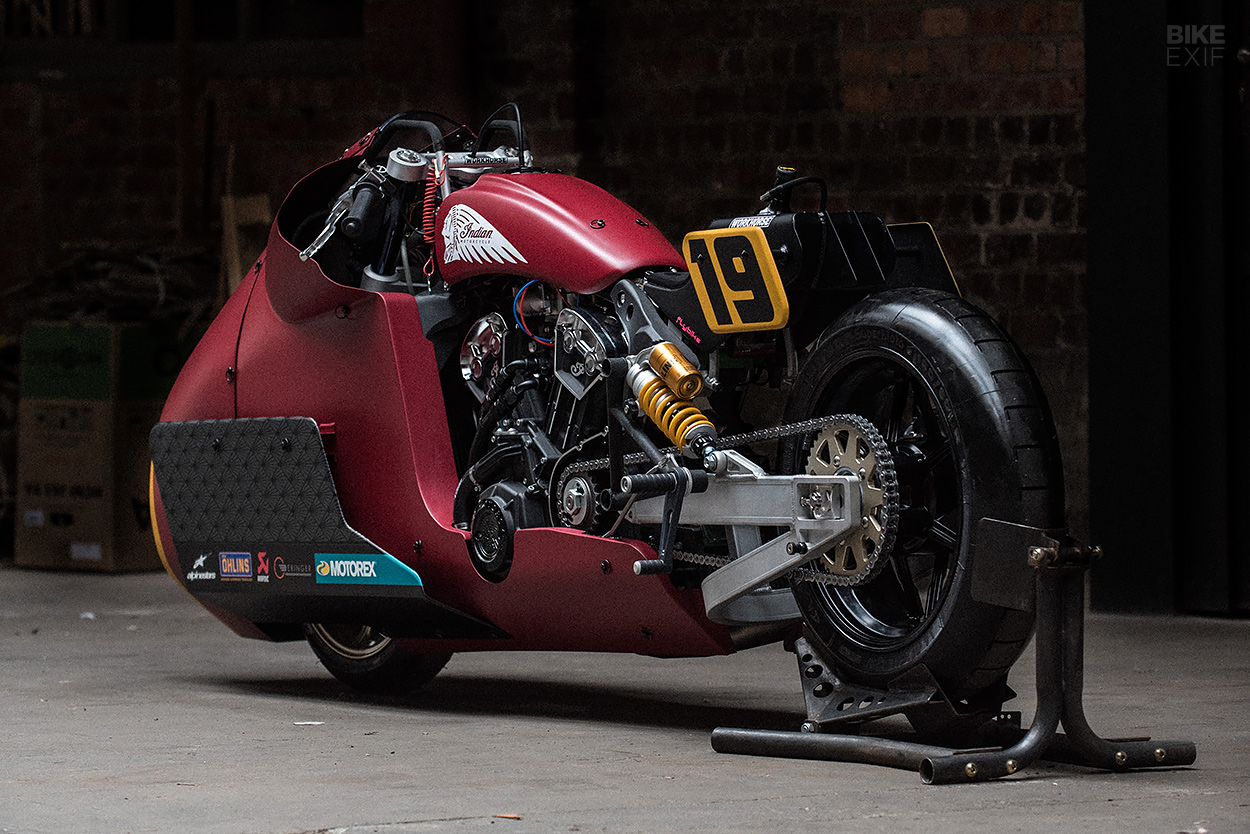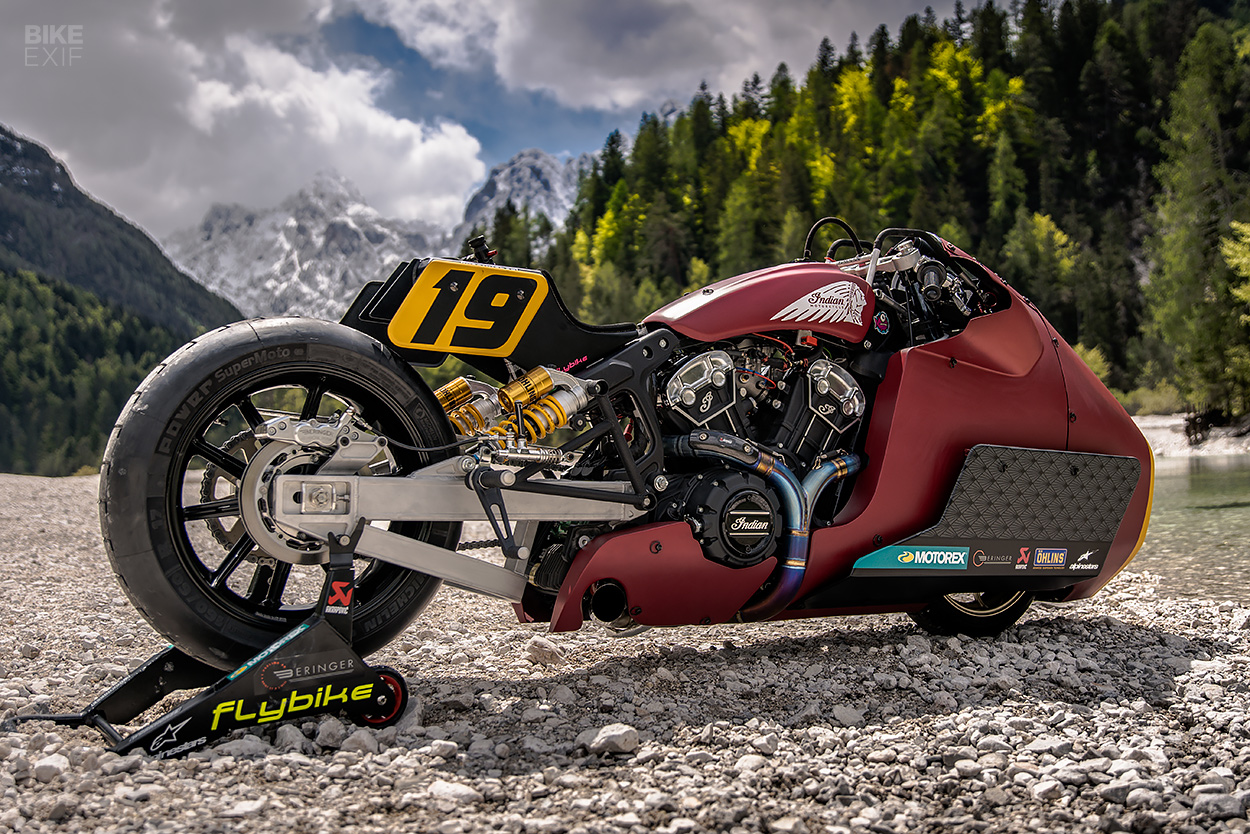 Forrás: BIKEEXIF