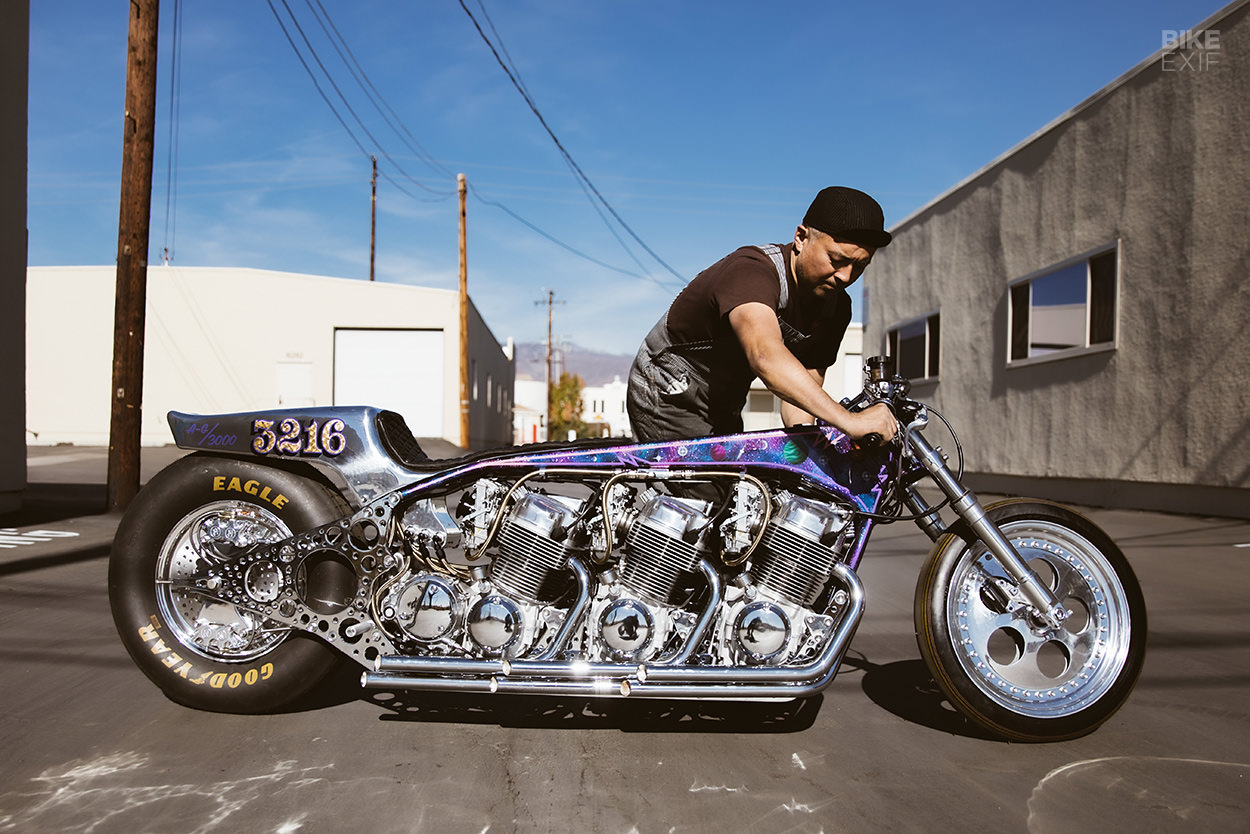 Editor's Choice Top10 2021
Ahogy azt múlt heti cikkemben írtam, 2014 óta minden évben bemutatjuk a BikeExif Top 10-es épített motor listáját, illetve 2015-től az "Editor's Choice" rangsorukat is.
Előbbi objektív lista, mivel tisztán "adat-alapú", vagyis az oldallátogatások és a közösségi média megosztások számai alapján képezi évente a magazin. Utóbbi pedig vállaltan szubjektív, hiszen a magazin szerkesztői választják ki néhány egyszerű szabályt betartva a számukra legkedvesebb épített motorkerékpárokat.
Ezek a magukra mért szabályok a következők:
Csak olyan motorokat választanak be a "szerkesztői listába", amelyről az év során teljes és átfogó cikket írtak.
Egy építőnek csak egy motorja szerepelhet a listán.
Az "adat-alapú" (népszerűségi) listán már szereplő motorok közül nem választanak.
A következő listában tehát a magazin szerkesztőinek kedvencei találhatók, az építők neve szerint, ábécé sorrendben felsorolva a járműveket.
BMW R100, 10 til' 12
A 2021-es kihívások nem csorbították a bimmer boxerekből épített motorkerékpárok népszerűségét. Ez a Ben Norton által tervezett, feltöltött 1992-es BMW R100 is jó példa erre. Ben márkájának már a neve is frappáns: 10 til' 12, mert 10-től 12-ig dolgozik a motorjain. Az 1070 köbcentis Siebenrock készlet, az Eaton M24 kompresszor, az egyedi motorburkolatok és az egyedi gyártású generátor csak néhány a módosítások közül. Ja, és van egy metanol befecskendező rendszer DIY gyújtással és vezérlő számítógéppel!
Ben két külön alumínium tankot gyártott a benzin és a metanol tárolására, majd elrejtette őket a szénszálas burkolat alá, amely az eredeti R100-as üzemanyagtankra hajaz. A tank mögött egy Alcantara ülés található, továbbá az egyedi kipufogófejek, illetve egy TYGA hangtompító került az ülés alá. A váz átépítése mellett a motor kapott egy BMW S1000RR villát, egy erősen módosított RnineT hajtásegységet és egy Ducati Panigale lengéscsillapítót. Minden elem a legmagasabb minőségű, a Brembo fékektől a Motogadget elektronikáig és a LED világításig bezárólag. Ja, és említettük már, hogy ez még csak Ben második átépítő munkája?
BMW RnineT, Engineered to Slide
Nigel Petriet, az Engineered to Slide figuráját meglehetősen kevesen ismerik szülőföldjén, Ausztrálián kívül, de a BikeExif szerkesztői kedvelik a munkáit és mérnöki képességeit. Tehát amikor megneszelték, hogy Nigel egy BMW RnineT-en dolgozik, már nagyon várták a végeredményt. És Nigel nem okozott csalódást! A donor BMW RnineT Racert kezdetnek Nigel lecsupaszította a motorra, a hajtásláncra és a hátsó fékre. Aztán elkezdte kimunkálni a saját vízióját: egy alacsonyan döntött choppert egyedi vázzal és girder-style első traktussal.
A 22F/18R kerekek egyediek, megjelenésükkel egyértelműen utalva arra a hópehely mintázatra, amely oly sok éven át díszítette a klasszikus bömös boxereket. A motor egyedi gyártású Smart Carb karburátorokkal és Morris Magneto egységgel működik. A szívó- és kipufogónyílások pedig kézzel készített titándarabok. A módosított Lowbrow Customs tartállyal és sárvédővel kiegészítve ez egy egészen elképesztő jármű, amely finoman ötvözi a régit és az újat.
Buell S1, Max Hazan
Max kétmotoros Velocette-je idén felkerült a hagyományos top 10-es listára, de nem ez volt az egyetlen gép, amellyel ez a zseni idén megörvendeztetett minket. Személyes motorkerékpárja – egy turbófeltöltős Buell S1 – minket is lenyűgözött. Max két évtizede vásárolta meg a járművet, néhány évig járt vele, néhányszor "kísérletezett" az átépítésével is, majd hagyta pihenni a projektet, és közben a custom-bike világ egyik legjobb építőjévé nőtte ki magát.
A metamorfózis eredményeként 1350 köbcentiméteresre nőtt a motor hengerűrtartalma. Az átalakítás tartalmazott "egy rakás" belső motormódosítást, egy versenykuplungot, egy Mikuni HSR42 karburátort és egy Garrett kettős golyóscsapágyas GT25R turbót is. A hajtókarnál 200 lóerőt, a hátsó keréknél pedig 175-öt mértek. A váz központi része gyári, de Max a motortartókat gumiból merevre alakította, a többit pedig átépítette. A járművön megtalálható még egy másik Buell lengőkarja, CBR1000RR villák és 16F/17R Marchesini kerekek.
Harley-Davidson Dyna, ICON Motosports
Amikor a legények a portlandi Icon Motosportsnál szünetet tartanak a motorkerékpár-felszerelések gyártásában, hogy egyedi járműveket készítsenek, annak mindig vagány végeredménye születik! Ezúttal is ez történt, főleg az alkatrészek valószínűtlen kombinációjának köszönhetően. Az üzemanyagtartály egy Honda CB900F Supersportból származik, míg a villaburkolatot és a fényszórót egy 1969-es Honda Dream "szolgáltatta be önként". A farok 3D nyomtatással készült, üvegszállal megerősítve, és lazán az eredeti CB900F egységre épül. Elöl Ducati Monster villák találhatók, hátul pedig egy Roaring Toyz lengőkar teljesít szolgálatot, amely Nitron lengéscsillapítókkal egészül ki.
Az Ikon úgy írja le a motorkerékpárt, mint "obszcén széles és dicsőségre készült". Ennek alátámasztására a lepusztult Middle Georgia Raceway felé vették az irányt, és egy 355 köbinches V8-as motorral hajtott Chevrolet Monte Carloval párban állították pályára. És (ha már ott voltak) persze jól le is forgatták a nagy találkozást!
BMW R18, Kingston Custom
Sok R18-as átépítés készült idén, de legtöbbjüket csak enyhén módosították. A Kingston Custom arca, Dirk Oehlerking azonban egyike volt azon maroknyi építőnek, akik bátrabban nyúltak a BMW új, böhöm nagy boxeréhez. Az R18-as art deco stílusa tényleg lehengerlő!
Az építést maga a BMW Motorrad rendelte meg, és azt a stílust követték, amelyet Dirk a korábbi klasszikus boxer-építéseknél művelt. A sziluett hibátlan, kezdve a nagyvonalú első burkolattal és a bordázott hátsó kerékburkolattal. Dirk úgy építette meg az alkatrészeket, hogy először habszivacs formákat faragott ki, majd mindent üvegszálból alakított ki.
Az elülső hűtőrács a "semmiből készült", az ikonikus BMW 328-asból ihletet merítve. Feljebb egy mélyen süllyesztett fényszóró és egy egyedi készítésű szélvédő található. Az R18 egyedi kormányt és kipufogót, valamint a BMW saját utángyártott termékcsaládjából származó ülést kapott. A jármű jellegzetes fekete-fehér csíkos festéssel készült, vintage kerekekkel. És bár úgy néz ki, mint egy bemutatódarab, teljesen motorozható szerkezet.
Honda CB750, Kiyo's Garage
Miután egy, majd két Honda CB750-es motorral szerelt motorkerékpárt épített, Mitsuhiro "Kiyo" Kiyonaga úgy döntött, hogy 19-re húz még egy lapot! A néhai Bobby Haas finanszírozásával három megunt CB750-es erőforrást egyesített, hogy megépítse a "The Galaxy"-t – egy 12 hengeres, 2508 köbcentiméteres brutális vadállatot! Mindegyik motor 1978-as CB750 egység, Keihin FCR karburátorkészlettel. A három erőforrást persze közös, összehangolt munkára bírni nem volt éppen sétagalopp!
A karburátorok egy "rod-and-heim" csuklórendszeren keresztül kapcsolódnak össze, így szinkronizálva vannak. A Mesternek az első két motor sebességváltóját is szét kellett osztani, és az olajkeringető rendszert is teljesen át kellett terveznie.
Minden "cucc" egy háromrészes vázban van elhelyezve. Az integrált alumínium váz kézzel formált; itt nincsenek CAD, vagy CNC varázslatok! Katsuragawa tábornok a Love Ear Artnál végezte el a trükkös fényezési feladatot. A Galaxy a Haas Moto Múzeumban látható, de Kiyónak még egy célt kell teljesítenie: Bonneville-ben szeretne versenyezni vele!
KTM 300 XC-W, Moto Mucci
Dave Mucci mestere az új szögek és stílusok megálmodásának. Ez a kis KTM enduro is ezt bizonyítja. A projekt egy 2014-es KTM 300 XC-W (Six Days Edition) donorral és egy meglehetősen egyszerű brief-fel kezdődött. De persze a dolgok később eszkalálódtak… A Husqvarna 'Pilen-ek újszerű formanyelvének hatására Dave egy merész neo-retró street trackert rajzolt fel, letisztult felületekkel. Dave maga építette meg az alumínium vázrendszert, Cristian Sosa fémipari guru segítségével.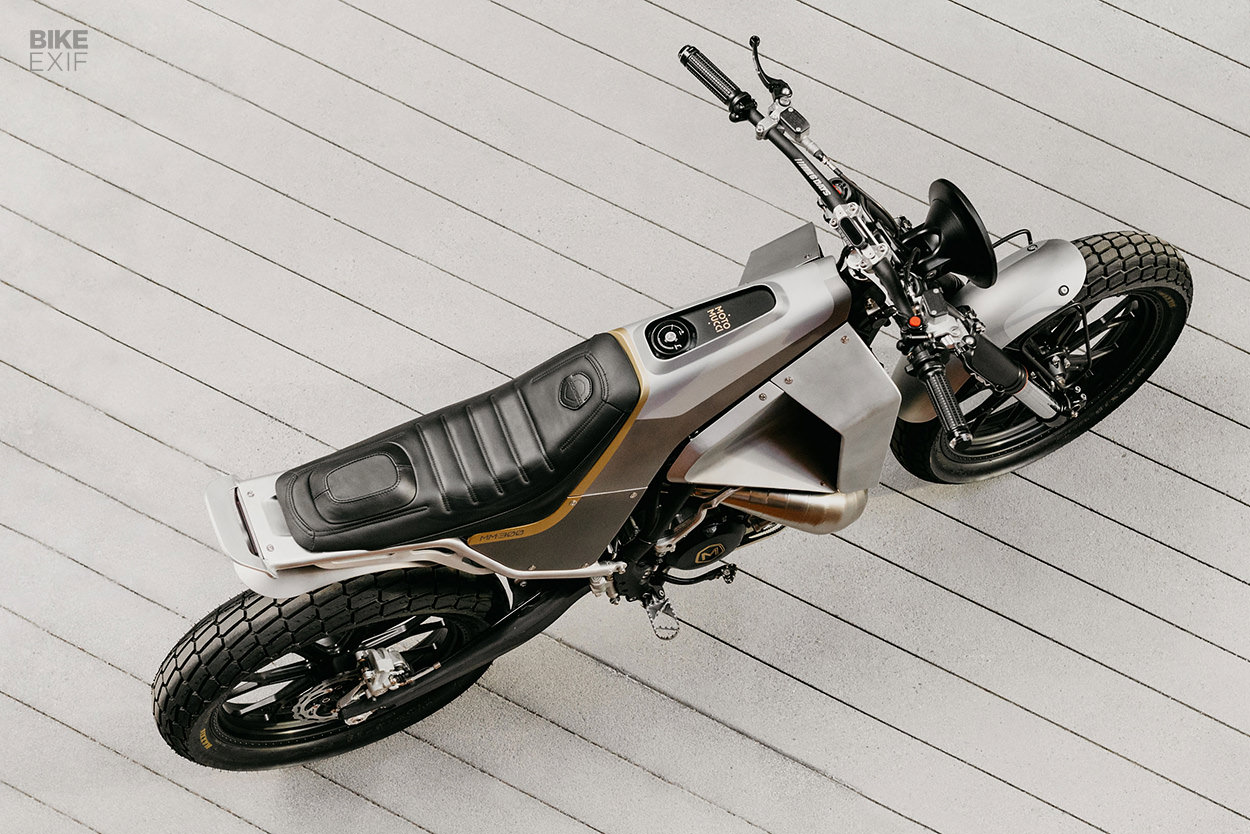 "Minden panelt legalább öt-hatszor építettem rá a motorra, mielőtt elégedett lettem a minőséggel és az elhelyezésük pontosságával" – vallja be.
A 19"-es Roland Sands flat track kerekeken gördülő KTM csúcsminőségű utángyártott alkatrészek és ügyes egyedi megoldások keverékével készült, mint például a New Church Moto szokatlan ülésborítása. A fémfelületen található átlátszó szatén bevonat finom arany díszítése is remekül erősíti a végeredményt.
Kawasaki W800, MRS Oficina
Sok Kawasaki W-sorozatú scramblert láttunk már az évek során, de ritkán tolják el ennyire extrém végletbe ezt a műfajt. Az MRS Oficina a W800-ról elhagyott néhány közúti előírásból fakadó "részletet", így a jármű végül valódi terepjáró képességet kap(hat)ott. Elöl a szemlélődő egy Kawasaki KX450F villakészletet talál, egy pár Öhlins hátsó lengéscsillapítóval, egy alumínium lengőkarhoz csatlakoztatva. A kerekek egy 21F/18R készlet darabjai talon-agyakkal és Excel felnikkel.
Az MRS Oficina a karosszéria kialakítására is kellően odafigyelt. A tankot lerövidítették és szűkítették, és az üzemanyag-szivattyú immár a tömzsi ülés alatti segédüzemanyagcellában "lakik". Trials stílusú sárvédők és rozsdamentes acél csövek teszik teljessé a csomagot. A Kawasaki színe ugyanolyan jó, mint a motor többi részlete: élénk zöld és kék keveréke, amelyet az 1980-as évek KX500-asa ihletett.
Suzuki SV650, Stoker Motorcycles
A régi SV650-eket azért szeretik, mert jól motorozhatóak, megbízhatóak és olcsók, de nem azért, mert szépek. Antti Eloheimo, a helsinki Stoker Motorcycles arca ennek a 2000-es SV-nek a radikális átalakításával mindent megváltoztatott. Antii a "Szegény Ember Szörnyét" egy pompás street tracker motorrá varázsolta, minimalista hangulattal és tökéletesen kiegyensúlyozott kiállással. A tetején egyetlen egységbe foglalt üvegszálas "tank" és farok található, utóbbi elemet egy versenyhab ülés fedi le. A gyári üzemanyagtartály mindez alatt rejtőzik, de már kisebb űrtartalommal.
Antti lejjebb állította a motor súlypontját, átépítette a vázat és egy egyedi alumínium hasfalat tervezett. Számos 3D nyomtatott alkatrész is található a vason, valamint új rudak és áthelyezett lábtartók a pontos vezetési pozíció beállításához. A készen kapható részek közé tartozik egy pár titán kipufogódob, Motogadget finomságok és a Michelin Supermoto abroncsok. Ez az SV650 nemcsak baromi menőnek látszik, de úgy is tűnik, hogy még motorozni is lehet vele.
BMW RnineT, Vagabund Moto
Sógorék csodavilága, a Vagabund Moto minden projekttel jobb és jobb lesz, de ezzel a járművel tényleg sztratoszférikus magasságokba emelték a tudásukat! Valószínűleg azért, mert az ügyfelük arra kérte őket, hogy készítsék el a valaha készült legjobb általuk épített motort.
Bernard 'Blechmann' Naumann-nal (aki az összes alumíniumgyártást végezte) együttműködve a srácok két réteg karosszériát terveztek a BMW-hez. A felső réteg alakítja ki a formát és hordozza az ülést, míg az alsó réteg az üzemanyagot és egyéb tartozékokat rejti. Nyomj meg egy gombot a távirányítón, és a felső rész felfelé és hátrafelé mozogva, hidraulikus lengéscsillapítók segítségével tárja fel titkait!
Elképesztő mennyiségű egyedi munka van ebben a gépben! Az alsó részre egy Motogadget műszerfal van felszerelve, amely felül egy ablakon keresztül látható, valamint egy bőrtáska egy Leatherman multifunkciós szerszám számára. A teljes rendszer egyedi – a segédváztól az alumínium zsanérokon át a 3D nyomtatott távirányító burkolatig. A Vagabund srácok a Rotobox szénszálas kerekeit és néhány Rizoma alkatrészt is beépítettek. A LED-es hátsó lámpa és az agresszív megjelenésű kipufogódob különösen szép a felső traktusban. A decens Mercedes-szürke fényezés is telitalálat, mert ennek a járműnek nincs szüksége hivalkodó festésre, hogy észrevegyék.
Forrás: BIKEEXIF