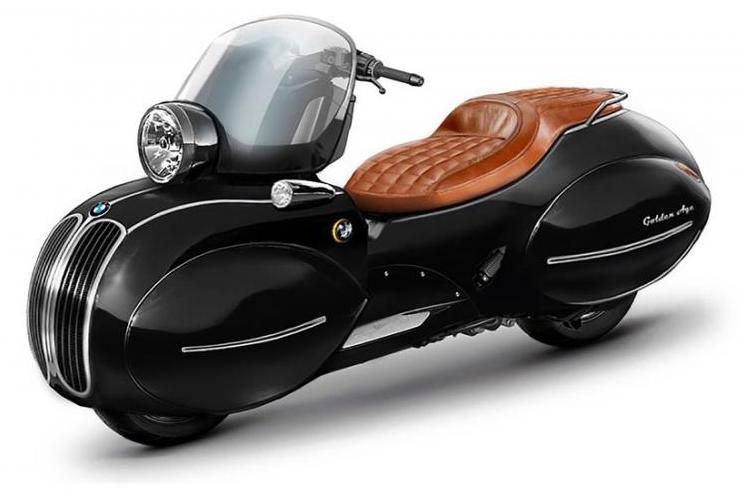 2021 Top 10 épített motorja!
Az előző évi BIKEEXIF Top10 lista elé a lentieket írtam. Akkor még nem tudtam, hogy 2021-re is maradéktalanul igazak lesznek a következő sorok.
A kétezerhuszadik esztendő gonosz olajfolt egy koraesti Balaton-felvidéki motorozás beláthatatlan kanyarjában, vagy kivilágítatlan traktor alvó/részeg sofőrrel keresztben az úton, vagy elszabadult kviddics játékos seprűnyele a küllőid között, a vadiúj káférészered próbaútján, vagy egy gonosz high-side katapult bukás a Circuit of the Americas egyik meredek kanyarjában.
Esetleg mindez egyszerre.
Szóval 2020 (és 2021!) nem adta ki. Sokaknak, így a motorosoknak és a motorépítőknek sem. Azonban a nehézségek ellenére, ebben az évben is születtek igazi csodák. Ezekről számolok be ma. 2014 óta minden évben bemutatjuk a Bike Exif Top 10-es épített motor listáját, illetve 2015-től a rangos magazin "Editors Choice" rangsorát is. Ez az objektív lista tisztán "adat-alapú", vagyis az oldallátogatások és a közösségi médiában elért sikerek alapján képezi évente az újság. Talán ezért is indították el 2015-ben az említett, vállaltan szubjektív "Editors Choice" (szerkesztői válogatás) listát is. (Bónuszként pedig a King of Fuel 2014-es és a Pipeburn top listájának 2015-ös linkjeit is szerepeltetjük ebben a cikkben.)
TOP10 – 2014
 TOP10 – 2015
TOP10 – 2016
TOP10 – 2017
TOP10 – 2018
TOP10 – 2019
TOP10 – 2020

Editors Choice 2015
Editors Ch. '16/1
Editors Ch. '16/2
Editors Choice 2017  
Editors Choice 2018 
Editors Choice 2019
Editors Choice 2020

TOP5 – 2014 King of Fuel
TOP10 – 2015 Pipeburn
10. CT Newman's turbo Harley
Jó év volt az előző a BIKEEXIF magazinban szereplő Harley-Davidsonok számára, ugyanis a HD nem kevesebb, mint három motorkerékpárral szerepel az idei Top 10 listában! Az első Christian Newman turbófeltöltős choppere. A mindennapokban Newman gépészmérnök, és minden képességét beletervezte ebbe a járműbe. Az erő egy 1939-es flathead motorból származik, de szinte a felismerhetetlenségig módosított formában.
A legszembetűnőbb módosítás a Garrett GT1241 turbópár, amelyet számos kézzel készített rozsdamentes acélcsővel szereltek fel. Newman a hardtail vázat és a rugós elülső részt is rozsdamentes acélból készítette. (A váz elkészítésében a Sosa Metalworks segített neki.) A Harley az idei kaliforniai Born Free Show egyik sztárja volt.
9. S&S Death Tracker
Ha valaki tudja, hogyan kell nagy teljesítményű "V-twins" erőforrásokat építeni, az az S&S. A cég a Harley aftermarket szegmensének élvonalába tartozik, és sok olyan tulajdonos első lelőhelye, akik szeretné egy kicsit "felpimpelni" a járgányát.
A Death Tracker egy rozoga, 1996-os Sportster 883-asként tengette tetszhalott életét egy ponyva alatt. Most pedig már egy 100 köbinches (1600 köbcentis!) S&S SB100-as szörny hajtja! A nikkelezett váz az Öhlins felfüggesztéshez kapcsolódik, ugyanazt a geometriát felhasználva, mint az Indian flat track versenygépei, és egy állítható lengőkar segíti az erőt a talajra juttatni.
8. Hazan Velocette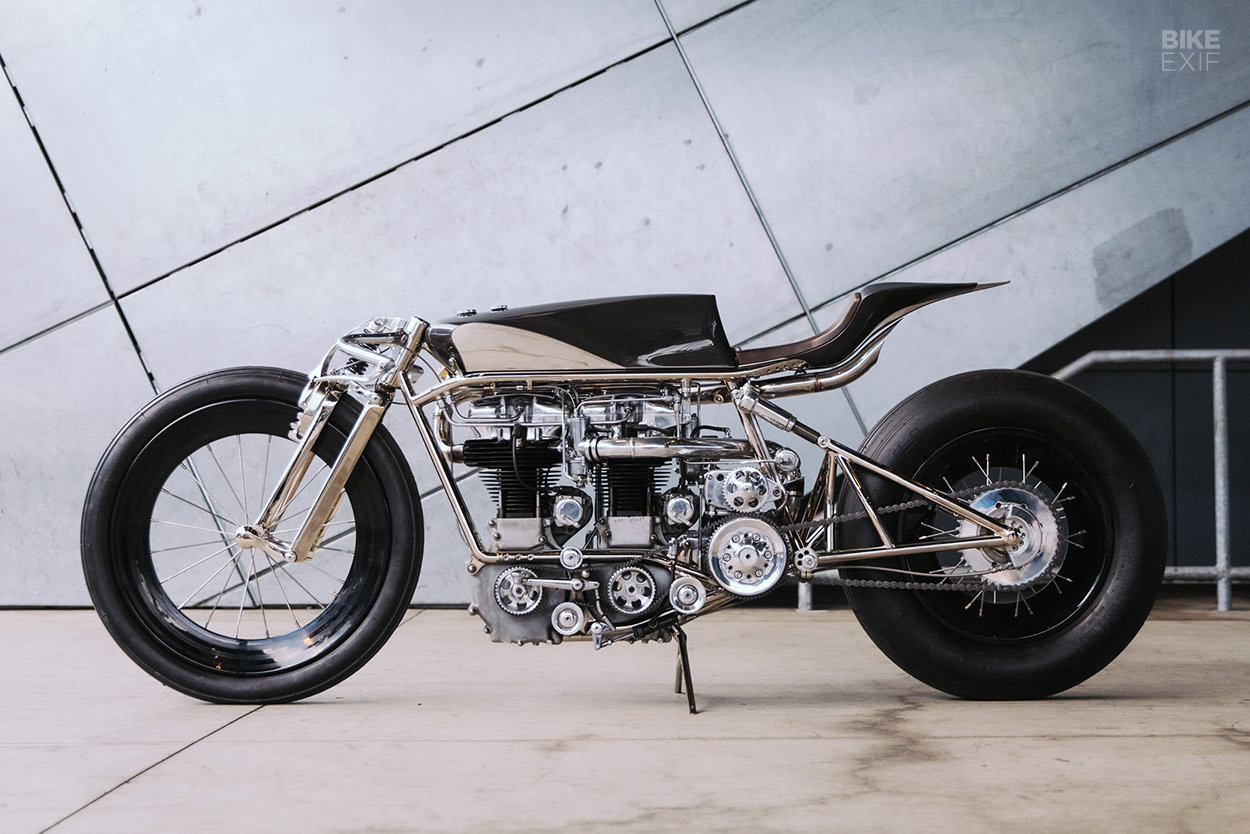 Ez az egyike azoknak a motoroknak, amelyek nézegetésébe akár egy órára is belefelejtkezhet a szemlélődő, és nem meglepő módon a fantasztikusan tehetséges Max Hazantól származik. Gyakorlatilag minden alkatrésze egyedi gyártású, kivéve a háború utáni, felújított Velocette MAC erőforrást.
A 349 köbcentiméteres léghűtéses motor teljesítményét egy Eaton TVS R410 kompresszor támogatja. A mérnöki kifinomultság szintje egészen "földöntúli"! "Szeretek új ötletekkel előállni minden egyes projekthez" – mondja Max. "Általában van az általam tervezett motorokban valami egyedi… de ez a motor az elejétől a hátuljáig különleges."
7. DAB Concept-E
Nagyon trükkös erős és menő megjelenésű elektromos motorkerékpárt tervezni, de Simon Dabadie-nek és a DAB Motors legénységének sikerült! A baszk műhely lenyűgözte a magazin olvasóit a "Concept-E"-vel, amely tulajdonképpen egy "sablon jármű" a jövőbeni gyártási folyamathoz. A szerkezet egy könnyű városi ingázó 10 kW-os motorral és egy 51 V-os Li-ion akkumulátorral.
Vezetési pozíciója egy szupermoto ergonómiájához hasonlít, segítve a szűk városi utcákon való manőverezhetőséget. Az alkatrészei pedig kifejezetten csúcsminőségűek – olyan márkáktól származnak, mint az Öhlins, a Beringer, a Pirelli, az Excel és a Rizoma. A részletgazdagság egy gyári motorkerékpárhoz méltó, a stílusa pedig tökéletes!
6. Purpose Built Moto Honda CBX1000
Nem volt meglepetés, hogy ezt a gépet a Top 10-ben találtuk: a "musclebike"-ok mindig népszerűek! A Honda még a '70-es évek végén készült CBX1000-esét pedig nagyon sokan szeretik: egy CBX-konstrukció például a tavalyi listára is felkerült. A Purpose Built Moto hihetetlen munkát végzett! Az 1981-es specifikációjú CBX-et a bontás után alaposan felújították, mielőtt Suzuki Hayabusa villákkal, valamint Aprilia RSV4 lengőkarokkal látták el a modern kerekekhez és abroncsokhoz.
A hatalmas erőforrást új Keihin FCR karburátorokkal és hat új leömlővel látták el egy rövidített kipufogórendszeren, így már száz lóerő mérhető a hátsó keréknél! Egy új segédkeret és far-egység segít csökkenteni a súlyt, amely így csak 227 kilogramm!
5. BMW C400X by NMoto
Ez a motor különösen kedves a szívemnek, hiszen egy magyar tervező alkotta, nevezetesen Jakus Tomi, a Jakusa Design alapítója! (Itt találtok egy B42 interjút vele.)
A robogók, mopedek és a kompakt "retro furcsaságok" gyakran teljesítenek jól a BE magazinban. Ezek a járművek nem azok a motorkerékpárok, amelyekre a legtöbb olvasó vágyik, de sokak szívében van egy kis meleg zug ezeknek a "zsebrakétáknak". A BMW C400X egy közepes méretű robogó, kissé megosztó stílussal. A miami székhelyű NMoto cég azonban fejlesztett hozzá egy lenyűgöző készletet (body kit), amely az Art Deco aranykorába repít vissza.
A szénszálas karosszéria magában foglalja a hagyományos BMW "veserácsot", és mivel roppant könnyű, a végsebessége 144 km/h! A dönthetősége is tekintélyes (35 fok!), ami a szűk városi utcákon erősen megkönnyíti a fordulást. Az Nmoto 100 kit-ből álló sorozatot tervez, amelyeket a Zillers Garage fejlesztőpartnerük gyárt majd le.
És bár a C400X megjelenése gyökeresen megváltozott, a funkcionalitást ez nem befolyásolja negatív értelemben. Ezen a csúcstechnológiás robogón továbbra is minden úgy működik, ahogy kell. (Európában ráadásul könnyű beszerezni egy C400X donort az építéshez.)
4. deBolex DB25
A legtöbb embernek van egy "listája" a fejében azokról a motorkerékpárokról, amelyeket akkor vásárolna, ha nyerne a lottón. Ez a motor is ilyen. A legtöbb egyedileg épített konstrukció a képzelet szárnyalása (jó értelemben!) de egyes motorkerékpárok arra is összpontosítanak, hogy ügyes tervezéssel és esztétikai fejlesztésekkel javítsák fel az eredetit. Ez az a terület, amelyet a deBolex Engineering (Calum Pryce-Tidd és Des Francis) elfoglal, és ezt ezzel a járművel is megerősítették. A széria 25 darabra korlátozott járműből áll, amelyek mindegyike a 147 lóerős, előző generációs Ducati Monster 1200-ra épül. A konstrukciók az ügyfelek igényei szerint alakíthatók, de az alapvetések persze ugyanazok maradnak.
A tervezés és fejlesztés 18 hónapig (!) tartott, de ez egyszerűen csak azt jelzi, hogy a deBolex milyen odafigyeléssel és szakértelemmel dolgozott a folyamat során. Ezek nem azok a motorok, amelyek pár éven belül felbukkannak majd az eBay-en, nyomott áron. A donor Ducatikhoz több mint száz új alkatrészt tartalmaz a készlet, köztük szénszálas karosszériát, polimer üzemanyagcellákat és alumínium segédvázakat.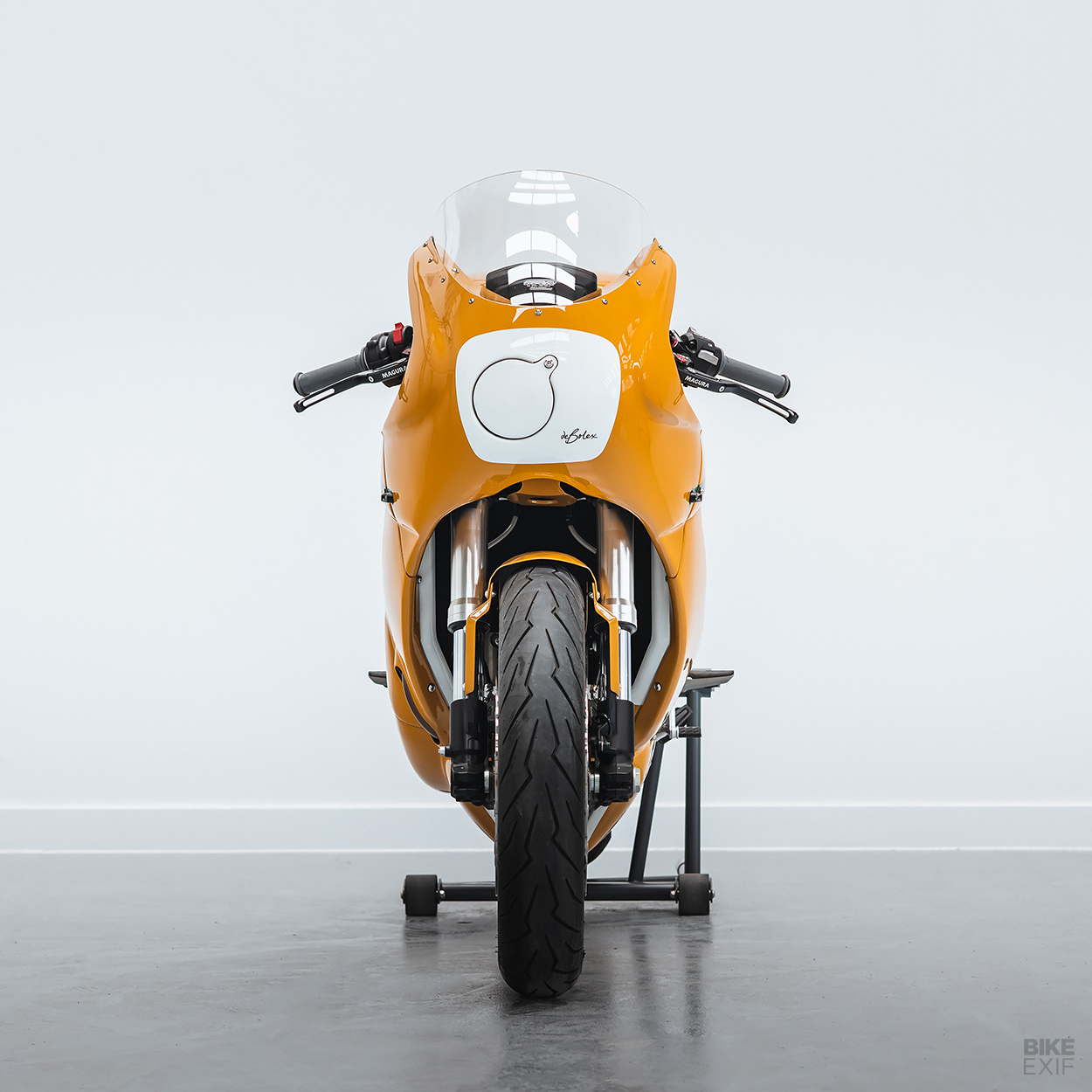 A felfüggesztést a vevő kívánsága (és pénztárcája) szerint specifikálhatja, de az olyan finomságok, mint pl. a kovácsolt alumínium Dymag felnik az alapfelszereltséghez tartoznak. Ha volt valaha kétkerekű megfelelője a Singer Porschének, akkor ez az!
3. Moto Adonis' Harley-Davidson Livewire
A tulajdonosváltás gyakran a "halál csókja" egy egyedi motorépítő műhely számára. A holland Moto Adonis Shop esetében azonban nem így történt. (Az alapító, Daan Borsje adta át a kulcsokat Arthur Renkema és Job Leussink alkalmazottainak.)
Az ügyfél által adott "brief" az volt, hogy valami futurisztikus és fekete vasat építsenek a HD LiveWire-ból. A tatuszerű karosszéria egy helyi autófelújító műhely segítségével készült, és Daan egyéb üzleti ügyei ellenére is talált időt, hogy segítsen a tervezésben. Az új alumínium karosszéria acél segédvázra van felszerelve, a műszereket és a kiegészítőket pedig a funkcionalitás elvesztése nélkül helyezték át építői.
A gyári LiveWire teljesítményét ez nem érinti, így ez az egyik leggyorsabb épített motor, amit valaha bemutattunk: körülbelül három másodperc alatt éri el a 100 km/h-t, ami már superbike kategória!
2. HonDeath
A listán szereplő legtöbb motorkerékpárral ellentétben a "HonDeath" határozottan régi iskola: egy amatőr építő készítette, és "meglepő forrásokból" származó alkatrészeket használt fel hozzá. A kiindulópont egy Honda CL350 volt, de az erőforrást építői lecserélték egy Yamaha Banshee ATV 100 lóerős tuningolt kétütemű motorjára.
Az építő Andrew Cecere a Jaguar Land Rover technikusa Kaliforniából, aki jól ismeri a precíziós gyártási folyamatokat – köszönhetően korábbi repülőgépszerelői karrierjének. A motor az RD350-es rokona, de Andrew feljavította egy "stroker" hajtókarral és nagyobb hengerekkel.
A vázon is történt némi módosítás az új motor befogadása előtt, a tank pedig egy régebbi CB350 Super Sportból származik.
1. Zillers R18
Az éves lista általában sok "extrém" építést tartalmaz, és ez az év sem volt kivétel. Bár a technikai és kézműves készségeket sokszor az olvasók szinte figyelmen kívül hagyják, azokat az építőket, akik túlmutatnak a szokott vizuális kereteken, jutalmazzák.
Szerencsére a moszkvai Zillers Garage R18-asa mindkét ponton magas pontszámot ér el. A Zillersnek már története van a radikális BMW-konstrukciók terén: múltkori RnineT-jük felkerült a 2021-es Bike EXIF naptár borítójára, és tavaly a harmadik legnépszerűbb motorkerékpár volt az oldalon. Az előző motorhoz hasonlóan ezt az R18-at is a BMW Motorrad Russia rendelte meg.
Forrás. BIKEEXIF