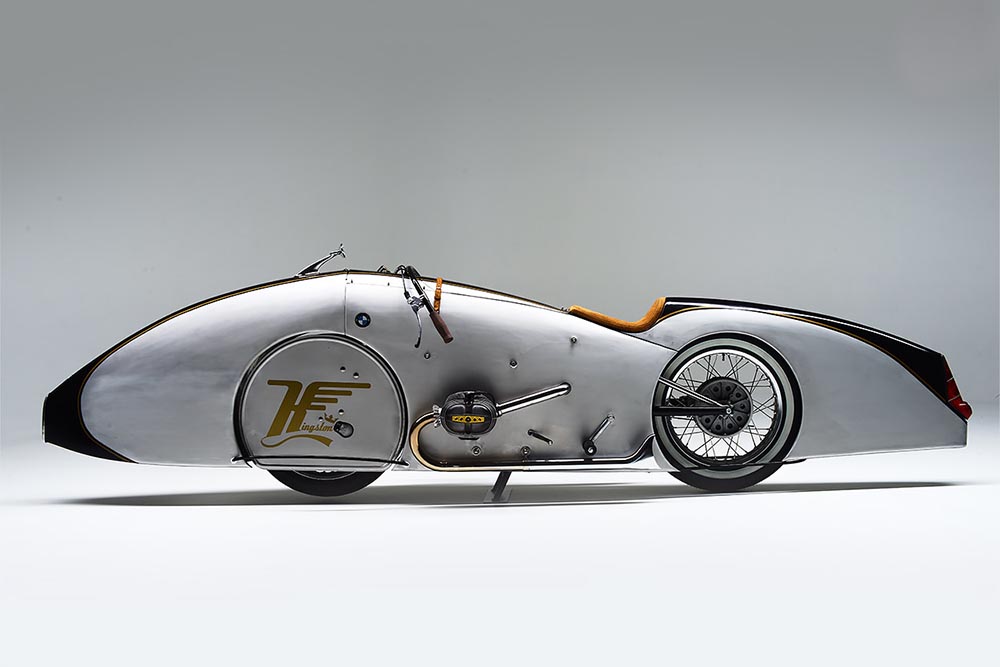 TOP 10 – Editor's Choice 2022
Ahogy azt múlt heti cikkemben írtam, 2014 óta minden évben bemutatjuk a BikeExif Top 10-es épített motor listáját, illetve 2015-től az "Editor's Choice" rangsorukat is.
Előbbi objektív lista, mivel tisztán "adat-alapú", vagyis az oldallátogatások és a közösségi média megosztások számai alapján képezi évente a magazin. Utóbbi pedig vállaltan szubjektív, hiszen a magazin szerkesztői választják ki néhány egyszerű szabályt betartva a számukra legkedvesebb épített motorkerékpárokat.
Ezek a magukra mért szabályok a következők:
Csak olyan motorokat választanak be a "szerkesztői listába", amelyről az év során teljes és átfogó cikket írtak.
Egy építőnek csak egy motorja szerepelhet a listán.
Az "adat-alapú" (népszerűségi) listán már szereplő motorok közül nem választanak.
TOP10 – 2014
 TOP10 – 2015
TOP10 – 2016
TOP10 – 2017
TOP10 – 2018
TOP10 – 2019
TOP10 – 2020
TOP10 – 2021
TOP10 – 2022
Editors Choice 2015
Editors Ch. '16/1
Editors Ch. '16/2
Editors Choice 2017  
Editors Choice 2018 
Editors Choice 2019
Editors Choice 2020
Editors Choice 2021

TOP5 – 2014 King of Fuel
TOP10 – 2015 Pipeburn
Suzuki TS185 street tracker – SPKS
Az év egyik legvadabb fényezésű custom motorkerékpárjával kezdünk. Cheyne Speak ausztrál custom építő egész életében rajongott a motokrossz versenyekért és a BMX-ekért. Ez az elhivatottság ezen a Suzuki TS185 street trackeren is rögtön látszik. A kétütemű Suzukit "kosaras donorokból" rakta össze, más építésekből megmaradt alkatrészek, egyéb használt elemek és a barátoknál heverő alkatrészek keverékéből. Az építést az ösztönök vezérelték; Cheyne vázlatok és renderelések nélkül dolgozott, egyszerűen csak arra haladt, amerre jónak érezte.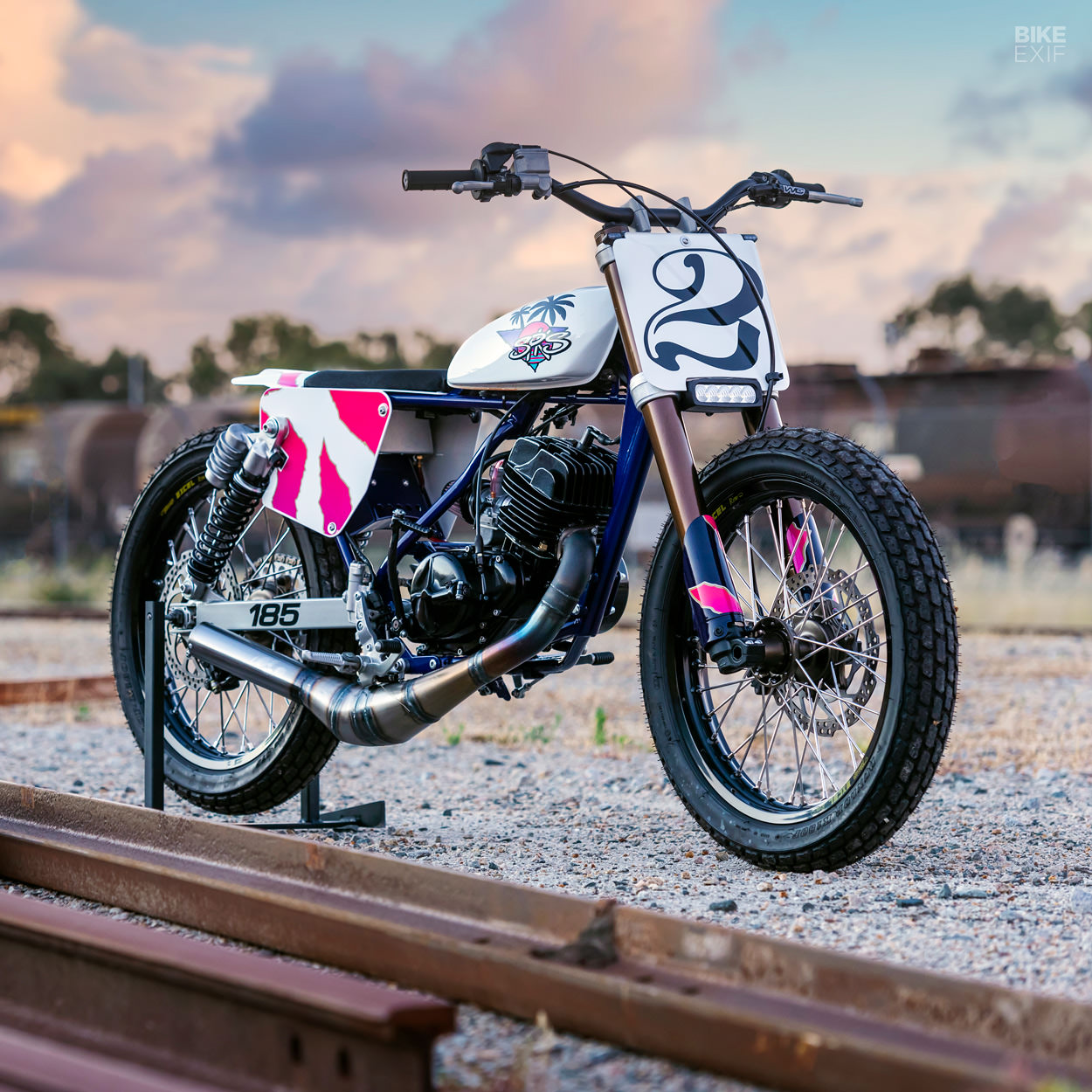 A TS185 egy KTM 450 SX-F elülső részét, egy meghosszabbított lengőkart Kawasaki lengéscsillapítókkal és 19 colos Excel felniket kapott. Cheyne-nek a KTM kormánynyakát kellett a Suzuki vázához hegesztenie, és a hátsó féket is meg kellett fordítania, hogy megfelelően illeszkedjen. A motoron is végeztek némi munkát, a kipufogó pedig egyedi darab, Pro Circuit kipufogó elemekből összerakva.
A járműnek egy Suzuki TM75 üzemanyagtartály ül a tetején, amelyet egy egyedi segédváz követ, amely egy szuper vékony alumínium farrészt tart. Az ülés nagy sűrűségű habot és egy újrahasznosított KTM üléshuzatot kapott. Látványosan kompakt és mindössze 198 font (90 kg) súlyú a kis jármű. Cheyne saját meghatározása szerint, "ez tulajdonképpen egy BMX motorral".
BMW R9T cafe racer – CNCPT Moto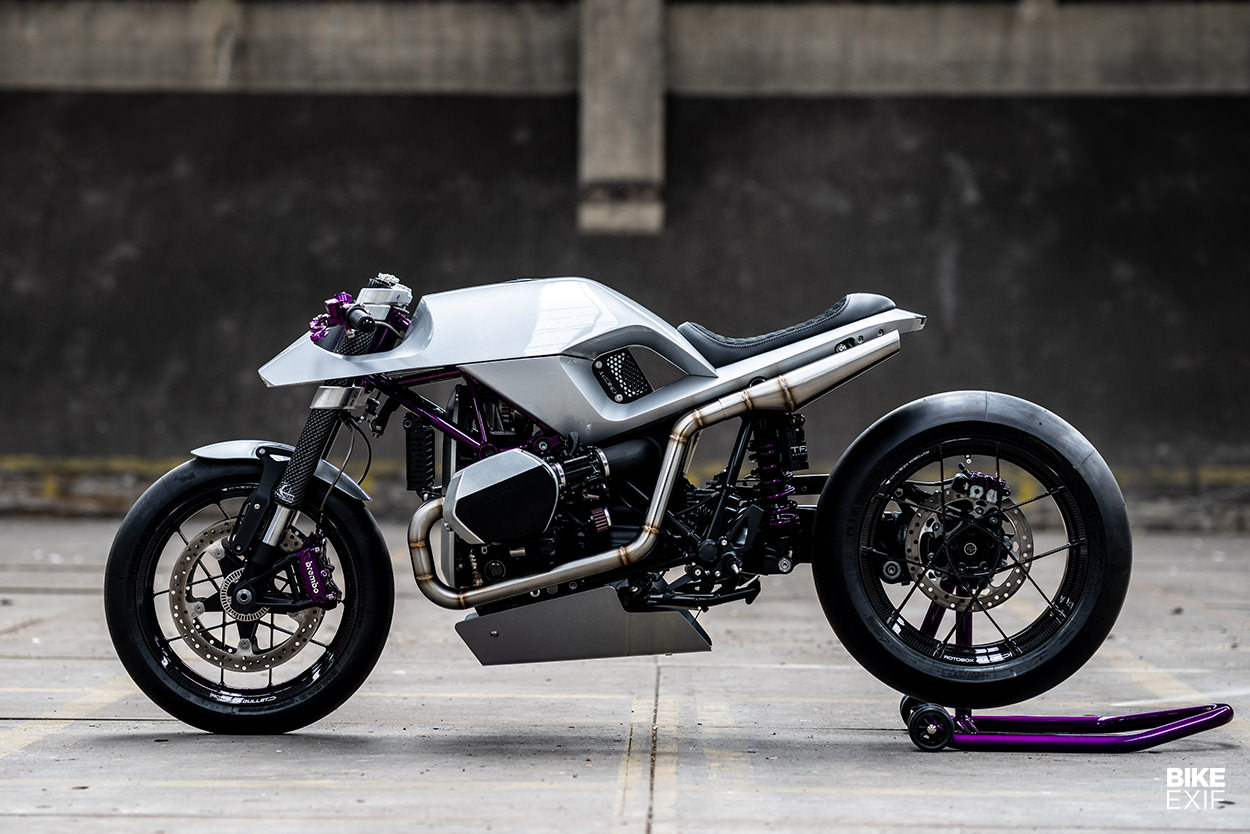 A CNCPT Moto új név a színen, de a mögötte álló kreatív arcok már veteránnak számítanak a motorépítő szubkultúrában. Arjan van den Boom, az Ironwood Motorcycles és Timothy Somers, a Powerbrick munkatársainak együttműködéséből jött létre ez az új garázs. Ők ketten idén látványos módon indították útjára a CNCPT-t ezzel a neo-futurisztikus BMW R nineT-val.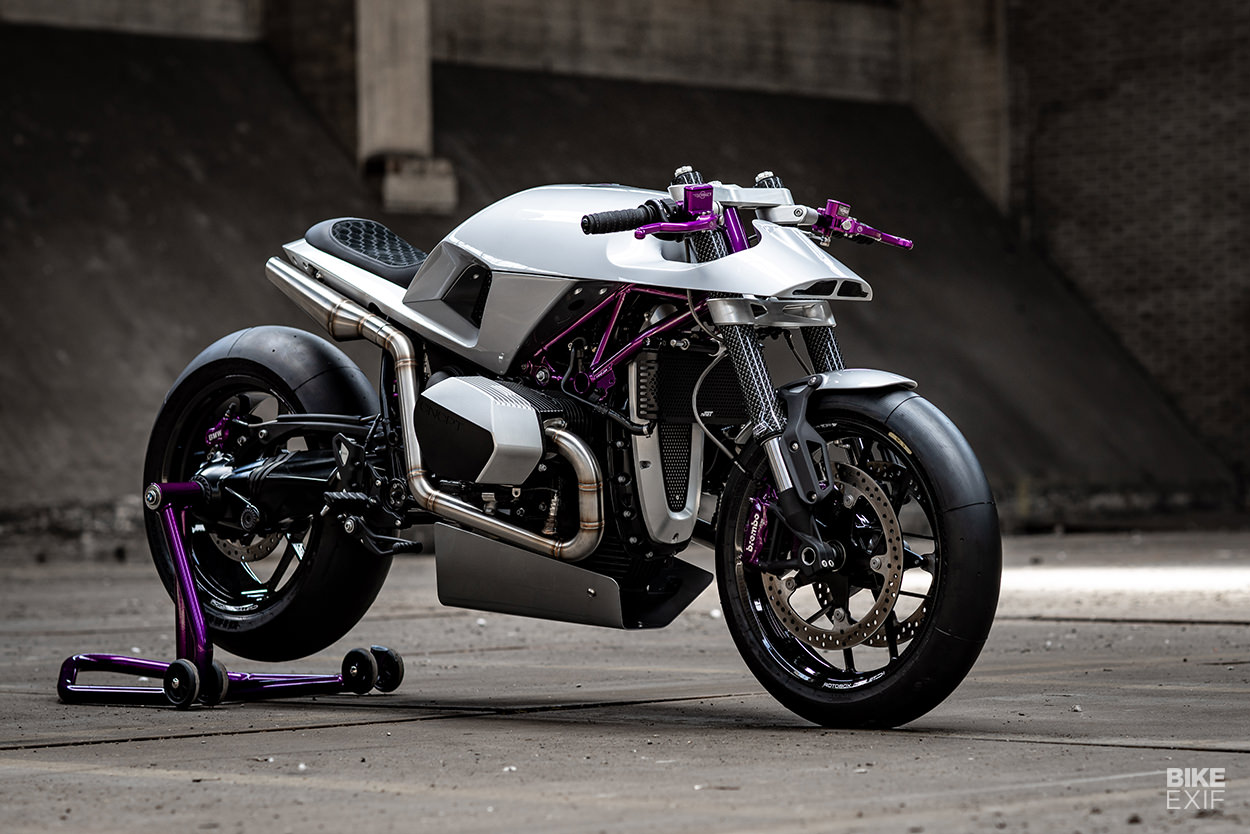 A sci-fi kinézetű karosszériát először agyagból formázták meg, majd digitalizálták és 3D-nyomtatták ASA (hőre lágyuló) műanyagból. A karosszéria két darabból áll, és a nineT meglévő rögzítőfüleinek segítségével fixálták a motorhoz. A középen található lyukban egy hálós fedél található, amely hozzáférést biztosít a motor légszűrőjéhez. Lejjebb új, CNC megmunkált motorburkolatok és egy míves haspáncél található. Azonban ez az egyedi BMW nem csak a stílusról szól – a műszaki adatok is könnyeket csalnak a szemlélődő szemébe…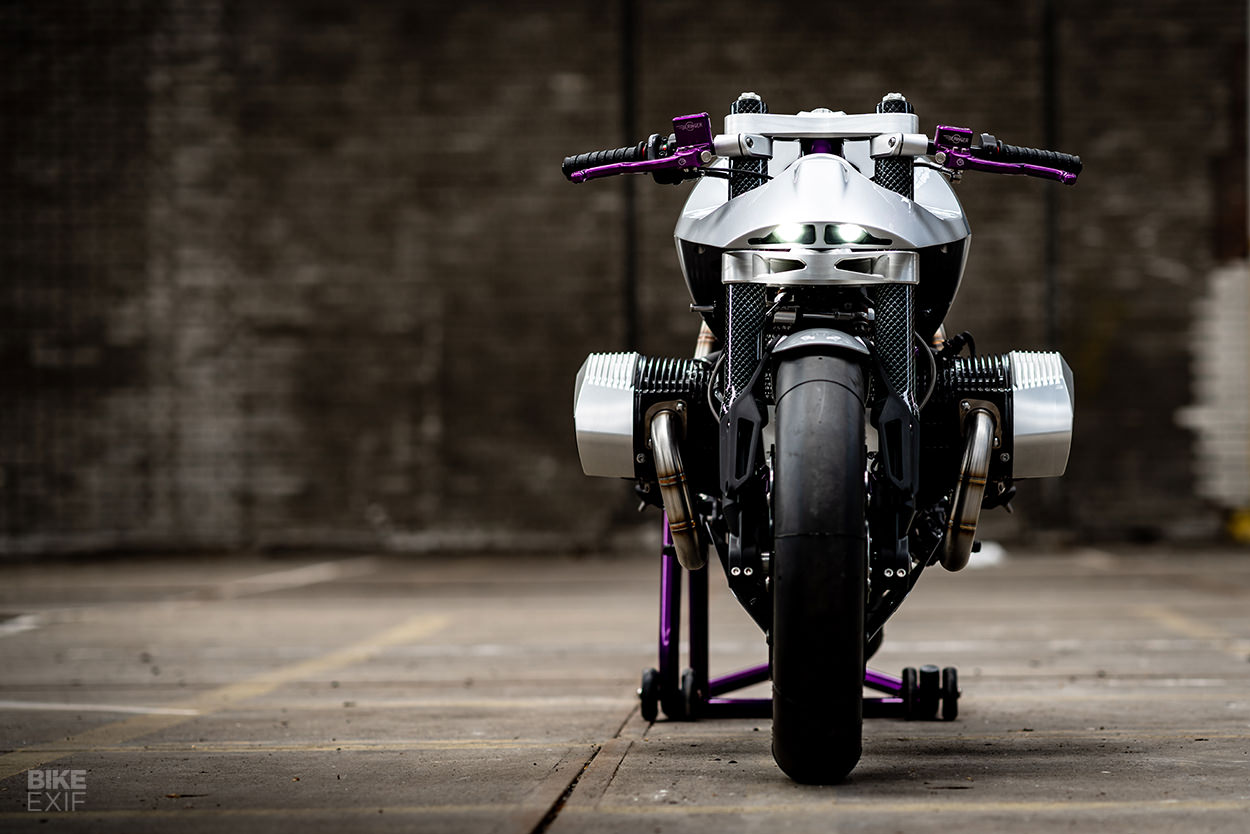 A villák a CeraCarbon szénszálas csöveit viselik, hidraulikus patronos belsővel, a kerekek 17 colos szénszálas felnik a Rotobox-tól, a gumik pedig Pirelli Diablo Superbike slickek. Beringer vezérlés, valamint Motogadget sebességmérő és nyomógombok egészítik ki a szettet. A jármű gyönyörű ezüstös fényezést visel, lila akcentusokkal, az ülés pedig Alcantara és bőr kombinációja.
KTM 500 EXC, Six Days vintage enduró – Dan Mickan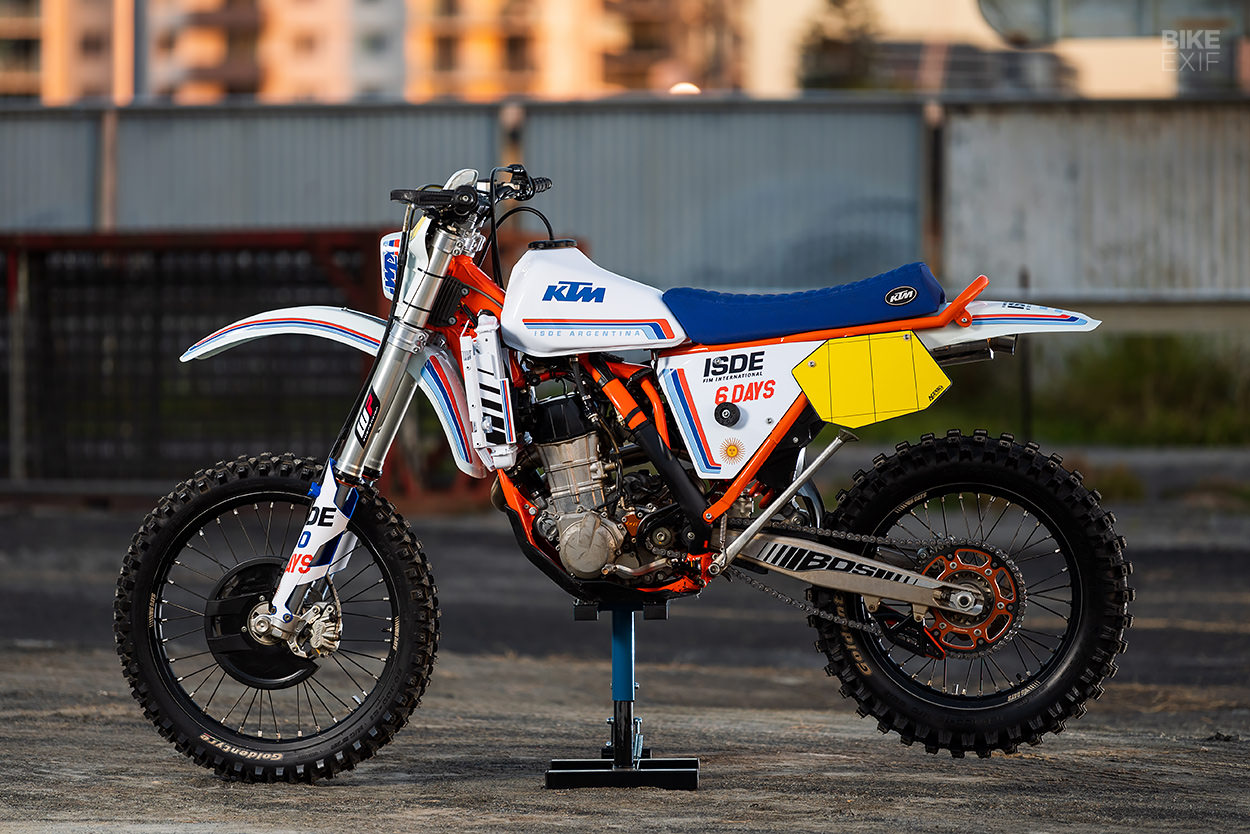 Ez a színpompás jármű az ausztrál Dan Mickantól érkezett, de annak ellenére, hogy retrónak tűnik, valójában egy modern motorkerékpárról van szó. Dan egy 2015-ös KTM 500 EXC Six Days modellel kezdte, majd egy brutál adag '80-as évekbeli enduro stílussal fűszerezte meg a végeredményt.
Dan őszintén bevallotta, hogy műhelyismeretei "korlátozottak", ezért amit tudott, megcsinált, a többi feladatot pedig kiszervezte. A segédvázhoz csővezeték csövekből készített egy "vázlatot", majd elküldte egy helyi gyártónak, hogy az krómozott acélból készítse el számára. Egy másik mesterember egy '80-as évekbeli Honda XL 185 üzemanyagtartályát alakította át, hogy illeszkedjen a KTM vázához – és hogy beépítse az eredeti üzemanyagszivattyút is.
A KTM új ülést, egyedi oldalsó borításokat és néhány Acerbis műanyag alkatrészt is kapott. Az eredeti levegő- és akkumulátor-dobozokat is módosítani kellett, hogy az új segédvázba megfelelően illeszkedjenek. A változtatások ellenére Dan különös gondot fordított arra, hogy az eredeti ergonómia megmaradjon – így a motorkerékpár továbbra is agresszíven hajtható.
Dan annyira eltökélt volt a KTM festése mellett, hogy még egy grafikust is felbérelt, hogy segítsen neki véglegesíteni a dizájnt. A grafika a korábbi KTM-ekből merít ihletet, de az ISDE argentin kiadására is utal.
Egli-Vincent cafe racer – Fuller Moto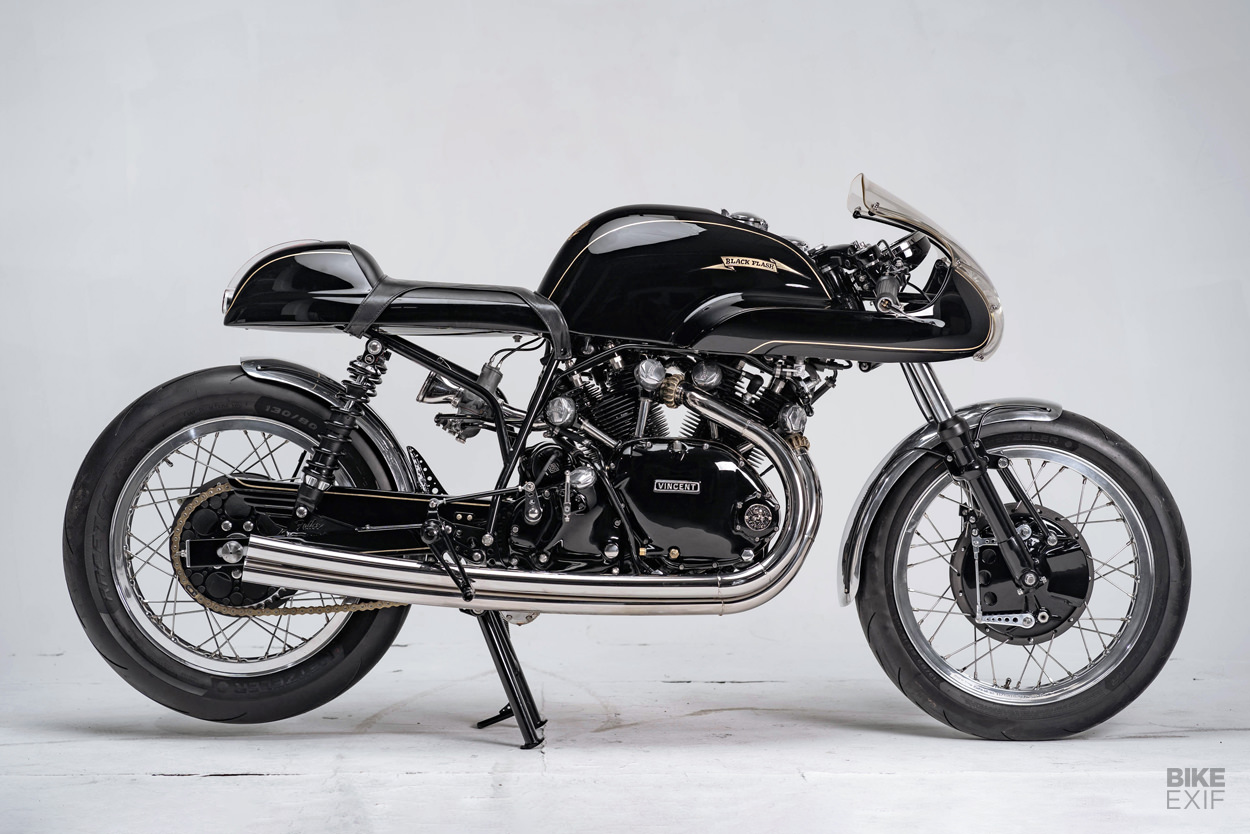 A Vincent motorok és az Egli vázak úgy illenek össze, mint Kiszel Tünde és Brad Pitt – de ez az Egli-Vincent café racer a Fuller Moto-tól egy új szintre emeli a koncepciót. Amikor Bryan Fuller műhelye megkapta a munkát, egy komplett donormotor helyett egy csomó különálló alkatrészt kapott csak. Ez pedig nyitva hagyta az ajtót Bryan fantáziájának, hogy az végül kibontakozhasson.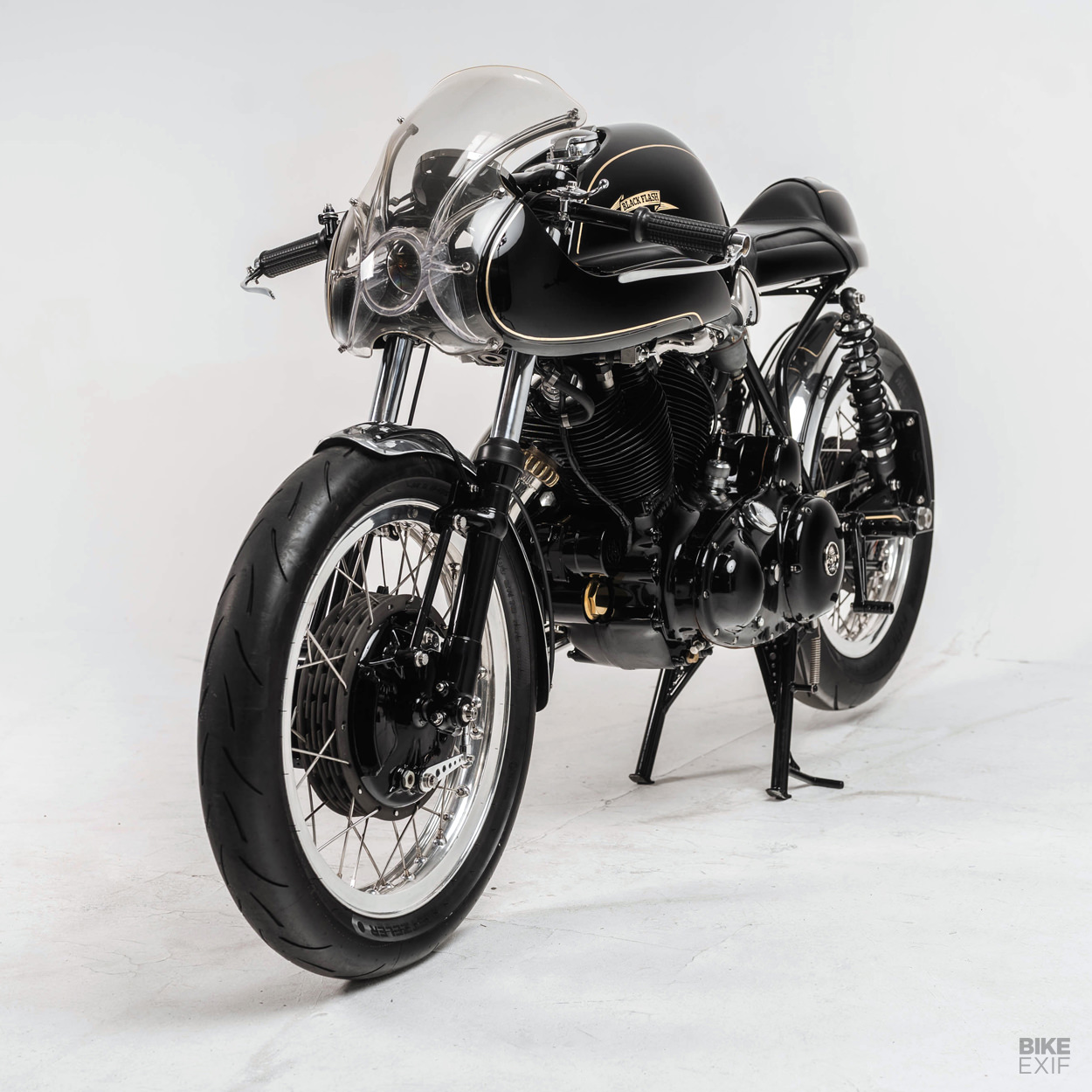 A készlet tartalmazott egy 1000 köbcentiméteres, C sorozatú Vincent C motor reprodukciót, egy Egli váz reprodukciót és egy csomó kulcsfontosságú elektromos alkatrészt. A Fuller Moto csapata kiválasztotta azokat az alkatrészeket, amelyeket meg akartak tartani, elkészítették a vázat, majd meglépték az elképzelhetetlent – a segédvázat egy karcsúbb, kézzel készített krómozottra cserélték le.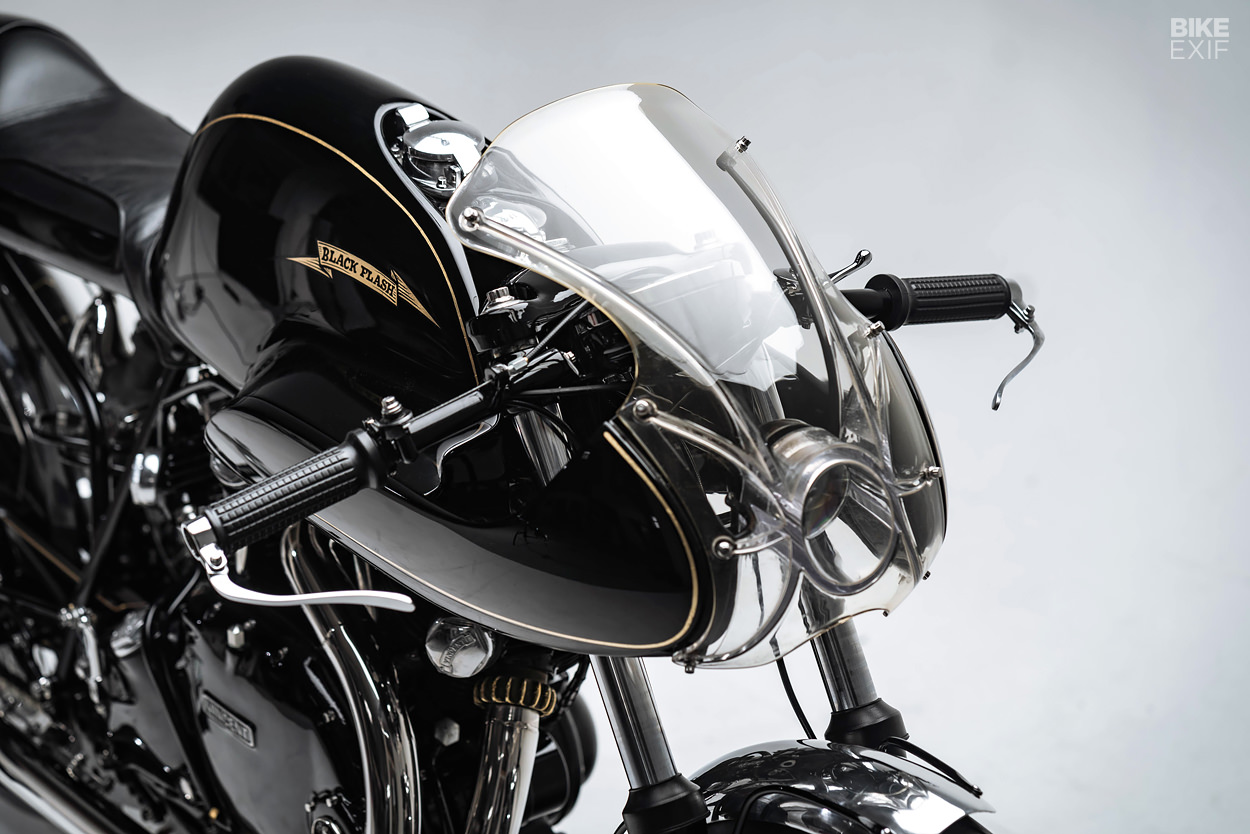 Elöl-hátul a Vincent egy áramvonalas burkolatot, egy Ducati Imola-stílusú tankot és egy tökéletesen arányos faridomot kapott. Elölről nézve a motor hihetetlenül karcsú; oldalról nézve pedig hibátlan és időtlen sziluettel rendelkezik, amit a kanyargós rozsdamentes acél csövek még jobban kiemelnek. Rengeteg gyönyörű apró részlet figyelhető meg a járművön! Az ülés egy régi kabát bőrét viseli, míg a 3D-nyomtatott szélvédő (!) egy madárkalitkaszerű konzolon ül. A ritka és fájdalmasan gyönyörű Fuller Moto Vincent 'Black Flash' a café racer design mesterműve!
Kerékpáros ihletésű Yamaha XT250 bobber – Kevin Bergeron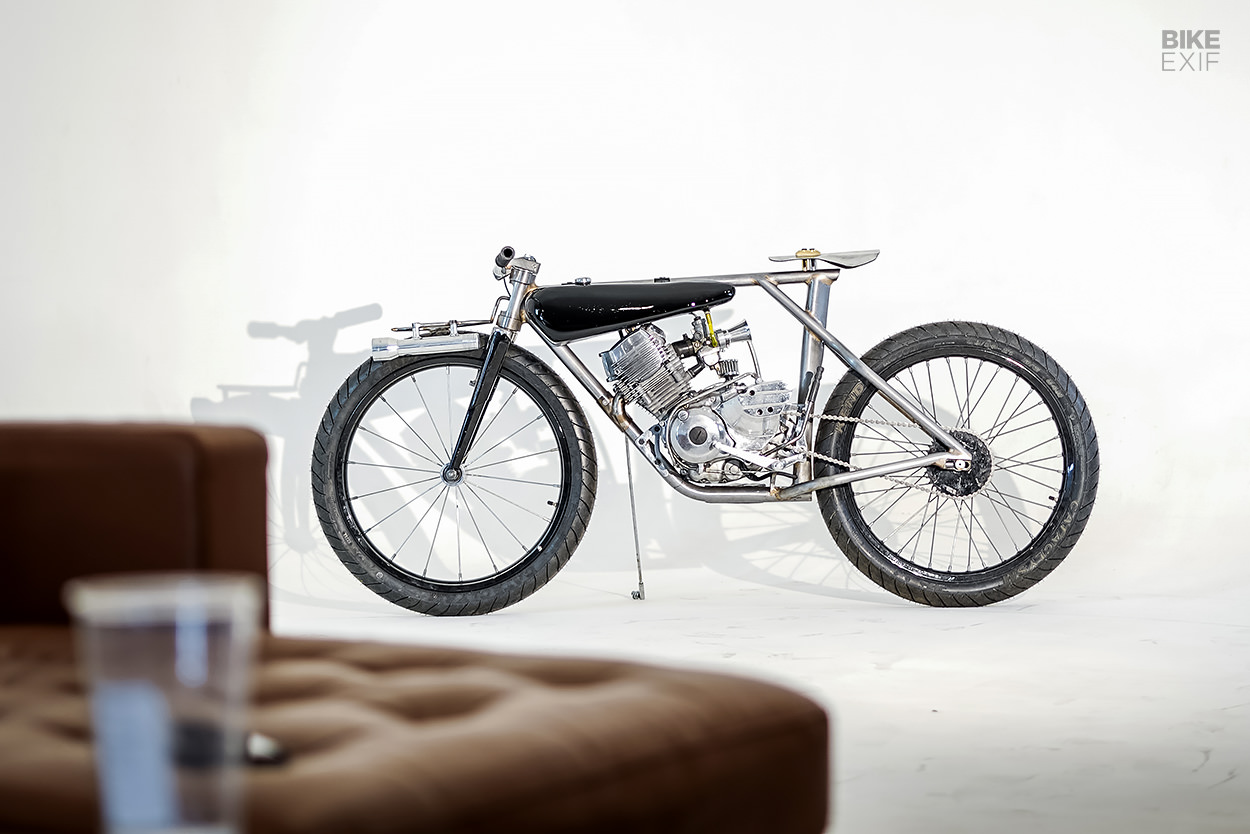 A motorkerékpárok és a kerékpárok világa gyakran keresztezi egymást – de ez a kereszteződés ritkán olyan drasztikus, mint ennél a gépnél. Kevin Bergeron, egy elsősegélynyújtó (first responder), aki hobbiból motorokat bütyköl, alkotta meg ezt a scratch-építésű bobbert, amelynek váza nyilvánvalóan a fixie biciklikből merít ihletet.
Kevin mindent maga készített otthon, egészen a merev villákig bezárólag, amelyek olyan kialakításúak, mint amilyeneket a régi országúti kerékpárokon találhatsz meg. A 21″-os kerekek egyedi darabok, a fékrendszer pedig egy rejtett meghajtású, lánckerékkel szerelt szerkezet. A váz gerincéhez egy pár osztott tartály csatlakozik; egy az üzemanyagnak, egy pedig az elektronikának.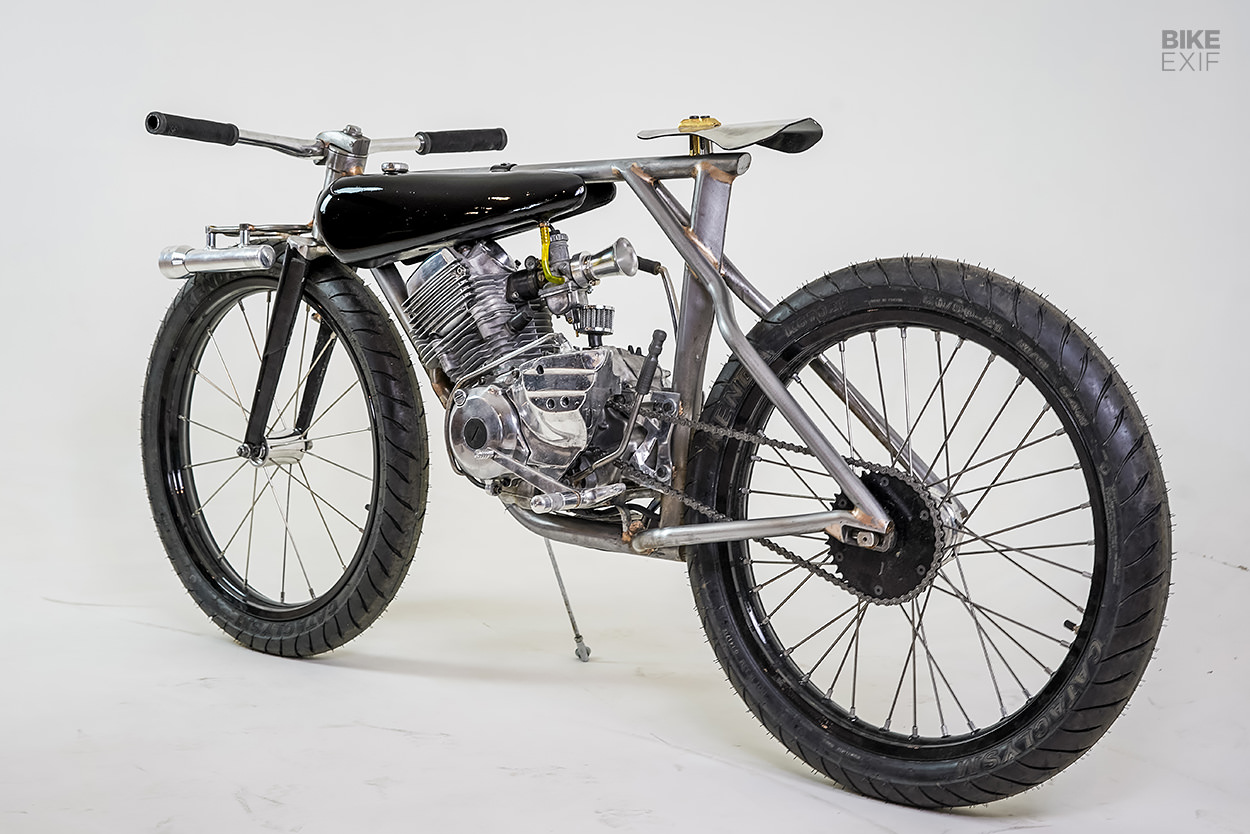 Az építményt egy '80-as évekbeli Yamaha XT250-es modell motorja hajtja. Kevin újjáépítette, majd készített egy kipufogócsövet, amely a váz alsó csövébe, majd a motor jobb alsó részén lévő szellőzőn keresztül kifelé vezeti a gázokat. Renthal kormány és Eclat markolatok gazdagítják  tovább a jármű összképét.
A belső gázkar, az első csomagtartó és az alumínium zseblámpa mind kézzel készült, csakúgy, mint a "sajátságos" nyereg. Kevin fixie ihlette bobberje talán nem túl praktikus, de kétségtelenül kézműves darab!
BMW R100 a Haas Museum számára – Kingston Custom
Dirk Oehlerking rendszeres szereplője az éves top 10-es listáinknak. Könnyű megérteni, hogy miért – a német custom építő úgy tűnik, hogy minden egyes új projektjénél megtalálja a módját annak, hogy felülmúlja önmagát. Ilyen például ez az elegáns BMW R100-as is.
Dirk az elmúlt néhány évben az art deco jegyében alkotott, és ez az építés talán a folyamatosan fejlődő stílusának végső kifejeződése. A "Hommage" névre keresztelt járművet kifejezetten a Haas Moto Museum számára építette. Még maga Bobby Haas rendelte meg tőle, mielőtt 2021-ben tragikusan elhunyt. A veszteség Dirket nagyon megviselte, de végül úgy döntött, hogy Bobby tiszteletére befejezi a projektet.
A Hommage megépítéséhez Dirk egy BMW R100-ast a vázáig lecsupaszított, majd nagy kartonlapokat fektetett rá, hogy életnagyságú vázlatot készítsen az elképzeléseiről. Végül az összes karosszéria elemet két milliméter vastag alumíniumlemezből alakította ki. Nem ez az első alkalom, hogy Dirk egy régi boxert mindenre kiterjedő karosszériába burkol be, de ez a leghosszabb karosszéria, amit valaha épített.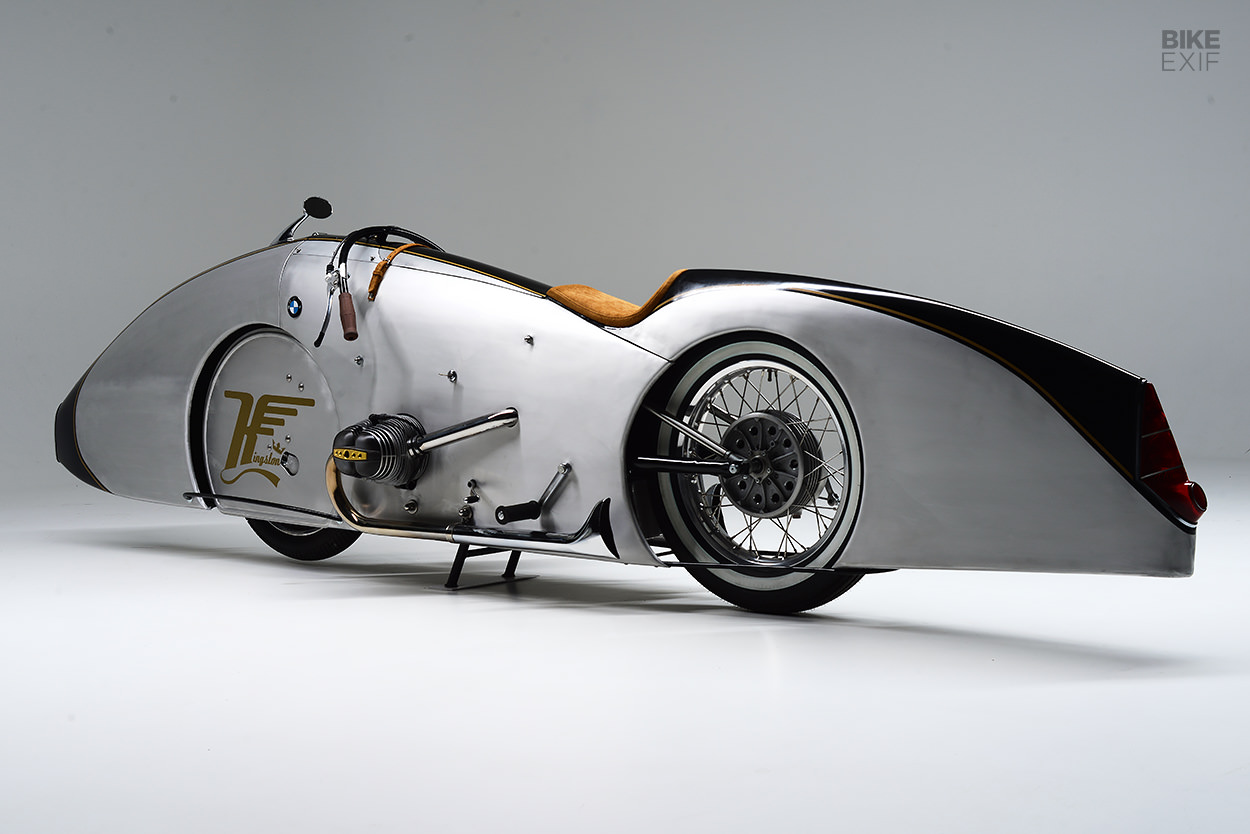 Az első és hátsó részek csuklósak, így a BMW szervizelhető részeihez is könnyen hozzáférhetünk. Dirk a motor szívócsonkját is hátrébb helyezte, és olyan beömlőnyílásokat és kipufogókat gyártott, amelyek hibátlanul illeszkednek a dizájnhoz. A finomabb részletek közé tartoznak a klasszikus BMW veserácsok, egy Porsche 356 Speedster tükör és a gondosan elhelyezett BMW kerekek.
Turbófeltöltős Suzuki GS650 bobber – Machine 1867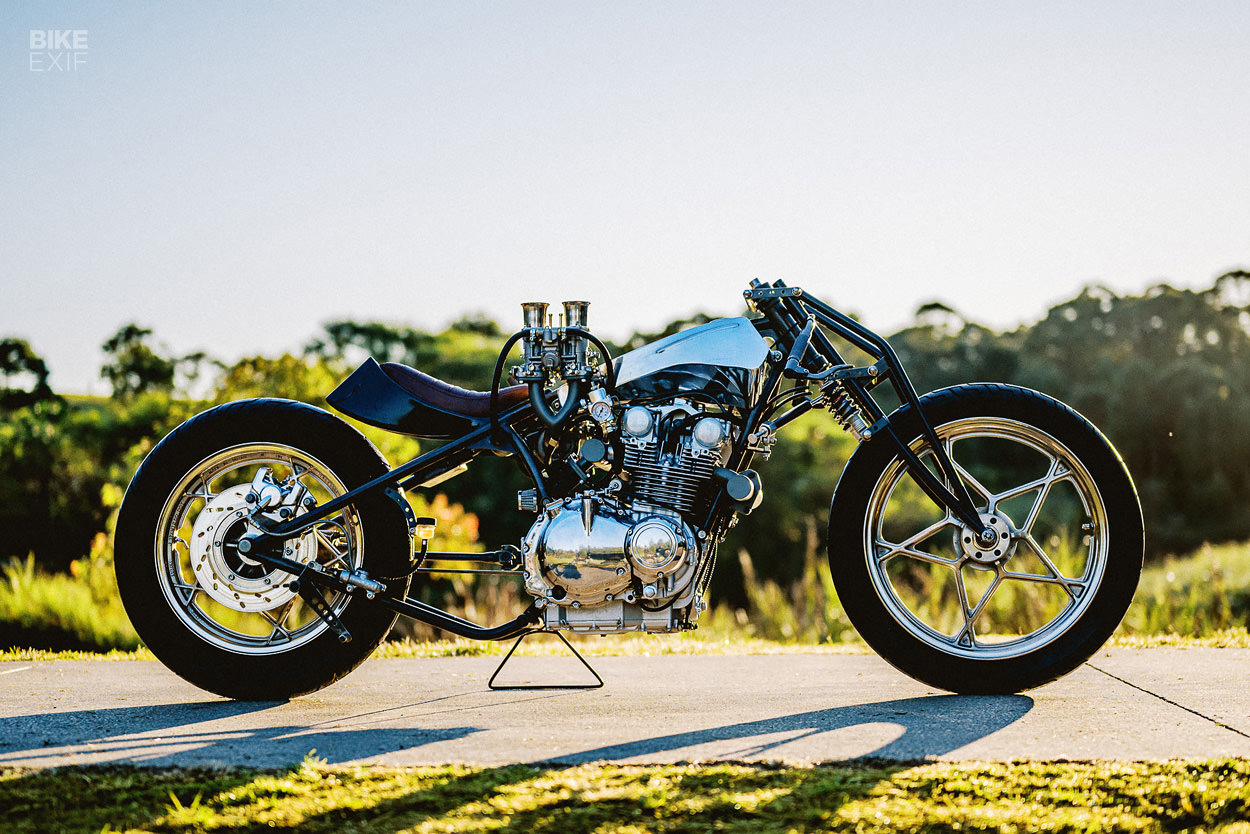 A legfigyelemreméltóbb ebben a gépben az, hogy nagyon alacsony költségvetésből épült. Edi egy GS650-es motorral kezdte, amivel már korábban rendelkezett, majd elhatározta, hogy a műhelyében heverő alkatrészekből épít egy egyedi darabot. A további szükséges elemeket aztán kézzel készítette el.
A Suzuki szívét egy merev vázba pakolták, a szintén egyedi orr-részével, amelyet az 1900-as évek eleji A. Drew and Co. ihletett. A kézzel készített kormányok egyenesen a villához vannak hegesztve, egyedi készítésű markolatokat és hátrameneti karokat viselnek. (Az egyik kar a gázt is vezérli.)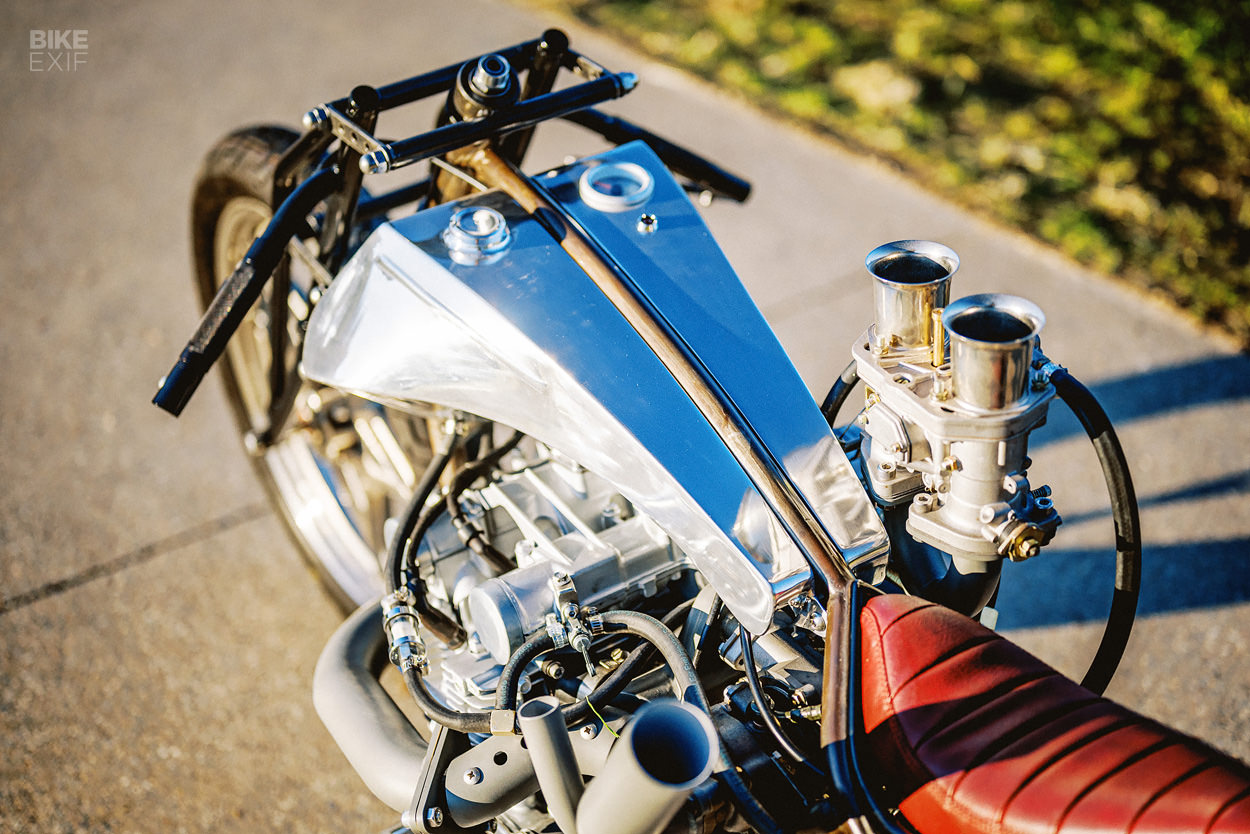 Edi építette a Suzuki osztott tankjait és felfüggesztett farrészét is. Aztán a GS650-es motorját alaposan feltuningolta, egy saját turbórendszer beépítésével. A jobb oldalon egy lefelé húzódó Webber karburátorral, a bal oldalon pedig egy csonkakipufogóval Edi alkotása legalább annyira részletes, mint amennyire félelmetes.
Harley-Davidson Shovelhead chopper – Satomari
Mint a legtöbb japán elit custom motorkerékpár-építő, Yusaku Sato is olyan dolgokat lát meg, amiket mi többiek nem. Sato-san karcsú Shovelheadje is ennek az ékes bizonyítéka. Vonalai kissé szokatlanok – mégis kellemes a szemnek, és ízlésesen kidolgozott.
A szíve egy 1982-es 80 köbinches (1311 köbcentis) Harley-Davidson Shovelhead motor. Az ügyfél választotta a motort (mivel szintén 1982 a a születési éve), de a többit Yusakura és a Satomari csapatára bízta. Az építők kézműves tehetsége mindenhol tetten érhető, pl. az egyedi szívócsőnél, amely egy S&S Cycle karburátort táplál, vagy a négyszögletes kipufogókivezetéseknél is.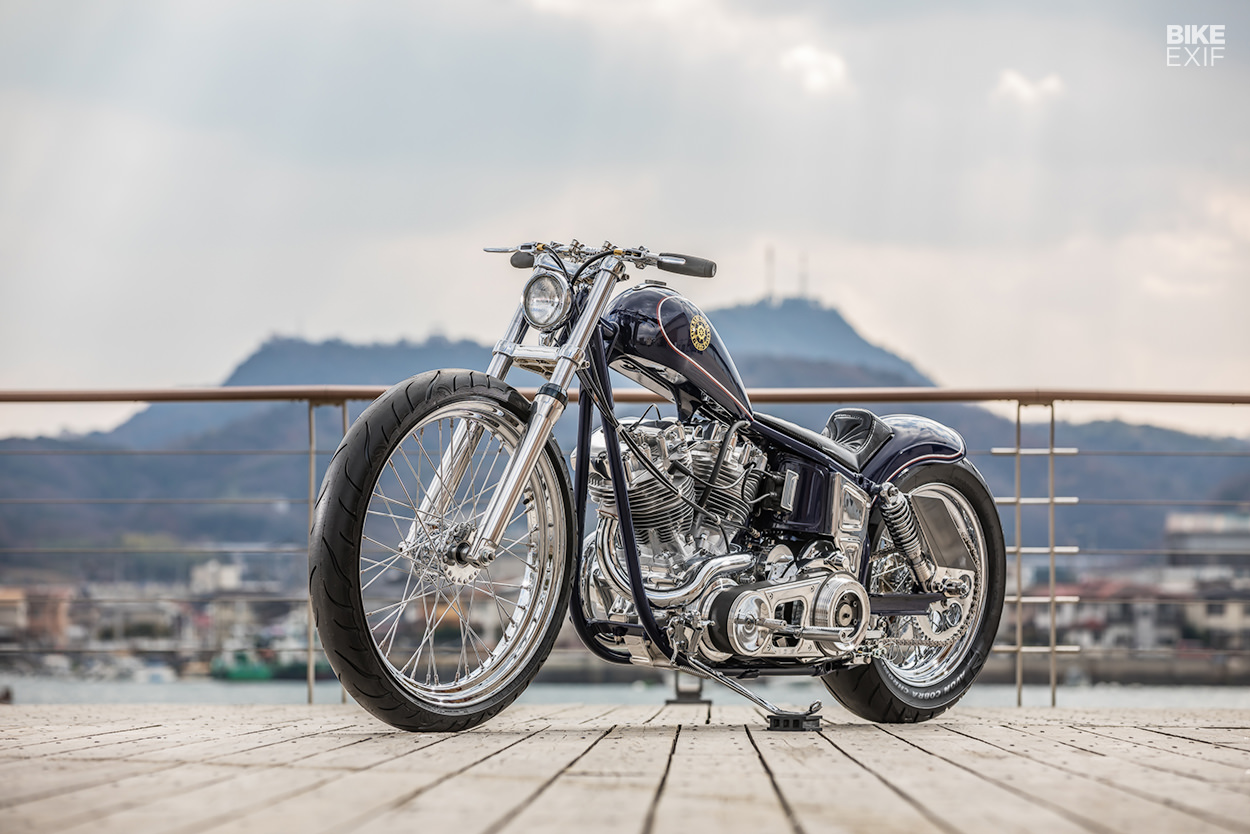 A váz is egyedi, elöl 41 mm-es villával és egy 23″-os kerékkel, hátul pedig egy 17″-os Dyna kerékkel. Egyedi lengőkar, modern lengéscsillapítók és két Performance Machine féknyereg zárja a hátsó részt.
Egy egyedi benzintank ül a jármű tetején, amely a sebességmérőnek is otthont biztosít. Az ülés alatt egy egyedi olajtartály és egy szintén egyedi elektromos doboz található. A keskeny kormánytól kezdve az elegánsan integrált hátsó sárvédőig és a tengerészeti ihletésű festésig a Satomari chopper önmagáért beszél.
Custom Yamaha RD400 – Smyth Innovations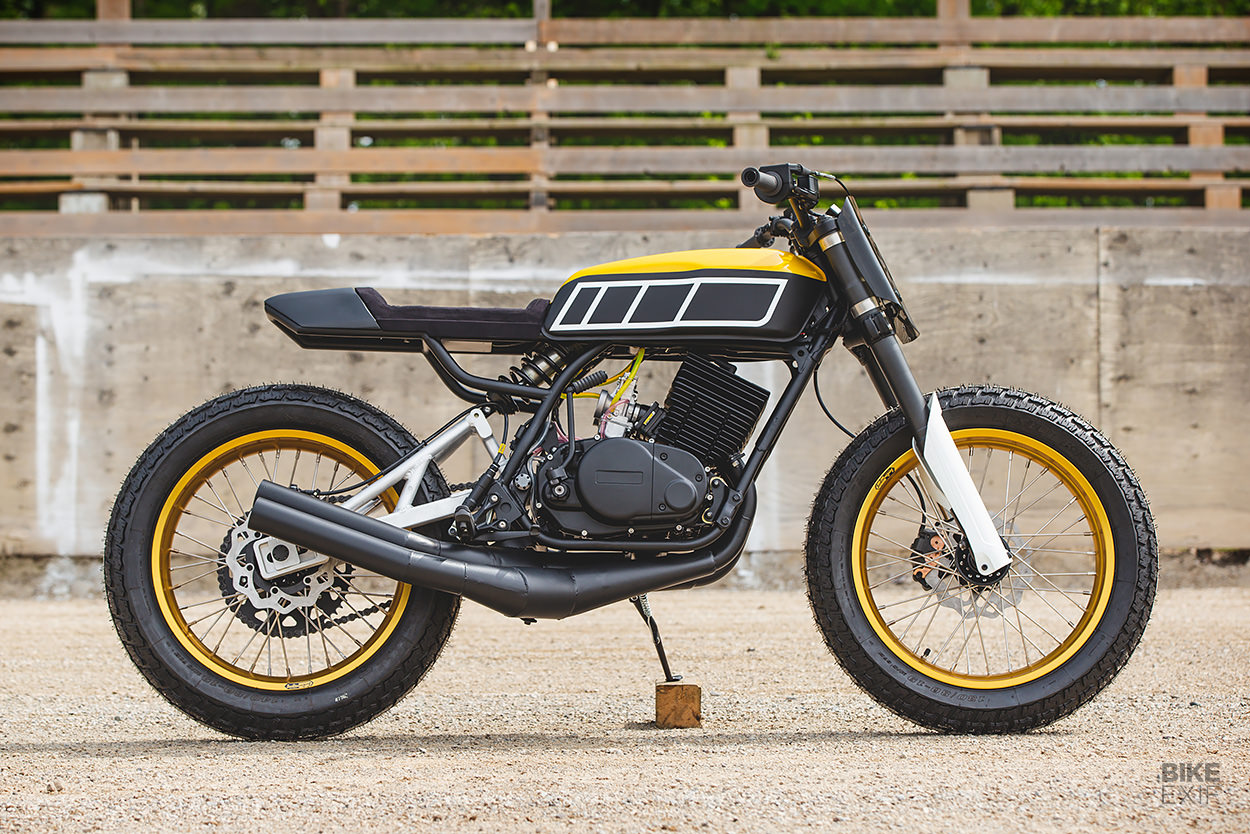 Ez a pimasz custom RD400 a Smyth Innovations-tól remekül felvonultatja a nosztalgikus stílus kedvenc hármasát: kétütemű, flat tracker és a Yamaha ikonikus speed blokkja hajtja. A kanadai boltot Cam Smyth vezeti – és minél közelebbről nézed a járművet, annál inkább átüt Cam ipari formatervezői múltja. Kompakt és tömbszerű (de jó értelemben) a motorkerékpár. Ez a Yamaha a klasszikus racer stílus és a modern dizájn elvek üdítő koktélja.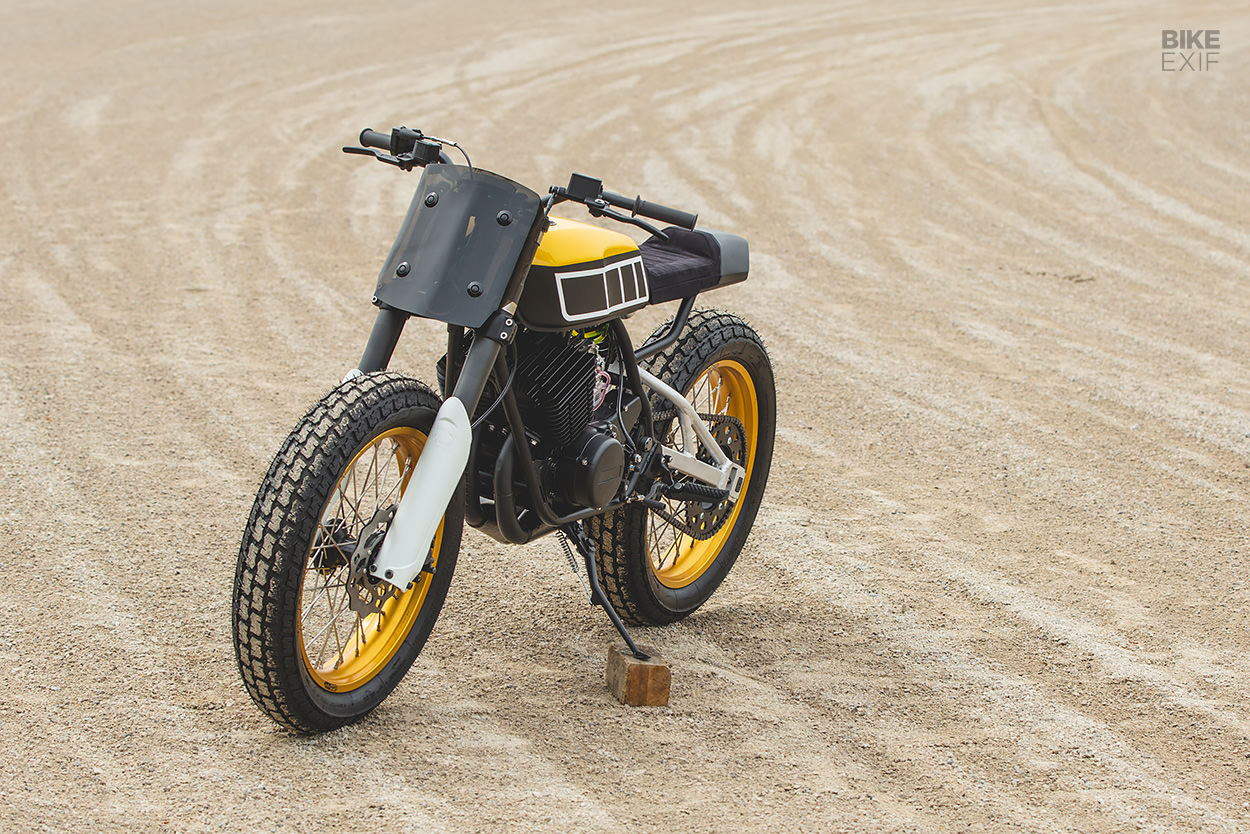 Az 1976-os Yamaha RD400-as modell alig volt menetképes, amikor begördült Smyth műhelyébe, így a csapatnak rengeteg munkája volt vele. A motort alapos átépítésnek vetették alá, olyan trükkös alkatrészekkel, mint a HVC Cycle fejek és egy hidraulikus kuplung. Az új kábelezés, a túlméretezett Banshee szívócsövek és az egyedi készítésű kipufogórendszer összehangolva segítik az RD400-at a magasabb teljesítmény elérésének érdekében.
Elöl 19 colos Sun felniket szereltek egy Suzuki GSX-R600-as villára, hátul pedig egy erősen módosított 1981-es Yamaha IT250 lengőkarra. Feljebb egy új segédváz található, amelynek formája az RD400 eredeti oldalsó burkolatát utánozza. A tank egy eredeti RD400-as alkatrész, amelyet utólagosan egy Kawasaki Ninja 650-es nyakkal és egy süllyesztett tanksapkával szereltek fel.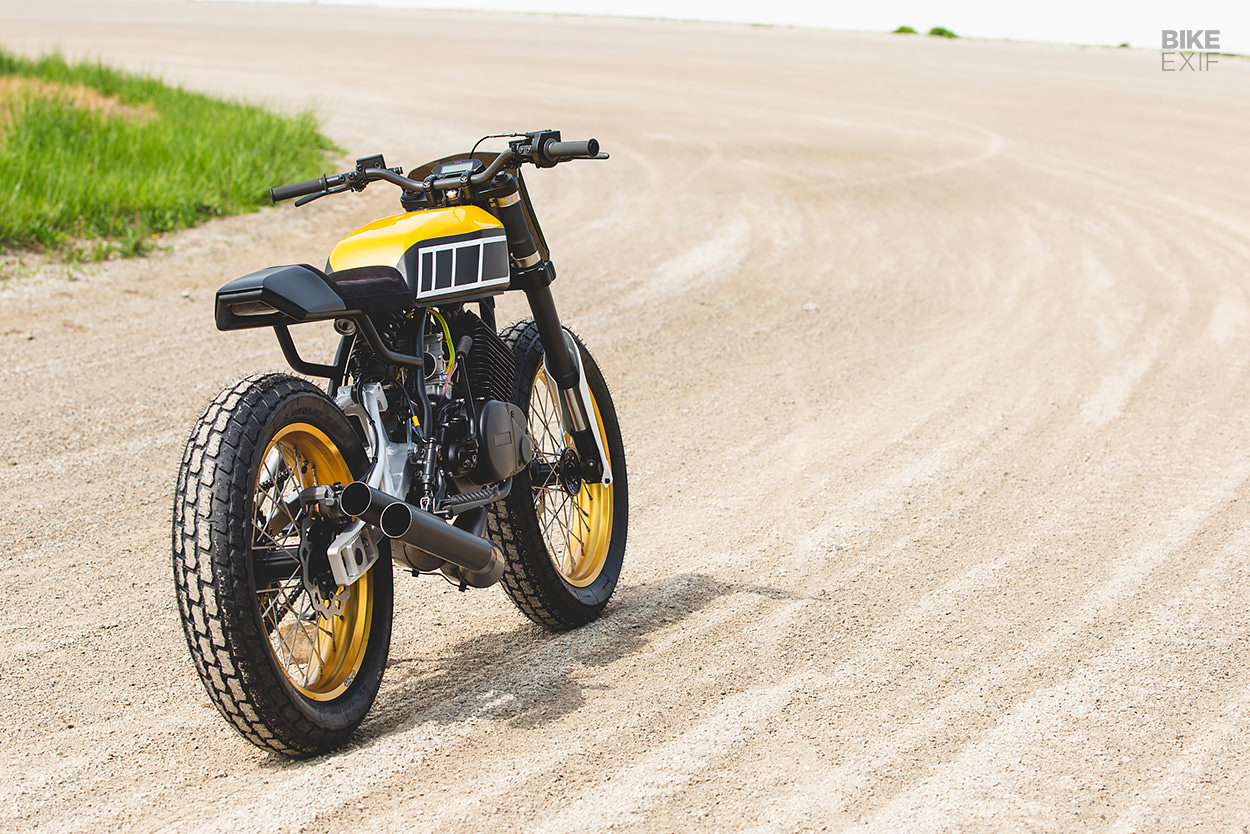 A sárga festék klasszikus Yamaha-árnyalatnak tűnik, de valójában a Yamaha 2006-os, 50. évfordulós motorjainak modern újraértelmezése. A testre szabott hátsó dudor a tank alapformáját másolja, az ülésen lévő Alcantara pedig egy csipetnyi előkelőséget kölcsönöz a kis versenyzőnek. Az arany keréktárcsák és a merész kipufogórendszer pedig tovább gazdagítja a végső esztétikai összhatást.
Egyedi, 3 kerekű BMW R100RN – Tim Cumper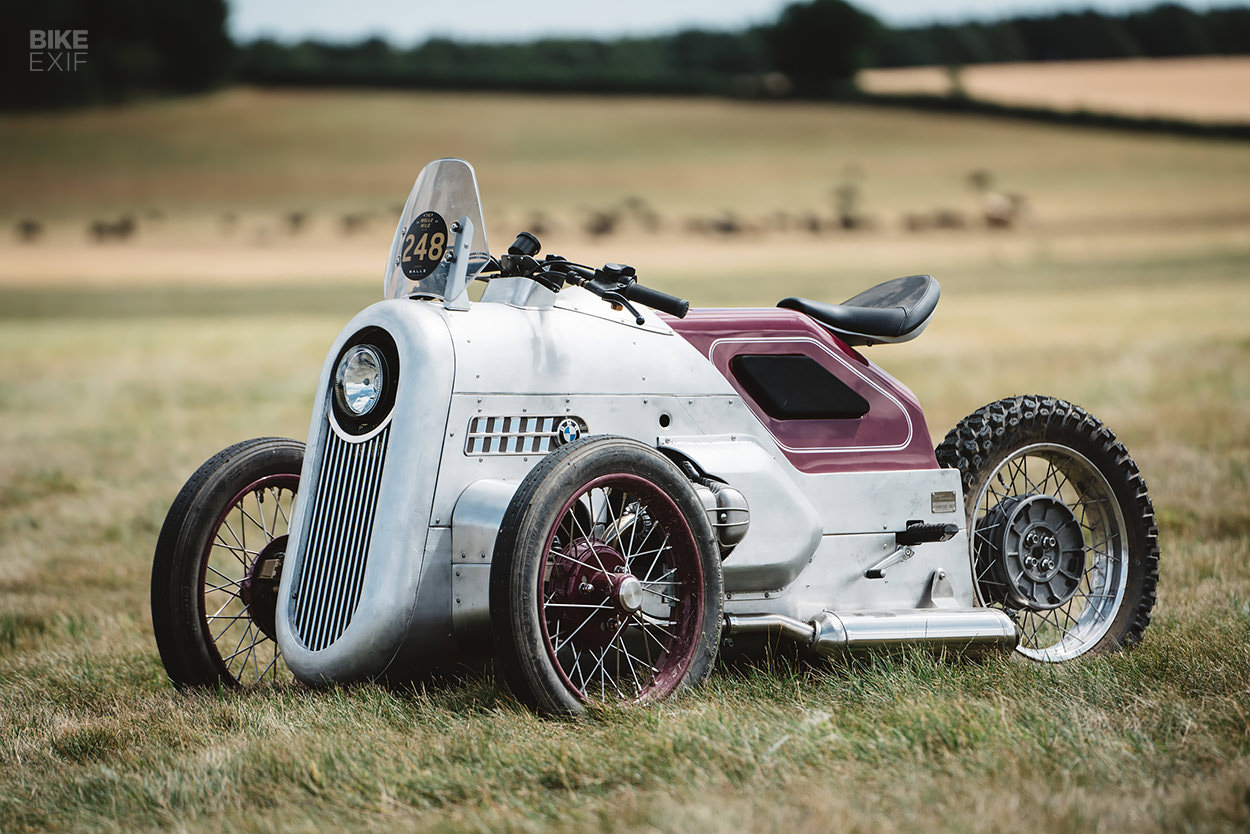 Tim Cumper prototípusmodellek készítőjeként dolgozik, így jól ismeri a fantáziadús járművek létrehozásának művészetét. Ennek a projektnek az indulása azonban mégis váratlanul érte. Tim szerette volna kipróbálni magát a fémlemezgyártásban és mi mással, mint egy olyan egyedi gép megtervezésével tehette ezt a legjobban meg, amelyhez sok karosszériaelemre van szükség!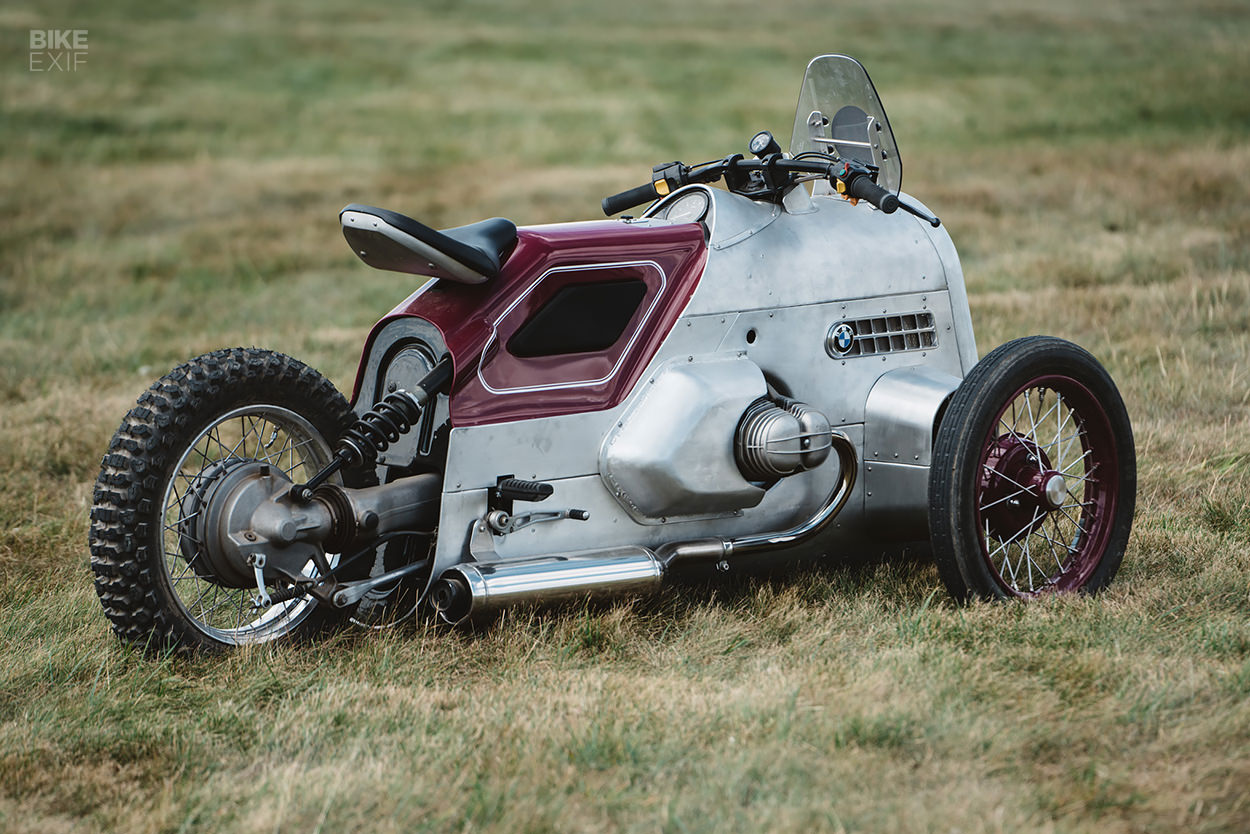 A legtöbb inspirációt a háború előtti versenyautókból és egy Morgan 3 Wheelerből merítette. Tim több tervet is felvázolt magának, majd CAD szoftverrel finomította azokat. Először egy 1:3 méretarányú modellt alkotott CNC gépen, fából készültek a bakok, a motor retro-futurisztikus karosszériáját pedig alumíniumból alakította ki. Az egész határozottan vintage Star Wars-érzést kelt (már ha van ilyen), és el van halmozva olyan pontosan átgondolt részletekkel , mint például a BMW 507-es stílusú oldalsó hűtőrácsok.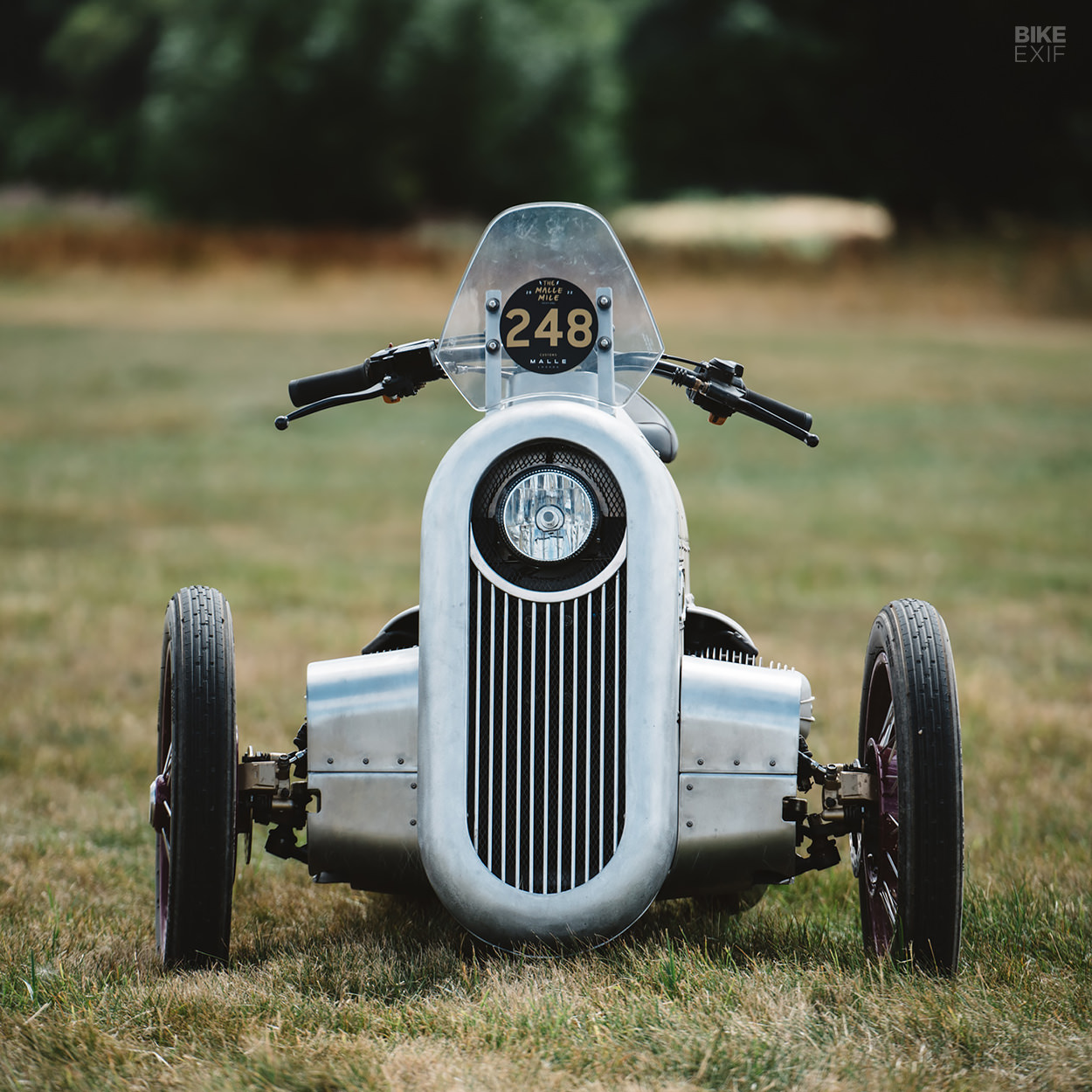 A burkolatok alatt egy 1993-as BMW R100R Mystic rejtőzik, amelyhez egy ATV-ről vették át az elejét. Az első kerekek Austin 7 alkatrészek. Egy Kawasaki Versys szélvédő, egy Triumph Bobber ülés és egy szépen beépített Daytona sebességmérő teszi teljessé a listát.
Forrás: BIKEEXIF