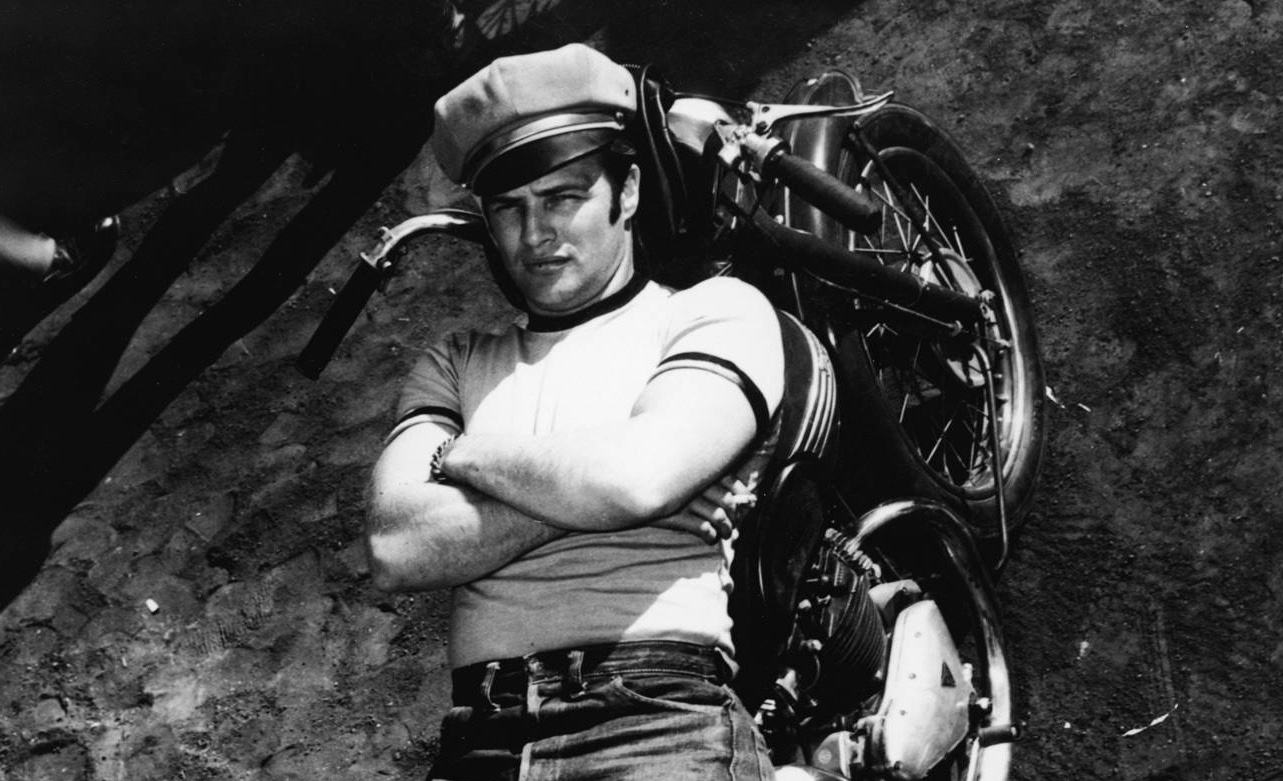 Gyere a moziba be
A motorosok rendbontók, gusztustalanok és büdösek, szól a sztereotípia. Mindezt egy idétlen film szülte még 1953-ban, The Wild One címmel. Más kérdés, hogy a filmet a valóság ihlette.
A főszereplő, ugyan a patyolatarcú Marlon Brando volt, aki rögvest szexszimbólummá vált, de a bemutató után több se kellett a suttyóknak, rátettek még egy lapáttal. A helyzet elmérgesedett, de a producerek örültek, újabb kultfilmet alapozhattak a motorosokra, ezúttal liberálisabb megközelítésből. Ámbár a főhősöket kábszeres hippiként, de legalább nem vandálként bemutatva, megszületett az Easy Rider.
Na most, normális dolog ilyen témának fesztivált szervezni? Még jó…
Külön érdekesség, hogy előbbinek a rendezője (Benedek László), utóbbinak az operatőre, (Kovács László) magyar volt. Ezek után ki másnak, mint nekünk magyaroknak van a legnagyobb létjogosultságunk motoros filmfesztivált tartani, bár a világon nem elsőként, hazánkban mégis először.
Az ügy "klasszfaktorát" nem is firtatnám, hiánypótló és eszméletlenül jó dologról beszélünk, inkább vázolom az előzményeket.
Az Easy Rider után ha nem is szalagon, de egyre több olyan film született, melynek részese volt a motorkerékpár, és motoros kultúra, akár negatív, akár pozitív színben feltüntetve. Ezek közül azonban mégis kiemelkedett egy dokumentumfilm, melyet már 1971-ben bemutattak az Egyesült Államokban, és világhódítása azóta is példaértékű. Bruce Brown legendás, On Any Sunday című művére gondolok, mely kimondottan az első motorizált dokuként híresült el a történelemben.
Brown igazából nem akart semmi különöset, inkább tisztességesen bemutatta a motorsportok különböző kategóriáit, szórakoztató szemszögből megközelítve, és legendagyár helyett sokkal inkább arra összpontosított, hogy a film megfelelően kommunikálja: miért jó motorozni, miért motoroznak egyre többen, és hogy egy hétvégi motorozás igenis lehet családi esemény a kaliforniai lakosság életében, amikor hétvégente felpakolják a furgont, és kimennek a környékbeli sivatagba csapatni. Manapság talán kissé unalmasnak, és viccesnek tűnhet a film, mégis volt létjogosultsága, azon pedig kár vitatkozni, hogy az elmúlt néhány év vintage őrületének következtében olyan reneszánszát élte, hogy 2014-ben a nagy nyomás hatására bemutatták a doku folytatását, melyet ezúttal már Bruce fia, Dana Brown rendezett.
Külön érdekessége a filmnek, és a Brown családnak, hogy Bruce-t igazi szörfbuziként ismerte mindenki, sokkal inkább szörfösökről szeretett volna forgatni, de a motoros téma jobban jövedelmezett. Sajnos a folytatásban szintén központi szerepet játszott a pénz, ezért a jogot már a készítéskor eladták a Red Bullnak, így a második részben hétköznapi srácok örömmotorozása helyett már sokkal nagyobb hangsúlyt fektettek a mai motorsport szupersztárjainak bemutatására, de sajnos nem objektív módon, inkább szponzori megközelítésből, így kizárólag azok a versenyzők kerültek vászonra, akiket az előbb említett termék szponzorált.
A 2014-es év egyébként még egy nagy durranást tartogatott motoros filmek tekintetében. A mozi az egyre gyarapodó vintage motorállomány, és a divatos motorépítők létjogosultságát lovagolta meg. Ez volt a 16 mm-es filmre rögzített The Greasy Hand Preachers, amely a motorépítés olyan popsztárjait vonultatta fel, mint Shinya Kimura, El Solitario, Blitz Motorcycles, Deus vagy Roland Sands.
A dolog pikantériája, hogy a készítők annak ellenére hirdettek kickstarter kampányt a forgatáshoz, hogy addigra a BMW, Motul és Belstaff már kinyitotta vaskos bukszáját, és tisztességgel csepegtetett a lelkes fiataloknak. A közönség ennek ellenére nem kicsinyeskedett, több mint százezer dollárt gyűjtöttek, amely utólag mégiscsak szégyenteljesebb, mint Esmeralda szemműtétje.
Mindkét filmet egy időben, a San Sebastián-i nemzetközi filmfesztiválon mutatták be, és arattak óriási sikert. A premier helye és időpontja meglepő volt, mert mindenki arra számított, hogy a 2013-ban életre hívott, azóta évente megrendezésre kerülő New York-i motoros filmfesztiválon lesz az ősbemutató.
Állítólag mind a készítők, mind a motoros filmfesztivál szervezői nem kerültek azonos hullámhosszra, és úgy gondolom, az amerikai szervezők azóta is küzdhetnek hasonló problémákkal, mert egy kicsit nyitottabb hozzáállással, és kompromisszumkészséggel már sokkal nagyobb sikerre tehettek volna szert, mint ahol most tartanak.
Remélhetőleg a helyzetük intő jelként szolgál, és a hazánkban idén először megrendezésre kerülő Motorrevü motoros filmfesztivál sokkal sikeresebb utat fog bejárni, és ezáltal lesz egy rendezvény, ahol a motorosok, újságírók, tulajdonosok, boltosok, építők és főszerkesztők évről évre, hovatartozástól, nemtől, és konkurenciától függetlenül összejönnek majd némi poharazgatásra, és beszélgetésre. Mert ez esetben is különösen fontos az összetartás, amelyből mindenki profitálhat, és lépegethet előre, hiszen így megy ez Olaszországtól az Egyesült Államokig mindenütt.
A kezdeményezés csodás, április első hétvégéje pedig kiváló időpontnak ígérkezik. A rendezvény szerencsére nem egy hirtelen felhúzott projektoros szobában fog bonyolódni, hanem a patinás, és méltán nagy múltra visszatekintő Bem moziban. Ezek után azt hiszem minden adott egy klassz hétvégéhez.
A szervezés apropóját nem tudom, azt viszont igen, hogy pont ideális támogató rendezvény lehet, a városban ébredező, általunk is preferált motoroskultúra szempontjából. Tény, hogy ennek megalapozásáért ugyan némi keretek között, de a magazinok főszerkesztői is igen sokat tettek. Néhány éve a totalbike-nál kezdtük Roland Sands és Shinya Kimura interjúkkal, talán még akkor, amikor nem sokan értették, és talán még kevesebben kedvelték az irányzatot. Majd az igazi dömping úgy másfél éve indult, amikor a Motozin főszerkesztője irtó nagy bátorsággal, de annál nagyobb lendülettel megbízott, hogy a lehető legtöbb popsztár kategóriába sorolható építőt szedjem össze, így lett ebből egy csomó interjú, mely kéthavi rendszerességgel megjelent.
Zoltán azonban nem állt meg, továbbment, és motorépítők mellett kitalálta a stílusrovatot, melyben kéthavonta eszement sztorikon keresztül kellett bemutatnom különböző irányzatokat, ugyancsak ebből a szemszögből megközelítve. Olvasottságról hírem nincs, de bátorságáért mindig tisztelni fogom, és titkon remélem, hogy kettőnk, közel két évre visszanyúló missziója is hozzájárult a jelenhez, és ahhoz, amelyre ma Budapesten egyre nagyobb igény van.
Ezért utólag kijelenthetem, hogy már jó ideje gazda után kiáltott egy hasonló esemény is, mellyel véleményem szerint mellé lőni aligha lehet. A filmek összetétele változó lesz, túrától kezdve a keményebben át a sportos vonalig szinte mindenki megtalálja majd a kedvére valót, és bár hivatalos lista egyelőre nincs, szerencsére vannak háttérinformációink.
Különösen egy film tekintetében, amelynél némi érintettséget kell bevallanom. A sportos délután folyamán, mely egyébként több Isle of Man TT–vel kapcsolatos filmet is tartalmaz reményeim szerint, bemutatásra kerül finn filmrendező barátom dokumentumfilmje, a Fast of the Forest. Ez közös barátunkról, Juha Kallióról szól, aki egy imatrai család legkisebb sarjaként kergeti dédelgetett álmát, és rajthoz áll a Tourist Trophy-n. Edzésként pedig hóban motorozik egy Harley Davidsonnal, valamint saras erdei utakon csúszik keresztben egy öszvér hatszázas Hondával. A film Antti vizsgamunkája volt, amikor befejezte tanulmányait a Helsikni filmművészeti egyetemen. John Anderson filmkritikus pedig beválogatta Anttit az ígéretes skandináv rendezők táborába.
Ezt követően, vagy ezt megelőzően, ha jól sejtem olyan onboard felvétel is vászonra kerül, melynek narrátora hazánk egyetlen TT versenyzője, a tavaly tragikus hirtelenséggel elhunyt Bitter Sándor.
Ezek után azt hiszem kár lenne kihagyni egy ilyen eseményt.