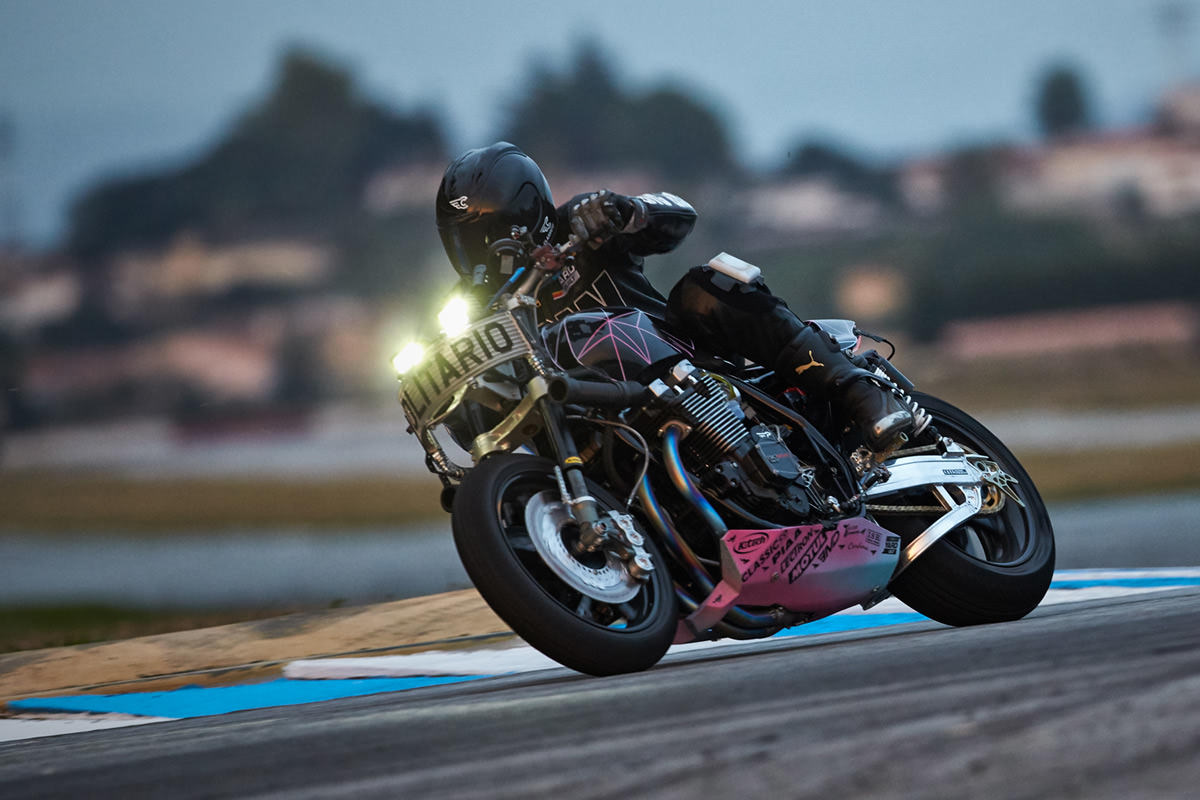 Nagy. Rossz. Farkas!
El Solitario. David Loner Borras cégének már az elnevezése (A magányos) is arra utal, hogy különc járműveket gyártanak (az öndefinícójuk szerint) "galiciai kannibál fiúk".
Galicia, Spanyolország északnyugati történelmi régiója nem összetévesztendő Galíciával, a Habsburg Birodalom egykori legnagyobb tartományával. Kb. négy évvel ezelőtt (az általunk is már sokszor megénekelt, (pl. itt, itt, és itt) BMW RnineT-ból épített Impostor (szélhámos) nevű 'bad ass' bestiájuk is markánsan kilógott az épített motorok sorából. Nyilvánvaló, hogy ezek az "őrült spanyolok" hogyan akarnak kitűnni az építők sorából, különcségükkel kiemelkedve a marketing zajból. Ahogyan az Imposztorról ('Bōsōzoku-Chopper-Racer') készült rendhagyó film, úgy az e cikkben bemutatandó motorról forgatott (cikk végén található) mozgóképek is ezt a nyilvánvaló célt szolgálják.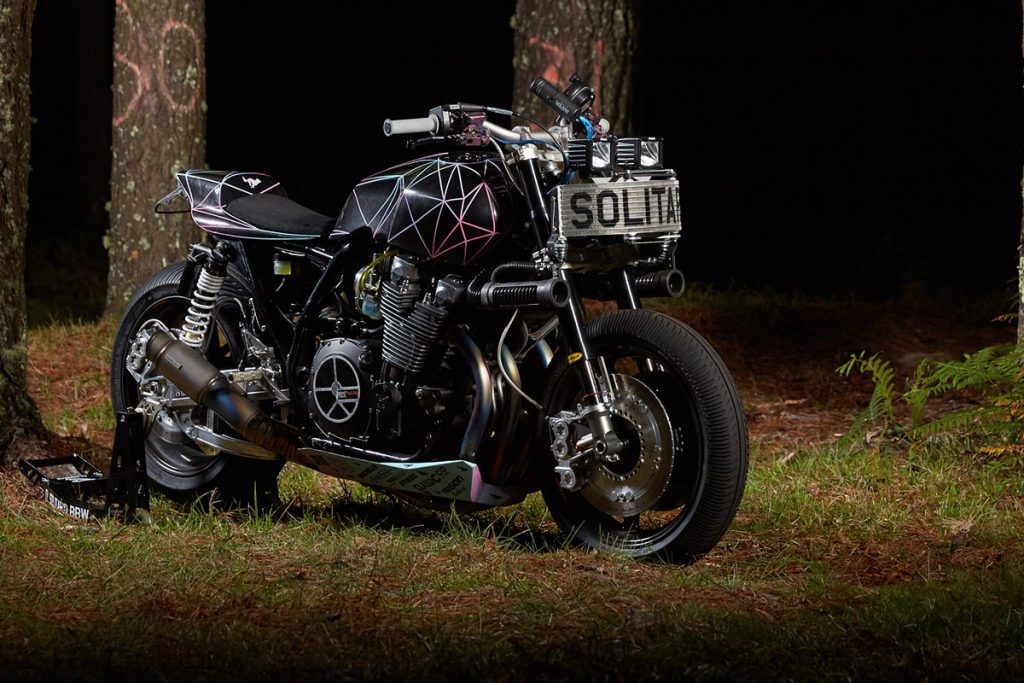 Ezúttal azonban nem egy német mérnök kopogtatott be a spanyol kézműves ajtaján, hanem egy japán szakember, nevesül Shun Miyazawa, a Yamaha Europe product managere. Miyazawa úr Borrast azzal a feladattal bízta meg, hogy építse meg az utolsó Yamaha Yard Built track szörnyet egy XJR 1300-asból. (A híres Yard Built sorozat további három darabjáról is írtunk már. Itt olvashattok róluk: VMAX 'Infrared' by JVB Moto, 'Botafogo-N' by Numbnut Motorcycles és végül a nagy kedvenc, 'Faster Son' by Shinya Kimura.
A szerkezet végül az El Solitario sajátságos keresztelőinek megfelelően a "mesés" 'Big Bad Wolf' nevet kapta és 2015. szeptember 30-án állt rajthoz a méltán népszerű Glemseck 101 fesztiválon. (Nem mellesleg azzal a céllal, hogy lenyomja a Séb Lorenz vezette Lucky Cat Garage híres, áramvonalas gépét, a beszédes nevű Sprintbeemer továbbfejlesztett, 'furtherer' változatát.)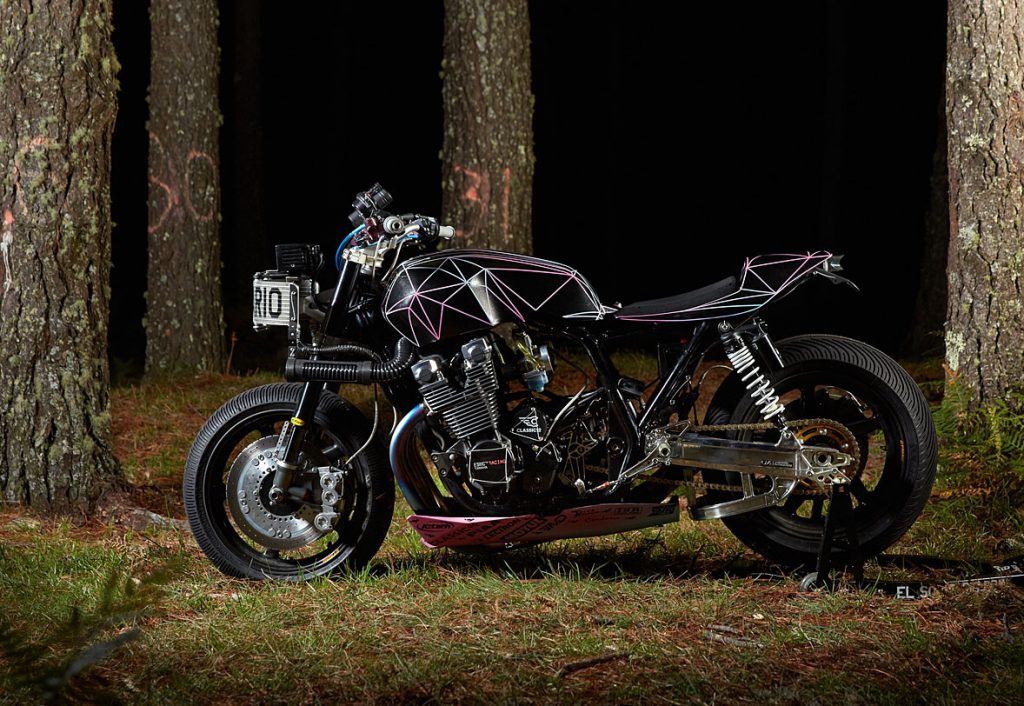 A spanyolok eleget tettek a Yamaha elvárásának és nem módosították (vágás/hegesztés) a vázat. Borras saját elmondása szerint ez azonban nem tette egyszerűbbé a projektet.
"A Solitario "nincs teljesen kibékülve" a négy hengeres motorokkal. Hónapokon keresztül azon gondolkodtunk, hogy miként lépjünk tovább. Végül az egyetlen lehetőségünk az volt, ha a teljesítményre és a technológiára fókuszálunk. Mindkettő "ismeretlen" (és drága) fogalom számunkra. Motorkerékpár költők vagyunk, nem mérnökök."
Ezen okoknál fogva tehát Borras felkérte Mauro Abbadinit, a madridi Classic Co. vezetőjét, hogy segítsen be a projektbe. Végül csak a váz, a tank és a kormány maradt eredeti a BBW-n. A fogyókúra során 25 százalékkal (245-ről 183 kilóra) sikerült lecsökkenteni a motor tömegét, ami (és a 148 lóerő) a gyorsulási versenyeken különösen "jól jött". A motorkerékpár Lectron 42-es karburátorokat kapott. A fékek (tárcsa rotorok, féknyergek, dugattyúk) megalkotásába a svéd ISR segített be. A villák és a csillapítók a k-Tech Suspension és a Novatech cégektől jöttek. A titán kipufogót az Asahina Racing szállította Japánból. Az olaj-hűtő egy helyi, spanyol vállalattól, a Taleo Racingtől érkezett, aki MotoGP teameknek is beszállít. Egy francia vállalkozás, az EMD küldte az alumínium motor borítót, melyet a gyári XJR1300 vásárlók is megrendelhetnek hamarosan. A tank egy TWM (custom) sapkát kapott és a széles nemzetközi összefogás utolsó mozzanataként egy londoni műhely, a DSC (Death Spray Custom) fényezte le a motort.
Az pedig, hogy Mauro Abbadinivel a nyeregben, lenyomta-e a 2015-ös Glemseck 101-en a NagyRosszFarkas a cikk elején megemlített SzerencsésMacska ápgrédelt bimmerét, a cikk végén található második videóból és ebből a cikkből derül ki. Bármi is zajlott le a versenyen azonban, a macskáknak tudvalevőleg kilenc életük van (ezt a tankon a bömös alkotói meg is örökítették), tehát a (nem túl távoli) jövőben bármi megtörténhet…