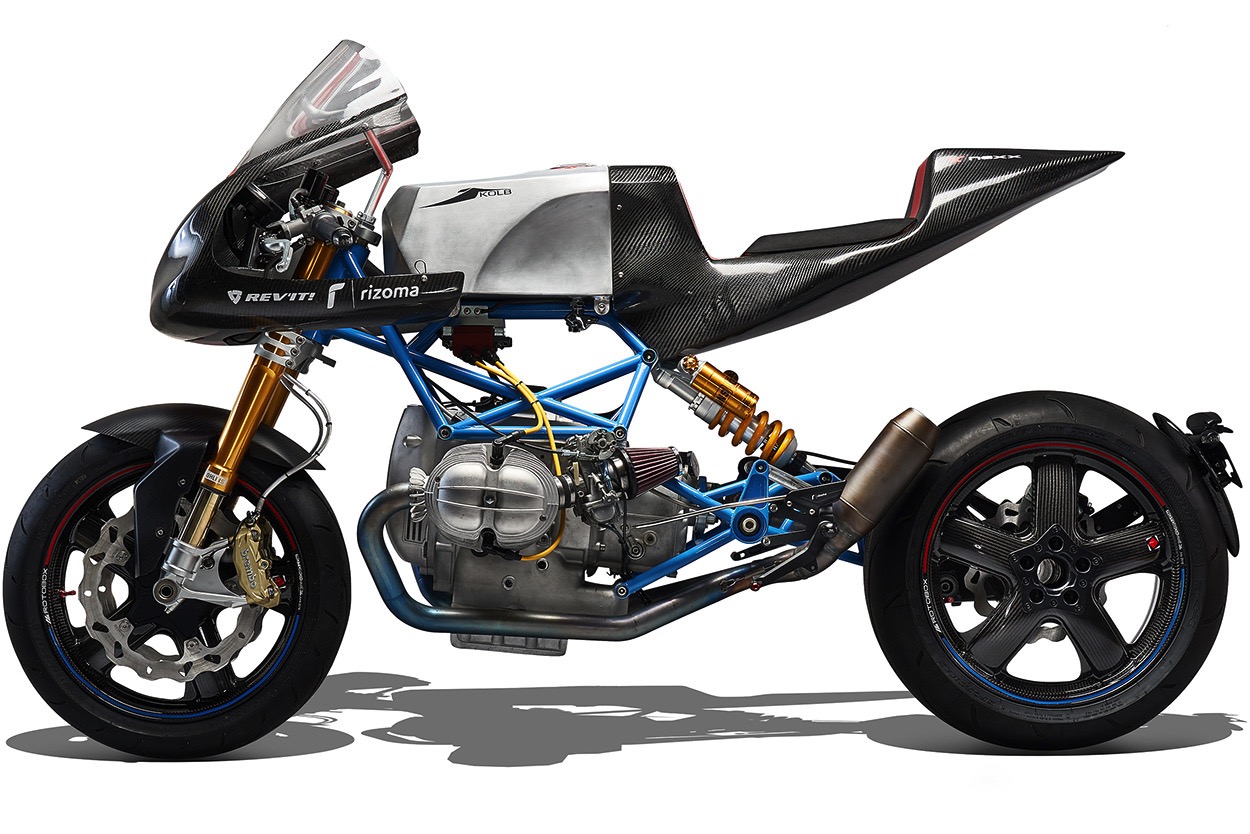 BIKEEXIF Top Ten 2020
Bár egész évben nem beszéltem/írtam A KÓRSÁGRÓL, év végén (először/utoljára) kivételt teszek.
A kétezerhuszadik esztendő gonosz olajfolt egy koraesti Balaton-felvidéki motorozás beláthatatlan kanyarjában, vagy kivilágítatlan traktor alvó/részeg sofőrrel keresztben az úton, vagy elszabadult kviddics játékos seprűnyele a küllőid között, a vadiúj káférészered próbaútján, vagy egy gonosz high-side katapult bukás a Circuit of the Americas egyik meredek kanyarjában.
Esetleg mindez egyszerre.
Szóval 2020 nem adta ki. Sokaknak, így a motorosoknak és a motorépítőknek sem. Azonban a nehézségek ellenére, ebben az évben is születtek igazi csodák. Ezekről számolok be ma. 
2014 óta minden évben bemutatjuk a Bike Exif Top 10-es épített motor listáját, illetve 2015-től a rangos magazin "Editors Choice" rangsorát is. Ez az objektív lista tisztán "adat-alapú", vagyis az oldallátogatások és a közösségi médiában elért sikerek alapján képezi évente az újság. Talán ezért is indították el 2015-ben az említett, vállaltan szubjektív "Editors Choice" (szerkesztői válogatás) listát is. (Bónuszként pedig a King of Fuel 2014-es és a Pipeburn top listájának 2015-ös linkjeit is szerepeltetjük ebben a cikkben.)
TOP10 – 2014
 TOP10 – 2015
TOP10 – 2016
TOP10 – 2017
TOP10 – 2018
TOP10 – 2019
Editors Choice 2015
Editors Ch. '16/1
Editors Ch. '16/2
Editors Choice 2017  
Editors Choice 2018 
Editors Choice 2019
TOP5 – 2014 King of Fuel
TOP10 – 2015 Pipeburn
1. eScrambler, Switch Motorcycles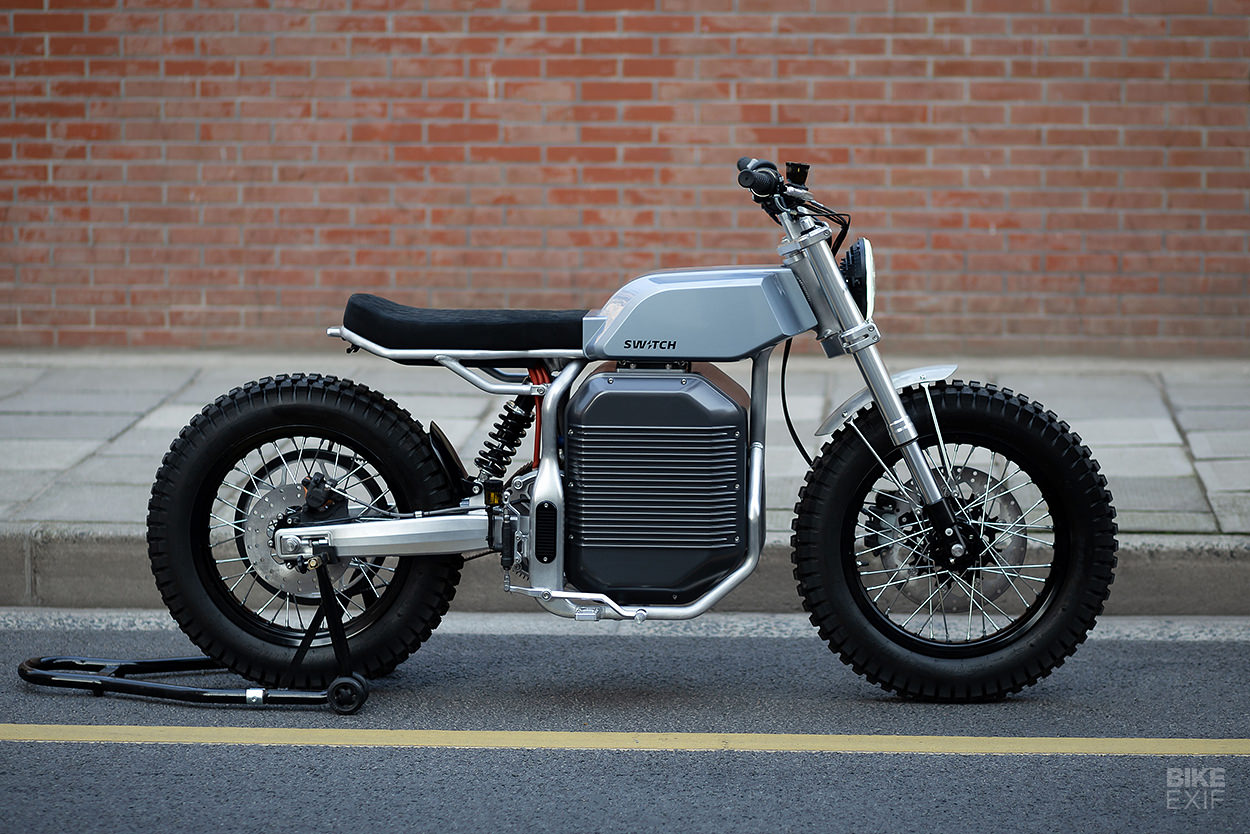 Matthew Waddick számára 2020 a kitörési éve volt. A Bike Exif cikke erről a motorkerékpárról az év második legolvasottabbja volt, közvetlenül a menő BMW R18 mögött.
Miért?
Az elektromos járművek iránti nyilvánvaló érdeklődésen kívül a vas stílusa is egészen biztosan nagy szerepet játszott. Michel Riisnek, a Yamaha Japan korábbi tervezőjének sikerült a modern és a hagyományos formanyelv megfelelő keverékét eltalálnia.
Matthew-t és sanghaji csapatát jelentősen érintette a COVID 19: eredetileg csak két hét nyaralásra utazott vissza Új-Zélandra, amelyet azóta sem tudott elhagyni. A teljes közúti gyártást 2022-re tervezik, a terepjáró verziók pedig már hamarabb elérhetők lesznek!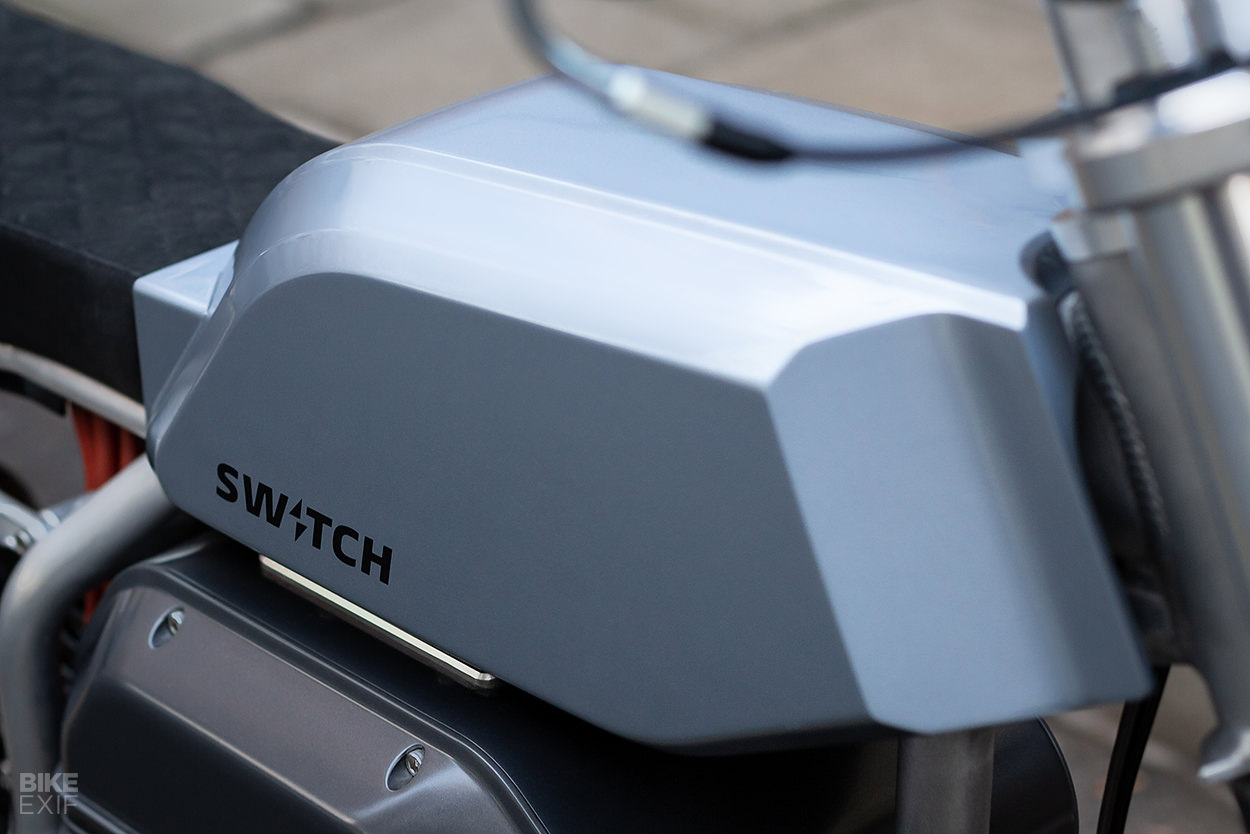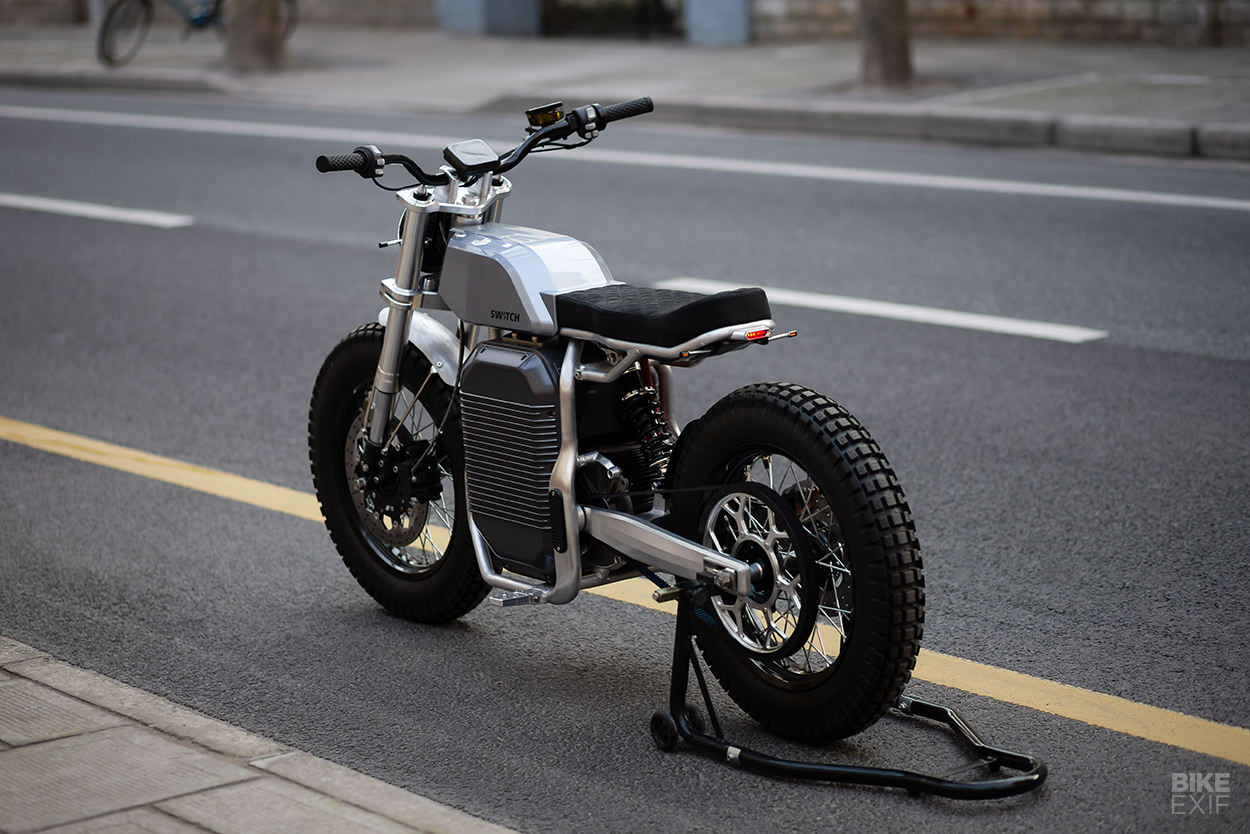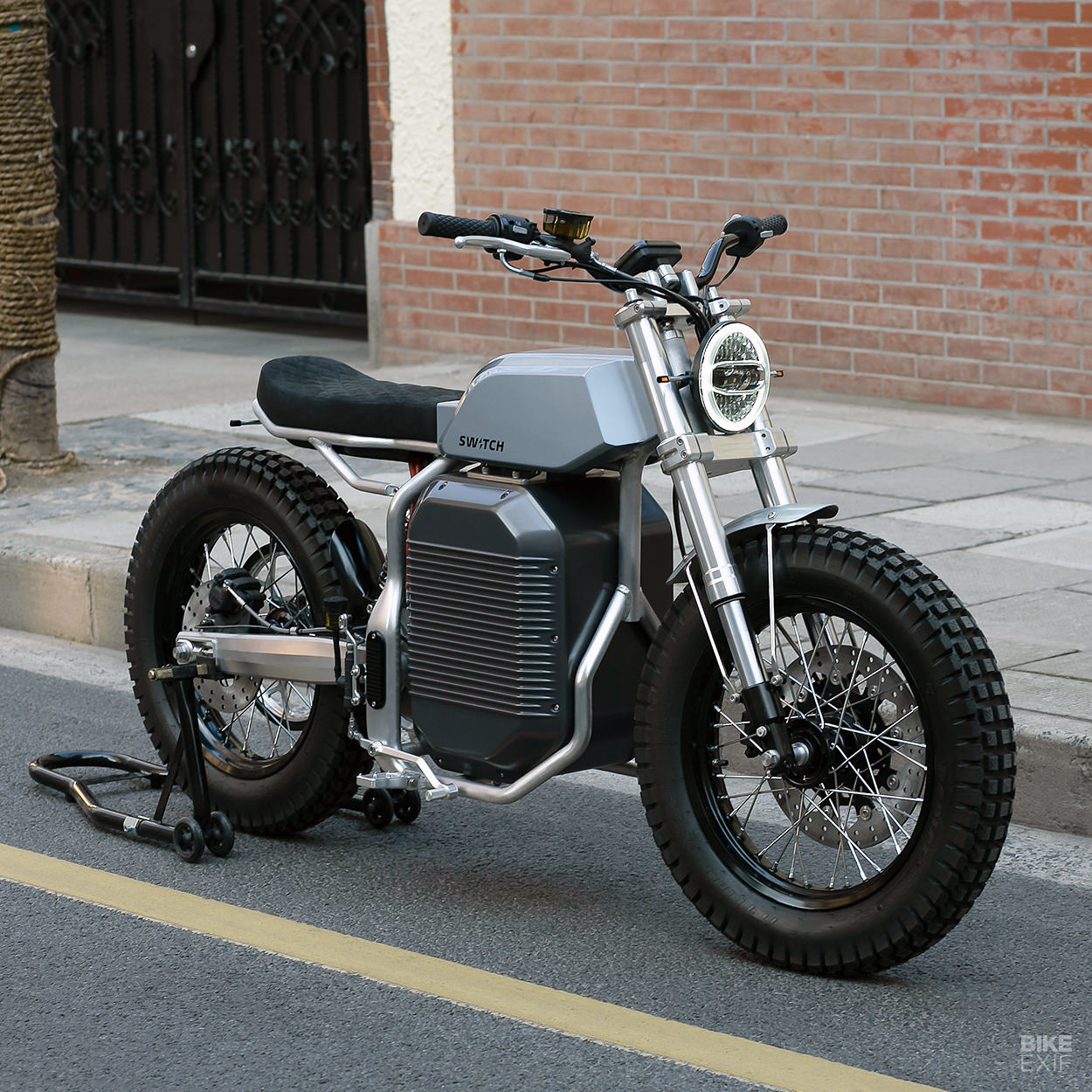 2. BMW Race Bike, Scott Kolb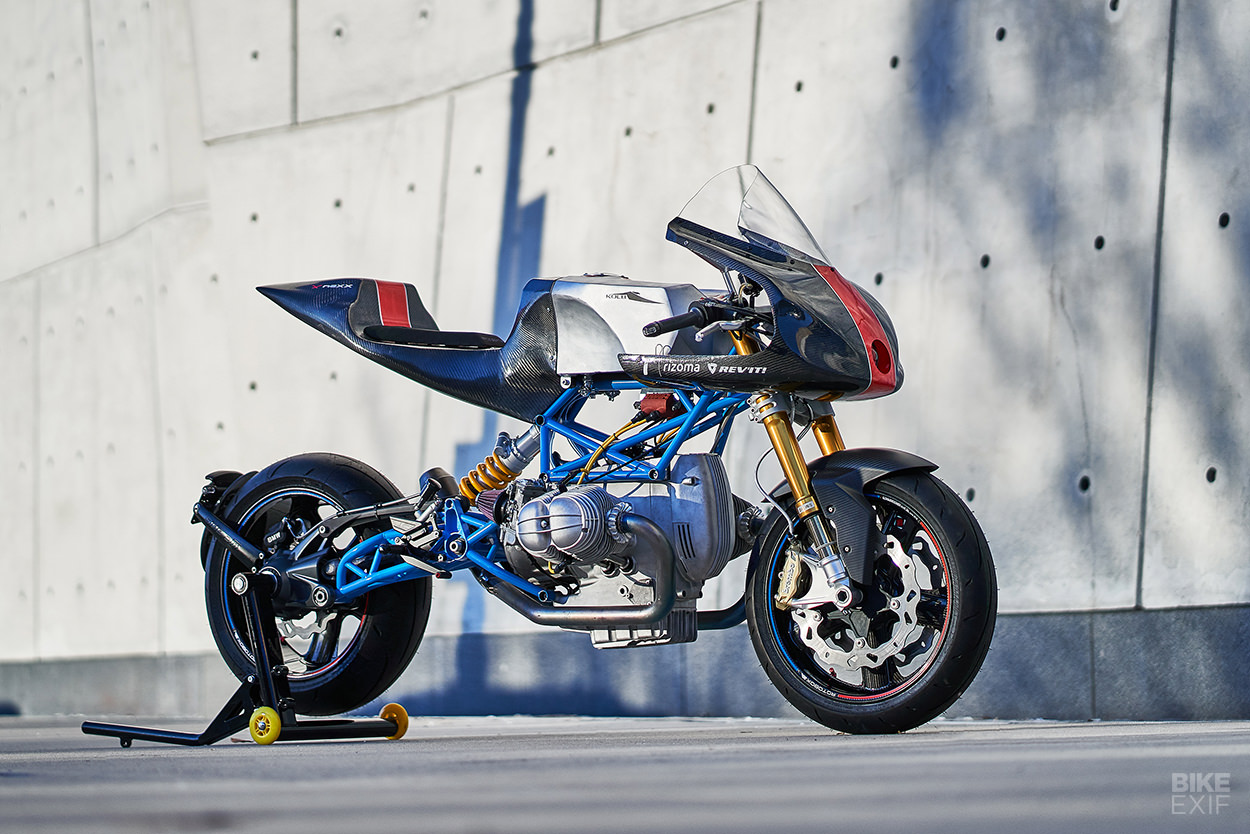 Ki gondolta volna, hogy egy igazi versenymotor lesz a második legnépszerűbb gép, amely egy év alatt megjelenik az EXIF-en?
Kevesen.
De Scott tisztelgése az ikonikus daytonai verseny előtt (Battle of the Twins) valóban különleges. A keret egyedi, a motor 82 lóerős R90/6 (a Chris Hodgson CC Products '80-as évekbeli versenyalkatrészeivel). Ahogy egy ilyen 140 kilós pályagéphez illik, a felfüggesztés Öhlins R&T, a kerekek pedig Rotobox szénszálas remekművek. A gyors megállást egy BMW S1000R Brembo fékrendszere biztosítja. A karosszéria szénszálak és 0,062-es alumínium keveréke, és egy csomó Rizoma cucc található rajta. Motorozás a legtisztább formában!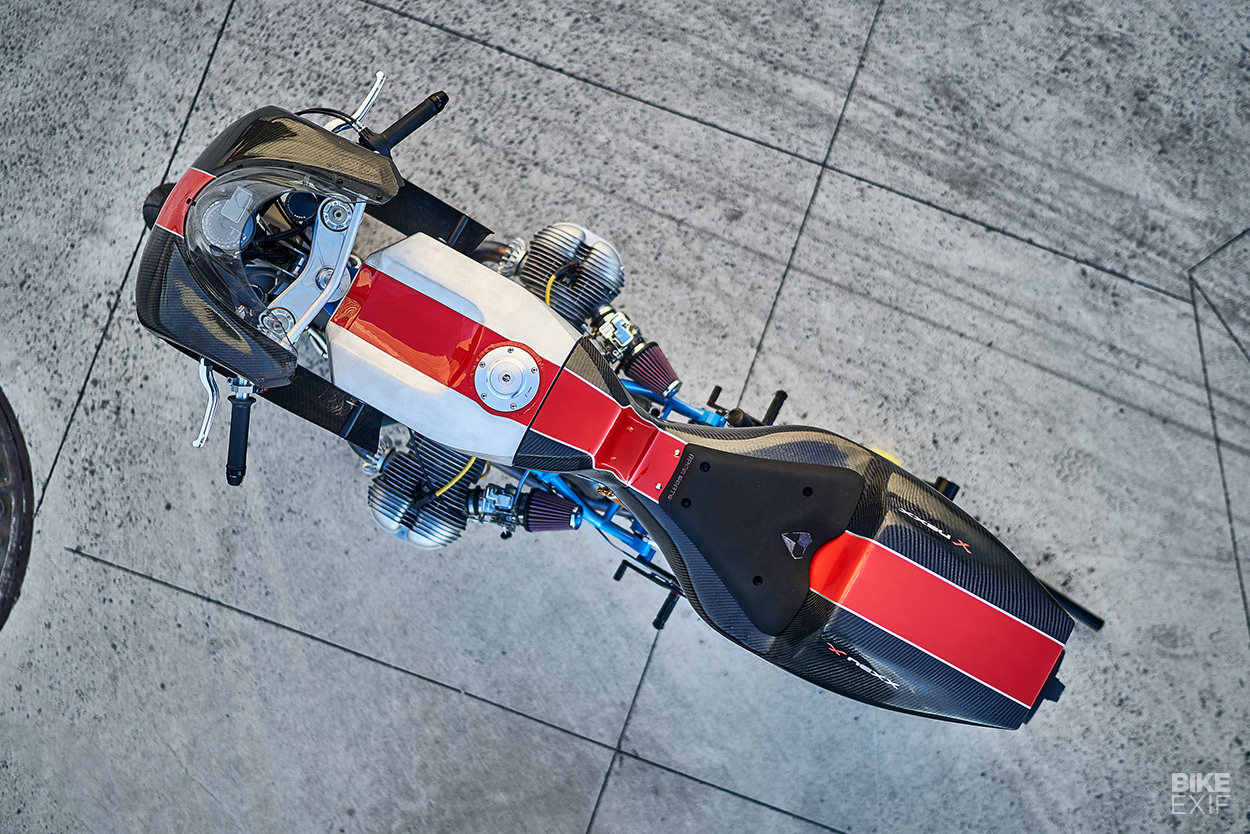 3. BMW R9T, Zillers Garage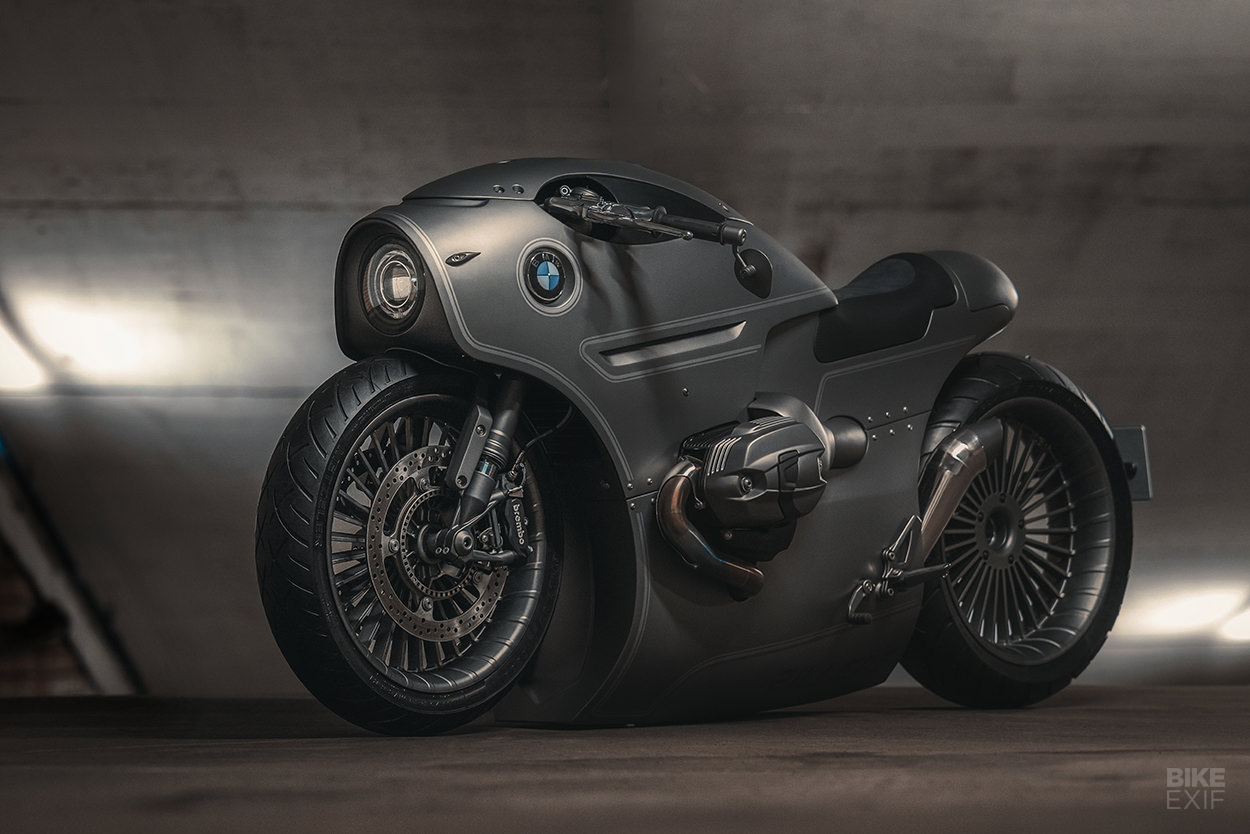 Időnként elgondolkodik az ember frusztrált motoros fia a karanténban azon, hogy "van-e új a nap alatt" az épített motorok világában manapság. Aztán váratlanul felbukkan egy ilyen szerkezet, amely egycsapásra visszaadja a hitemet az egyedi építők kreativitásában.
Az orosz BMW Motorrad megbízásából tíz hónapig tartott az építése.
A 2016-os specifikációjú R9T-ból pedig csak a motor, a hajtás és néhány vázelem maradt meg. A legérdekesebb rész a felfüggesztés, amely egy hidraulikus rendszer, amely gombnyomással emeli és süllyeszti a motorkerékpárt. Talán nem véletlen, hogy ez a hihetetlen gép található a 2021-es Bike Exif naptár borítóján is!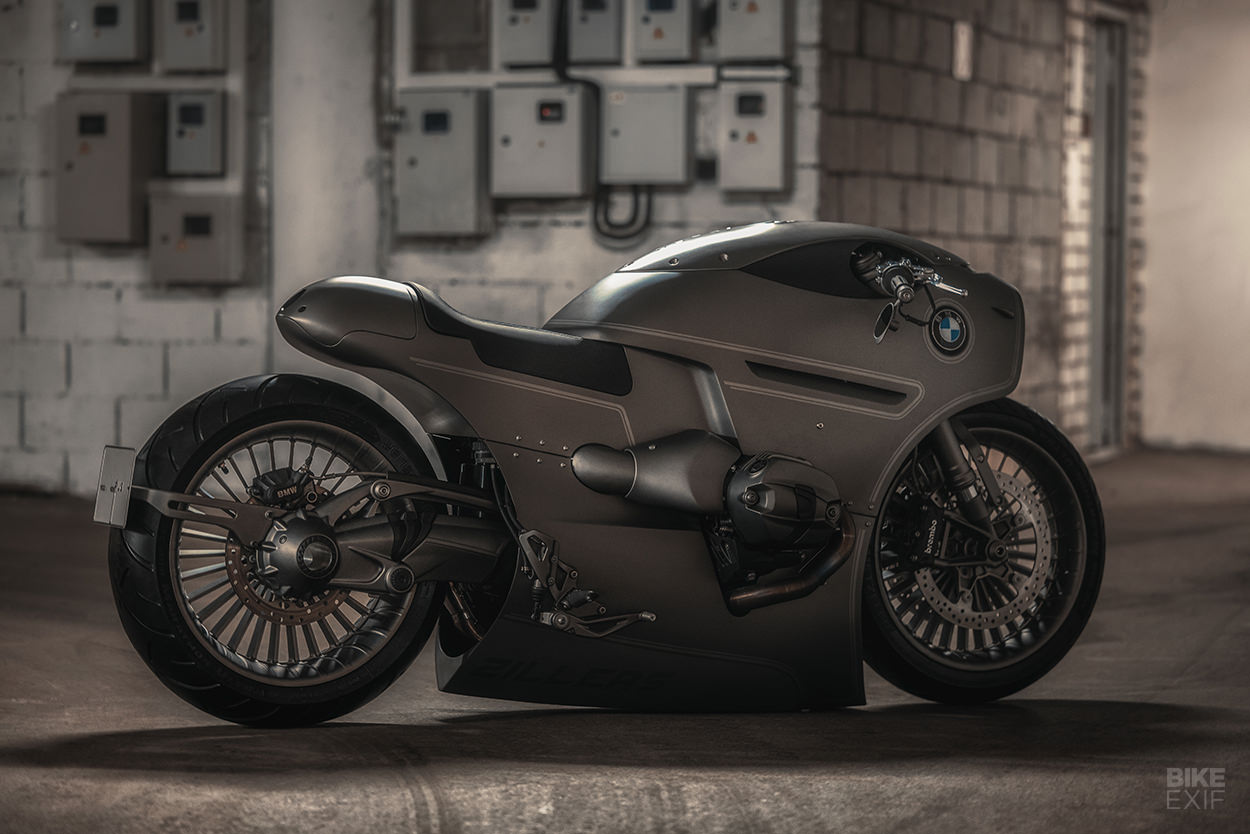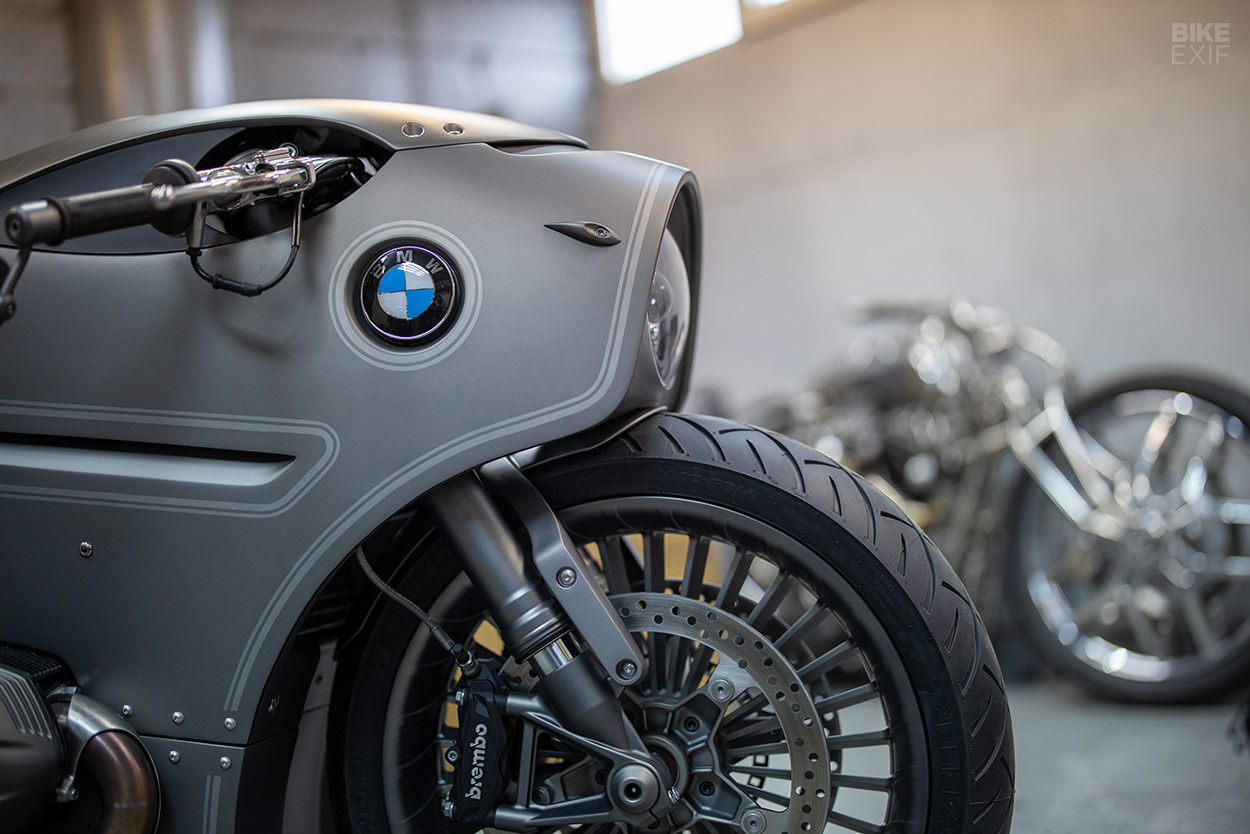 4. Harley XR338 (Concept), Engines Engineering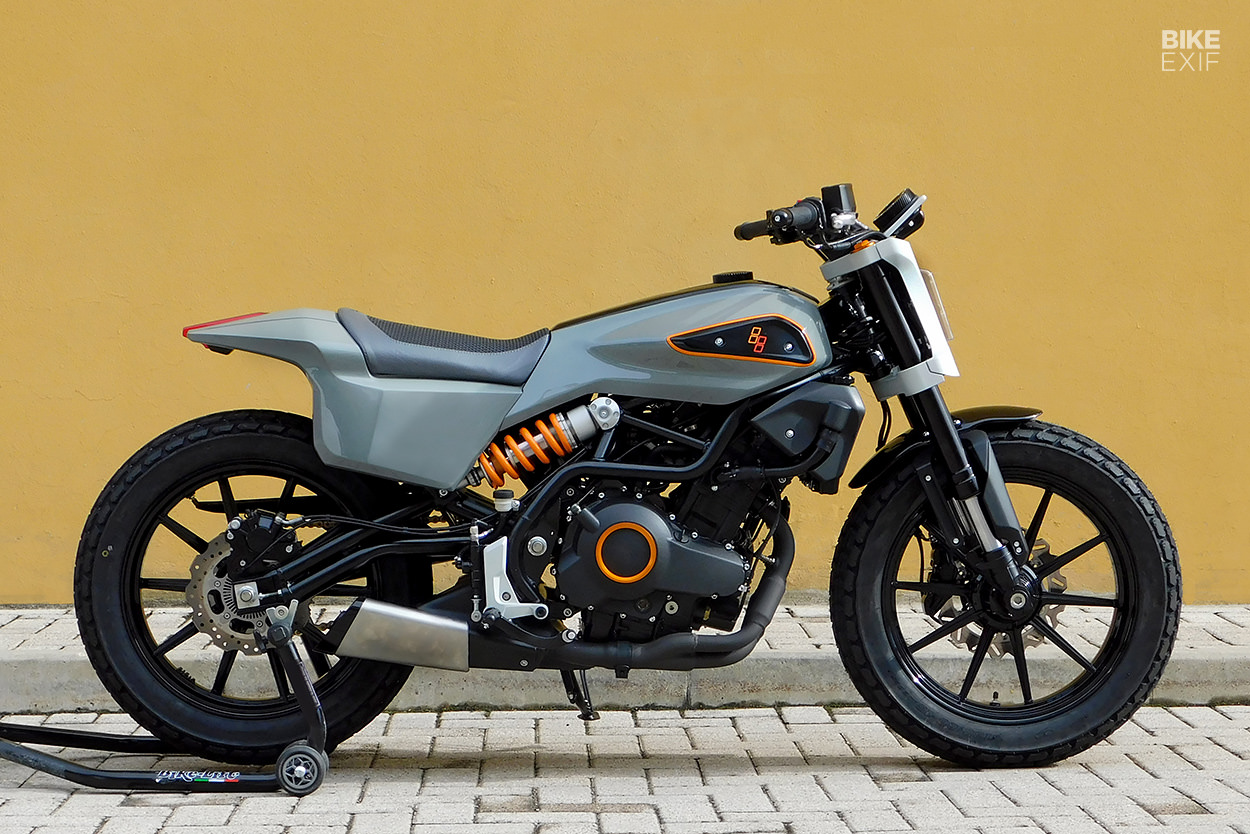 Az Engines Engineering (olasz) formatervező stúdió sok nagy márkának dolgozik. Ez az érdekes street tracker jellegű koncepció egy Benelli 302S-en alapul, ugyanazon a platformon, amely iránt a hírek szerint a Harley-Davidson is érdeklődött, mivel egy kis köbtartalmú motorkerékpár jó alap lehet az indiai piac számára.
A koncepció az EE egyik észak-amerikai tervezőjétől, Michael Uhlariktól származik, és hatalmas érdeklődést váltott ki a BE magazin olvasóinál. Ráadásul 70%-ban gyártásra kész, annak ellenére, hogy új váza, ECU-ja (motorvezérlő egysége) és kipufogórendszere van!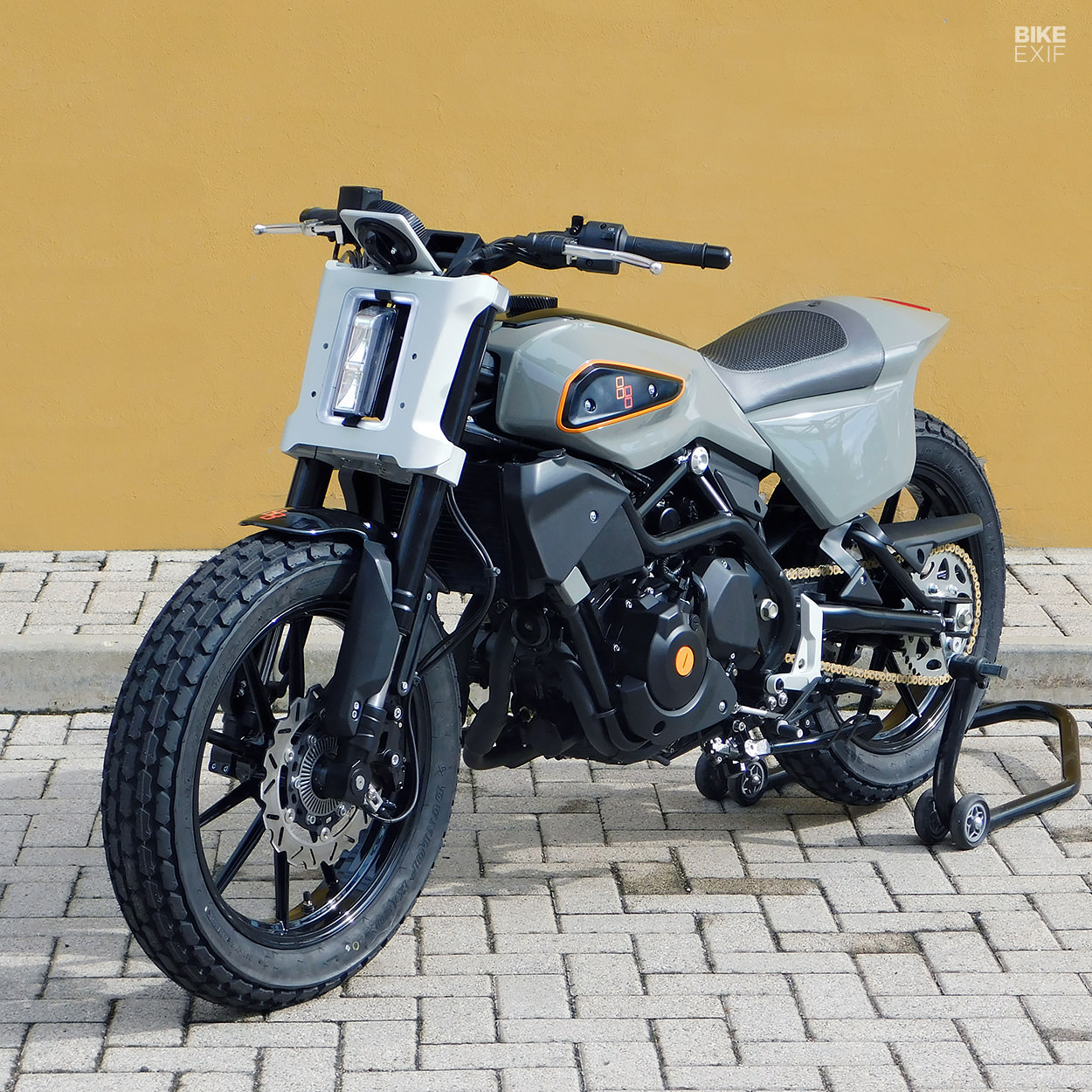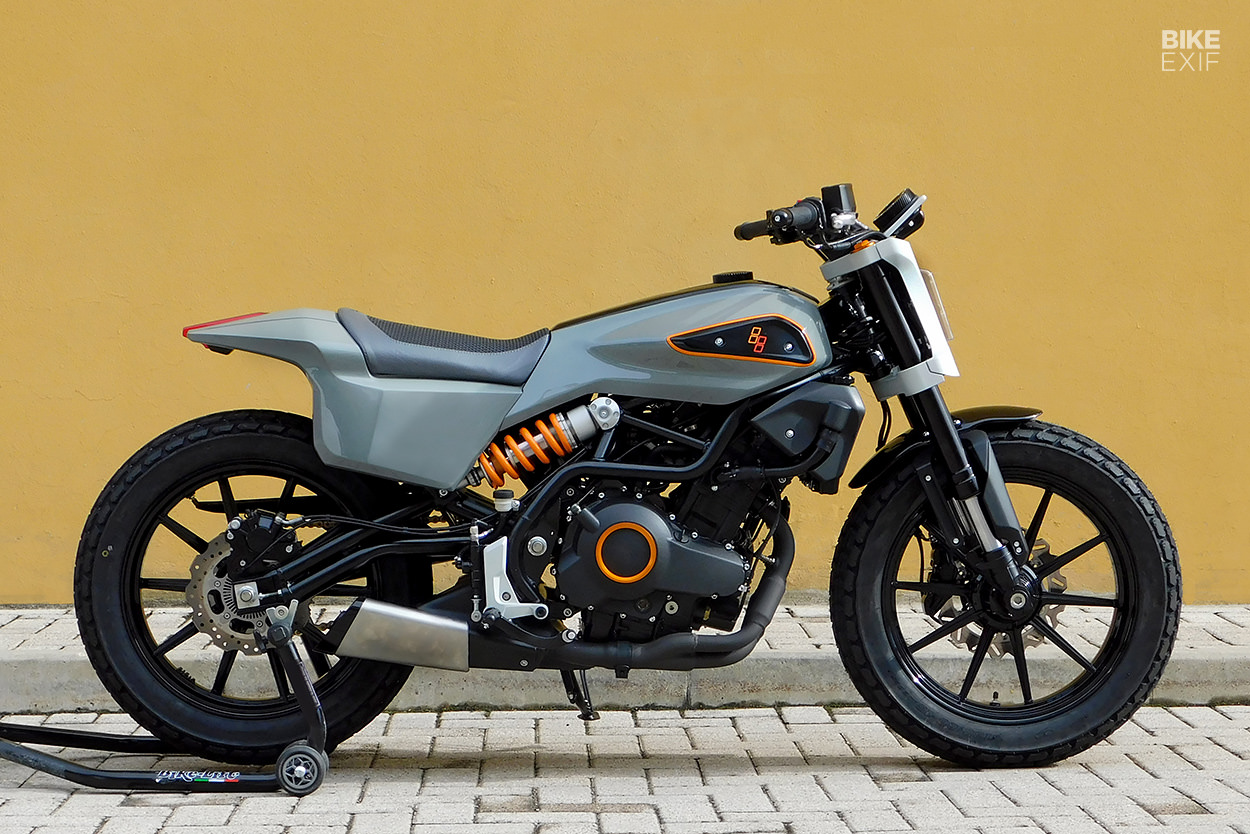 5. Ducati Multistrada, North East Custom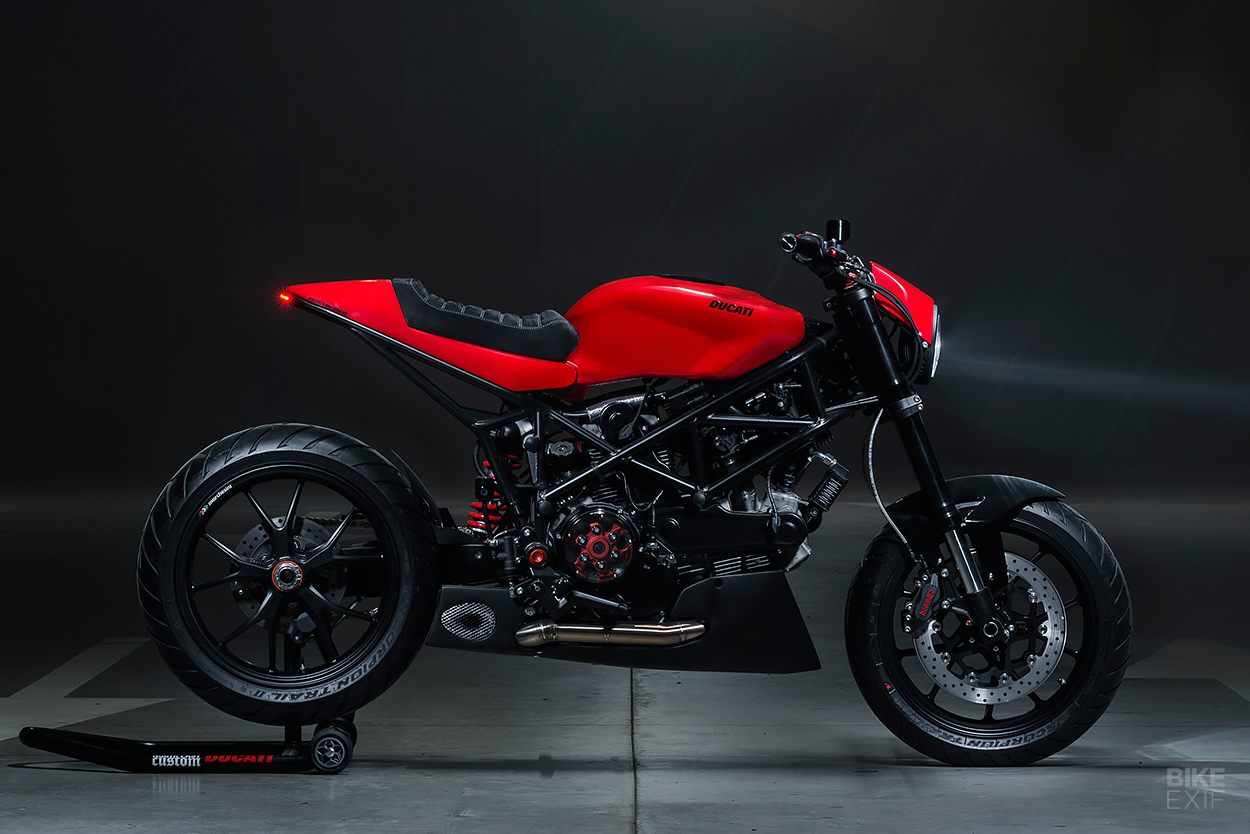 Az első generációs Ducati Multistrada kissé ellentmondásos kinézettel rendelkezett, de jó kiindulási pont volt. Kiváló dinamikával és felszereltséggel bíró, sportos túramotor volt, sajnos kissé furcsa stílussal megáldva. Ha azonban lerántották a leplet (burkolatokat) róla, valami különlegeset kaptak a merész átépítők.
Egy padovai testvérpár, Diego és Riccardo Coppiello is meglátták a lehetőségeket benne, és végül építették egy igazán cool caféracert belőle.
A vas végül egy Ducati 999 tankot, egyedi ülést, Hypermotard kerekeket, új fényszórót és egyedi burkolatot, valamint új műszereket és kezelőszerveket kapott. Egy 2in1 trükkös kipufogó öleli át az ikonikus szívet, melyet részben elrejt egy új, hálós betéttel rendelkező hasburkolat a gázok távozásához.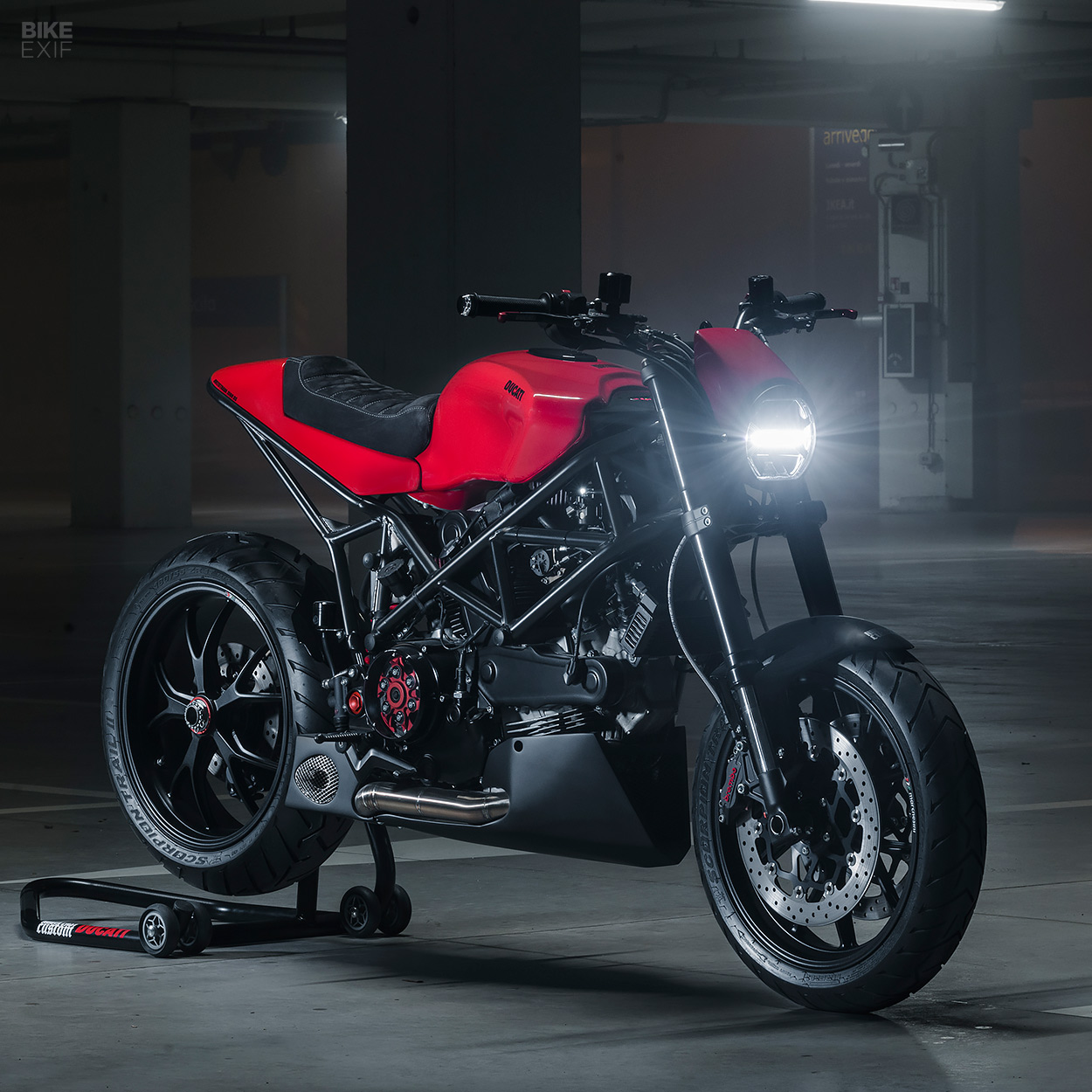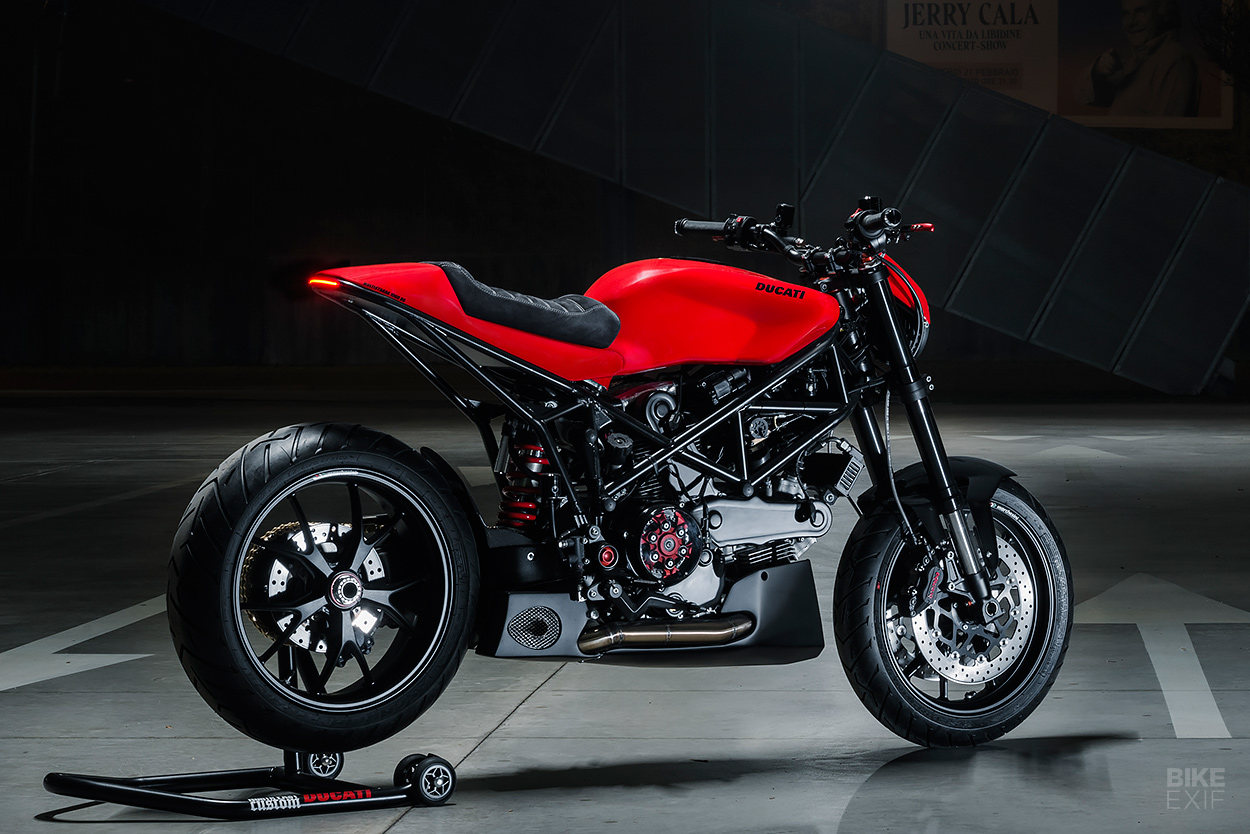 6. Honda CBX1000, WiMoto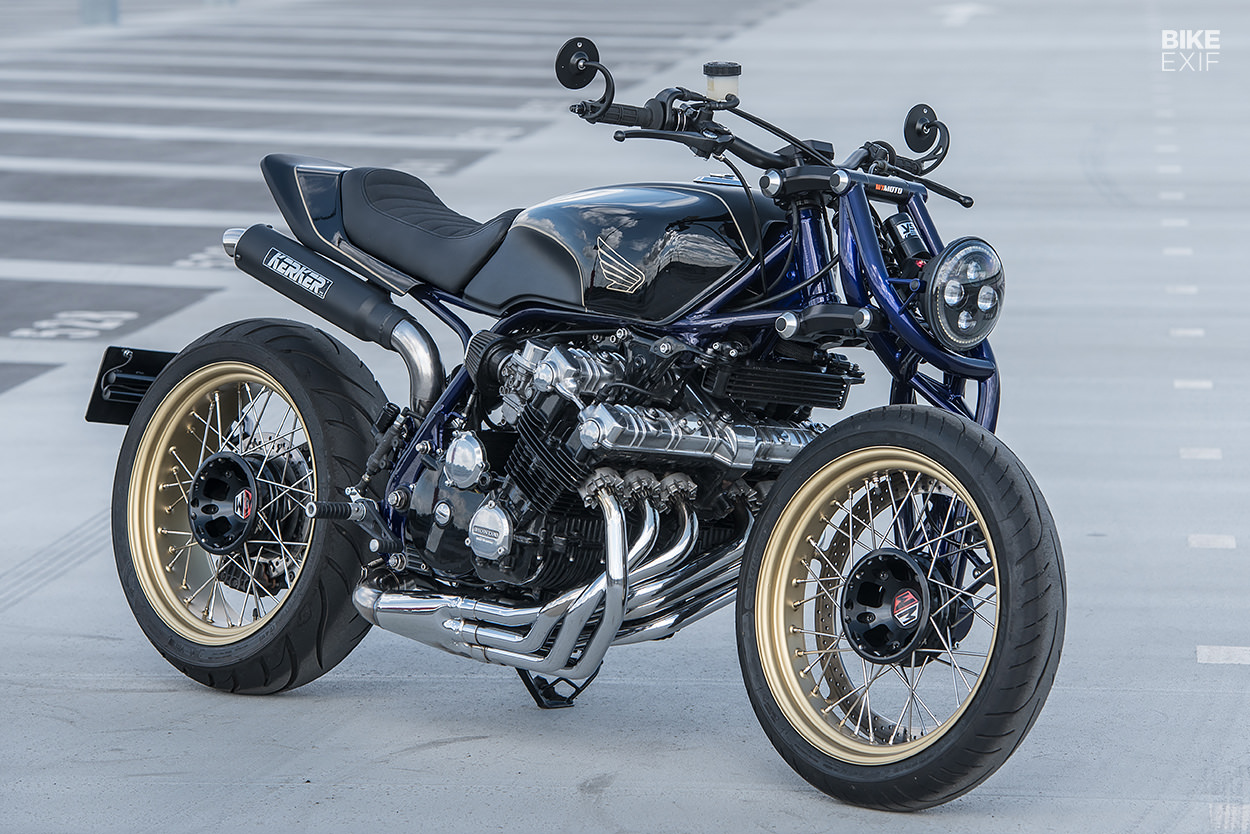 CBX nem egy, hanem két darab egyoldalt rögzített kerékkel?
Ez a holland Honda egy igazi mérnöki bravúr, amely mögött egy szívmelengető történet áll. A donor eredetileg is már egy erősen átépített motorkerékpár volt, amikor az eredeti tulajdonosnál rákot diagnosztizáltak. Reinoud, a jelenlegi tulajdonos megígérte, hogy vigyáz a motorkerékpárra, és soha nem adja el. Az átvétel után néhány év múlva ráadásul úgy döntött, hogy tovább építi még magasabb szintre a vasat.
Megkereste hát Wido Veldkamp-ot a WiMoto-tól, aki a SolidWorks 3D és Tony Foale szoftverével teljesen új felfüggesztési rendszert készített. Az új 18 hüvelykes felnik a BMW R1200GS agyakhoz vannak fűzve, és kapott a jármű egy erősen módosított Honda Bol d'Or farokrészt, amely illeszkedik az eredeti CBX tankhoz. Mindez elméletben remekül hangzik, de értelmetlen lenne a gyakorlatban, ha a Honda egy kezelhetetlen varacskos disznó lenne az úton. Szerencsére a motor kezelése semleges és stabil, és a CBX ugyanolyan jól motorozható, mint az eredeti.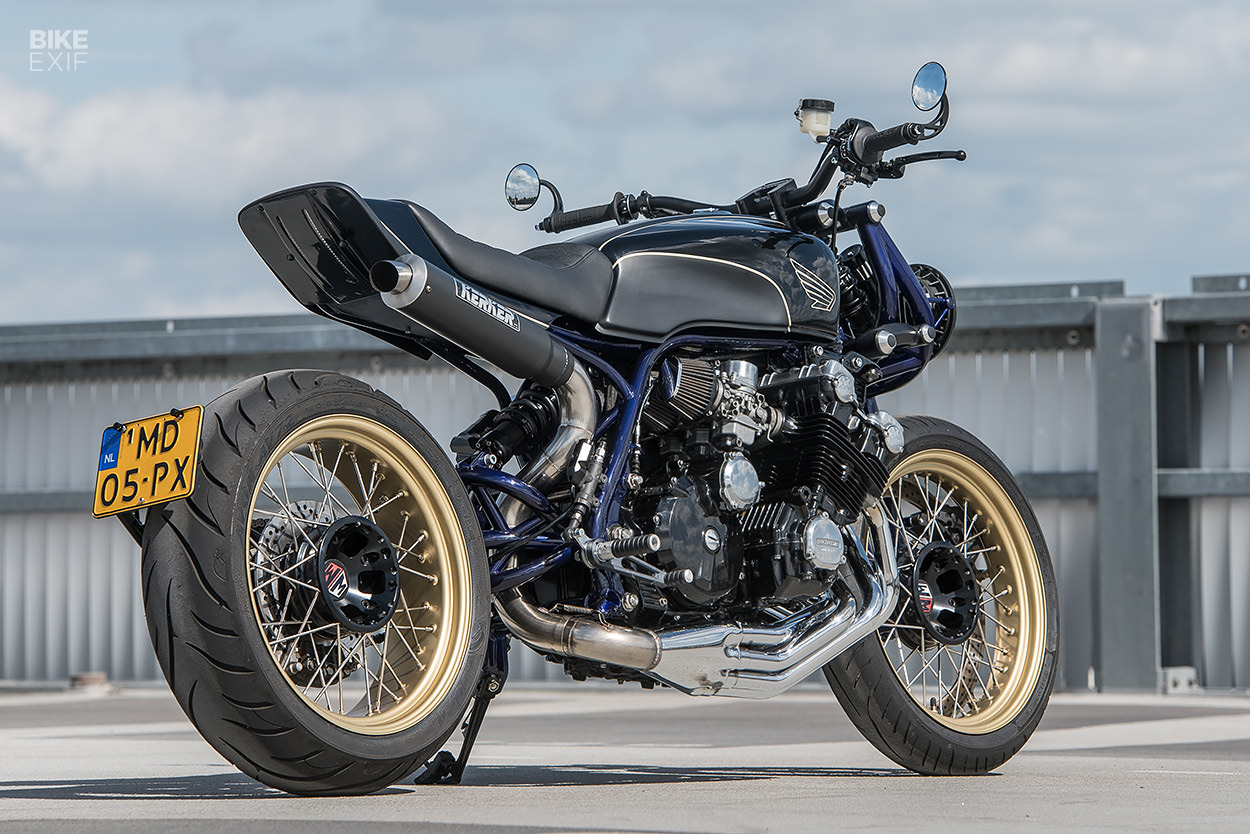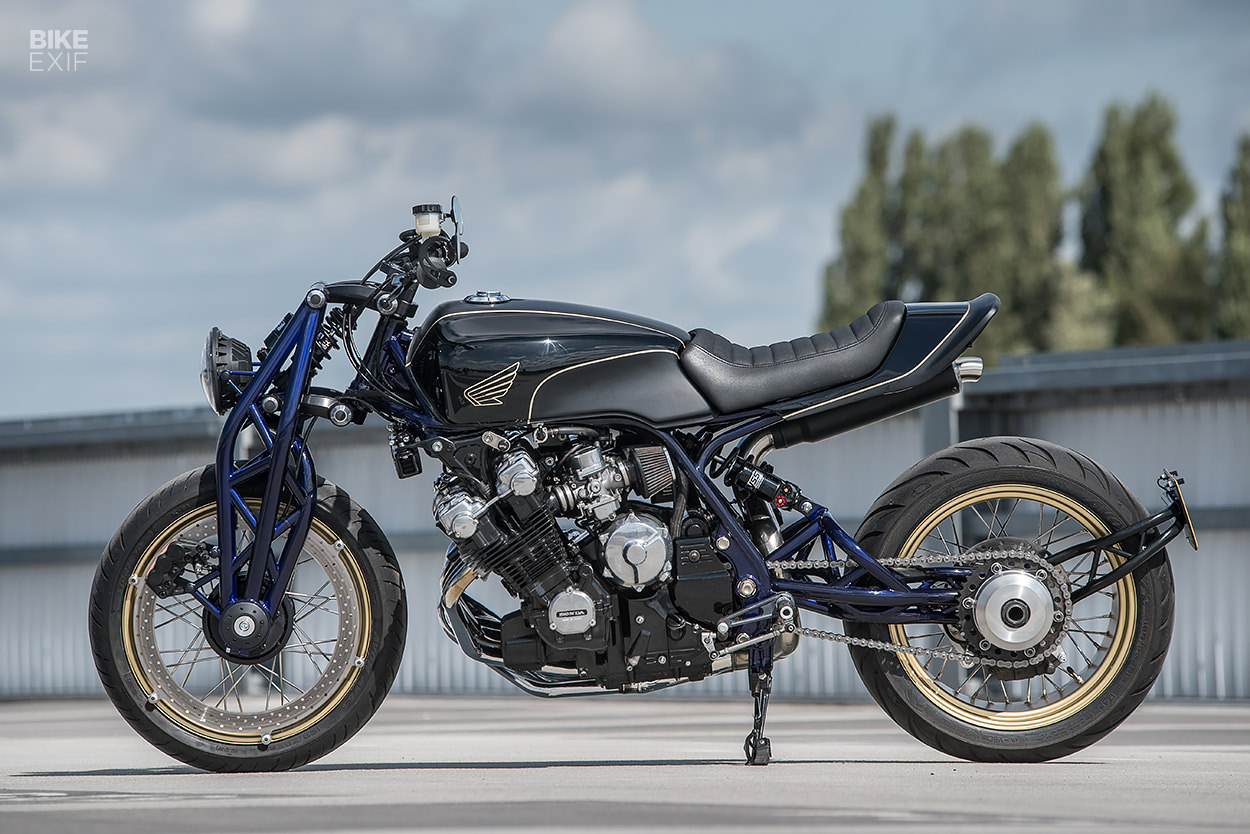 7. BMW K75, Matteucci Garage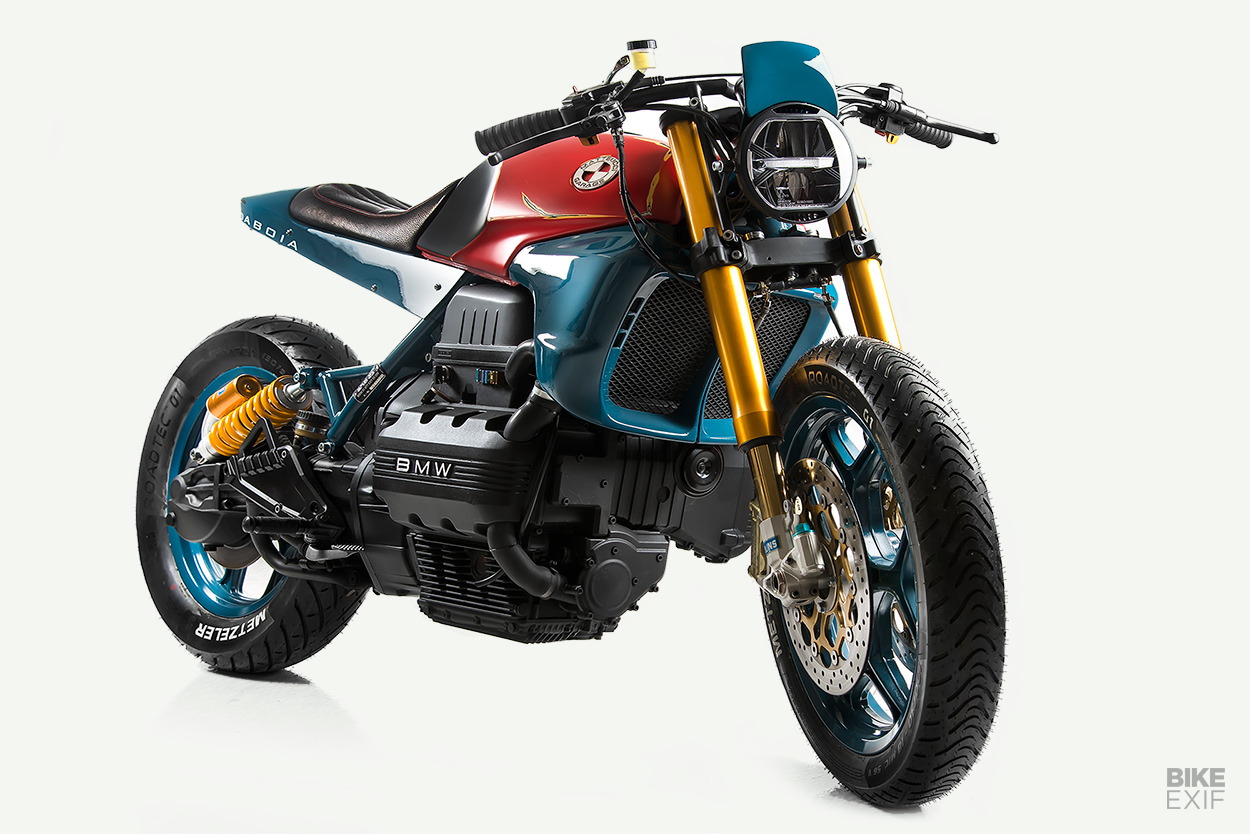 A bömös K-sorozata a Honda CX500-at váltotta fel, mint az építők végső "lakmusz-próbája": ha egy ilyenből tud egy szakember esztétikus motort kreálni, akkor megfelelő custom ismeretekkel rendelkezik. Talán meglepő egy K bimmer a Top10-ben, de Marco Matteucci olasz építő ezzel a K75-tel egészen új dolgot alkotott.
Bámulatos, hogy a tankot, a hűtő burkolatait és a kerekeket is érintetlenül hagyta – de a hátsó véget teljesen átépítette egy új alumínium karosszériával, antilop bőrüléssel és új rögzítési pontokkal az Öhlins gátlókhoz. Elől Öhlins villák találhatók, továbbá közvetlen rögzítésű rudak és rengeteg okos kisebb részlet.
A pompás fényezés pedig egyenesen a '80-as évekből érkezett: benzinkék színű, kontrasztos vörös tartállyal!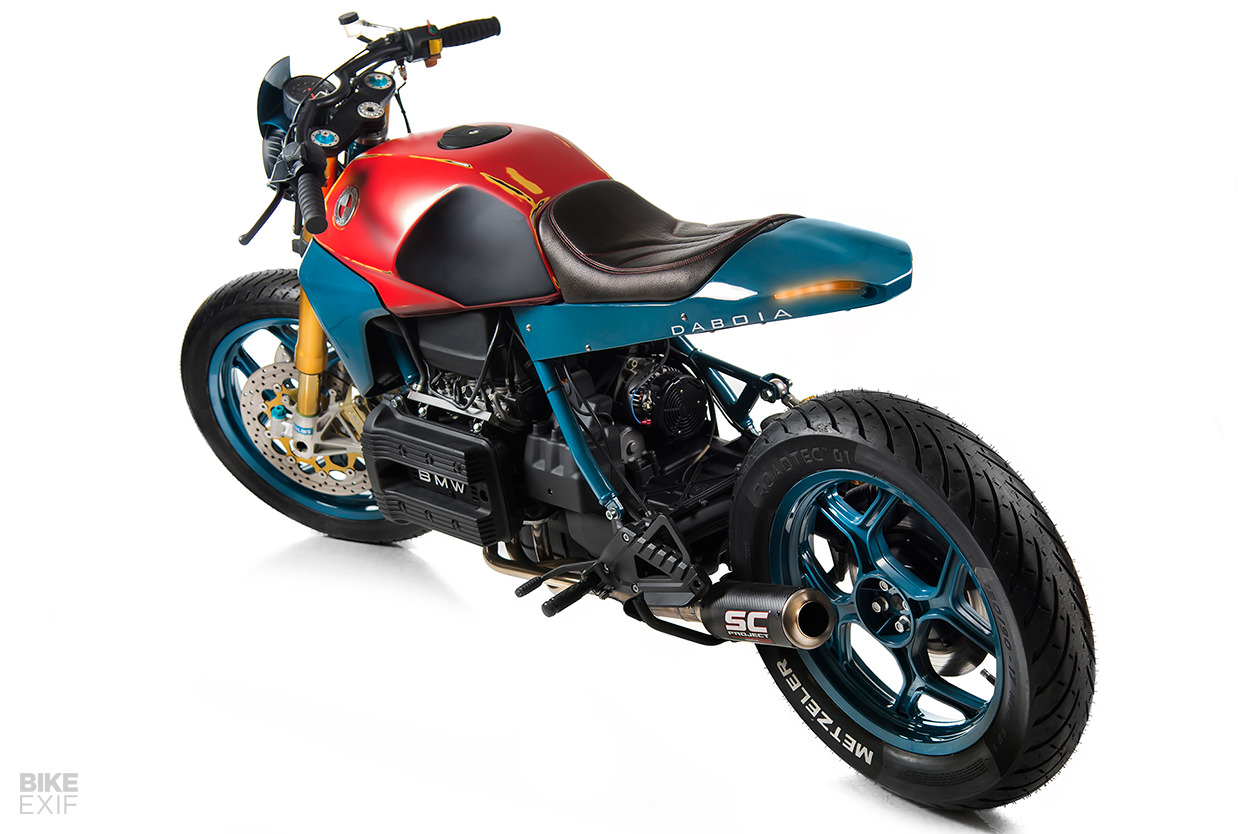 8. Honda NX650, Vagabund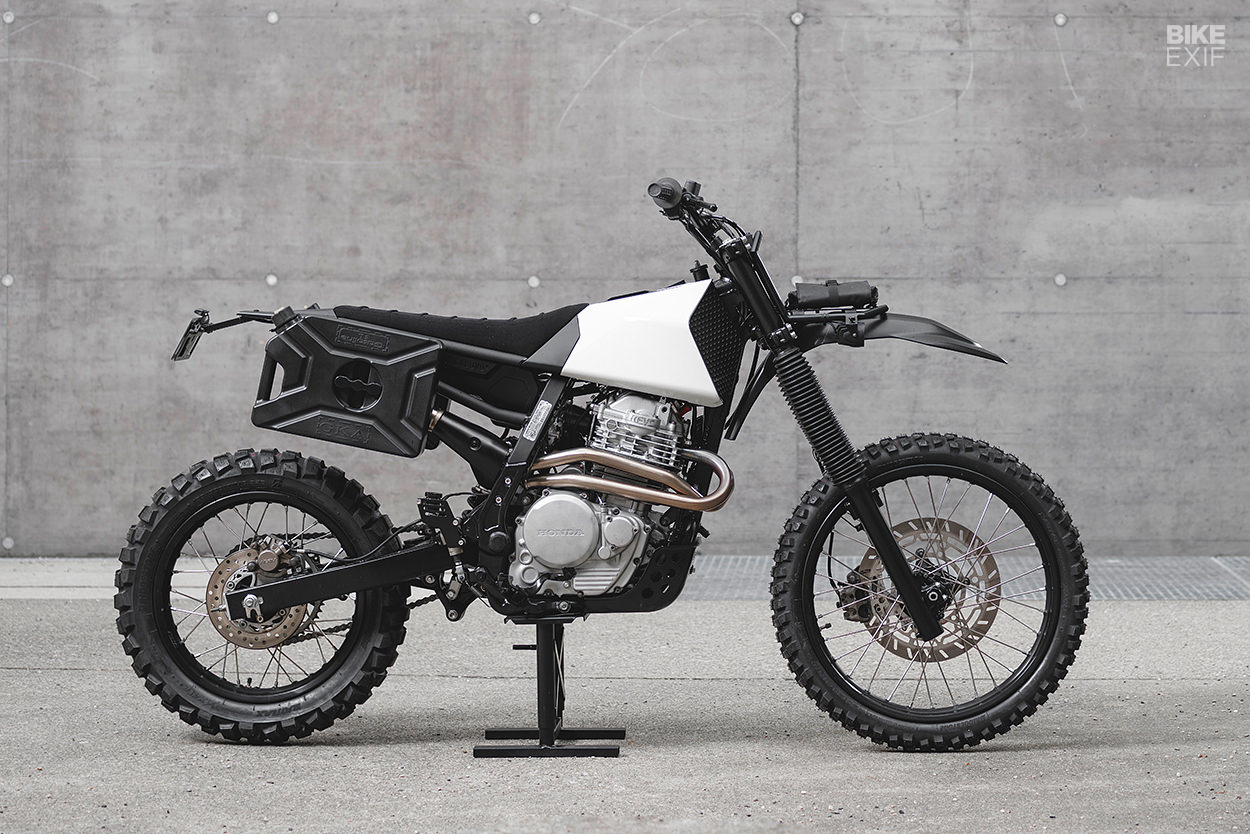 Hatalmas rajongói vagyunk a Vagabund minimalizmusának, és úgy tűnik, a Bike Exif olvasói is: Ez a "Dommie" volt a BE Instagram csatornáján az év legnagyobb slágere. Paul Brauchart és Philipp Rabl osztrák építők milliméteres pontossággal dolgoznak, és ezúttal úgy döntöttek, hogy a terepmotorozás iránti szeretetüket a Vagabund által ismert, letisztult esztétikával ötvözik.
A menő új karosszéria 3D nyomtatóval, kemény nylon anyagból készült, és a hozzá illő (GKA) üzemanyagtartályokat egy egyedi (rack-cum) alvázhoz rögzítették. Van még egy egyedi tartóelem az első sárvédő felett (egy Husqvarna TC85-ről leműtve), sőt a kormányrudak is egyedi gyártásúak!
Azonban nem minden vadiúj csúcstechnika a gépen: a Vagabund fiúk a hagyományos mechanikai kompetenciájukat felhasználva újítottak fel egy 644 köbcentiméteres, hajlított rozsdamentes csövet, így létrehozva az új kipufogórendszert, amely egy módosított Akrapovič hangtompítóba torkollik.
A legjobb az egészben, hogy nem alkudtak meg a fiúk a legendás NX650-es képességeivel kapcsolatban. Ha a modern endurókban és az ADV-kben valamivel kevesebb lenne a műanyag és egy kicsit több a vizuális visszafogottság, biztos jót tenne!
Talán van itt tanulság a hivatalos motorgyártók számára is?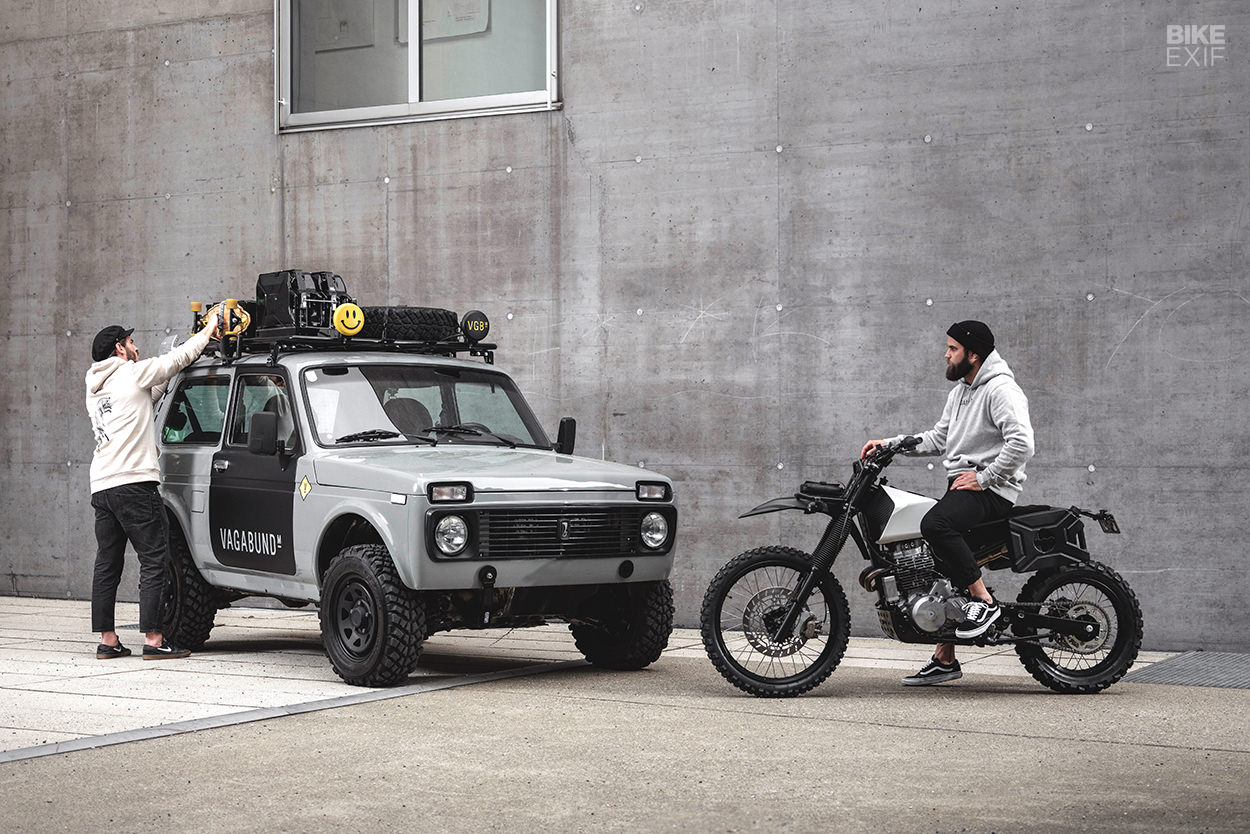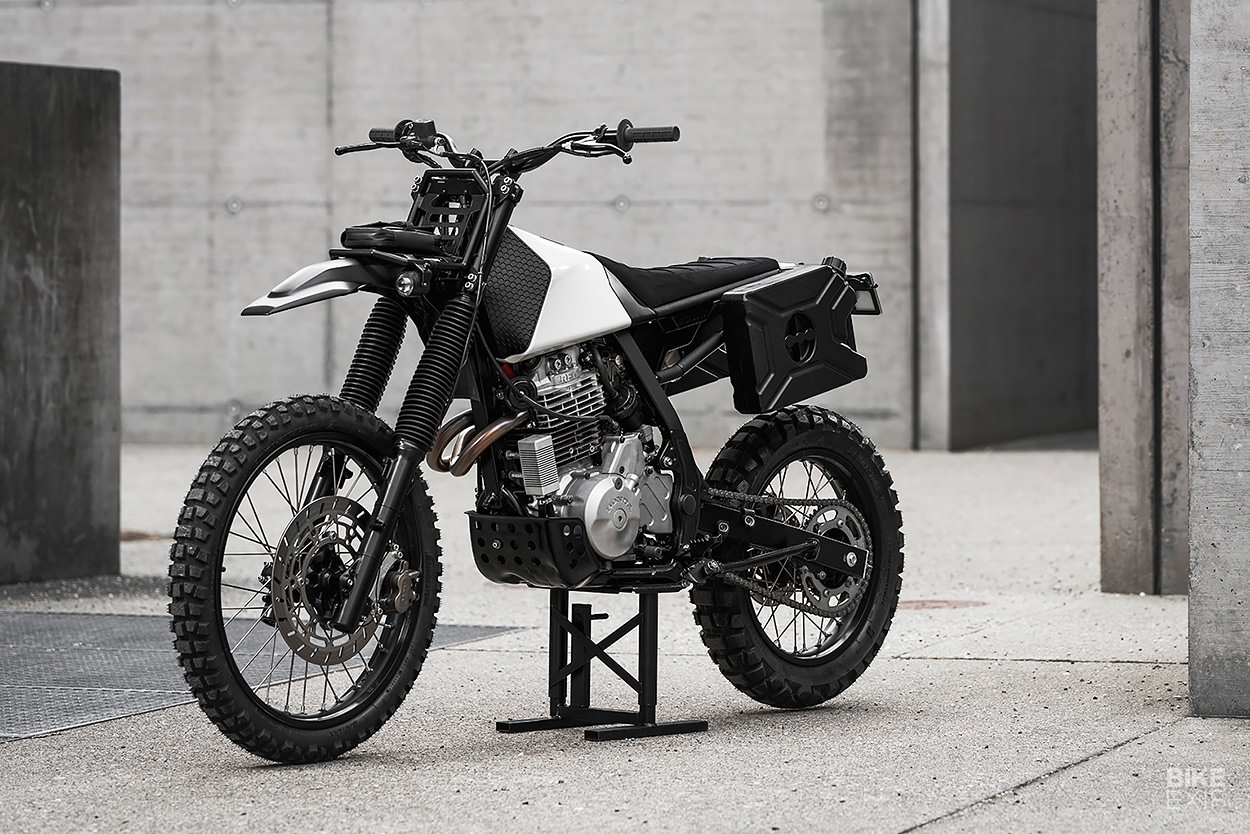 9. Ural Coffee Cart, Gasoline Motor Co.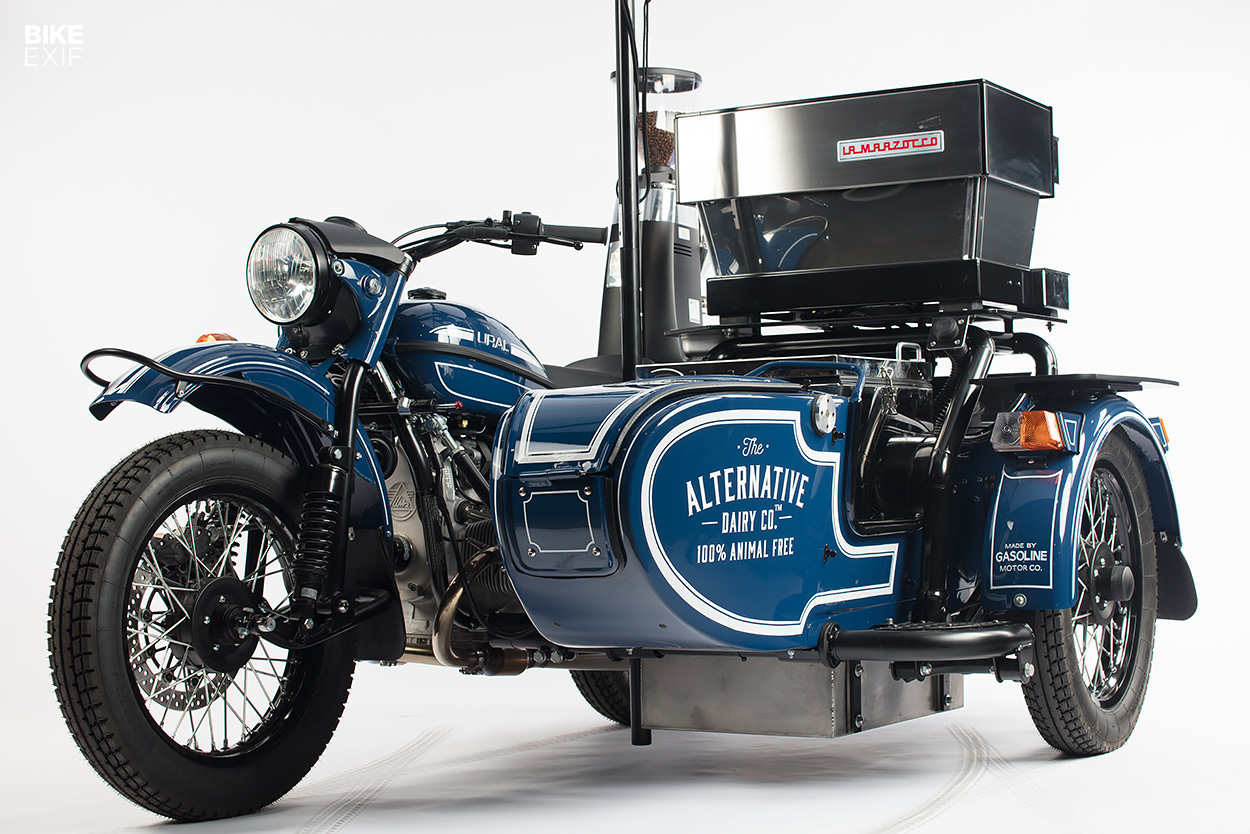 Jól tudjátok, hogy szeretjük a specialty (újhullámos) kávét, és úgy tűnik, a Bike Exif olvasói is. Ez a "hordozható barista munkaállomás" egy legendás "aussi" párostól származik (Jason Leppa és Sean Taylor), de inkább "kávézó", mint "versenyző".
A nagymértékben módosított oldalkocsi egy professzionális La Marzocco eszpresszógépnek, hűtőszekrénynek és kávédarálónak ad otthont.
Száraz tárhelyet is kapott a rengeteg kávébab és a kiegészítők számára, valamint egy komplett "hulladékkezelő rendszert". Az ivóvízvezeték és a 12 V-os áram általában nem szerepel egy egyedi motorkerékpár gyártási listáján, de a két "Sydney-legénynek" ezt is ki kellett találnia – egy CAD szoftver és a Chunk Design munkatársainak segítségével. Egy szívemnek kedves, tiszteletre méltó Ural-motor hajtja ezt a masinát, amely általában nem rohan sehová – főleg, ha a fedélzetén 90 liter víz is helyt kap, két tartályban!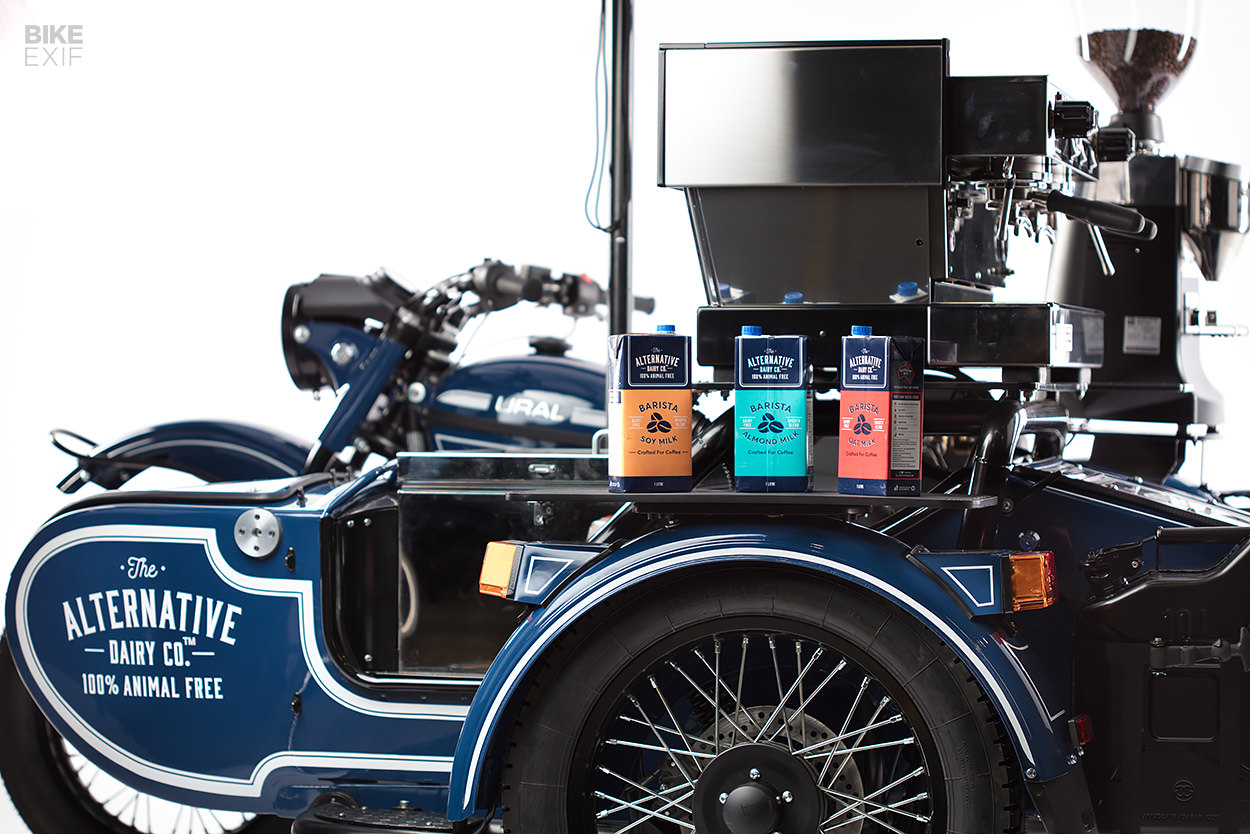 10. Honda CB Seven-Fifty, Unik Edition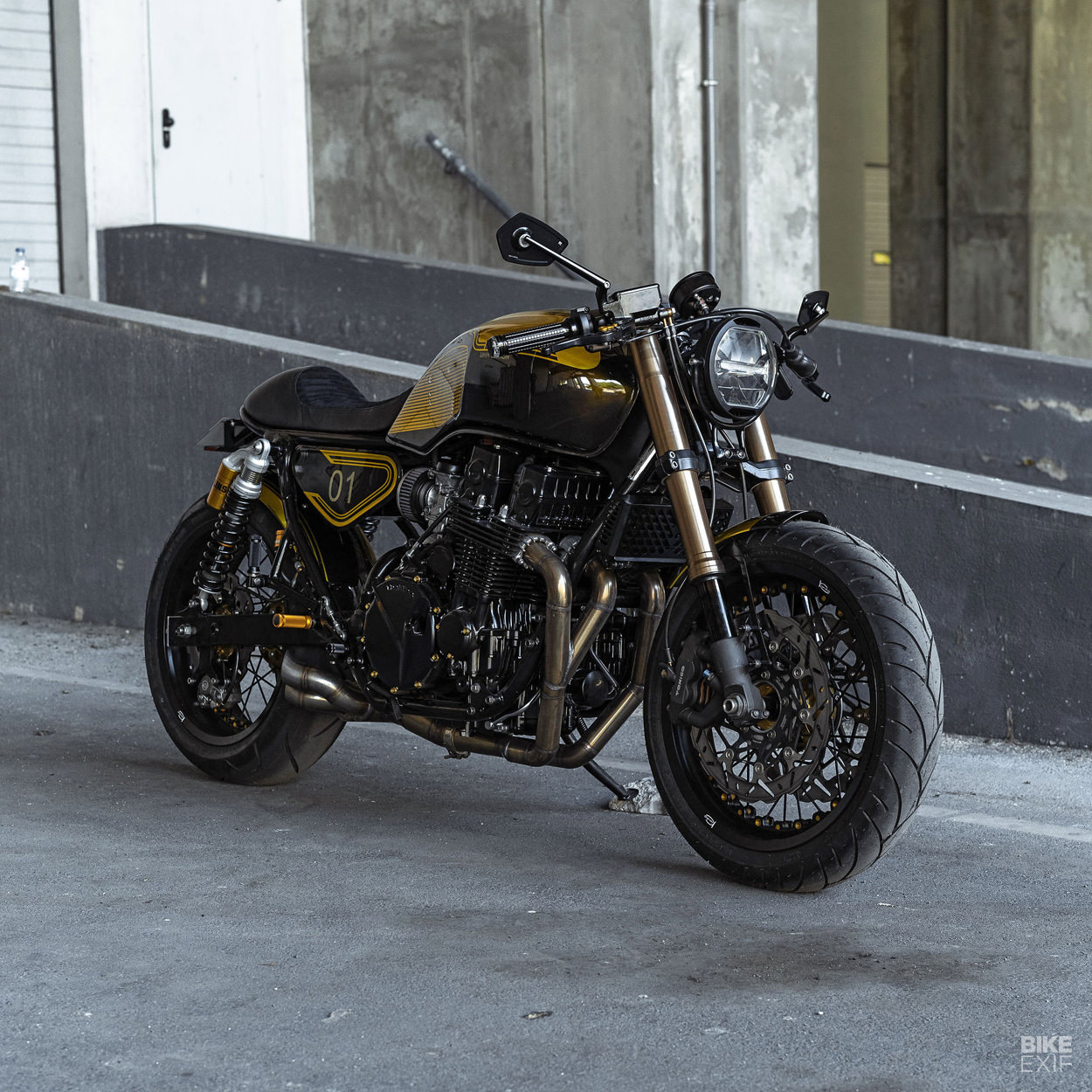 A lista talán leghagyományosabb tagja ez a CB Hondából épített caféracer. A portugál építők, Tiago Gonçalves és Luis Gonçalves (nem rokonok!) elegáns külsőt adtak a cébének, egy 1996-os Seven-Fifty (Nighthawk) alapot használva. A vas GSX-R villákat, Öhlins csillapítókat, és gyönyörű, 17 hüvelykes Kineo küllős felniket kapott a megjelenés és a rugózatlan súly csökkentése érdekében.
A kipufogórendszer brutálisan egyszerű, de kétségtelenül hatékony, mivel az újjáépített motort gondosan úgy hangolták, hogy a szívó végén K&N szűrőkkel működjön. A hátsó rész is elképesztően tiszta formanyelvet használ, gyönyörű bőr púpos caféracer üléssel.
Nagy kedvencünk nekünk is a menő fekete-arany festés, amely retro-futurisztikus motorsport hangulatot kölcsönöz a Hondának.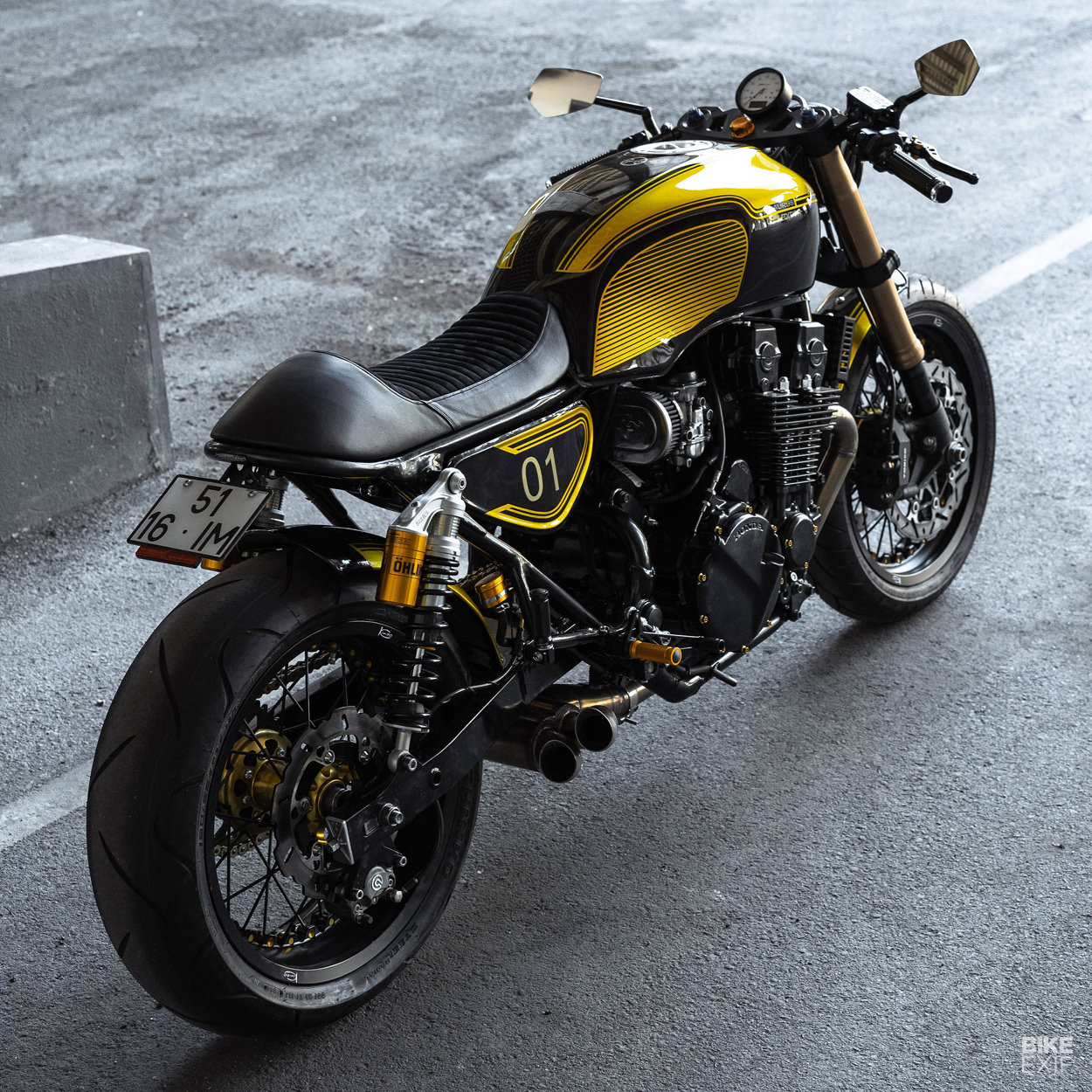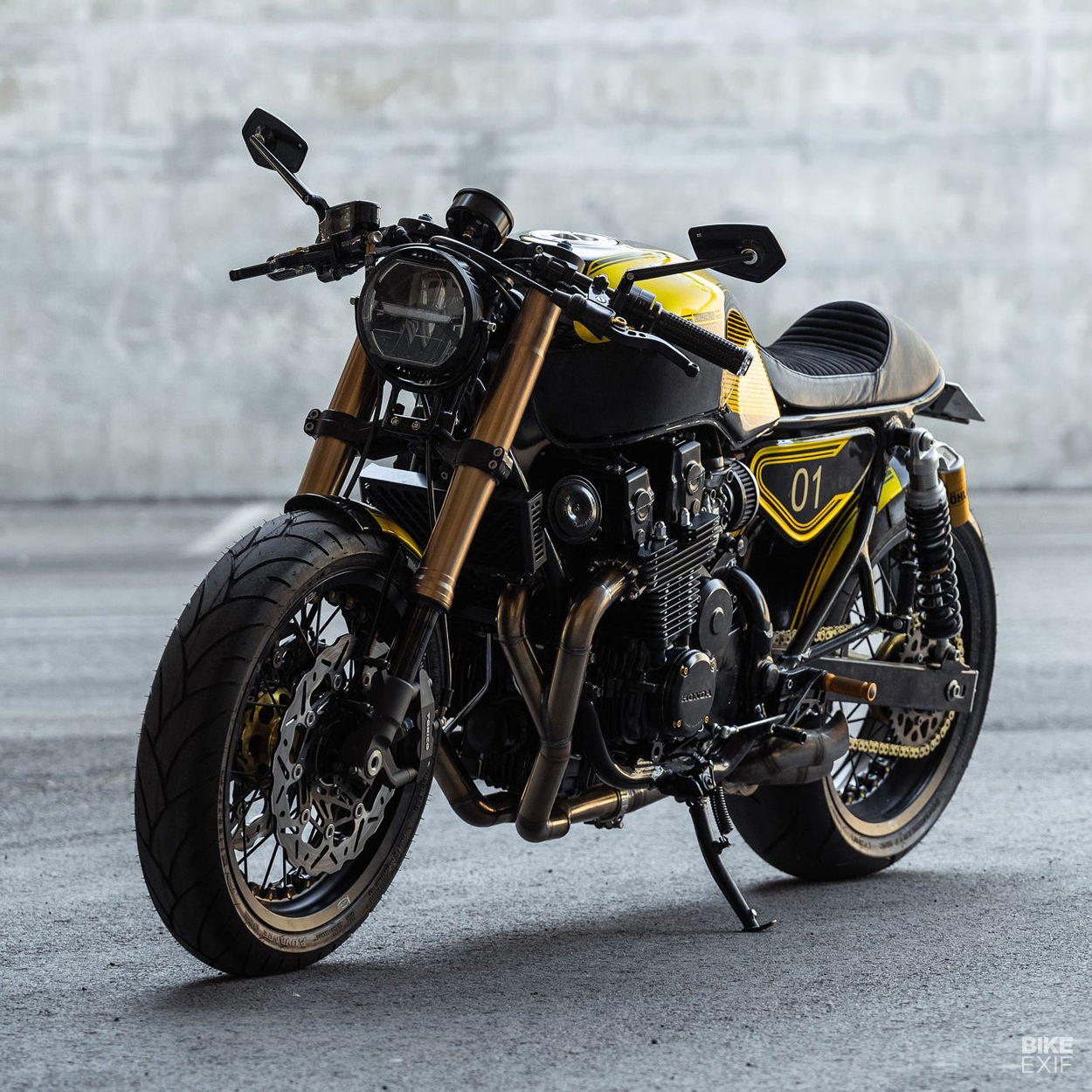 Forrás: BIKEEXIF