Bike Exif Editor's Choice 2020
Ahogy azt múlt heti cikkemben írtam, 2014 óta minden évben bemutatjuk a Bike Exif Top 10-es épített motor listáját, illetve 2015-től az "Editor's Choice" rangsorukat is.
Előbbi objektív lista, mivel tisztán "adat-alapú", vagyis az oldallátogatások és a közösségi média megosztások számai alapján képezi évente a magazin. Utóbbi pedig vállaltan szubjektív, hiszen a magazin szerkesztői választják ki néhány egyszerű szabályt betartva a számukra legkedvesebb épített motorkerékpárokat.
Ezek a magukra mért szabályok a következők:
Csak olyan motorokat választanak be a "szerkesztői listába", amelyről az év során teljes és átfogó cikket írtak.
Egy építőnek csak egy motorja szerepelhet a listán.
Az "adat-alapú" (népszerűségi) listán már szereplő motorok közül nem választanak.
Az idei lista kissé eklektikus, hagyományos kézművességgel és az "új iskola" technikáival vegyítve, ipari mennyiségű alumíniummal és szénszállal gazdagítva a kínálatot. A tavalyi esztendőhöz hasonlóan a motorok teljesítménye ebben az évben is komoly ütőkártyát jelentett. További meglepetésként a custom kit-ekből (komplett átépítő készletekből) kreált járművek száma emelkedőben van; a lenti vasak közül három anélkül épült, hogy markánsan módosították volna a donor struktúráját. A következő listában tehát a Bike Exif Magazin szerkesztőinek kedvencei találhatók, az építők neve szerint, ábécé sorrendben felsorolva a járműveket.
Ducati Hypermotard, Analog Motorcycles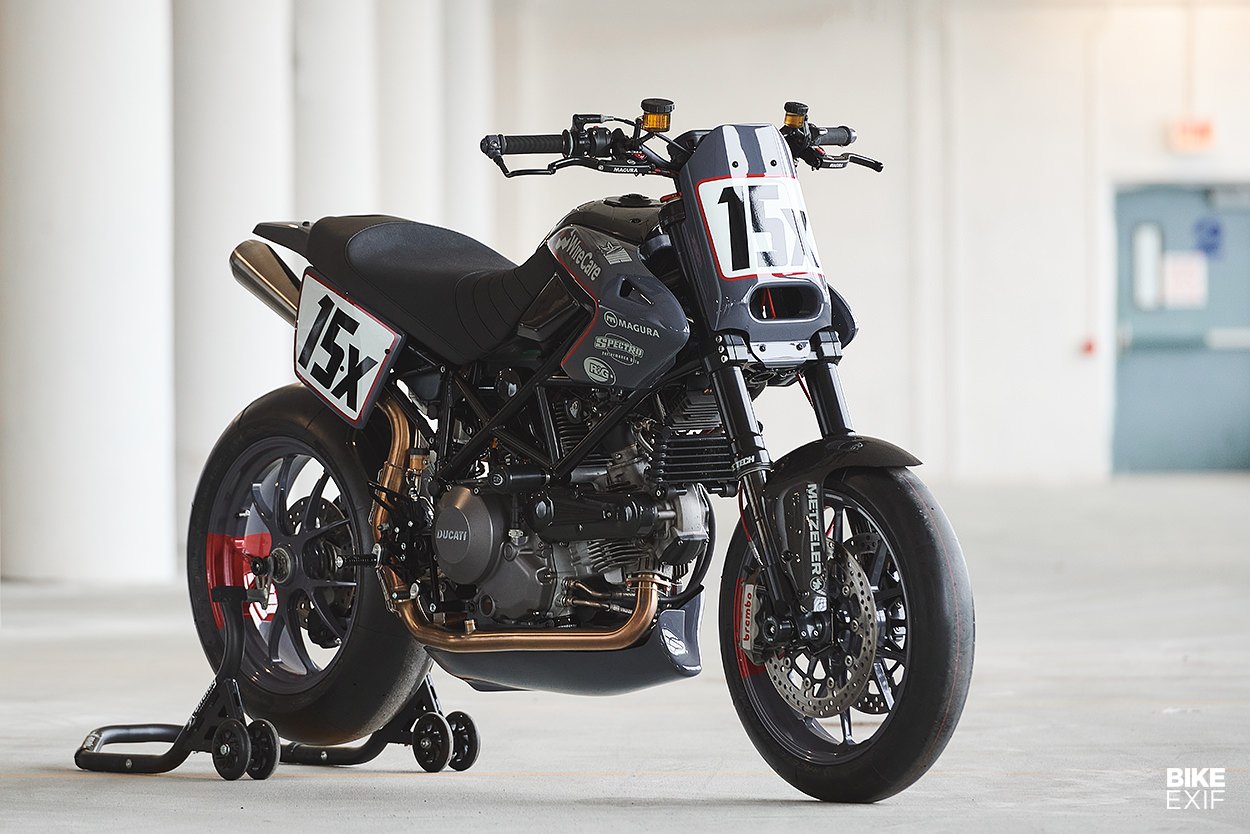 Ez a "pálya-kész", 2010-es Ducati Hypermotard 796 nagyjából ugyanolyan jó, mint amilyennek látszik. Tony Prust úgy építette meg, hogy versenyezhessen az ARHMA 'Twins of Battle of Twins 2' osztályában, és igazi "analóg stílusban" szinte minden fontos elembe belenyúltak "kissé". Először is, ez a 796-os most már tulajdonképpen 840-es, újragondolt szívó- és kipufogórendszerrel, gyorsváltóval és egy DynoJet Power Commanderrel a finomhangoláshoz.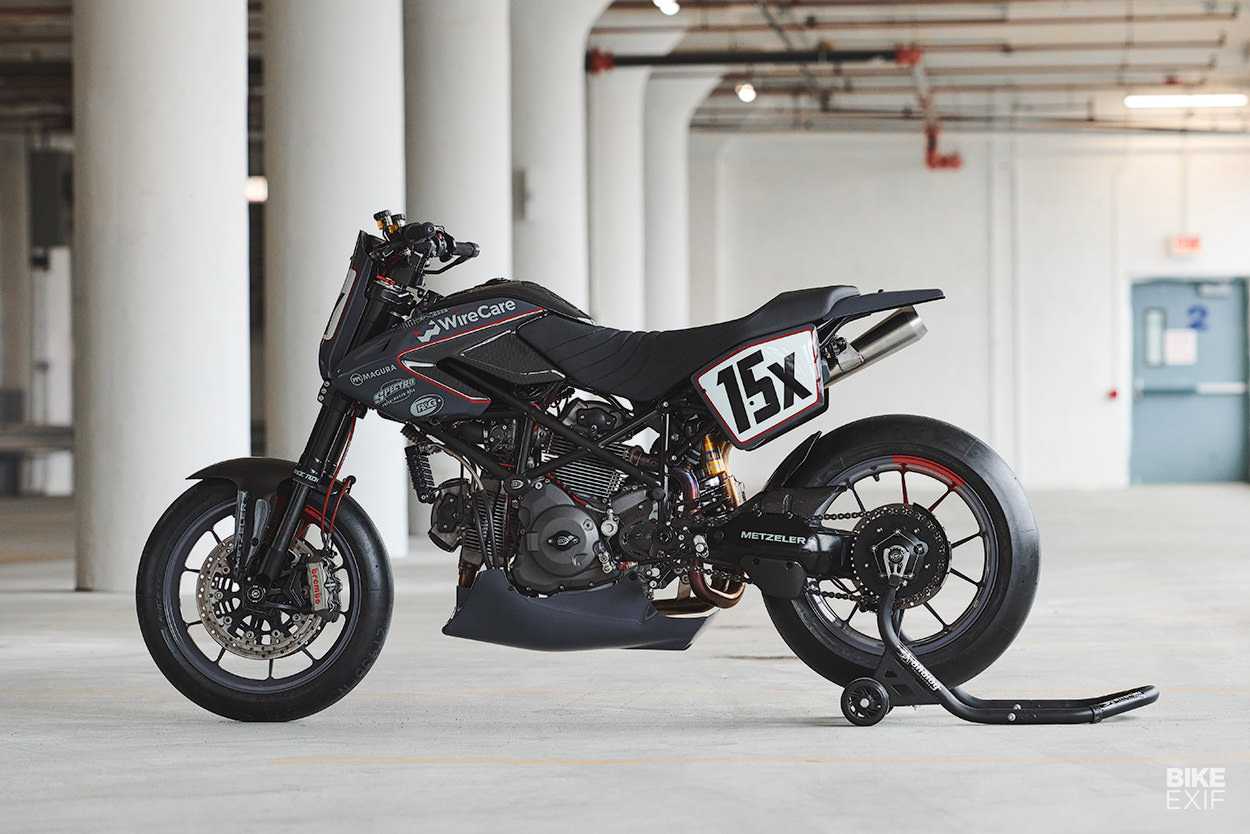 A felfüggesztés, a kerekek és a fékek egy Hypermotard 1100S-ből származnak, és a Race Tech felfüggesztés belső részeit, valamint a Duca állítható hátsó felfüggesztését tartalmazzák. Tony a Ducati karosszériáját követve sok panelt szénszálas elemekre cserélt, továbbá alumínium farokelemet és oldalborításokat is gyártott. A kész jármű az új kezelőszervektől kezdve a titán csavarokon át a kábelkezelő rendszerig bezárólag Tony fő szponzorának, a WireCare-nek köszönhető.
A duka súlya így végül 15 kilóval kevesebb, a teljesítménye viszont 12 lóerővel több lett!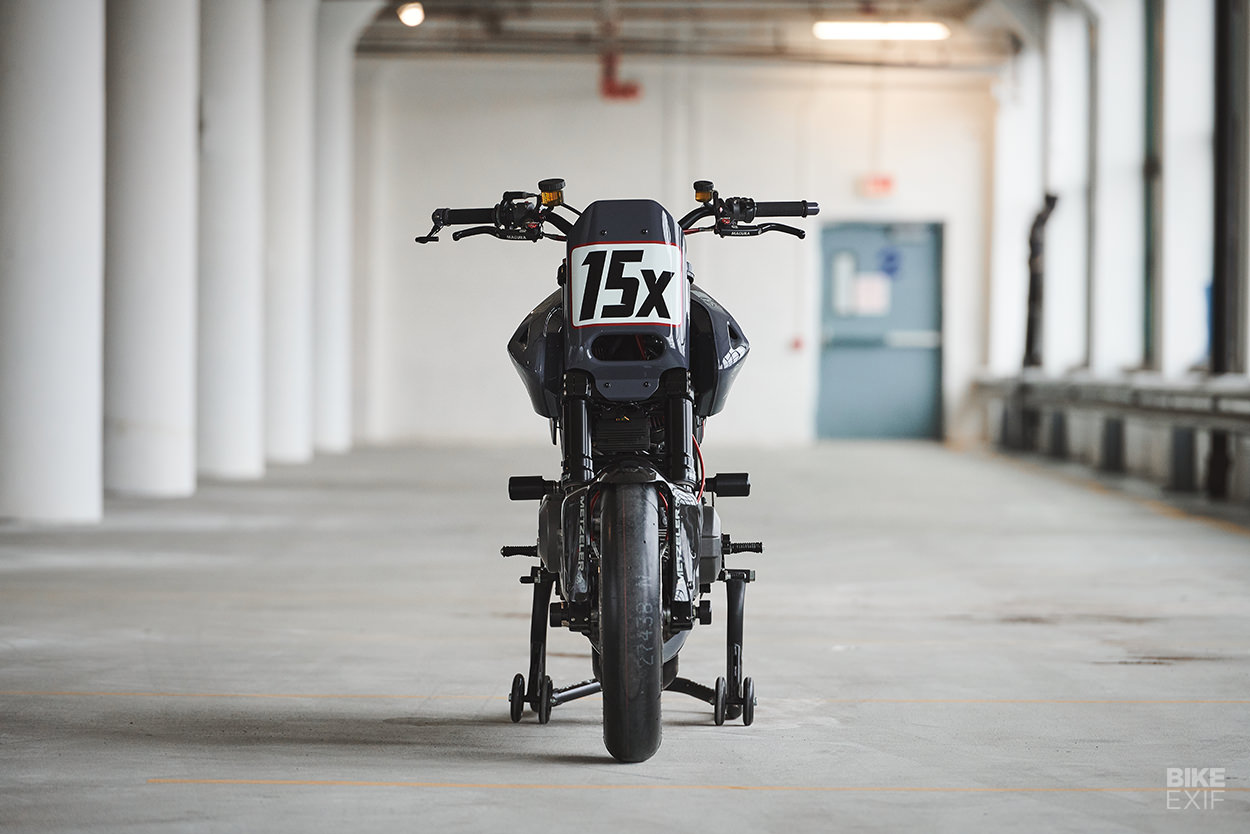 BMW R18, Blechmann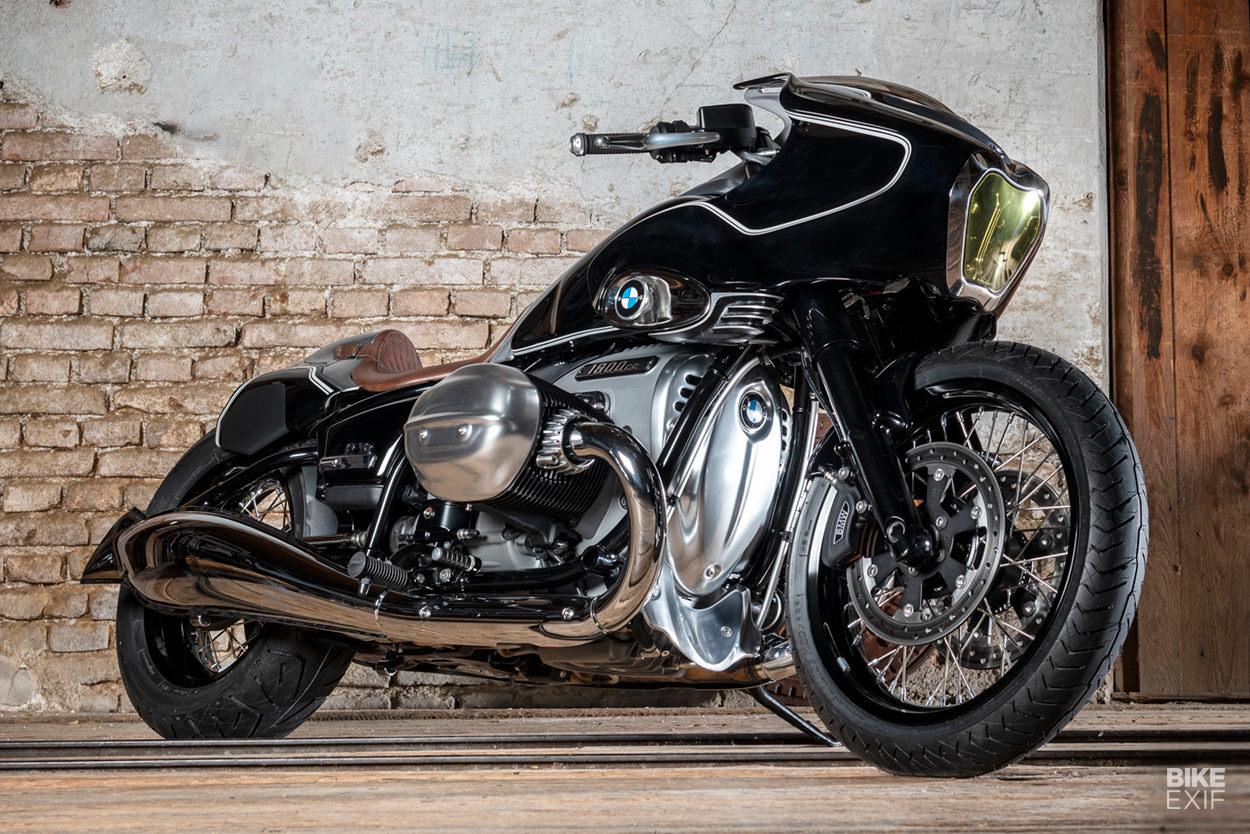 A BMW Motorrad az új R18-as cirkálóját, mielőtt még az első darabok a bemutatótermekbe kerültek volna, kiadta neves motorépítők kezébe/flexébe. Egy rejtélyes osztrák építő, Bernhard Naumann (A.K.A. Blechmann) is felkerült a listára, aki egészen túlvilági szerkezetet épített a mamut bömös boxer köré. Igazi Blechmann stílusban, ez a különleges R18, kézzel formált alumínium elemekkel és kissé organikus, szinte "alien" arculattal rendelkezik.
Minél több szögből nézi az ember ezt a járművet, annál inkább rádöbben, hogy valójában mennyire bonyolult és mégis szinte "folyékony karosszériával" rendelkezik ez a szerkezet.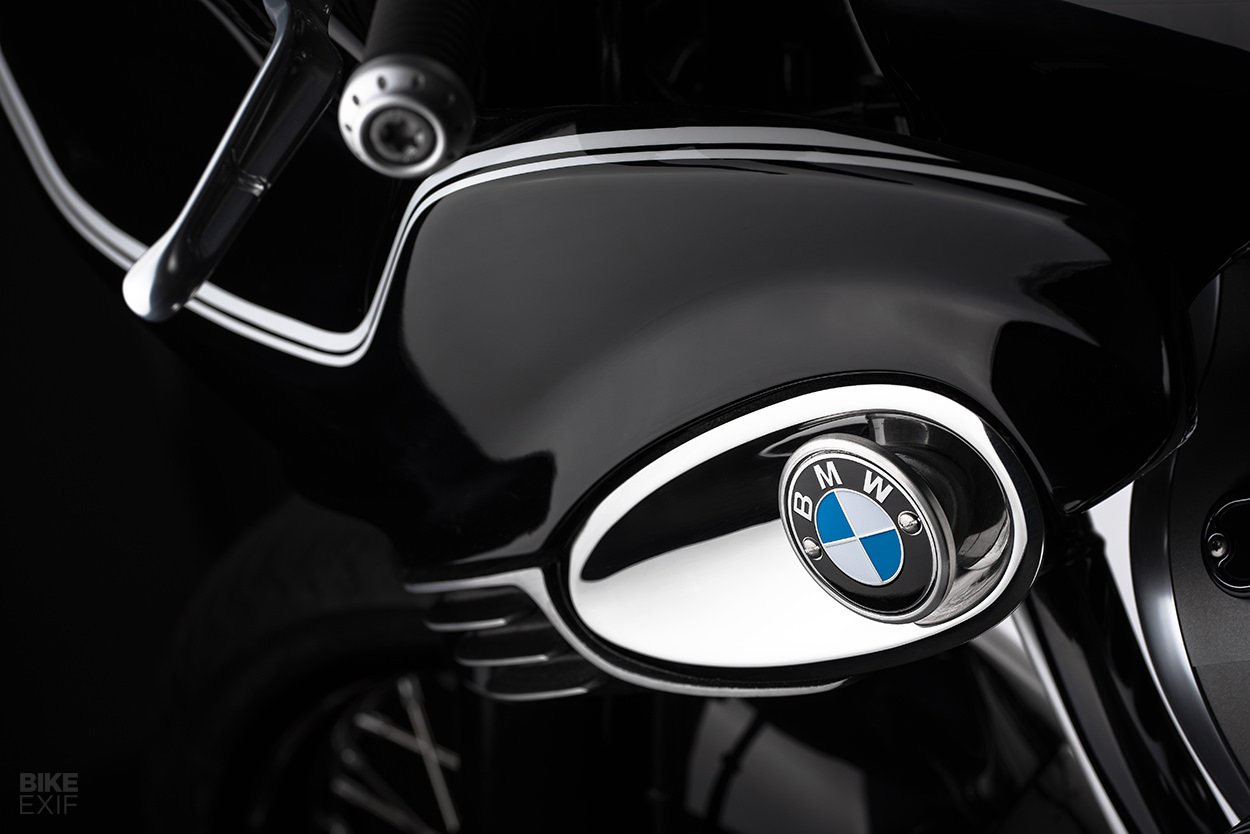 Érdemes megfigyelni, hogy az áramvonalas burkolat hogyan csatlakozik a műszerfalhoz, és miképpen szűkül le az egész kialakítás a sportos farokelemig. Elől egy osztott fényszóróház található, amely ügyesen reflektál a négykerekű bömösök tipikus veserácsára. Oldalain pedig bordázott szakaszok találhatók BMW logókkal, amelyek a decensen elhelyezett indexeket rejtik.
Az egész vizuális hatás olyan jól működik, hogy az elkészült járművön még az eredeti R18-as leginkább megosztó eleme is (az a bizonyos halfarok-kipufogó) jól néz ki. Csak egy pár tároló doboz hiányzik még róla, és ez lenne a tökéletes futurisztikus bagger bike…
Yamaha XR9, Bottpower
Ez a brutális Yamaha XSR900 csak az év végén landolt a Bike Exif postaládájában – de elmondásuk szerint már abban a pillanatban tudták a szerkesztők, hogy szerepeltetni fogják az idei Editor's Chioce listán. David Sánchez és a nagy tehetségű Bottpower legénysége a Yamaha Yard Built programjában építette, ahol a mondás a következő:
A motorok testreszabása a donor feldarabolása nélkül kell, hogy történjen!
A Bottpower azonban még tovább is lépett ezen az elváráson, hiszen az "XR9" átépítő készletként kapható az XSR900, MT-09 és Tracer 9 modellekhez. Ha egy ideje követed a Bottpower legényeket, észrevehetted a BOTT XR1R Pikes Peak versenymotorjuk finomságait, amelyből valószínűleg ehhez a járműhöz is inspirálódtak. Az alapötlet egyébként az volt, hogy egy igazi túlméretezett, "motard bikát" építsenek, és aztán legális utcai járművé szelídítsék a brutális járművet.
A vas kialakítása maszkulin és agresszív, a motor vizuális tömege előre irányul. Az átépítő készlet a teljes felcsavarozható szénszálas karosszériát tartalmazza, amelyet nyilván úgy terveztek meg, hogy illeszkedjen az eredeti Yami vázához és tankjához. A prototípus olyan míves elemeket is tartalmaz, mint a Rotobox szénszálas kerekek, a Ceracarbon villák, az Öhlins csillapítók és az Akrapovič kipufogó.
Ja, és csaknem 29 kilóval könnyebb az eredetinél…
BMW K1600, Custom Works Zon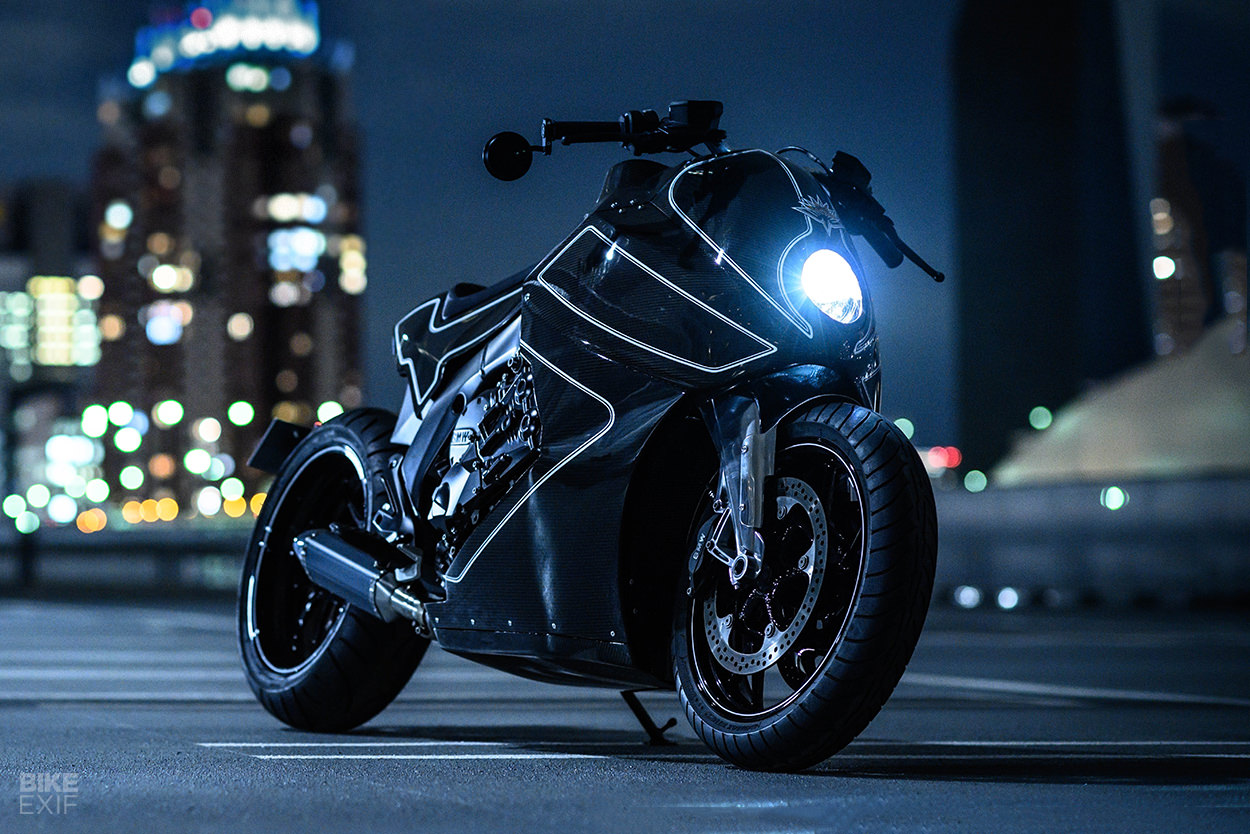 A 2020-as év egy gyors, jól irányzott kijózanító forgó állrúgással kezdődött, köszönhetően a japán Custom Works Zon híres duójának. (Yuichi Yoshizawa és Yoshikazu Ueda). Ez a brutális K-sorozatú bömös volt a 2020. év első igazi döbbenete, amely azonnal felrázta ​​a motorépítésre fogékony olvasókat. A Stealth Crow névre keresztelt "lopakodót" (az F117-es Nighthawk értelemben) egyik építője, Yoshizawa san "luxus versenyzőként" írta le, amely olyan, mint egy gyorsan, lopakodóként repülő varjú. (Jelentsen ez bármit is…)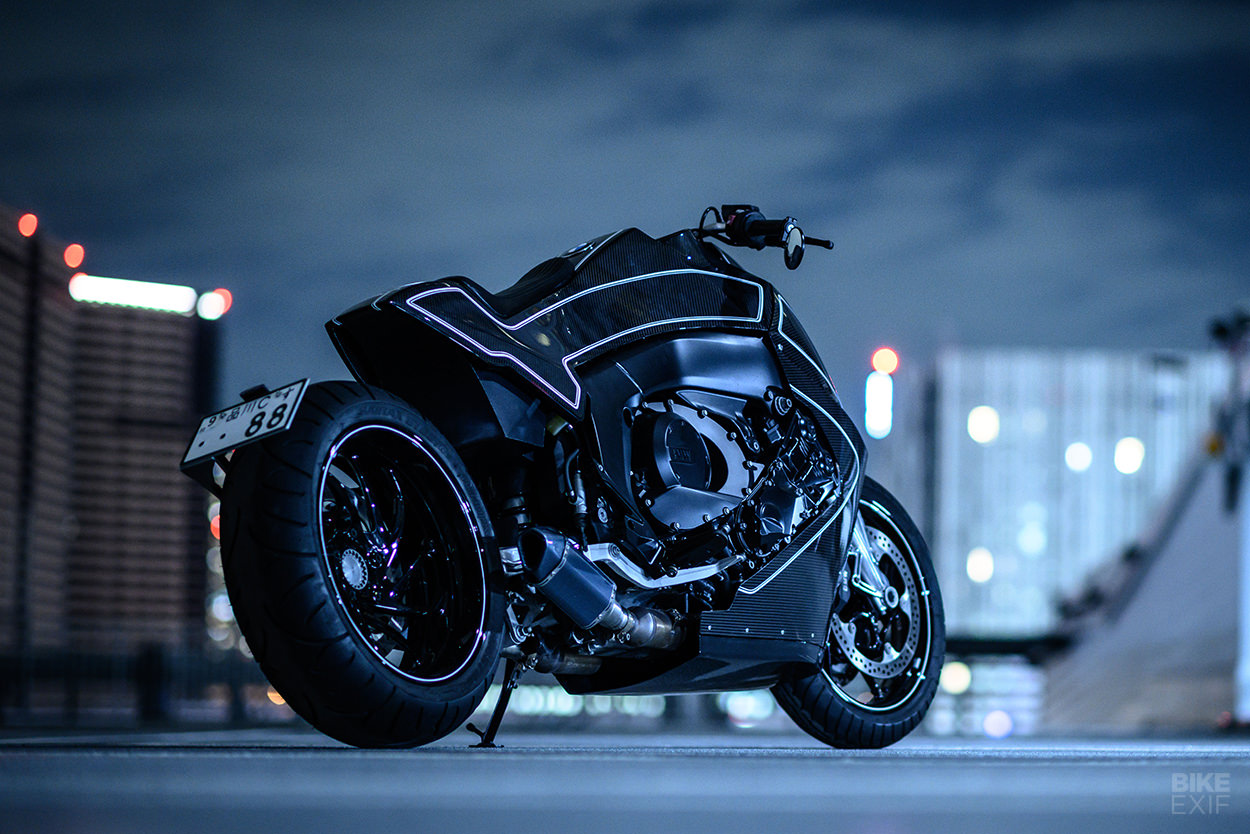 Pontos a leírás, de az az igazán őrült része a történetnek, hogy az egész projekt a BMW gigantikus, hathengeres K1600 B túramotorjára épült! Ráadásul minden, amit itt látsz, "plug and play", anélkül, hogy a donoron változtattak volna. A csapat először egy alumínium prototípust készített a K új karosszériájáról, majd egy autós szakemberrel, a Studio Allica teammel együttműködve gyártotta le a végső alkatrészeket karbonból.
Továbbá építettek egy egyedi tankot is az ülés alá. Az új karosszéria készlet nemcsak gyökeresen megváltoztatja a K kiállását és vonalait, hanem japán barátaink úgy tervezték meg, hogy integrálja az OEM tételek nagy részét – például az eredeti műszerfalat és a kulcs nélküli indítás gombját is. Az utolsó simítások közé tartozik az egyedi kormány, nyereg és a dupla fehér csíkozás a szabadon álló karbon elemeken.
Triumph Bonneville TT Special, Hello Engine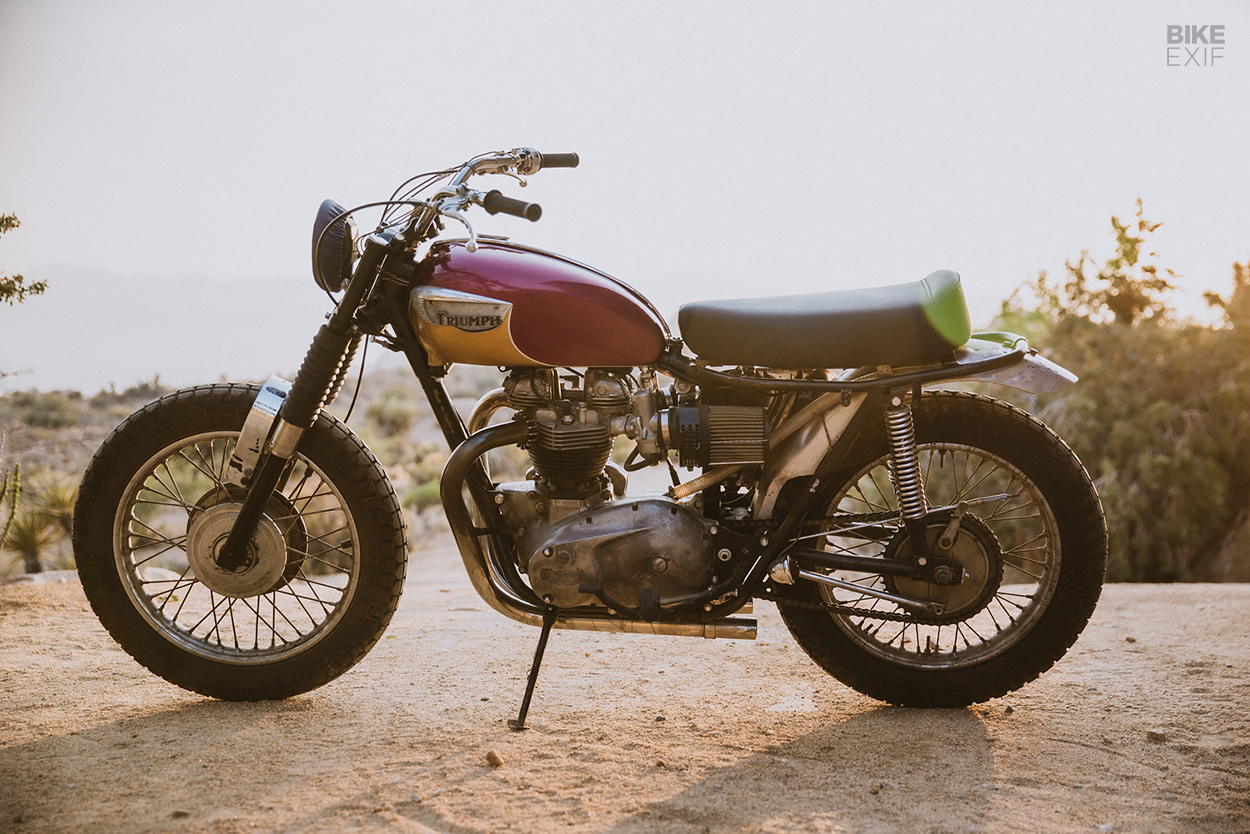 Van ebben a Hayden Roberts által tökéletesen kivitelezett klasszikus Triumph dirt motorban valami, amit lehetetlen figyelmen kívül hagyni. Hayden ezt a TT különlegességet Randy Torres hangeffektus-szerkesztő számára készítette, aki a kaliforniai Pioneertownban él; amely történetesen egy tökéletes sivatagos versenyterület.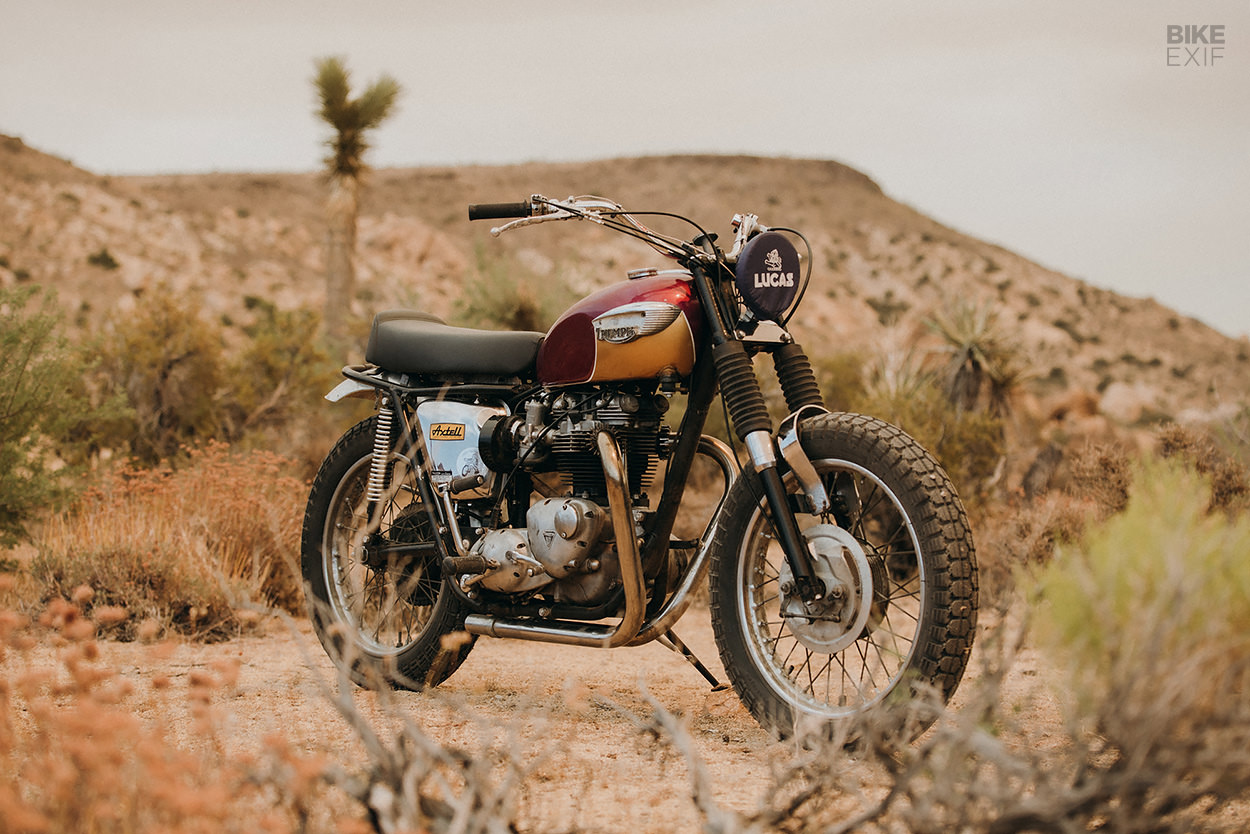 Ugyanakkor Randy Triumph-ja inkább a TT versenyzés felé hajlik, mintsem a "sivatagi szánkózás" (sledding) felé, ezért az ihletet a híres Ascot Park gyorsforgalmi út régi fotói adták. Hayden a semmiből rakta össze a Bonneville-t, olyan alkatrészeket felhasználva, amelyeket vagy a műhelyében talált, vagy a "csere találkozók" egyikén jutott hozzá. Az induló készlet egy régi Ascot versenymotor 1963-as vázát tartalmazta, amelyhez egy módosított lengőkar is dukált a megfelelő tárcsafékkel.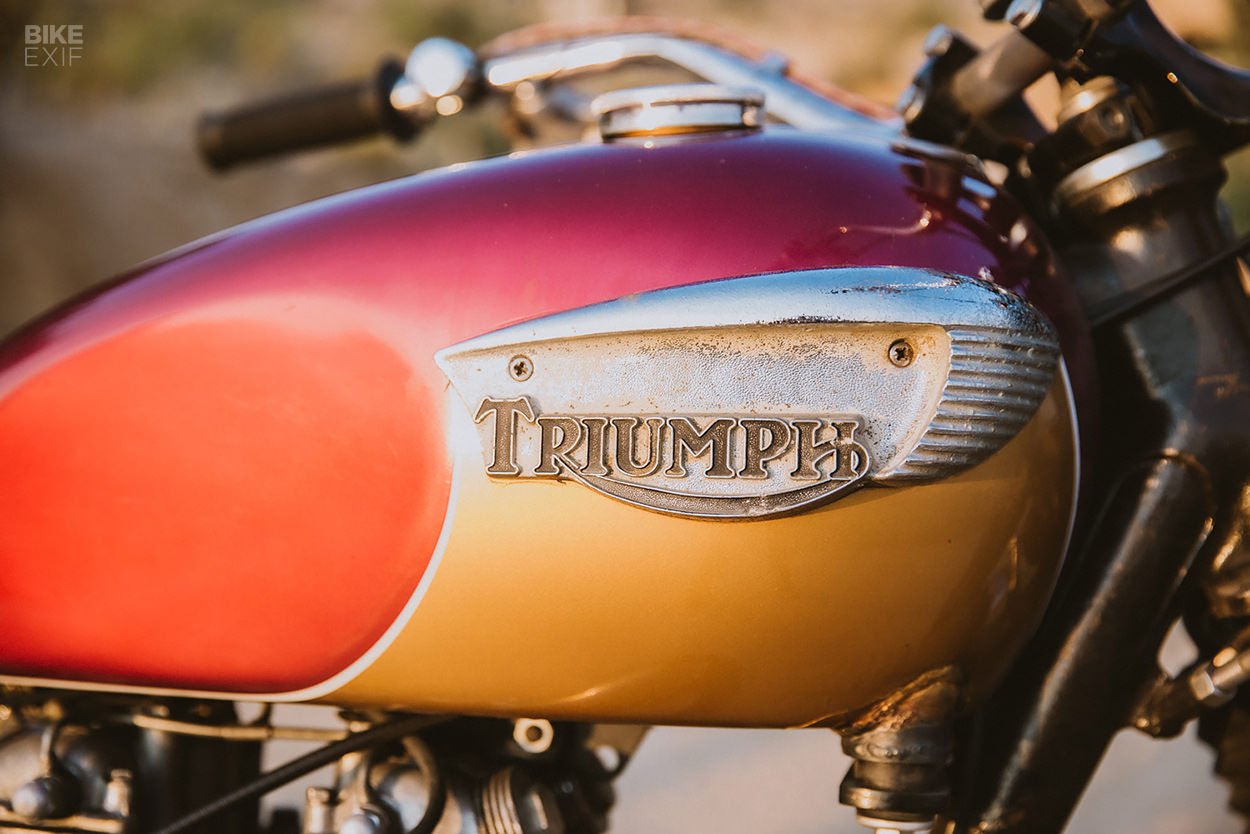 A motor egy 1970-es Bonneville-ből származik, hop-up modokkal és CDI gyújtással átépítve. A további változtatások közé tartozik az eredeti versenypálya kormány, az újjáépített Girling csillapítók egy BSA-ból és egy új Bates-stílusú ülés a Hello Engine katalógusából. A matricák mindegyike korabeli, csakúgy, mint a Lucas fényszóró burkolata, amely azonban már egy modern Hella lámpát rejt. A szokatlan tankfényezés és Triumph logó pedig egy '67-es Bonnie-ról van átműtve eredeti állapotában, ahogy Hayden elképzelte.
BMW R100 'Good Ghost', Kingston Custom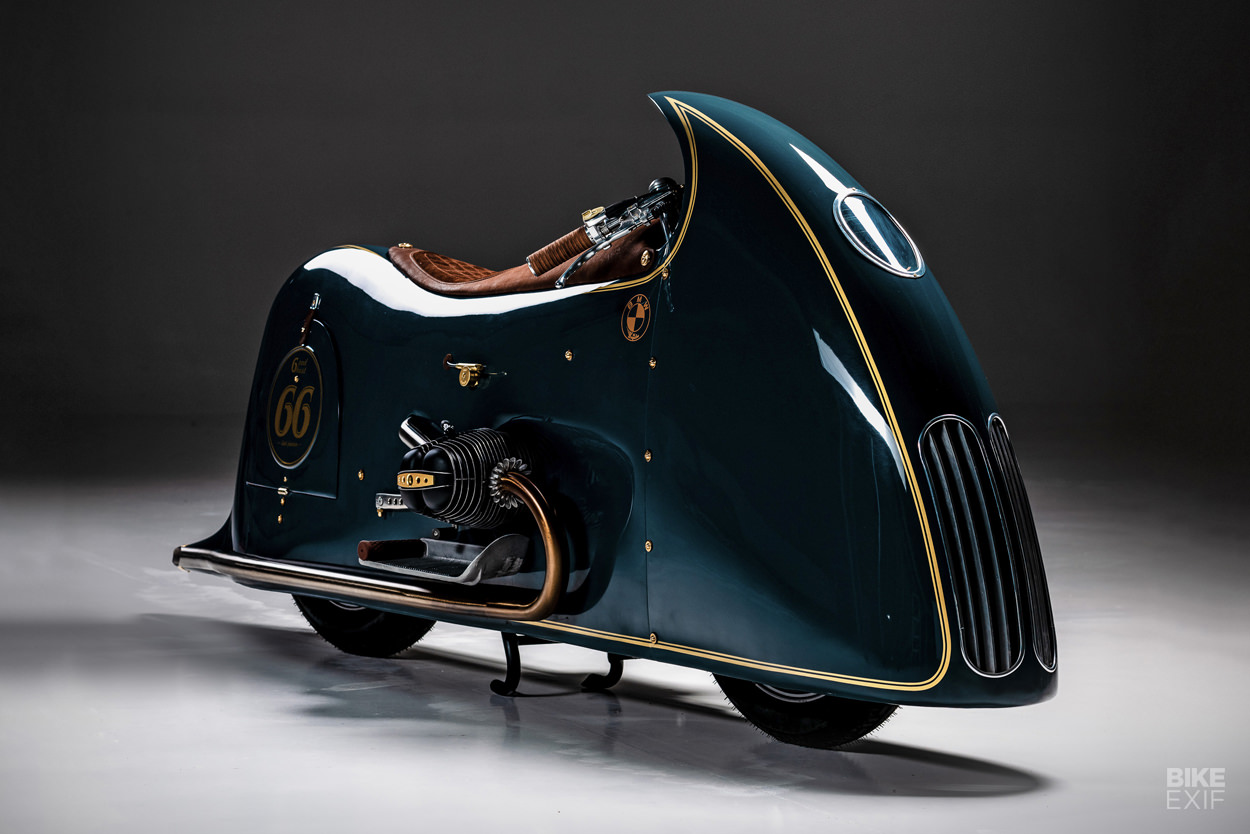 Ennek a motornak nemcsak a fémmegmunkálása különleges, ugyanis ez a jármű egy "trilógia" részét képezi, és a három építésen keresztül átívelő esztétikai evolúciót is érdemes észrevenni. A "Jó szellem" névre keresztelt és a Haas Moto Múzeum megbízásából született motorkerékpár a Kingston Team "Fehér Fantom" és "Fekete Fantom" BMW-jéből következik, ugyanazzal az art deco hangulattal. Parkold le őket egymás mellé, és az említett evolúció egyértelmű; a White Phantomnak mindkét kereke látszik még, a Black Phantom hátsó kereke már a karosszériába van rejtve, a Good Ghostnak pedig már mindkét kereke rejtve maradt a kíváncsi szemek elől.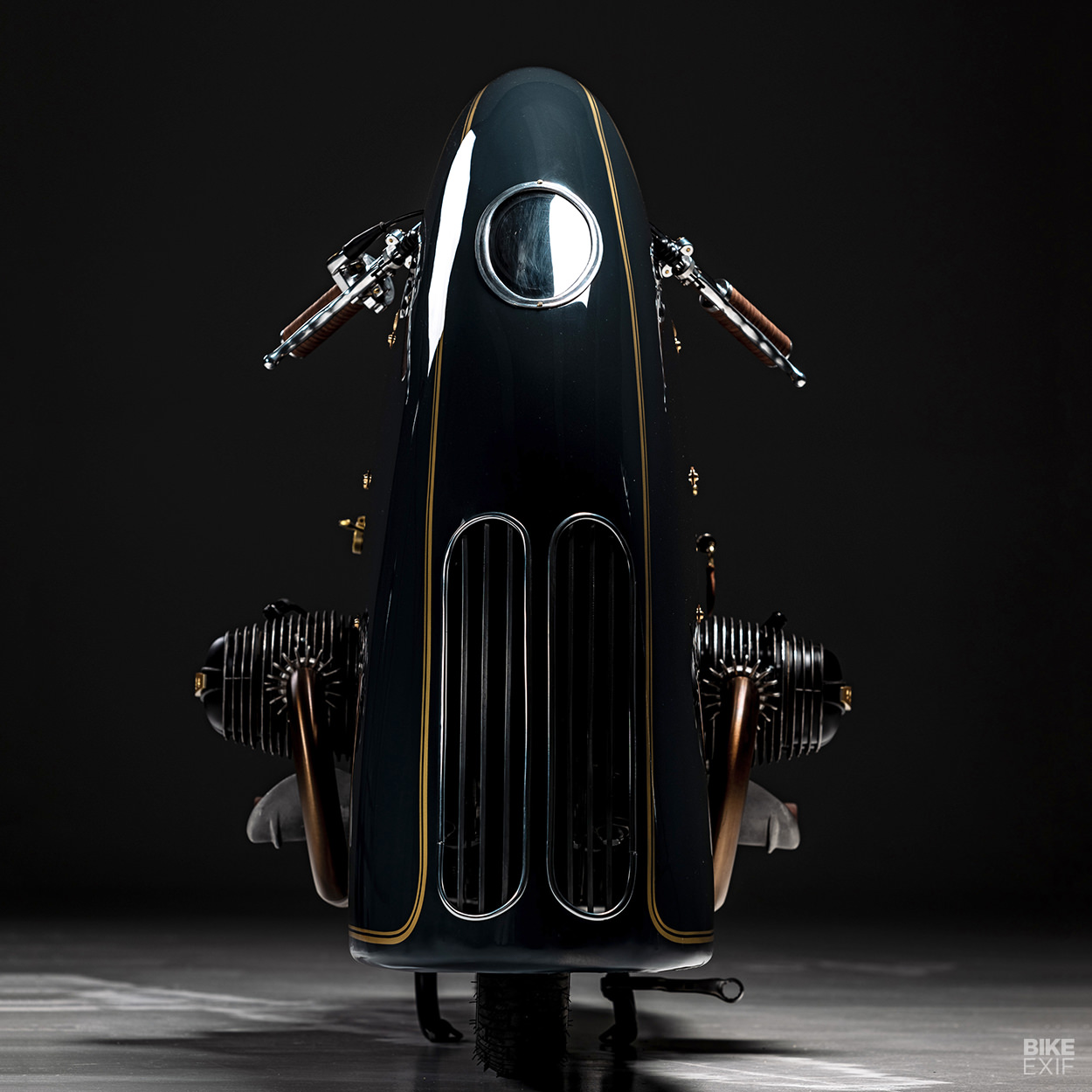 A teljes test áramvonalas burkolata alumíniumból készült, süllyesztett fényszóróval és a BMW 328 Roadster ihlette vesemaszkkal elől kiegészítve. A tökéletesen kárpitozott ülés zökkenőmentesen fut át az egyedi "műszerfalba", míg a kipufogó a testet finoman követi a farokig. Még egy üveg bor, poharak, szerszámkészlet és egy vintage ezüstkészlet tárolását is megoldották az építők! Praktikus? Határozottan nem. De nem is ez számít. A Kingston csapatának Good Ghost-ja egy Tour de Force, és kétségkívül az év egyik legimpozánsabb épített motorkerékpárja!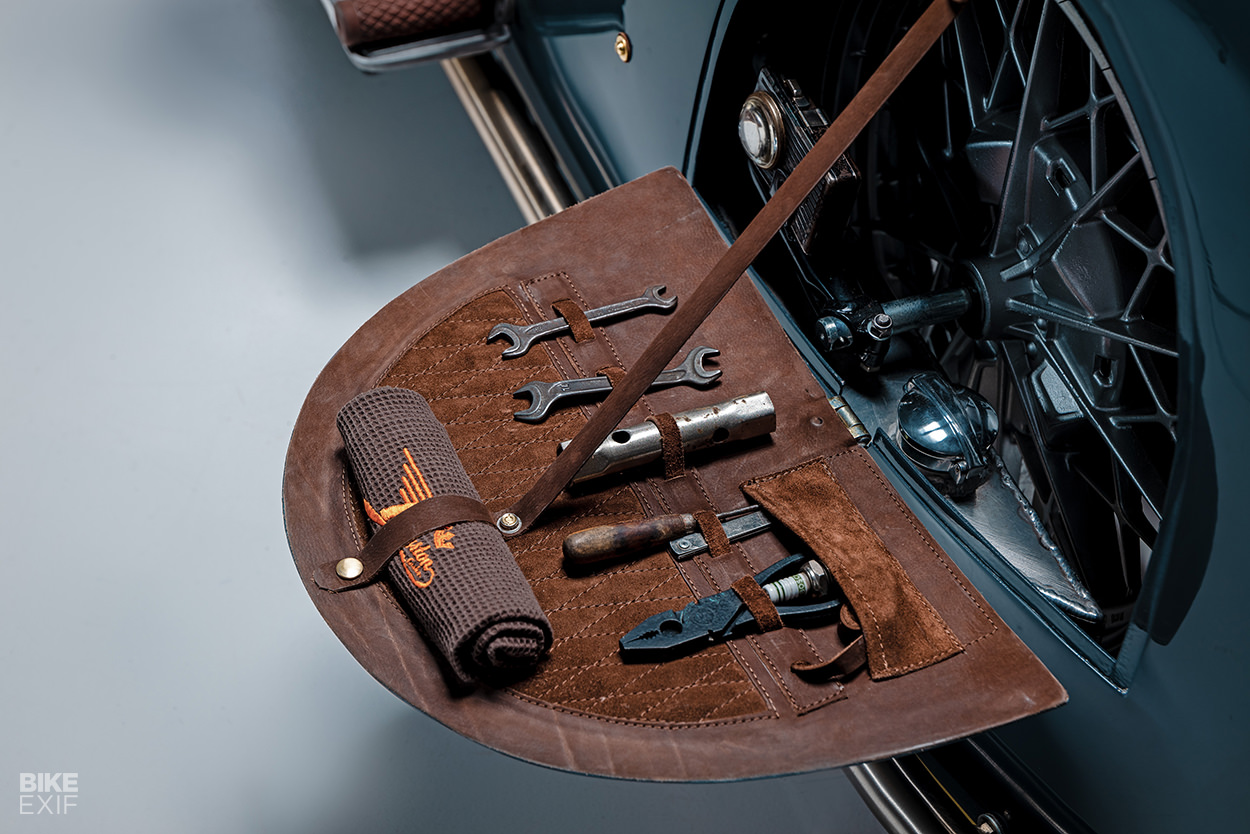 Harley-Davidson Softail, Suicide Machine Company (SMCO)
A Born Free többnyire egy chopper-show – a Guardado tesók (Aaron és Shaun) azonban inkább a "Fast Loud Deathproof" szlogenjüknek megfelelő motorkerékpárokat részesítik előnyben. Tehát amikor felkérték a csapatukat, hogy hozzanak egy egyedi Harley-t a kiállításra, döntésük egy újragondolt street tracker elkészítésére esett. Egy 107 köbinches (1753 köbcentis) Softail Standard-ból kiindulva, a végtermék végül 72 kilót dobott le, és rengeteg motor- és futóműfrissítést kapott.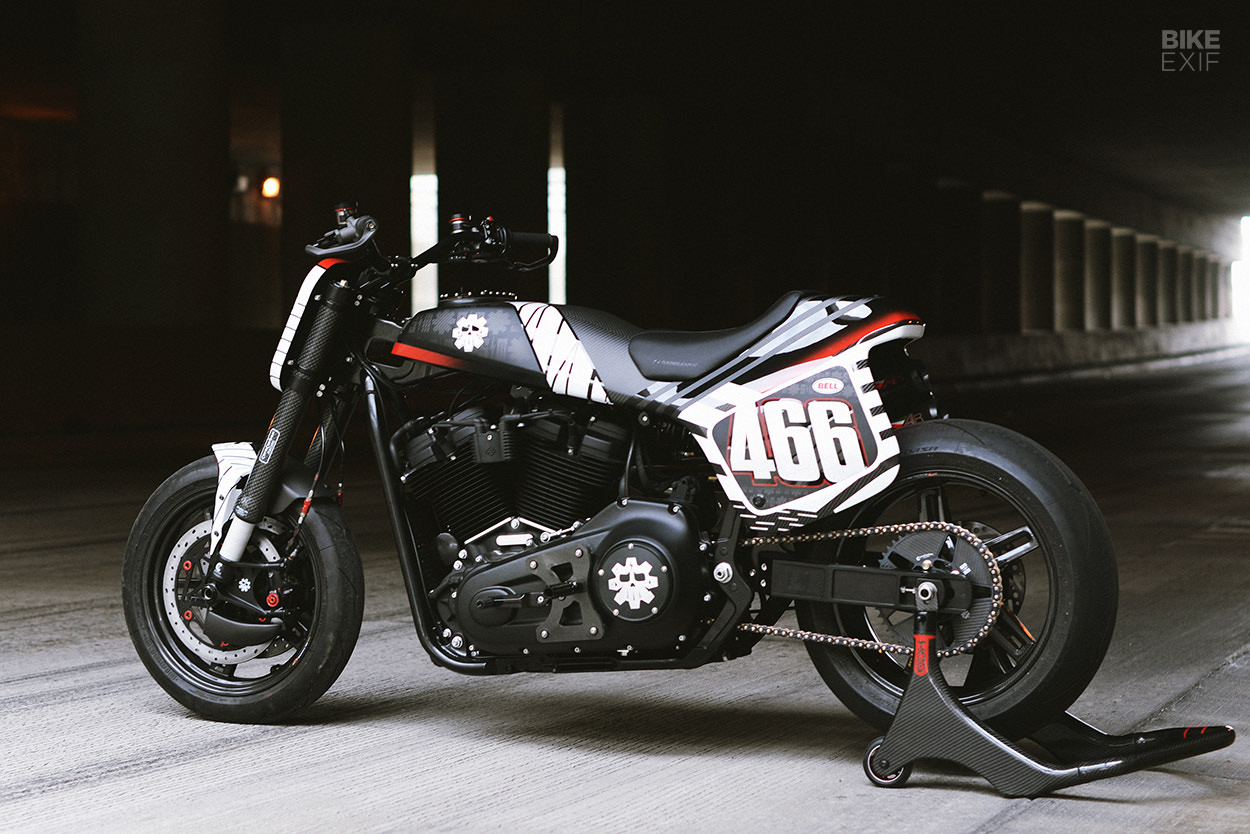 A motor egy rakás S&S Cycle "belsőséggel" rendelkezik, és a Speed ​​Merchant karburátor-barát ECU-jának (motorvezérlő egységének) köszönhetően egy 45 mm-es Mikuni karburátor segíti a munkáját. Az SMCO emellett CeraCarbon villákat is beépített Öhlins elemekkel, egy Speed ​​Merchant lengőkarral, egy egyedi Gears Racing lengéscsillapítóval és két pehelykönnyű fekete karbon kerékkel a Blackstone TEK-től.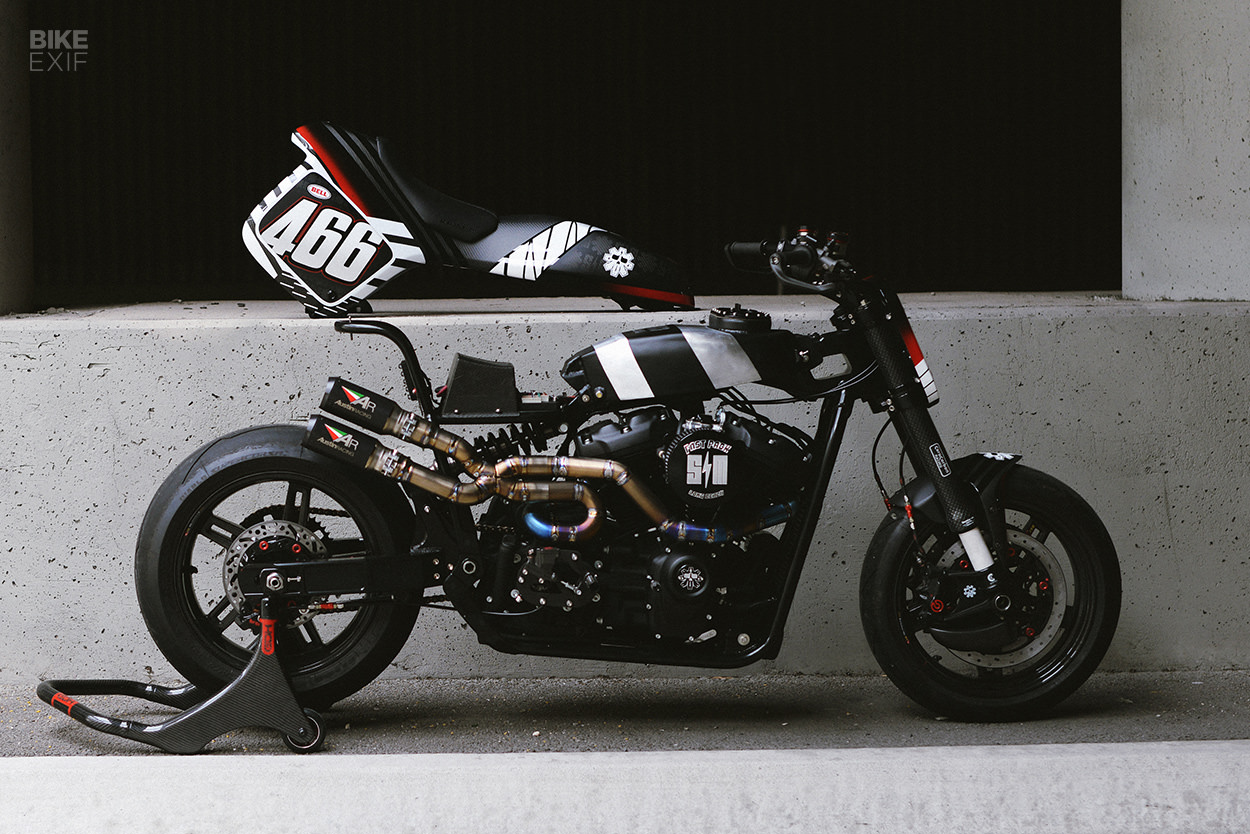 A felesleges súly legnagyobb részétől úgy szabadultak meg, hogy a Harley nehézkes karosszériáját lecserélték egy könnyű, szénszálas darabra, amelyet Alex Earle tervezett. Aaron és Shaun egyedi tankot és új vázat, valamint iker titán kipufogó fejeket is gyártott, amelyek egy pár Austin Racing hangtompítóba torkollnak.
Suzuki GT380, The Motoworks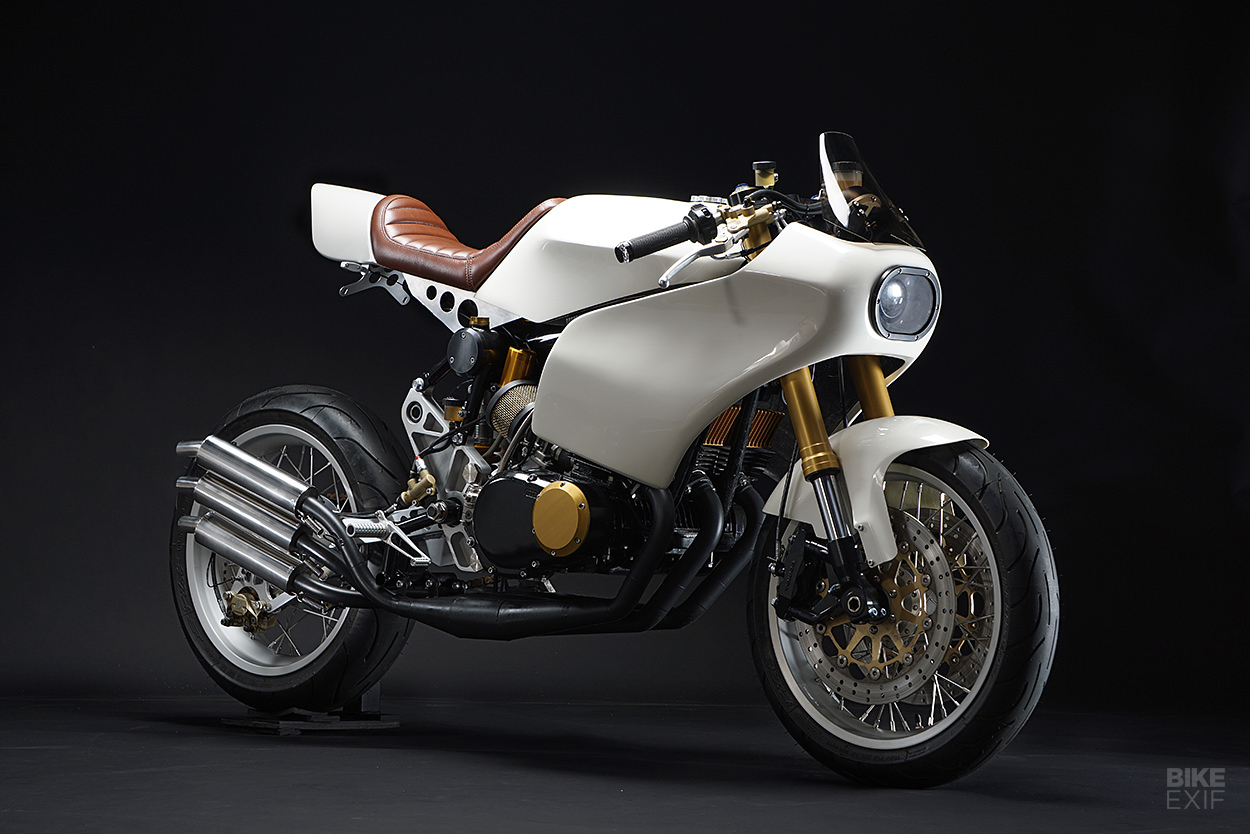 A legjobb motorépítők azok, akik ránézve egy gyári járműre, valami egészen mást látnak meg benne. Sean Pelletier egy teljesen átlagos, '70-es évek közepén gyártott Suzuki GT380-as kétütemű motort választott donornak, melyből egy "neo-retro" caféracert képzelt el, amely nem hasonlít semmire sem az ismert motorépítő világban. Az igazán érdekes az, hogy mi módon építette át Sean ezt a vasat! Mesterünk az árnyékravetődések kiküszöbölése és az egyedi gyártás előrehaladásának egyszerűsítése érdekében Jeremy Lacy ipari tervezővel együttműködve a teljes projektet 3D szoftverben tervezte meg!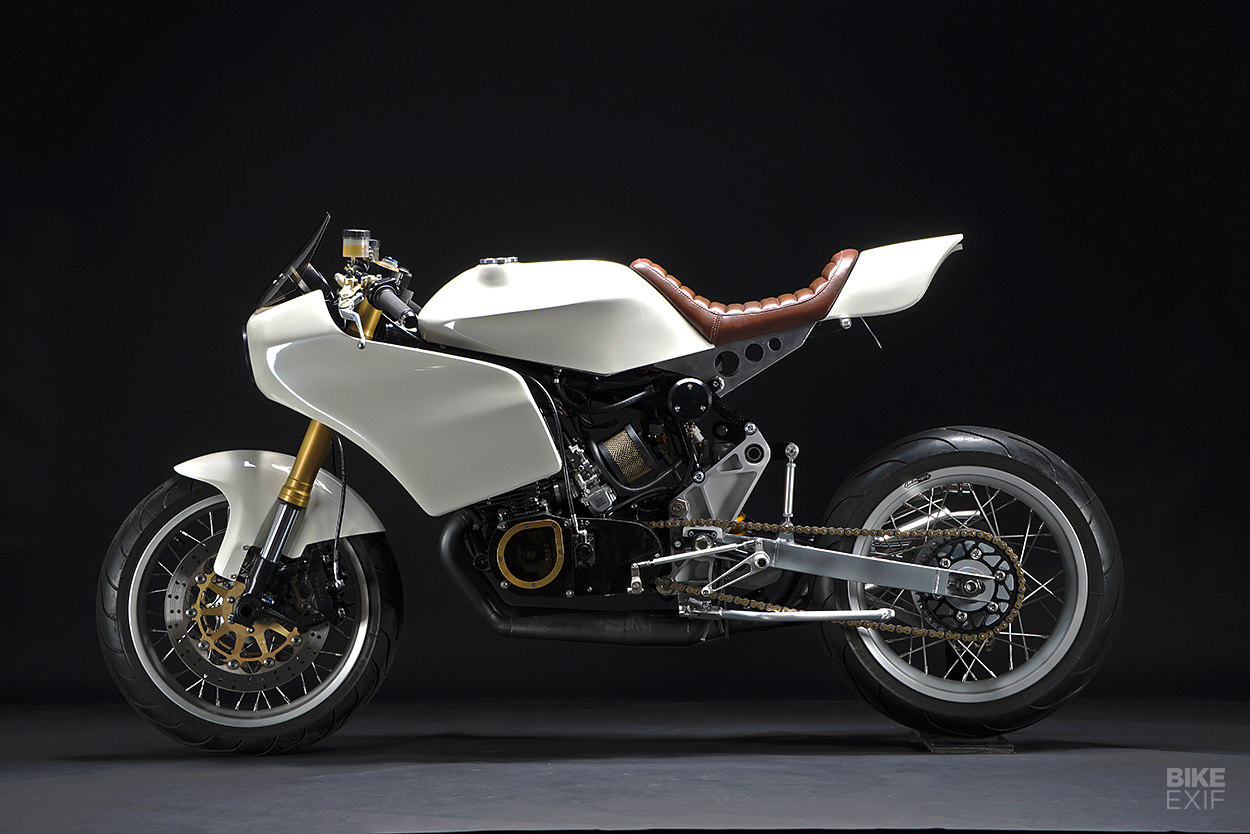 Az ötlet az volt, hogy lebontják a motorkerékpárt olyan alkatrészek egyvelegére, amelyeket le lehet gyártani, majd újra összeszerelni, mint egy óriási Meccano készletet. Az alkalmazott technológiát a SolidWorks, a MOTA motorszimulációs program és Tony Foale felfüggesztés modellező szoftvere segítette.
Innentől kezdve Sean mindent maga épített, az üzemanyag- és az olajrendszertől, a hátsó felfüggesztésen át, a kerékagyakig és a kipufogórendszerig bezárólag. Másodlagos tankot is gyártott, és a karosszériát üvegszálból formázta meg, CNC gépek segítségével. A kész termék végül gyöngyházfényű, meleg fehér színt kapott, ezzel mintegy megkoronázva a "dobozon kívül gondolkodás" sikerét.
Kawasaki drag bike, Thrive Motorcycle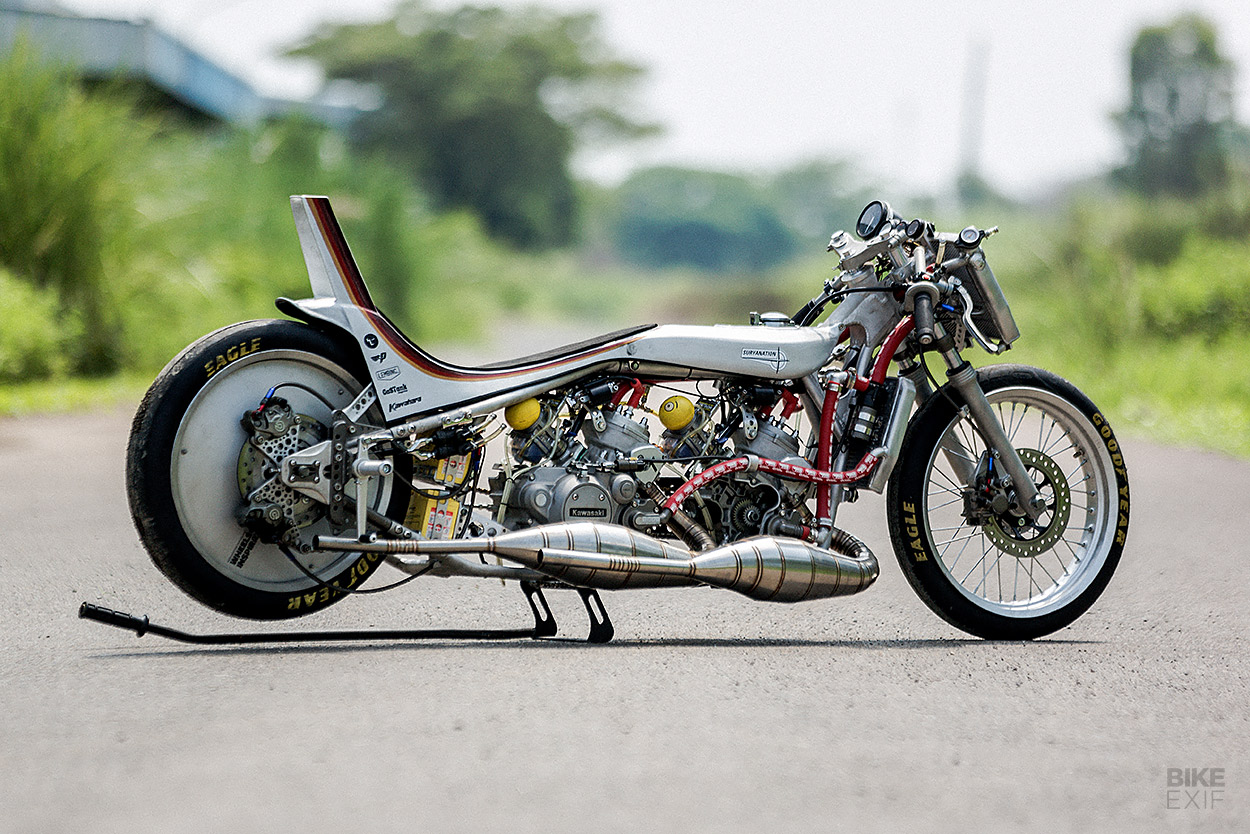 Az indonéz motorépítő szubkultúra tudvalevőleg nem szenved hiányt a kreativitásban, de ez a kétmotoros drag bringa mindent visz!
Az unikális járművet a Thrive szupersztár csapata építette az "Inspiráció kerekei" elnevezésű helyi versenyen. A nevezőknek be kellett nyújtaniuk egy tervet álmaik motorkerékpárjáról, a győztesnek pedig a Thrive Team szabta személyre az általa beadott tervet és építette meg magát a motort. A győztesnek Kawasaki Ninja 150RR-re volt, és szerette Burt Munrót. A Thrive csapatát megihlette Bud Hare '50-es évekbeli "Dubble Trubble" ikermotoros dragsterje, és elküldte a szerkezetet Yosef Gumilar motorépítő mesterhez a Prama Motorworksnél.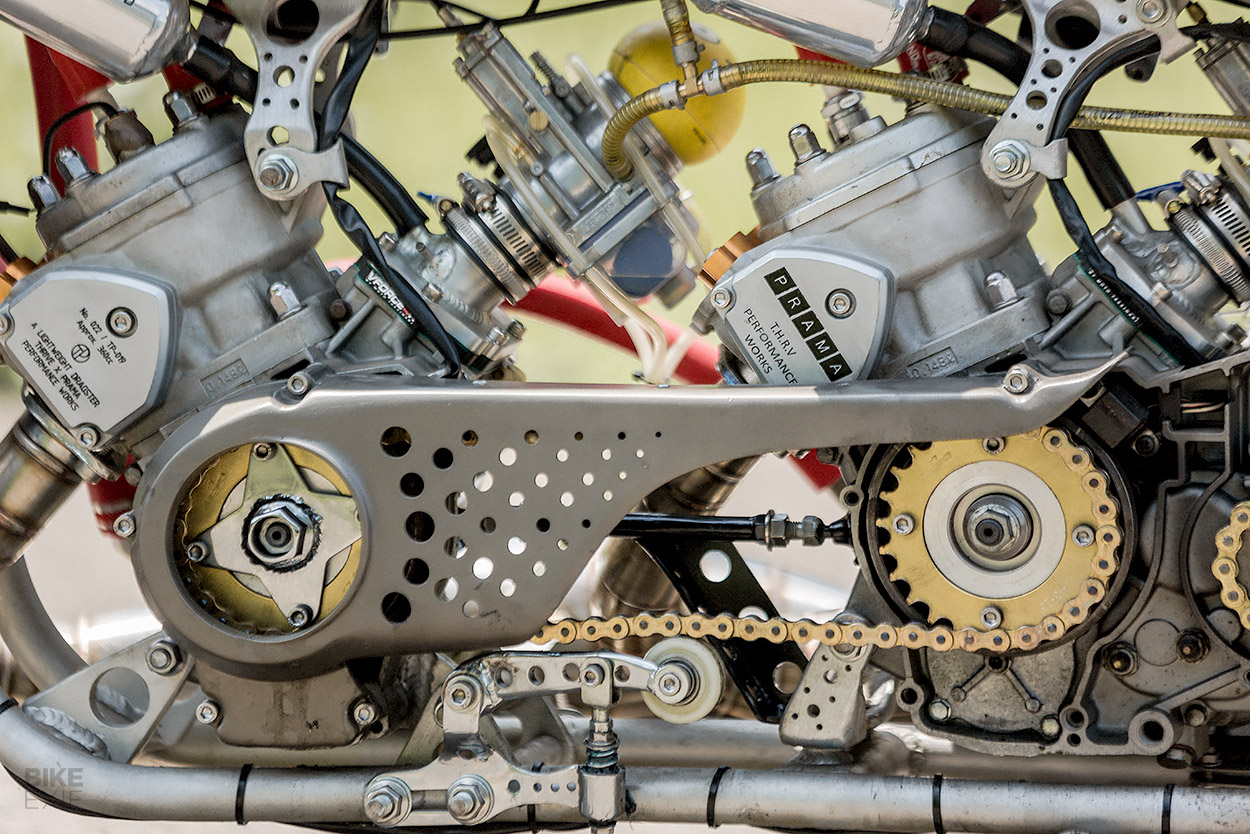 Amikor visszakapták a motort, egy kétmotoros felépítés érkezett meg, verseny főtengelyekkel, könnyített lendkerékkel és gyorsváltóval. A Thrive hozzáadott egy pár Lectron karburátort és egy rozsdamentes acél kipufogórendszert a Kawahara helyi szakembereitől. Minden a kézműves alumínium vázba van zsúfolva, egyedi karosszériával és számos "pick-'n-mix" alkatrésszel. Állítólag ez az ikermotoros alkotás olyan, mint egy "bangin' rövid hatótávolságú cirkálórakéta "…
Deus x Zero SR/S, Michael "Woolie" Woolaway
Ez a karcsú Zero SR/S volt Woolie első elektromos építése, és utolsó projektje, mint a Deus ex Machina USA egyik fő műszaki figurája. Az új technológiák és a klasszikus stílus közötti egyensúly megteremtésére törekedve Woolie a Zero karbon karosszériáját úgy vizualizálta magának, hogy először műanyag habból formázta meg. Aztán segítséget hívott: pár Lockheed Martin mérnök pontosította a technikai specifikációkat, a Taylor Made Racing pedig megformálta a végleges darabokat.
Az egész struktúra csak három részből áll, a motorkerékpár négy pontjához rögzítve.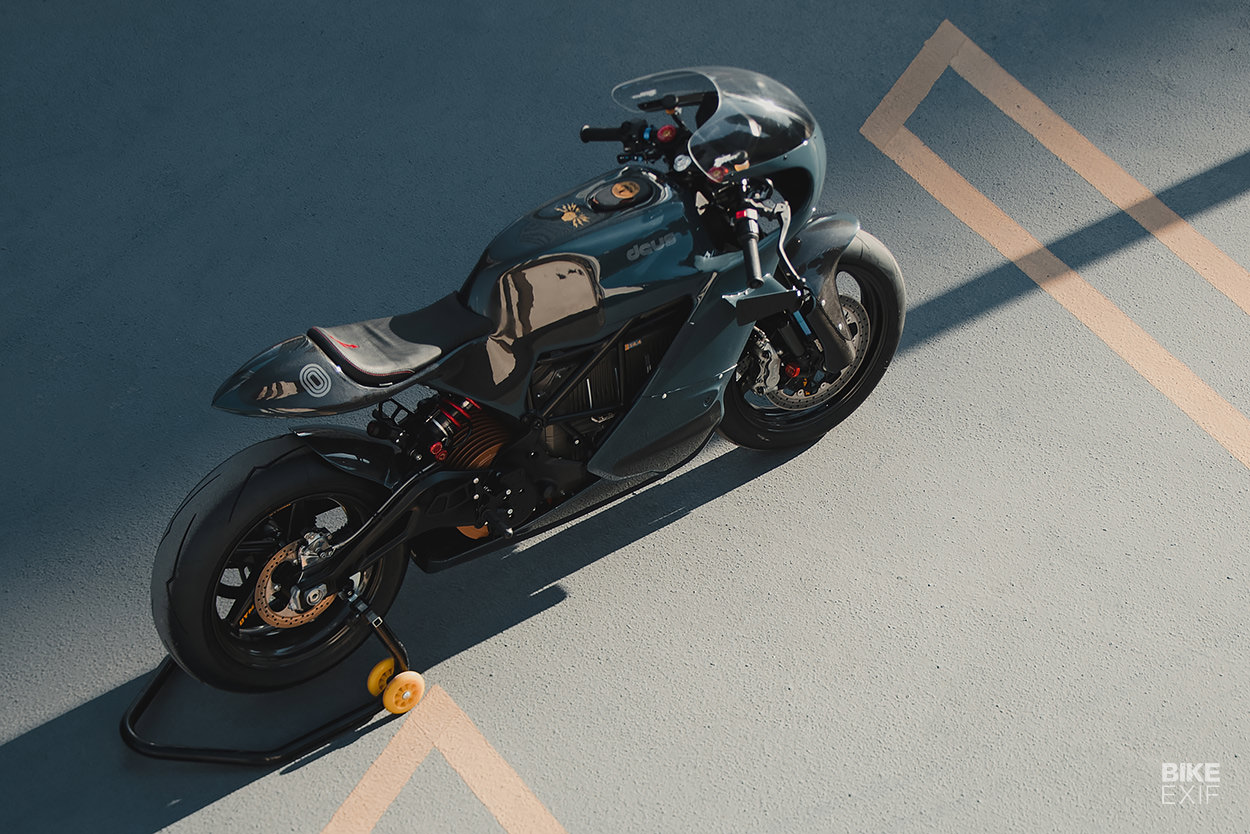 A Woolie's SR/S egy Saddlemen üléspárnát és aktuális F1 alkatrészekből kivágott kis szárnyakat is kapott. (+ WSBK-spec. Showa futómű, szénszálas Dymag kerekek, J.Juan fékek) Az ilyen különleges konstrukcióknak köszönhetően az egyedi elektromos motorkerékpárok jövője fényesnek tűnik!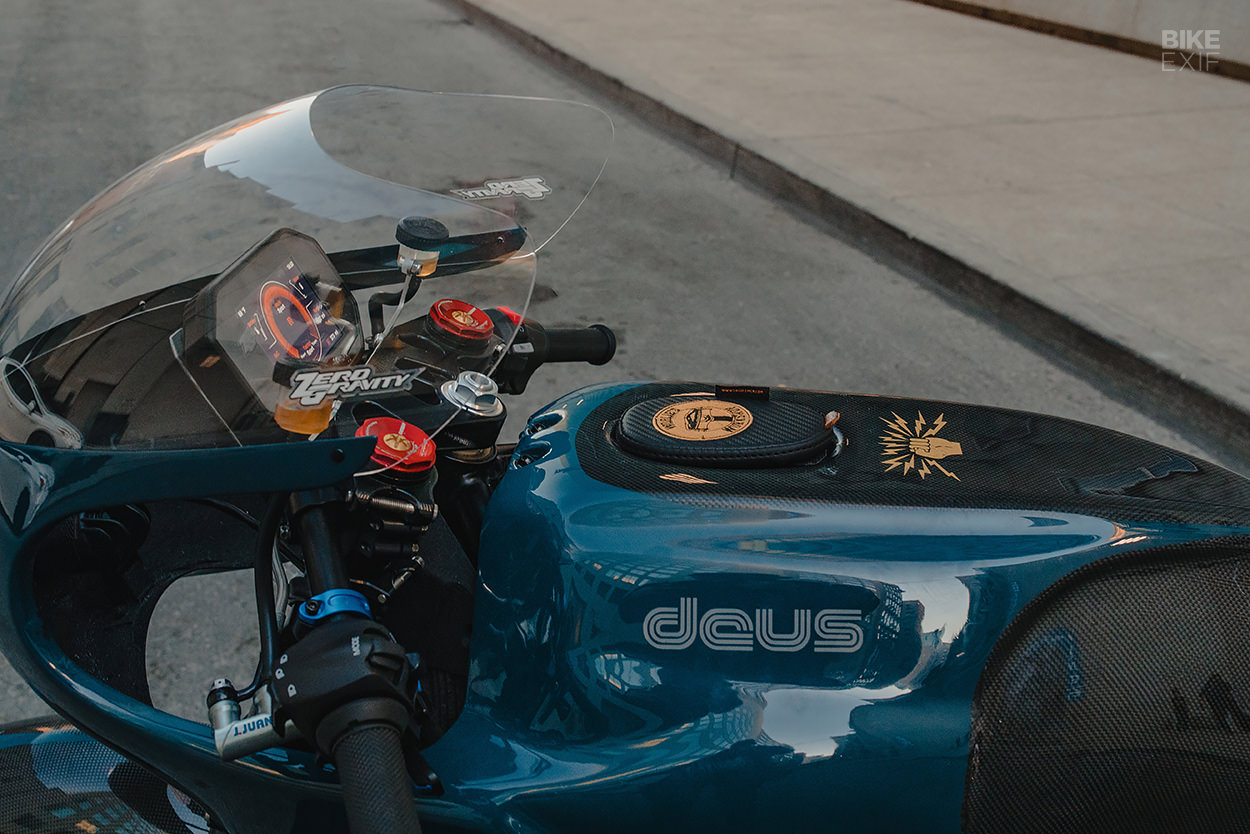 Forrás: BIKEEXIF