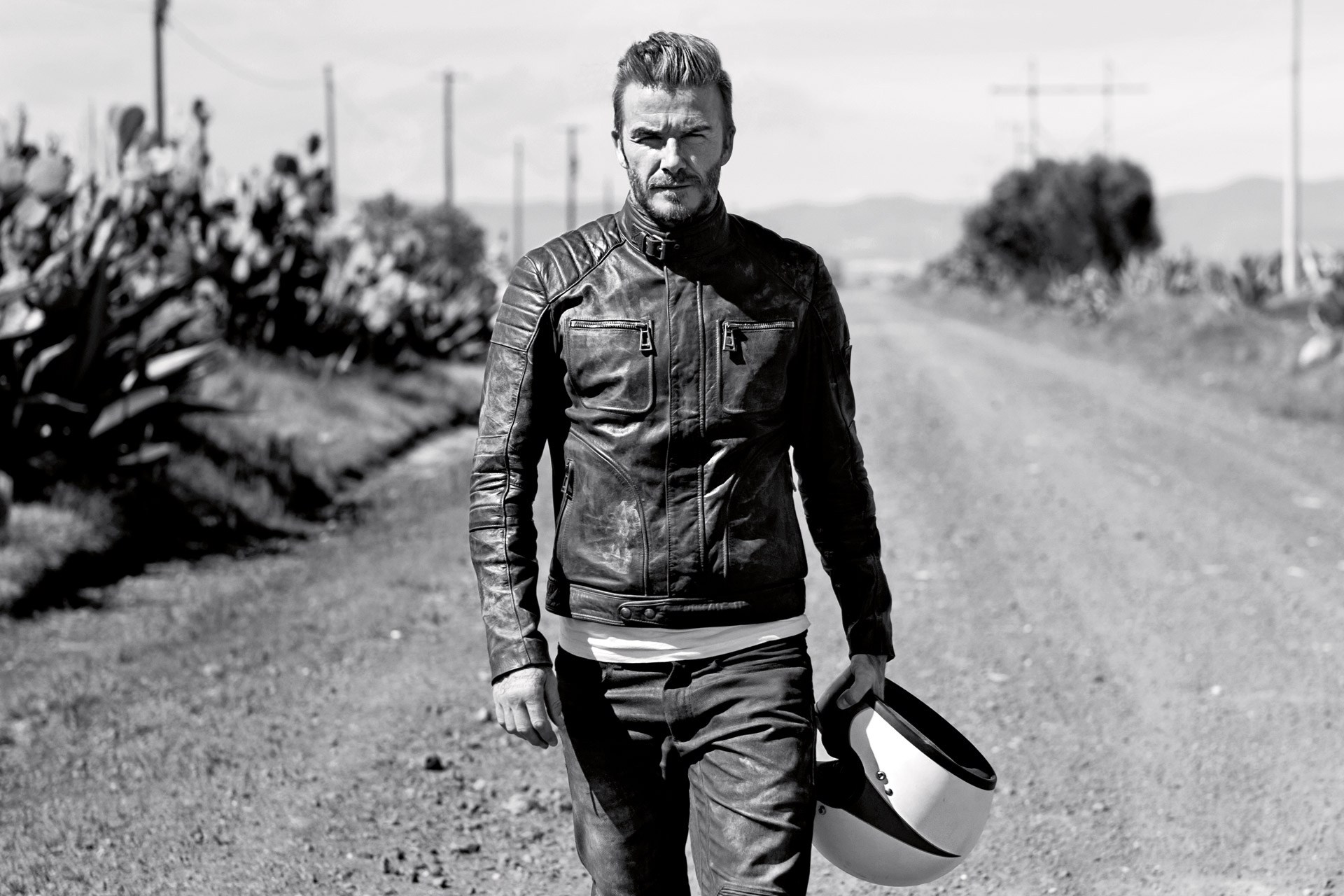 A Bel(l)staff évszázados története
Kezdjük úgy ezt az izgalmas és klasszikus idővonal cégsztorit, ahogy illik, az alapító "atyákkal".
1 9 2 4
Eli Belovitch vejével, Harry Grosberggel létrehozza a Bellstaff márkát (amelynek a nevét a '30-as évekig két l-lel írják). A cég Stoke-on-Trent-i központjában praktikus vízálló női és férfi ruházatot gyártanak, elsősorban motorosok számára. Grosberg, aki nagy hangsúlyt fektet arra, hogy a cég a technológiai élvonalban maradjon, új textilek és technikák után kutatva körbeutazza Európát és Ázsiát. Ennek eredményeként a Belstaff cég a világon elsőként kezdi használni az egyiptomi, viasszal kezelt pamutvásznat (waxed cotton), hogy légáteresztő, mégis vízálló ruházatot készítsen.
Szolgálati közlemény: A következő  idővonalnak a kibővített, (1907-ben induló!) teljes verzióját itt találjátok meg, a Belstaff termékeit pedig a Route42-nél a Hygge Központban a Bálna Budapest északi főbejáratánál balra, vagy webshopunkban. A közkedvelt Raleigh dzsekit, melyet Beckham a borítóképen visel, a következő linken tudjátok megvásárolni:
1 9 2 7
Eli és Harry kemény munkája megtérül, amikor egy hadászati, tengerészeti és általános cikkeket forgalmazó üzletet nyitnak a StaffortStreeten. Elkezdik használni a Bellstaff logót a konfekciós ruhadarabokon és bejegyeztetik a Bellstaff márkát.
1 9 3 0
Egy újabb Belstaff gyár nyílik Longtonban, a Caroline Street 5-ben, ami csalhatatlan jele annak, hogy a vállalkozás sikeres és terjeszkedik.
1 9 3 3
A kéthetes Man-szigeti TT-t minden brit motorversenyzés-rajongó elsőként vési be a naptárjába. A két hét eseményei között szerepel a Blue Riband is, amely egy Senior TT a legnagyobb teljesítményű motorkerékpárok számára. A verseny előtt tisztelegve a Belstaff Senior TT versenykabátot gyárt, amely jól mutatja azon szándékát, hogy feszegesse a textiltechnológia határait. A kabát fekete színben, vízálló beaverteen (sávolykötésű pamutszövet) kiadásban kapható, illetve a delux modell duplaszövésű vízálló kasmírból készül.
1 9 3 4
A hadászati, tengerészeti és általános cikkeket forgalmazó üzlet bezár a Staffort Streeten, mivel a Belstaff most már viszonteladókon keresztül értékesíti termékeit egész Nagy-Britanniában. A cég azonban továbbra is kínál mérték utáni szolgáltatást a különleges igényű vásárlóknak, valamint sátrakat, kempingfelszerelést, védőszemüveget, kesztyűket, csizmákat, sisakokat, táskákat és különböző vízálló köpenyeket motorosok számára.
1 9 4 0 – 4 5
A II. világháború alatt a Belstaff az ejtőernyőktől kezdve a repülős ruházatig mindenfélét szállít. A víz- és időjárásálló textilek terén szerzett több évtizedes tapasztalata miatt erre a cégre esik a választás, hogy olyan túlélő ruházatot gyártson, amely a brit légierő és a tengerészet számtalan katonájának menti meg az életét. Akkora a kereslet a fegyveres szolgálatok részéről, hogy a Belstaff további 600 dolgozót vesz fel.
1 9 4 8
Ha egyetlen ruhadarabot kellene megnevezni, ami jellemzi a Belstaffot, az a viasszal kezelt pamutból készült Trialmaster kabát lenne, amit ebben az évben dobnak piacra. Úgy tervezték, hogy ellenálljon a skóciai hatnapos verseny mostoha időjárási és vezetési körülményeinek, ezért tartós és kényelmes, könnyű benne mozogni, és még stílusos is. Négy zsebének és mandaringallérjának köszönhetően hamarosan igazi klasszikus darabbá válik. Naomi Campbell így nyilatkozott erről a darabról:
"A Trialmaster szexi, ikonikus dizájn. Nekem is van egy évek óta – meleg, kényelmes és olyan, mintha rám öntötték volna. Ráadásul igazi történelmi feelingje van. A brit dizájn diadala – és nagyon praktikus."
1 9 5 2
A leendő marxista forradalmár, Ernesto "Che" Guevaraegy elképesztő, nyolchónapos és 8.000 km-es utazásra indul a dél-amerikai dzsungeleken, sivatagokon, hegyeken és városokon át, amiről 'A motoros naplója' című visszaemlékezésében számol be. Egy 1939-es, 500 köbcentis, egyhengeres Norton (Model 18) motorkerékpáron utazik (a "Poderosa"-n), és mint minden valamirevaló endurance motoros, Belstaff Trialmaster kabátot visel.
1 9 6 3
Steve McQueen feltűnik 'A nagy szökés' című filmben. A színész akkor már egyébként is elkötelezett motorkerékpár-rajongó: az 1950-es évek végén végigmotorozik Kubán a motoros haverjaival, 1964-ben pedig az USA színeiben versenyez.
"A versenyzés az életem, minden, ami az előtt vagy után van, csak várakozás."
McQueen akkora Belstaff-rajongó lesz, hogy egy korabeli történet szerint még egy randevút is kihagy Ali McGraw-val (akivel együtt szerepeltek 'A nagy szökésben'), csak hogy kivaxolhassa a Trialmaster kabátját.
"Nem is tudom, hogy olyan színész vagyok-e, aki versenyez, vagy olyan versenyző, aki színészkedik is."
1 9 6 9
A főnixmadaras logót 1969-ben vezetik be, és eredetileg a Trialmaster szimbólumának szánják. A szárnyat bontó főnix a felemelkedést és a folyamatosságot jelképezi a hamvaiból feltámadó főnix görög mitológiából ismert mítosza alapján.
1 9 7 0
Ebben az évtizedben vezetik be a szintetikus textíliákat. A híres Belstaff XL500 (az egyik első kabát, amely már nem csak feketében kapható) különleges eljárással kifejlesztett műszálból, ún. "belflexből" készül, amely oly mértékben tartós és kopásálló, hogy az XL500 verziói még 45 évvel később is fellelhetők!
1 9 7 2
A Belstaff JackieStewarttal együttműködve tervez felsőruházati kollekciót, aki 27 Grand Prix és három világbajnokság győztese volt a '60-70-es években. Ebbe a kollekcióba tartoznak a színes Monaco, Grand Prix, Pit Stop és Formula One dzsekik.
2 0 0 0 – e s  é v e k
A Belstaff ebben az időben hódította meg Hollywoodot. A sort a Batman Begins, a Blade Trinity, a Tomb Raider II, és Martin Scorsese The Aviator című filmje indította, ahol az eredetiség, az autentikusság és a stílus rendkívül fontos volt a ruházat megválasztásánál. Daniel Radcliffe saját Belstaff 'Harry Blouson'-t kapott a Harry Potter filmek 6. részében, Hilary Swank egy barna bőr Belstaff dzsekiben játszotta Amelia Earhart amerikai pilótát. Tom Cruise a Mission Impossible 3-ban viselt Belstaffot, Will Smith pedig az I Am Legend című thrillerben. Cate Blanchett az I'm Not There, Johnny Depp a Sweeney Todd, Brad Pitt pedig a The Curious Case of Benjamin Button, valamint az Inglourious Basterds című filmekben.
2 0 0 4
A Hosszú motorozás (The Long Way Round) című dokumentumfilm-sorozatban Ewan McGregor és Charley Boorman 30.396 km-t (!) tesznek meg mindössze 115 nap alatt (!), két BMW GS R1200-as motorral Londontól New Yorkig, átszelve Nyugat- és Közép-Európát, Ukrajnát, Oroszországot, Kazahsztánt, Mongóliát, Szibériát és Kanadát. Ewan és Charley 2007-ben ismét elhatározták, hogy újabb kihívást vállalnak, 15.000 mérföldet tettek meg a Long Way Down elnevezésű útjuk során a skóciai John O'Groats-tól Afrika legdélibb csúcsáig, Cape Agulhas-ig majd Cape Townig.
2 0 0 6
Kate Moss szerepel a Belstaff reklámkampányaiban.
2 0 1 2
2012 nyarán a Belstaff felkéri Ewan McGregor színészt és motorkerékpár-rajongót, hogy legyen az őszi kampány arca. McGregor egy sor reklámban feltűnik motorozás közben, az új Belstaff dizájn darabjait viselve. Találó módon a reklámok fotózása az évente megrendezésre kerülő Festival of Speed autóverseny helyszínén, a nagy-britanniai Goodwoodban történik.
2 0 1 3
"A Belstaff 2013-as őszi kollekcióval továbbra is meghatározza a motoros divatot. A színpalettán a fekete dominál barnás és éjkék beütésekkel. Az uralkodó cargo zsebeknek és karcsúsított szabásvonalaknak köszönhetően a kollekció számos darabja még mindig a Belstaff legendás Trialmaster kabátjára hajaz, arra a kabátra, amely mindennek az alfája és az omegája."  GQ America
2 0 1 4
David Beckham, egy kifinomult vintage motoros dzsekikollekció tulajdonosa lesz a kurátora a Belstaff Beckham nevével fémjelzett kapszulakollekciójának, amely bőrdzsekiket és viasszal kezelt pamutvászon dzsekiket kínál a Belstaff klasszikusok stílusában. A kollekció okosan ötvözi Beckham sportolóként és divatikonként a férfiakra és a nőkre gyakorolt vonzerejét a márka hagyomás erősségeivel az anyagok és a dizájn terén. A kollekció piacra dobását egy Peter Lindbergh által fényképezett reklámfilm támogatja Beckhamről és barátairól, amint Anglia vidéki tájain motoroznak motorkerékpárjaikon.
2 0 1 5
A Greasy Hand Preachers című film azt a szenvedélyt dicsőíti, amelyet a motorkerékpárok szerelése képes felszítani. Sikeres premierje után a 2014-es San Sebastian-i Nemzetközi Filmfesztiválon, a film bejárja a világot. A film vezető producere Orlando Bloom, produkciós partnere a Belstaff.
A Belstaff egy kisfilmet készít "OUTLAWS" címmel, a Legs Mediával partnerségben. A film főszereplője David Beckham, a Belstaff márkanagykövete, aki élete első komoly filmszerepében látható.
Frederik Dyhr, a férfi dizájn részleg alelnöke a London Collections-ön mutatja be 2015-ös őszi-téli kollekcióját: Men in January 2015.
A kollekciót az 1950-es évek "Ton-Up Boys" szubkultúrája inspirálta, akik bolondultak a rock 'n' rollért és a motorkerékpárokért.
———————————-
"MICSODA FANTASZTIKUS VISSZATÉRÉS LONDONBA! LE VAGYOK NYŰGÖZVE."
Dylan Jones, GQ UK, szerkesztő, LC:M elnök
"BRAVÓ A BELSTAFFNAK EZÉRT AZ ÉSZBONTÓAN KIRÁLY, ÖTVENES ÉVEKBELI HANGULAT INSPIRÁLTA 2015 ŐSZI BEMUTATÓÉRT. IMÁDTAM A VAGÁNY ROSSZFIÚS SZEREPOSZTÁST!"
Jim Moore, GQ USA, főszerkesztő
"A BELSTAFF VISSZATÉRT AHHOZ, AMIHEZ A LEGJOBBAN ÉRT."
Madeline Weeks, GQ USA, divatigazgató
"PAZAR BEMUTATÓ VOLT EGY NAGYON MENŐ KOLLEKCIÓHOZ."
Carine Bizet, Le Monde, divatszerkesztő
———————————-
Delphine Ninous, a női dizájn részleg alelnöke a londoni divathéten mutatja be debütáló kollekcióját 2015 februárjában. A 2015-ös őszi-téli kollekciót az első úttörő nők ihlették, akik a Belstaff ruháit viselték: Amelia Earhartés Amy Johnson női pilóták. A kollekció a természeti világban leselkedő veszélyek és izgalmak dinamikus interpretációja, amelyben a nő pörgős és szabad életet élhet egy folyton változó környezetben.
———————————-
"A FÉRFIAS ÉS A NŐIES STÍLUS ITT AZ ELMÚLT ÉVEK EGYIK LEGSIKERESEBB DIVATJÁVÁ FORRTA KI MAGÁT."
Tim Blanks, Style.com
"NINOUS TEXTILBŐL FORMÁZTA MEG A TÖRTÉNETÉT, ÉS NEVET IS ADOTT A MEGKÖZELÍTÉSÉNEK: NŐIES FUNKCIONALITÁS. A KOLLEKCIÓ ALAPJÁN ÚGY TŰNIK, A BELSTAFF JÓ IRÁNYBA HALAD."
"Suzy Menkes, Vogue International
"HATÁROZOTT MÁRKAEVOLÚCIÓ ZAJLIK A SZEMÜNK ELŐTT. EZ MÁR NEM CSAK MOTOROS LÁNYOKNAK SZÓL. INKÁBB EGY IGAZI GLOBÁLIS ÉLETSTÍLUS MÁRKÁNAK TŰNIK."
Saks Fifth Avenue
"A VÉGÉN AZT KÍVÁNTUK, BÁRCSAK FELPAKOLHATNÁNK AZ EGÉSZ KOLLEKCIÓT ÉS AZONNAL HAZAVIHETNÉNK."
Belinda White, Telegraph