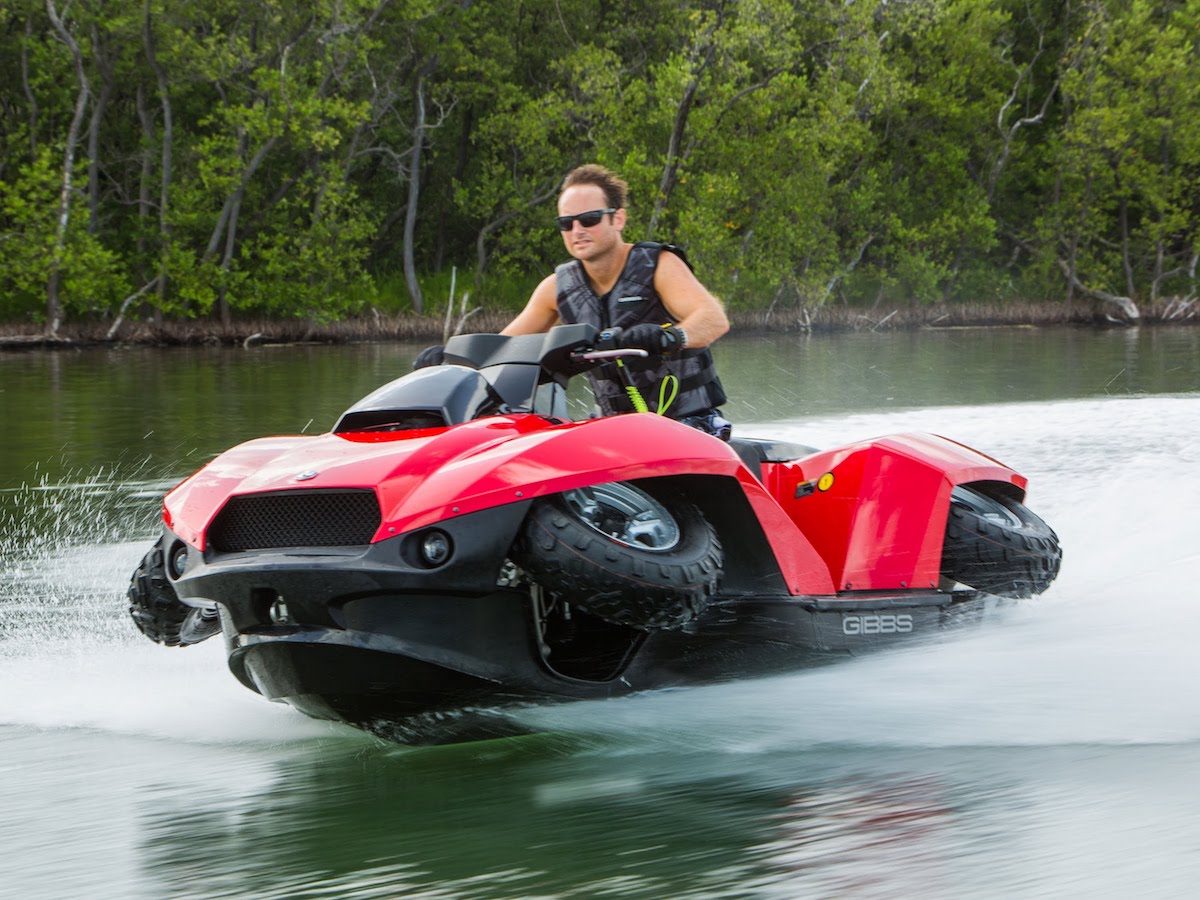 Quad + Jetski = Quadski
Sokféle cifra járművet mutattunk már be itt. Elektromos meghajtással, benzinnel, gázolajjal vagy hibrid hajtással rendelkezőket. Valóban forradalmi, giroszkópok sokasságával telezsúfolt innovációkat, prototípusokat és rajzasztalon/képernyőn rekedt nagy ívű terveket is.
Ma azonban, a közelgő nyárra tekintettel, egy egészen különleges kétéltű járművet toltunk be az R42 garázsába. Egy Quadski-t! A kétéltű járművek persze már régen részei a világ járműparkjának. A katonai felhasználás mellett turistalátványosság is az ilyen szállító eszköz. Még Budapesten is működik egy ilyen, hiszen a Dunán közlekedő kétéltű sárga busz is régen része a hazai turizmusnak. Persze luxus verziót is lehet építeni, jó példa erre a svájci tuningcég, a Rinspeed szintén kétéltű Lotus sQuba tanulmányautója.
A Quadskit a michigani Gibbs cég (nem Robin, Barry és Maurice) gyártja már kb. 8-9 éve és 40.000 dodóért adják oda a kapuzárási pánikban rettegő amerikai nyugdíjasoknak (is). Mondjuk 200 millió dollárt öltek a projektbe. (vagy öntöttek a vízbe.) Egy 140 lovas BMW (K1300) blokk gondoskodik arról, hogy a fura jármű 80-nal repeszthessen.
Földön és vízen is. (Földön csak 80 lóerőt engednek a kerekekre, ezért az alacsony végsebesség.) Egyébként minél tovább nézegetem a képeket, annál kevésbé tudom elképzelni, hogy ennek van értelme. Persze ettől még simán megélhetnek a fiúk az ügyből. A videóban már az új, XL verziót láthatjátok működés közben.