ARCTOS Collection
Sokszor írtam már Ulfert "pixelguru" Gannet koncepciómotorjairól, sőt Guld Peti még interjút is készített vele.
Ulfert asztalosként kezdte, majd a Renault-nál folytatta, végül megalapította a Gannet Design stúdiót. Műalkotásai óriási sikernek örvendenek nemzetközileg is, továbbá társszerkeszti a design megszállottak egyik közkedvelt blogját, a Le Container magazint is. Ulfert barátunk "rámírt" múlt héten egy új projektje kapcsán, erről számolok be ma. (Korábbi cikkek Ulfert motorjairól: interjú, cikk-1, cikk-2, cikk-3)
Az ARCTOS Collection a Fuhrer Moto, a Gannet Design és a Fuhrer Auto új közös márkája. Székhelye a svájci Emmentalban található. Az ARCTOS Collection célja, hogy szolgáltatásait világszerte kínálja azon ügyfeleinek, akik egyedi motorkerékpárokat, autókat és kapcsolódó termékeket keresnek. Az ARCTOS Collection cégnél minden "egy fedél alatt" van: a tervezést, fejlesztést és kivitelezést is ők végzik.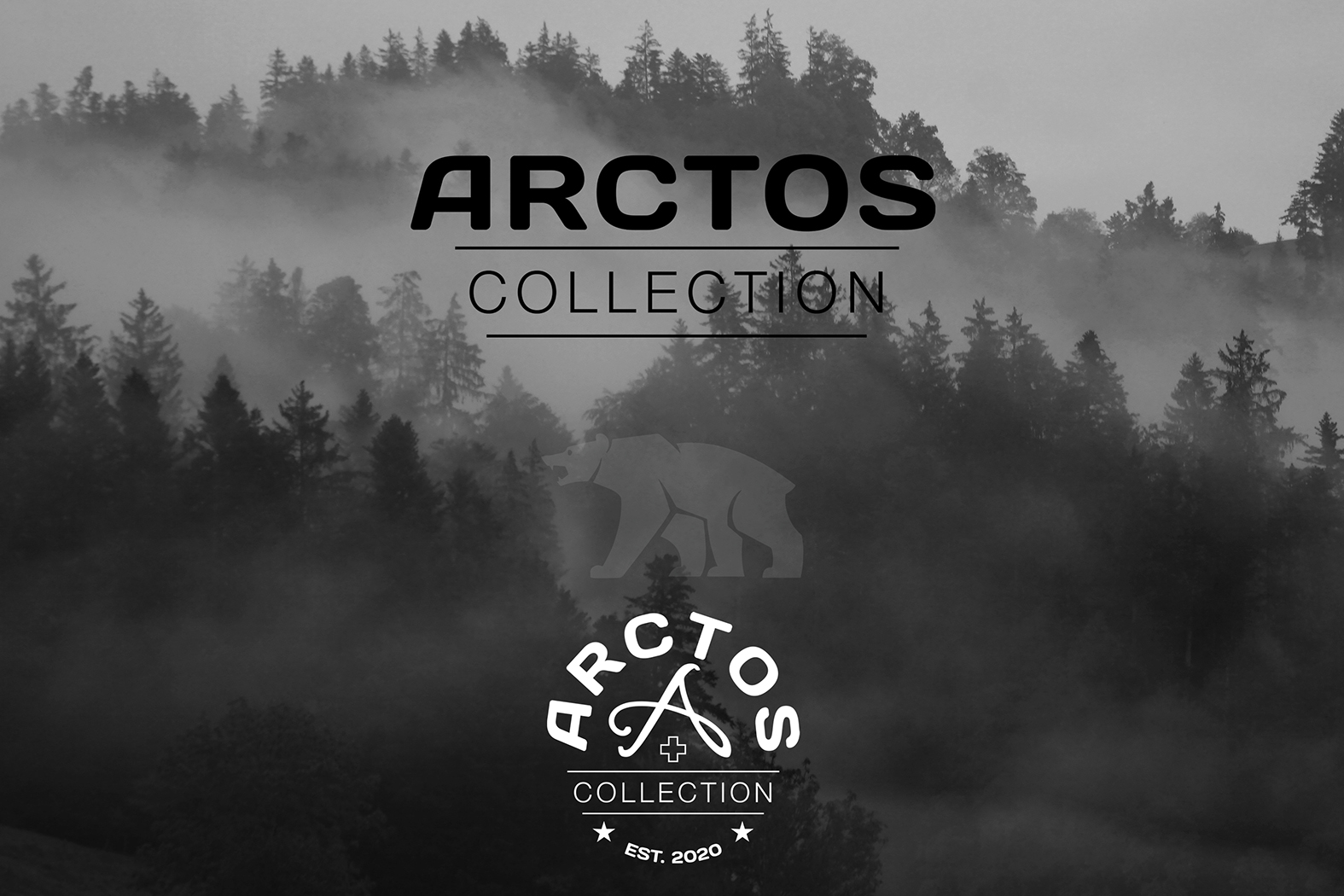 Történet
A három fél először 2018-ban jött össze, amikor a Gannet Design a Fuhrer Moto-t kérte fel, hogy építse meg az általa tervezett Moto Guzzi V9 Racer motorkerékpárt. Gannet szorosan együttműködött a projekt során Fuhrerrel, minden részletet együtt megvitatva és kidolgozva. Ennek eredményeként a Fannrer Moto és a Fuhrer Auto kézműves csapata Gannet koncepcióját egy tökéletes szépséggé formálta, pontos mérnöki kompetenciával, alapos kézimunkával és látványos fényezéssel gazdagítva a végeredményt.
A "Guzzi racer" nagy visszhangot váltott ki a motoros közösségben, és számos nemzetközi cikkben szerepelt, köztük a Moto Guzzi hivatalos honlapján is megjelent. 2019 elején pedig belekezdtek a második nagy projektjükbe, ezúttal egy Honda CB1000R volt a donor. Az új jármű első díjat nyert a Honda Switzerland által megrendezett egyedi motorkerékpárépítő versenyen, és bemutatták különböző nemzetközi eseményeken is, mint például a Wheels & Waves és a Glemseck 101 rendezvényeken. "Meglehetősen menő" volt, amikor a járművet a Glemseck 2019-es sprintversenyen a Man-sziget legendás versenyzője, Conor Cummins hajtotta!
ARCTOS Collection
Az ementáli régió festői kis völgyében bújik meg az Arctos márka székhelye. Sötét, ködös erdők, buja növényzet, helyes kis házikók, csipetnyi misztikus hangulattal kombinálva. Ez az álomszerű táj a hagyományos, kicsiny kézműves műhelyek, valamint a csúcstechnológiai cégek lenyűgöző keverékét is magában foglalja. Itt dolgozik az ARCTOS Collection brand is, amely összefogja e két területet: a klasszikus kézművességet és a modern csúcstechnikát. Az emmentáli régió, ahonnan (szöprájz, szöprájz!) a híres ementáli sajt származik, a svájci Bern kantonban található, amelynek heraldikai (címertan) állata a medve. A márka neve és logója is kihangsúlyozza az ARCTOS Collection eredetét, hiszen Arctos az ókori görögben medvét jelentett.
Csapat
A csapattagok színes előtörténete tükrözi korszerű kivitelezési tudásukat, kombinálva az elvárt magas minőségi színvonallal és a részletekre való odafigyeléssel, amelyről egyébként a svájci óragyártás is ismert.
Stefan Fuhrer (A Fuhrer Moto ügyvezető igazgatója)
Stefan sokéves nemzetközi tapasztalattal rendelkező versenyszerelő volt a MotoGP sorozatban Tom Lüthi (CH) svájci versenyzőnél, akivel 2005-ben világbajnok lett a 125 köbcentis kategóriában. Dolgozott Dominique Aegerter (CH), Marcel Schrötter (D), Takaaki Nakagami (JPN), Chaz Davies (GB) és Dirk Heidolf (D) versenyzőknek is. Ez az egyedülálló know-how különösen a motorkerékpárok építése során és az egyedi járművek átépítése és optimalizálása során hasznos.
Ulfert Janssen (A Gannet Design tulajdonosa)
A Gannet Design az autó- és motorkerékpár tervezés, a terméktervezés, valamint a márka stratégia és a márkaépítés területén dolgozik. Tízéves nemzetközi tervezési tapasztalattal rendelkezik a speciális egyedi motorkerékpárok terén Svájcban, Németországban, Hollandiában, Spanyolországban, Franciaországban és az Egyesült Államokban. A Gannet megalapítása előtt Ulfert a Renault autótervezője volt a barcelonai design stúdióban, a tengerentúlon pedig a koreai Renault/Samsung Motorsnál és a Nissan Motor-nál Japánban.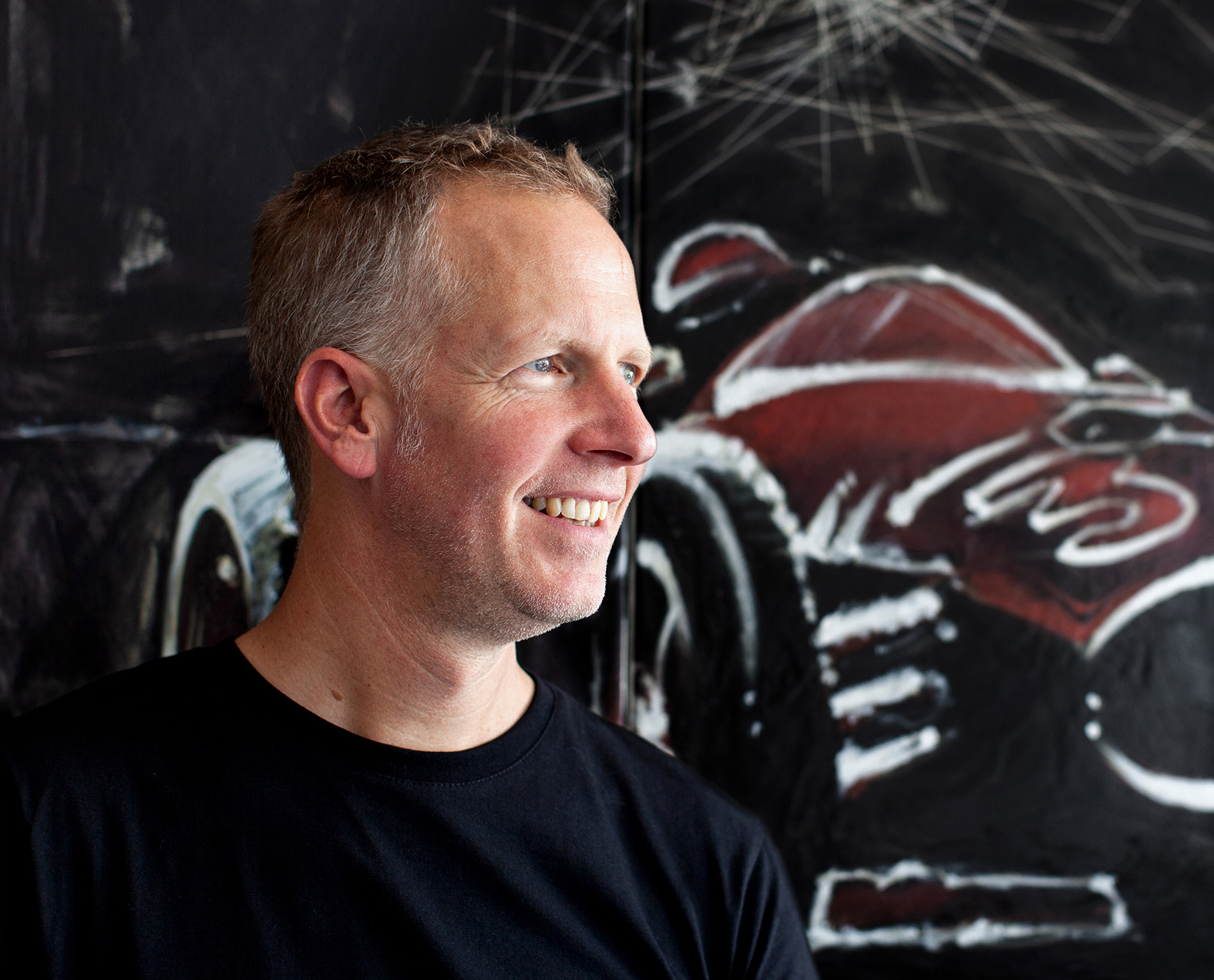 Mathias Fuhrer (A Fuhrer Auto vezetője)
A cég autó karosszéria osztályának vezetője és a Fuhrer Auto vezetői csoportjának tagja. Több mint 25 éves tapasztalattal rendelkezik az egyedi autók és a speciális fényezések kivitelezésében. A Citroen Saxo és a Renault Clio Cup országos versenysorozatának korábbi versenyzője.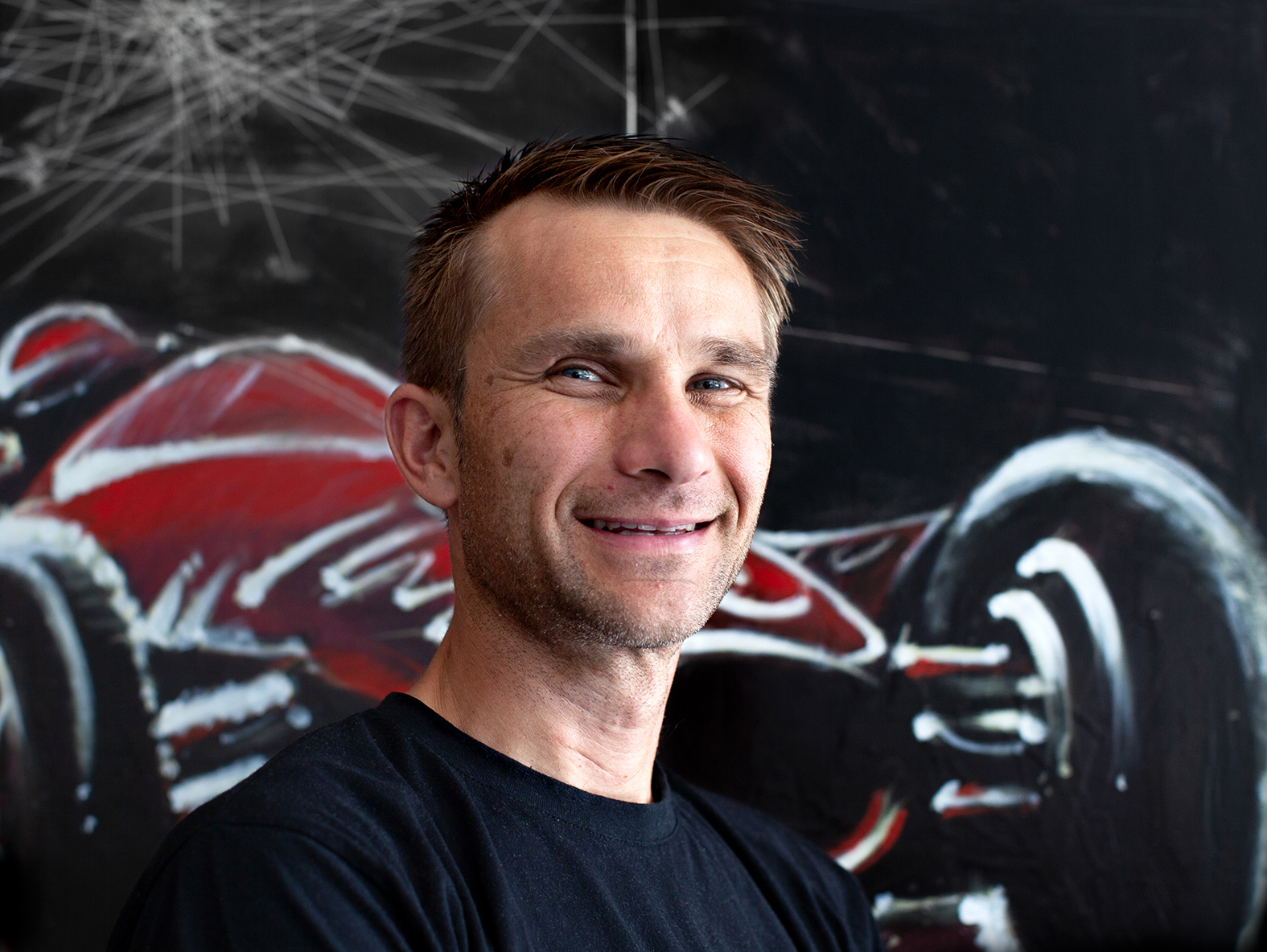 Moto Guzzi V9 – Café Racer
A modern V9 alapból  épített, klasszikus design elemekkel ellátott Moto Guzzi időtlen és purista caféracer versenyzővé vált. Noha a 853 köbcentis motor 2016-ból származik, alkotói "visszatértek a gyökerekhez", és két Keihin porlasztó segítségével mesterséges "lélegeztetéssel" látták el. Ezek megadják a jármű sprintversenyekhez szükséges lendületét, és nosztalgikus hangulatot adnak a motorkerékpárnak.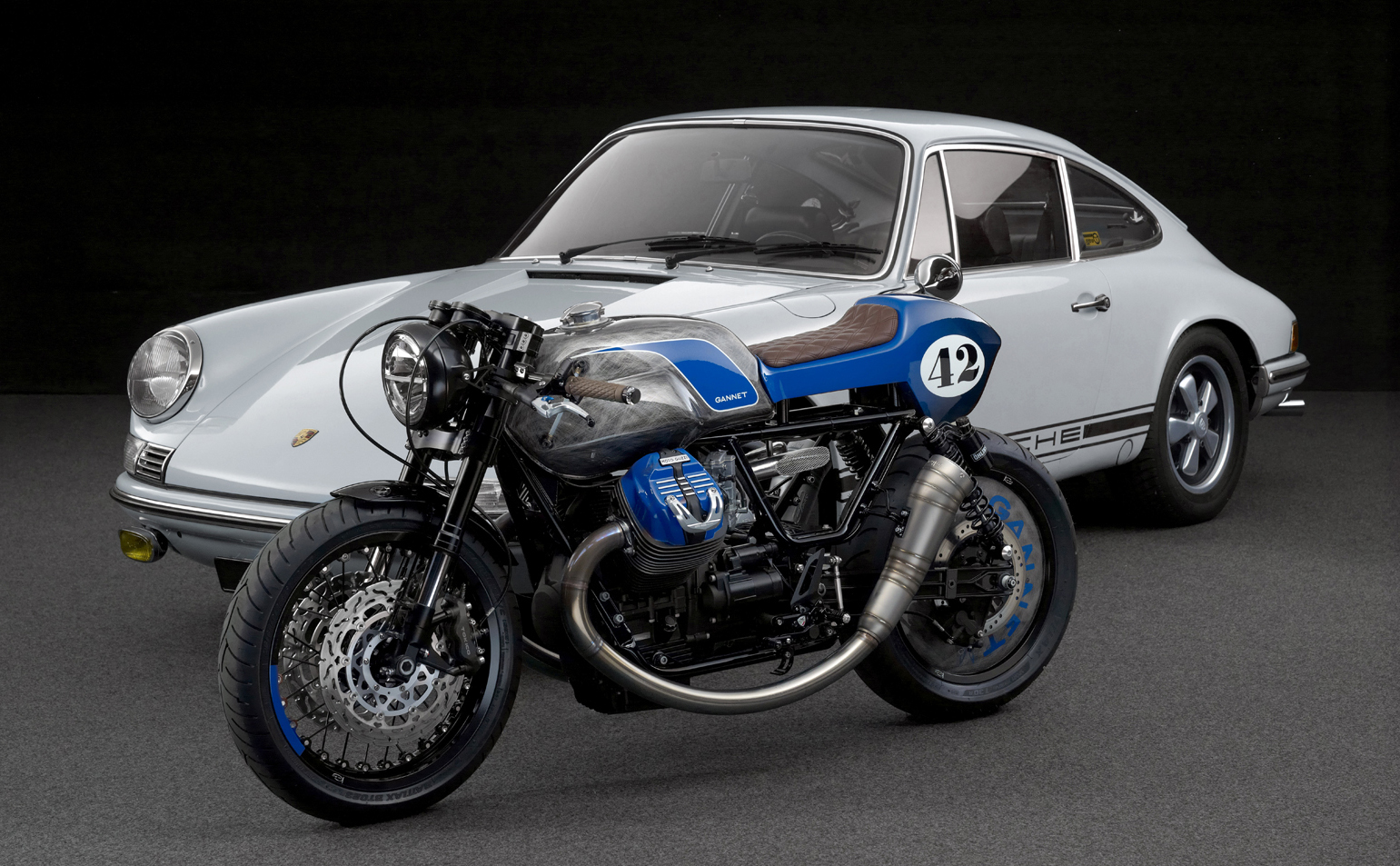 A legkiválóbb ARCTOS kézműves munka a kézzel készített alumínium farokrésszel versenyző megjelenést kölcsönöz a motornak. A versenykonfiguráció kiegészítése érdekében a motorkerékpárt "racer komponensek" minőségi kiegészítői gazdagítják, mint például a CNC Racing lábtartói, a Jetprime versenygombjai és az IMA tripla bilincs, valamint különféle egyedi gyártmányú elemek. A fényezés ritka keveréke a "horzsolt" hatású dukkózásnak és az erős kék színnek – a fantázianeve: "Rhapsody in Blue".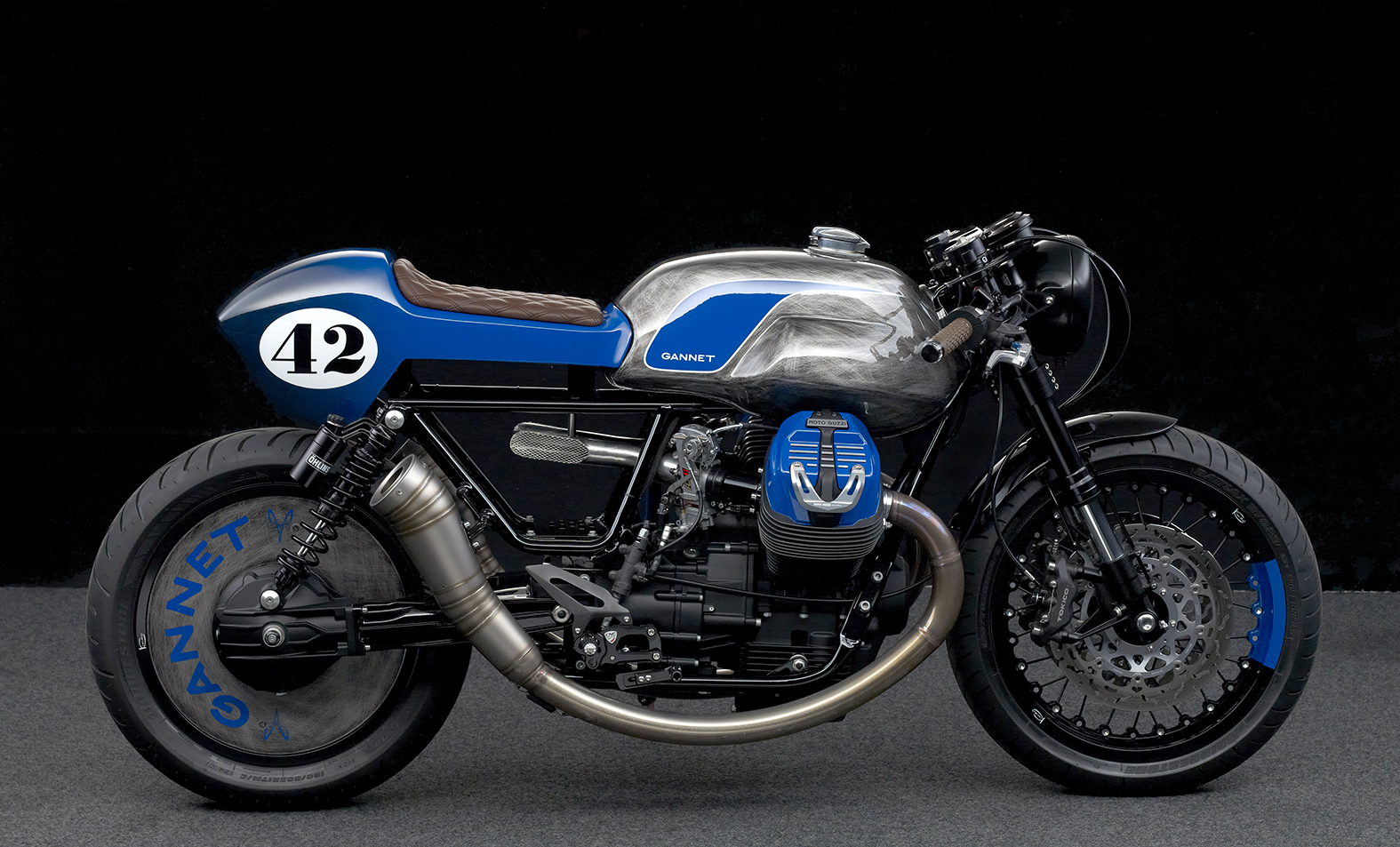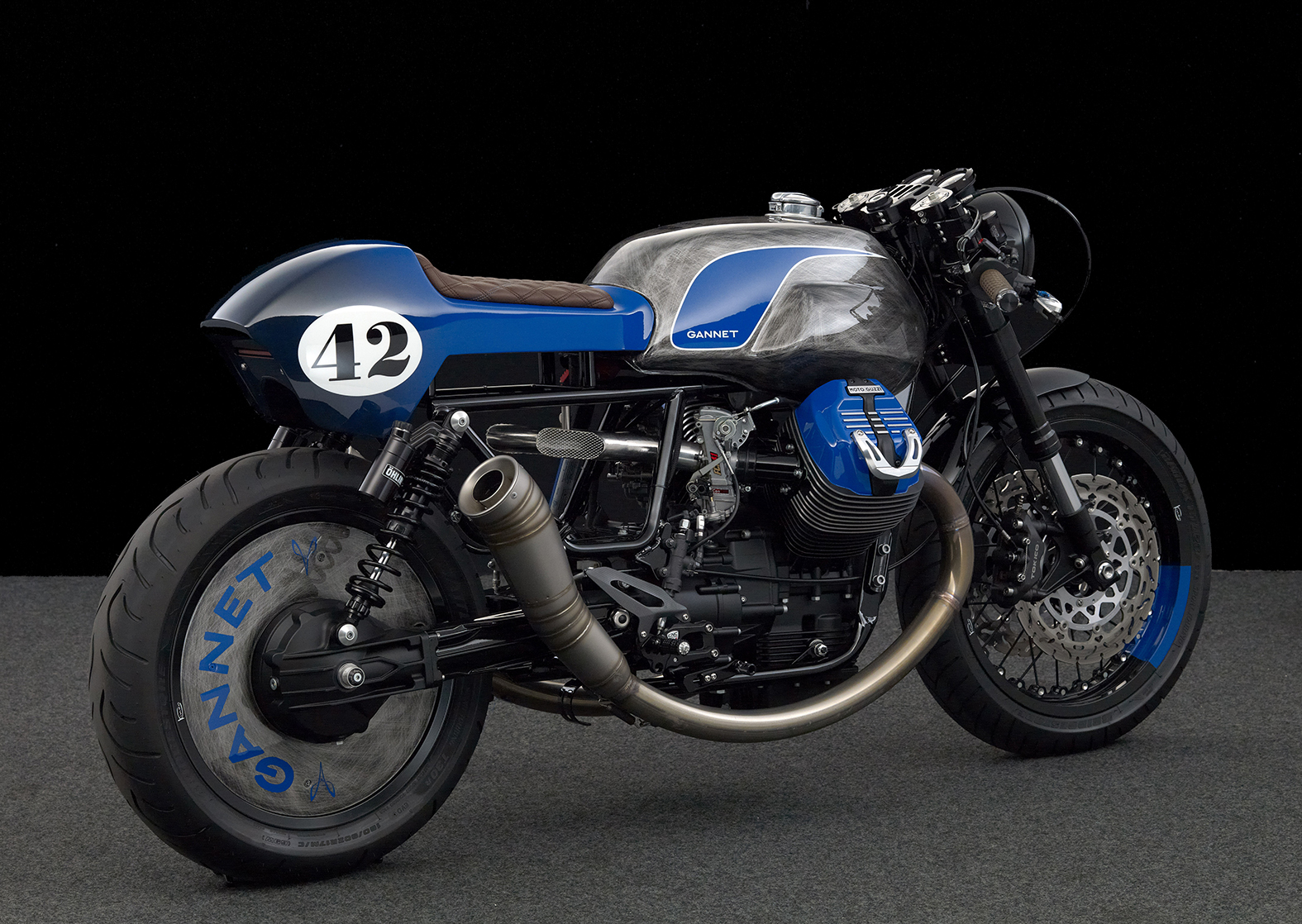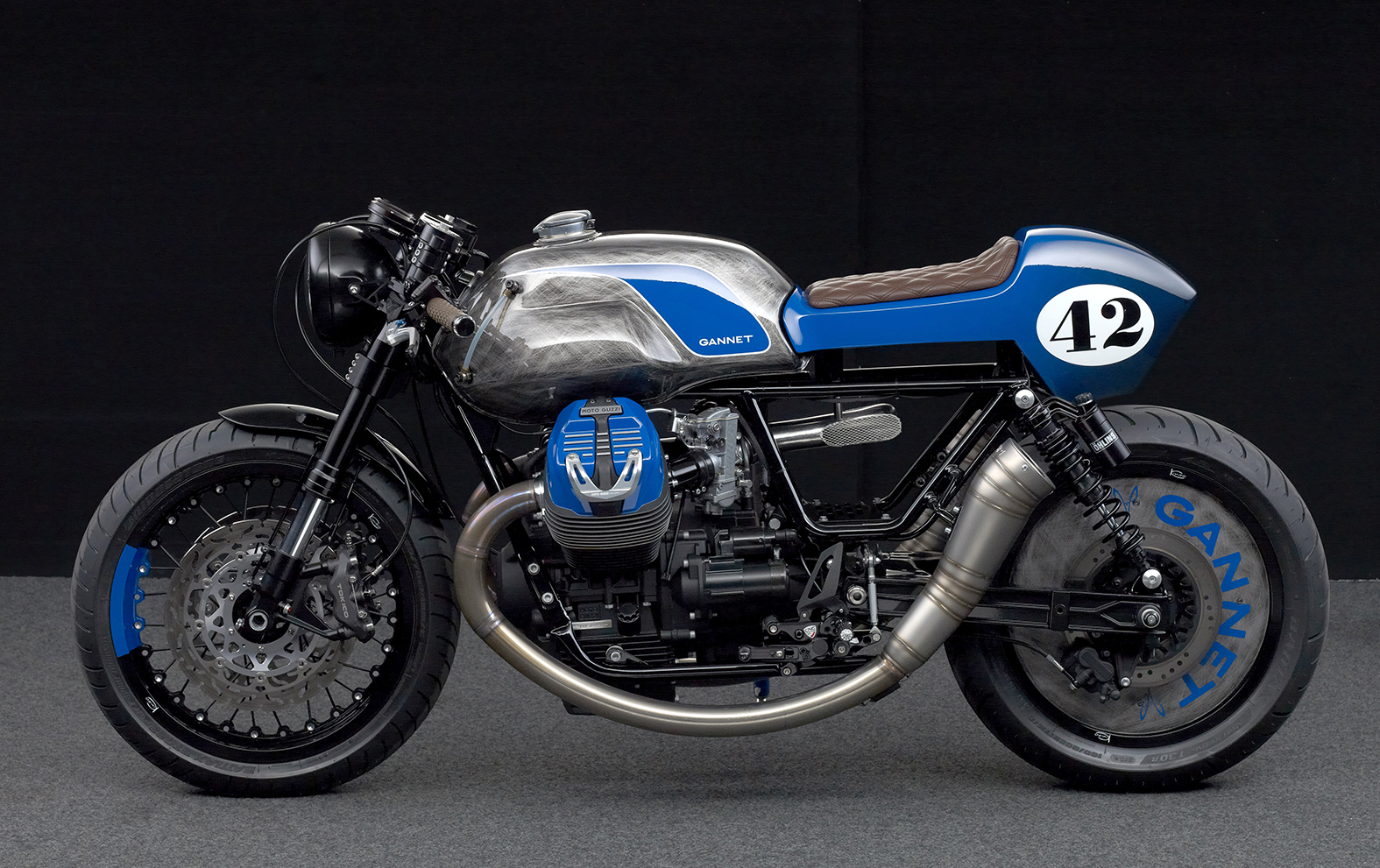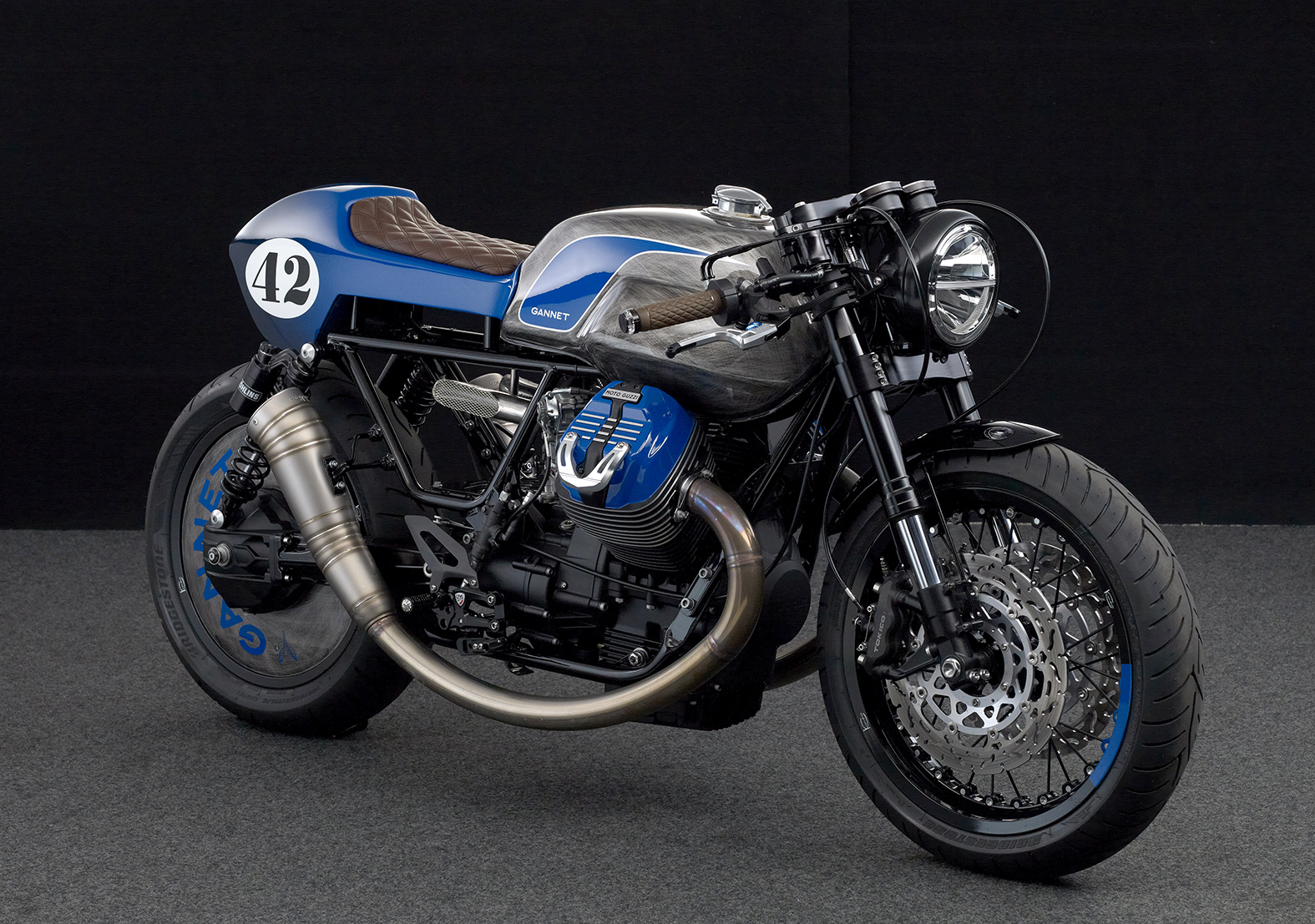 Honda CB1000R – Café Fighter R-adical
Ez a 998 köbcentis motorkerékpár a Honda Switzerland egyedi CB1000R versenyének győztese, és a svájci Moto Show-n mutatták be először Zürichben. A cél a teljesen újszerű megjelenés volt. Ezt főleg az arányok és a kormány helyzetének megváltoztatásával érték el, miközben az alapkomponenseket érintetlenül hagyták, hogy megmutassák a modell testreszabásának széles körű lehetőségeit.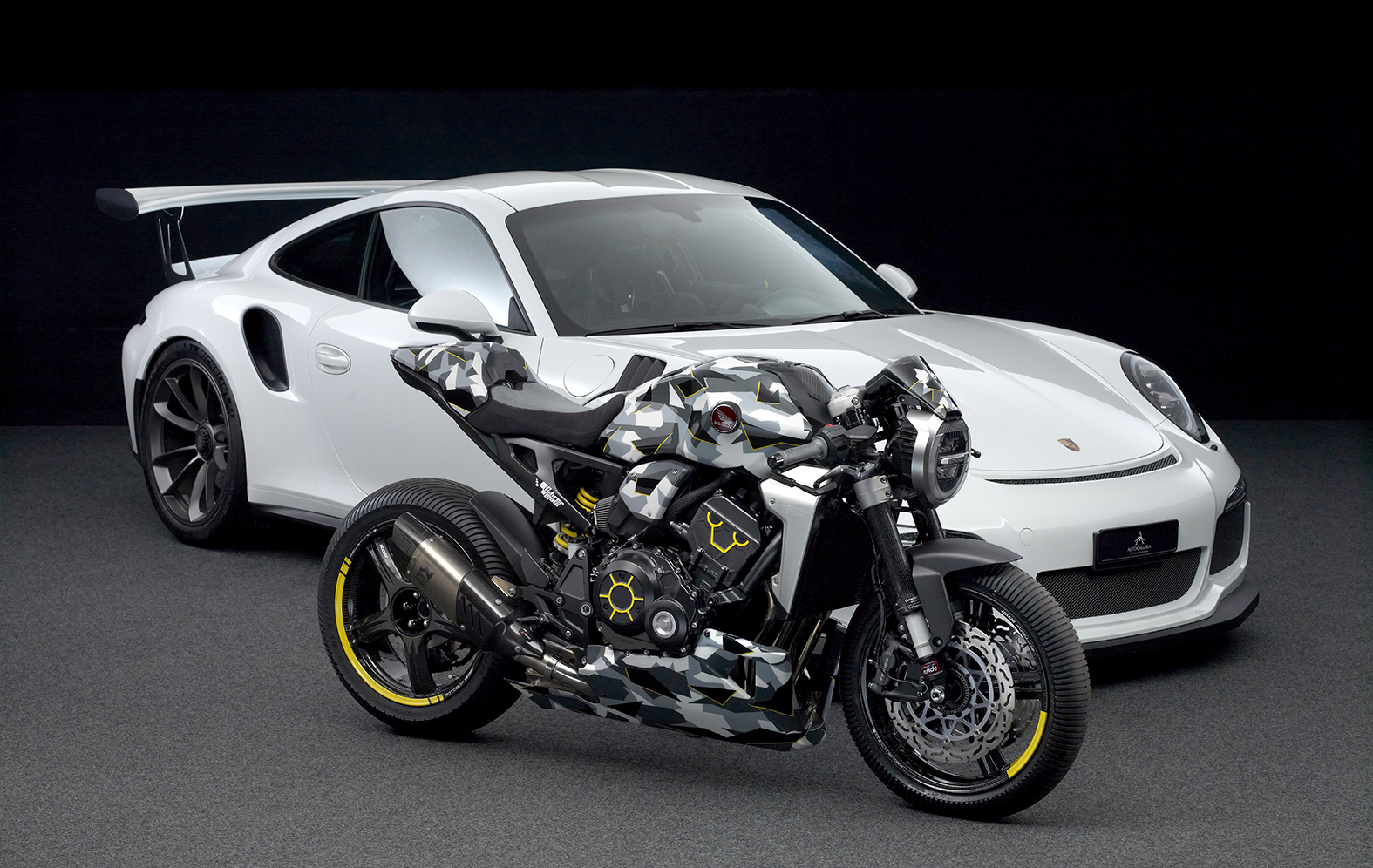 A benzintartály és a burkolatok camouflage ("álcázó") grafikája precíz fényezési technikával jött létre, fokozatosan, hét rétegben vitték fel a felületekre. A 422 Corse-szal folytatott különleges együttműködés révén pedig a motorkerékpárt nagy teljesítményű Rotobox szénszálas felnikkel, valamint CeraCarbon karbon villával szerelték fel.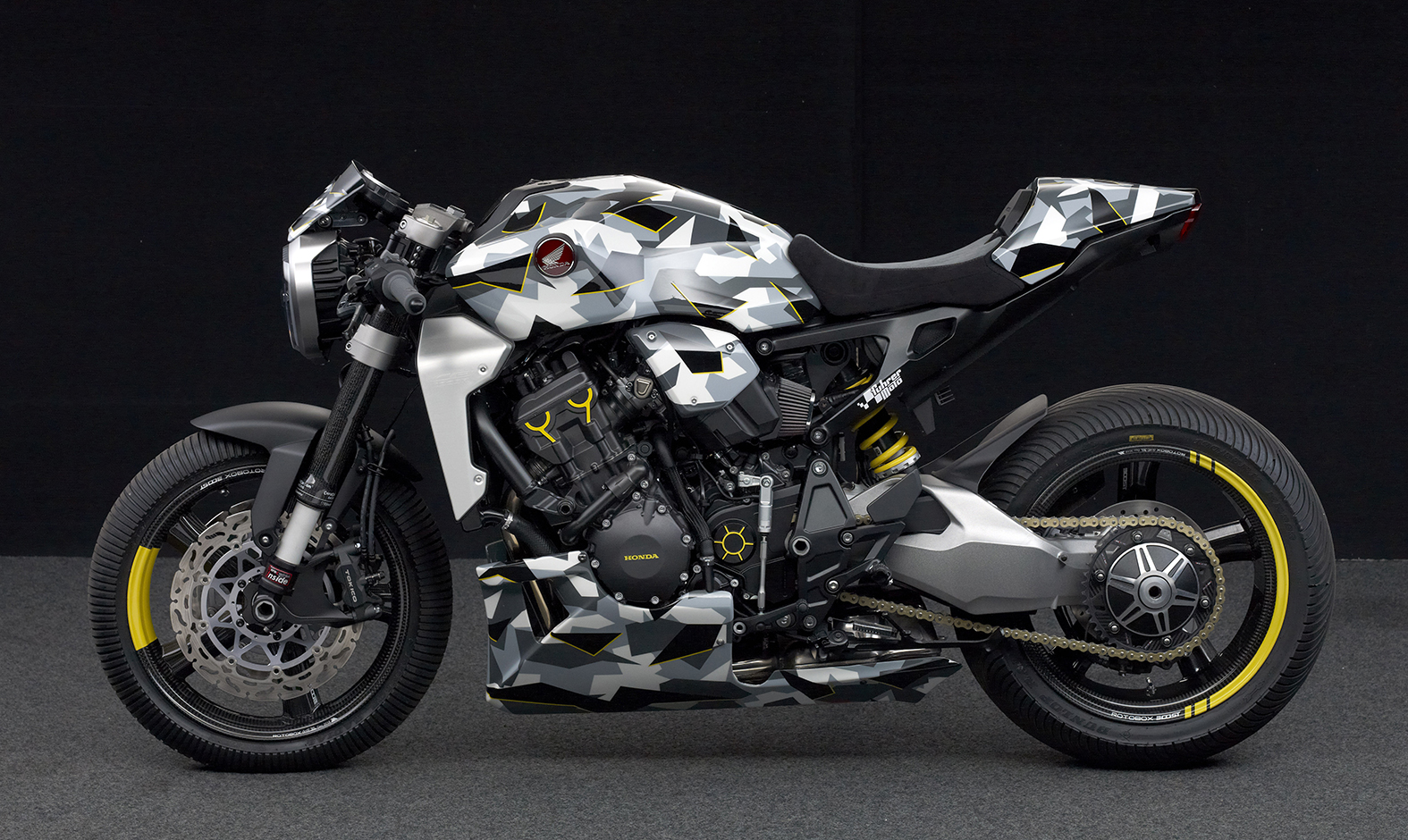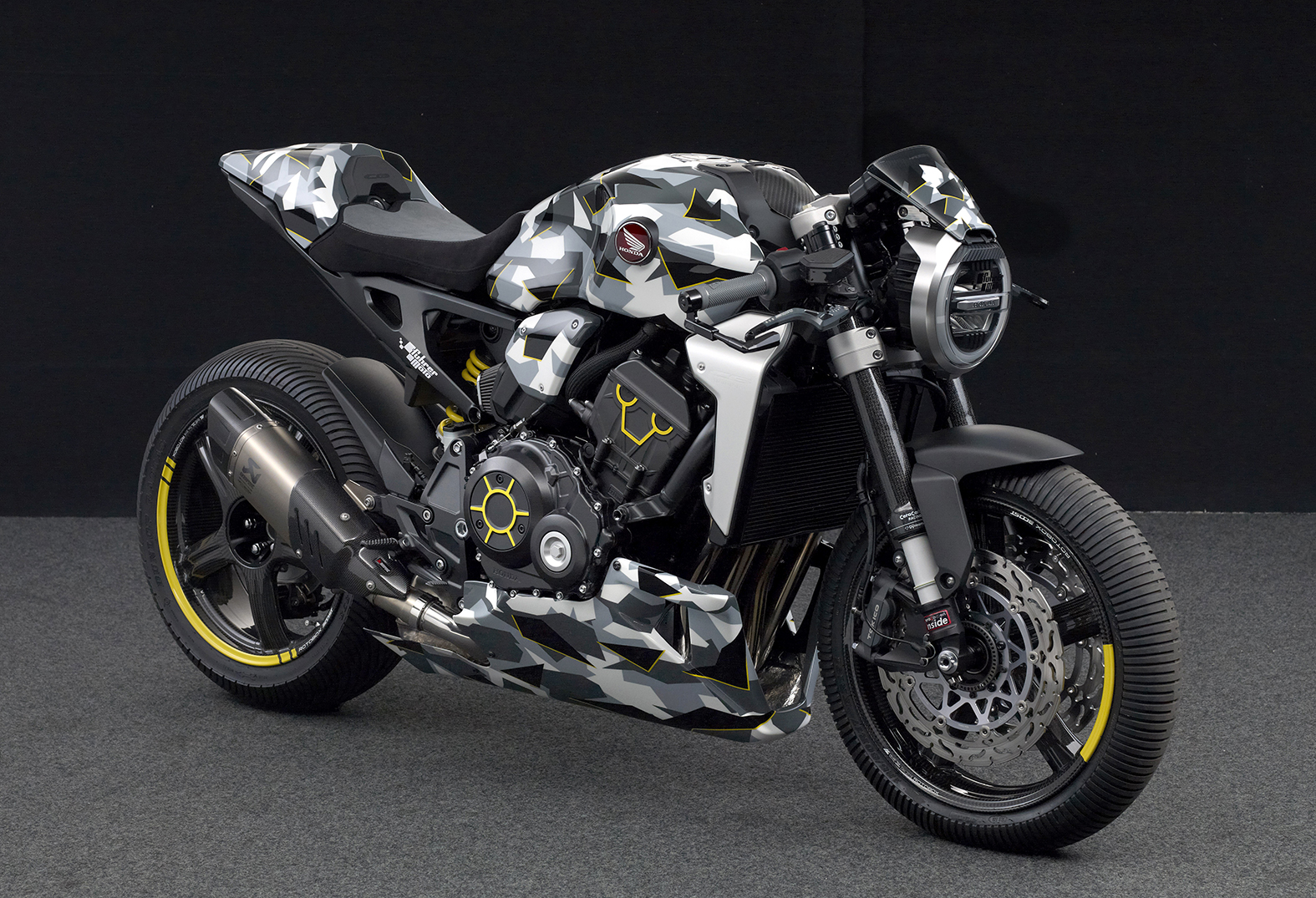 Ducati Panigale R
Ezt a Ducati Panigale R-t a 422 Corse guruja, Dario Dauru alakította át egy szuperkönnyű karbon/titán versenygéppé. (CeraCarbon Racing első villák, Thyssenkrupp karbon komponensek, BST karbon felnik.) E "rejtőzködő szörnyetegnek" még a váza és a lengőkarja is szénszálas. (A Sicom karbon-szilícium keverékéből készült féktárcsái pedig segítenek kordában tartani ezt a vadállatot.)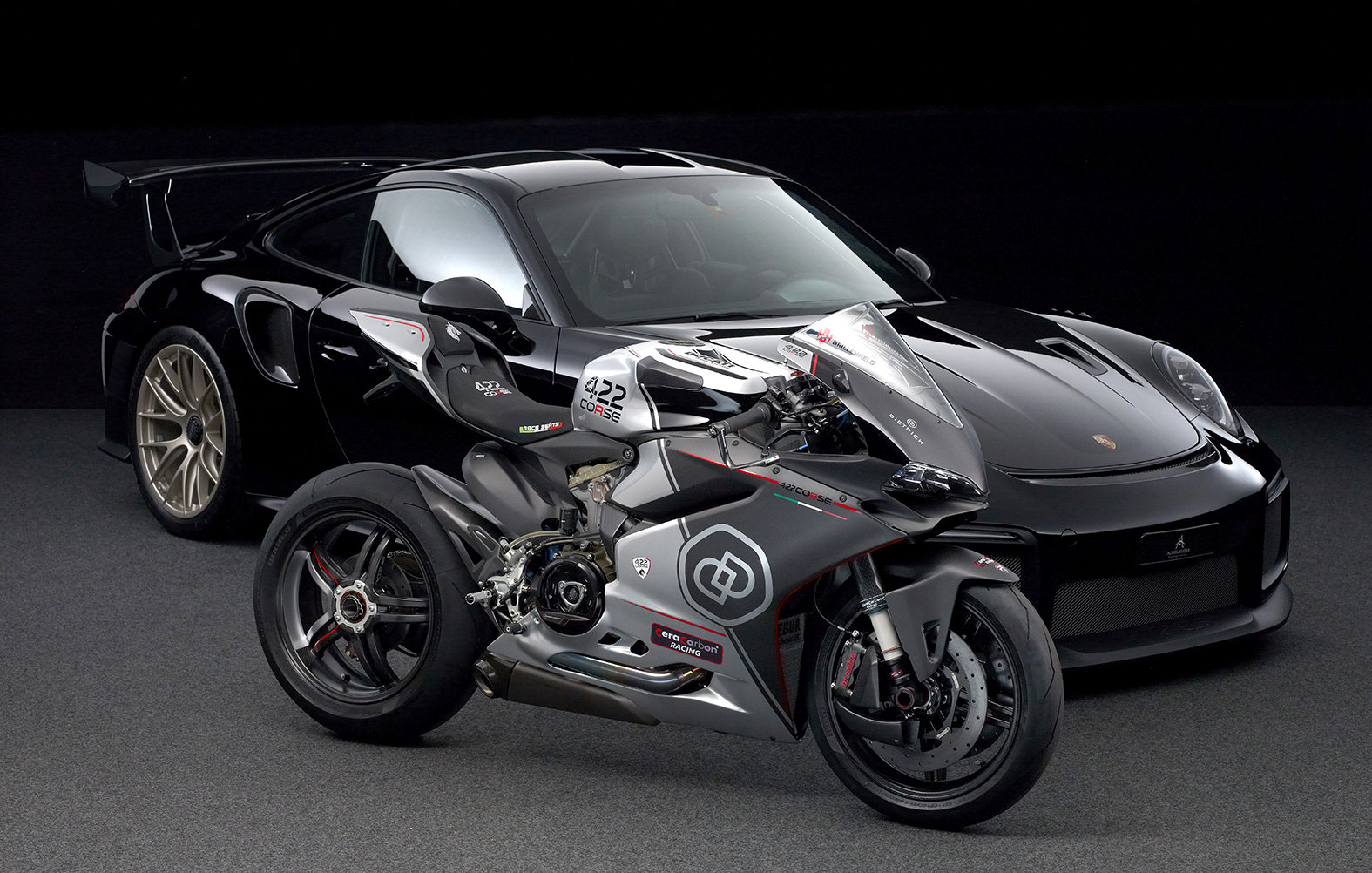 Az egyedi gyártású titán lengéscsillapítókat is külön gyártották le, melyek végül 200 grammal lettek könnyebbek, mint a hivatalos Ducati Superleggera lengéscsillapítói! Továbbá a Jetprime menő versenykomponenseit szerelték a járműre. (pl. versenyvezérlő gombok, befecskendezés stb.) A speciális "Arctos fényezés" pedig matt kabon és ezüst keveréke. Well done Guys!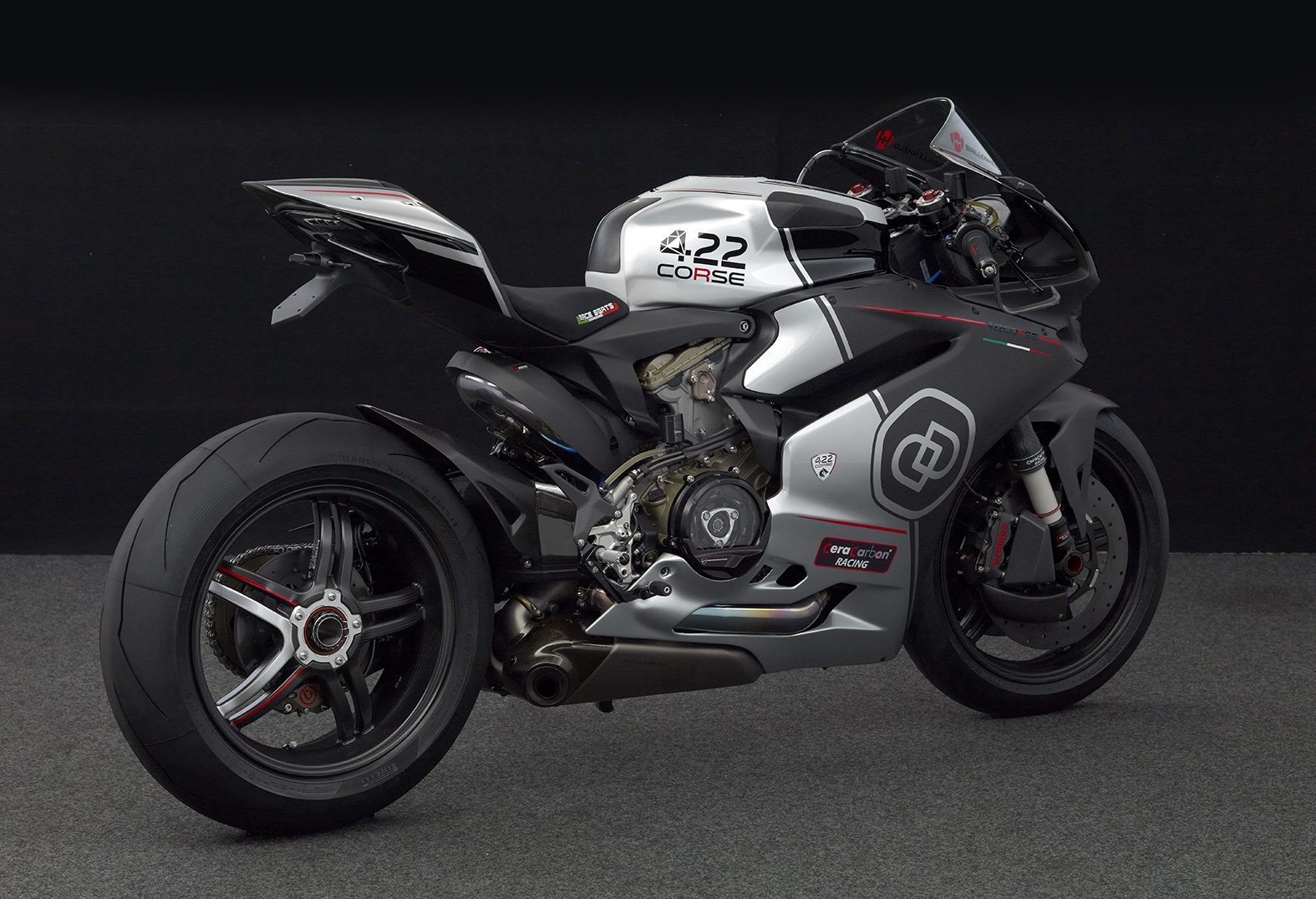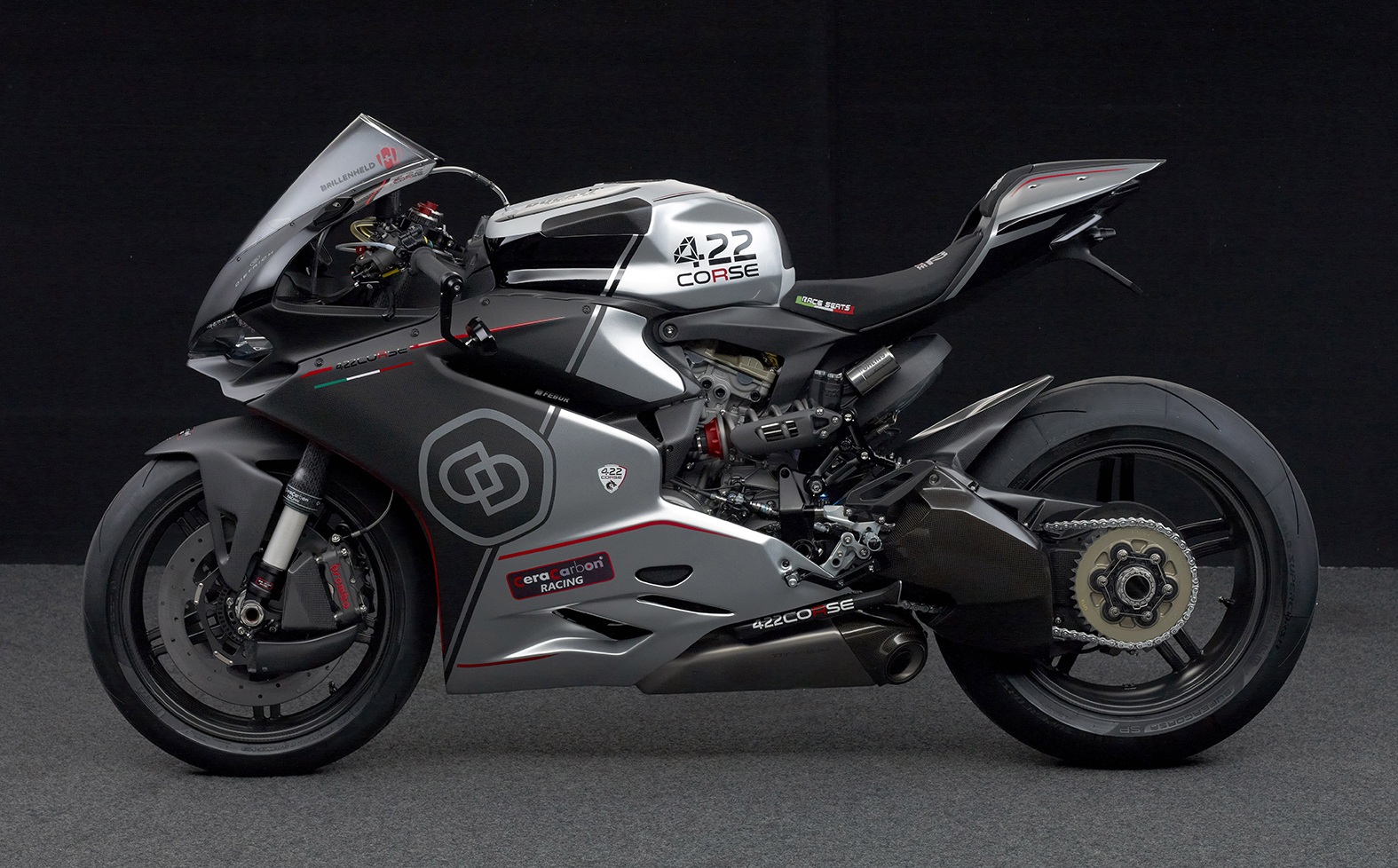 Web: www.arctos-collection.com
Instagram: www.instagram.com/arctoscollection/
FB: www.facebook.com/Arctos-Collection-110014530866702
Fotók: Urs Schmid Zumbrunn-Studio