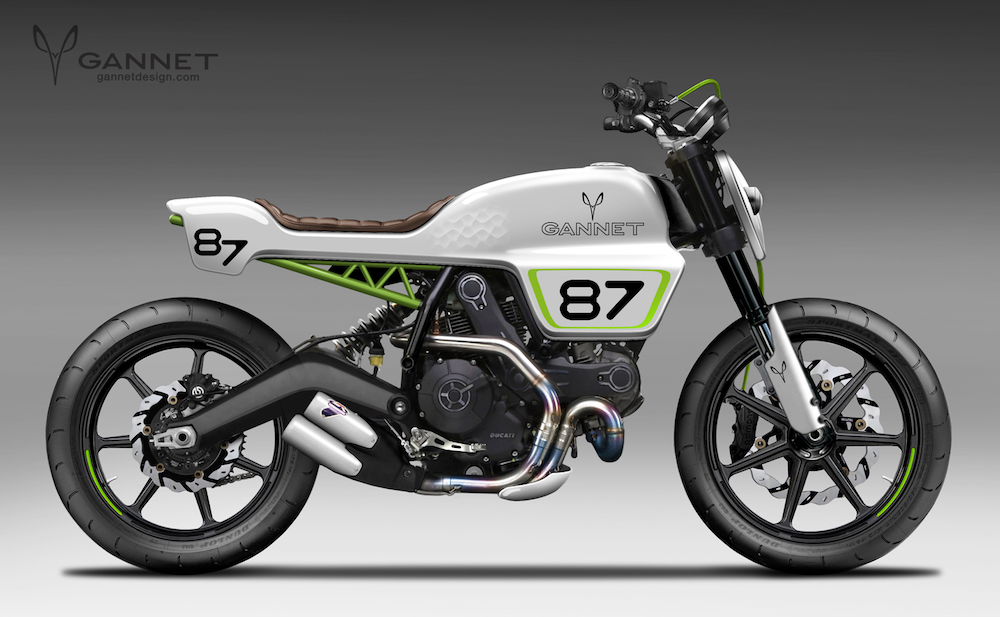 Gannet Design Scrambler flotta
Ahogy azt korábban már nagy örömmel közhírré trombitáltuk, a Route42 legújabb őszi/téli projektje egy vadiúj Ducati Scrambler átépítése lesz!
Ennek jegyében kéthetente scrambler témában koptatom majd egy ideig a billentyűzetet, hogy e témát megfelelően körbejárva megágyazzunk a készülő vasnak és közben észrevétlenül "szkremblerizáljuk" olvasóinkat. Nem kell félni, nem fog fájni! Korábbi bejegyzések e témában: Scrambler cikk-1, scrambler cikk-2.
Társoldalunkon, a Blogger42-őn már számtalan Gannet Design alkotásról számoltunk be (cikk-1, cikk-2, cikk-3, cikk-4, cikk-5), sőt Guld Peti még egy remek interjút is készített Ulfert Janssennel, a GD alapítójával. Az a cikk egyébként így kezdődött:
"Ulfert szerény ember. Asztalosként kezdte, majd a Renault-nál folytatta, végül felmondott, hátat fordított a kliséknek, s egyszemélyes vállalkozásában végre azt csinál, amit akar. Koncepciómotorjai világméretű hullámokat gerjesztenek, miközben álcázott szabadkőművesként a design őrültek egyik legkedveltebb blogját, a Le Containert társ szerkeszti."
Peti utolsó előtti kérdése a következő volt: "Mely munkáját emelné ki? S melyikkel motorozna szívesen akár ön is? A válasz pedig: "Elsőként az egyik utolsó munkámat, a »Coppertail-t« említem, mely az új Ducati Scrambler alapjaira épült."
Ulfert azóta is így gondolhatja, hiszen az interjú óta már összesen hétszer (ennyiről tudok) tologatta sikeresen a pixeleket a Ducati ezen, Balázsi Peti és az én szívemnek is oly kedves modellje "körül". Ebben a cikkben ezeket a virtuális példányokat mutatjuk be itt, a Route42 szintén nullából és egyesekből álló felületén. Örömmel adunk hírt tehát a "szkremblerizáció" újabb nemzetközi megnyilvánulásáról!