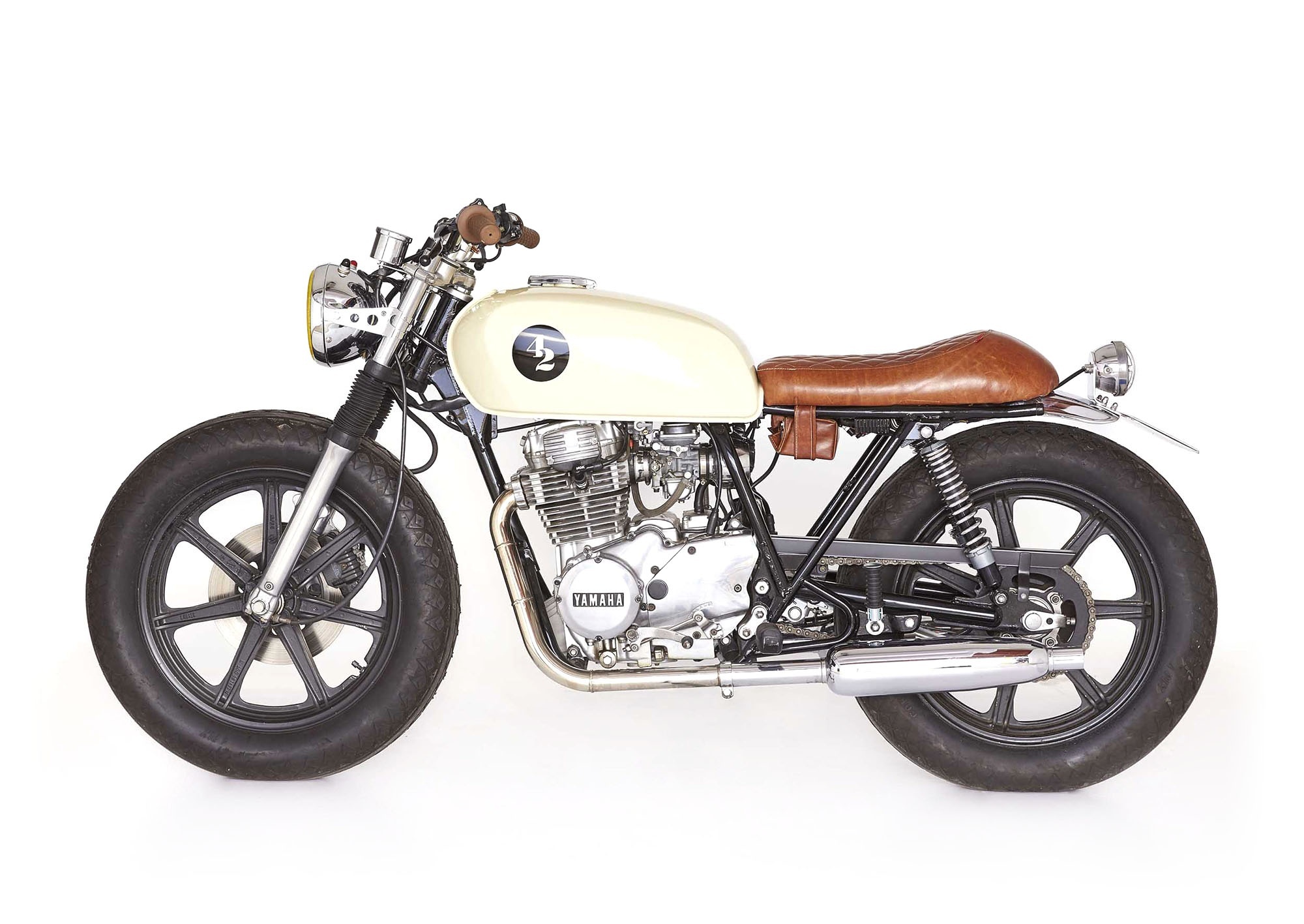 Jutland.42
Szóval az úgy történt, hogy sok évvel ezelőtt, a CaféRacer.42 és a Tracker.42 projektek között találtam a Bike Exif-en egy remek, 1982-es Yamaha XS250-ből épített pompás kis 'Brat styled' street trackert.
A jármű a tulajdonosváltást megelőző 25 esztendőben Dániában, Jutland szigetén teljesített szolgálatot egy férfinál, aki egészségi okokból volt kénytelen megválni szeretett járművétől.
A Yamahát egy koppenhágai lány vette meg és kezelésbe. Hellének (és barátjának Jespernek) nem ez volt az első átépítése, korábban már egy Suzuki GN250, illetve egy Kawasaki Kz400-ast is átszabott a saját ízlésére. A "szabott" ige ebben az esetben szó szerint is értendő, hiszen a motor ülését ő maga gyártotta le speciális, ipari Pfaff varrógépén.
"I found out I'm pretty good at sewing in leather, so I have now invested in an old industrial Pfaff sewing machine so I can make my own seats."
Hellétől persze a családneve kapcsán meg kellett kérdeznem, hogy "ahhoz a bizonyos" Bang családhoz tartozik-e, akiknek jeles sarja, Peter Bang, 1925-ben Svend Olufsennel megalapította a Bang & Olufsen vállalatot.
"Well, I am related to the Bang family, but unfortunately it is very far out." – hangzott a válasz.  
Miután tehát tisztáztuk a távoli (sajnálatos) rokonság (üdvös) tényét, már a motorról kezdtem faggatni. Először az átalakítás előtti állapot érdekelt. Helle, a motorról korábban megjelent cikkekből magát idézte: "Too thin tires, boring black handlebars, big old-fashioned instruments, way too much chrome; big chrome fenders, chrome chainguard and shiny rims. So I got rid of all the things I did not like. I like when a bike shines, but the motor was glossy enough in itself. Very clean and shiny, like a diamond."
A gyémánt téma tehát adta magát, így az ülések és markolat mintája is ezt a koncepciót követte. "Of course the theme should also be reflected there. I ripped my old couch for leather and made this nice natural brown seat with diamond pattern in beige stitches. I thought it was crème for my eyes. The bike was so nice and clean you could lick it. So of course the colour of the tank should be like vanilla ice crème,"
Helle ipari varrógépe az ülés alatti bőr aksitároló táska megalkotásában is segített. A kis lítium akkumulátor ennél méltóbb helyet valószínűleg nem is kaphatott volna! A nyereg alatti luxus lakóhelyéről minden bizonnyal vidáman látja el energiával a motort. A "brat tracker" Tommaselli kormányt és Coker Diamond gumikat (4,5×18) kapott, az átépítés után már egy Triumph kipufogódob gondoskodik a megfelelő hangról, Biltwell fogantyúba kapaszkodik a motoros és Hagon lengéscsillapítók segítik a megfelelő rugózást. 
Az ülésen pedig egy egészen pici, decens címkét találtam 'Bang Seat' felirattal! Helle tehát rendületlenül gyártja a jövőben is "békebeli" Pfaff varrógépével a klassz bőrüléseket. A kadmium sárga első lámpa pedig üdítő színfolt, amely végleg unikálissá tette az elkészült motort. 
"It got this Beefy look that I like so much."