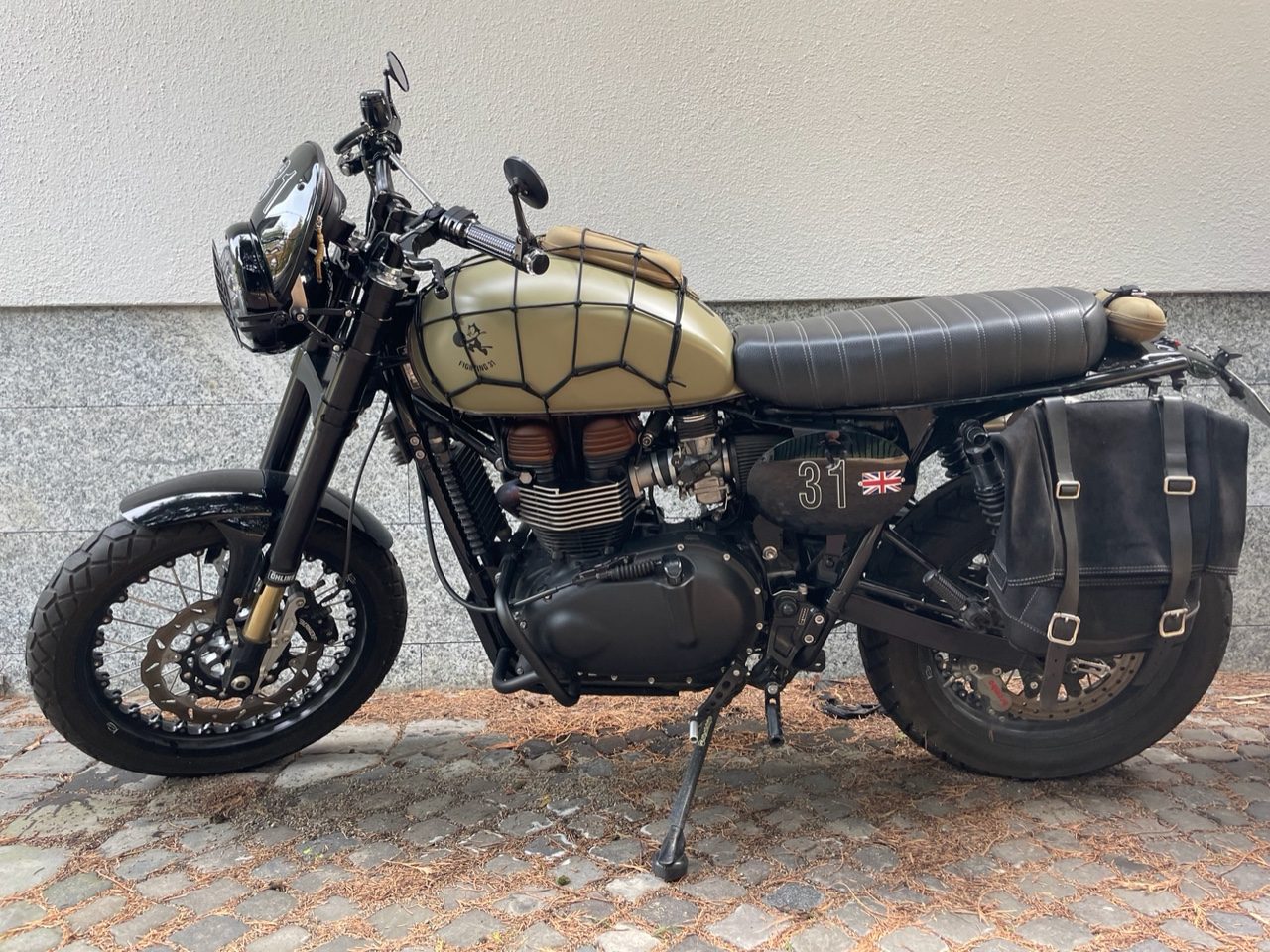 A kúlság honi királya lehetsz!
Imádjuk a scramblereket, hisz tudjátok!
Annyira, hogy egy 12 cikkből álló sorozatot szenteltünk ennek az örök klasszikus stílusnak az elmúlt években. Bár napjaink közlekedési dzsungelében is remek eszközök ezek a járművek, ne felejtsük el a dicső múltat sem!
A Ducati mellett a Triumph is '62-ben mutatta be scrambler-ét, a később legendássá vált TR6C modelljüket. BTW: 1964-ben egy ilyennel indult Steve McQueen az NDK-ban ("Z" generáció majd ráguglizik) megrendezett hatnapos endurón! Továbbá azokon a híres kaliforniai sivatagos képeken is sokszor ilyen szerkezettel röpköd a "kúlság királya" a dűnék fölött és/vagy között.
Figyelem, méretes képzavar következik: 2014-ben persze a Triumph is felmotorozott e típus növekvő népszerűségi retró-dűnéjére. A márka marketingesei pedig jó ütemérzékkel, (ügyes Product Placement) betolták az aktuális Jurassic World filmbe az új motort.
A filmben szereplő három darab egyike végül 28.000 fontért kelt el egy jótékonysági árverésen, ami nem is rossz, ha az akkori eredeti árat (7.900 font) vesszük alapul. A pénzt egyébként a Route42 olvasói számára már biztosan "ismerősen csengő" Distinguished Gentleman's Ride szervezet kapta, aki a hivatalos charity partnere a Triumphnak már lassan egy évtized óta. A következő képen a DGR alapítója, Mark Hawwa látható egy Triumph Thruxton nyergében.
A másik dzsurasszikparkos mocit a lenti képen látható főszereplő, Chris Pratt maga "vihette haza", míg a harmadik a Triumph múzeumban lelt otthonra. Szóval szeretett és nagyrabecsült polgár- és motorostársaim, nyugaton a helyzet fokozódik, a megállíthatatlan "szkremblerizáció" nagy erőkkel folytatódik tovább, már-már a magyar végvárakat ostromolják a hullámai! Tartsuk szárazon tehát a puskaport és nedvesen motorjaink tankját, hátha előbb-utóbb kedvet kap valaki közűletek is egy ilyen célszerszámra.
Ebben (és a cimborámnak) szeretnék segíteni, amikor ma egy "pimpelt" Triumph Scramblert mutatok be nektek, ami ráadásul eladó! Nézzük először a száraz tényeket. A soros két hengeres, 865 köbcentis vas 2016.04.15-ei, friss műszakival, 2.495 kilométerrel (!), magánszemélytől eladó és tökéletes állapotban van. Ismerem ezt az erőforrást, nem sok lóerő (szám szerint 59 lóerő, ami 43 kW), de "elég". A nyomaték pedig még alacsony fordulatszámon is "bőven OK". Két-kétezeröttől tök jól húz a gép.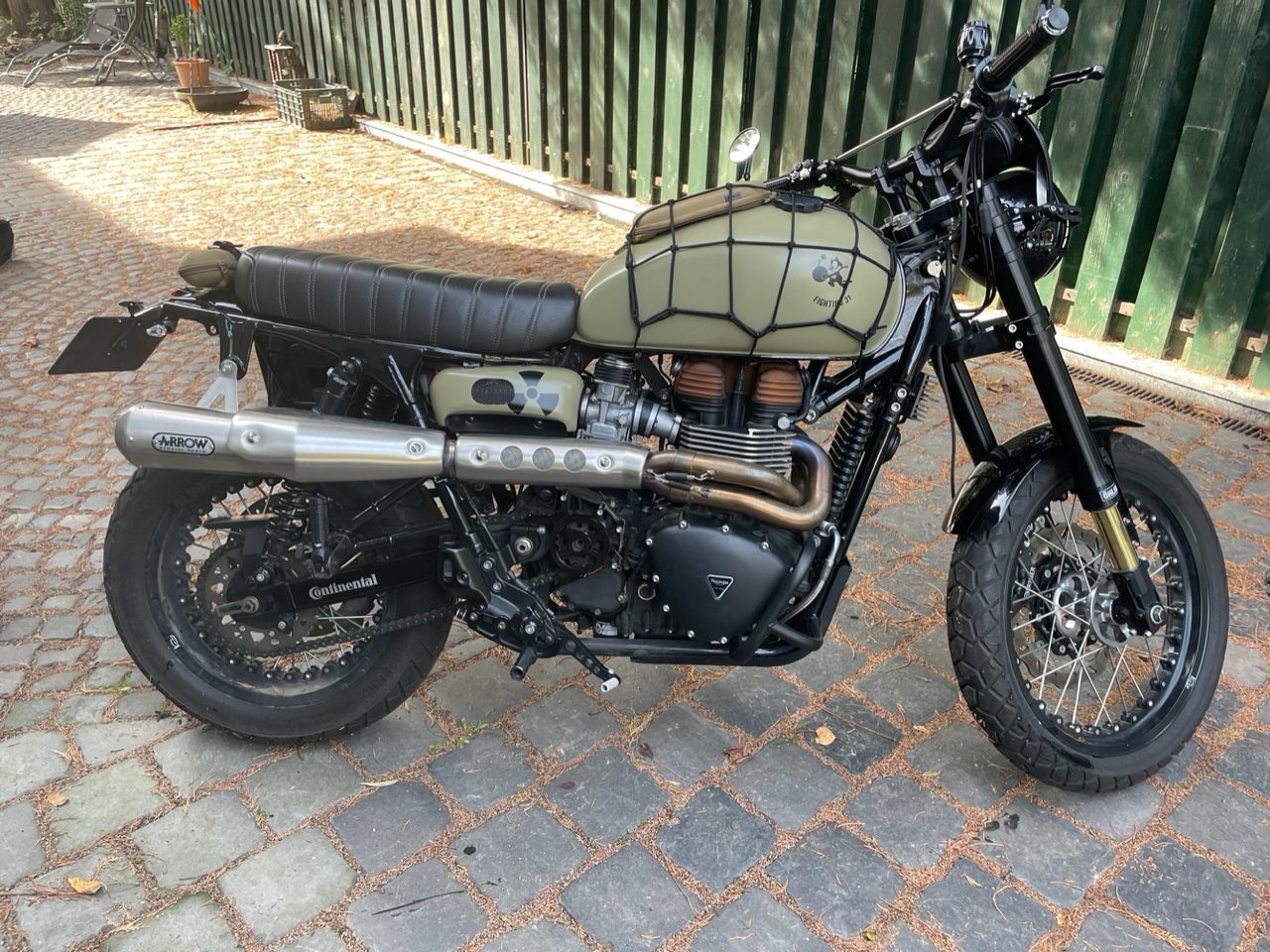 A rajta lévő gyári (opcionális) Arrow dob orgánumát mindig is kedveltem. Menő Öhlins (TR 963) gátlók a Kayabák helyett, az eredeti béndzsa visszapillantók helyett méltó tükrök a kormányvégeken és egyéb fasza elemek (lecserélt kormány, kezelőgombok, táska, immobilizer stb.) növelik az értékét. A military-look is tetszetős. 3.700.000 magyar fizetőeszköz (AKA forint) az ára. Vegyétek/vigyétek, amíg meg nem hirdeti a tulajdonosa külföldön. (A Route42-re hivatkozva kaptok 4,2%-ot az árából, de ne alkudjatok tovább pls. 🙂
Itt érdeklődjetek: Somogyi Richárd 30 773 9696