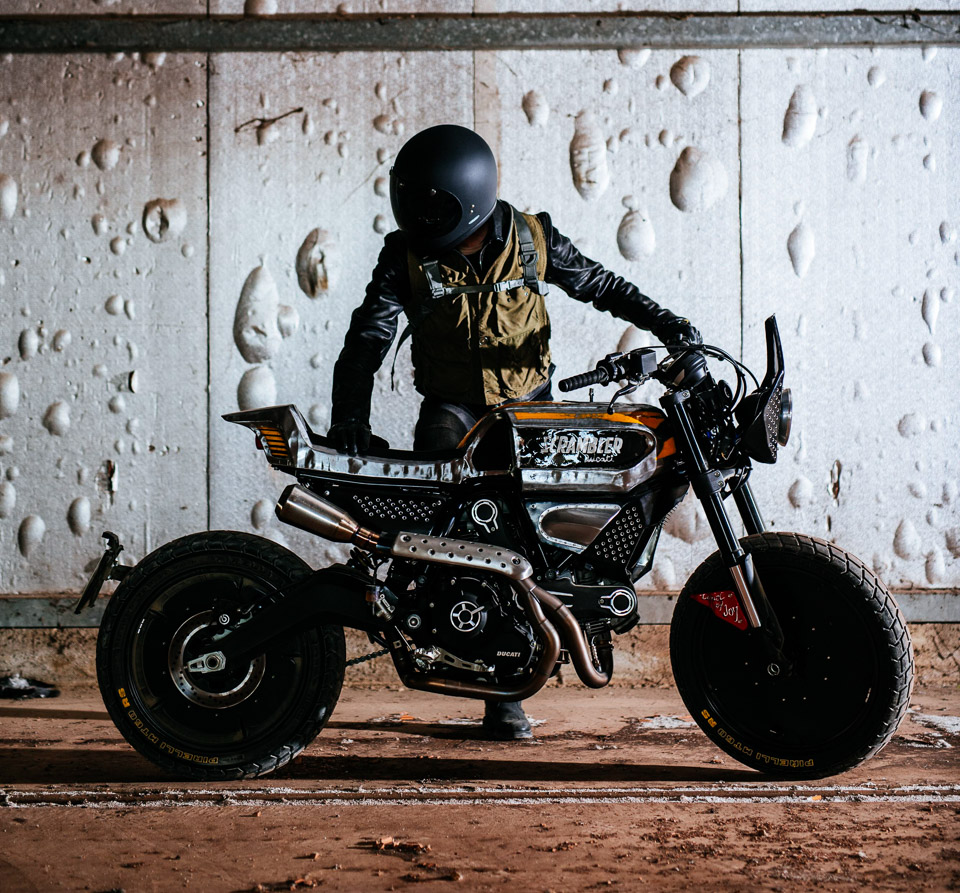 Ducati SC-rumble!
Ma az első "próbálkozásukat" mutatom be, amelynek egészen biztosan jobb nevet talált a vidám olasz páros. Merthogy a scrambler szóból képzett 'SC-rumble' (rumble = dörgés, dübörgés) név mégiscsak meggyőzőbb, mintha egy rózsaszín gázlómadárról kapja a nevét egy indusztriális épített motor. (Még akkor is, ha eltérő étrendje miatt történetesen nem pink színű az a flamingó.)
A Vibrazioni Art Design mellett két másik olasz cég együttműködéséből született meg a kézmíves kétkerekű, hiszen a Ducati "alá" a Pirelli tolta be az 'MT 60 RS' gumijait. (Attól most jótékonyan tekintsünk el, hogy még 2012-ben az Audi megvette a Ducatit.) A szélvédőt, ahogy sok más elemet is a motoron, alumíniumból dolgozták ki az alkotók és utána kalapáccsal dolgozták meg. A tank egyik oldalára kézzel festették fel a márkanevet, a másik oldalát pedig a Pirelli gumik lenyomatát idéző lézer-vágott mintával tették izgalmassá. A tengelytávot megnövelték, a kormányt egy Ducati street fighterről műtötték át a legények.
Figyelemre méltó még az első lámpát körbefutó LED sor, a stílushoz illő, magasan elhelyezett Termignoni kipufogó, illetve az első kerékre elhelyezett piros zászlócskán feltűnő 'Land of Joy' felirat. Végül 2015-ben Londonban (Bike Shed) jól bemutatták a nagyközönségnek a kész járművet. Bella Macchina!