A bútortervező motort épít
Jackson Burrows egy fiatal kanadai bútortervező. A következő képeken látható motor az ELSŐ építése!!!
Ennyike. Tulajdonképpen itt be is fejezhetném, ez a megdöbbentő tény és a motorról készült fotók kontrasztja bőven "elvinnék a hátukon" ezt a cikket. Azonban éppen a különleges teljesítményt kell megtisztelnünk azzal, hogy kellő tisztelettel és odafigyeléssel járjuk körbe (szó szerint és verbálisan is) ezt a bobbert. Az ötlet tíz évvel ezelőtt született meg, az akkor még egy design suliba járó fiatalember fejében.
"Spanyolországban találtam egy öreg réz Lucas hátsólámpát. Egy hónappal később pedig ráleltem egy 1960-as Harley Super 10-es motorkerékpárra. Nem működött, de különleges AMA versenyzői múlttal rendelkezett."
Jackson a belvárosi lakásuk konyhájában (!) kezdte el építeni a motort, melyet ahhoz, hogy végül életre keljen, teljesen újjá kellett építeni. A kis, 165 köbcentis egyhengeres kétüteműt Webco Racing fejjel, megnövelt űrtartalmú hengerrel és utólag beépített merevítőkkel hangolták versenyre.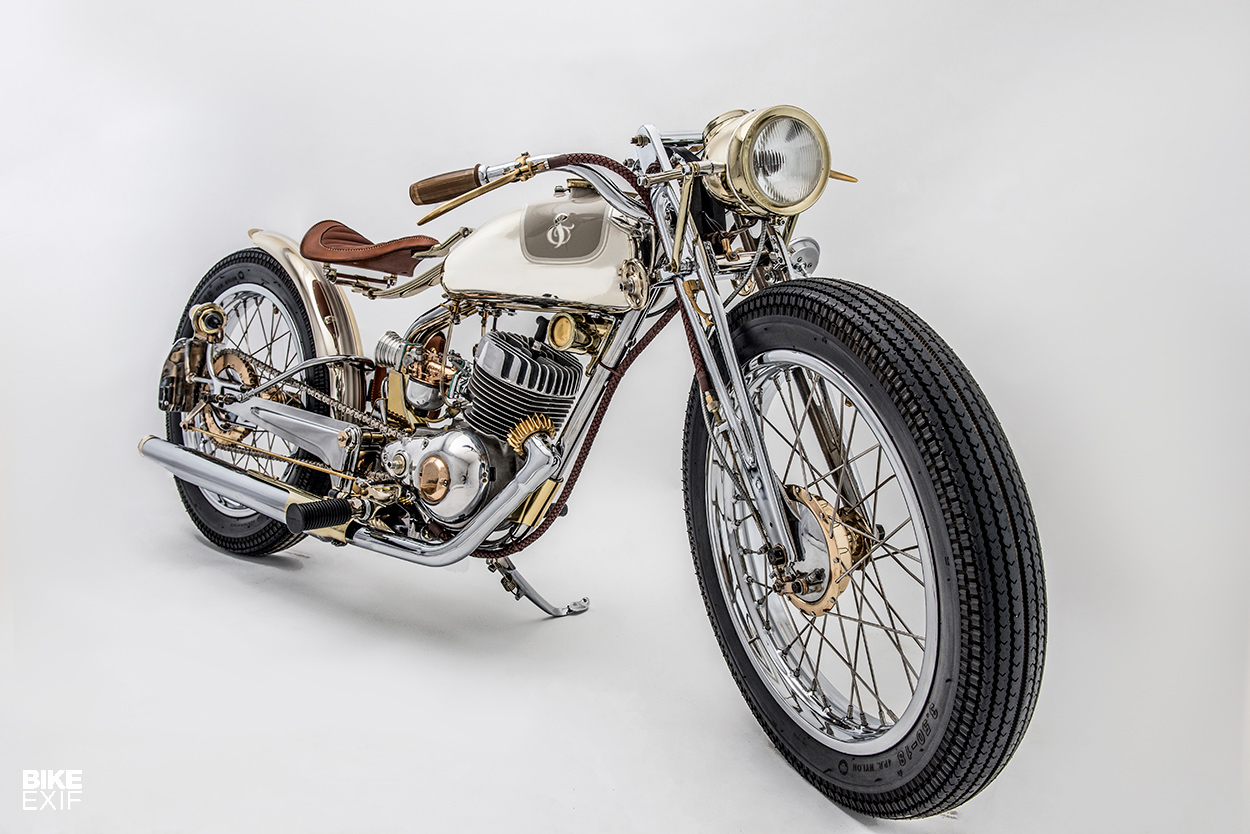 Az ifjú motorépítő Lodge Race gyújtógyertyát és egy Falcon tütével (szívótölcsér) ellátott Linkert M18-as karburátort varázsolt a járműbe. Az erősen módosított váz egy '64-es Harley Scat elemből épült, az első traktushoz pedig szintén egy Harley ('48-as) adta büszkén alkatrészeit. A sebességmérő órát pedig, amely egy Harley Hummerből származik, egy vintage Ducati lámpába integrálta bútortervező barátunk. Nice!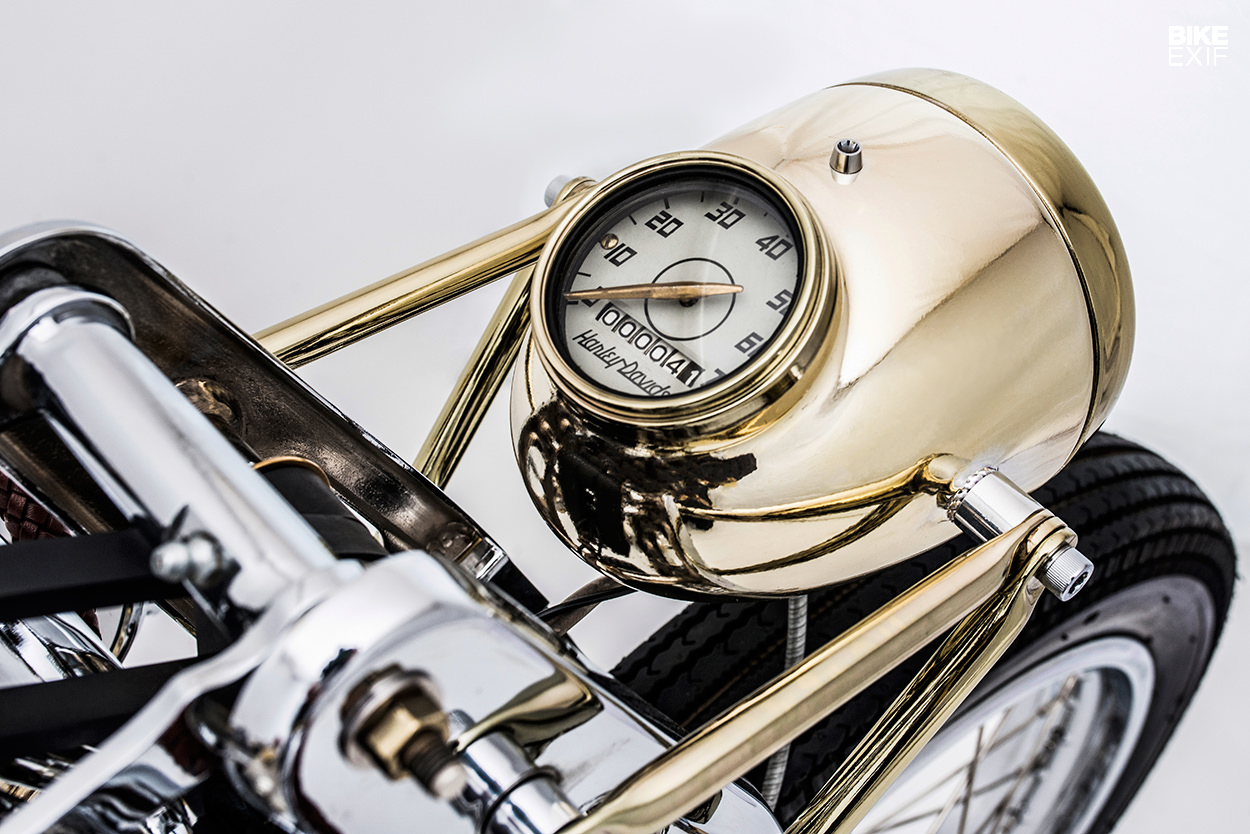 A markolatokat és a kapcsolókat a japán POSH szállította, a fék/kuplungkarok egy BSA M20-asból származnak, sőt, még a kipufogó rögzítő bilincs is egy Royal Enfield darab! A csodaszép British Trophy tanksapkával rendelkező üzemanyagtartály egy jelentősen módosított vintage Wassel "banán" tank. Az unikális nyereg külön is "megér egy misét". Tulajdonképpen egy Harley VL T-ülésmodulból és egy fantasztikus antik Farmal laprugóból készült, BackDrop bőrrel borított ékszer!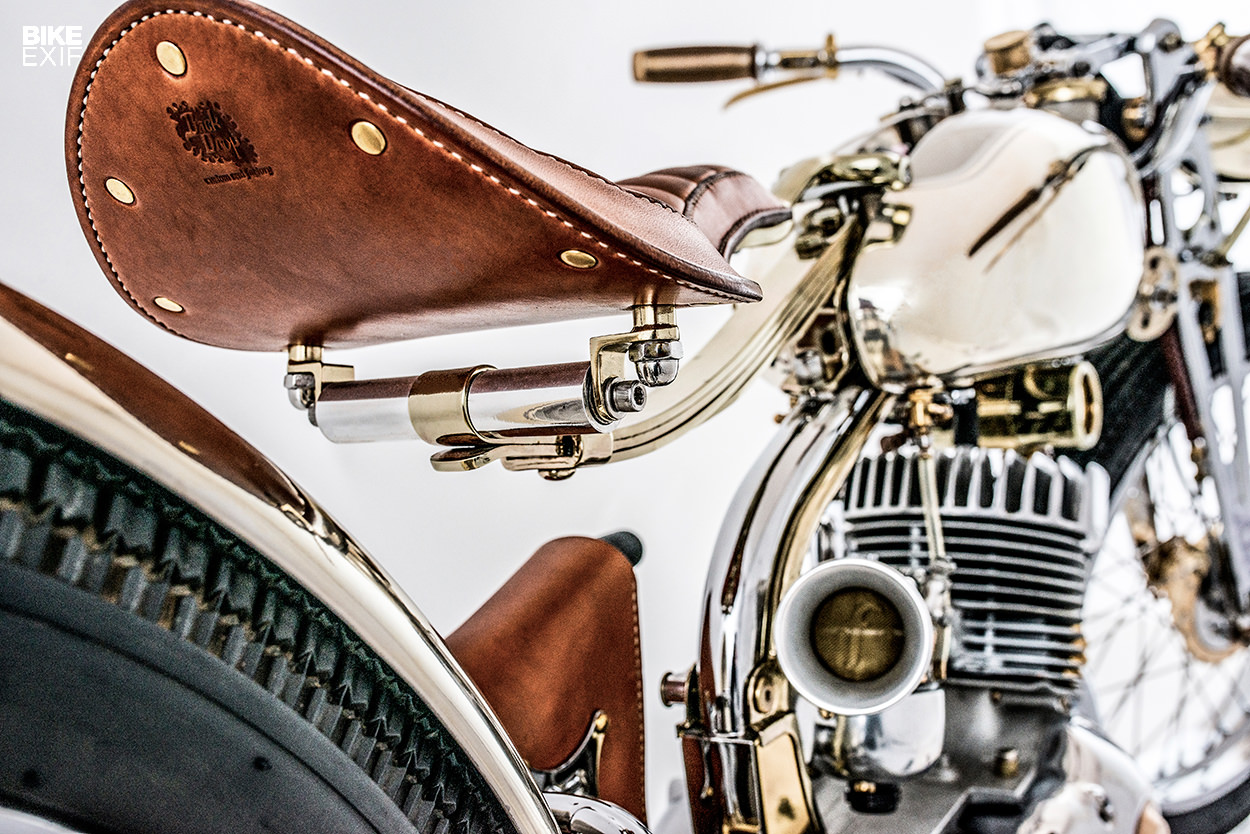 "Sokan azt mondták, hogy teljesen tönkre fogom tenni a motort, hogy nem is tudom, hogy mit csinálok, és hogy sosem fog elkészülni. Nehéz beismerni, de én magam is kezdtem végül ezt gondolni."
A görög mitológiából két ismert szereplőt is egy képzavarba összevonva, bár Jackson tényleg "közel repült a naphoz", de a négyéves "sziszifuszi munka" végül kifizetődőnek bizonyult! Ifjú barátunk egyszerre zsákolta be a The One Moto Show Award és a rangos Quail Motorcycle Gathering Industry Award díját is! Hajrá Jackson, kíváncsian várjuk a következő építést!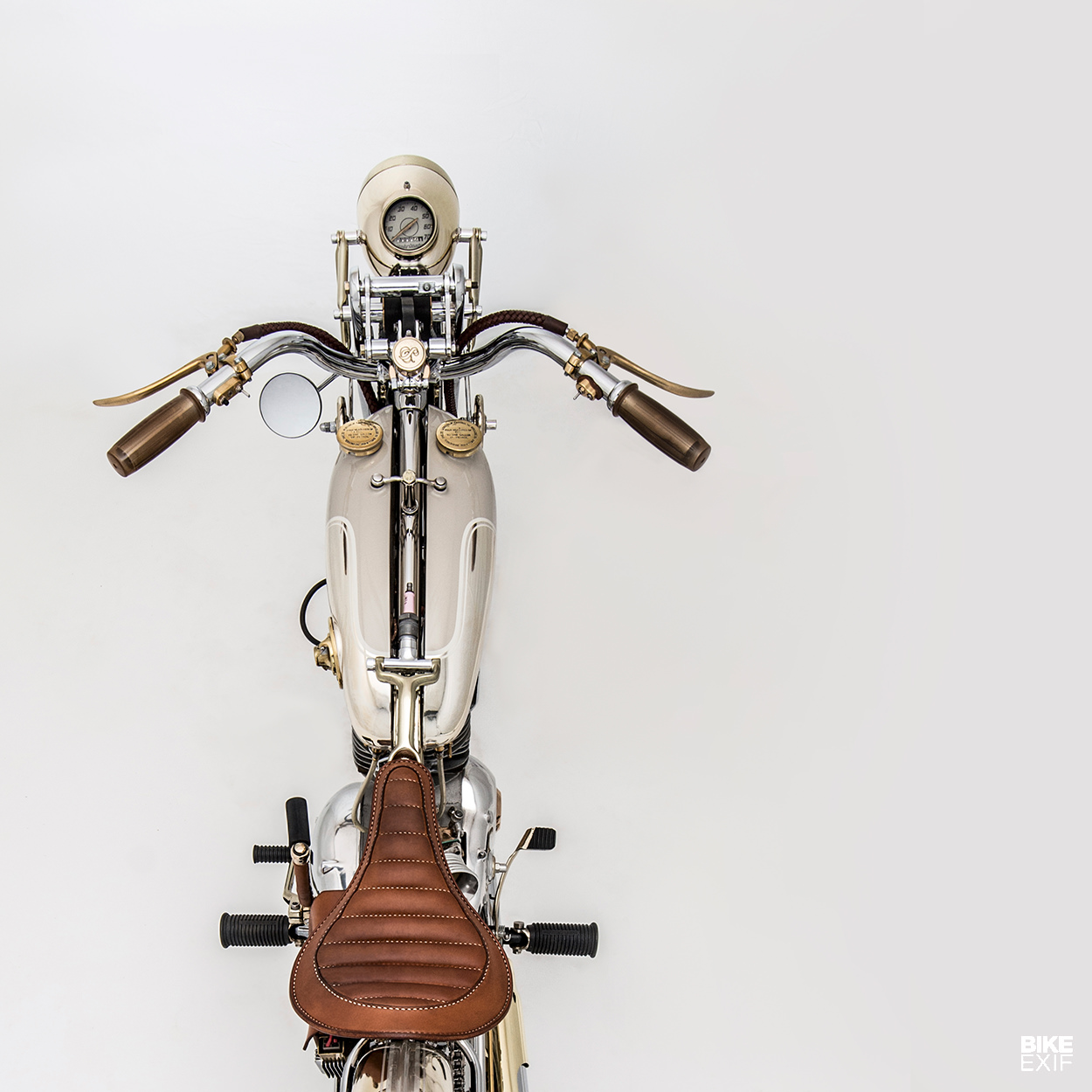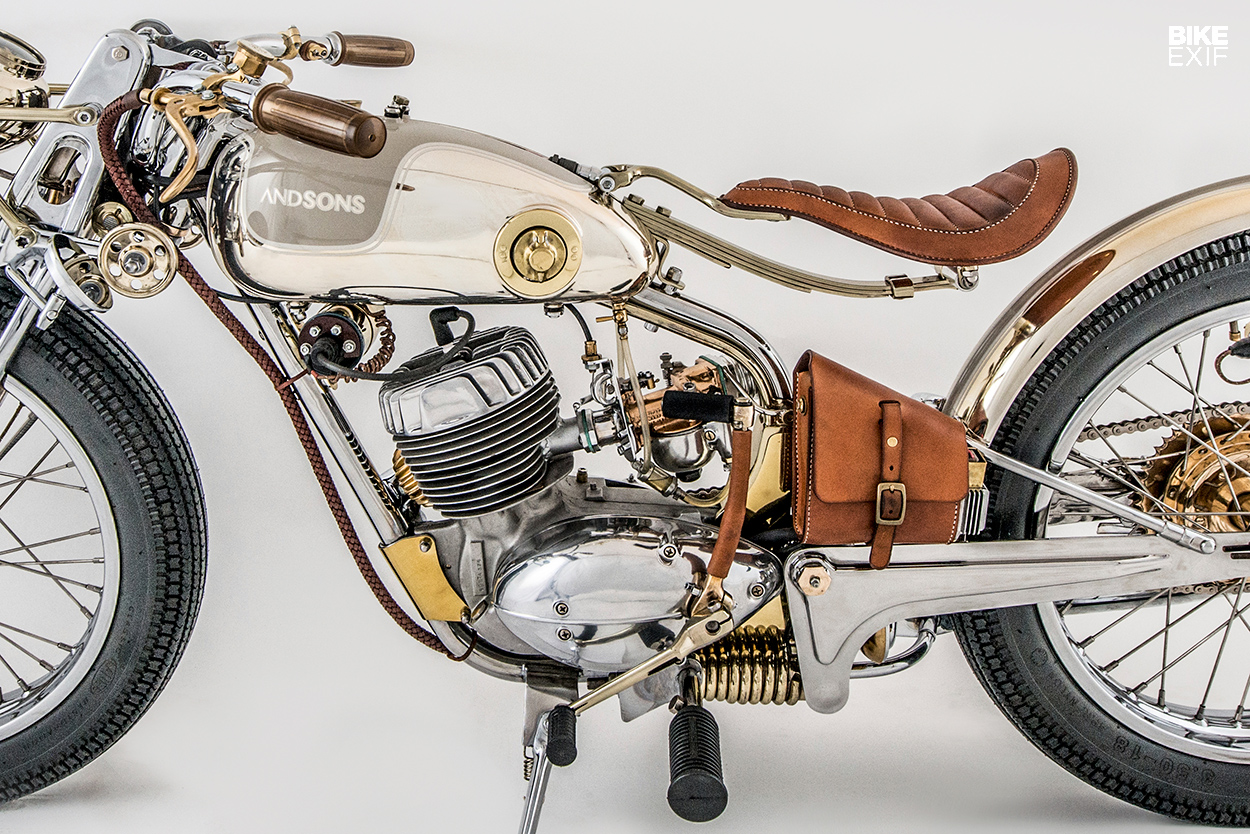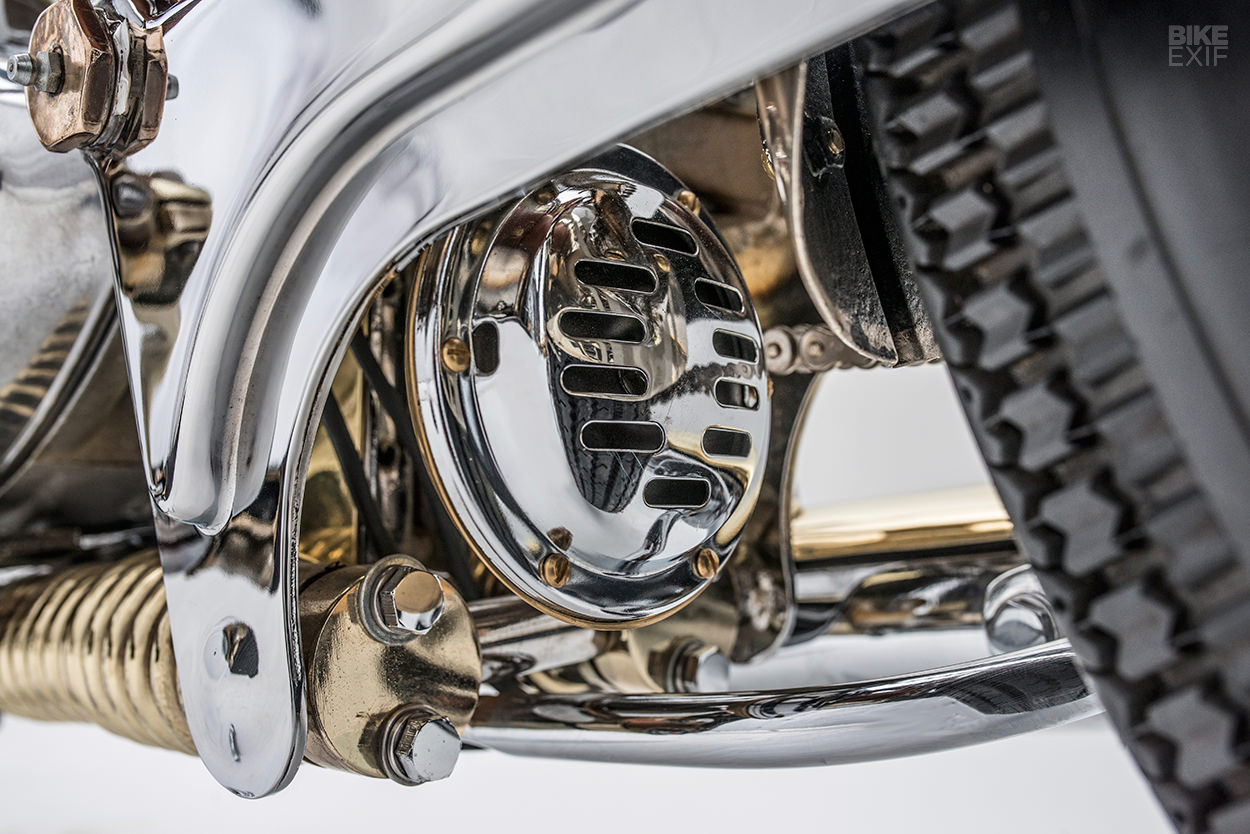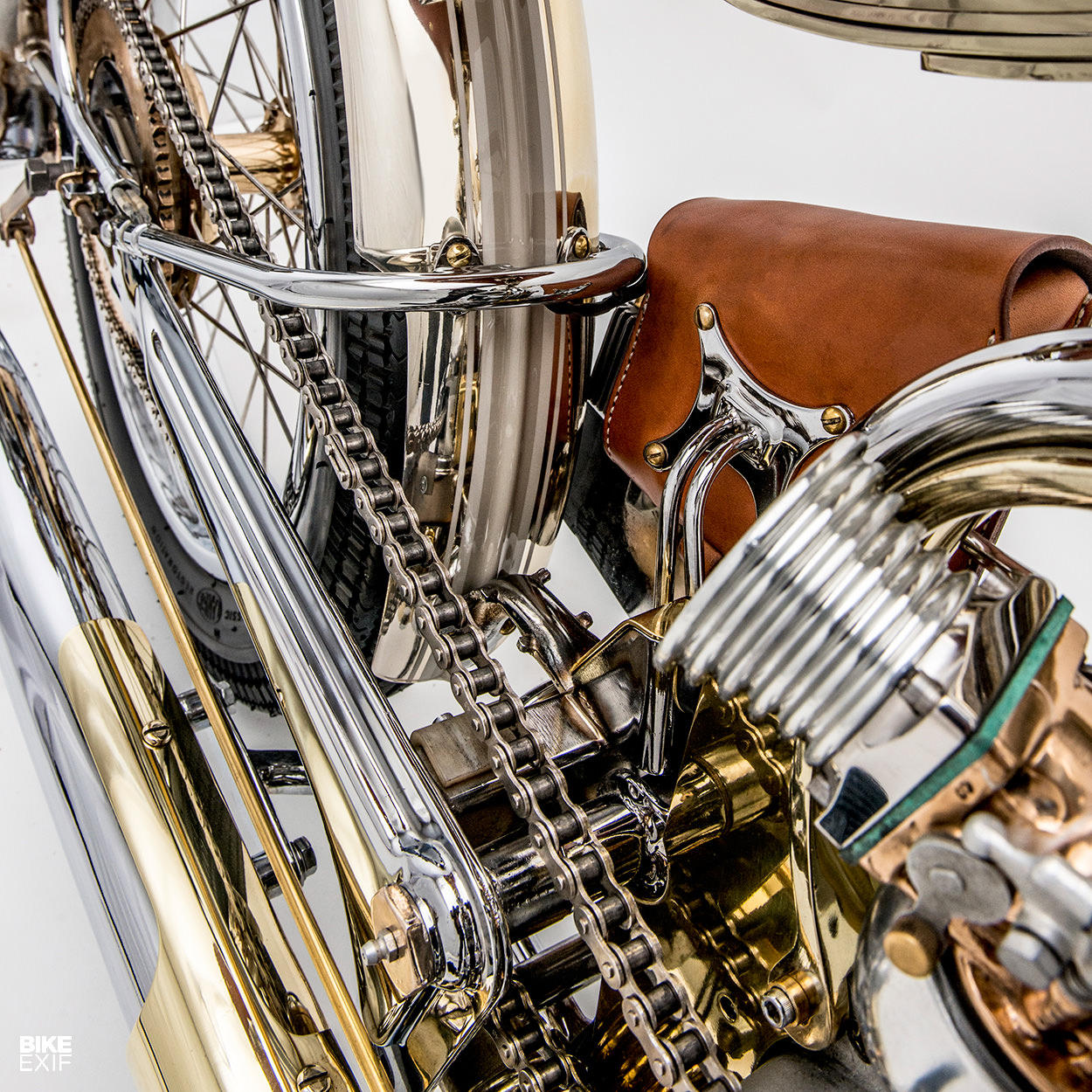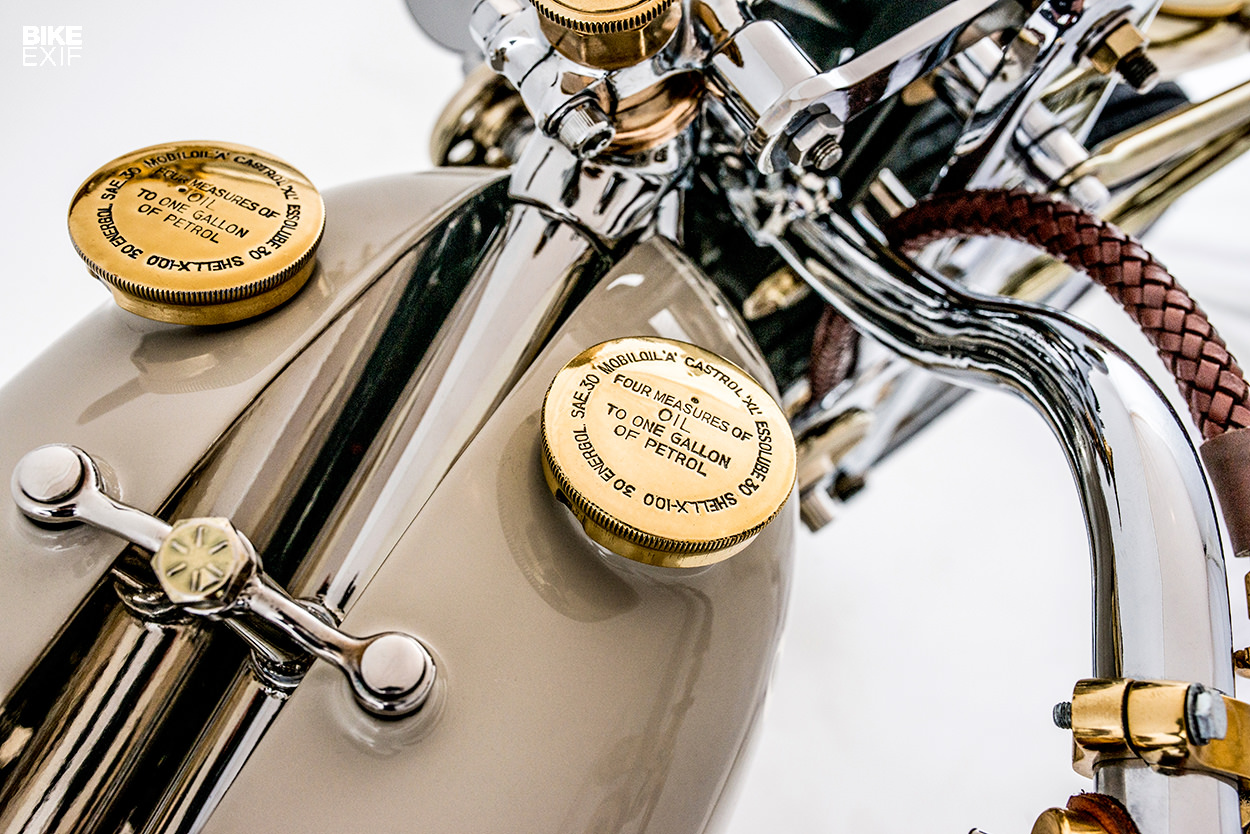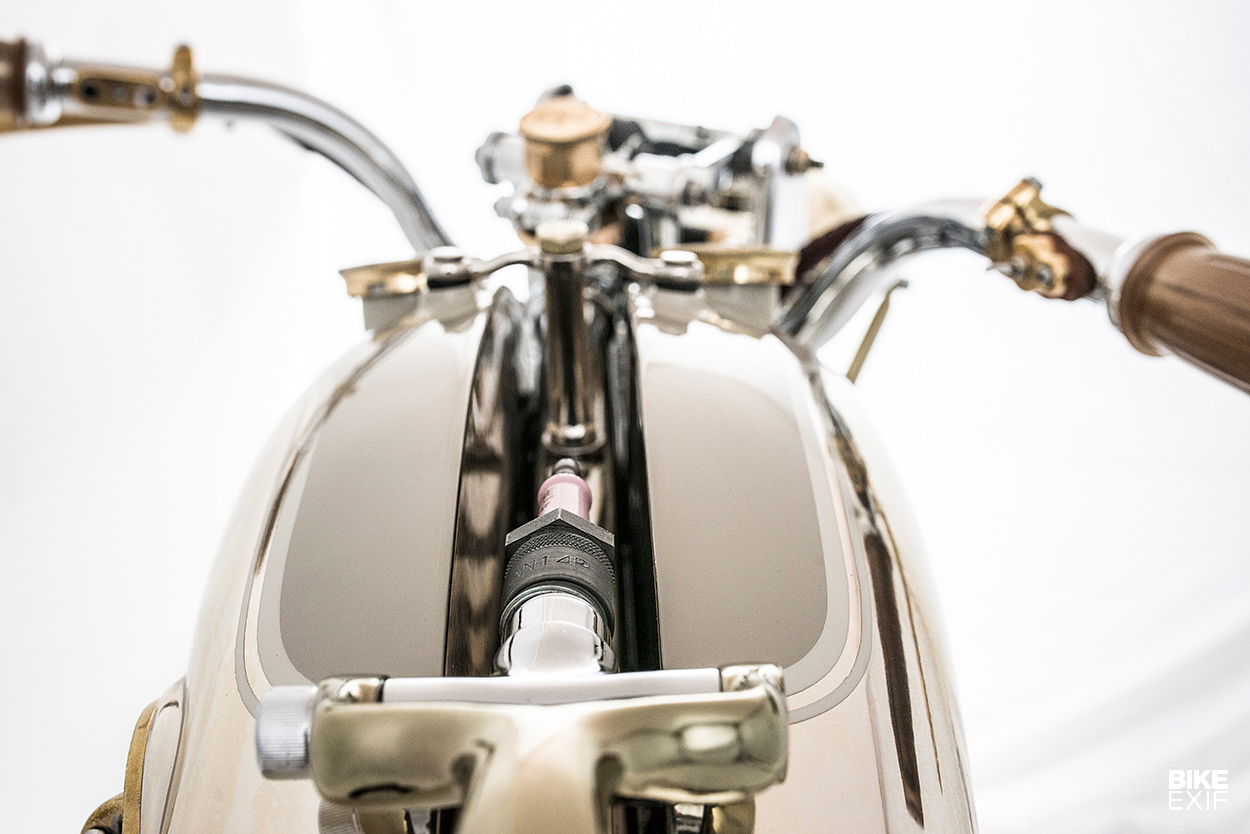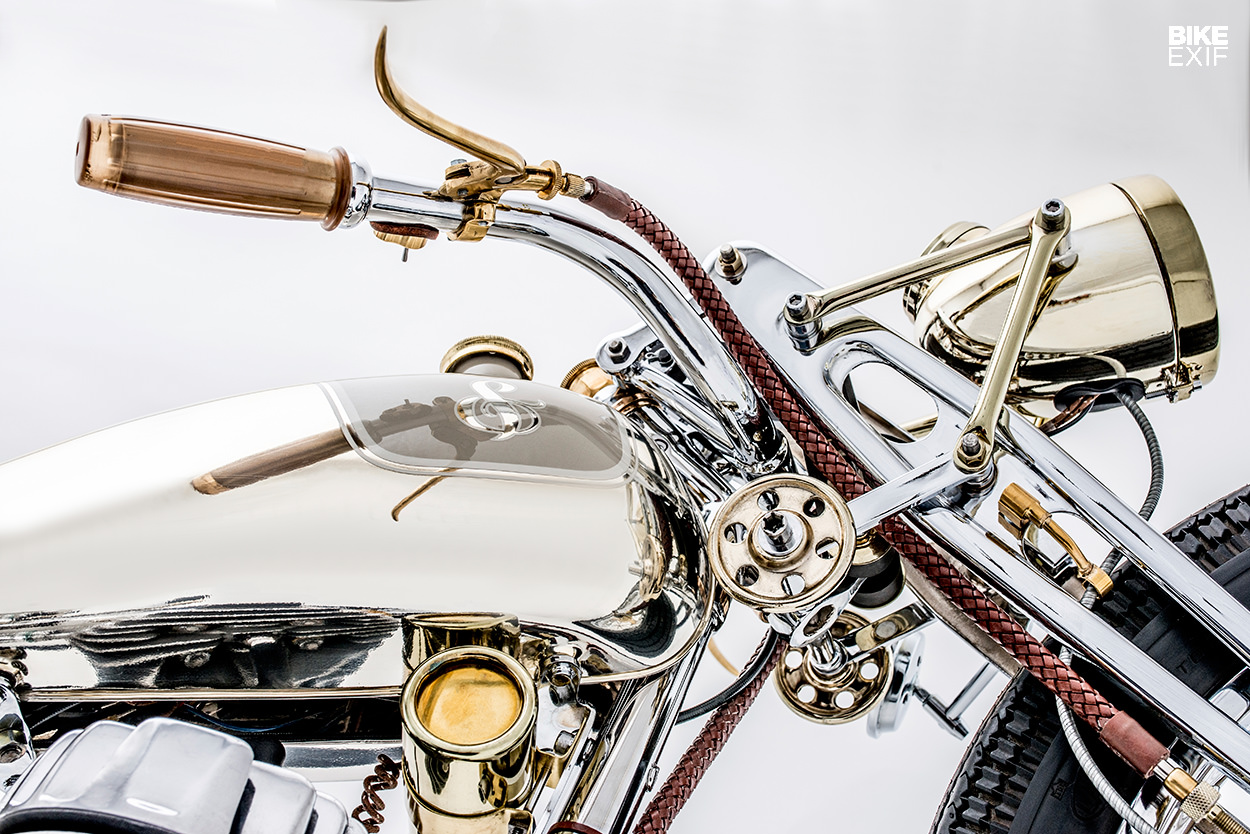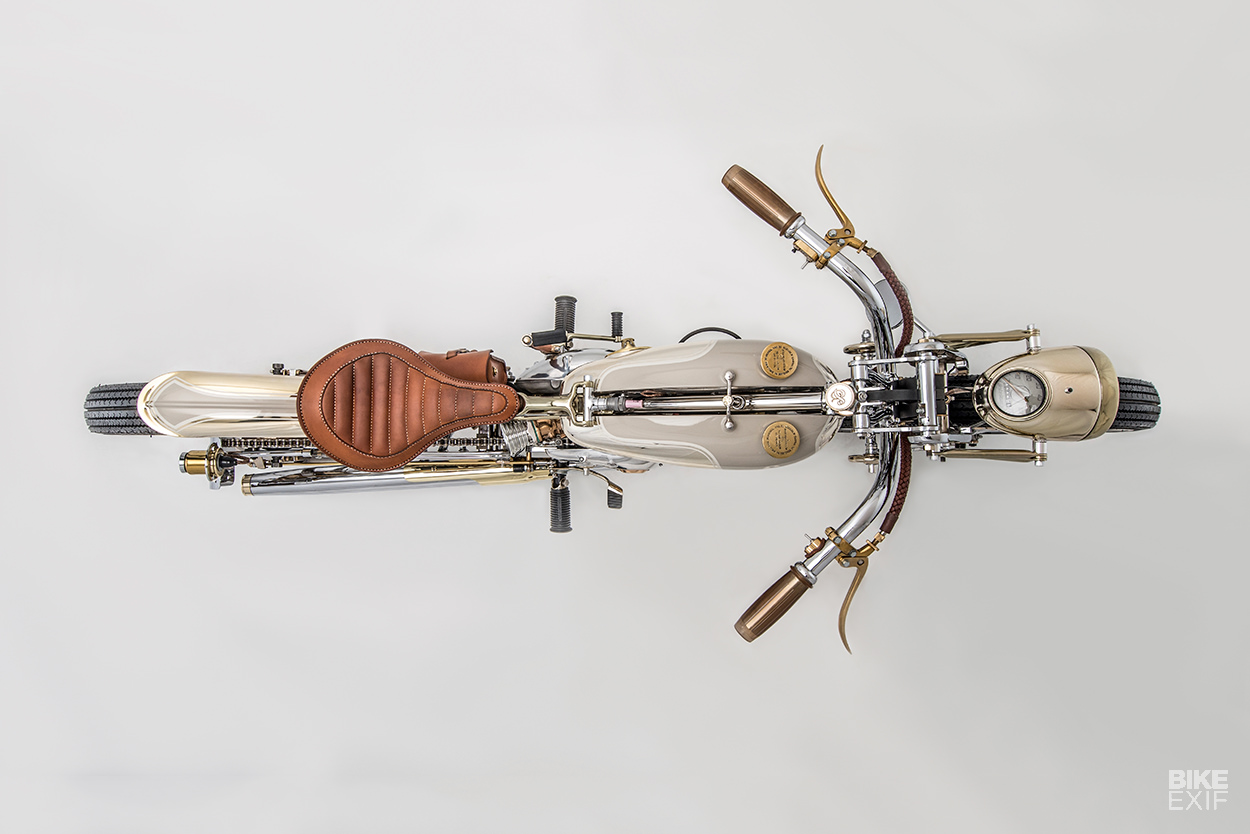 Forrás: BIKEEXIF