Menő Royal Enfield Jakus Tomi tervei alapján
A srácok építettek néhány motorkerékpárt a gyárnak, a kapcsolat jól alakult. Ezért amikor a Sinroja csapat márkatulajdonost keresett a legújabb projektjéhez, tudták, hogy kihez forduljanak. A Leicester központú műhely az európai Sultans of Sprint verseny "gyári" osztályában kívánt indulni. Már "csak" egy gyárra volt szükségük mindehhez.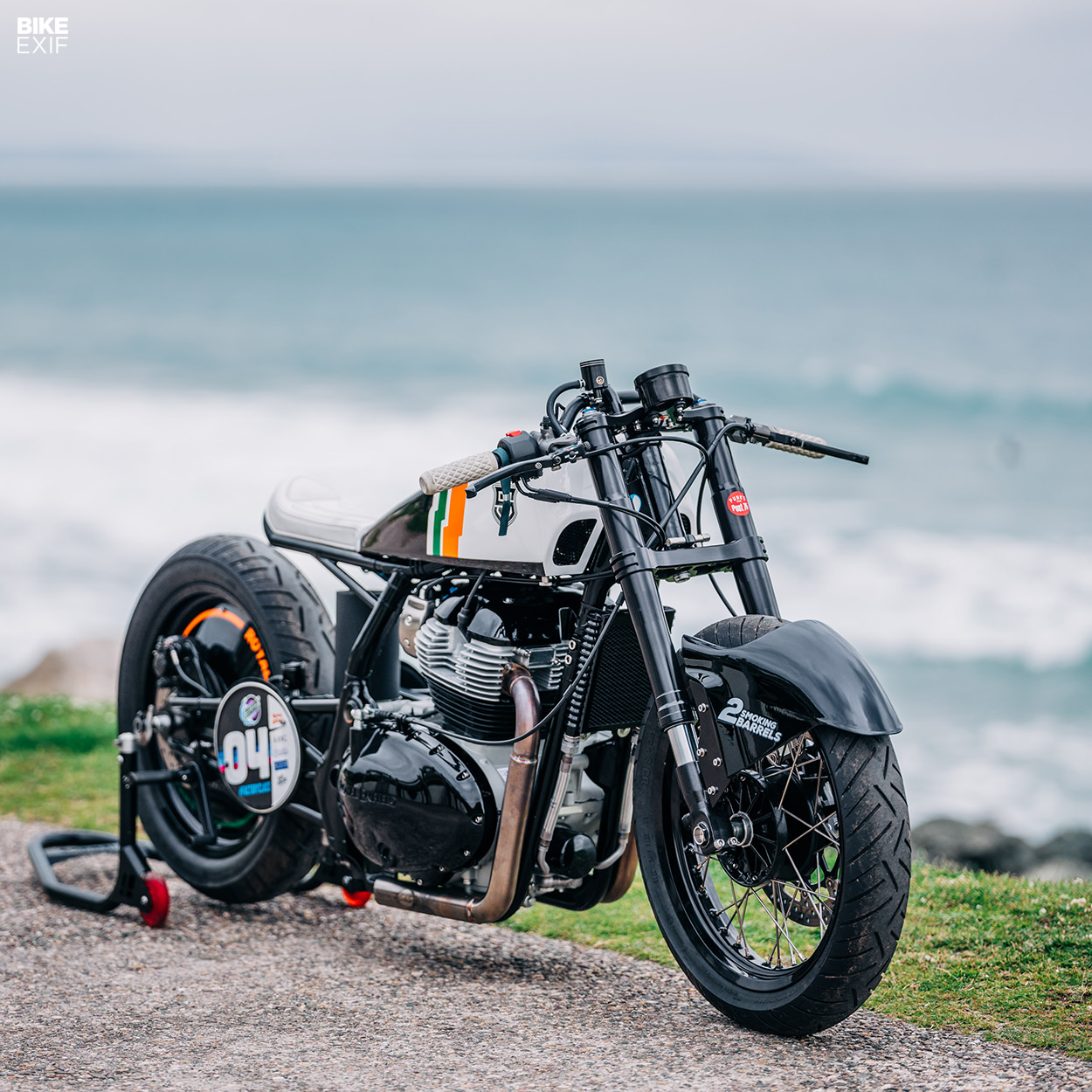 A Royal Enfield cég és a Continental GT 650-es modelljük, továbbá Adrian Sellers, a márka ipari formatervező vezetőjének neve viszonylag hamar felmerült, de aztán bekerült egy kis nehezítés a történetbe. Mire mindent "lezsíroztak" a felek, a Sinroja Teamnek már csak négy hete maradt a versenygép elkészítésére!
"Ennyi rendelkezésre álló idő alatt általában csak a külsőn vagy a teljesítményen tudunk fejleszteni."
mondja Rahul és Birju Sinroja, de ehhez a projekthez mindkettőre szükség volt. Menőnek kellett kinéznie a vasnak, és gyorsan is kellett tudni sprintelnie.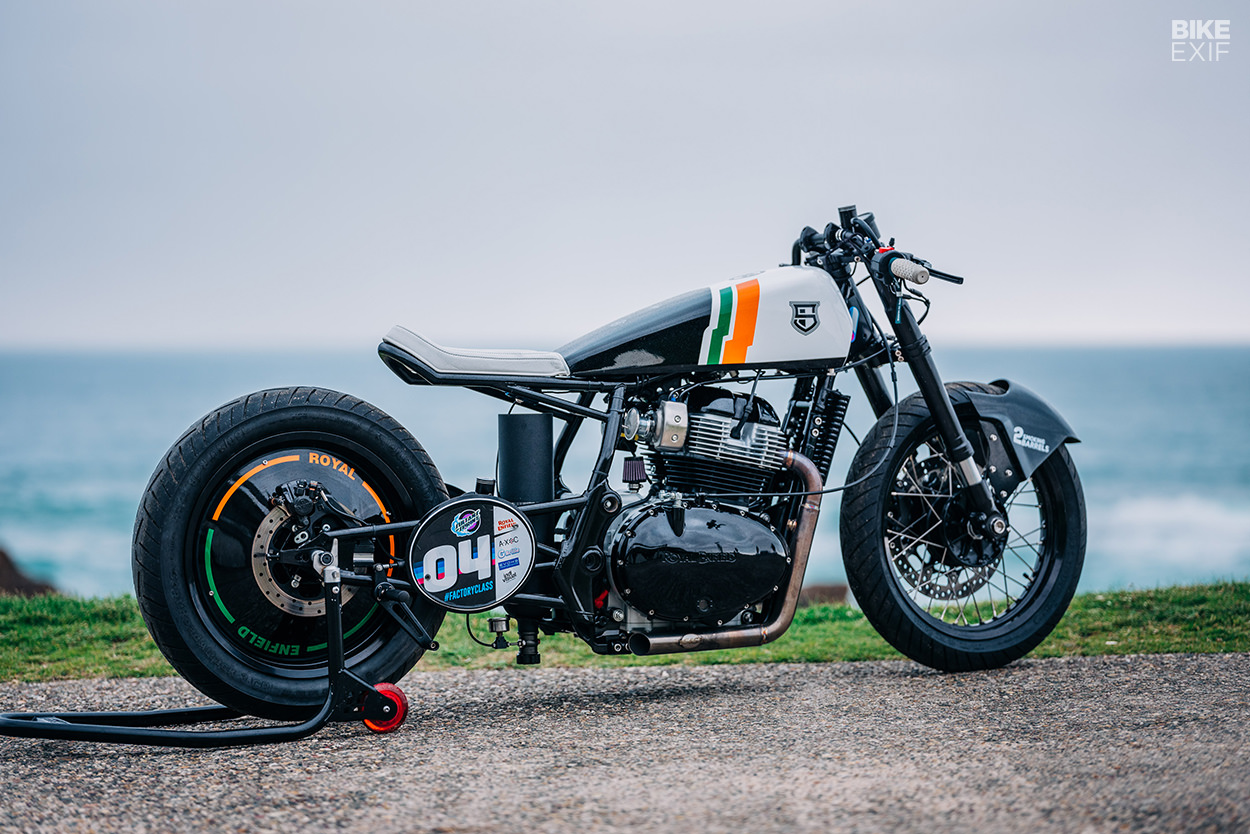 Biztosan gyorsnak kellett lennie, hiszen egy nitrós BMW 1250-et, egy szintén nitró meghajtású Indian Scout-ot (Randy Mamola-val a nyergében!) és egy supercharged 200+ lóerős Harleyt kellett megverni a híres gyorsulási versenyen.
A Sinroja tesóknak a terve az volt, hogy a Royal Enfield egy korábbi, The Lock Stock néven futó (rohanó?) drag race célszerszámából merítenek ihletet.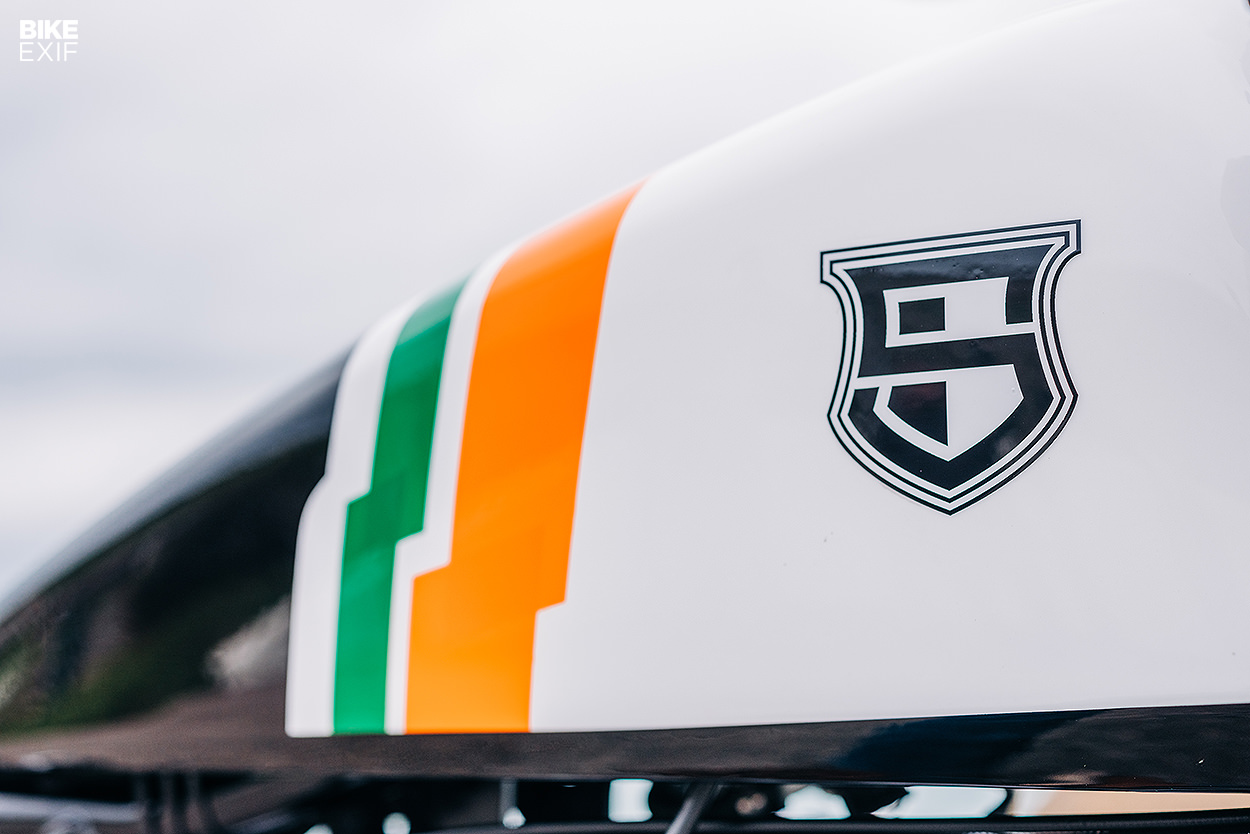 Jakus Tomi (!) segítségével gyorsan meg is tervezték az új motor arculatát. (Jakus Tamás R42 interjú.) De a menő kinézet nem volt elég. A Continental GT 650-es 648 köbcentis, párhuzamos twin-motorjának 47 lóereje bizony kevésnek bizonyult ehhez a feladathoz.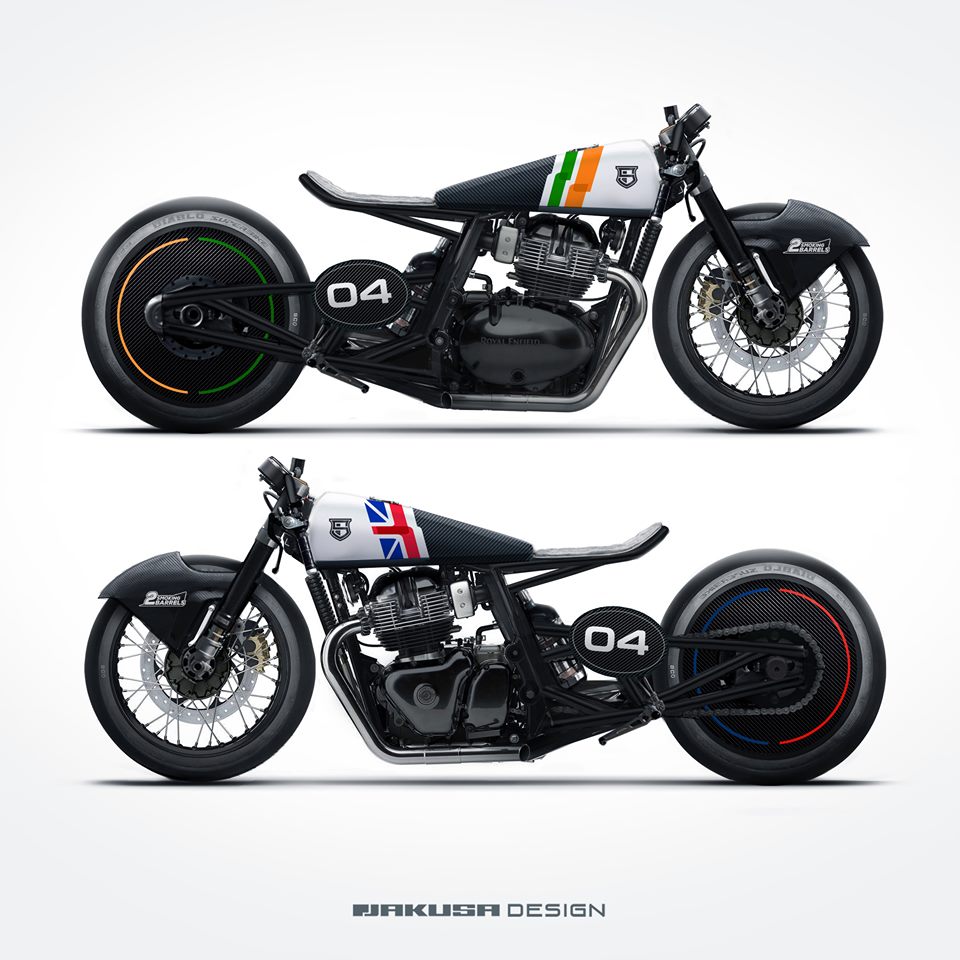 "A projekt iránya kezdetektől egyértelmű volt. Tudtuk, hogy a motornak olyan könnyűnek és erősnek kell lennie, amit csak ki tudunk csiholni belőle."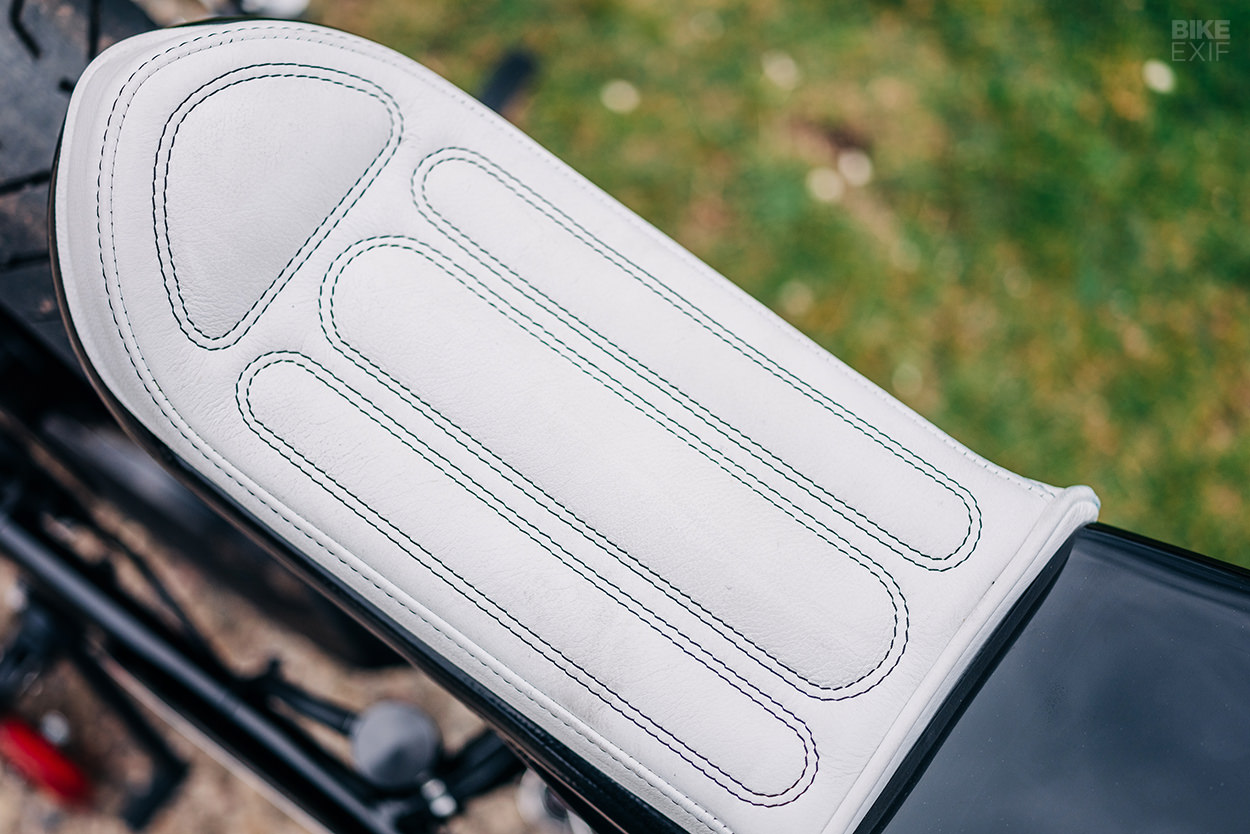 "Amikor a már eleve "naked", 205 kilós (!) Continental GT-t leszállították nekünk, elkezdtünk aggódni. Ugyanis nem találtunk rajta olyan nagy elemeket, amelynek eltávolításával gyorsan könnyebbé tehettük volna a járművet."
Szerencsére az S&S Cycle teljesítmény-gurujai is részt vettek a projektben a kezdetektől. Ez a hozzáértő csapat dolgozott már együtt a Royal Enfielddel és a Harris Performance-szal a már említett "The Lock Stock" fejlesztésében, és tájékoztatták az angol/indiai Sinroja testvéreket, hogy pontosan milyen számok elérhetőek. Ez az információ is segítette a Continental GT súlyát végül a már versenyképes 150 kilóra csökkenteni.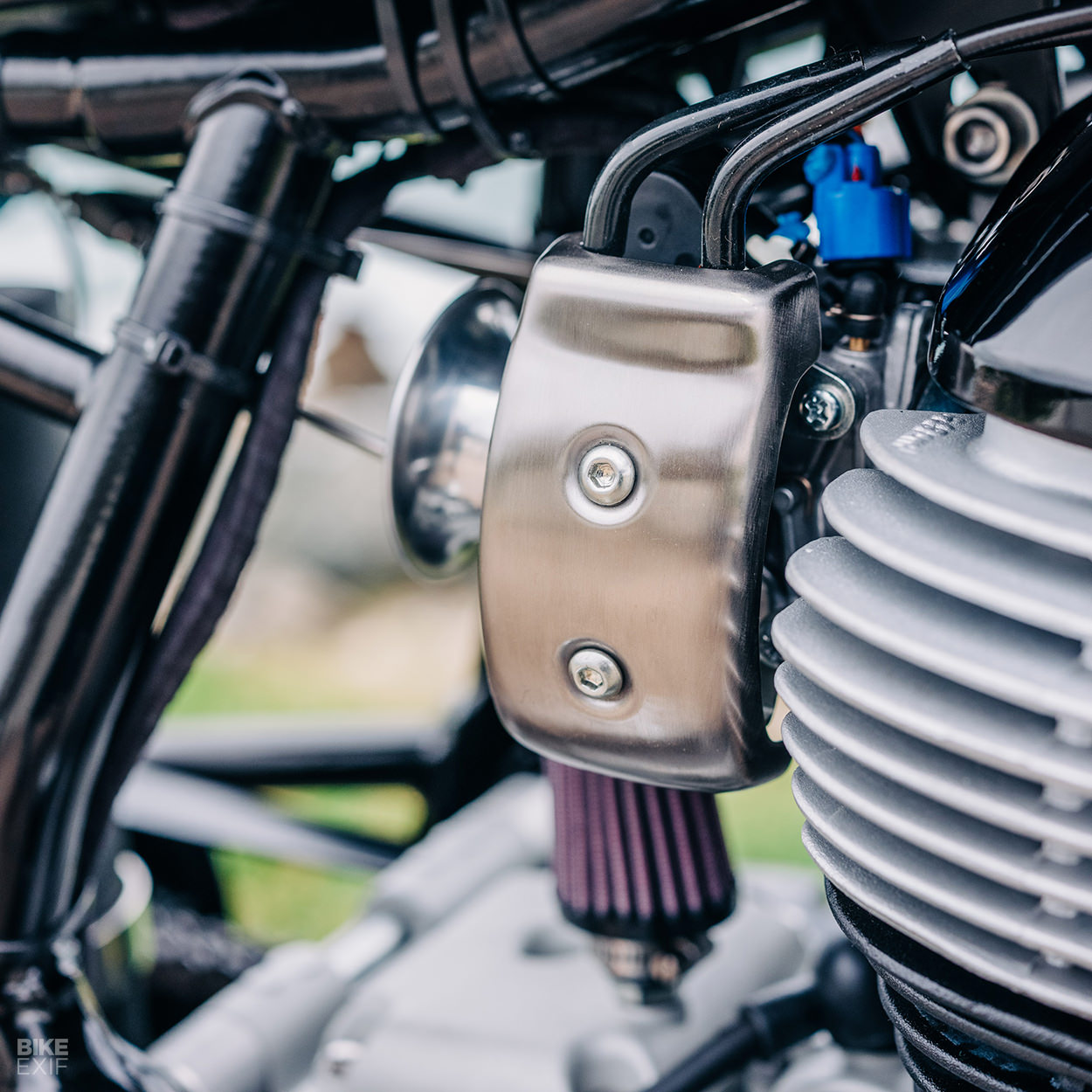 Az S&S Cycle egyedi dugattyúk és hengerperselyek segítségével "pumpálta fel" 750 köbcentisre a twin-motort. A jármű új befecskendező szelepeket, bütyköket és ECU-t (motorvezérlő egységet) kapott, továbbá dupla kipufogós rendszert építettek rá.
Ez nagyszerű bázist biztosított a Sinroja testvéreknek, de még mindig szükségük volt további extra lendületre. Így felhívták a NOS "varázslóját" Trevor Langfieldet, hogy segítsen nekik egy egyedülálló, száraz nitro üzemű rendszer létrehozásában. A rendszer végül szépen bekerült az ülés alá, ahol a GT kábelezése eredetileg elhelyezkedett.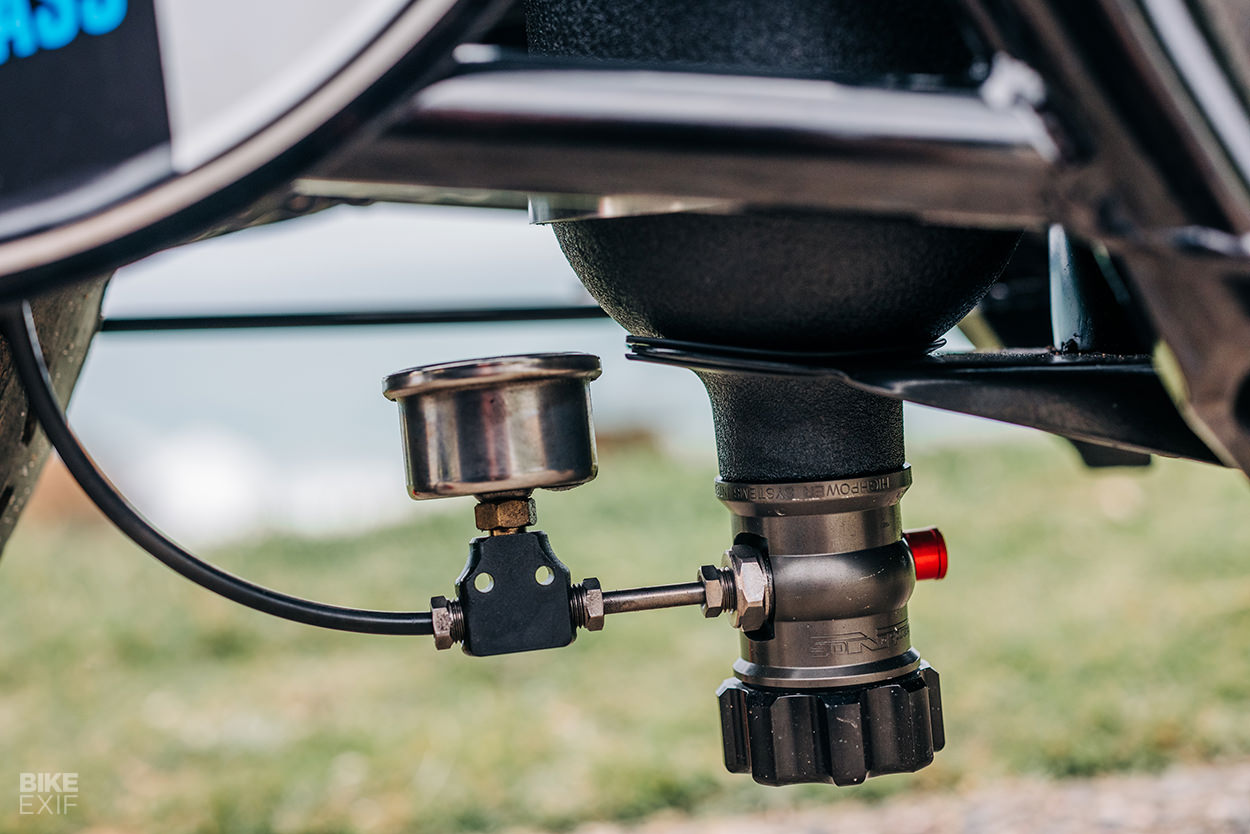 A teljesítményt "elrendezve", ezután az építők elkezdtek a Continental GT "fogyókúráján" dolgozni. Először mindent leszereltek a járműről, és lemérték a súlyát, hogy tudják, mit kell megtartaniuk és mit szükséges "kidobni".
Szükségük volt egy feszes elülső traktusra, így egy modern sportmotor elejét "kukázták ki" a rendelkezésükre álló alkatrészerdőből, és súlycsökkentési okból csak az egyik féket tartották meg. Danny a Fastec-től beépített néhány alumínium bilincset is, hogy azok támogassák a gyári villákat. A könnyebb villák és a bilincsek végül közel 10 kilogramm tömegmegtakarítást eredményeztek!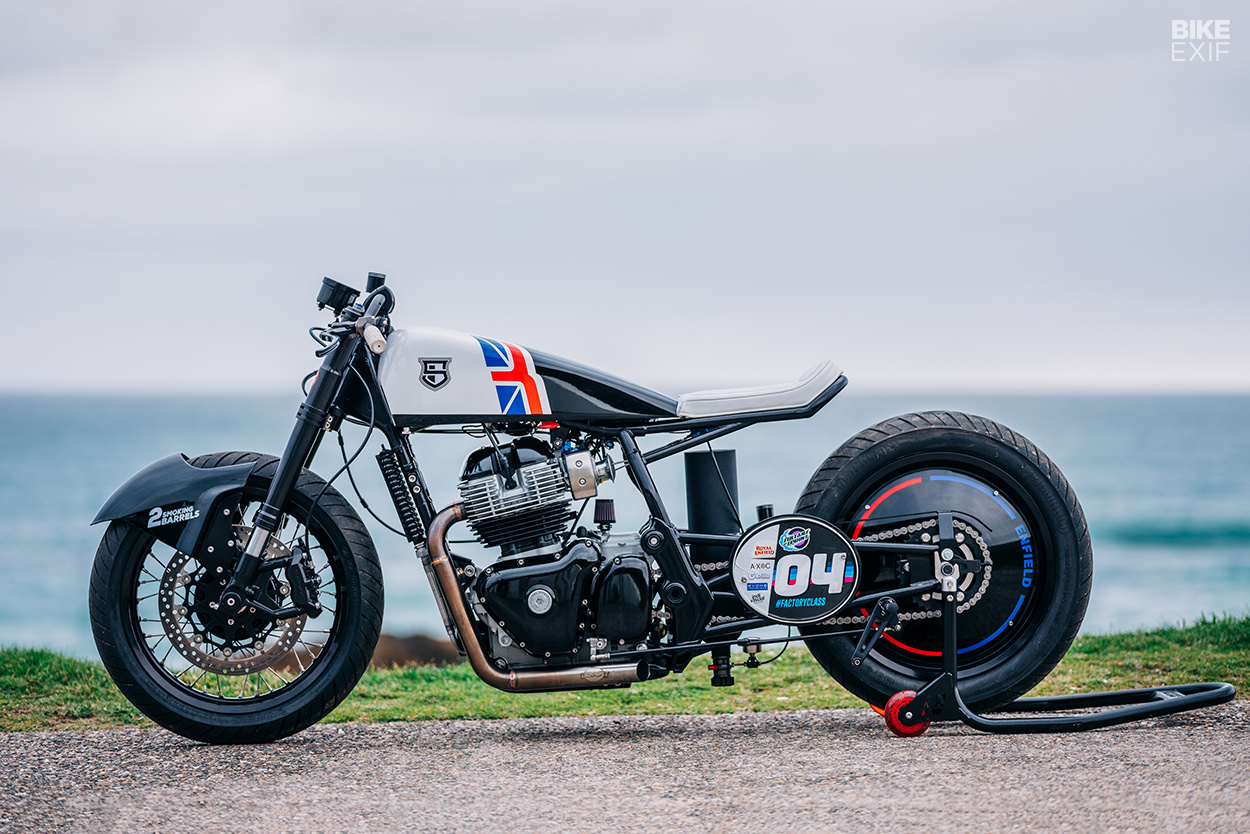 A hátsó rész radikálisabb kezelést kapott. A Sinroja kidobta a hátsó felfüggesztést, majd új merev hátsó részt készített Reynolds csőből, hogy súlyt takarítson meg és meghosszabbítsa a tengelytávot. A kerekeket is ki akarták cserélni, de a rendelkezésre álló rövid idő alatt nem tudtak beszerezni egy 17 colos szettet, így megtartották a 18 colos Continental gumikat.
A csapat a súlycsökkentés megszállottjává vált! Rahul még az egyik egyetemi óráját is emlékezetébe idézte, ahol professzora elmagyarázta, hogyan "borotvált le" a Toyota tíz kilót egy sportkocsijából azáltal, hogy lecsökkentette az összes rögzítőelem súlyát. Tehát a team minden utolsó anyát és csavart kicserélt, és további két kilótól szabadult meg.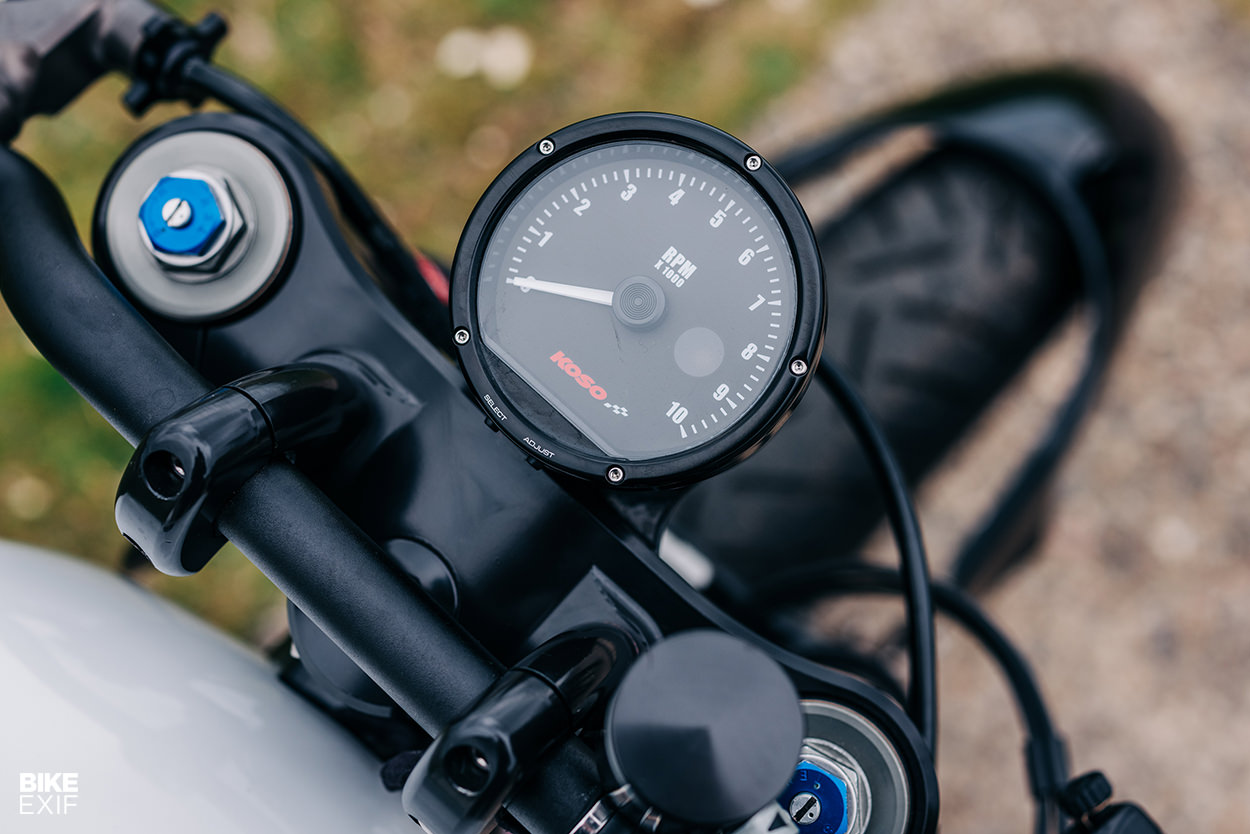 A váz elkészültével itt volt az ideje, hogy mindent összeszereljenek! Chris Walton segített a testvéreknek egy alumínium "dummy tank" (álüzemanyagtartály) kialakításával, amely elem szerves egységet alkot a nyereggel. Három rögzítőelem tartja a teljes szerkezetet. Alatta található egy két literes üzemanyagtartály, az Antigravity-től származó lítium-ion akkumulátor és az elektronika nagy része. (Towca a Towzatronics-ból az utolsó pillanatban épített még egy egyedi vezetékköteget, és további három kilót "vágott le" a versenygépből!)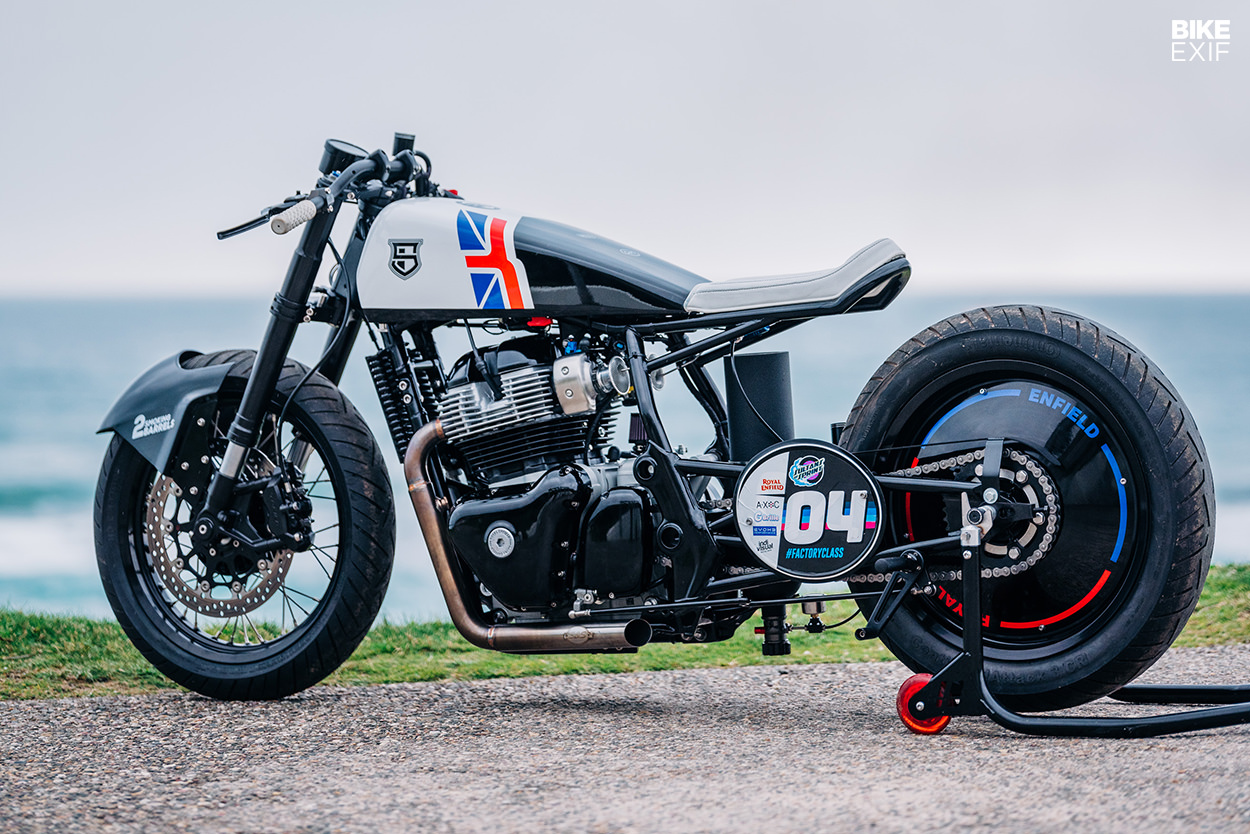 Utolsó átalakításként a motor egy szuperminimális cockpitet és egy szénszálas első sárvédőt kapott, amely ugyanazzal a formával készült, mint a már említett "The Lock Stock" motorkerékpár. Glenn, a GD Designtól pedig jól lefényezte a rohanógépet. Egyik oldalon a brit, a másikon az indiai zászló egy stilizált eleme található. (Ne feledjük, a Sinroja fivérek Leicesterben húzzák az ívet.)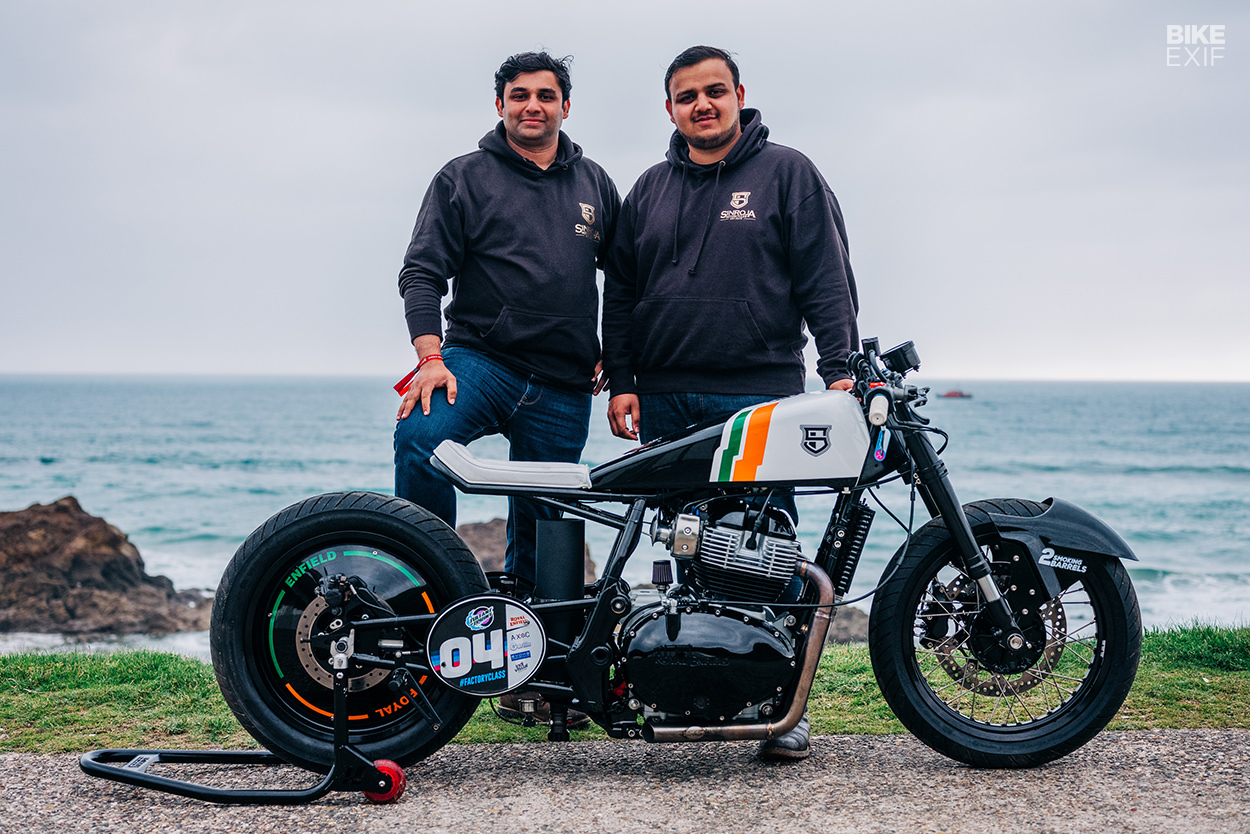 Ezután Ian Tam, Constantinos Panayides és Tommy Butterworth segített a Sinroja fivéreknek a motorkerékpár "finomhangolásában", együttműködésben a Royal Enfield technológiai központjával. Az első megmérettetésen a jármű megnyerte a Punks Peak hegyi felfutó versenyt a Wheels & Waves részeként és a negyedik lett a Sultans of Sprint versenysorozat utolsó versenyén. Nem rossz egy "last minute" építéstől!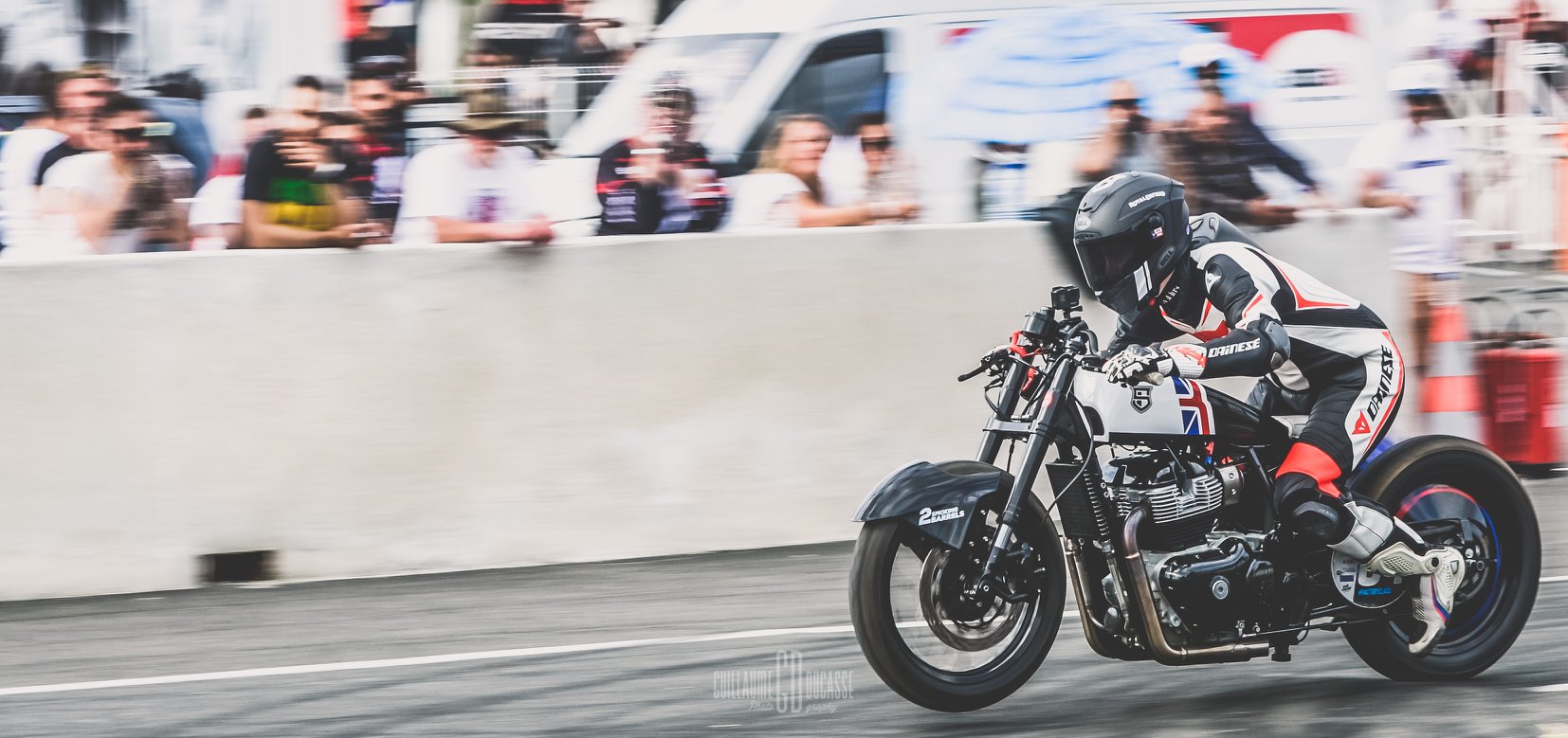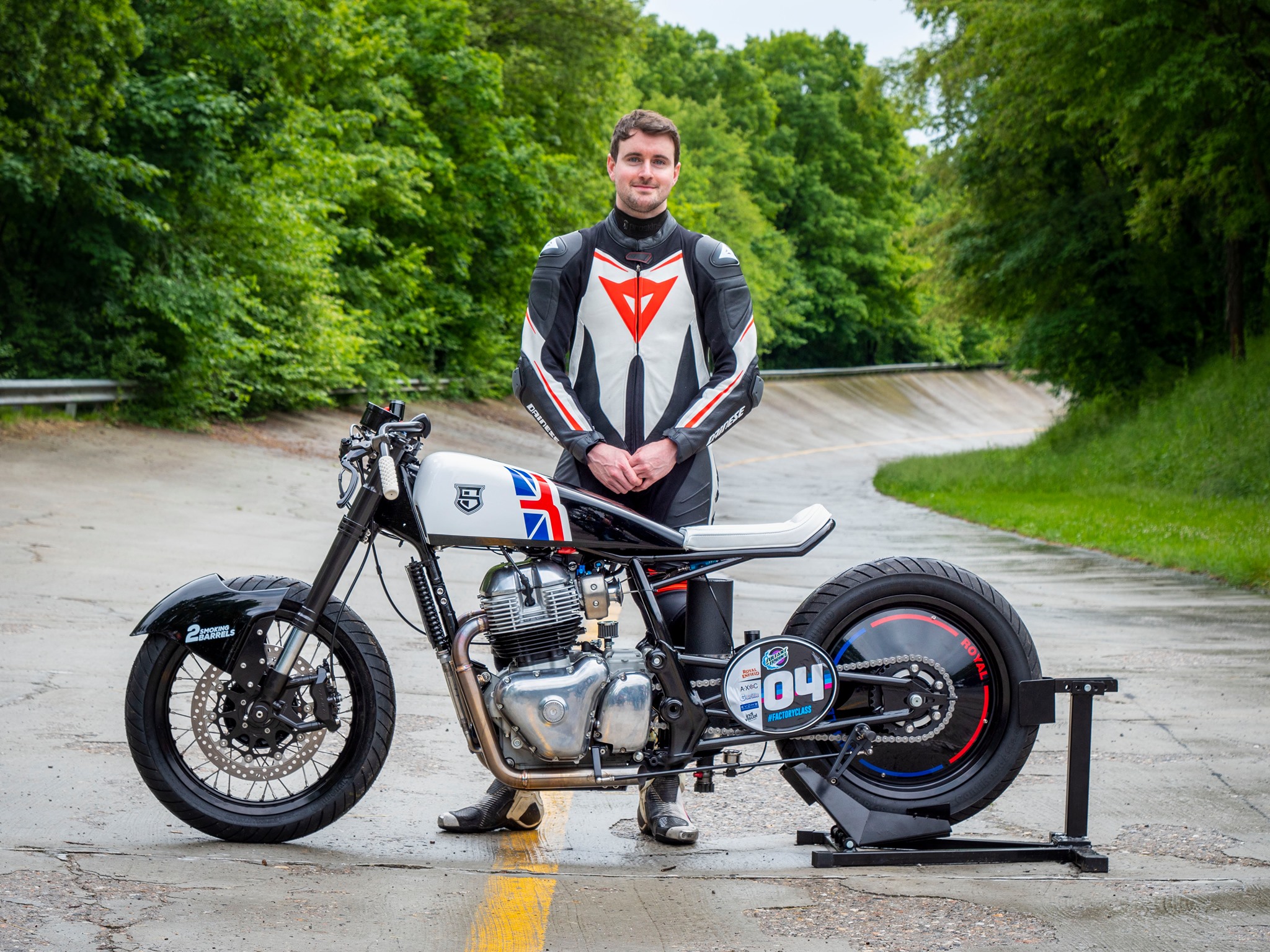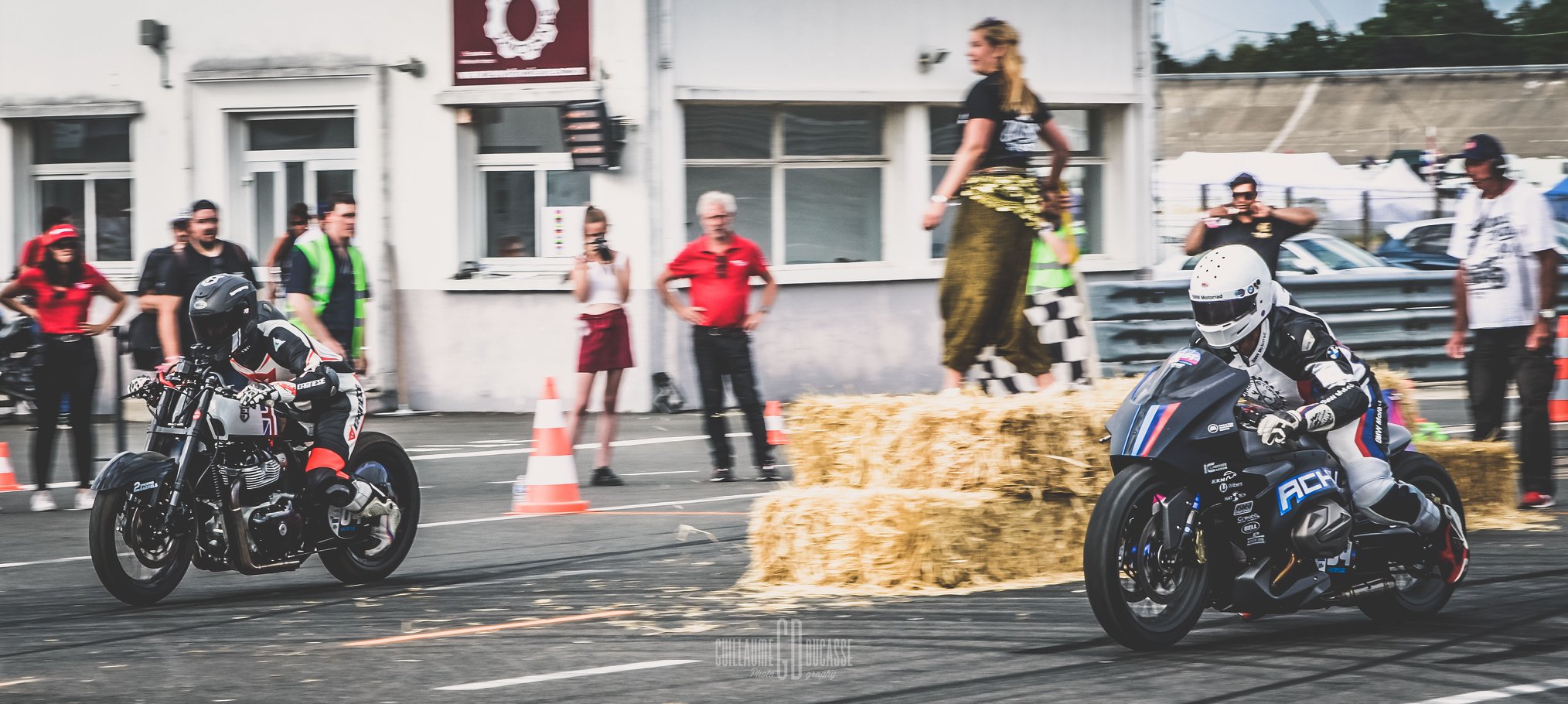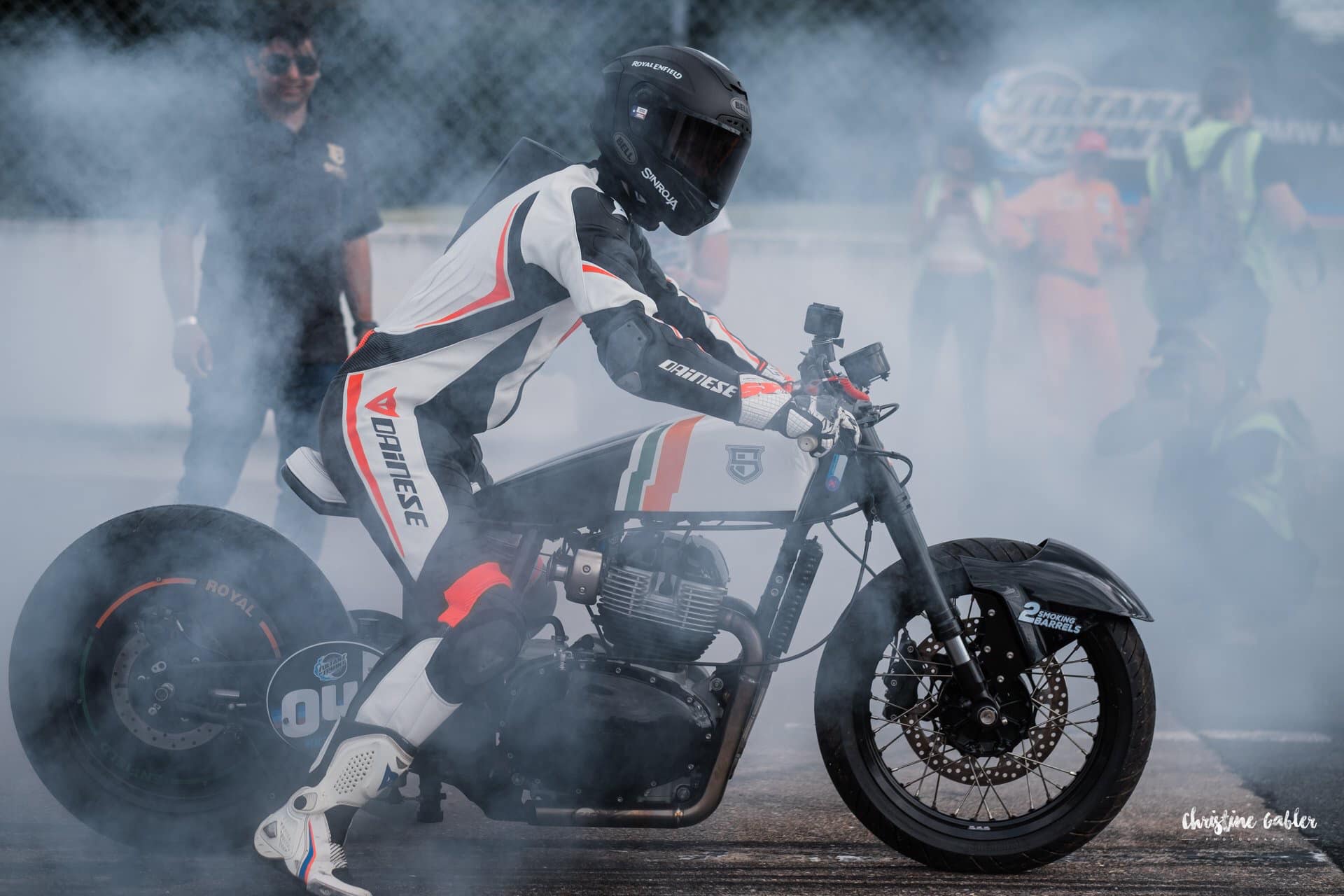 Forrás: BIKEEXIF